This post was sponsored by Serena & Lily and contains affiliate links, see our full disclosure policy here.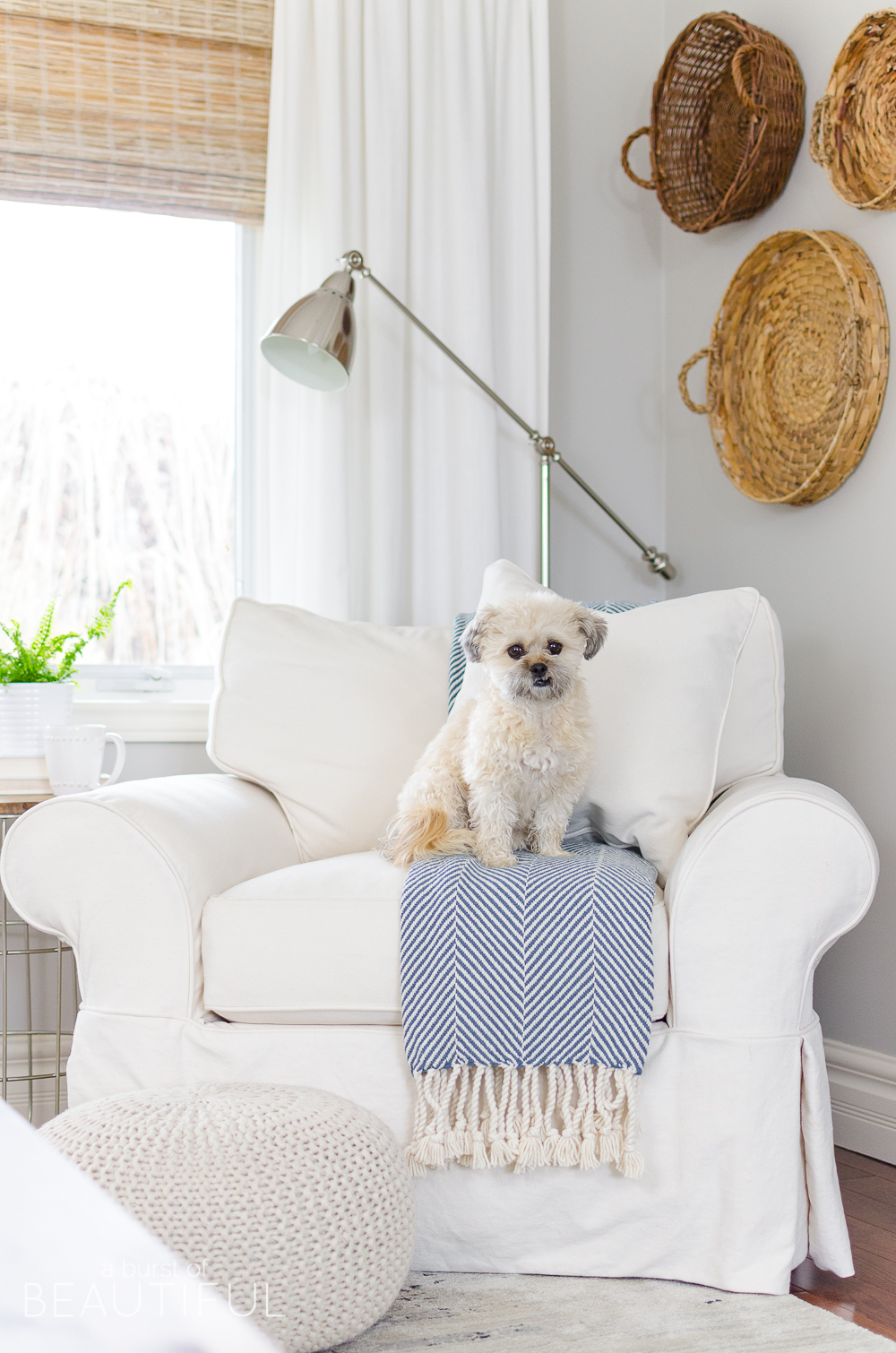 Blue is my favorite neutral.
You heard that right…I absolutely consider the color blue to be a neutral.
It's soothing and calm palette goes a long way in any space, and the color can be carried throughout any style or design from french country to modern contemporary. And I think it fits perfectly with our home's modern farmhouse style.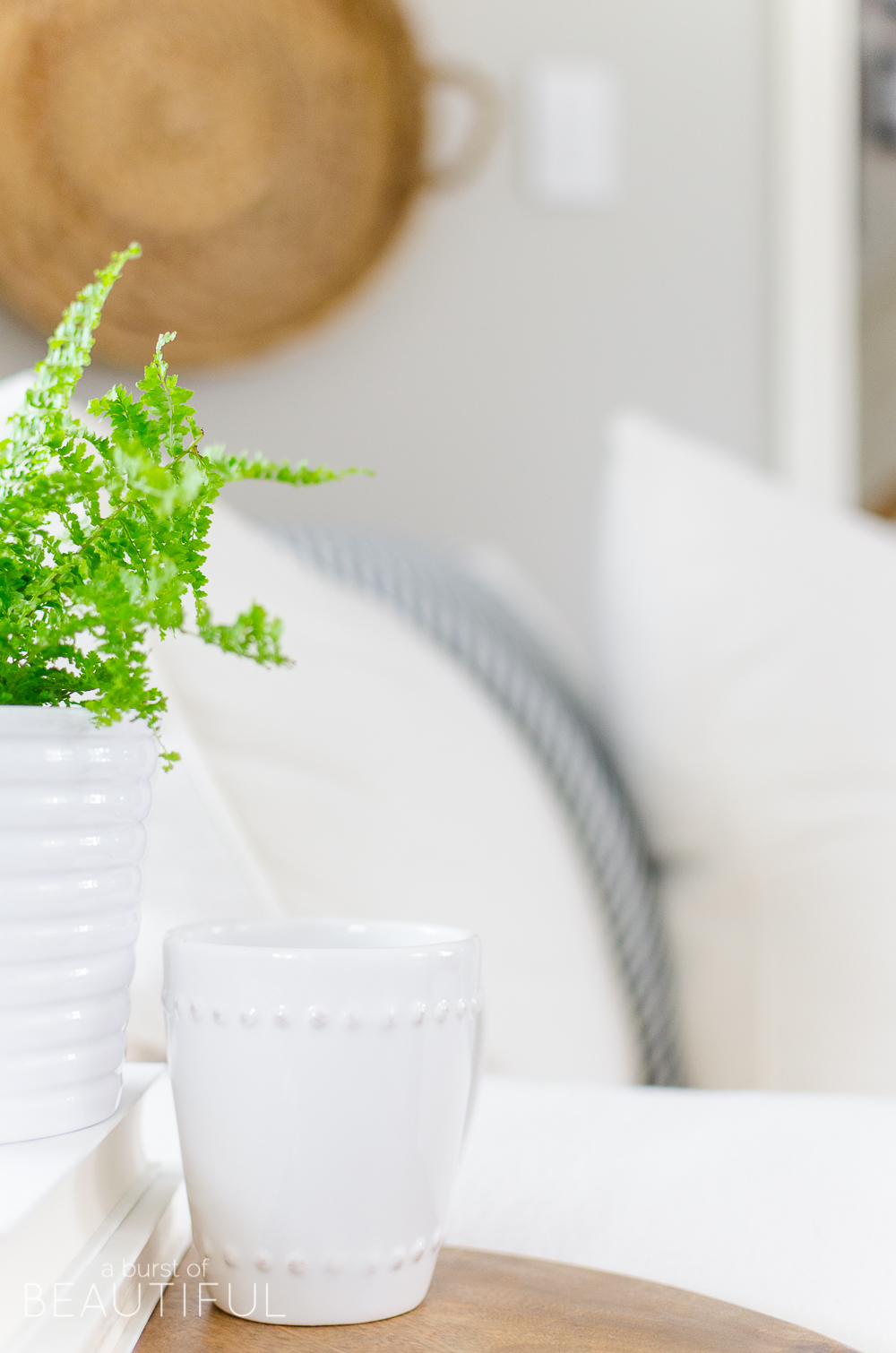 When I finally began to really focus on our home's design and the style that Nick and I are both drawn to I was pulled towards a neutral palette. As we began replacing furniture pieces that didn't quite match our style and started to fill our home with new items that not only reflected our current taste but were practical for our family, I noticed almost everything we chose was white.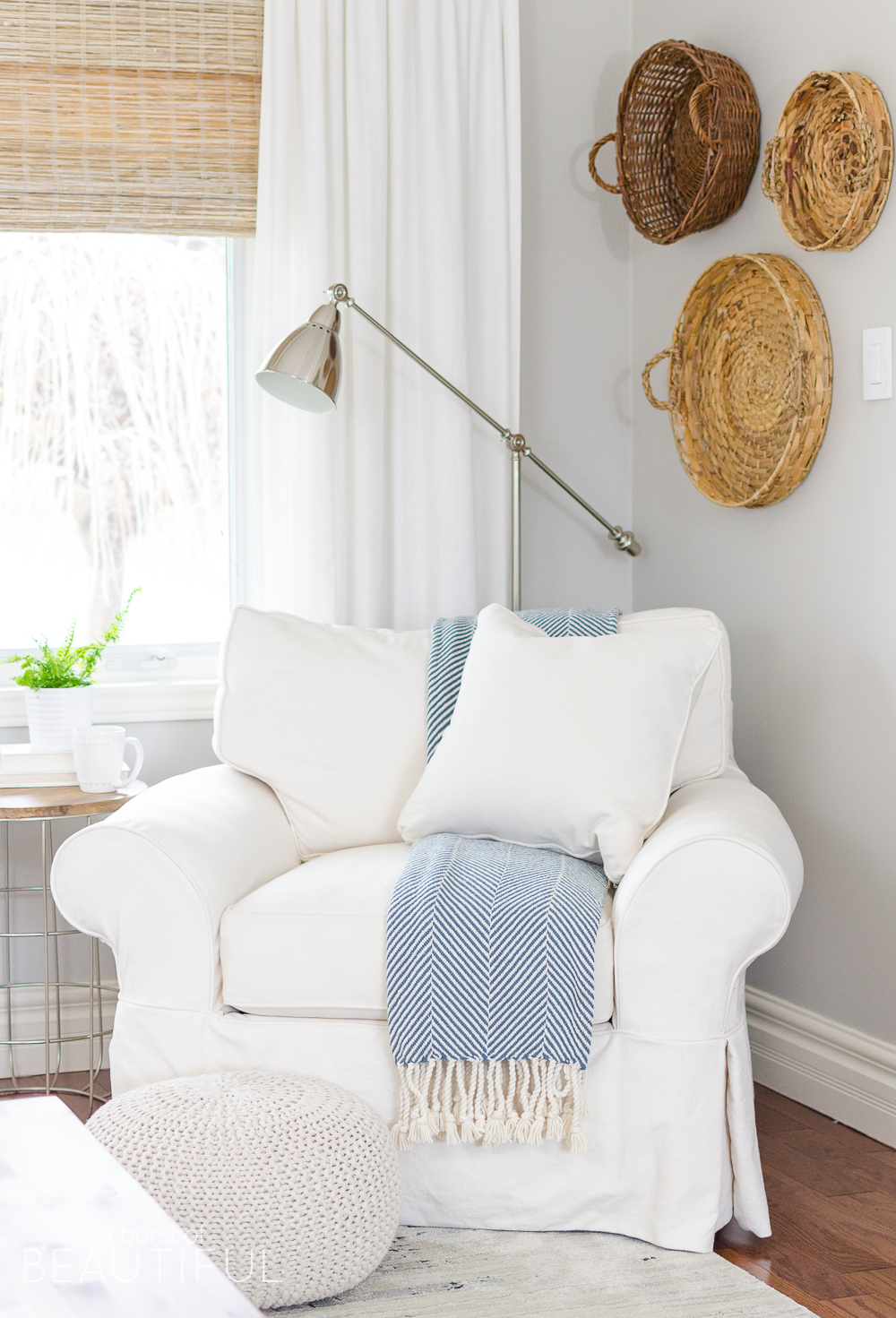 One day I looked around our home and saw white, cream and gray, and that was about it. There wasn't much else to it, and it suddenly started to feel just a little bit drab.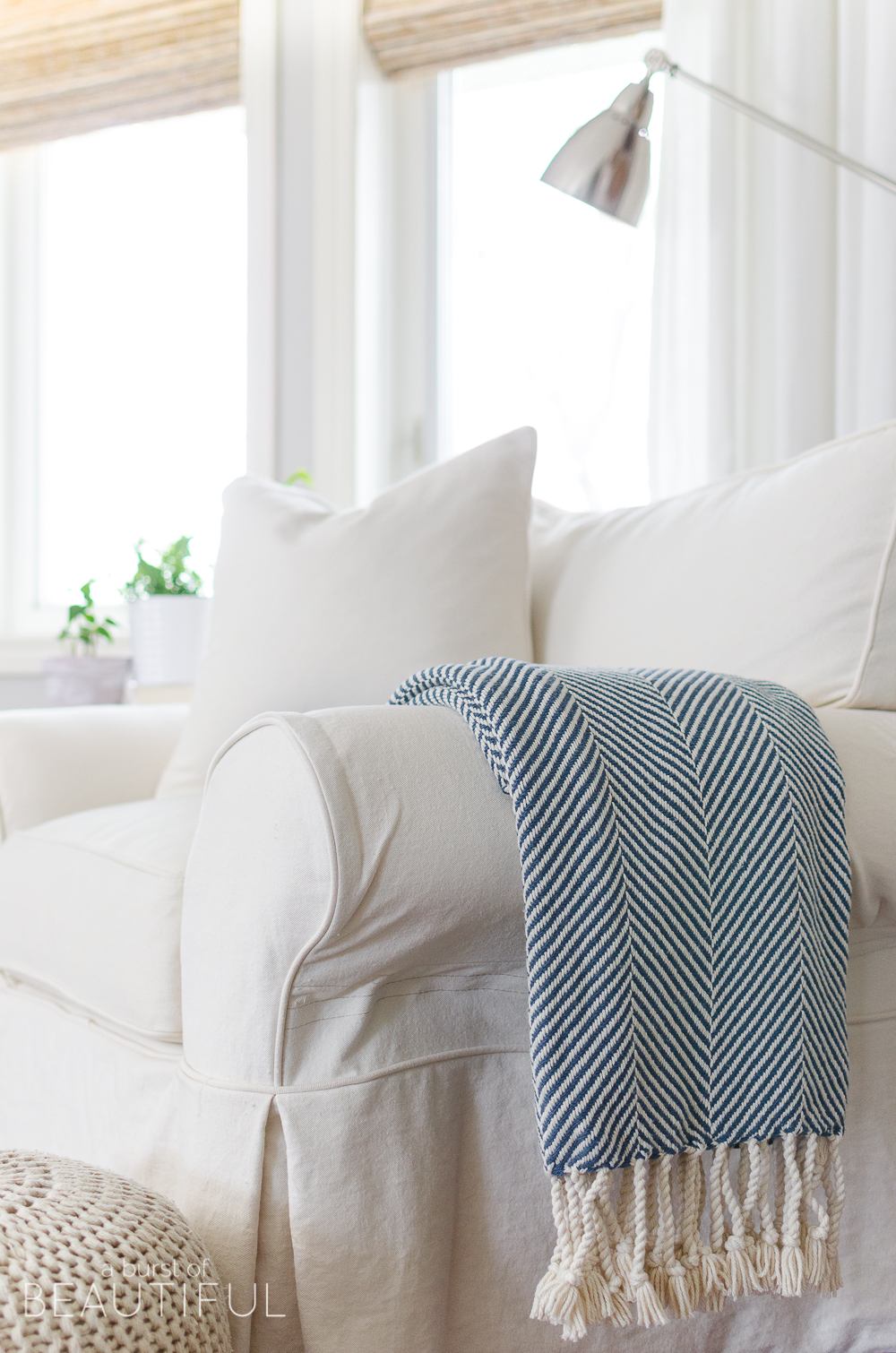 Don't get me wrong, I love color. It's bright, cheerful and fun, but I didn't want it to be an overbearing presence in our home. As I thought more about it, I realized I wanted to bring in just a whisper of color. Subtle hues that could be changed depending on our moods or the season, and I kept coming back to the color blue.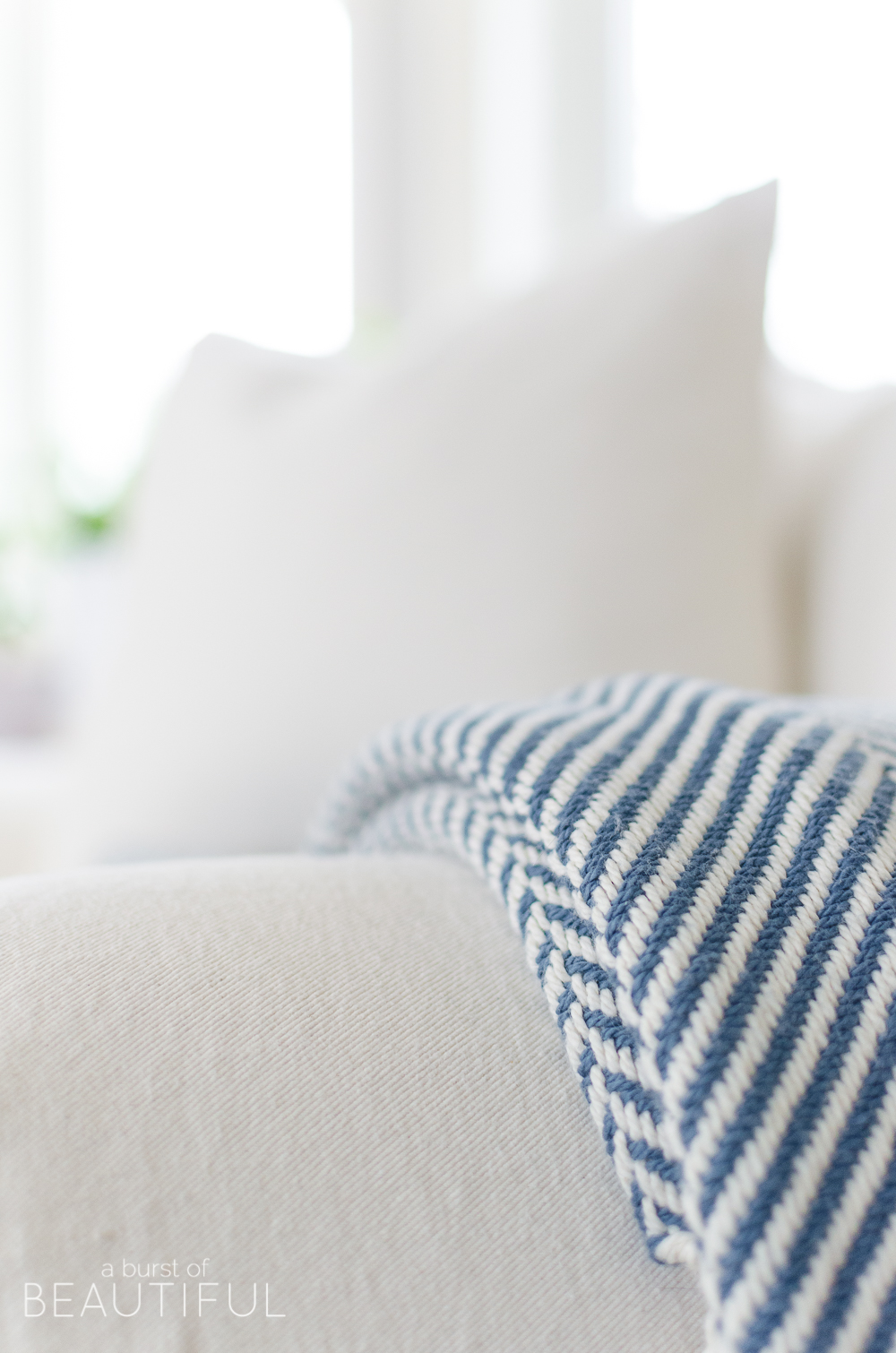 I've always loved blue tones, from soft baby blue to the deep turquoise hues of the ocean. I love that the color is so deeply rooted in nature, and I think that is the reason I consider it to be a neutral. But my absolute favorites are the deep rich shades of indigo mixed with the soft faded colors of worn denim.
It's such a beautiful contrast against the white, cream and gray colors throughout our home, and it adds warmth when mixed with the many natural items we have, like wicker baskets, woven shades and natural wood tones. I also love that it can easily pair with other colors, like blush, deep green or buttery yellow.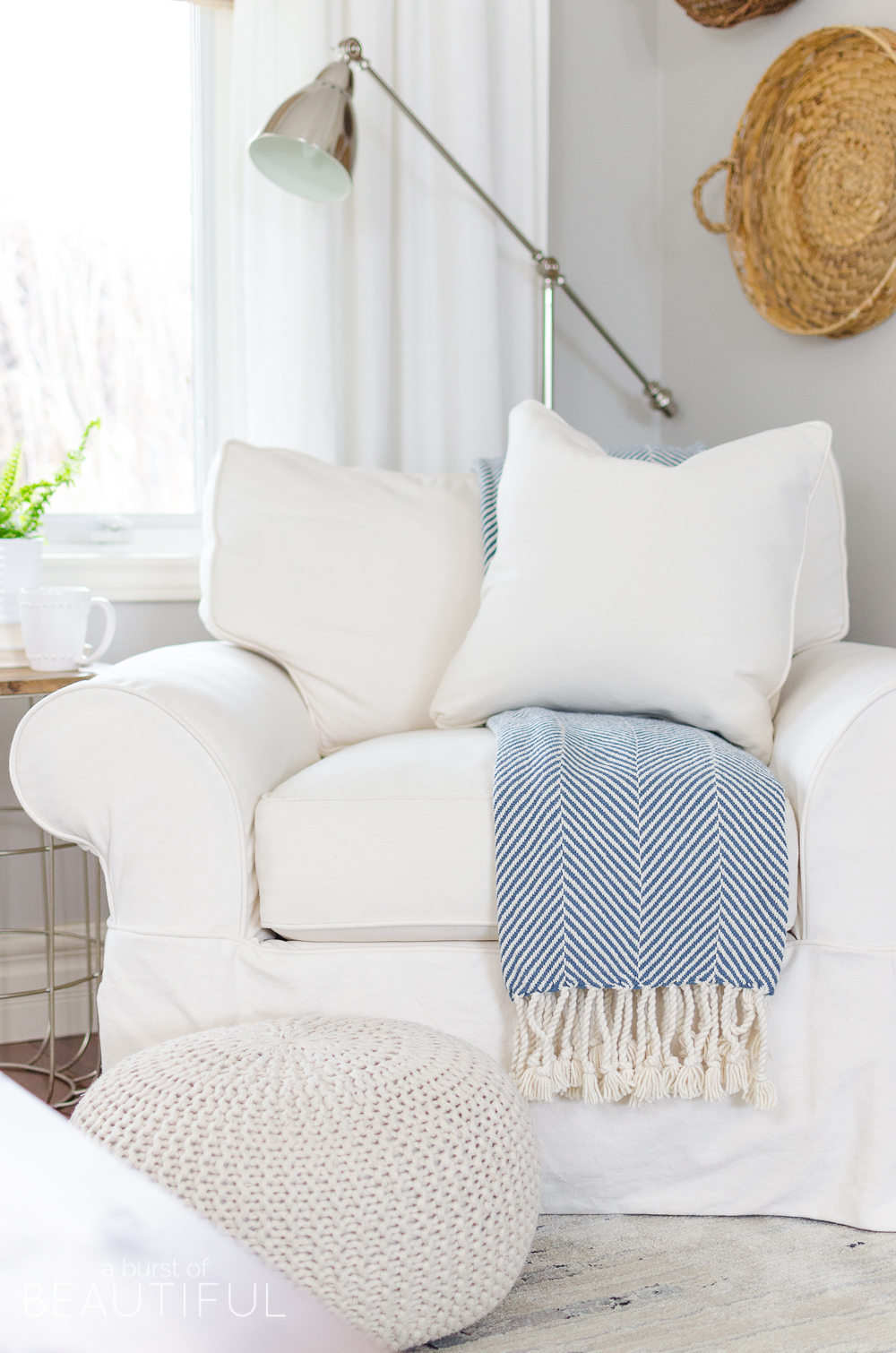 So one day I thought it was time to add a few of these hues into our home. I started slowly, by adding subtle hints of blue to our kitchen, dining room, living room and bedroom. The process was easy and the results were striking. Suddenly our home didn't feel quite so drab, it felt young, fresh and inviting.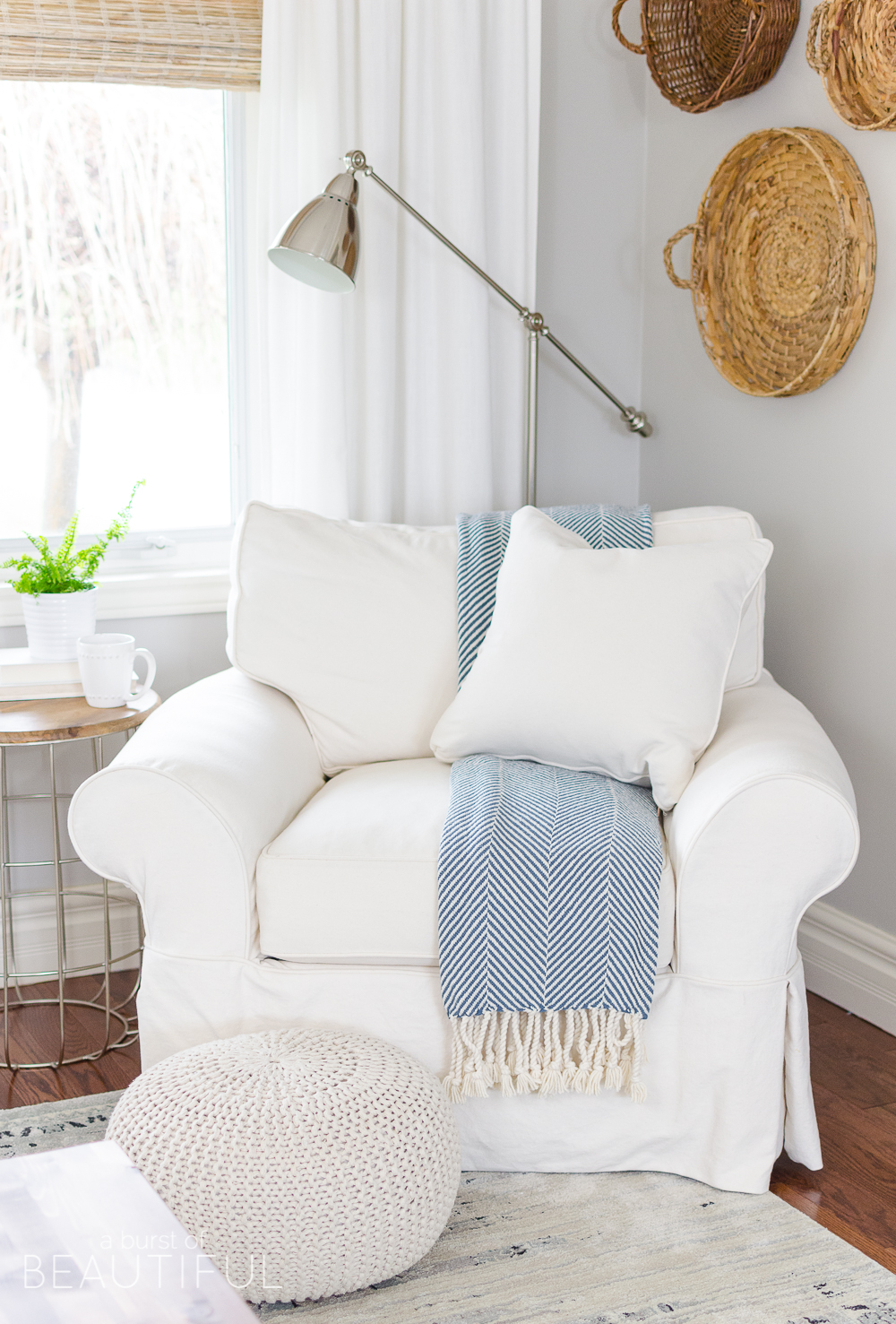 Incorporating these subtle hues is easy to do without straying too far from the neutral path you may love. I simply brought in decorative accents, pillows, and throws, like this beautiful indigo throw from Serena & Lily.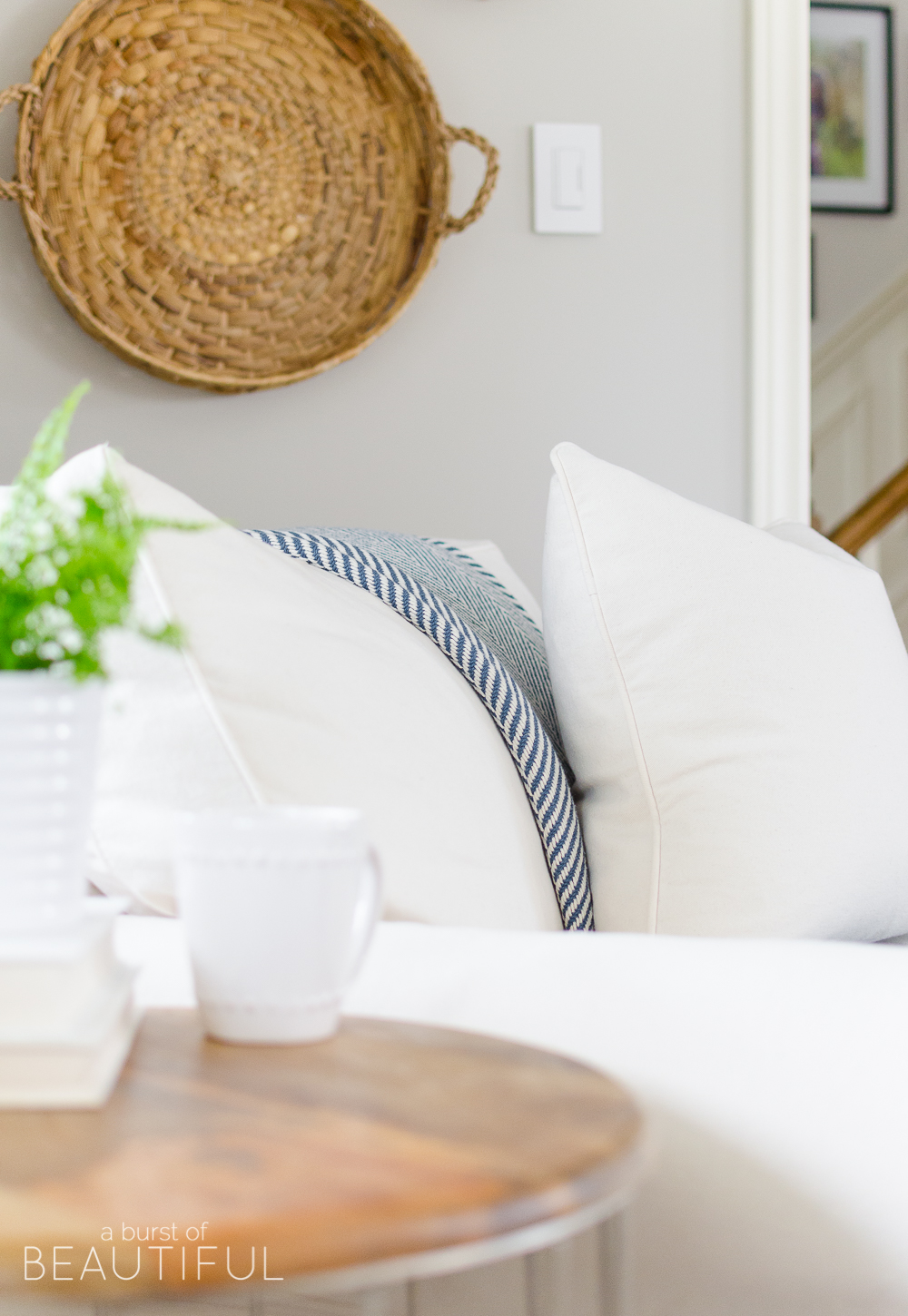 It's rich color and beautiful herringbone pattern adds so much to our space, with little effort. And knowing it was woven on an antique loom using specially engineered yarns make it feel even more special.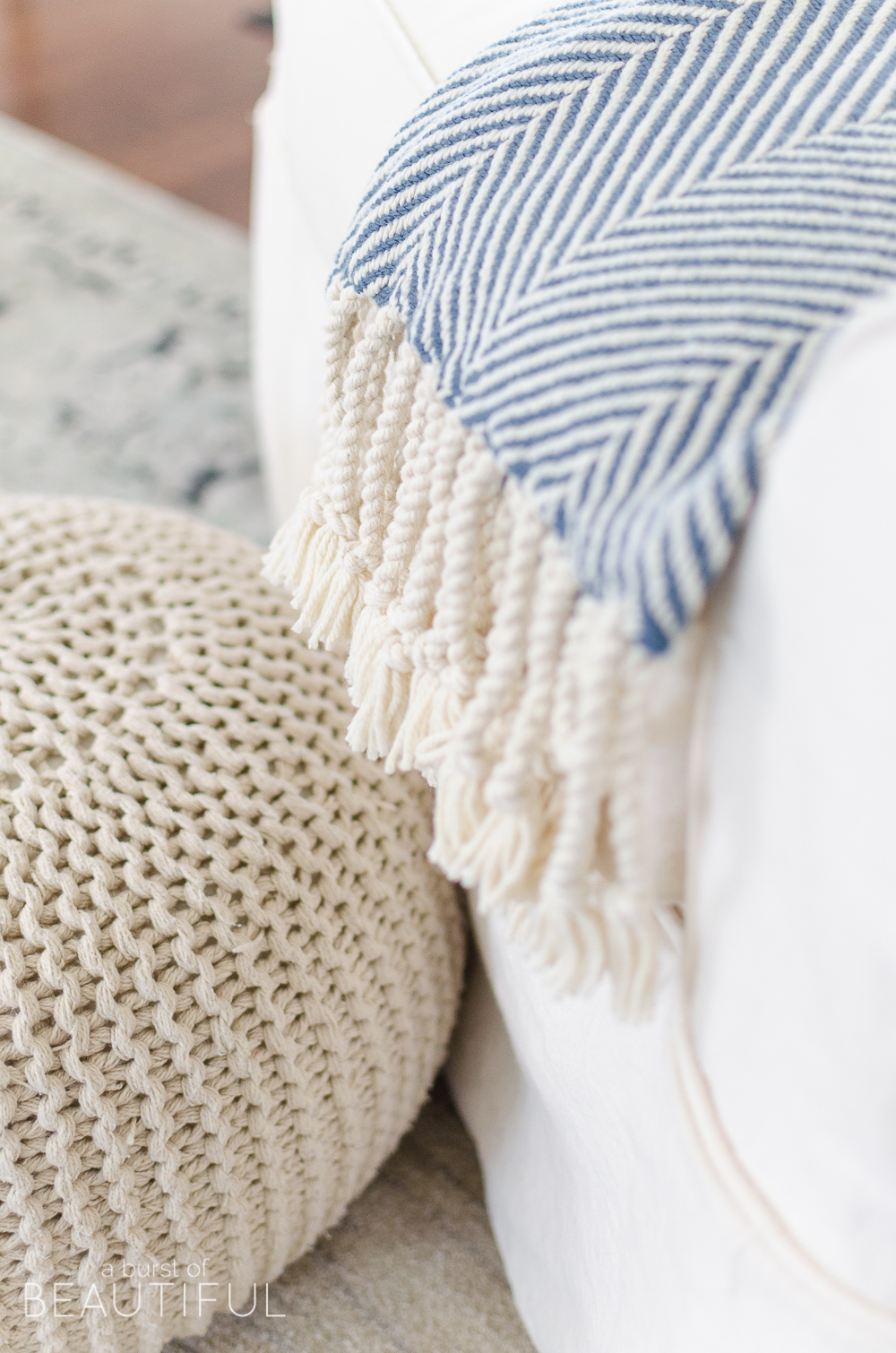 Adding layers like this to our home helps to create an inviting and cozy space, while telling the story of our family and our life. This cozy throw tossed over our armchair is both beautiful and practical. Rainy afternoons are often spent curled up on our sofa under this blanket reading favorite stories until the sun beckons us back outside. Or you'll often find it wrapped around my shoulders while I sit at our dining room table working late into the night on our latest blog post.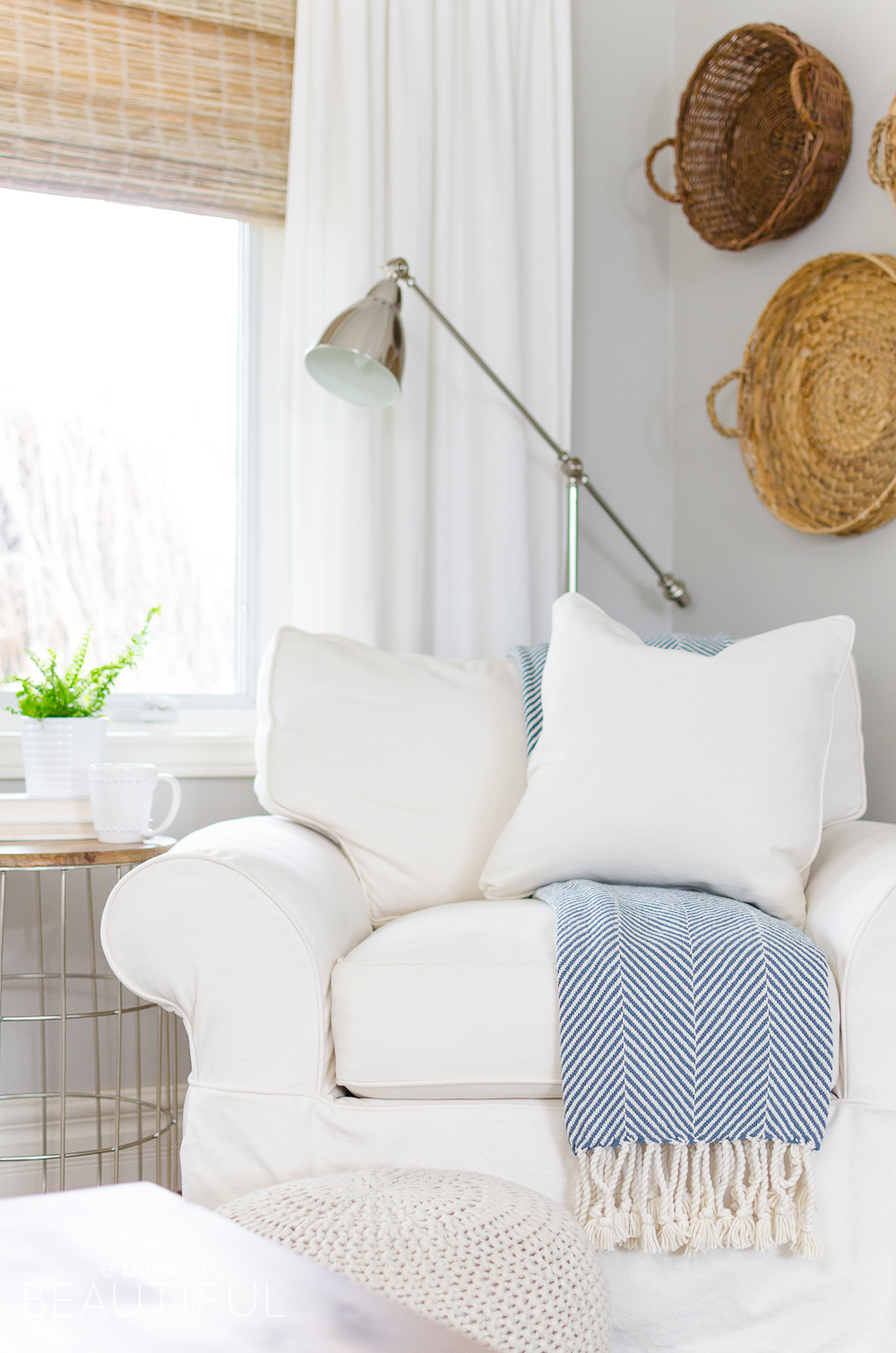 It's these items that create a cozy home and provide a practical use that are the best. Something as simple as a beautiful throw in a striking color can bring a hint of joy and fun to your home. And what's life without a little bit of color, anyway? 😉
Alicia xo