This post was sponsored by Balsam Hill.
All opinions and thoughts are my own, see our full disclosure policy 

here

.
Motherhood is both messy and beautiful, exhausting and exhilarating, and by far the most rewarding experience of my life.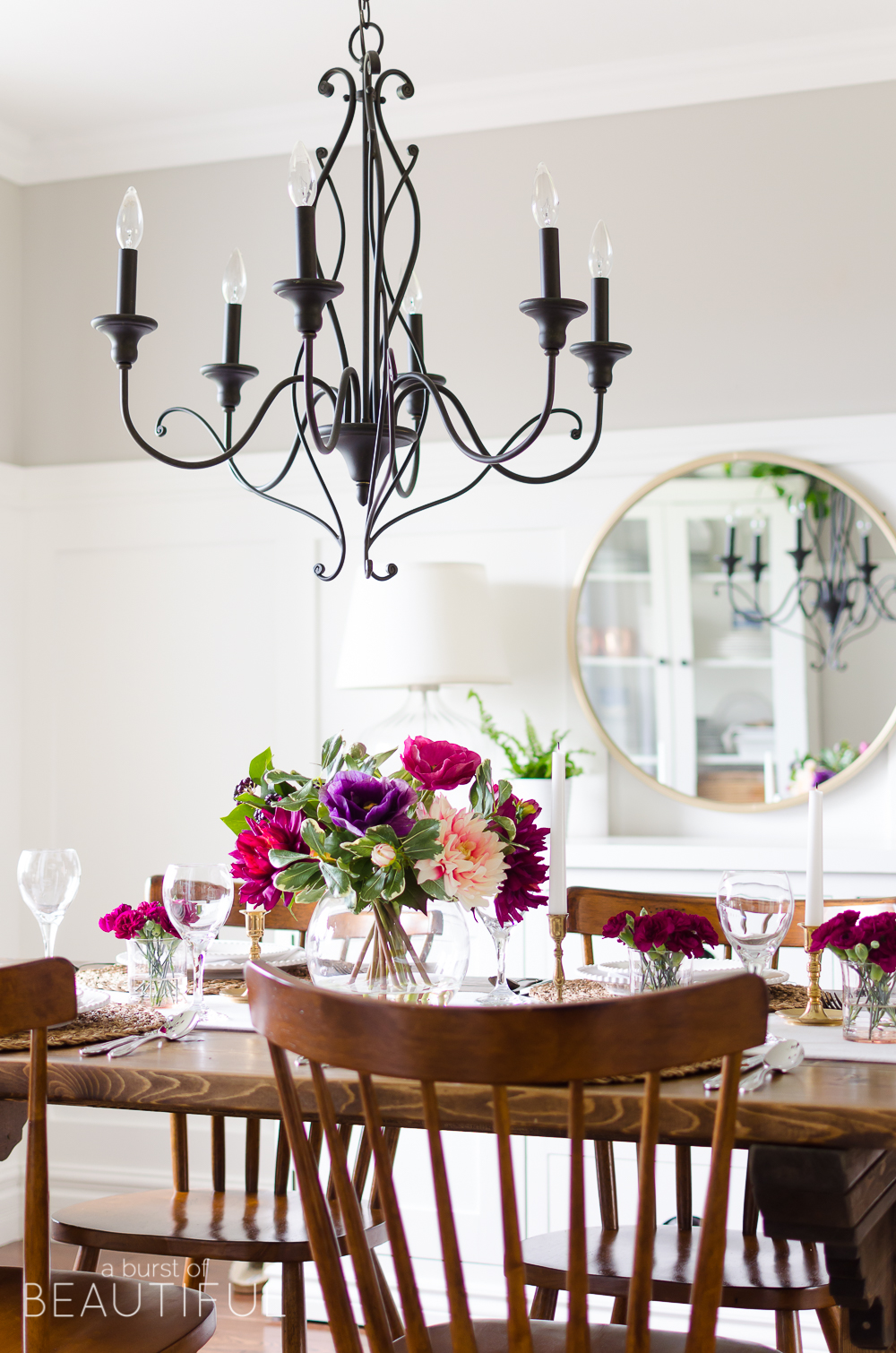 It has brought me closer to my own mom and given me a greater understanding of the joy, struggles, and sacrifices she endured while raising my sister and I.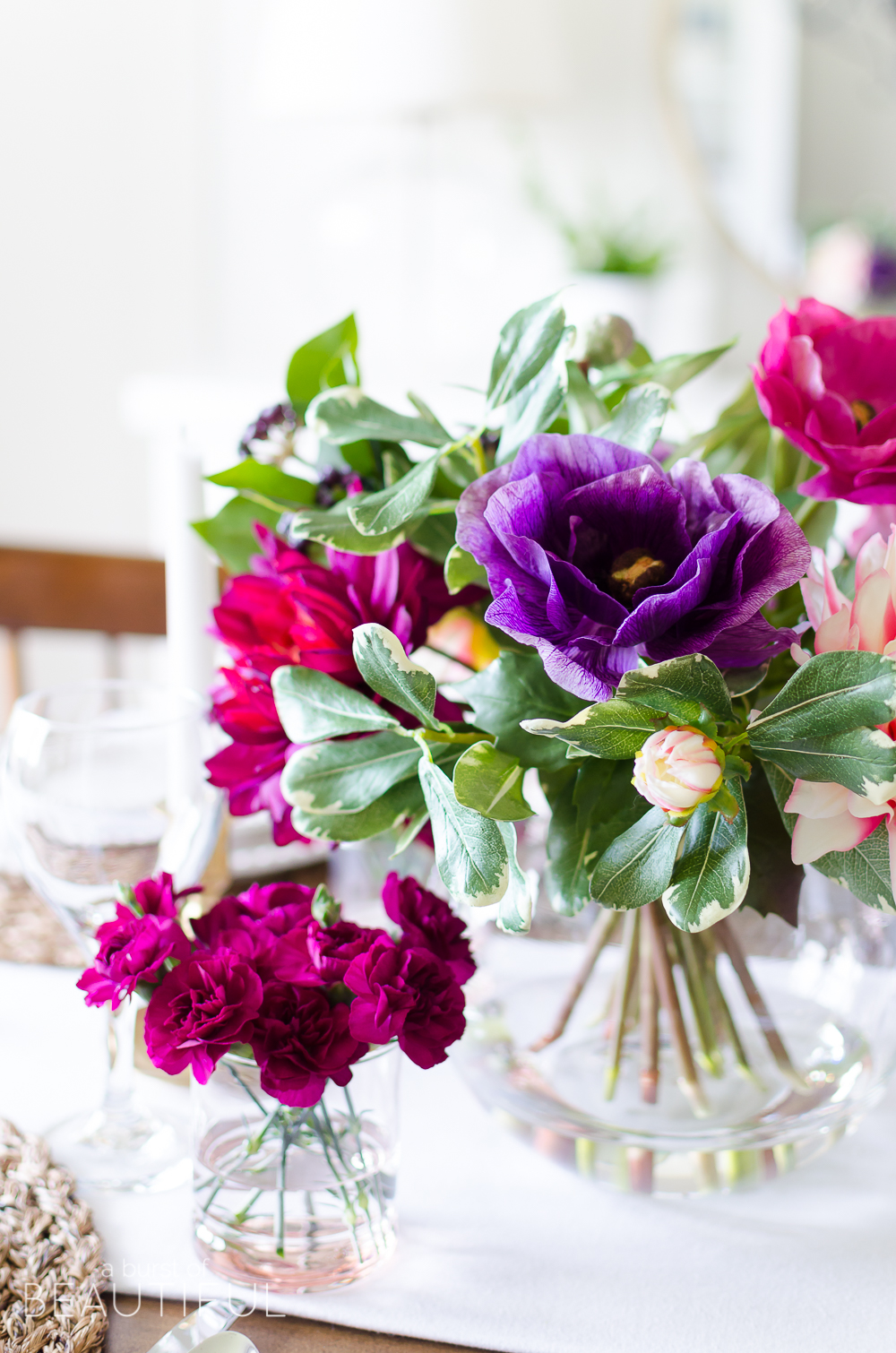 Growing up I always dreamed of becoming a mother. From doting on my baby dolls to babysitting the neighborhood kids to watching my friends start families of their own…I couldn't wait to have my own little one to hold in my arms.
And then one day it happened, Nick and I welcomed a perfect little daughter into our lives.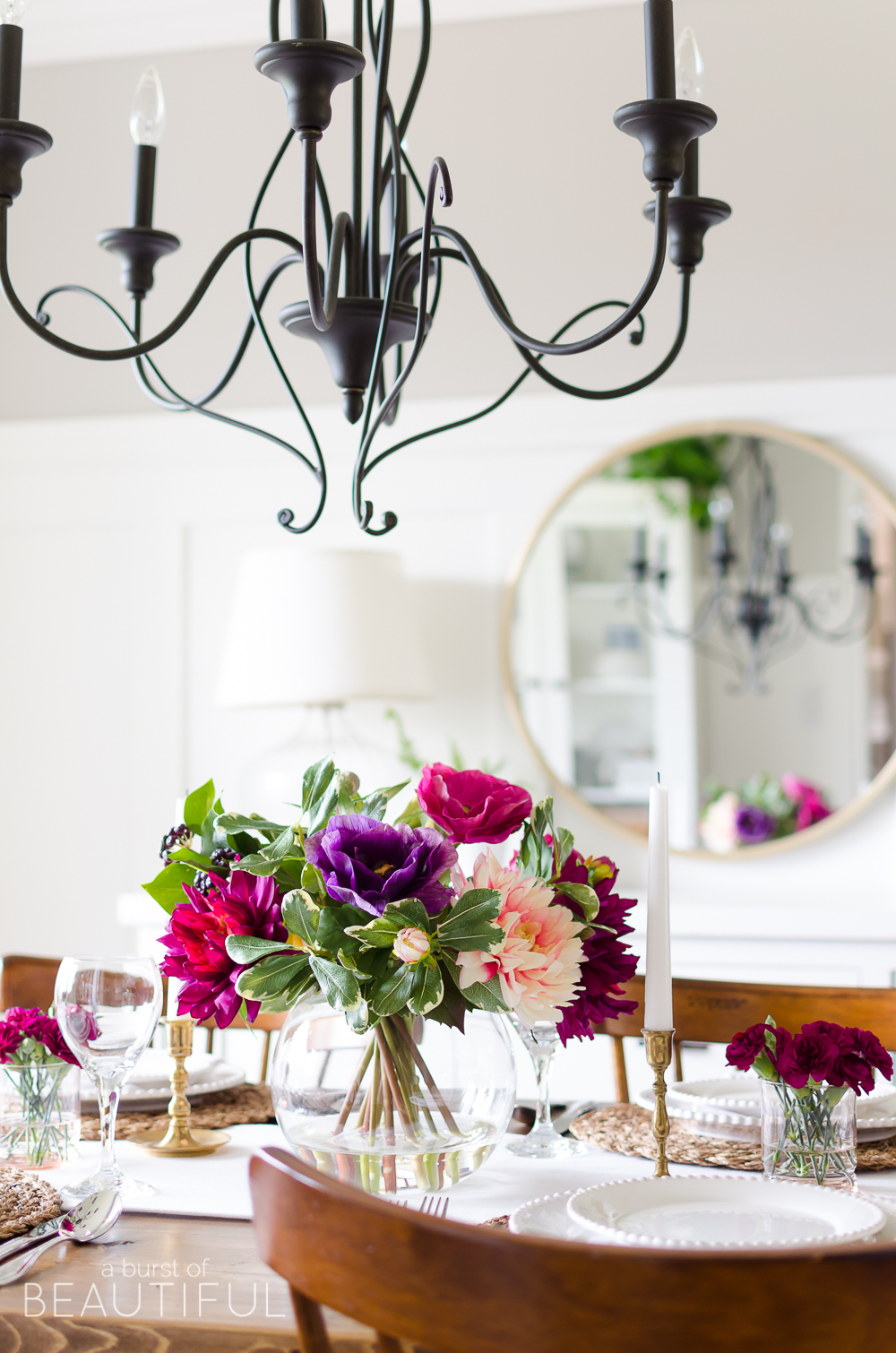 It was like nothing I could have ever imagined. Suddenly you're thrust into this world of no sleep with this tiny little human depending on you for everything. No matter how much you think you are ready you can never be completely prepared. There is so much to learn, from what each tiny cry means to navigating potty training and negotiating bedtimes. And though it is stressful and tiring and sometimes even frustrating, I feel so blessed to be able to experience the greatest love of all.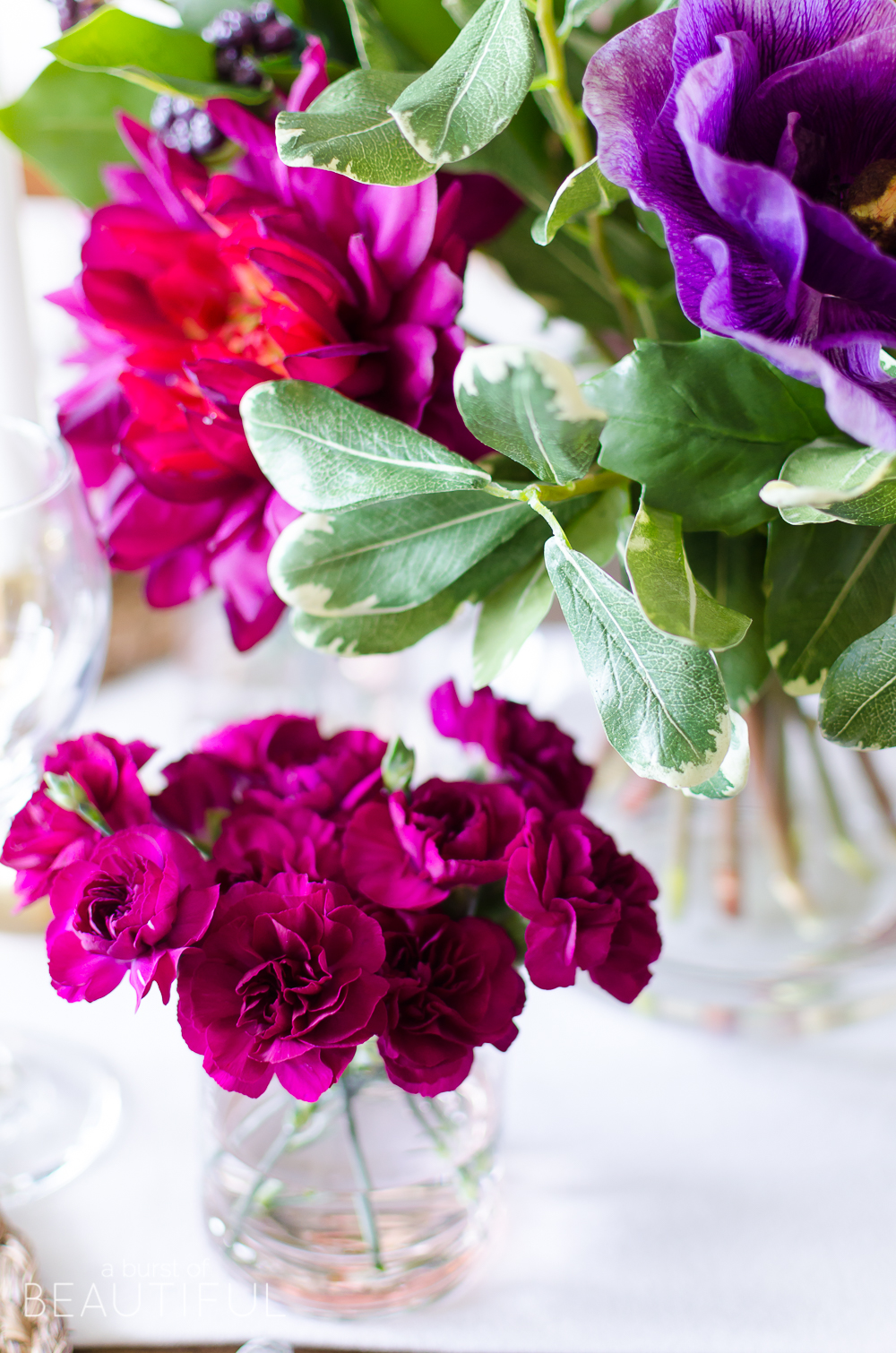 There is a quote I heard once many years ago and never fully understood it's meaning until becoming a mother…
"Making the decision to have a child – it is momentous. It is to decide forever to have your heart go walking around outside your body." -Elizabeth Stone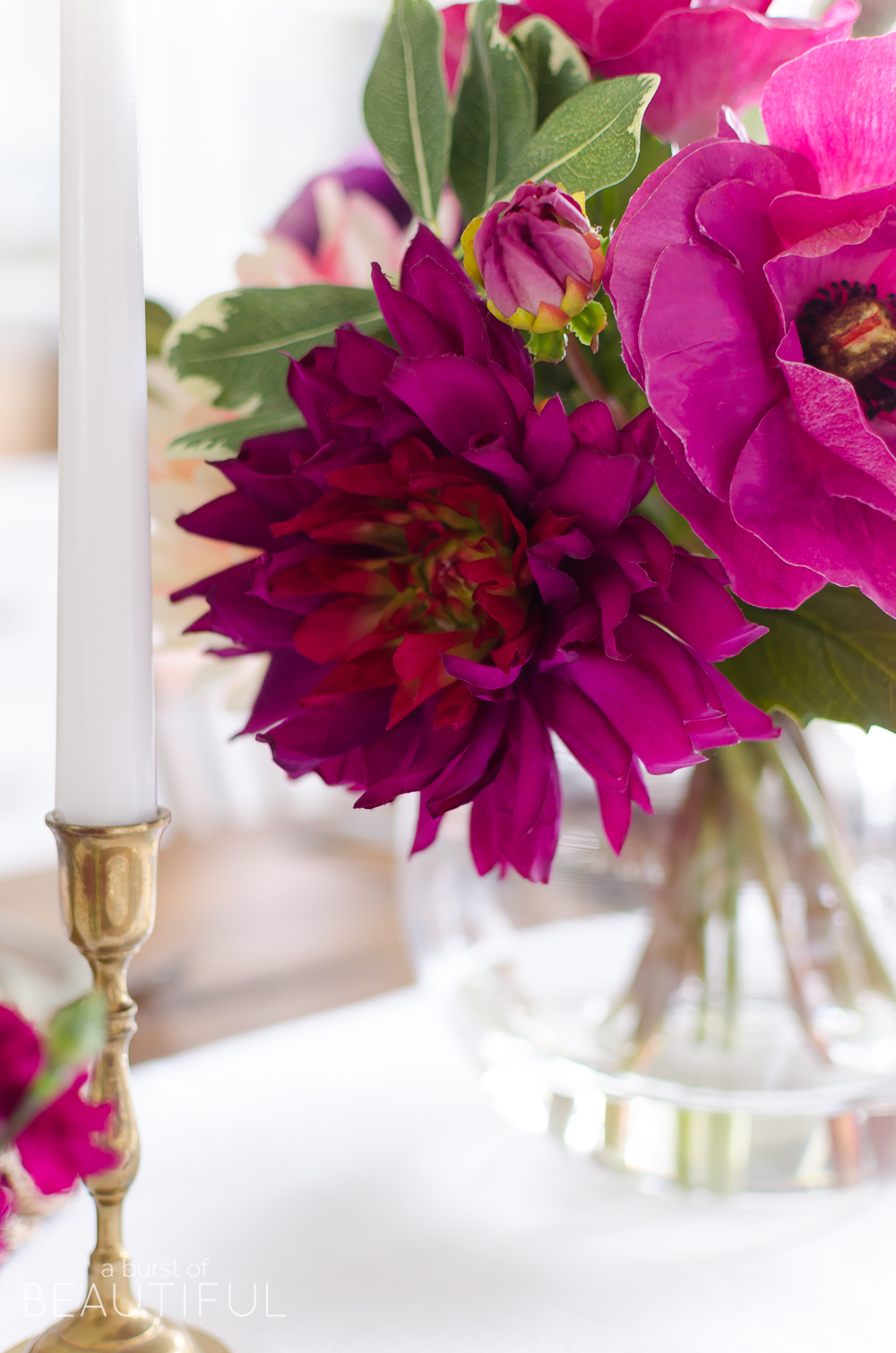 Everything I do is for my child. I get the greatest joy experiencing the world through her eyes…from something as simple as watching her jump in puddles after a rainstorm to seeing her eyes light up on Christmas morning as she comes down the stairs. But just as I feel her happiness I also feel her pain, seeing her hurt or sad breaks my heart and I would do anything to put a smile back on her face. Her joy is my joy and her pain is my pain.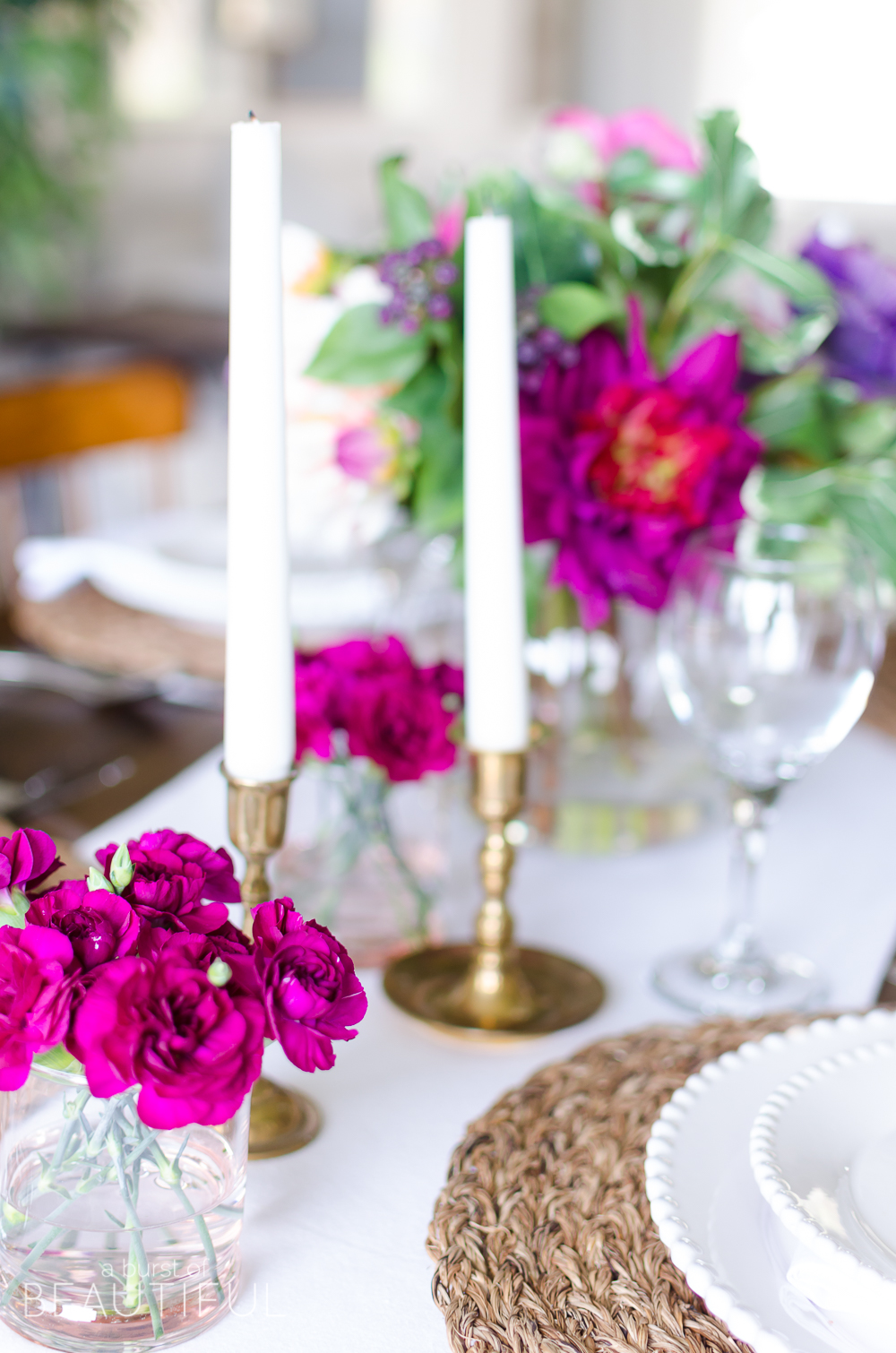 Becoming a mother has opened my eyes and my heart to so many new experiences. And it reminds me of how much our mothers gave to us growing up. It has given me a new appreciation for their unconditional love and on-going struggles.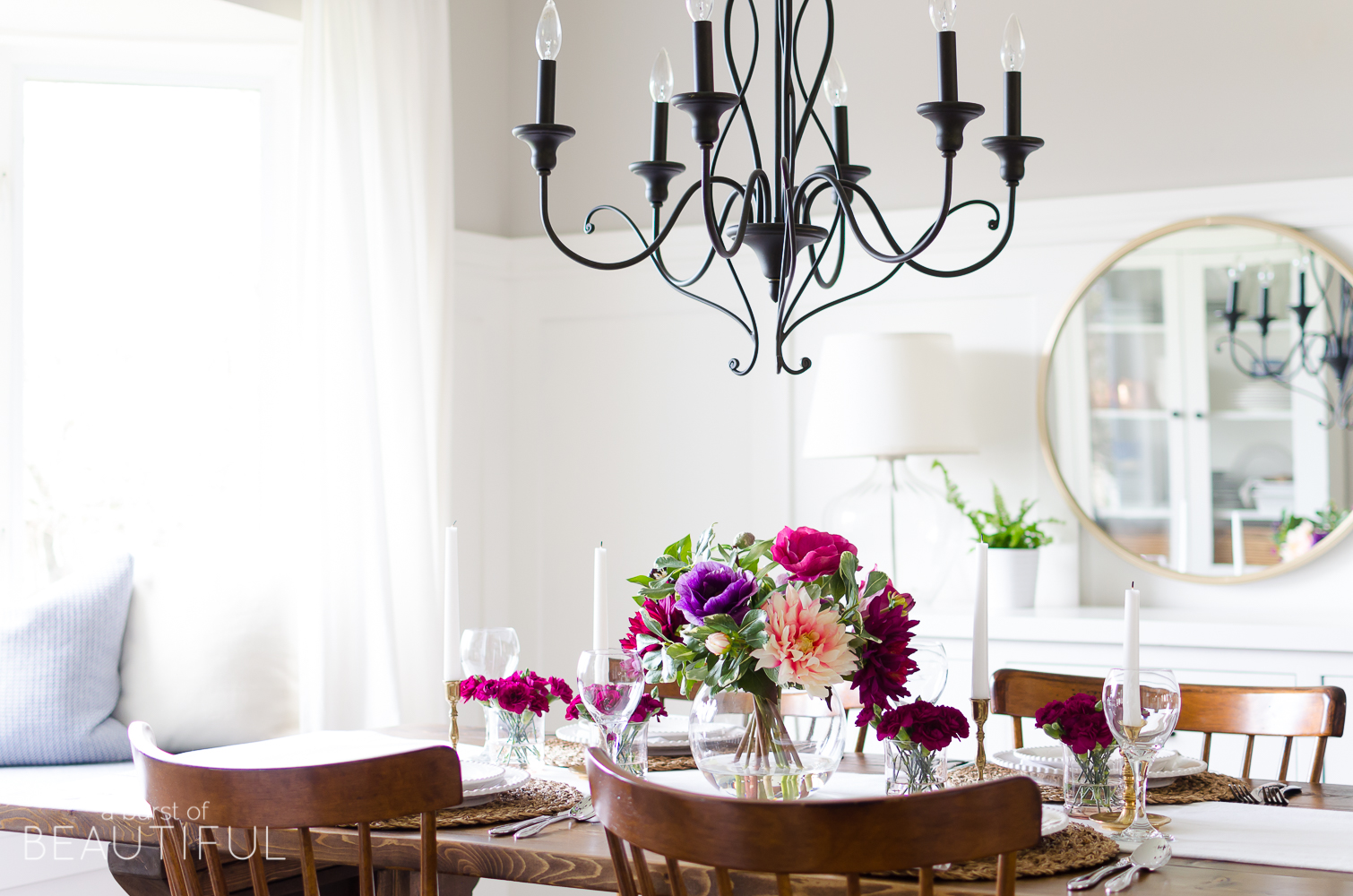 And while I think motherhood is the most amazing and beautiful experience I may ever encounter, I can't deny the joy it has brought to our parents. Watching as both my mom and mother-in-law continue to bestow that inherent motherly love and pride to our little one fills me with so much happiness.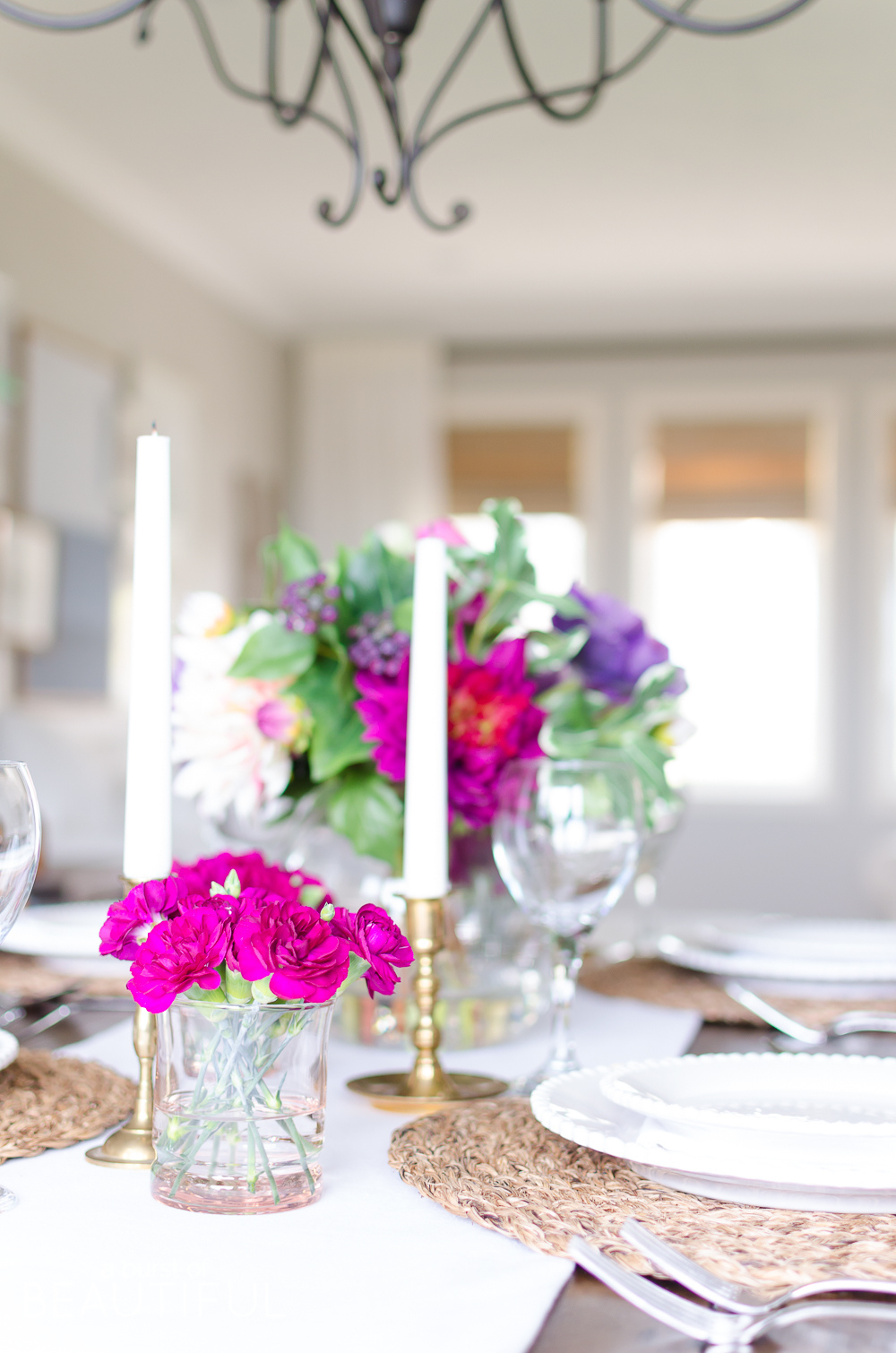 So as Mother's Day approaches I wanted to share a simple, yet beautiful way to say thank you to all of the amazing mothers in our lives. And what better way to show your appreciation than with a beautiful table setting and delicious brunch.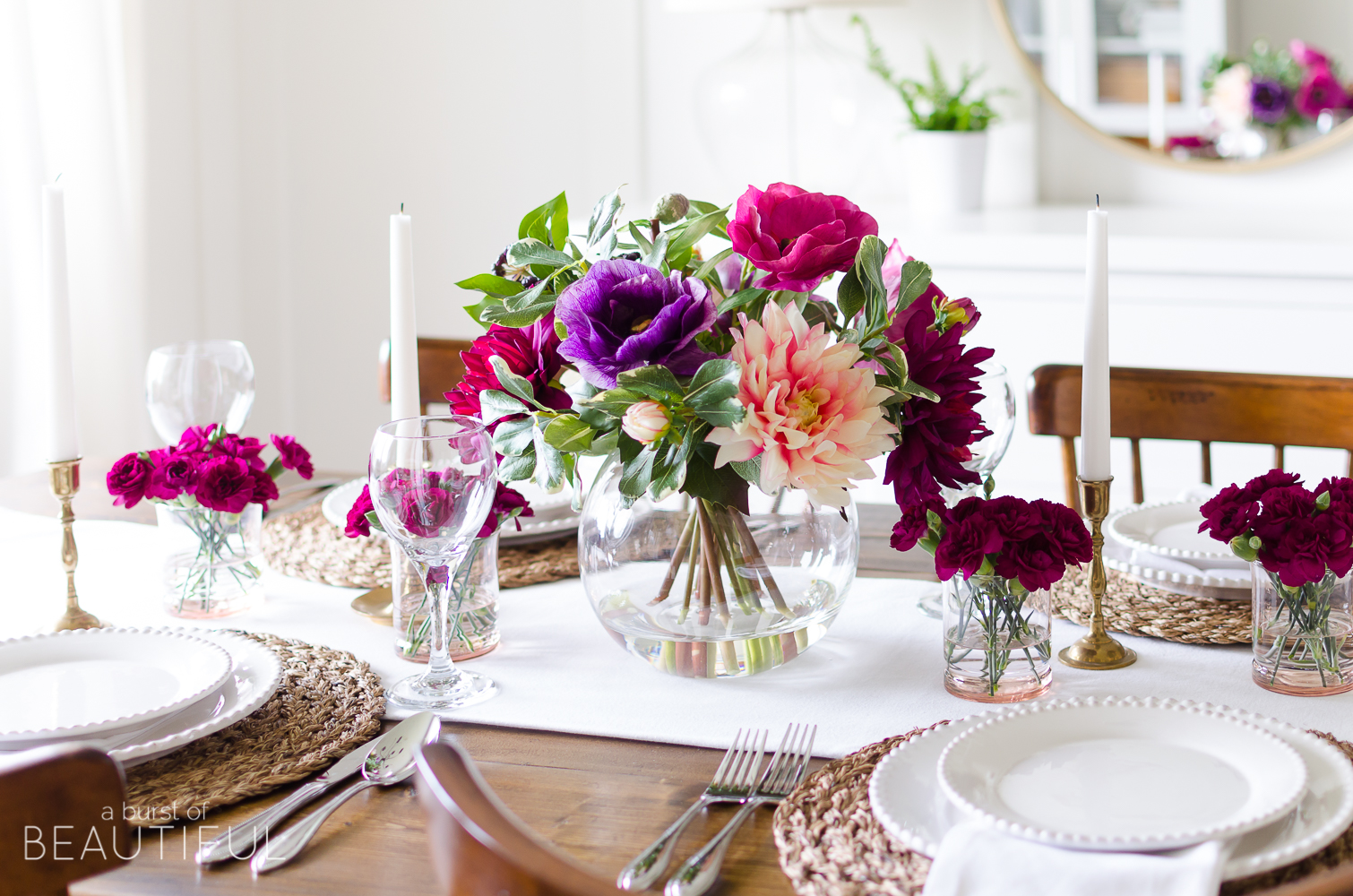 The idea for this vibrant table setting came to me after seeing this stunning faux floral arrangement from Balsam Hill. That's right, it's faux…can you believe that?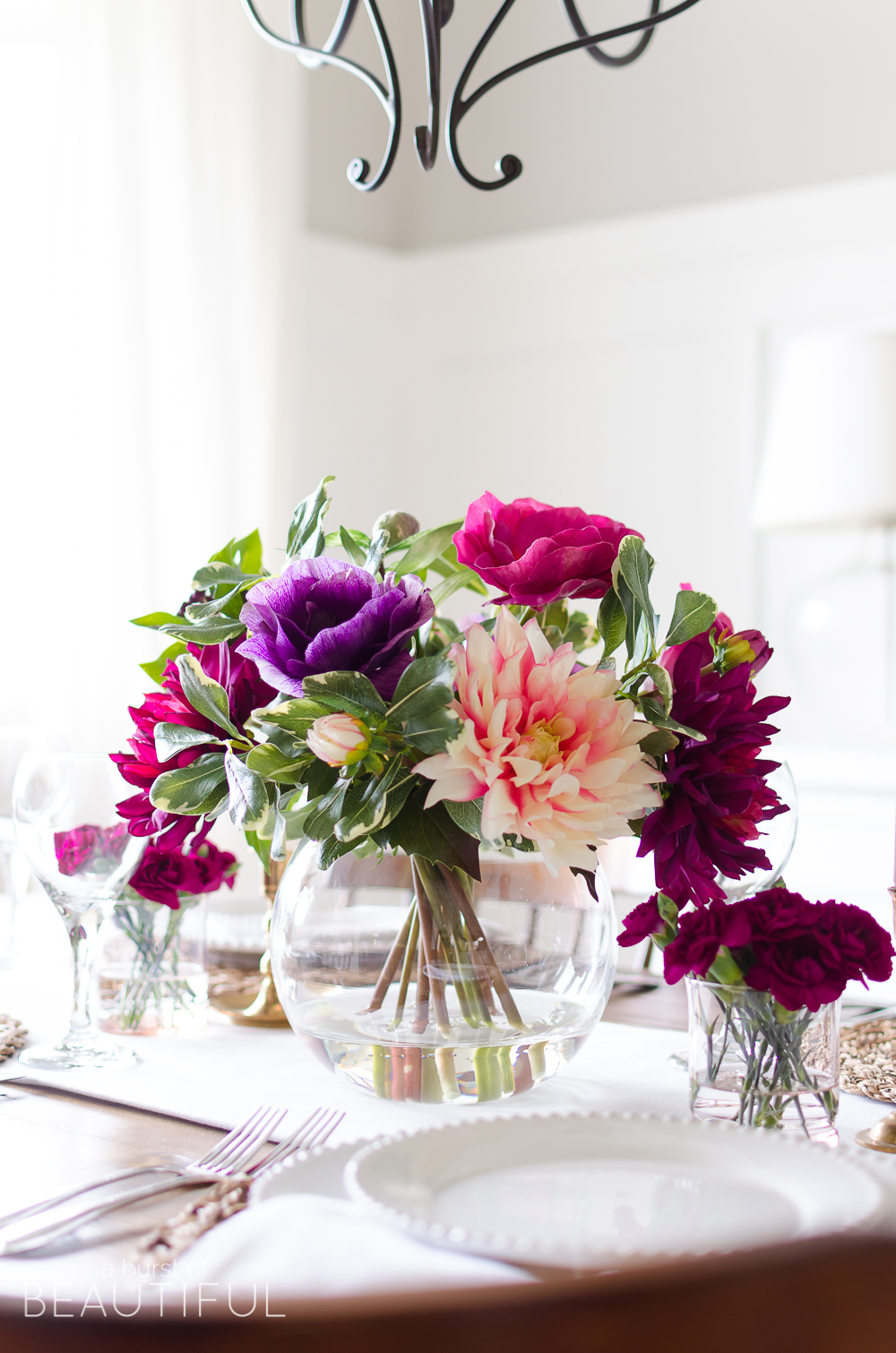 It was the mix of delicate flowers and vibrant colors that caught my eye and help to create this timeless centerpiece. And although I love fresh flowers and creating pretty arrangements, sometimes I just like having it done for me – I don't have to worry about running out to the florist to choose the right flowers and greenery, nor do I have to spend precious time arranging it just so. I can simply set this pretty arrangement on our dining table and I have the perfect starting point. Which is exactly what I did…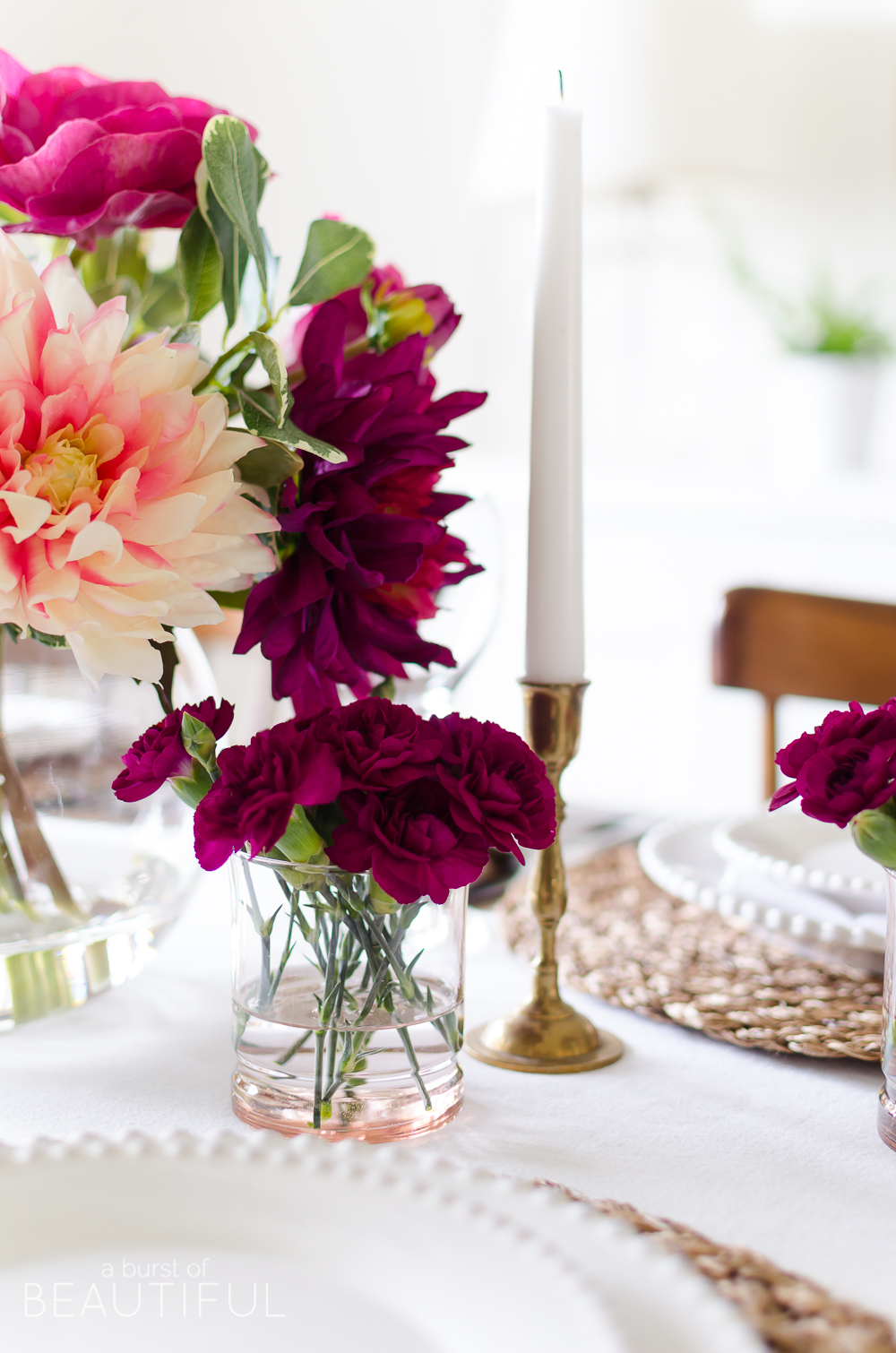 I wanted to carry the rich colors of the arrangement down the center of our dining table, so I filled these sweet vintage pink glasses with magenta-hued carnations from our local grocery store. It is a simple look, but one that definitely has an impact. And I love the dainty look of the glasses and their soft pink hue helps to add a softness to the table.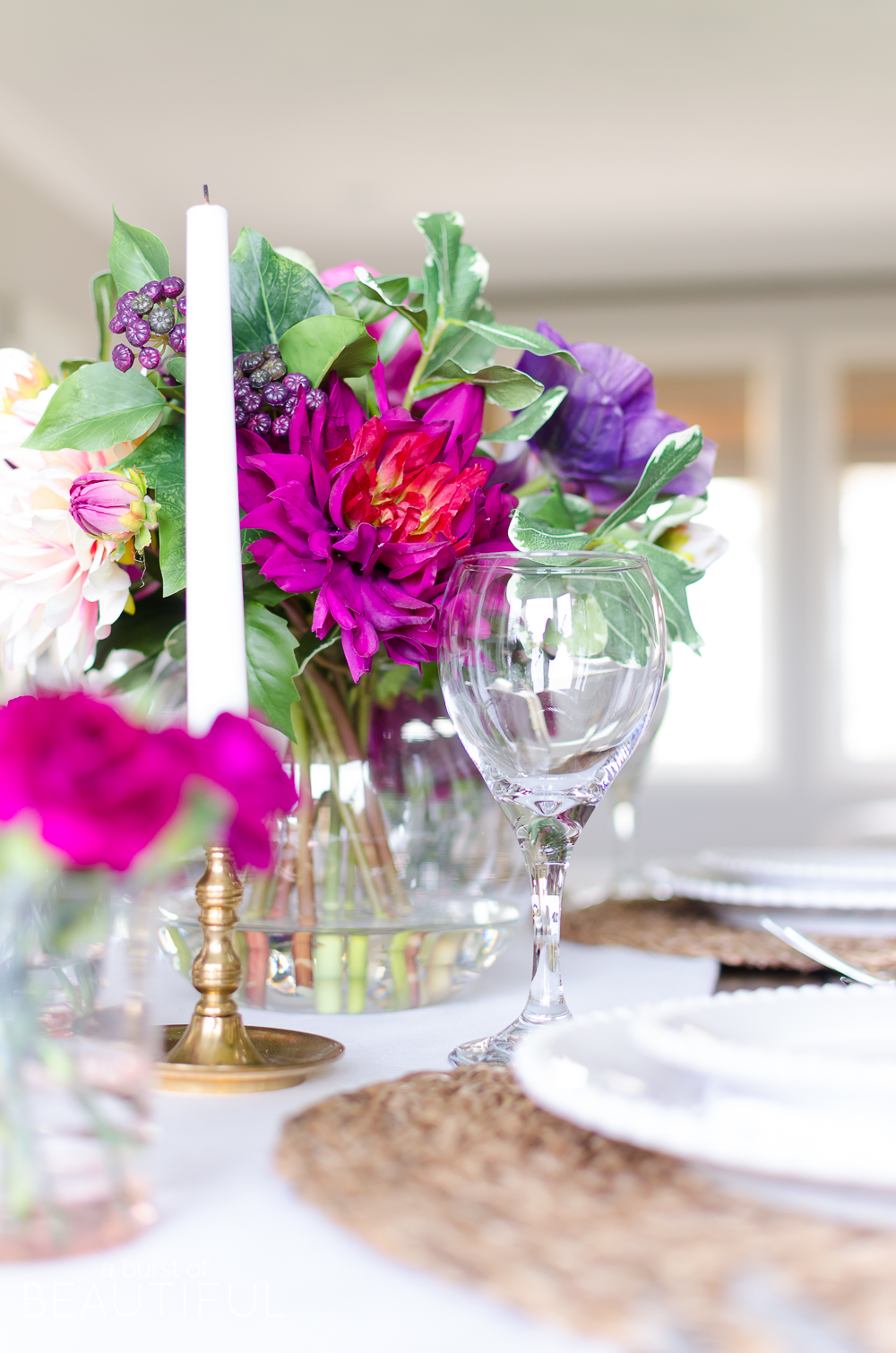 My favorite trick for adding a little warmth to a room is to add a touch of gold, and that same trick applies to tablescapes. These vintage gold candlestick holders are a favorite of mine, their worn patina and varying shapes and height add so much interest to our table. Don't you just love them?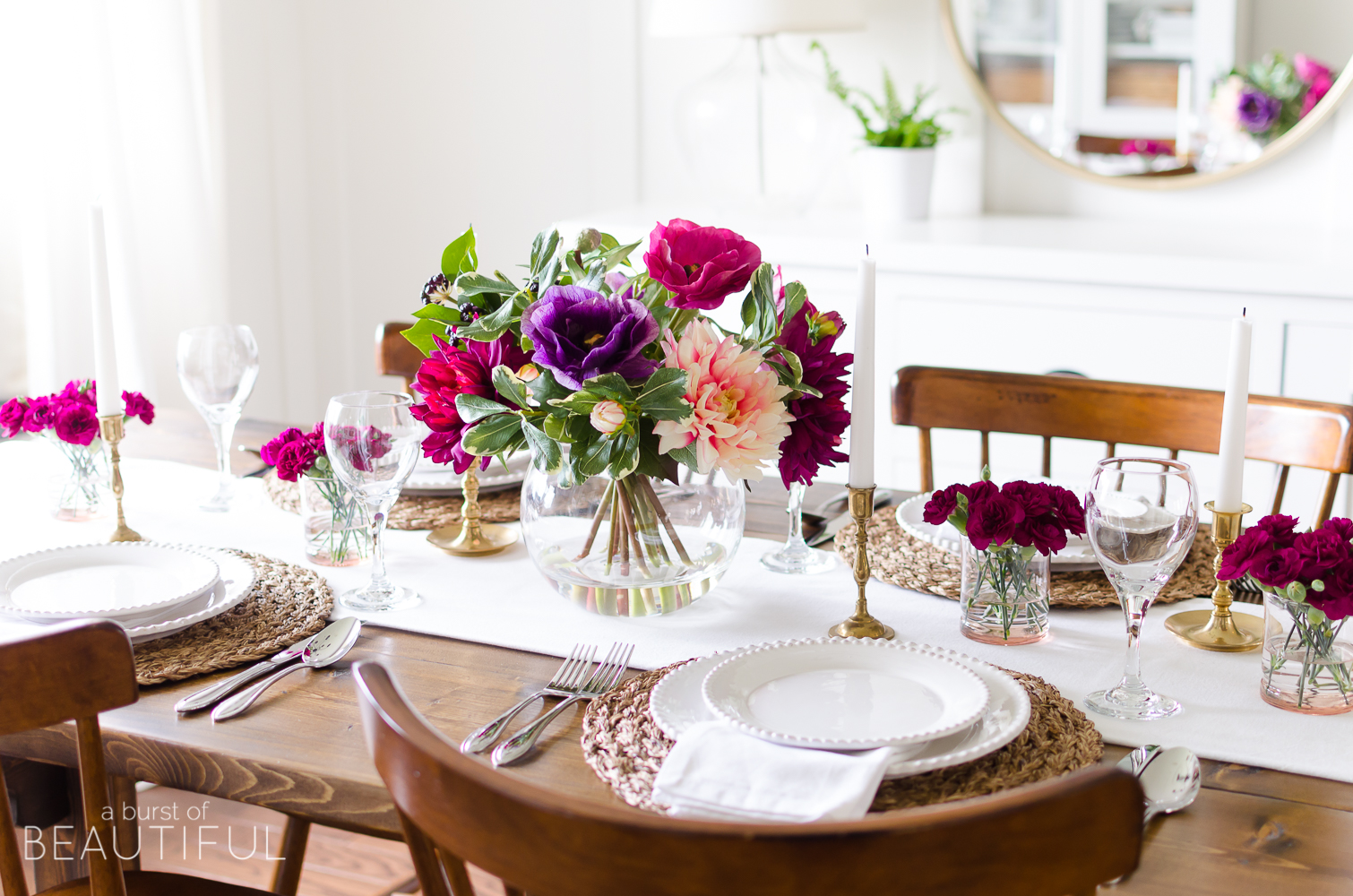 Finally, simple white dishes topped on woven wicker placements add just the perfect mix of texture. And now you have a simple and beautiful table to host a lovely Mother's Day brunch for all of those special moms in your life.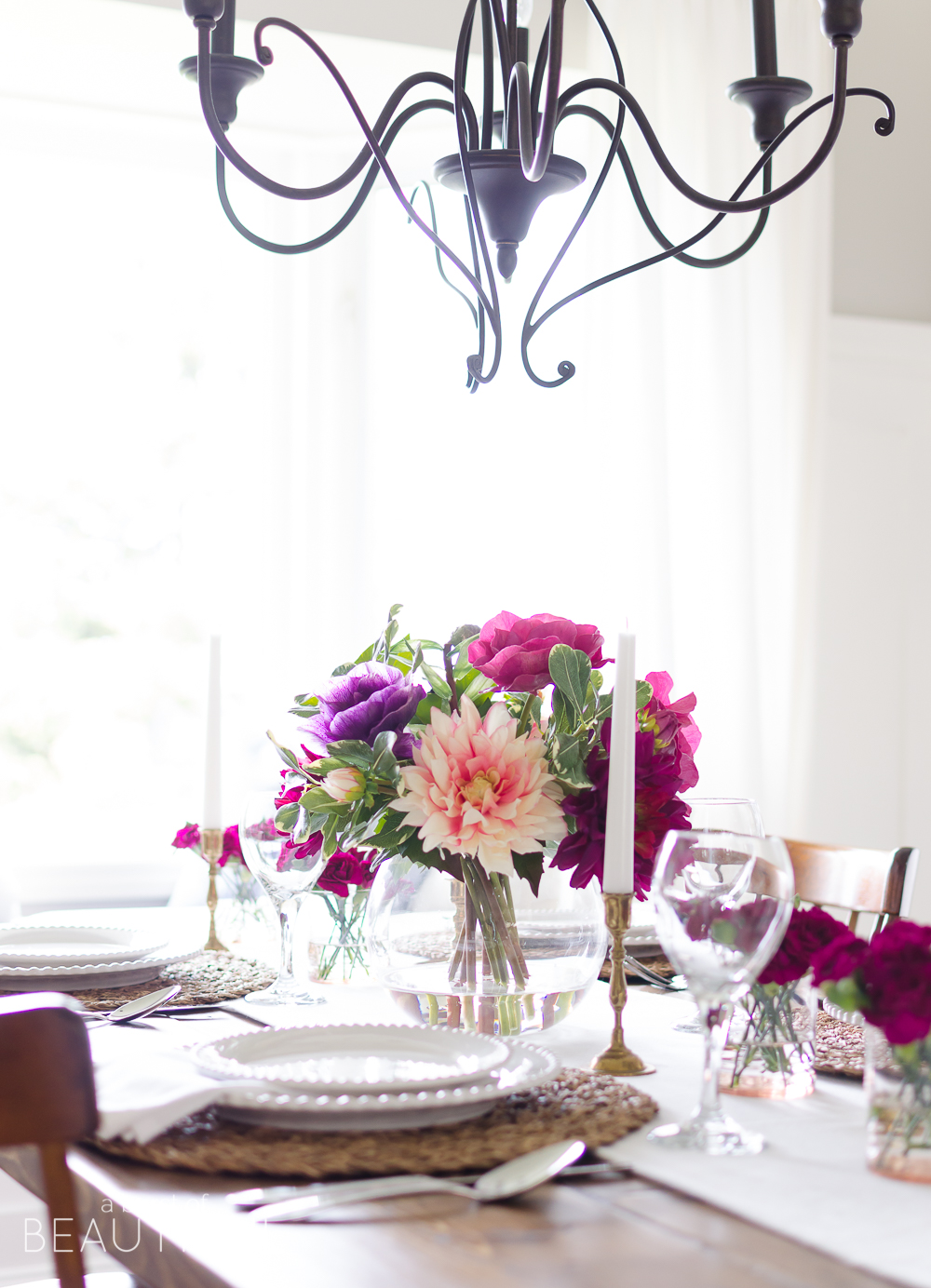 My friends are sharing beautiful stories of mothers that have touched their lives and sharing inspiring ways to celebrate this Mother's Day so be sure to visit them all. Also, Balsam Hill is so kind to be offering an additional 10% off sale prices for any floral items with the code MothersDay2017. Mother's Day is the perfect opportunity to take advantage of their beautiful florals!
Alicia xo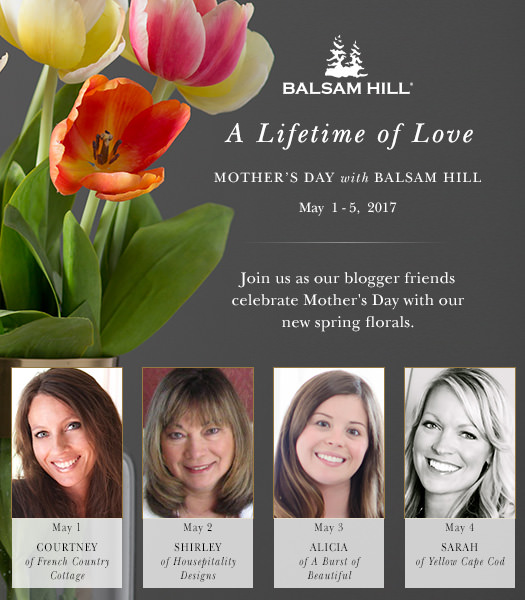 French Country Cottage | Housepitality Designs | A Burst of Beautiful | Yellow Cape Cod