This sweet toddler girl's pink bedroom is designed with soft colors and the decor elements create a whimsical feel. It is a simple and clean design.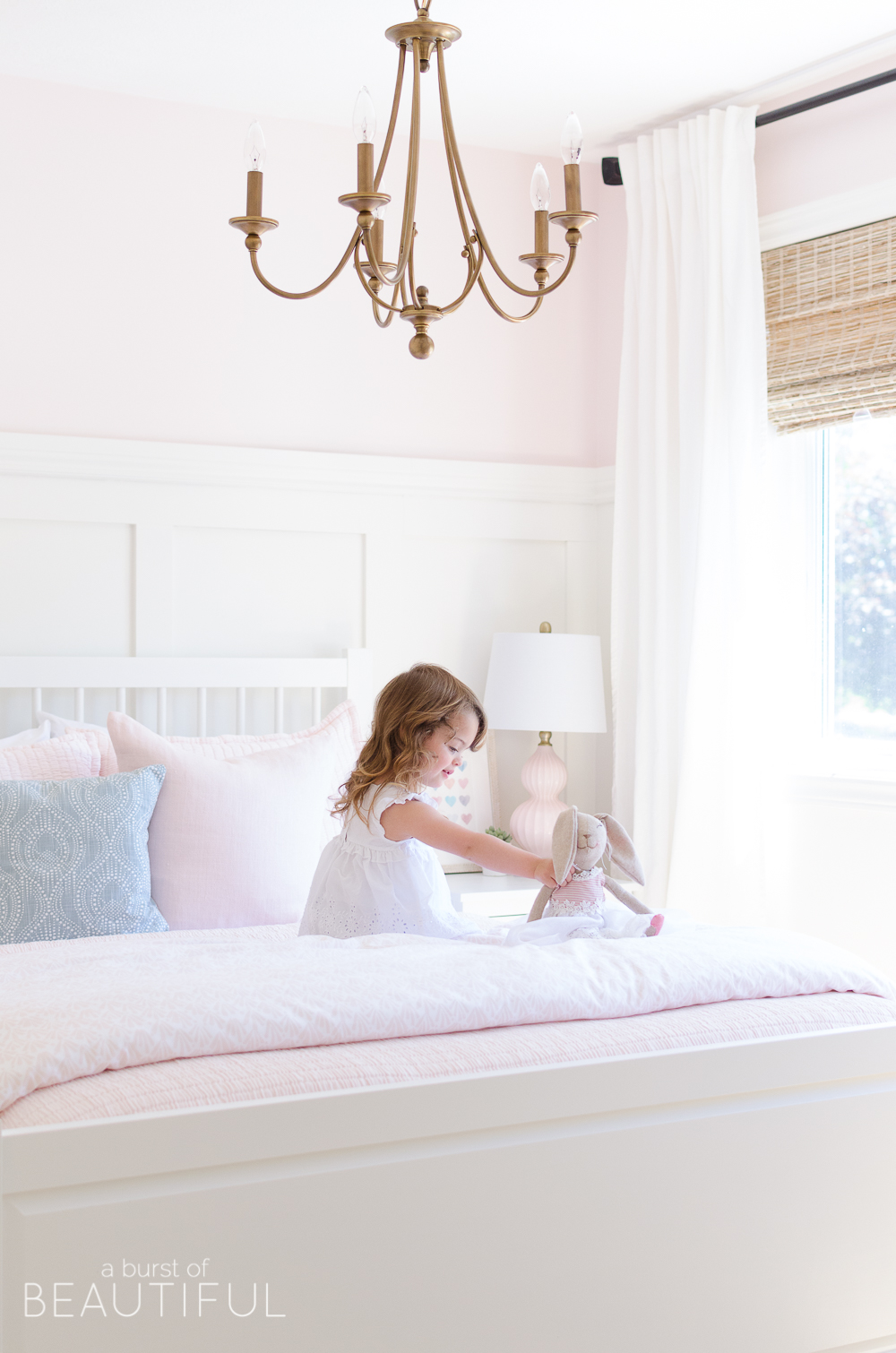 Well, the day is finally here! After weeks of planning, designing, painting, building, more painting, shopping and decorating our little one's sweet toddler bedroom is finally ready!
And boy, are we excited to share it with you. Just like her nursery, this is the one room in our home that we have poured the most love and thought into. It truly was a labour of love, and we couldn't be happier with it.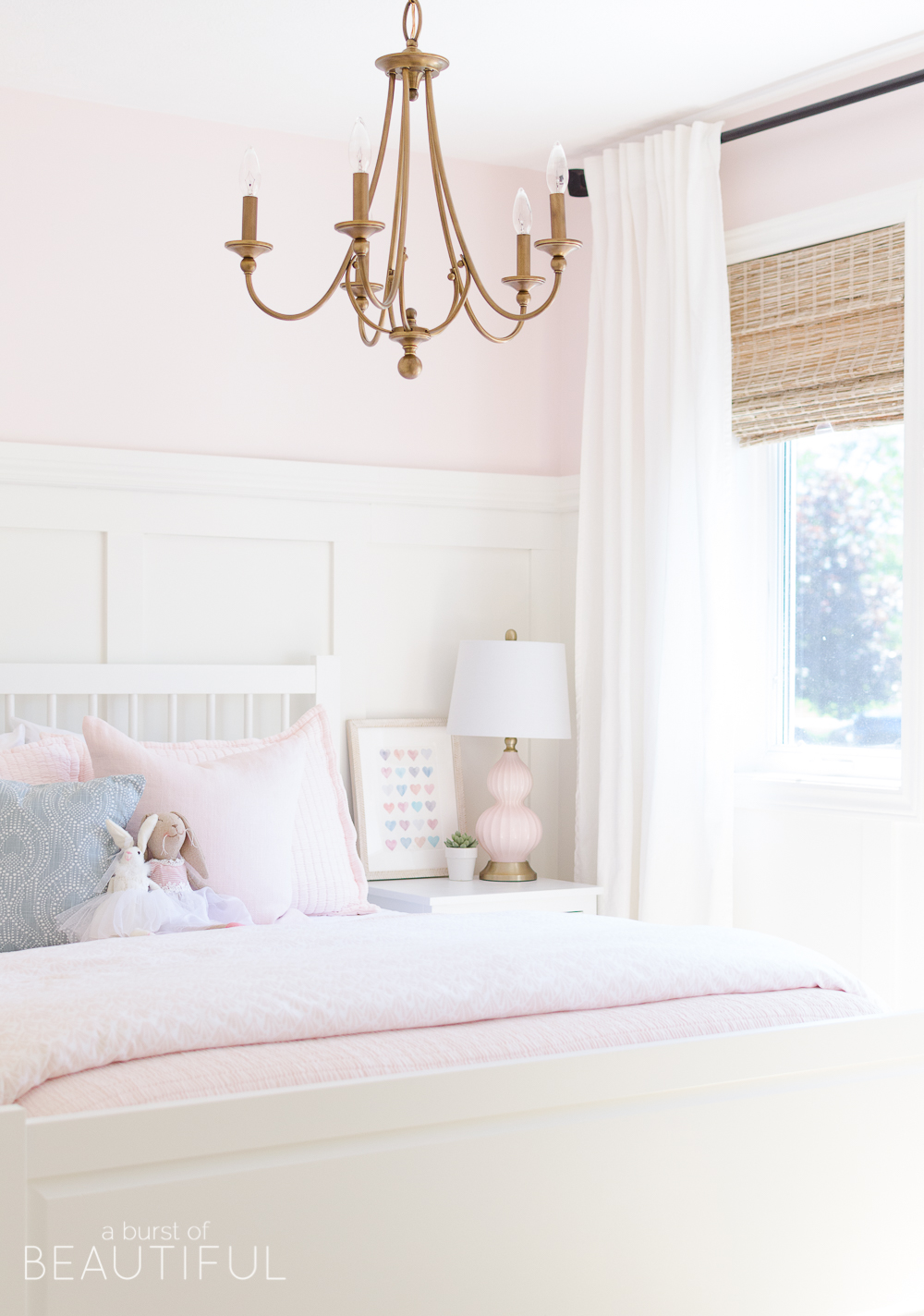 If you read our blog regularly you probably already know this story, but if you're new here I'll share it one more time…when we found out I was expecting we decided to keep the gender of our baby a surprise. We wanted to learn if we were bringing home a baby girl or boy the first time we held that new baby in our arms and not a moment before. Those nine months were full of so many wonderful things, and the anticipation made it even more special.
But as a planner, that put one major obstacle in my way…planning and designing the nursery. And what I process it was! Nick says that I have a hard time making decisions. It's true, I admit it, I have a really hard time.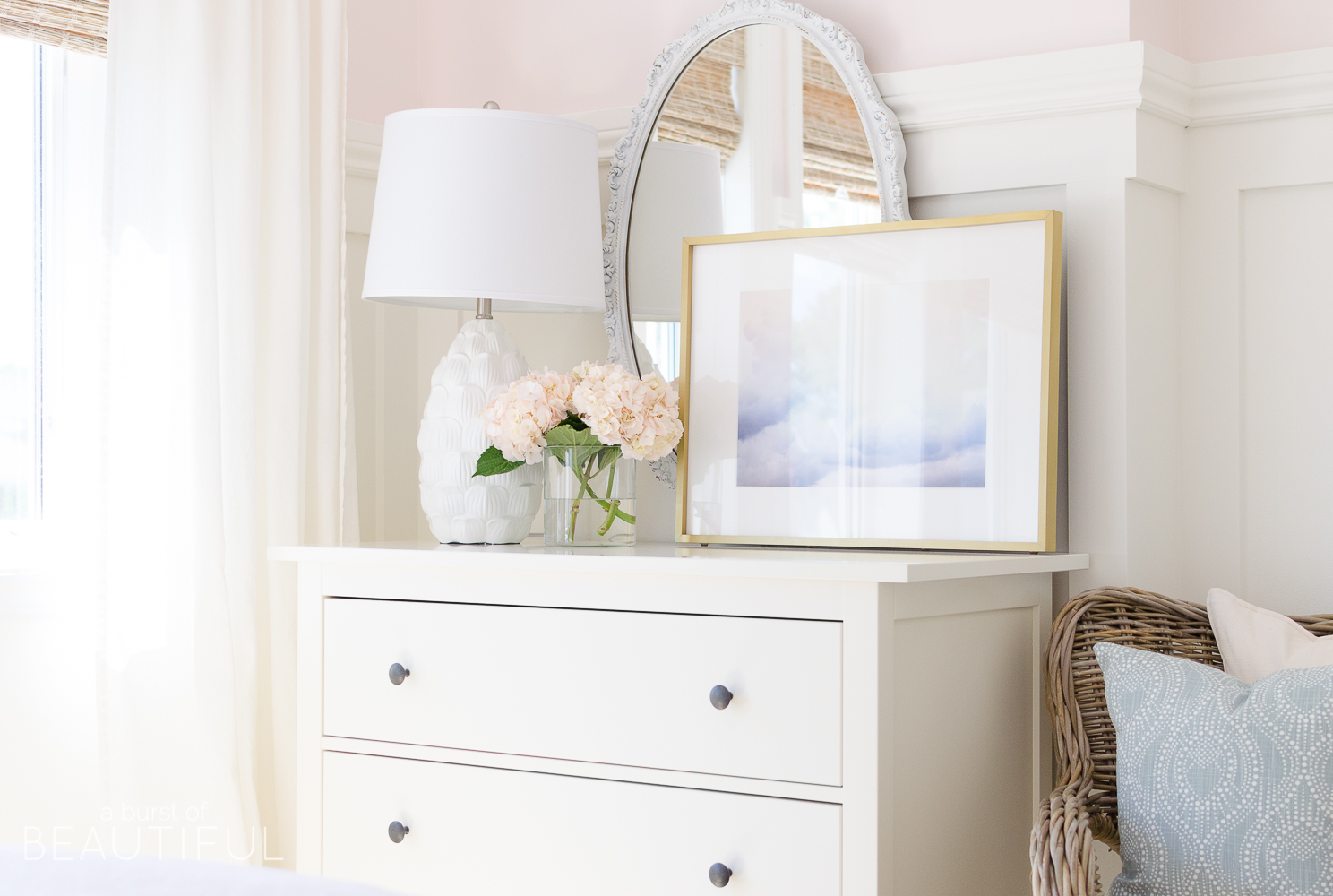 We thought about waiting to set up the nursery until after our baby arrived, but in the end, we decided it would be best to have everything finished so we weren't spending those first few months thinking about paint colours, cribs or mobiles when we should be enjoying our sweet new babe.
So we moved forward and designed a gender-neutral nursery. It was such a sweet space and I will always love it, but once we brought home our baby girl I was hooked on sugar, spice, and everything nice! I wanted to paint her room in soft sweet colours, like pink or lavender, and decorate it with feminine details, like lace and florals.
I held off knowing we couldn't possibly redecorate her nursery again so soon. But the moment she turned two I let myself start dreaming again, this time about her "big girl" bedroom.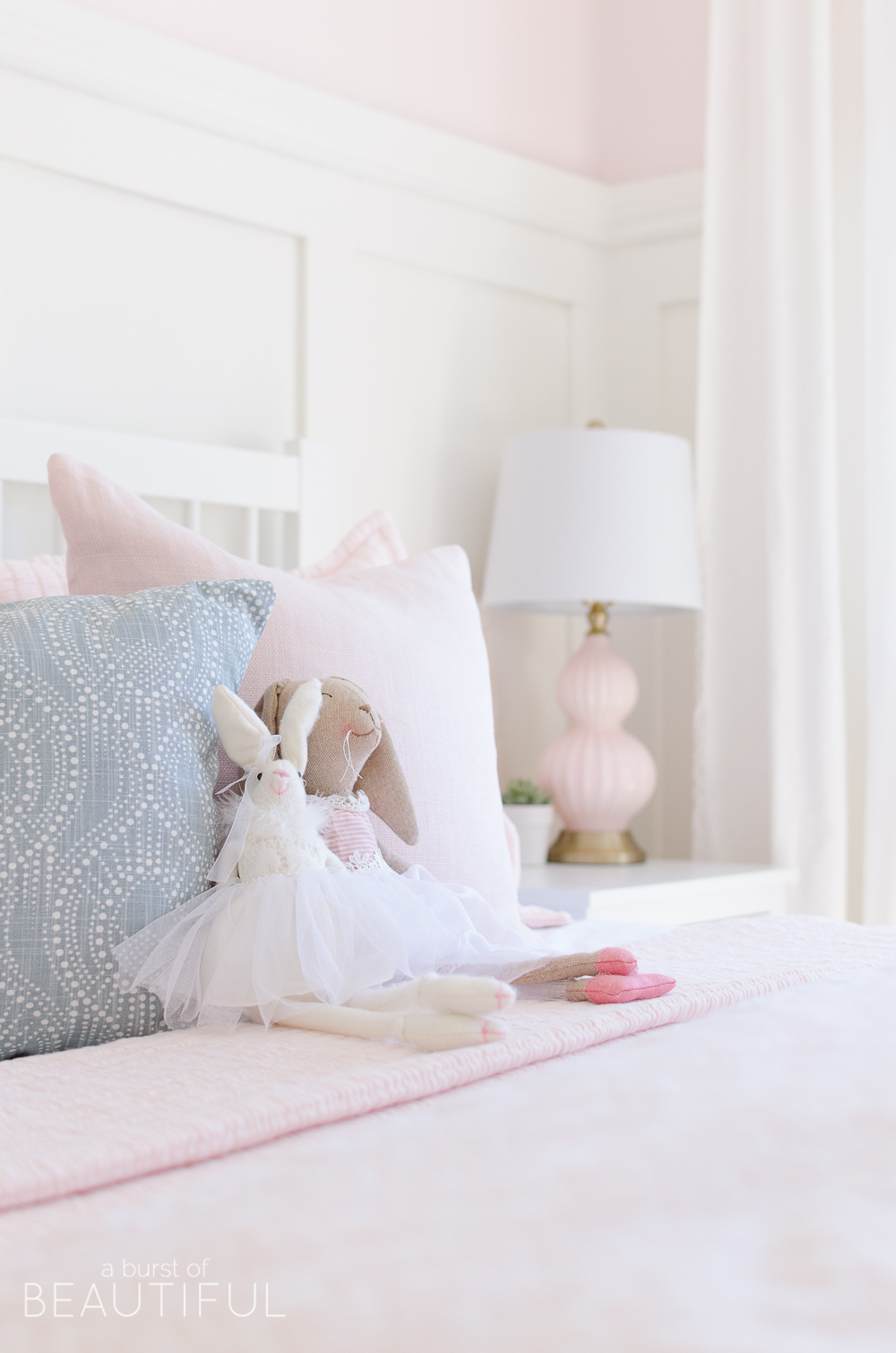 This sweet little space of hers was so much fun to design. It was exciting to play with colours and details that were a little foreign to me. And even though this new space in our home is full of pink, it still feels cohesive and flows so well with the rest of our home.
It was also so much fun watching our little one take part, she was part of the design process from the very beginning, helping choose paint colours, bedding, and even the art. She has really become quite the little designer, it is so sweet watching her hold paint chips against the wall or move pillows throughout the house until she has it just right. She really is following in mom's footsteps!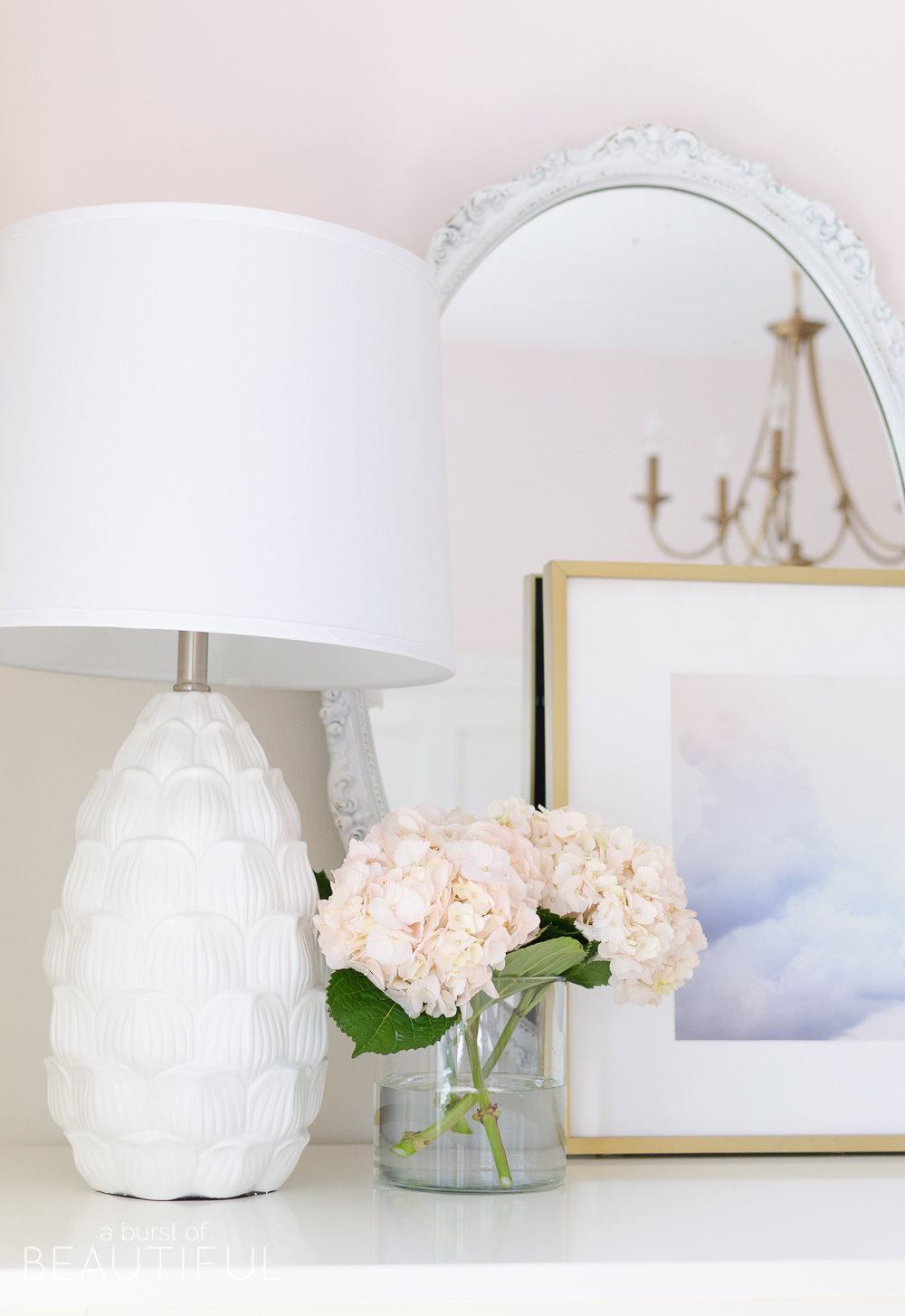 ---
get the look

---
I want to take you through our design process and share each detail that makes this room so special, so let's get started…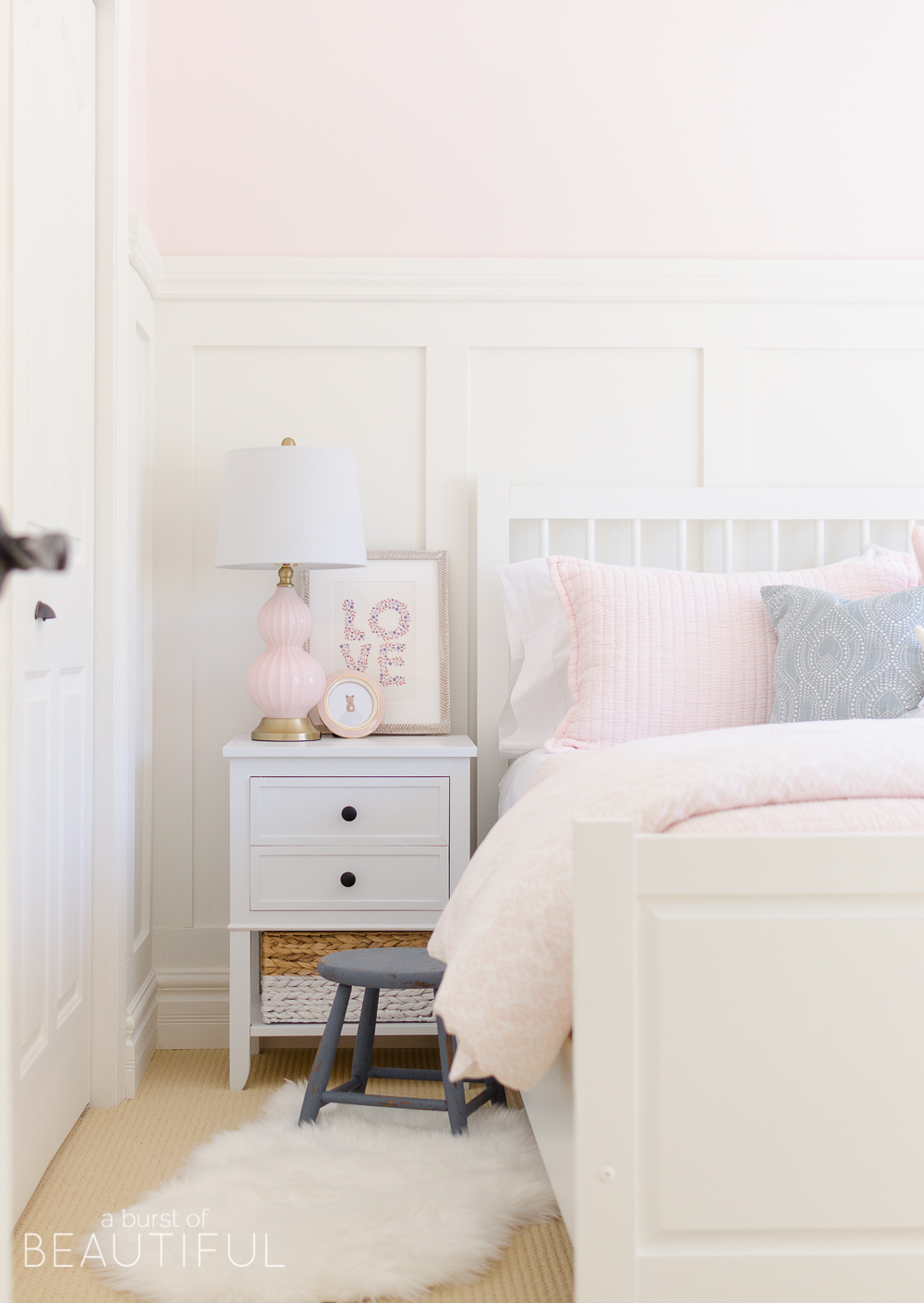 It all started with the colour pink. Our daughter is a girly-girl in every sense of the word. She loves dresses, nail polish, lipstick and of course, anything sparkly. She loves every Disney princess there is and loves nothing more than dressing up as Belle, Ariel or Cinderella. So when we started talking about transitioning her from her nursery into her new room I started with the obvious question…colour. And I got the obvious answer…PINK!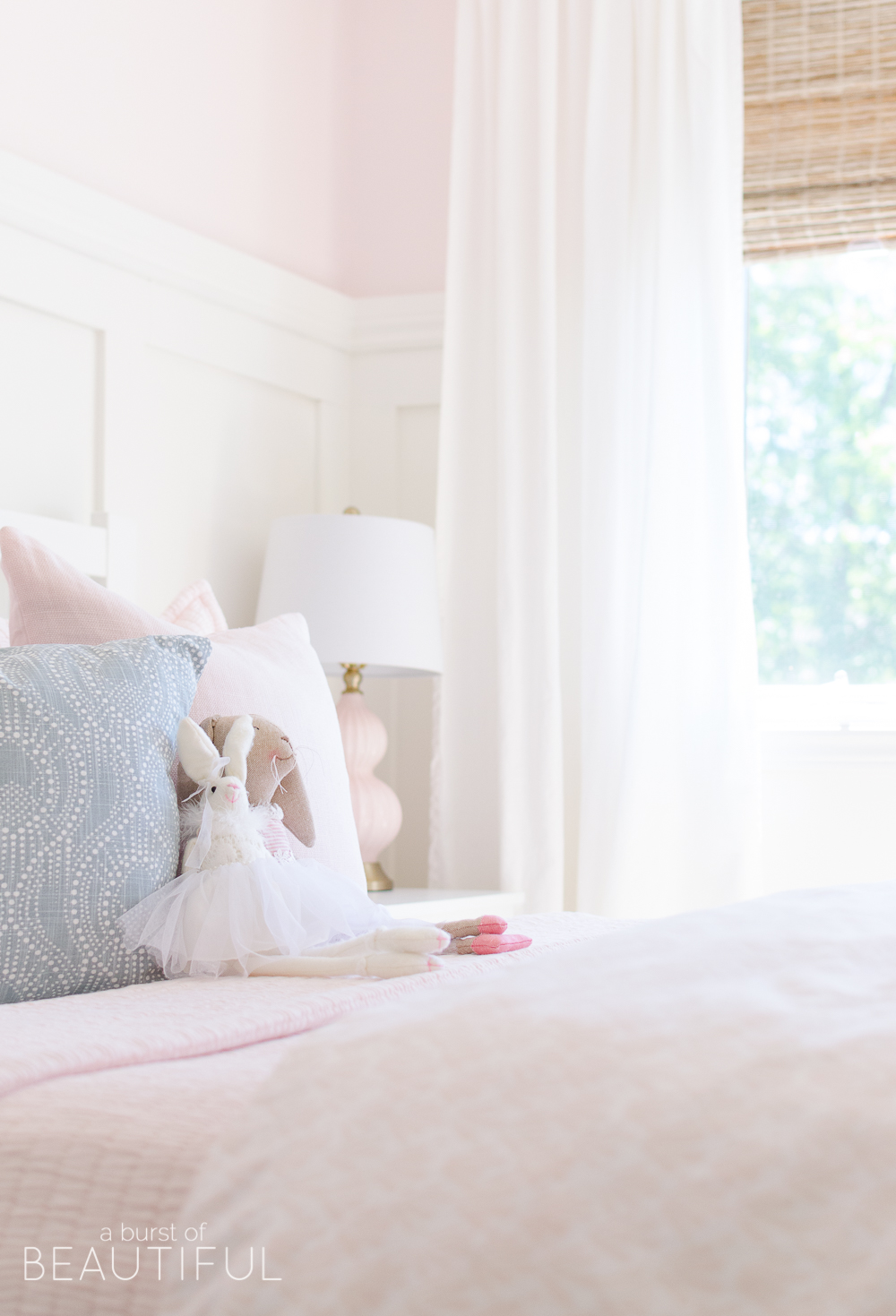 So we headed out in search of the perfect colour of pink. We scooped up every pink paint sample we could find at Benjamin Moore and headed home to make some decisions.
Now, pink can be a very overwhelming colour. Even the softest shade can seem intense when painting an entire room so it can be tricky to choose just the right shade, but I knew two things when we were settling on a color. First, I knew we wanted the softest shade we could find, a very pale blush with just a hint of color was what we were after. Secondly, I also knew the majority of her walls were going to be covered in board and batten and painted white, so no matter what color we decided on it the white board and batten would really help to balance the space.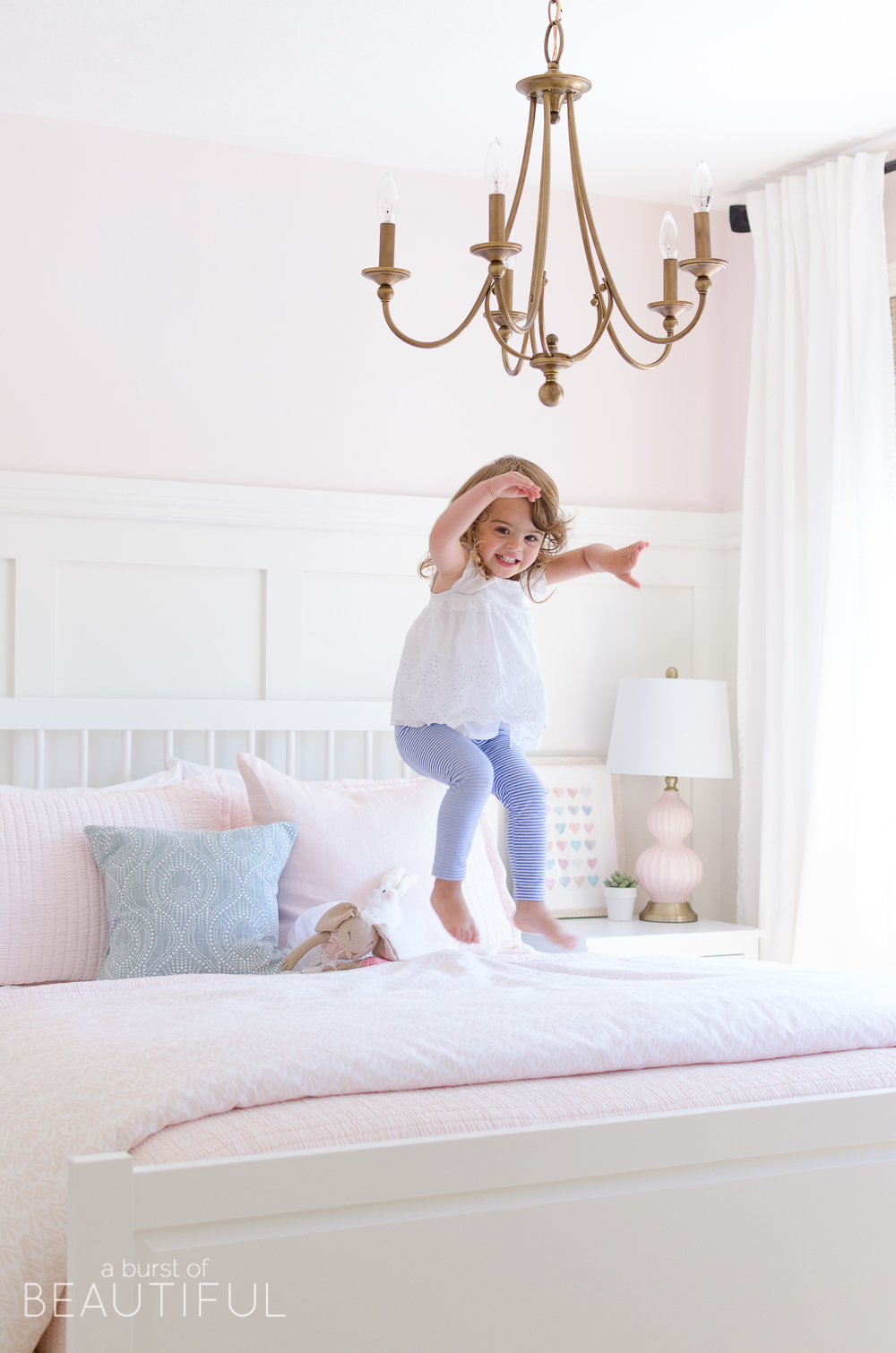 After much debating and colour testing, we settled on this beautiful shade of pale pink. It's called Pink Bliss and it's from Benjamin Moore, and I am just so in love with it. It's the sheerest of pinks, and I think it's the perfect shade. With just a hint of color, it's soft, sweet and makes her room feel bright but cozy.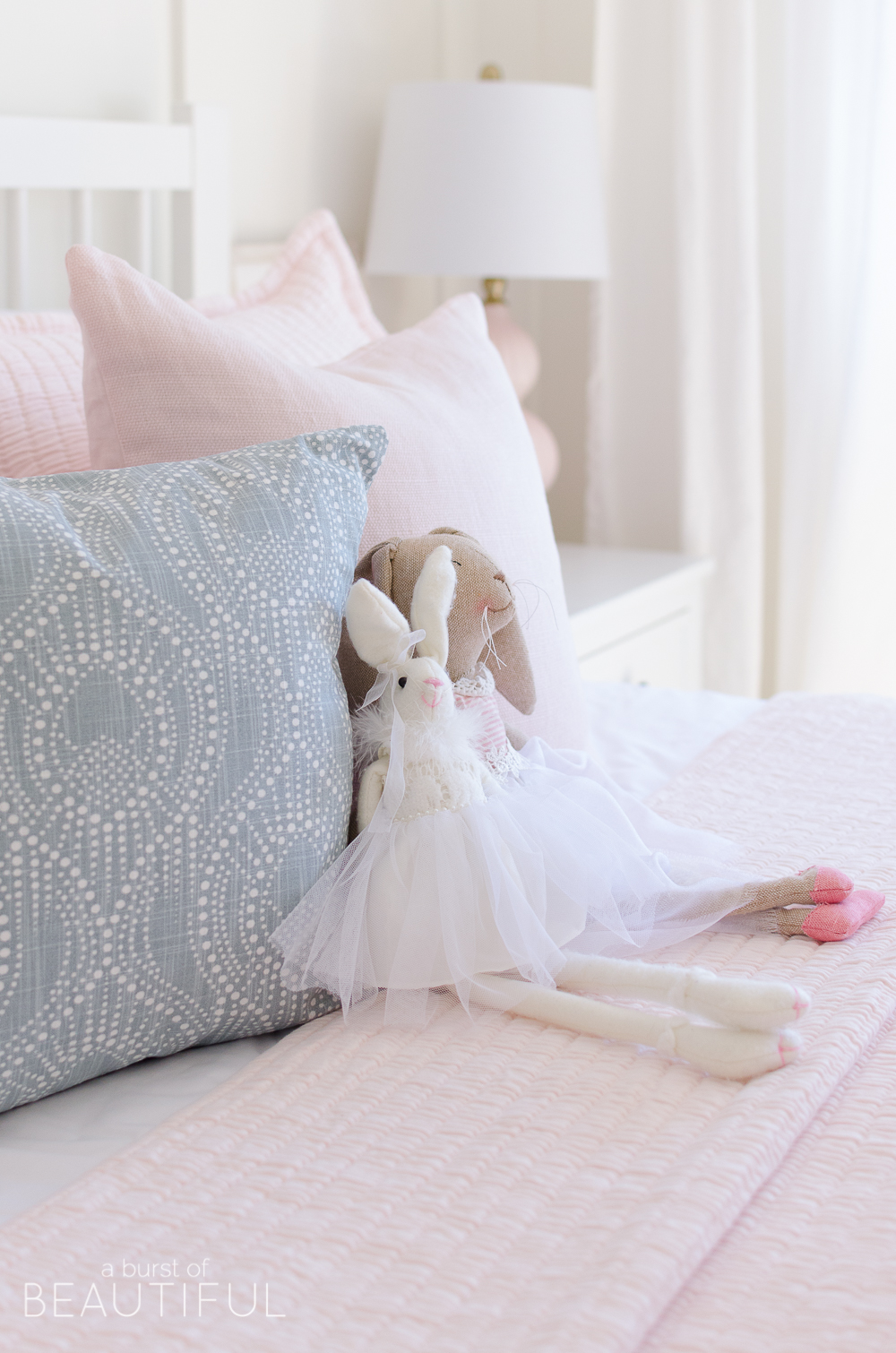 Before we could get this beautiful colour on the walls we had to tackle the board and batten (you can see our board and batten tutorial here). This was an easy decision for me because basically every room in our home has some type of millwork, whether it's beadboard in our kitchen nooks, board and batten in our dining room and living room or wainscotting throughout the halls and in our bedroom. Nick did all of this work himself and it looks so beautiful. He shared a tutorial on it if you're looking to try this in your home.
Adding millwork is an easy way to add character and detail to a new home, and I love how it helps bare walls feel a little less boring. So when it came to our little one's bedroom, board and batten was a no-brainer. And of course, we painted it my favorite shade of white…Simply White, again from Benjamin Moore. It's bright but still warm and we use it for all of the trim in our home.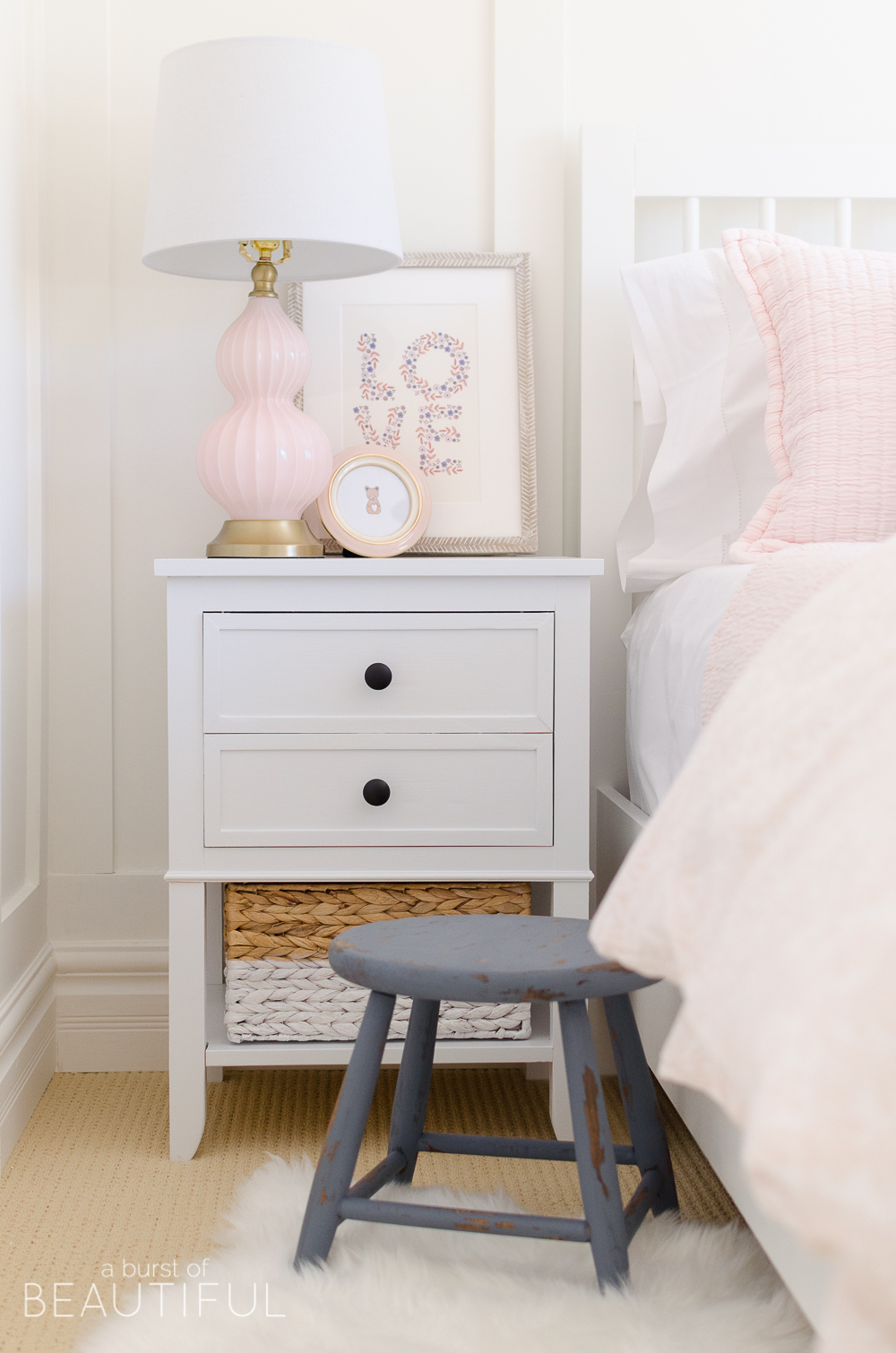 We were really lucky in terms of furniture, we didn't have to buy any new pieces for the space. We already owned a dresser and bed frame, both from Ikea, that I loved and fit the design I had in mind. We simply gave the bed frame a coat of white paint (Benjamin Moore's Simply White) and we were set.
And see those beautiful nightstands flanking her pretty bed…Nick built those (you cand the plans here). I love how delicate and dainty they are.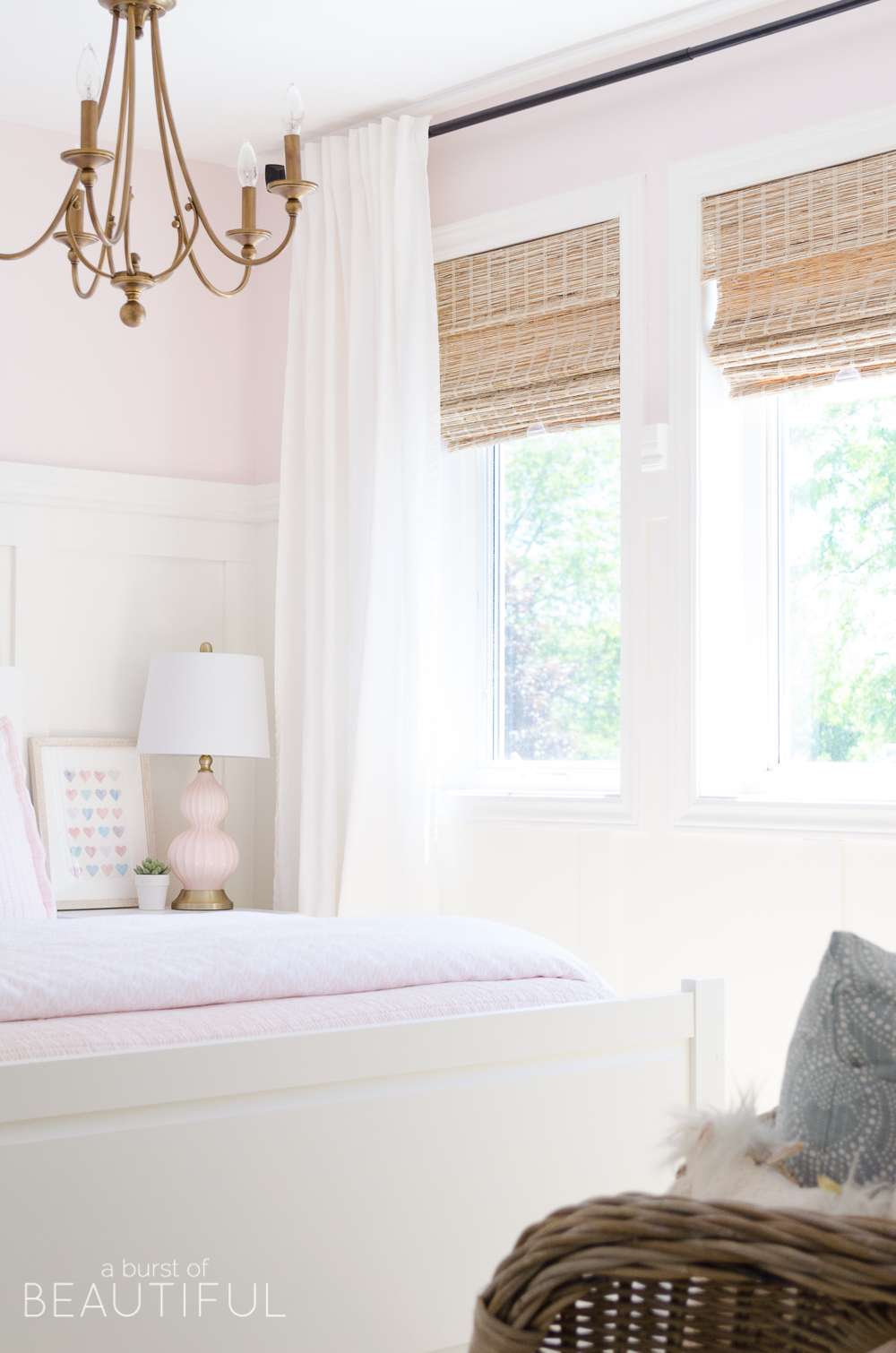 When designing a space I always focus on the foundation pieces first. These are the big-ticket items that won't be changing often, like furniture and window treatments. You want to make sure you are investing in items that you won't tire of easily or quickly become an outdated trend. You also want to look at the quality of each piece and make sure it will stand up to life in your home. So when it came time to decide on window treatments we turned to our favourite look…simple white curtains paired with woven wood shades.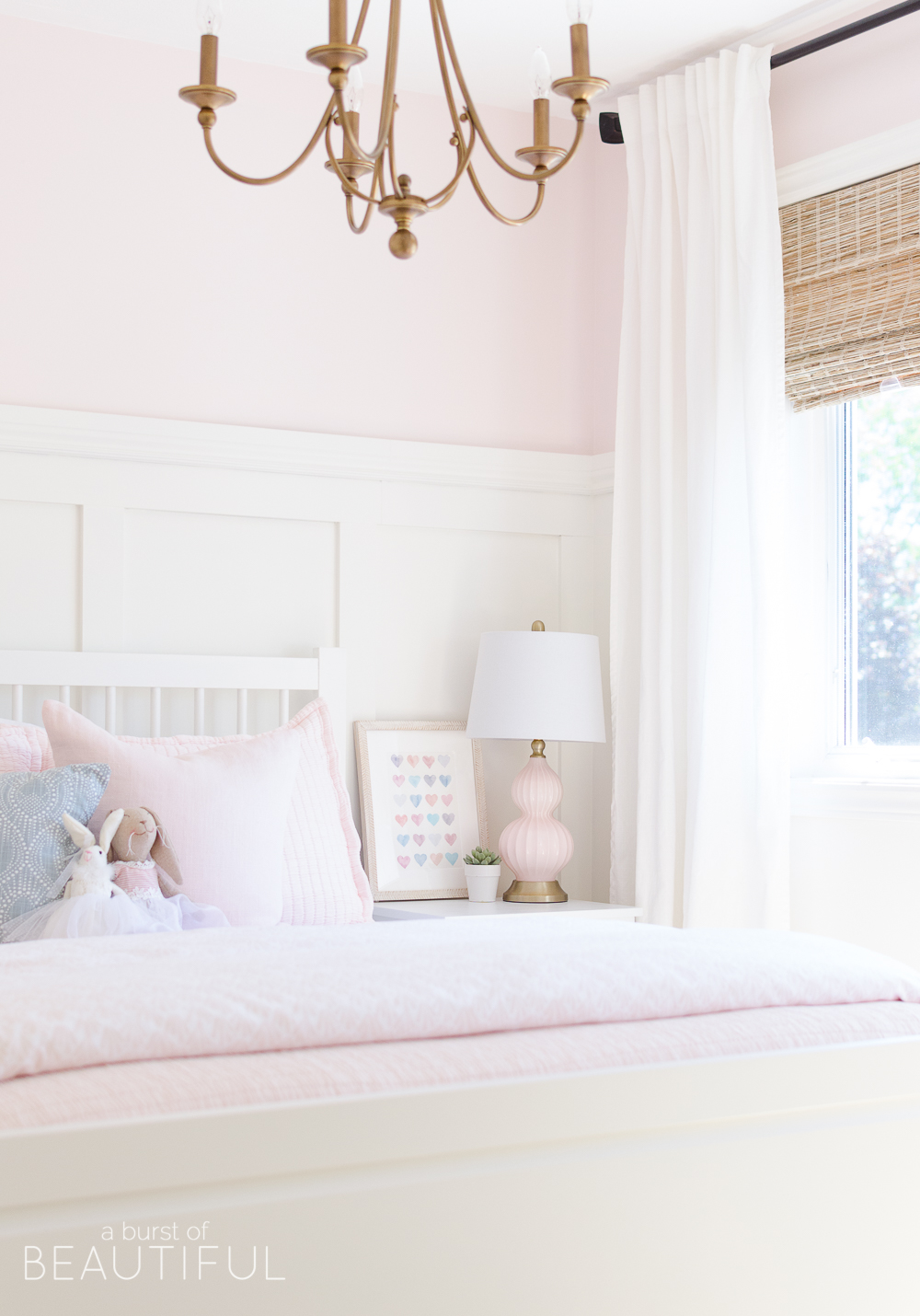 I think this is such a timeless look, and it fits so well with our home's aesthetic. Last year we added these gorgeous shades from Blindsgalore to our living room and our bedroom, and I seriously cannot get enough of them. The beautiful woven texture adds so much warmth and detail to each room, and the soft honey-like colour compliments the many natural wood tones throughout our home. So I knew they would look amazing with the soft pastel colours of our little one's bedroom.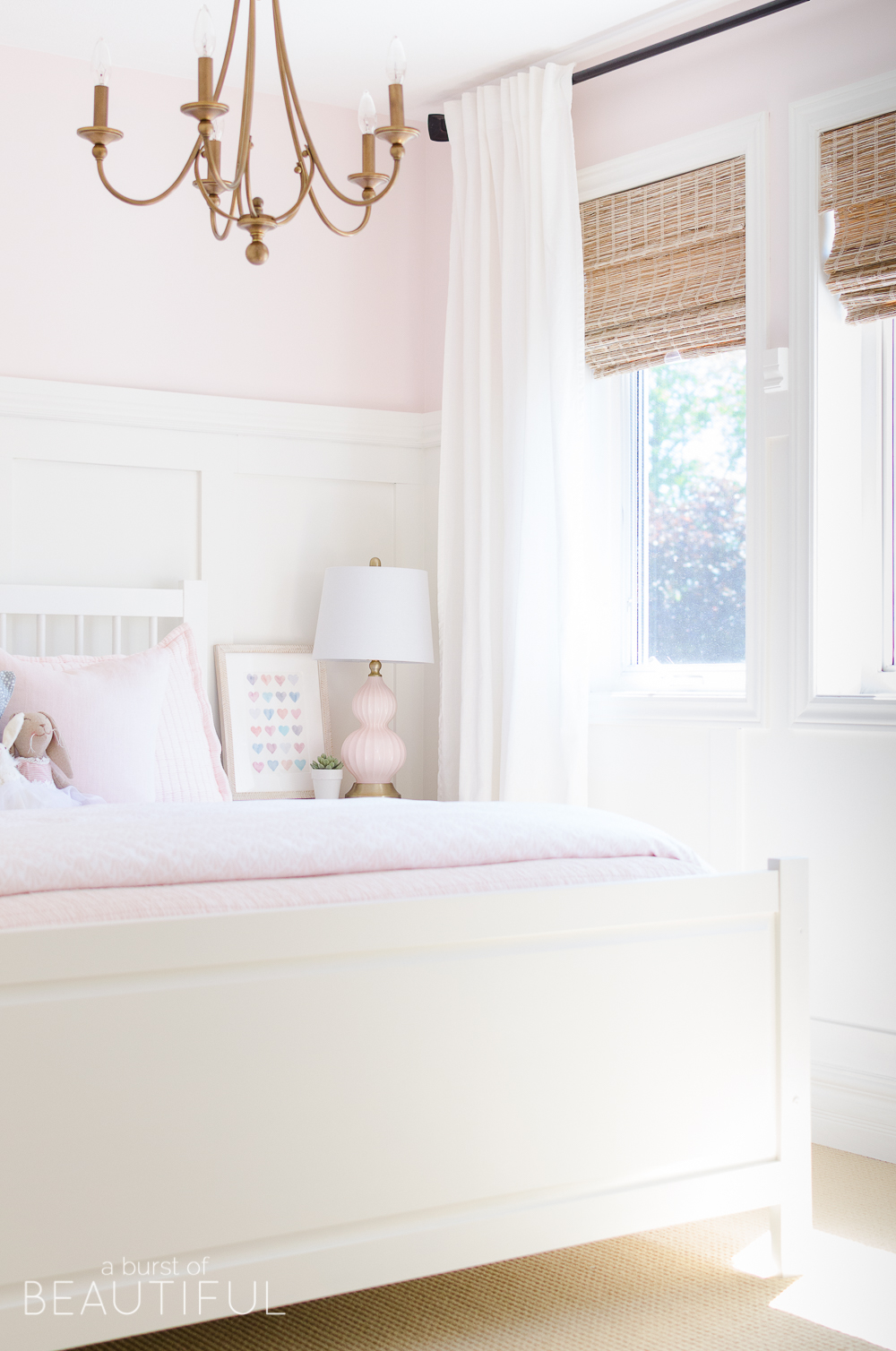 They are also cordless which means added safety, which is a huge priority for us. If you're looking to invest in window treatments you can read my advice on choosing the best ones for your home here.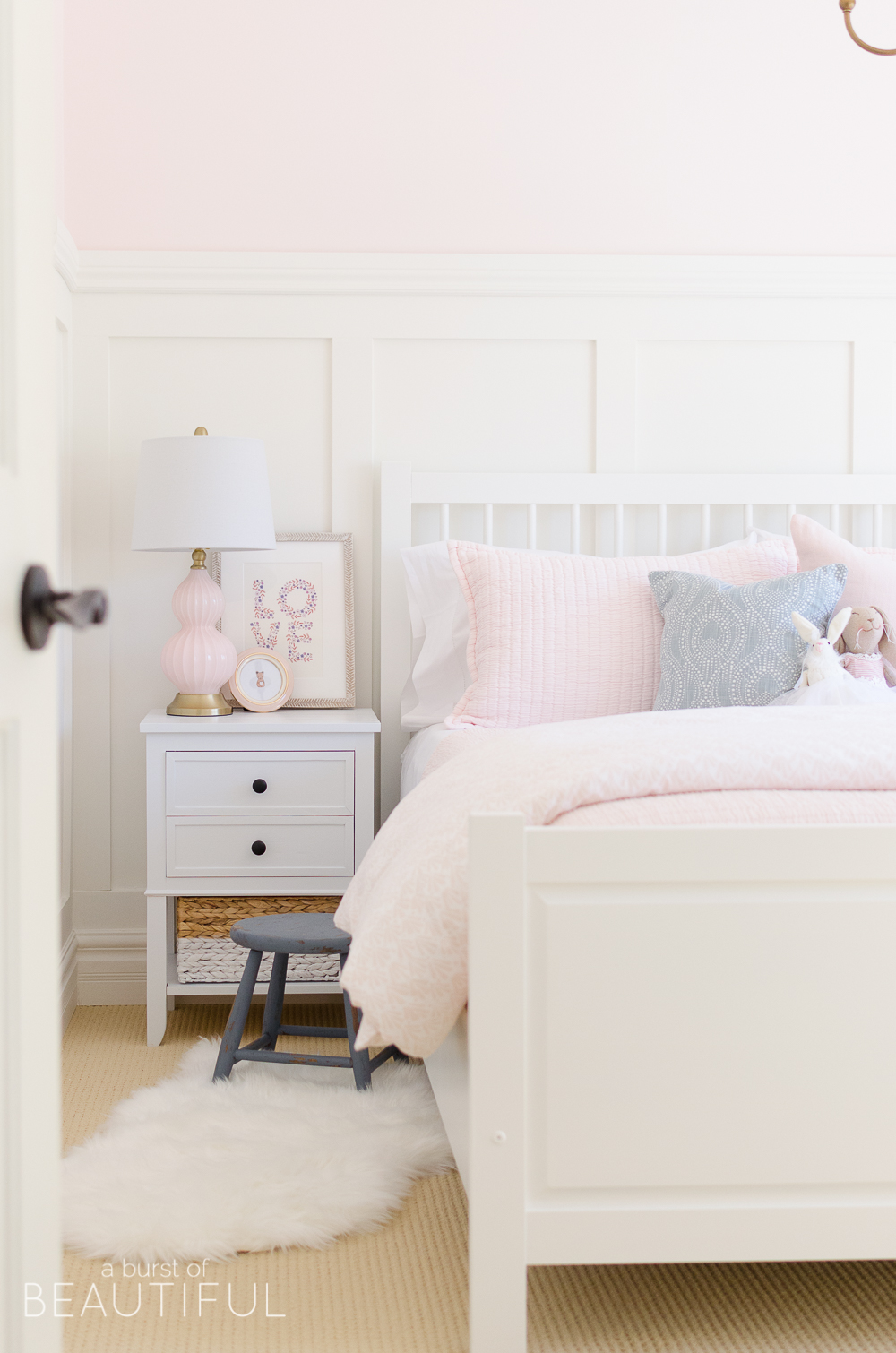 Once we had all of the big decisions made it was time to move onto the little details. First, we settled on bedding. I love the look of a simple quilt or coverlet on a bed. So when I came across this beautiful pink coverlet from Annie Selke's Pine Cone Hill I knew I had found the perfect bedding for our little one. Ever since we added this indigo ticking stripe duvet cover to our bedroom last year, Annie Selke's Pine Cone Hill has easily become my favourite place to find bedding and all of the essentials. I have never before seen such gorgeous bedding, between the classic and timeless designs and the amazing quality, I have yet to find anything I love more.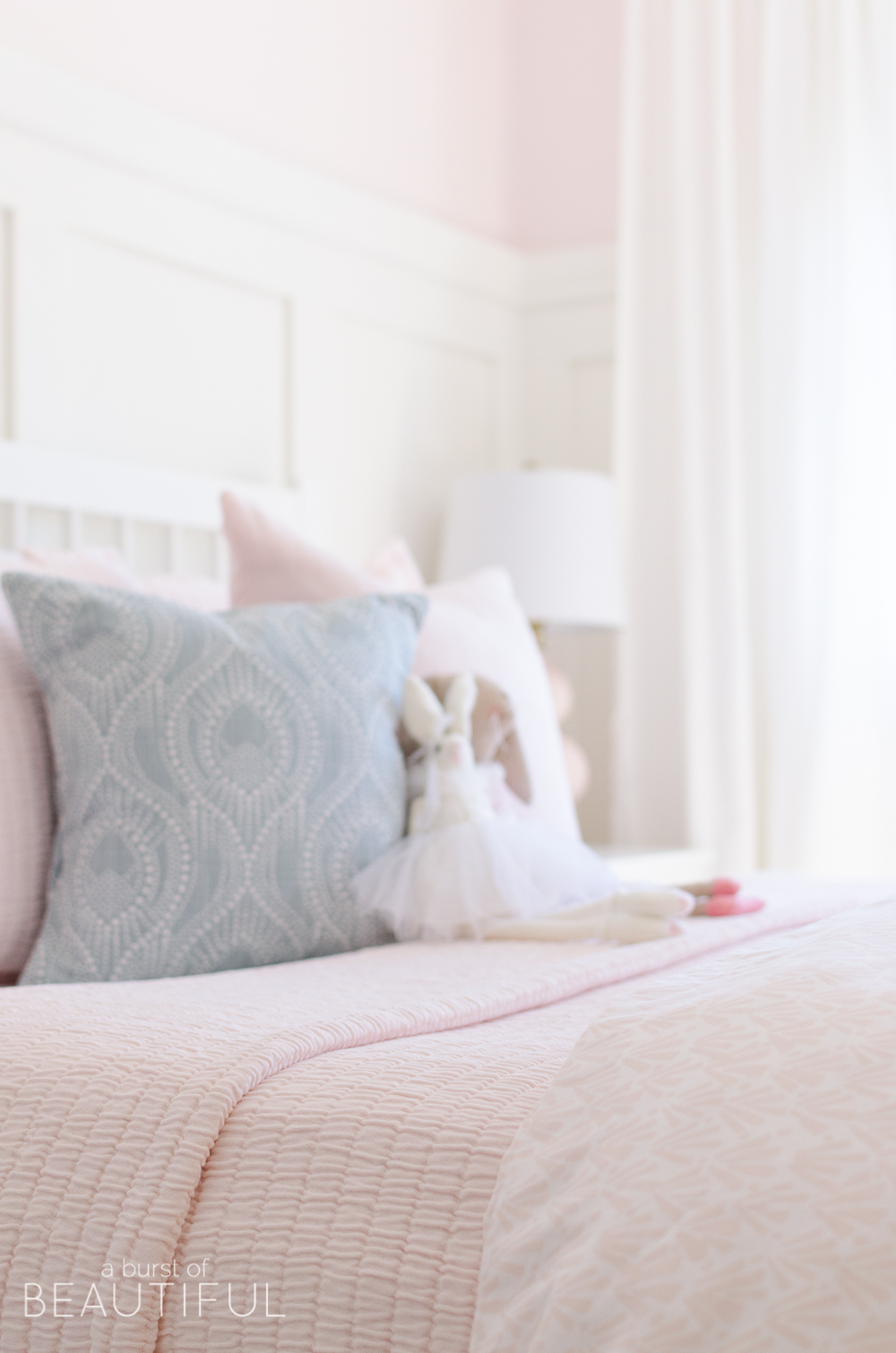 So I knew this Matelasse coverlet and matching shams would be pretty, but when I opened the box I honestly melted a little bit. It was the most beautiful bedding. Ever. So, so so soft, and the colour was just the perfect shade of pastel pink. I knew our little one would be so in love with it, and that just made me even happier (in fact, I love it so much I might have to scoop one up for our bedroom this fall…).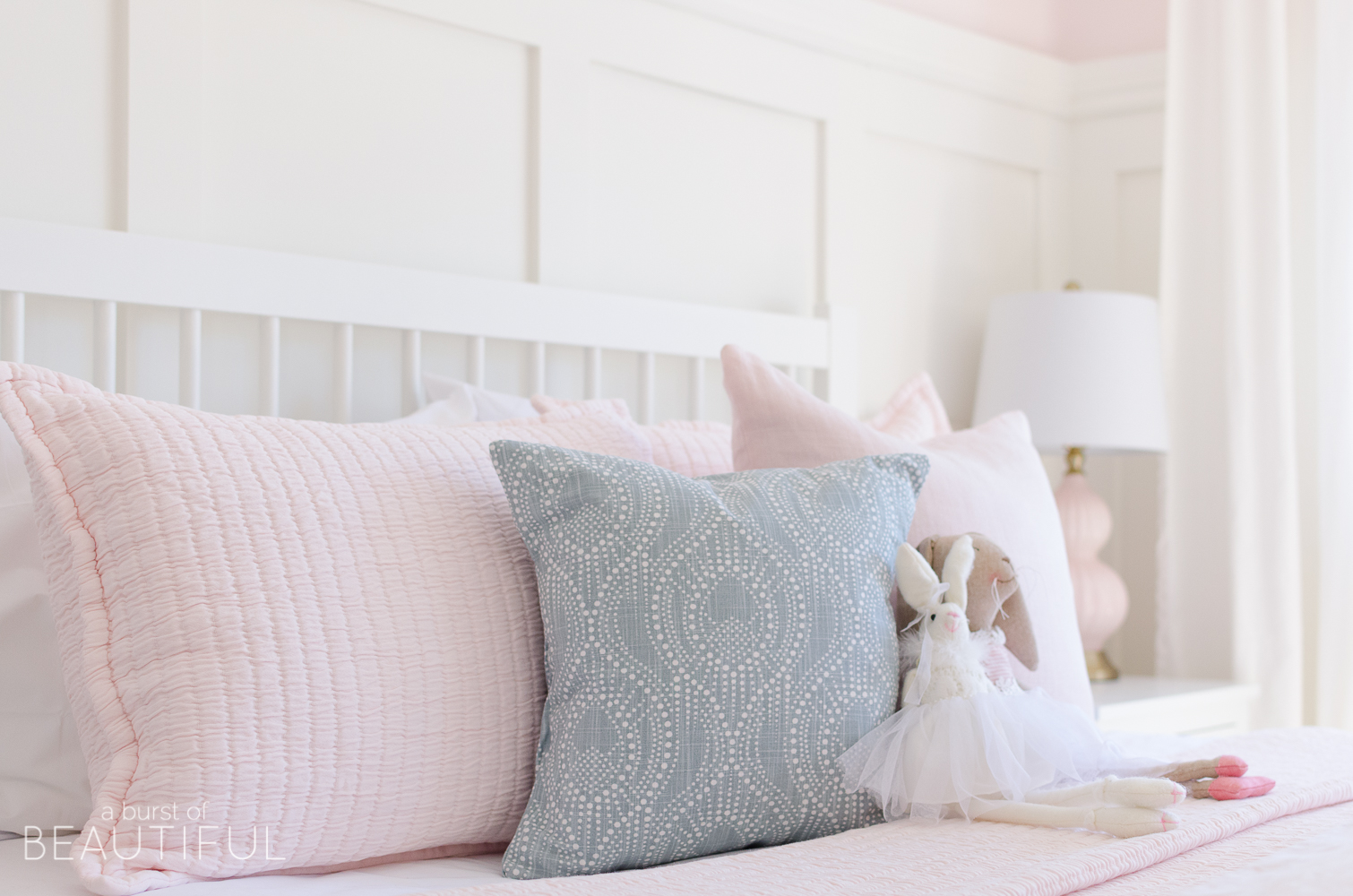 I lovingly made up her sweet little bed for the first time using Annie Selke's Pine Cone Hill Classic Hemstitch sheets and Matelasse coverlet and shams. I topped it off with an existing duvet we had, folded at the foot of her bed (for those extra chilly nights), and two throw pillows. One solid pink and the other in a sweet blue and white pattern for a little pop of my signature colour.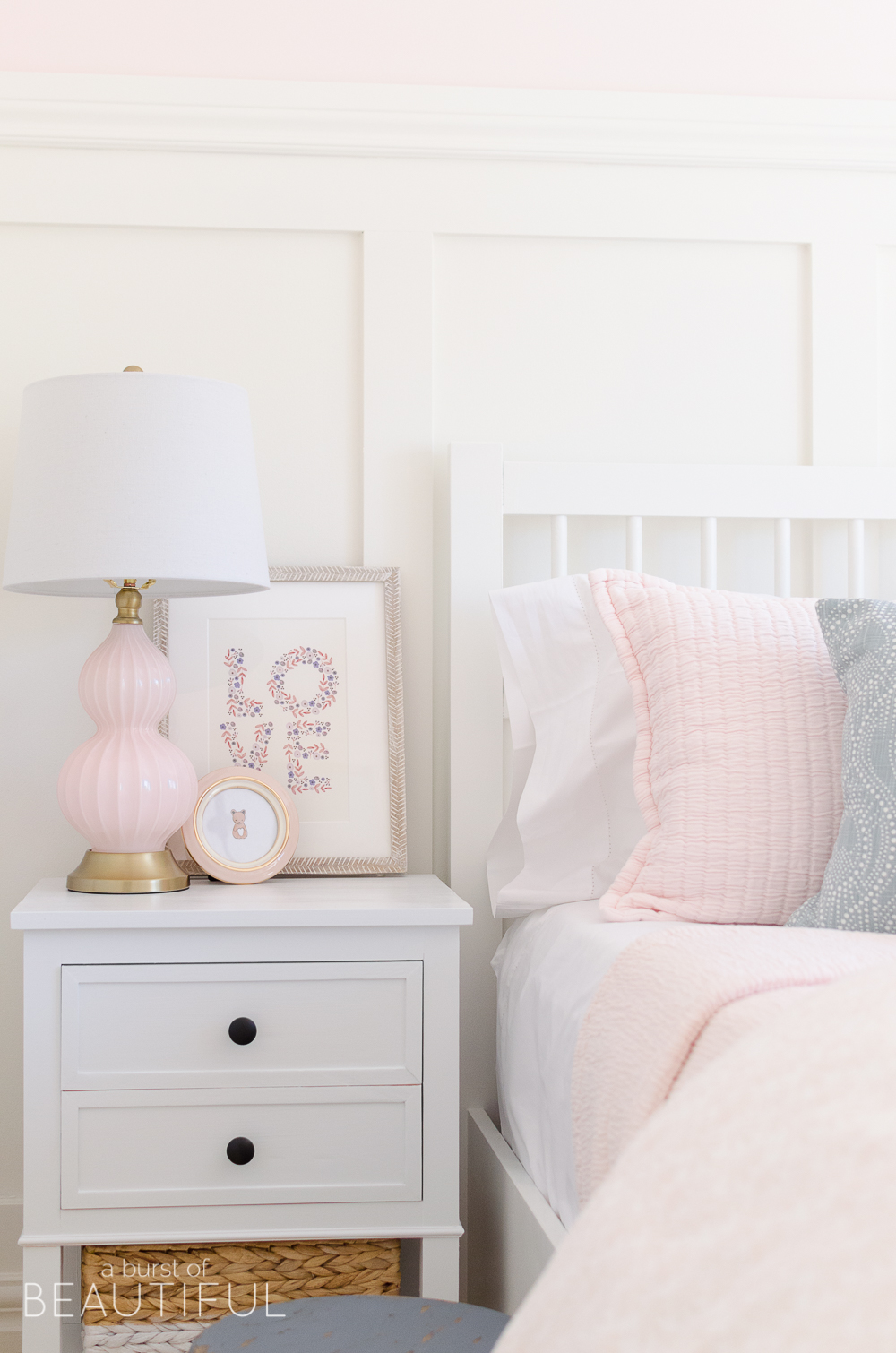 My hope for this room was to create a space that was sweet and feminine, but that also felt fresh and youthful. And one of the ways I achieved this was with art. The two framed prints sitting atop her nightstands are child-like and whimsical (see them here and here). They help to bring in a mix of different colours to her space to keep it from feeling too monochromatic (I didn't want the entire room to be white and pink). And the whitewash herringbone frames are a favourite of mine, the detail is just so fun.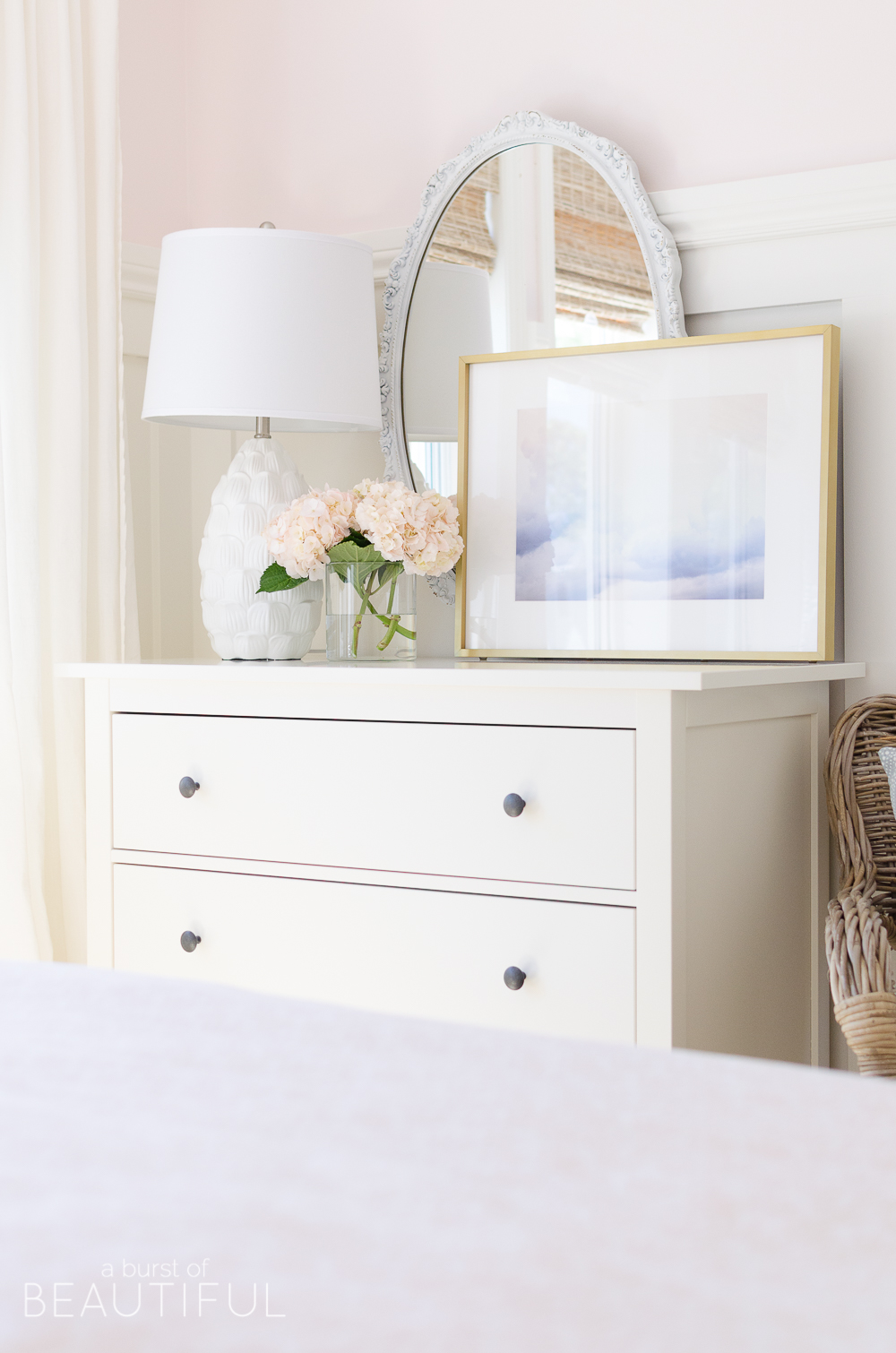 For above the dresser I chose a simple cloud print in soft shades of pink and purple. It's a little more grown-up, but still sweet enough for a little girl's bedroom. This one I opted to frame in a skinny gold frame for a more modern feel, which is really played up against the vintage mirror behind it.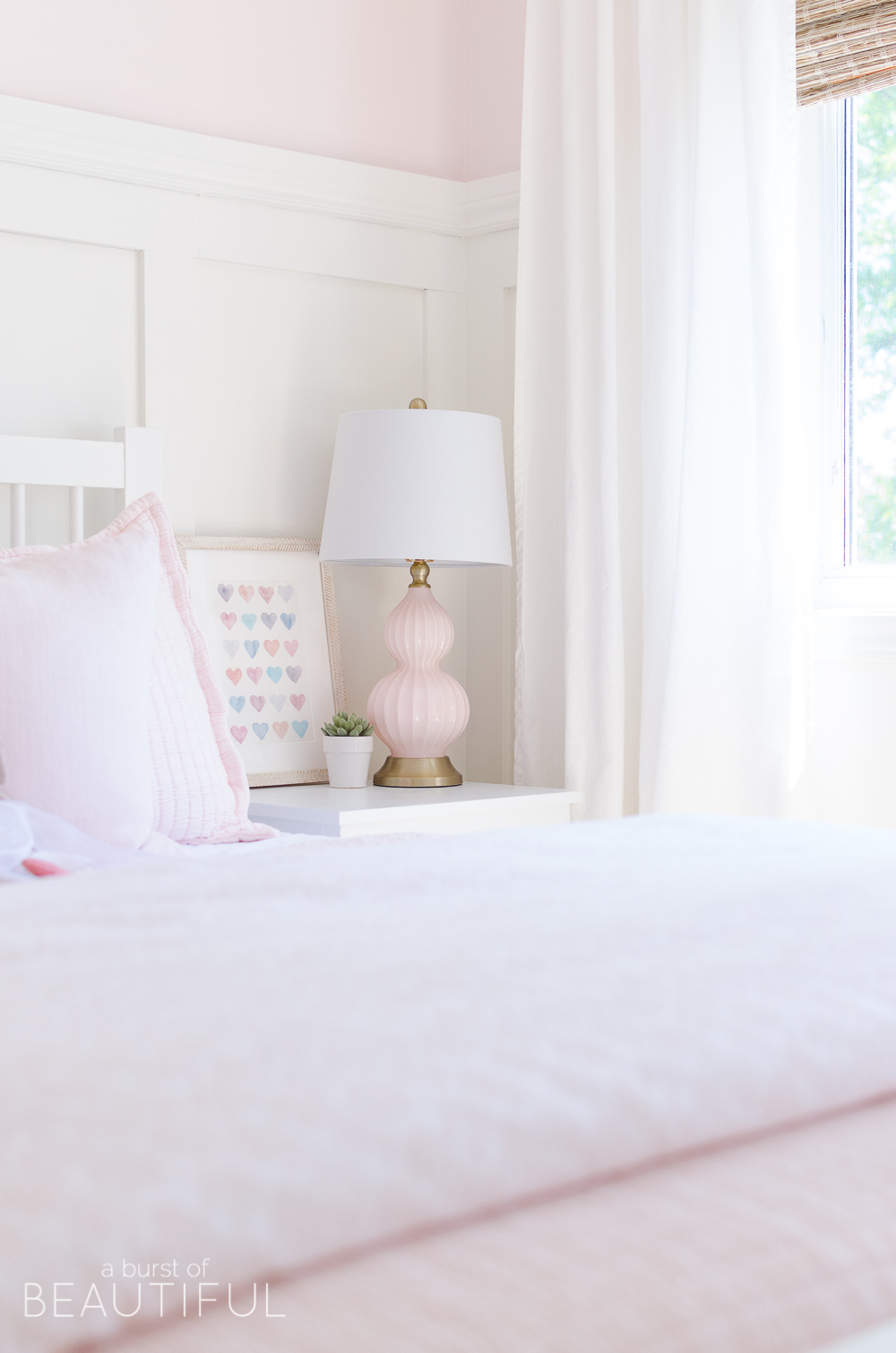 I scoured Minted (one of my favourite places to find art) and saved a copy of each print I loved, then I put them all together to see which ones worked well together. Once I narrowed down the choices I let our little one make the final call. I think she did a pretty good job, don't you? Her favorite is the LOVE print.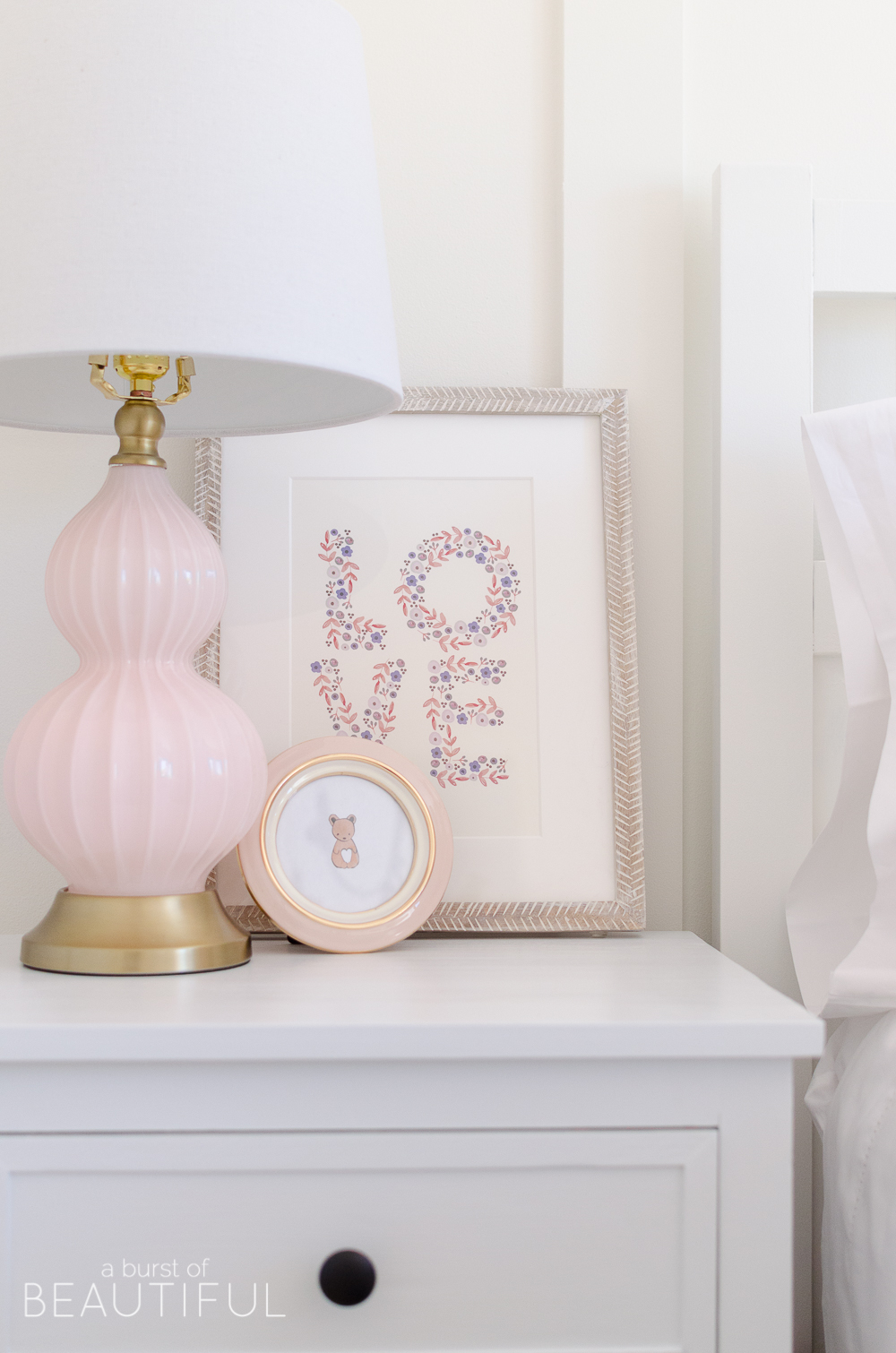 Art is such a fun and easy way to add personality to a space and it really helps to set the tone. Have fun with it and try not to overthink your choices.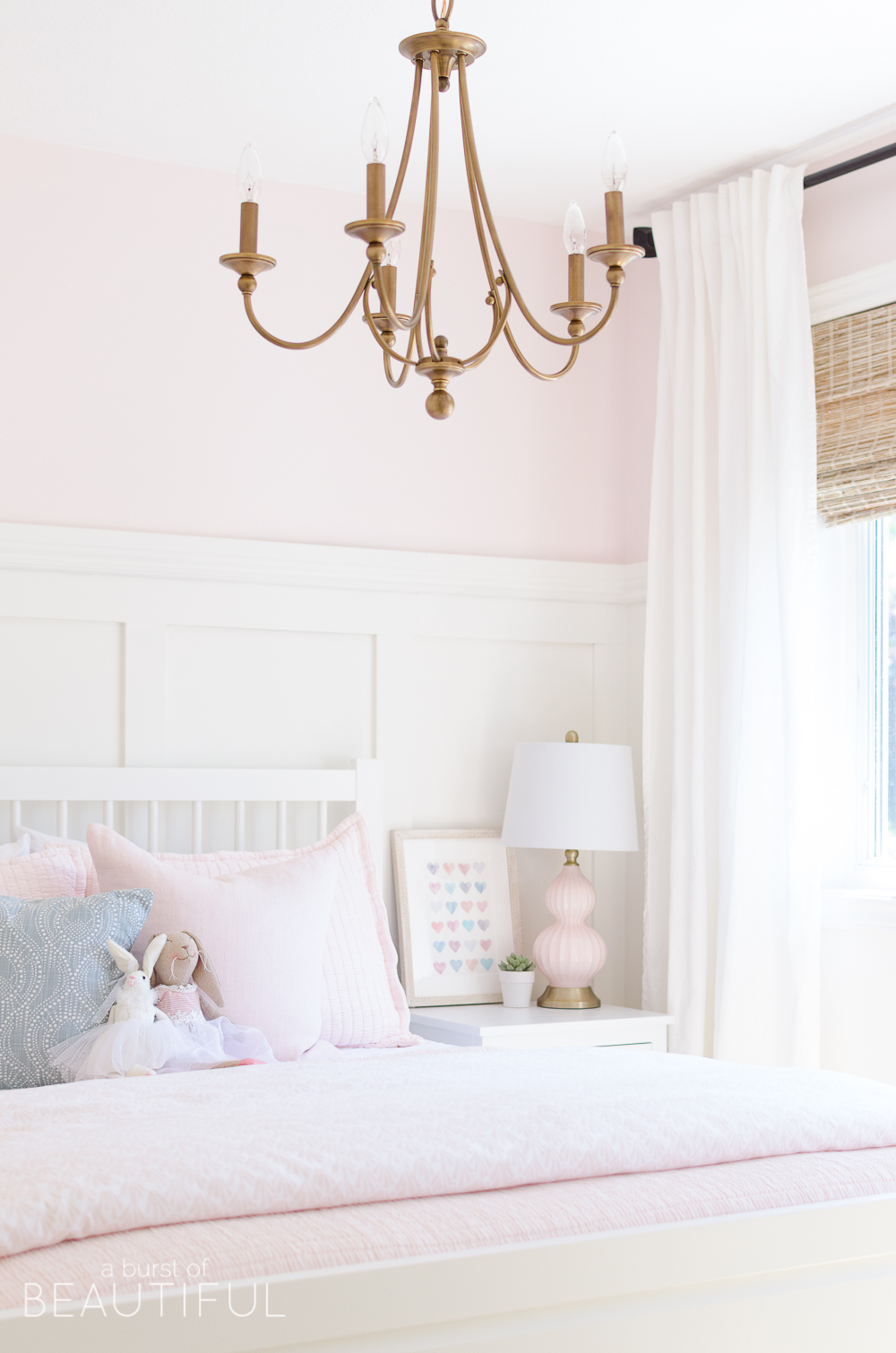 The very last piece we chose was this beautiful chandelier, and that's because I had a really hard time deciding on a light for this space. I knew I wanted a light in a simple design, something that was fairly delicate, and nothing that was big and bulky because I knew that would obstruct the sightline into her room. So although I had a fairly good idea of what I was looking for I couldn't make a decision.
I bounced back and forth between a classic gold finish, something painted in a fun and youthful color, like pink or blue, simple rattan or a vintage chandelier with wood beads. But I kept coming back to this classic aged brass chandelier. I love how classic it feels, but at the same time, it is still playful. Our girl gave her stamp of approval and now she tells me it's her favorite part of her new bedroom.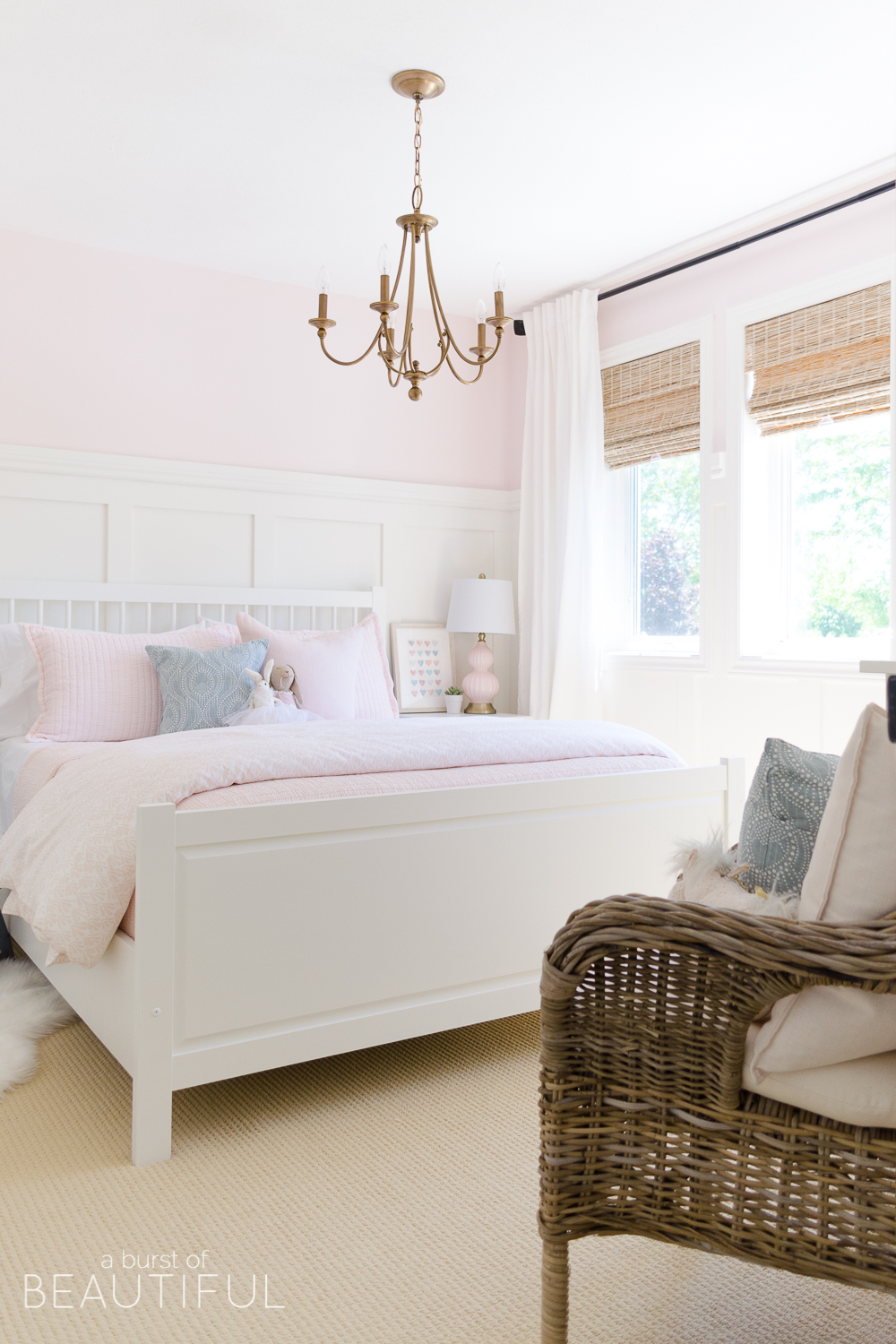 So, there you have it, our sweet pink and white little girl's bedroom. When I started planning this room I set out to create a sweet and feminine space that didn't feel overly childish. I wanted a room that would grow with our baby, by simply switching out details here and there as she gets older. I think we did our best at giving her a happy little space of her own, a space that will spark her creativity and support her imagination. I kind of what to move in now… 😉
---
Toddler Girl's Pink Bedroom | Design & Decor Sources
---
This post was sponsored by Annie Selke's Pine Cone Hill, Benjamin Moore, Blindsgalore and Minted. It also contains affiliate links.


All opinions and thoughts are my own, see our full disclosure policy

here

.