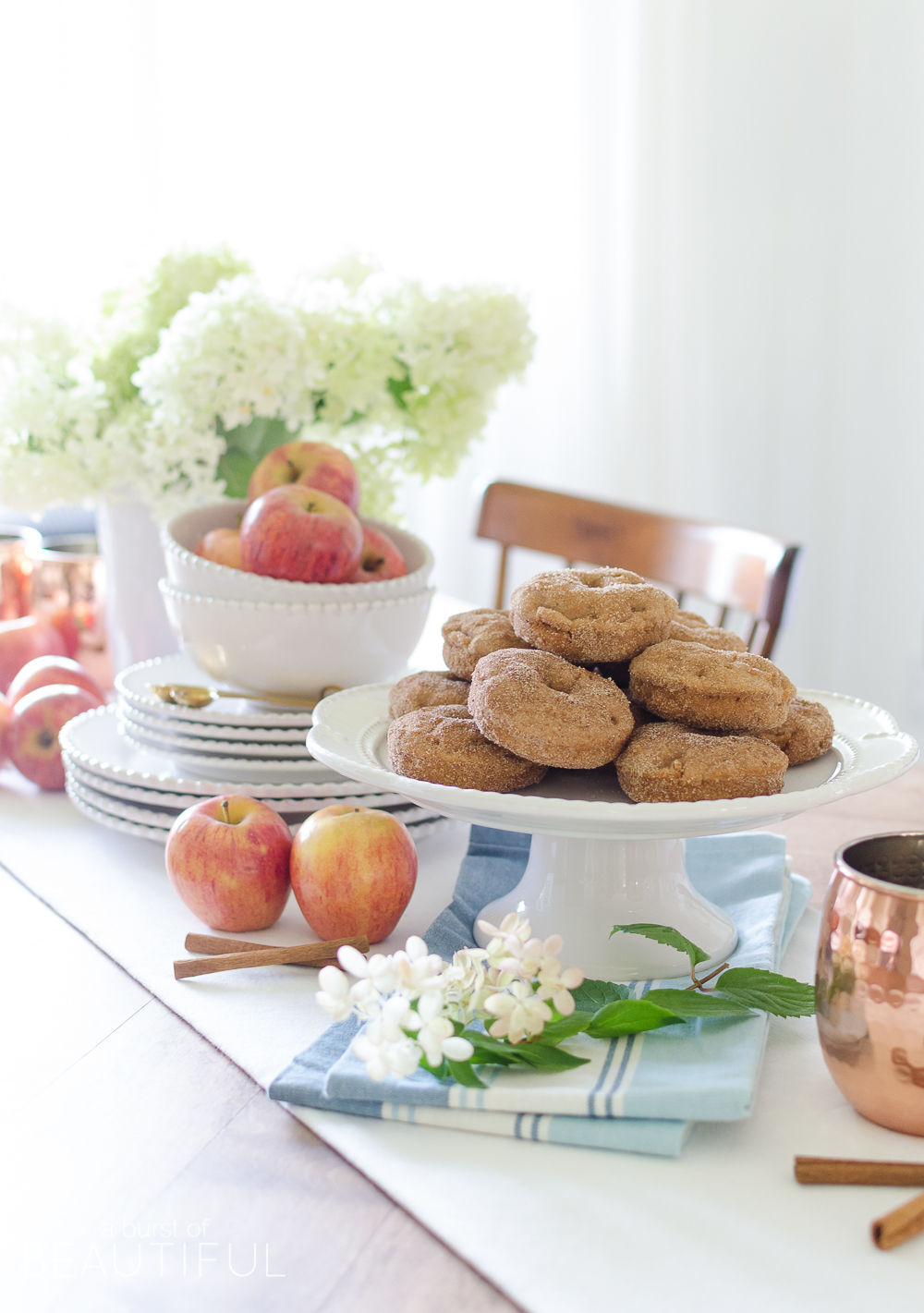 The arrival of fall always brings with it thoughts of hearty comfort food and the sweet flavors of apple, cinnamon, and pumpkin. The crisp autumn air singles it's time to settle in and create a home that's cozy, inviting and warm. And I believe a big part of that feeling begins in the kitchen. So when the sweet smells of fall baking begin to drift throughout our home I get that wonderful cozy feeling inside. Fall has arrived! 🙂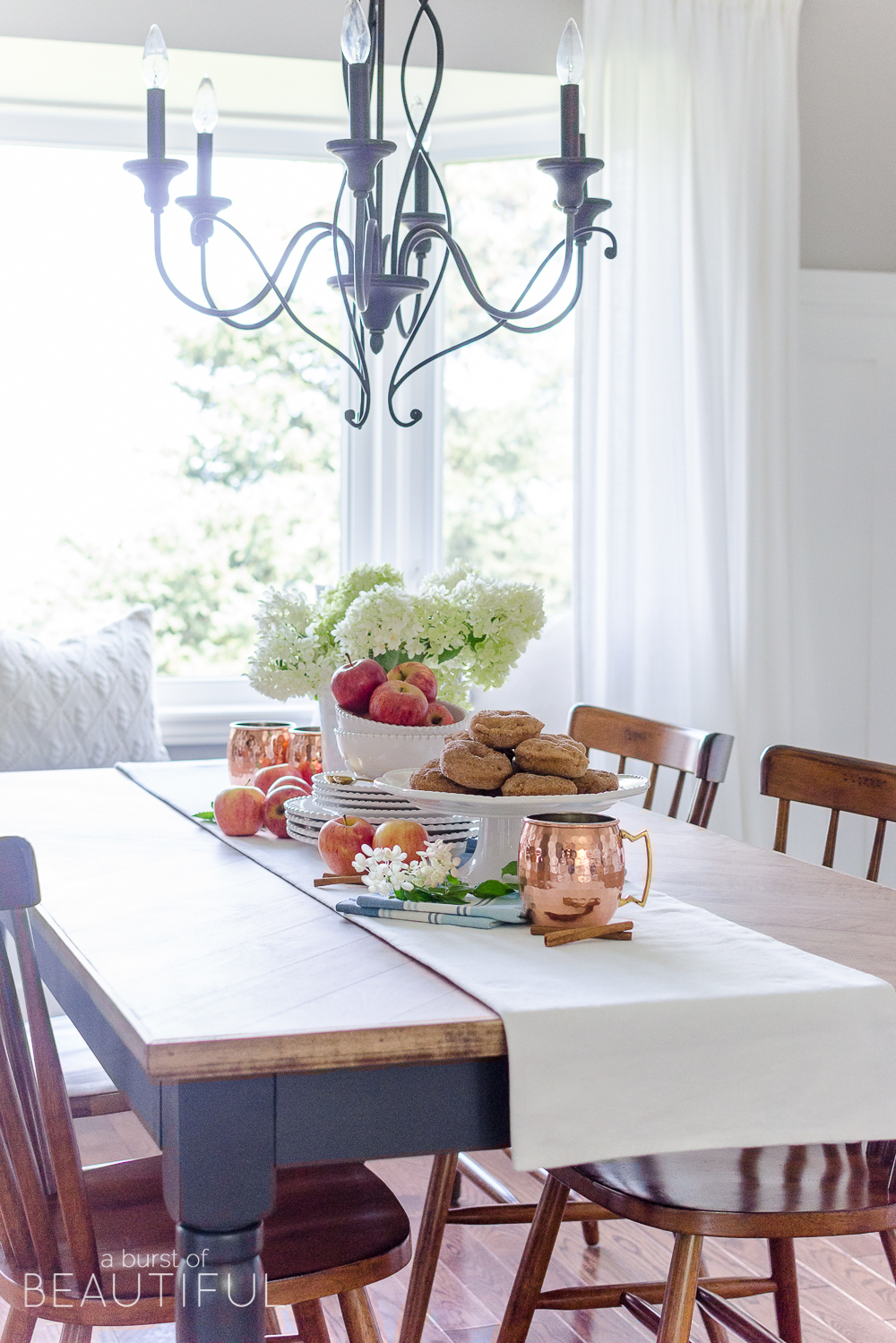 And it's with this arrival that I am eager to take part in a beautiful new series, called Tastes of the Seasons, with my friend, Kristen from Ella Claire and a few of my favorite blogging friends. Throughout the upcoming fall and Christmas months, we will be sharing our favorite seasonal recipes. And today begins with a favorite fall staple of ours…apples!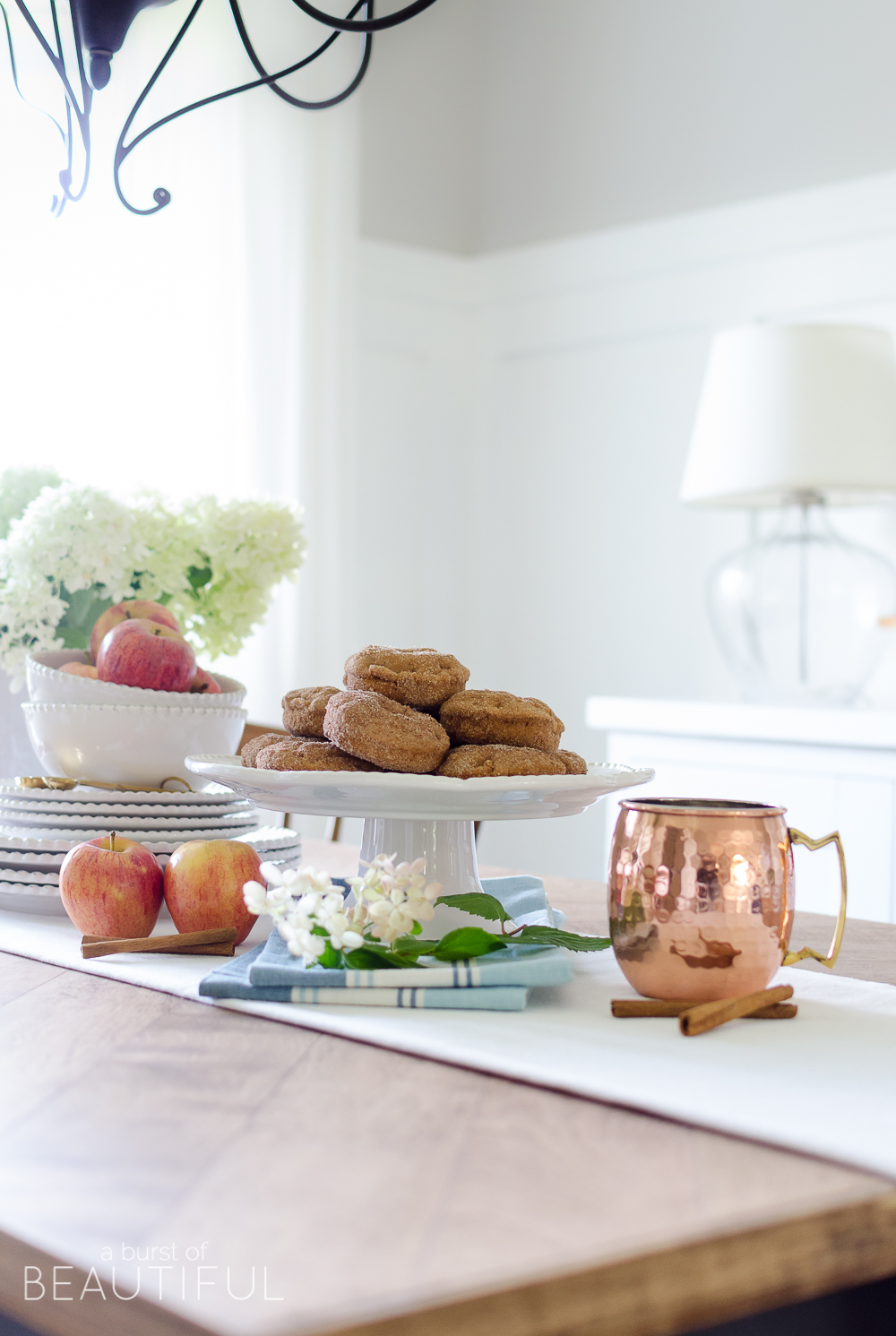 Not too far from our home, there is a small town known for its apple orchards, I believe it's even referred to as the heart of Ontario's apple country. Every fall we take some time to visit, choosing our favorite farm stall to stock up on sweet apple cider and every kind of apple imaginable. While we're there we often take in their scarecrow festival too, it's become a bit of a family tradition for us.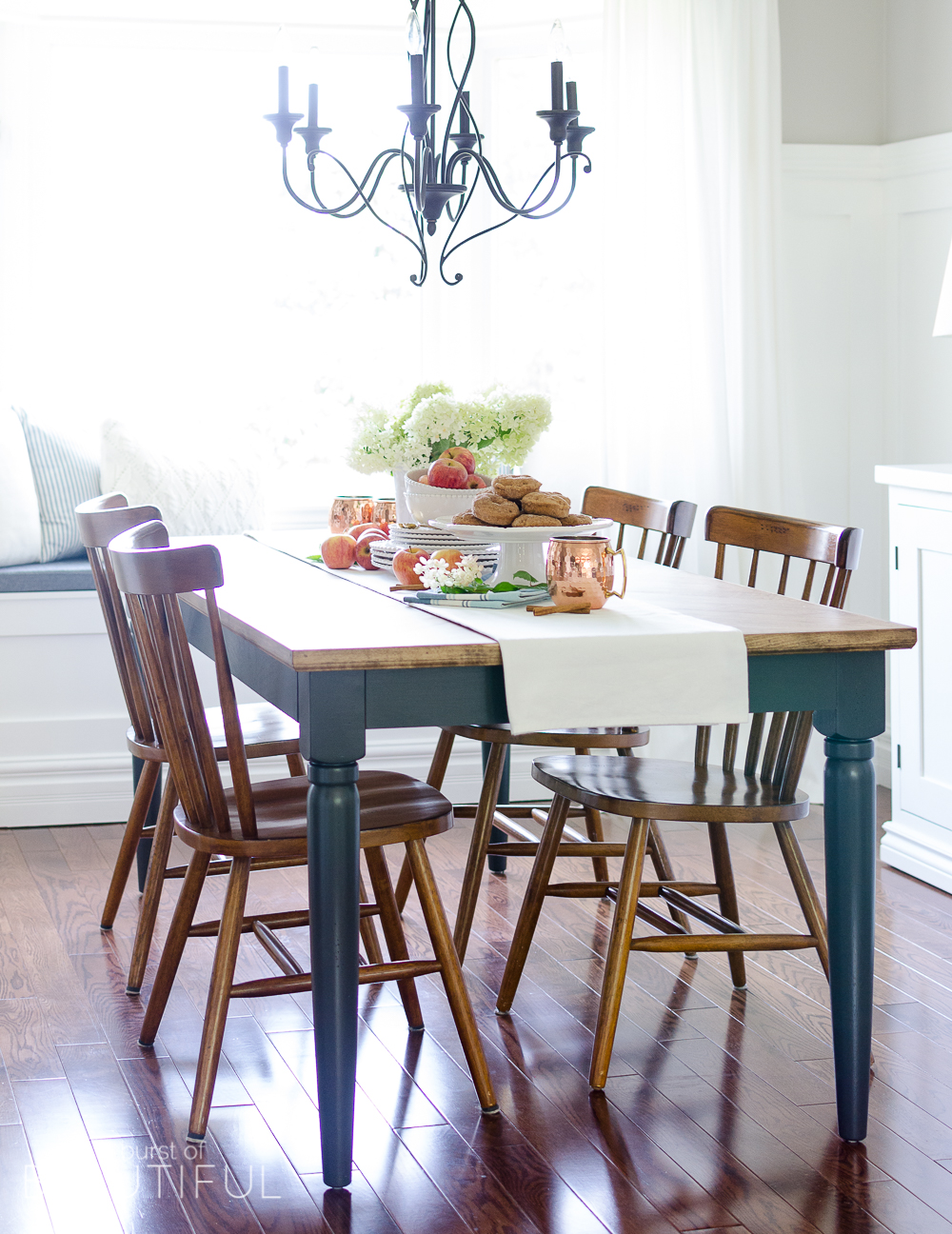 So, it was with the thought of the sweet scents of apples and cinnamon that we decided to try baking our own Harvest Apple Spice Donuts. Nick, of course, developed the recipe, he is after all our resident carpenter and chef (you can see what he has been up to here). 😉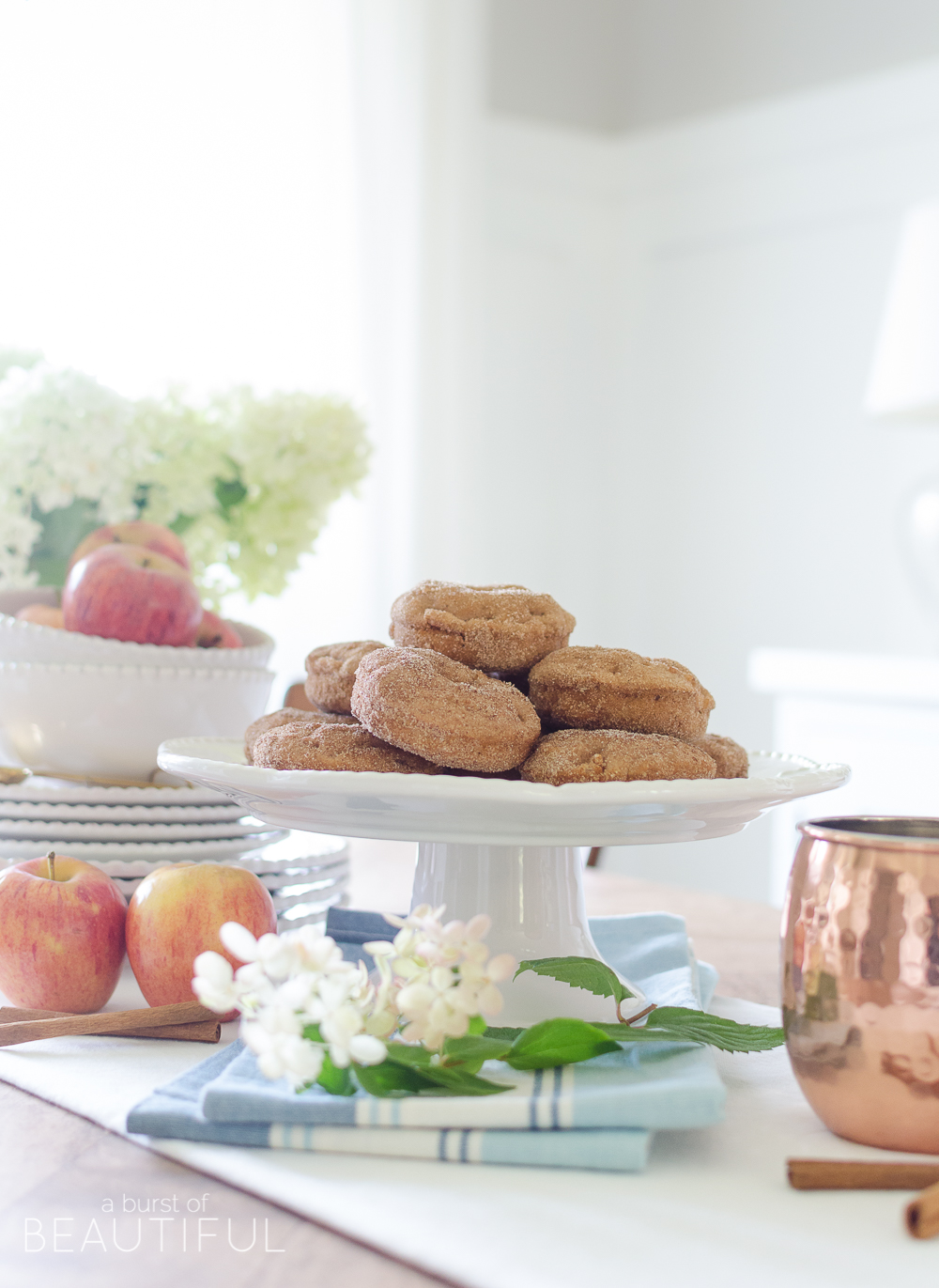 Nick spent the morning testing out different combinations and techniques, while our little one and I sat with watering mouths waiting to be the official taste-testers. And hands down, this recipe was the winner.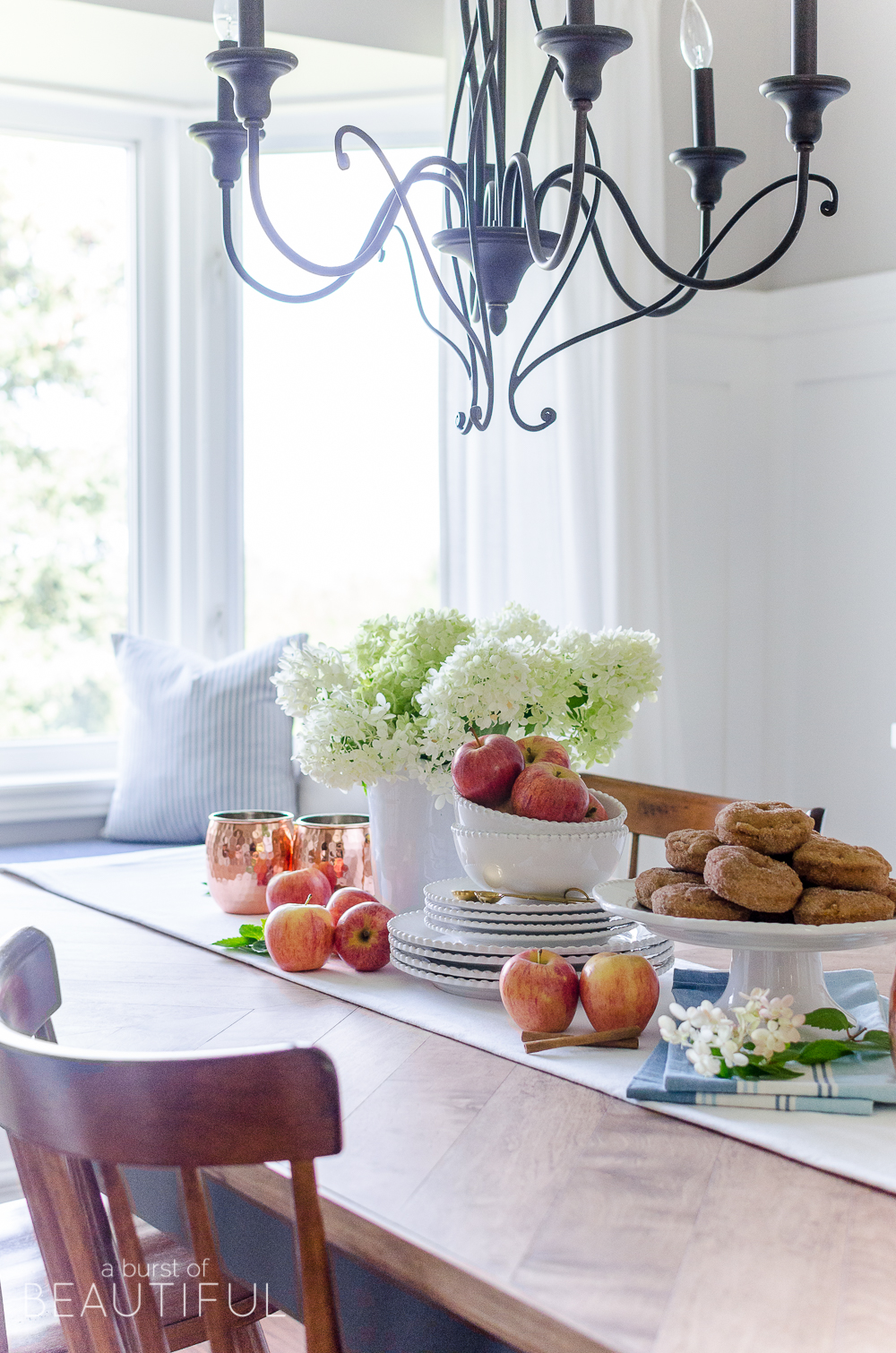 Straight from the oven, these donuts are warm and doughy with sweet pieces of cinnamon-flavored apple pieces mixed throughout, and lightly dusted with cinnamon sugar.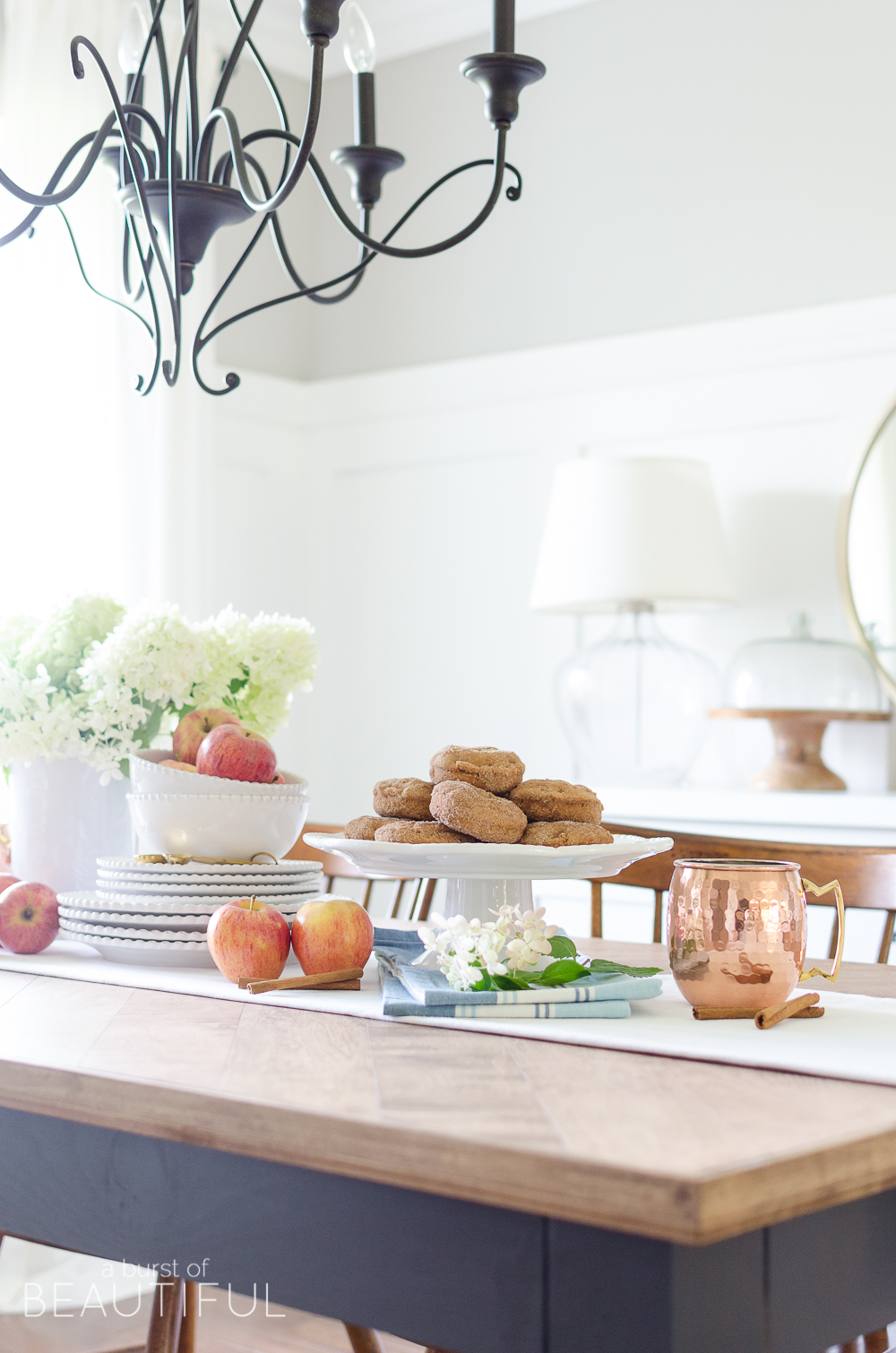 Just like all donuts, these Harvest Apple Spice donuts are best if devoured the same day they are baked. And trust me you'd have a hard time keeping them around any longer than that. They are a perfect treat for any fall gathering and I guarantee they will be a crowd-pleaser.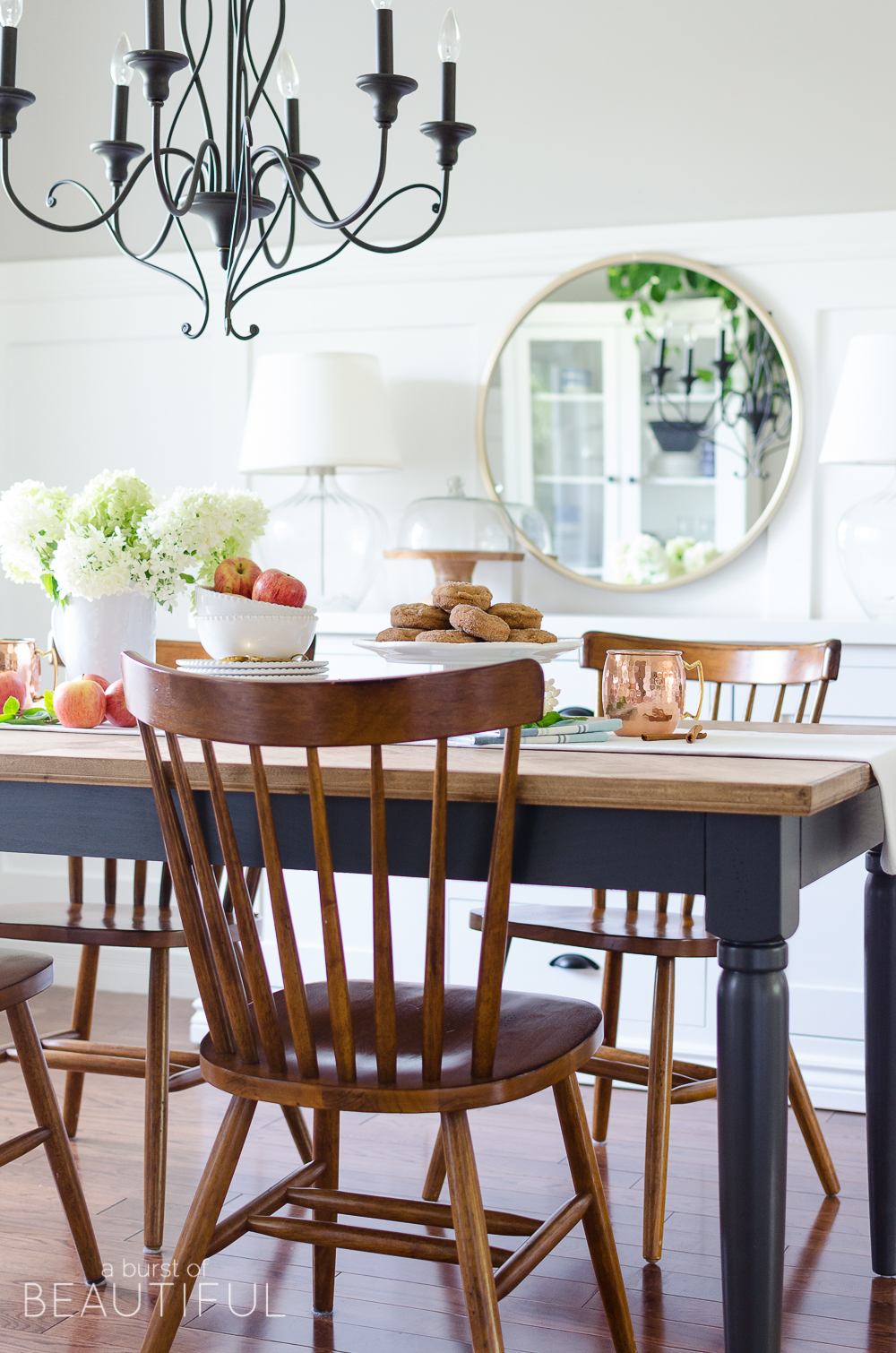 We would love to hear from you if you give this recipe a try, and don't forget to pour yourself a mug of warm apple cider and take a peek at all of the mouth-watering apple recipes below, I bet you can't choose a favorite!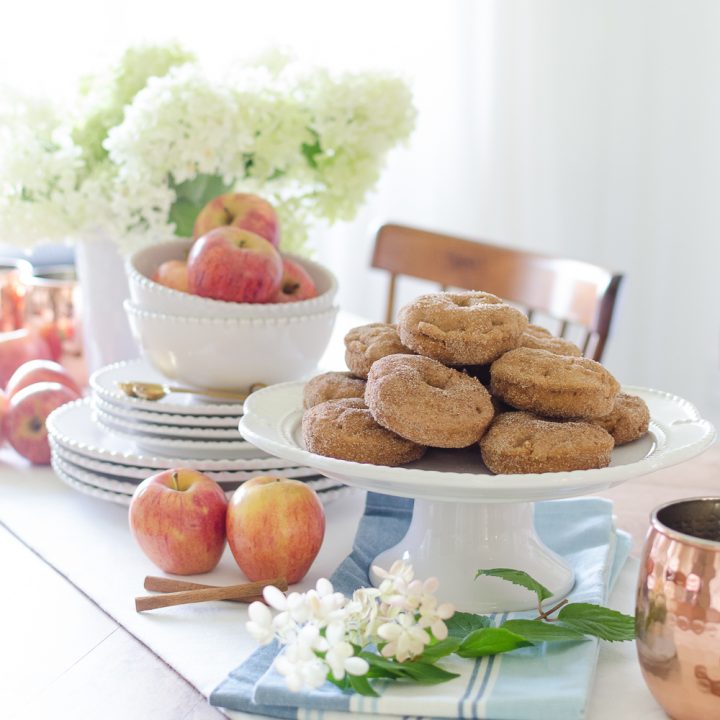 Harvest Apple Spice Donut
Ingredients
Sauteed Apples
1 1/2 cup apples, diced
2 tbsp butter, melted
1 tbsp lemon juice
2 tbsp sugar
1 tsp cinnamon
Donut Batter
2 cups all-purpose flour
2 tsp baking powder
1/2 tsp baking soda
1/2 cup sugar
1/2 tsp salt
1 tsp cinnamon
Pinch of cloves
Pinch of nutmeg
1 tsp vanilla
1 egg
1 cup whole milk
Coating
3 tbsp unsalted butter, melted
1 cup cinnamon sugar
Instructions
Preheat oven to 350°. Grease donut pan with butter or cooking spray. Set aside.
Sautee apples with butter, lemon, sugar and cinnamon until just warmed.
In a large mixing bowl, mix flour, baking powder, baking soda, sugar, salt cinnamon, cloves, and nutmeg.
Add vanilla, egg and milk. Mix well until combined.
Mix in milk and apples.
Bake for 12-13 minutes. Allow to cool for 10 minutes and then transfer to a cooling rack.
Place cinnamon sugar in a wide bowl. When donuts have cooled, lightly coat the bottom of the donut with butter using a pasty brush. Dip into the cinnamon sugar. Then coat the top with butter and dip it into the cinnamon sugar.
Apple Pie Cinnamon Rolls by Ella Claire | Rustic Apple Cranberry Pie by Anderson and Grant |
Apple-Cranberry Slab Pie by Inspired by Charm | Apple Donuts by A Burst of Beautiful |
Caramel Apple Tart by Julie Blanner
Easy Apple Dumplings by Craftberry Bush | Apple Crisp by House 214 Design |
Apple Cider Scones by Everyday Occasions | Apple Fritter Skillet Bake by Nest of Posies |
Rustic Apple Tarte Tatin by Maison de Pax
Paleo Apple Crisp by Nesting with Grace | Crock Pot Applesauce by My Sweet Savannah |
Gluten Free Apple Crisp by City Farmhouse |
Baked Breakfast Apples with Oatmeal by French Country Cottage |
Apple Blossom with Salted Caramel Sauce by Nina Hendrick Design
No Churn Apple Pie Ice Cream by Boxwood Avenue | Bird's Nest Apple Pie by Zevy Joy |
Apple Upside Down Spice Cake by Love Grows Wild