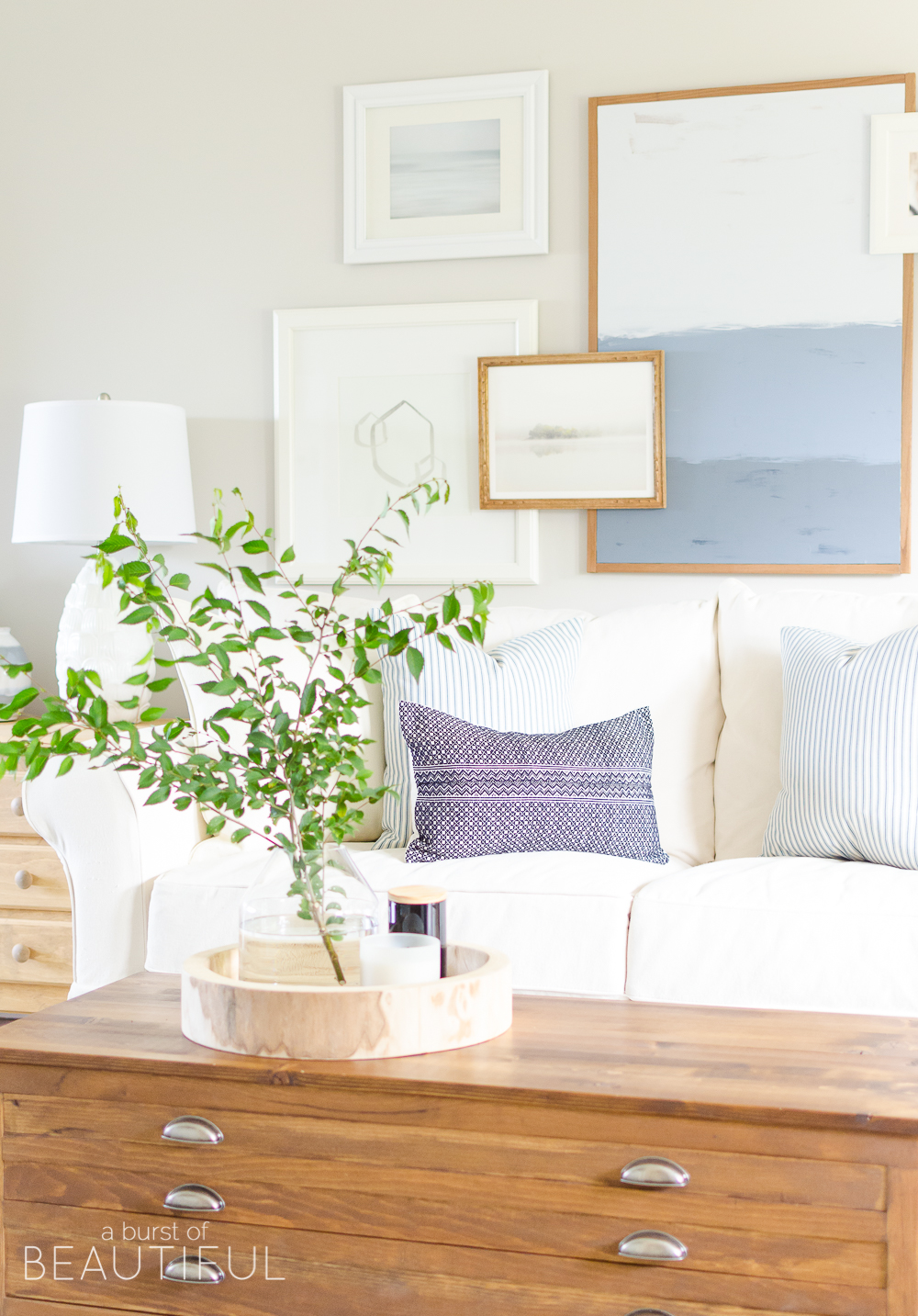 As I sit down to write today's post I look out the window and am reminded more of the summer that slipped past us than the fall I am eagerly anticipating. The sun is shining brightly and the humidity is making the day feel hot and sticky. As soon as I close my laptop I am on my way to join my family for one of our last days enjoying a quiet afternoon at the cottage.
And even though we are experiencing beautiful fall weather that rivals any summer day, inside, our home is feeling cozy and snug as we kick off our annual fall home tour. I'm joining my sweet friend, Rachel of Maison de Pax again this year to share our simple navy and white fall living room. If you're joining us from Nina Hendrick Design Co's, welcome! Her home inspires me on a daily basis, it's that perfect mix of New England charm and modern farmhouse. Don't you think? 🙂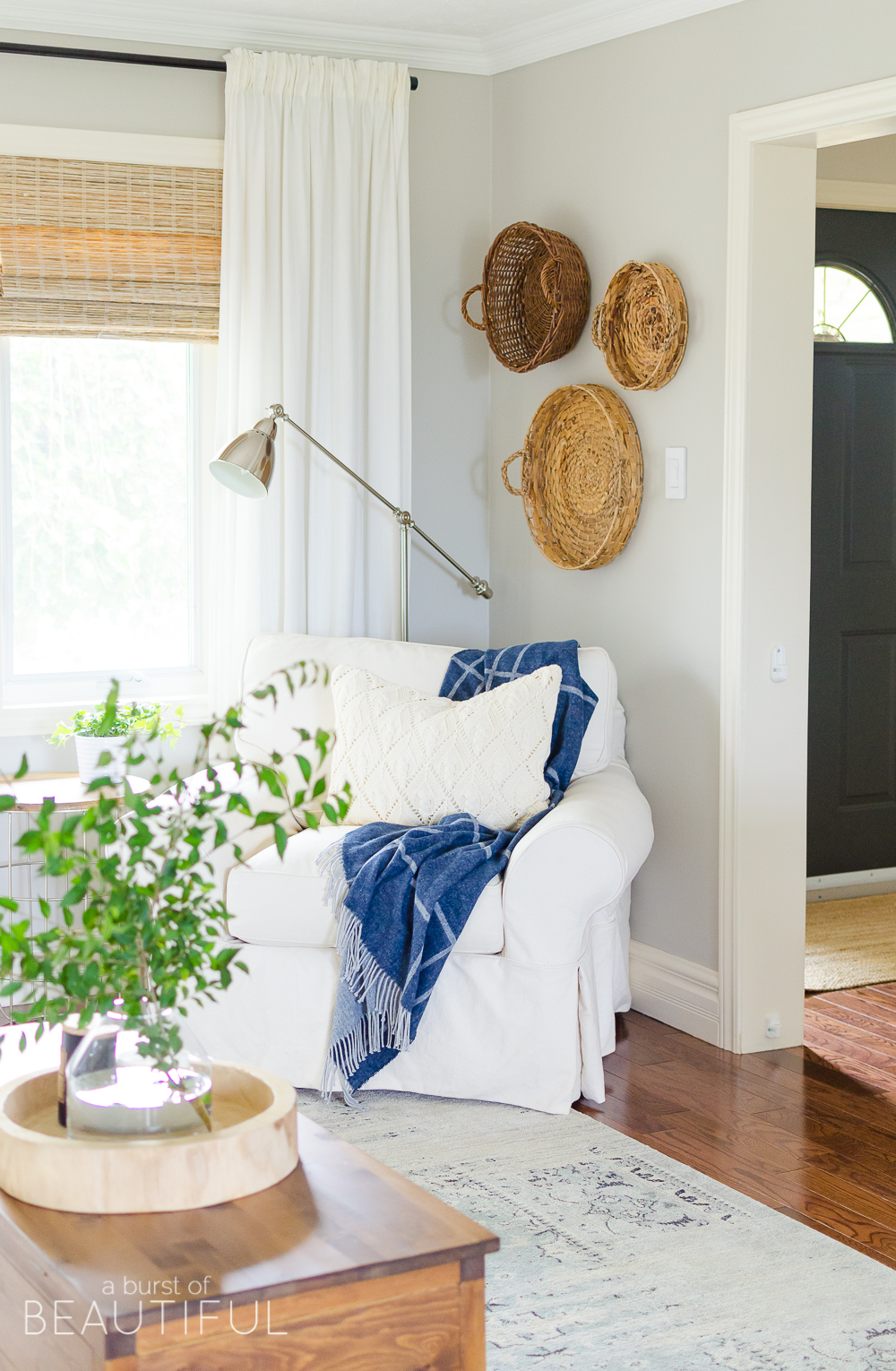 Today, I want to welcome you into our living room and share a few thoughts on how I transition from summer to fall in our home. I tend to lean towards a minimalistic approach when decorating for the different seasons and usually change very little. I don't necessarily bring in a lot of seasonal decor, instead, I try to focus on incorporating elements that pair well with each season and the lifestyle it brings forth.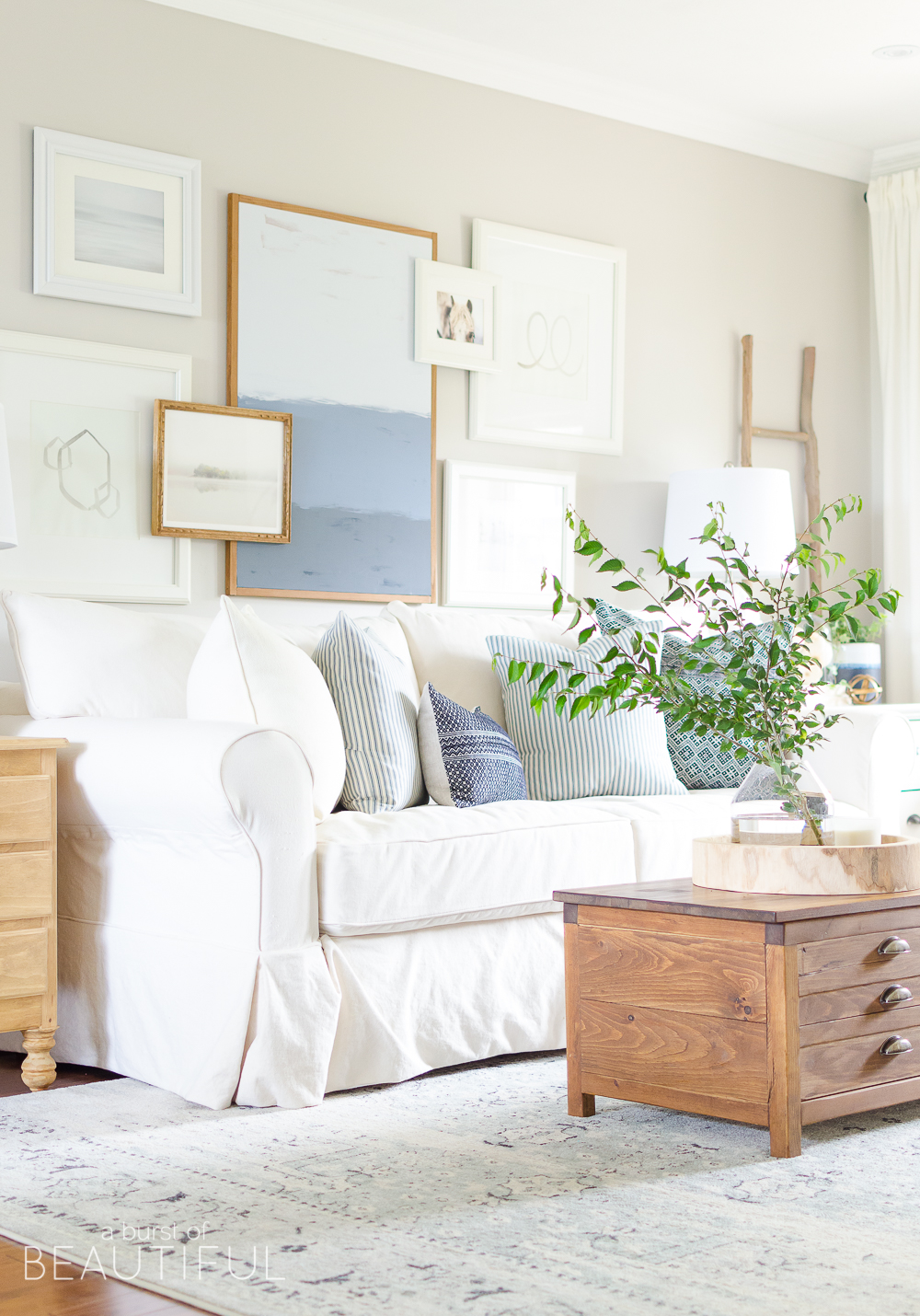 As fall comes into view and the weather (eventually) turns crisp and cool, I like to layer in pieces that help our home feel cozy and comfortable. My favorite way to do this is by adding textural items, like soft pillows, plush throws, and thick rugs. After the casual pared-down feeling of our home during the summer months, it's nice to bring back some of the layers that create such a cozy feeling.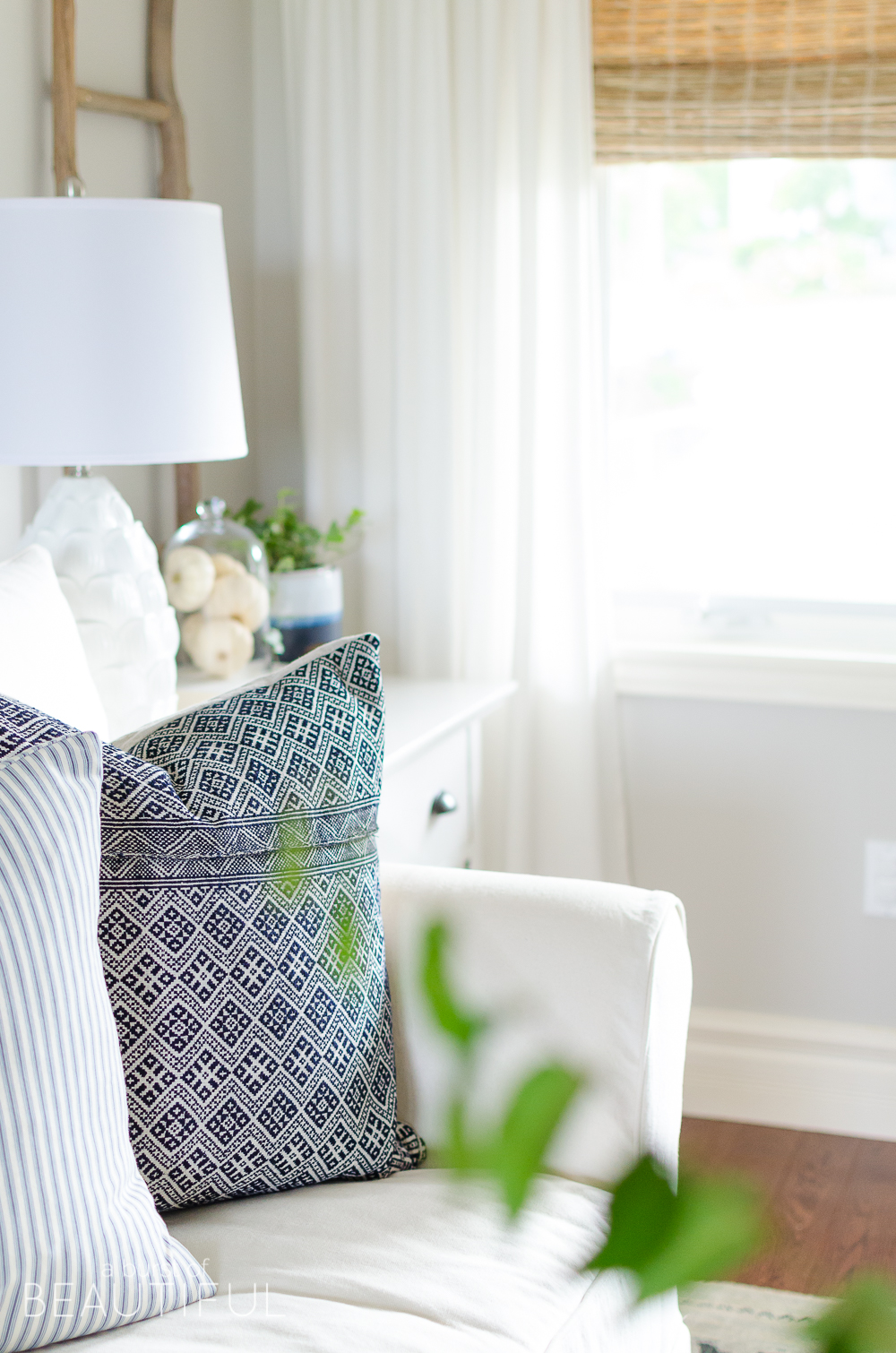 While I was photographing our living in anticipation for this post, Nick popped in and casually asked "where is all of the fall?" with an easy laugh. And he is right, there is nothing that particularly shouts "fall is here" when you take a look at our living room. Again, for me, it's about adding in elements and pieces that speak to our family's comfort during the colder months.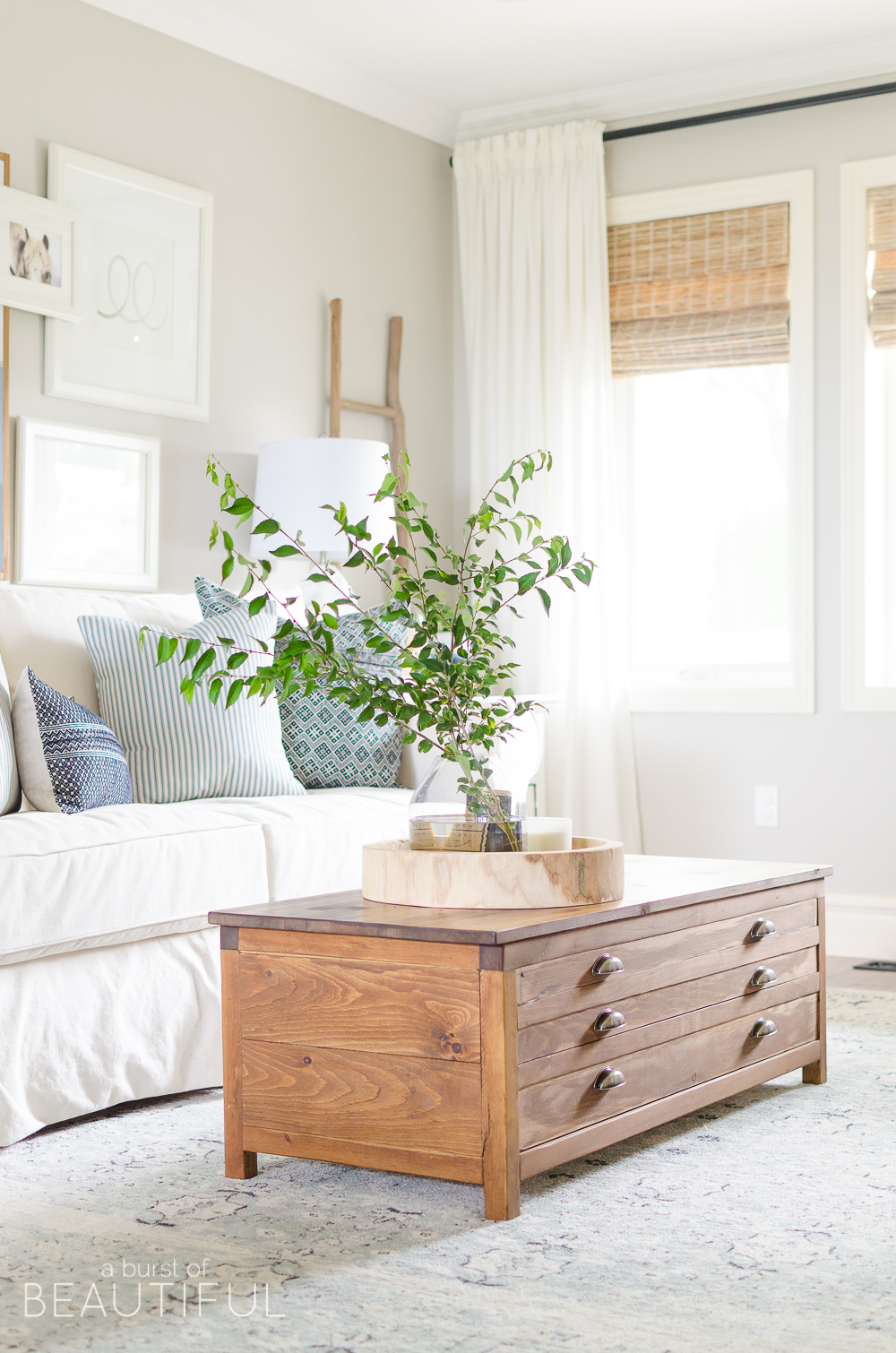 One those rainy fall days when we are stuck inside we usually find ourselves snuggled into our sofa amid piles of pillows and wrapped in a cozy blanket while reading our favorite stories or getting lost in the latest movie. So I always like to make sure we have plenty of both on hand. This year I kept a few of our favorites including these casual ticking stripes ones and a cozy knit lumbar. But I also added a few new favorites as well. Can you spot them?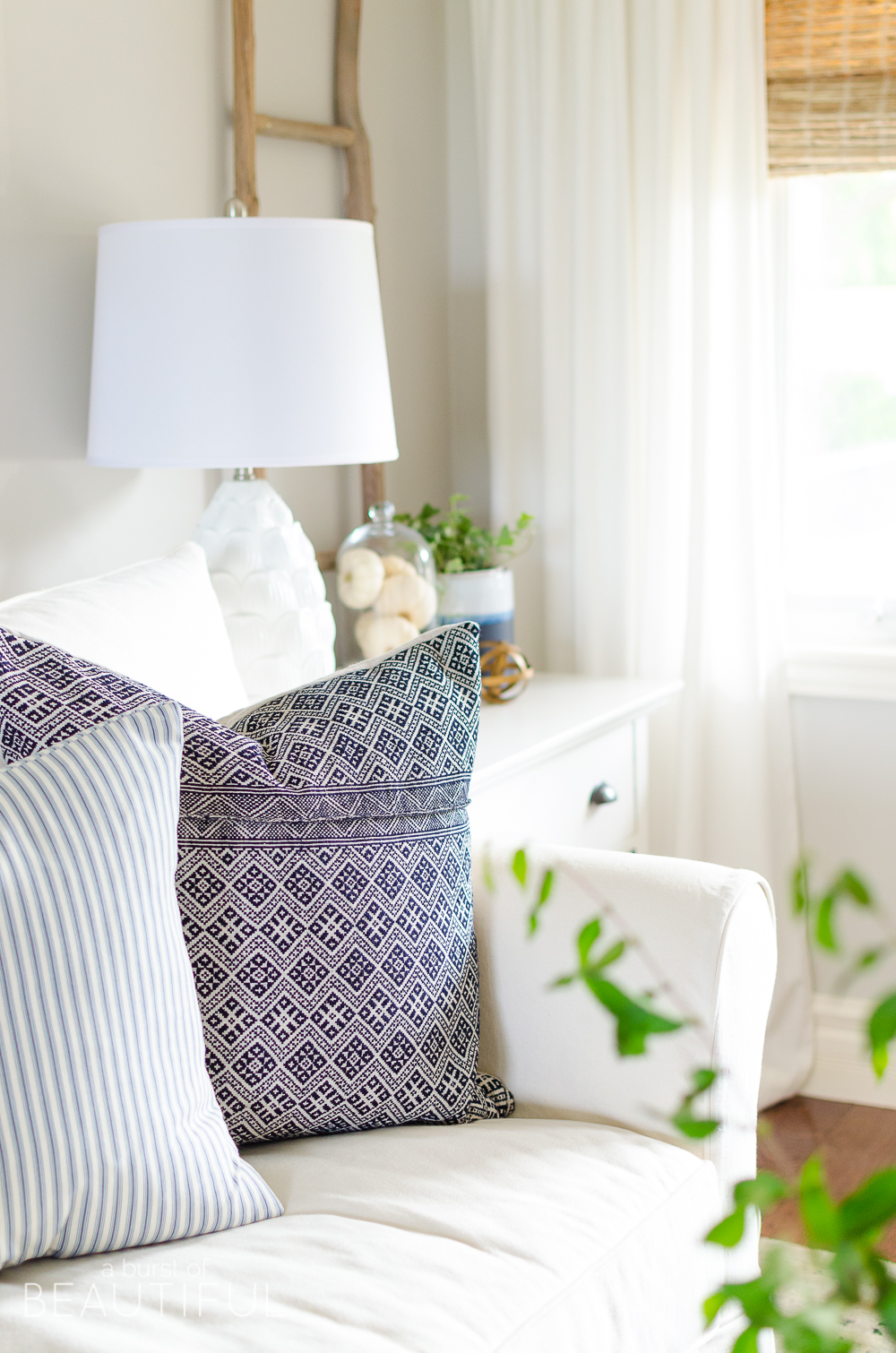 I love the deep rich hues of these beautiful indigo pillows. The color and pattern of each remind me of a cozy, well-loved sweater and pair perfectly with our rug. And I just love that the cloth that makes up each one has such a diverse history, you can find out more about these beautiful pillow covers here.
Each season I like to add a new blanket or throw to our living room, it's an expensive way to help our space feel fresh and new. 🙂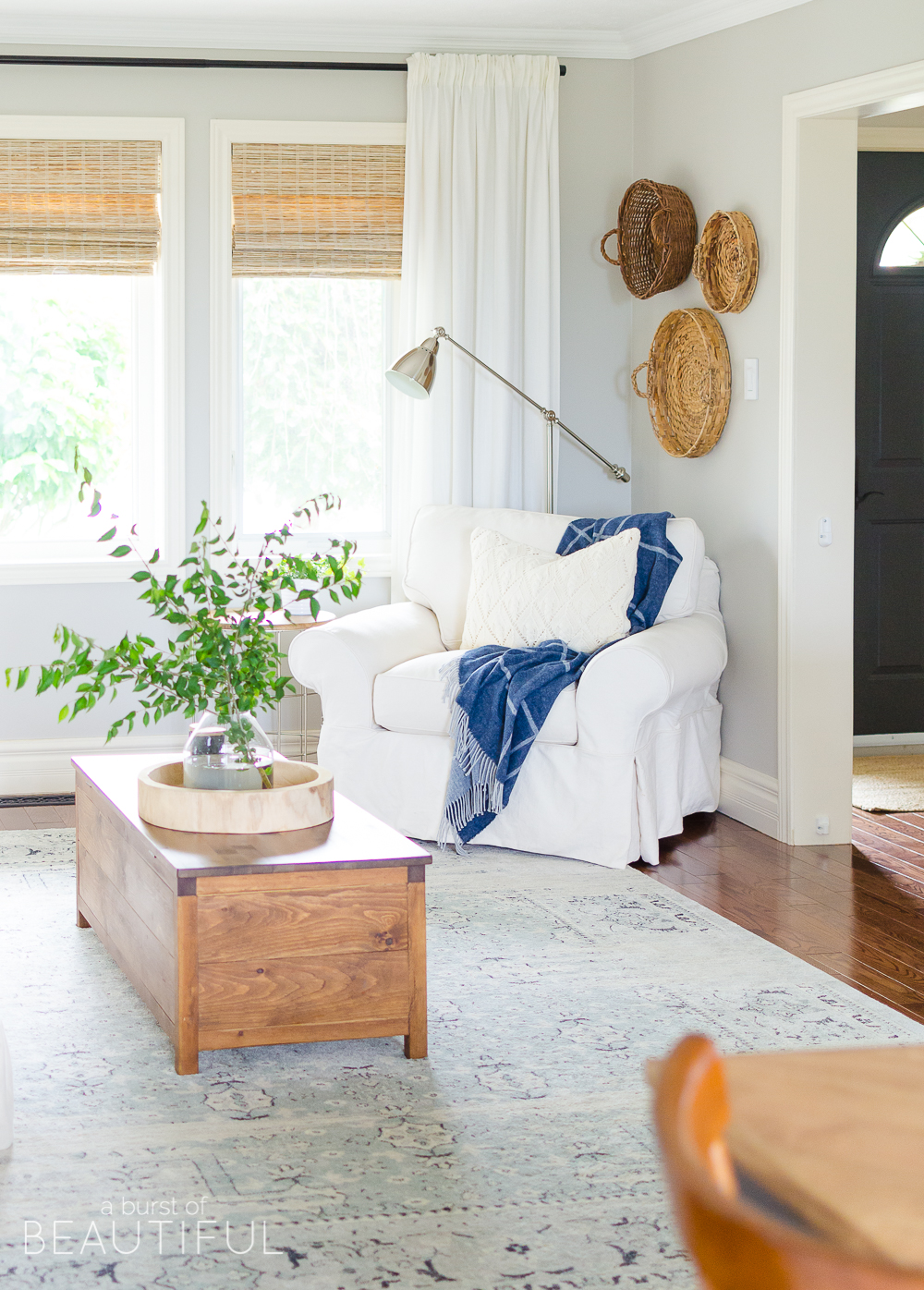 Speaking of keeping things feeling fresh, I always make sure each room in our home has a little bit of greenery included. I clipped this branch from a tree in our backyard and I think it adds the perfect pop of life. I absolutely love that the summer and fall months allow us to bring in bits of nature to help decorate our homes. Whether it's picking a few wildflowers on the side of a quiet country road or clipping a handful of seasonal blooms from your very own garden, a little vase filled with flowers is the perfect (and inexpensive) way to make any room feel prettier.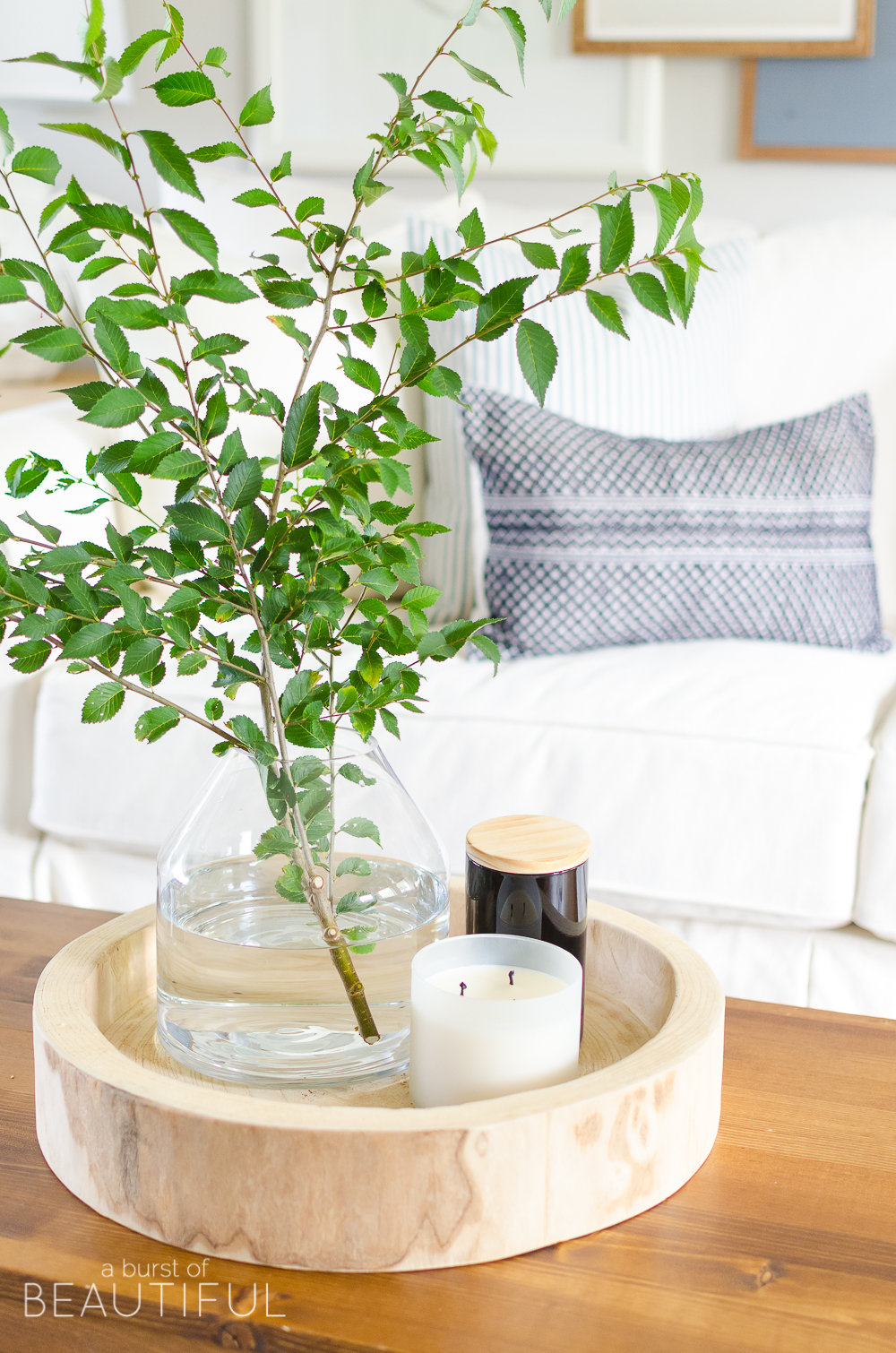 Now, the only true nod to fall you'll find in here is a few miniature white pumpkins nestled under a cloche on our side table. It's simple and easy, yet adds that little touch of fall.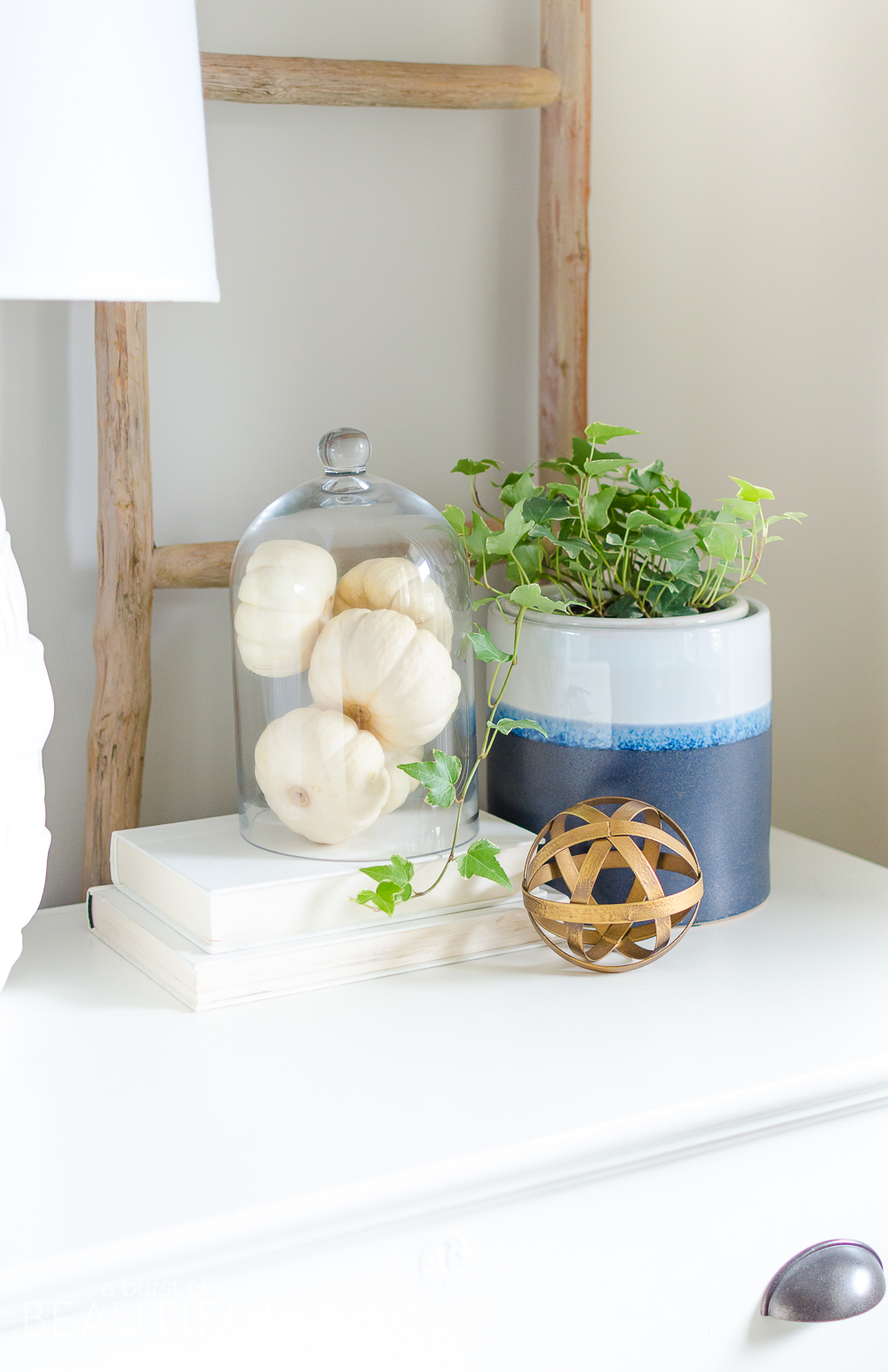 If you take a little peek into our dining room, you'll notice we have a new table, built of course by my talented hubby – The DIY Hubs! I'll be sharing more about this pretty new piece very soon.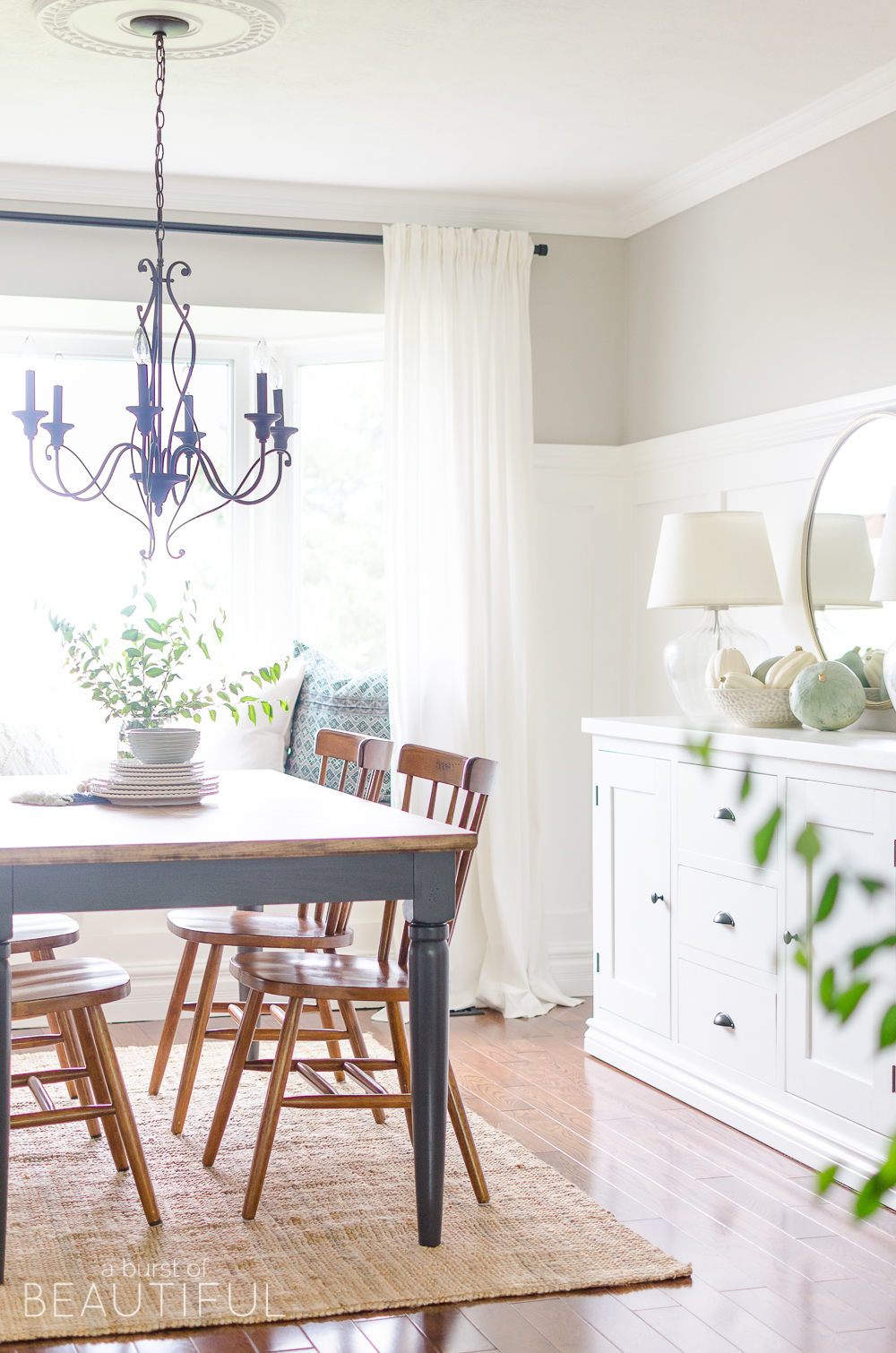 You'll also see we added a simple jute rug under the table. I've been coveting a rug for this space since we added a new rug to our living room and I felt now was the right time to give it a try. I thought it was going to be a terribly unpractical decision, resulting in a rug full of noodles, cheese, and playdoh, but I've been pleasantly surprised.
Not only has it been easy to keep clean, but it helps to anchor our table and the dining room in general. Plus, I love how cozy it feels underfoot. I'll be sharing more of our dining room on Thursday when I host a fall tablescape tour with some of my talented friends. 🙂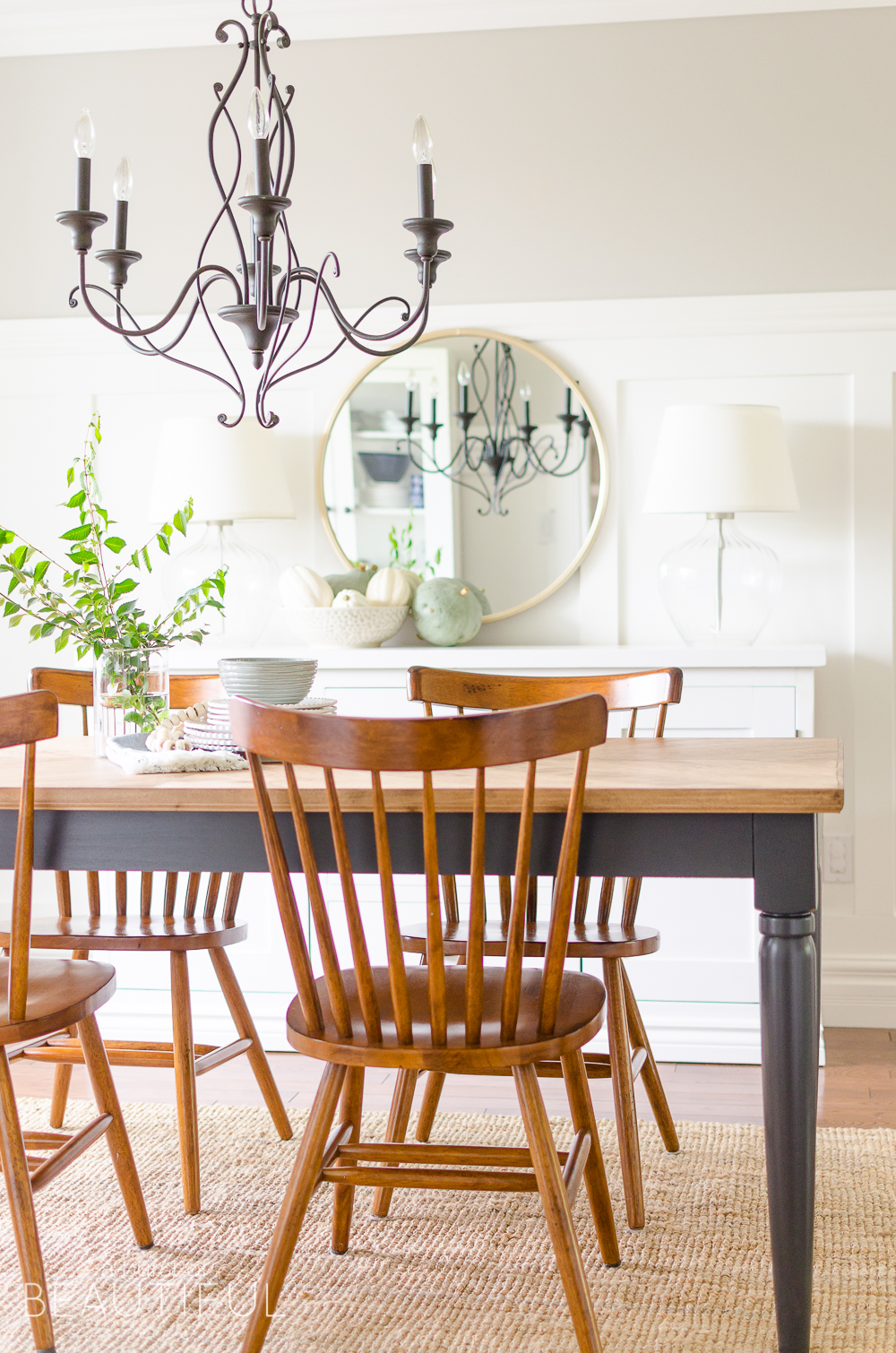 I hope you enjoyed today's post and found some inspiration to bring that cozy feeling into your own home this fall. And if you missed it, you can take a peek at our fall front porch here.
Now, be sure you don't miss the next beautiful fall tour from Shades of Blue Interiors, Rachel's home is always so cheerful and inspiring!
Monday Tours
Maison de Pax | Nina Hendrick Design | A Burst of Beautiful | Shades of Blue Interiors | Zevy Joy
Tuesday Tours
Tidbits | Cherished Bliss | So Much Better With Age | AKA Design | ShabbyFufu
Wednesday Tours
Bless'er House | Finding Silver Pennies | The Wicker House | Love Grows Wild | The Wood Grain Cottage