This post was sponsored by Annie Selke. All opinions and thoughts are my own, see our full disclosure policy

here

.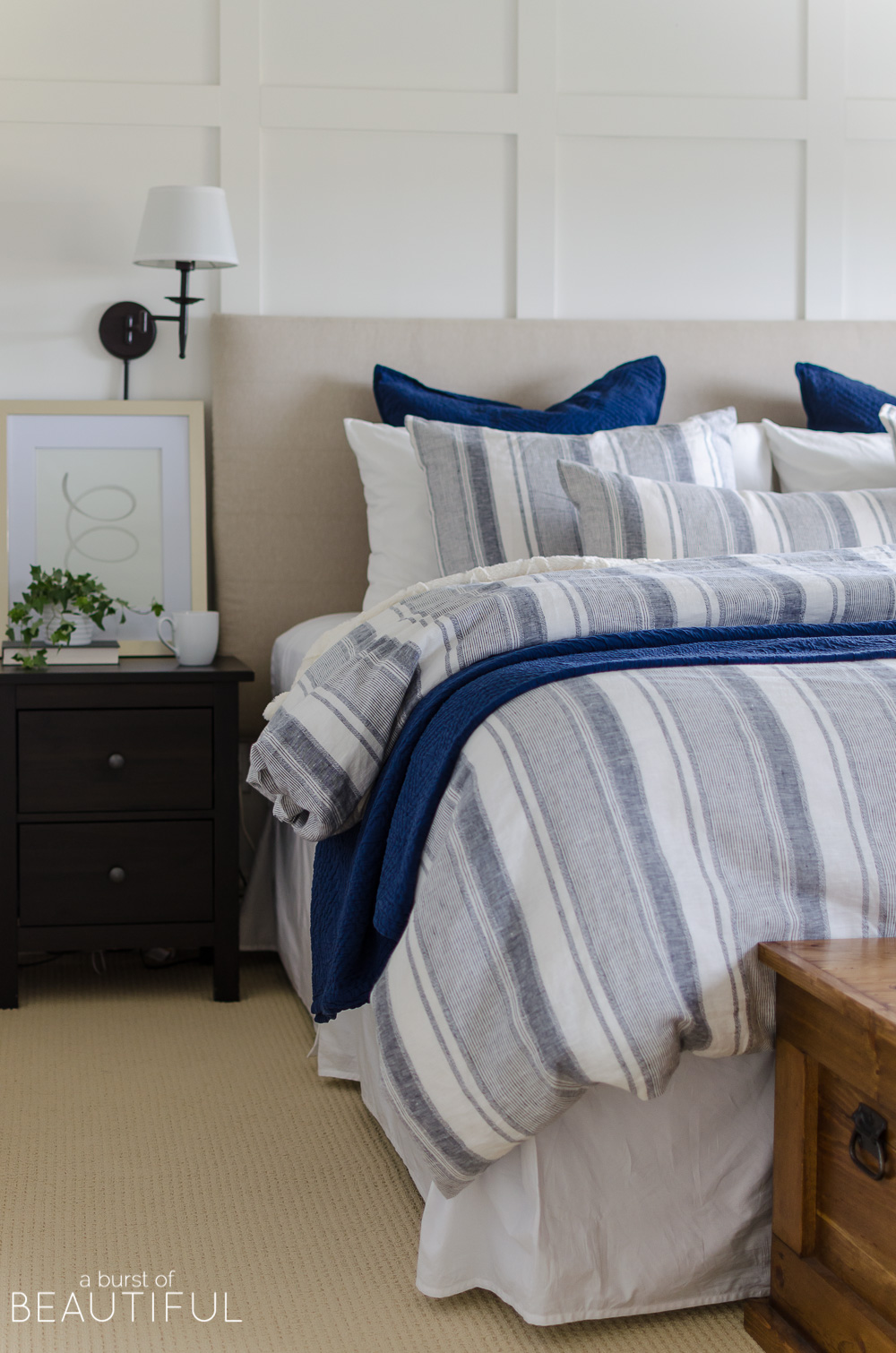 As much as I love the long hot days of summer, I'm glad to live in a place that experiences all four seasons.
Fall has arrived and winter will be following close behind, and it's during this transition that I find a sense of comfort and tranquility. Our home becomes a cozy haven – the lights glow from inside as the evenings arrive earlier and earlier, the smell of hearty soup and freshly baked bread drifts from the kitchen while our little one snuggles on the sofa in PJ's and her coziest blanket. It's these sights and smells that warm my heart.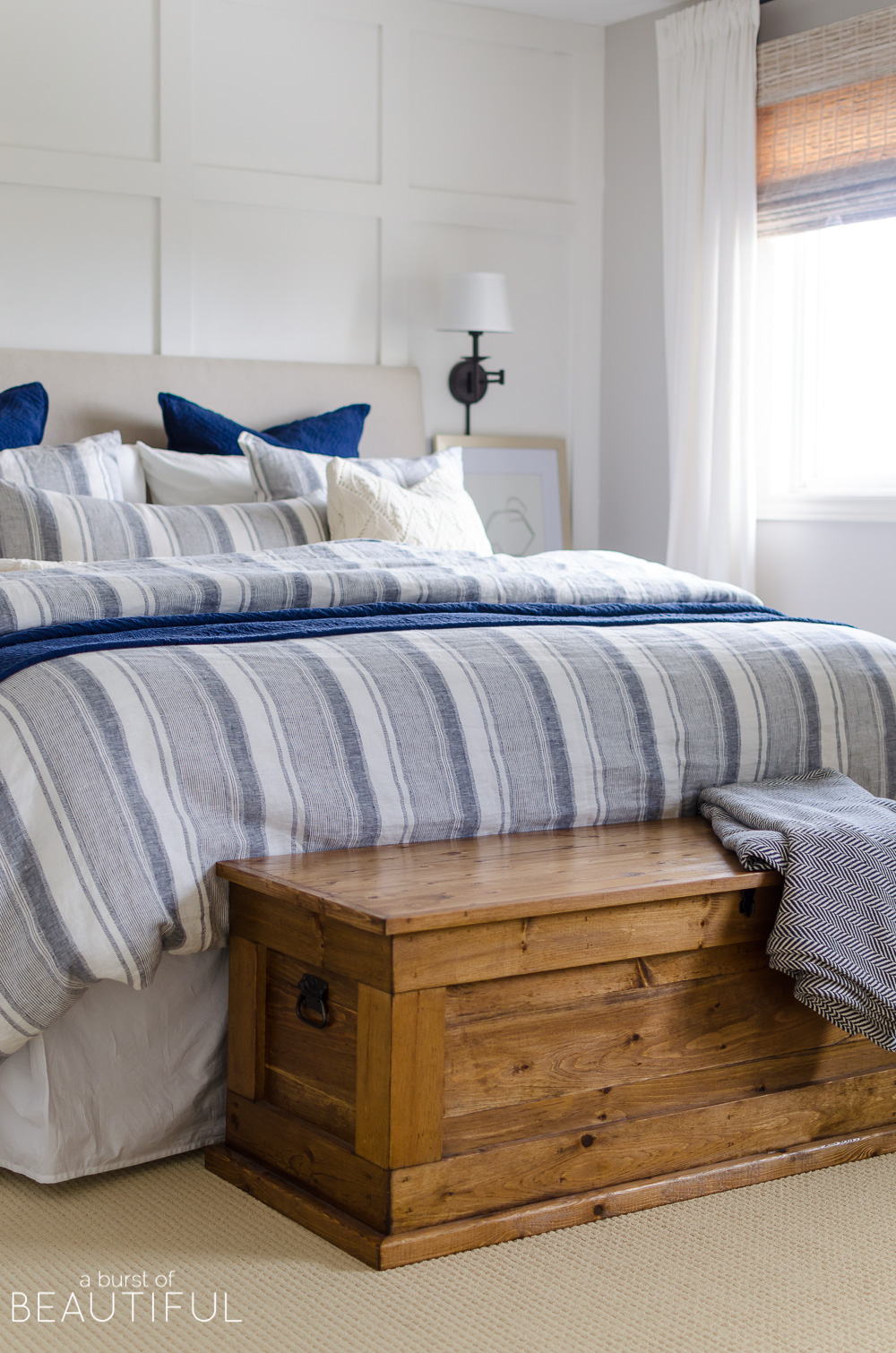 And it's why I take such joy in creating a cozy home for our family, I want them to experience that same feeling.
If you want to do the same, I think the best place to start are the bedrooms of your home. This is where we start and end our days, and it's often a place that is overlooked. During this time of the year, it's dark and cold when we wake up and when we go to bed. It can make crawling out of bed in the mornings really, really hard, but it also makes snuggling under the covers at the end of the day so much better.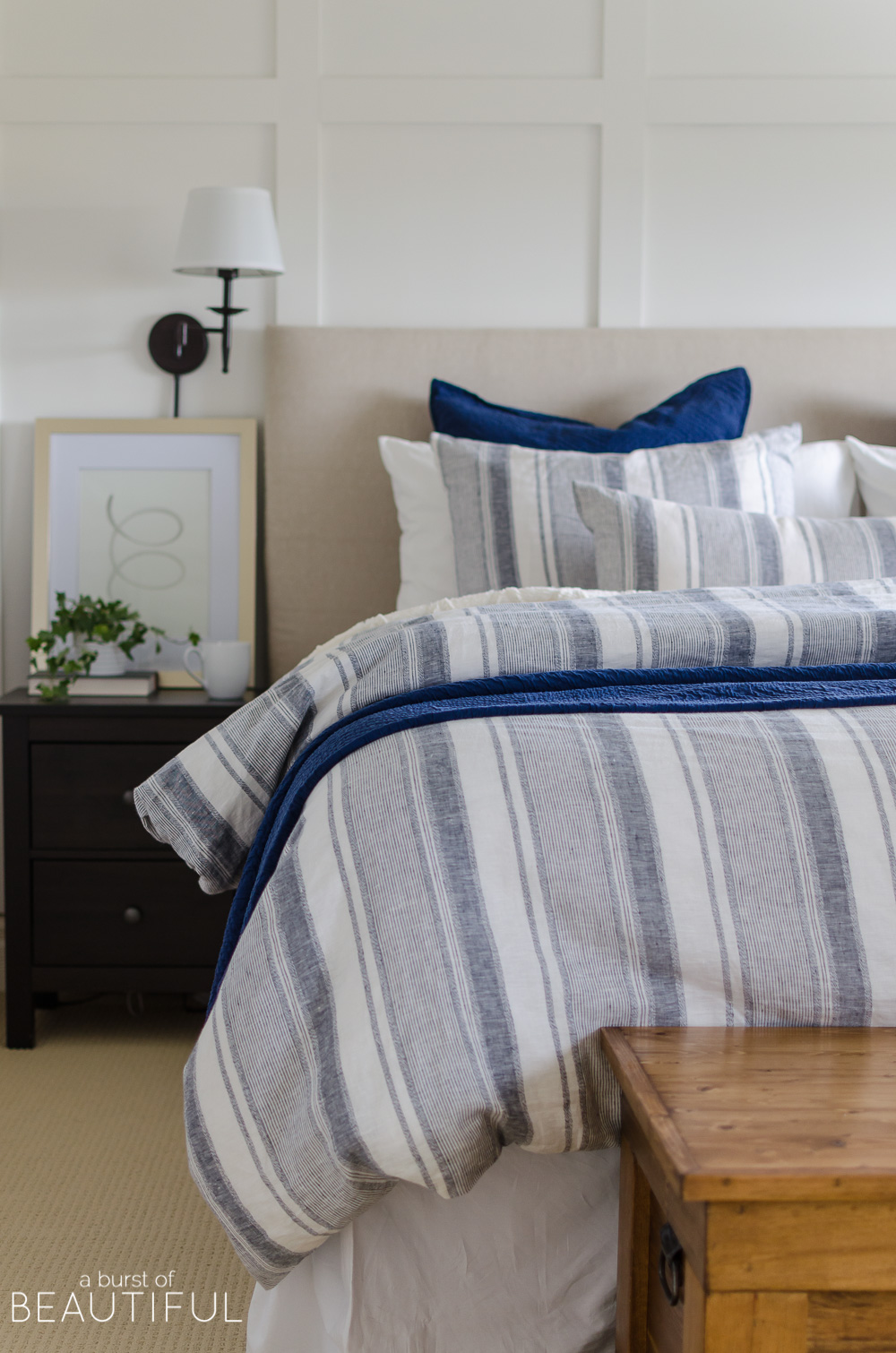 Our bedroom is quite large so I find it requires a few more layers to really make it feel cozy and inviting, especially during the colder months.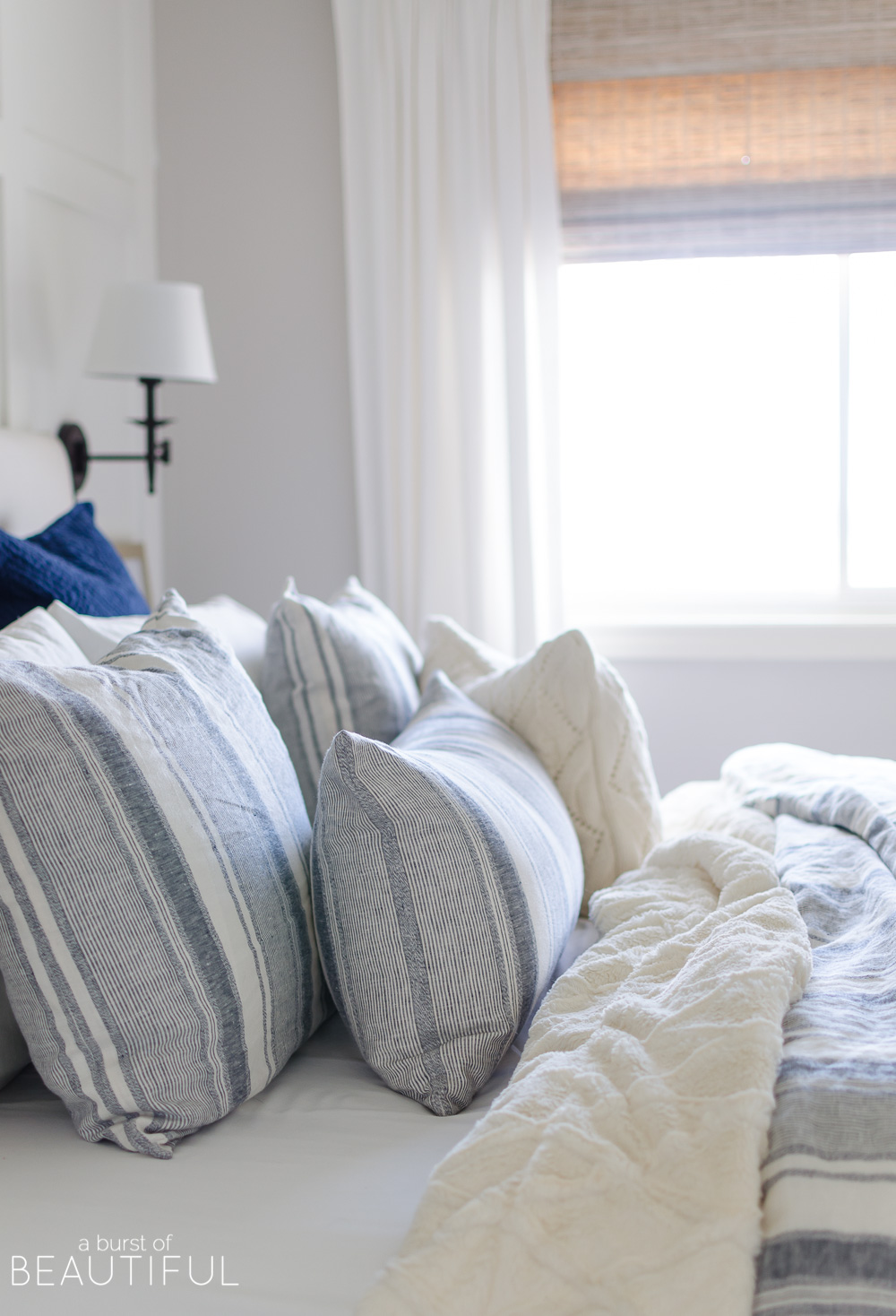 So, as soon as the weather starts to turn chilly I always add a few extra blankets to our beds. And if you're anything like Nick and me, you'll understand the constant struggle of bedding. Nick tends to overheat, even in the dead of winter, while I, on the other hand, am constantly freezing. So adding an additional blanket or two solves this problem for us, I can pile on the blankets to keep the chill out, while Nick usually only sleeps with a light sheet. It's a win-win, plus it makes your bed look so plush and cozy.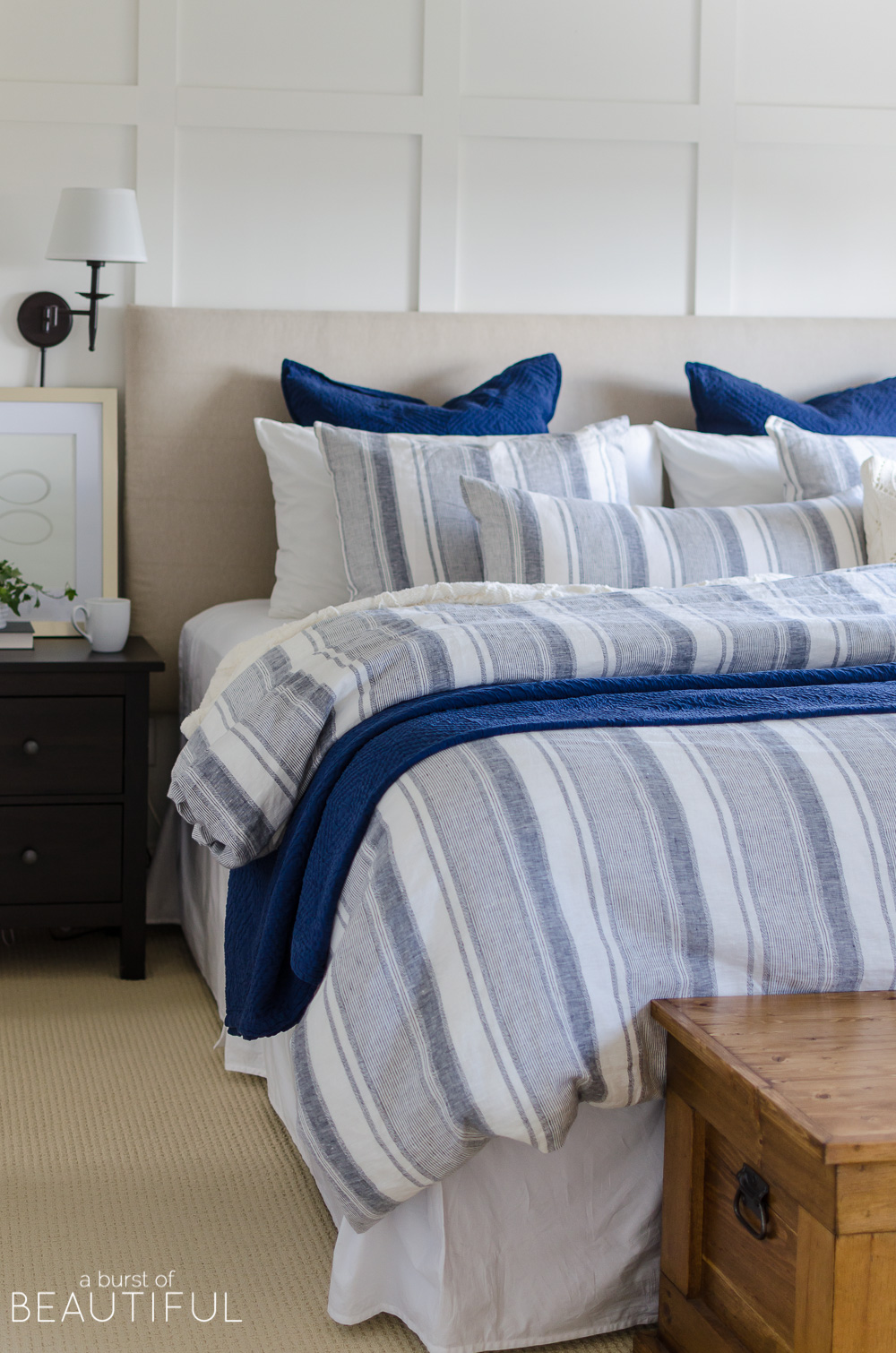 Our duvet is from our friends at Annie Selke, and it's been a favorite of ours since we received it last year. It has such a fresh and simple look that pairs so well with our home's style. So, when it came time to add a few extra layers to our bed I knew the new Annie Selke fall collection was the perfect fit (you can request a catalog here and save 15% on your order when you sign up for emails!).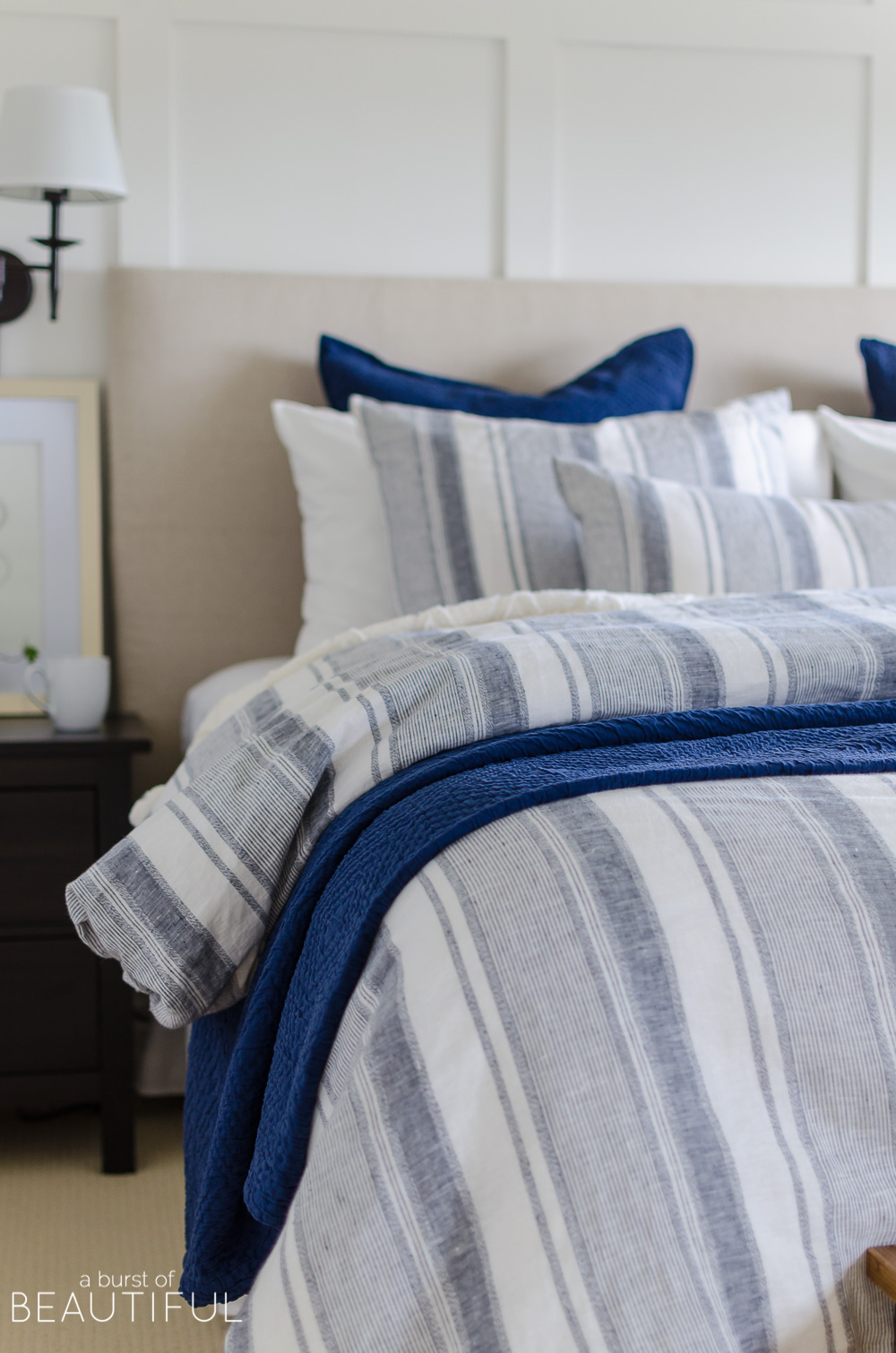 I chose this beautiful Kerala Indigo Matelasse Coverlet and matching Euro shams, after falling in love with our daughter's bedding (you can get all of the details here). There are so many reasons I love this bedding but let's start with the color. I think it's pretty clear that I love the color blue in all of its shades and hues. It's such a fresh color and really pops against all of the neutrals in our home. And the rich indigo color of our coverlet and shames adds a depth and warmth to our bed for the fall and winter season that just wasn't there with the duvet cover alone.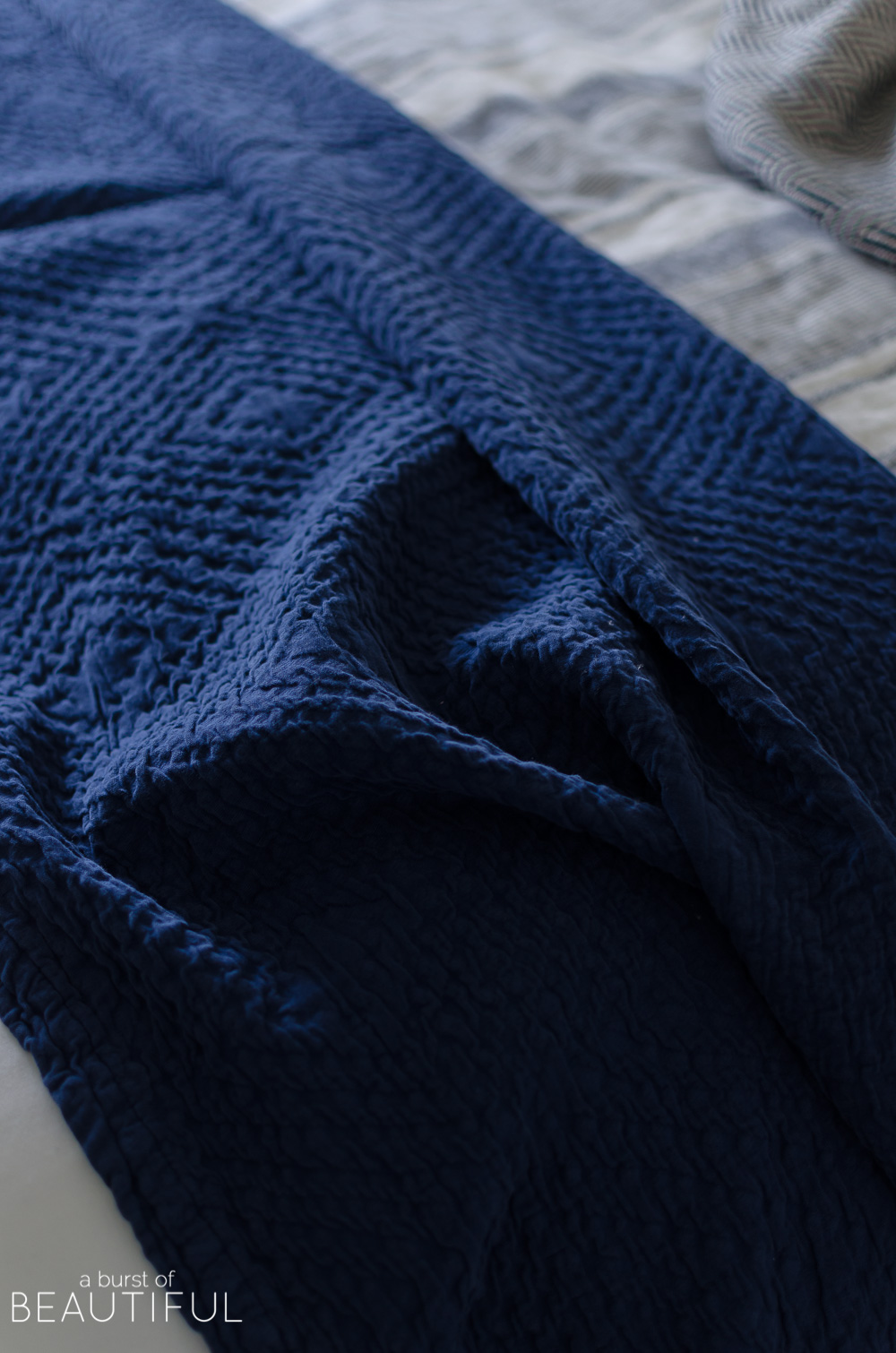 Secondly, it's made from a lightweight cotton and features a woven diamond pattern which adds a beautiful texture to our bedroom. And if I'm certain of one thing it's that texture is the best way to up the cozy factor in any space. I love that it's not too heavy so it drapes easily, and it really is such a neutral piece, even in indigo, allowing it to coordinate with so many different bedding options.
And because I'm always freezing, I added this simple Herringbone Indigo Throw, which I usually keep draped at the end of our bed so it's close at hand during those really cold nights. It's such a versatile piece, I know it will be making its way through our home. I think it will look particularly good in our living room, don't you? 😉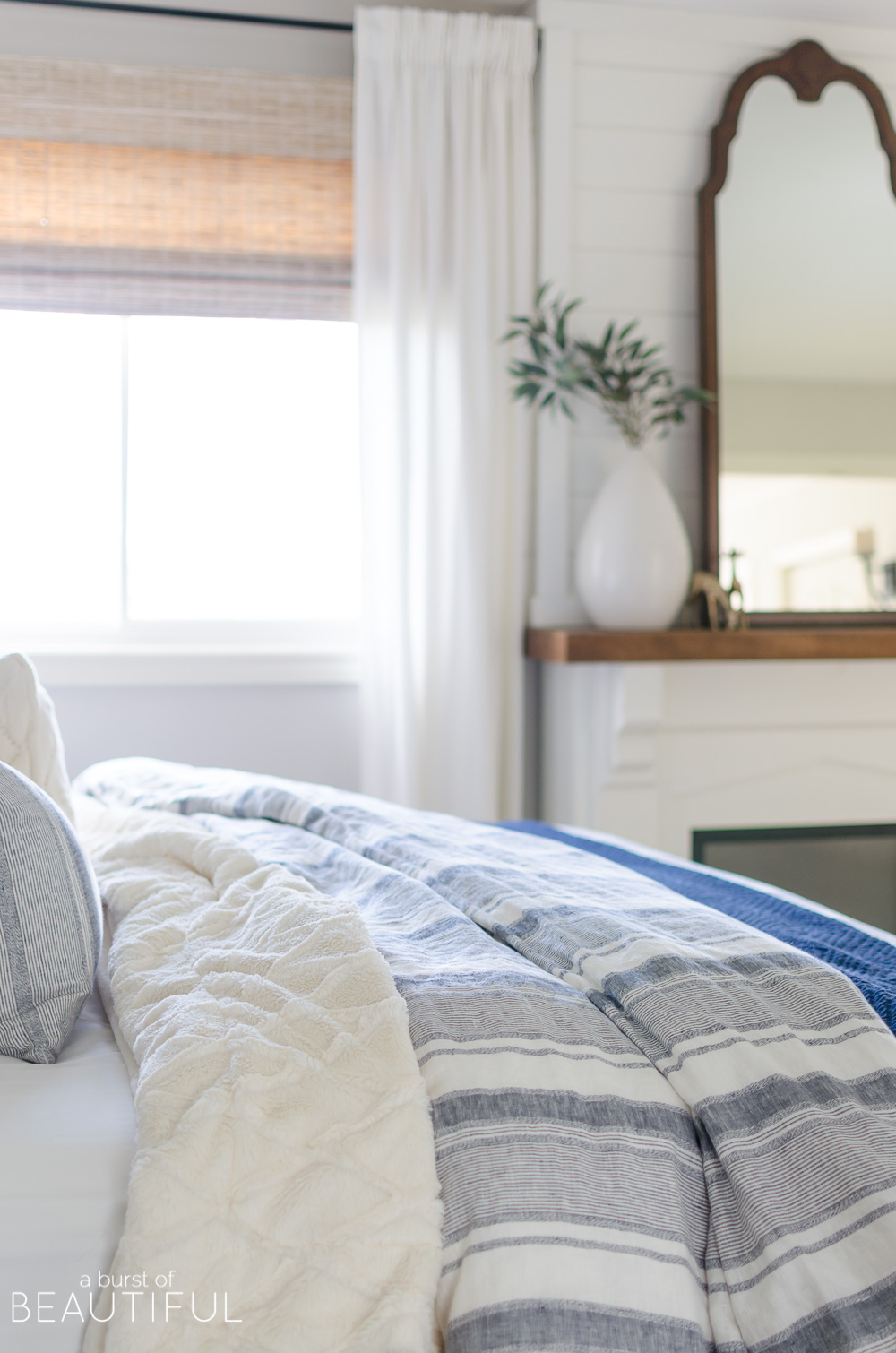 A cozy bed with just the right bedding is the most important part of creating a cozy bedroom, but there are a few other pieces you can add to help.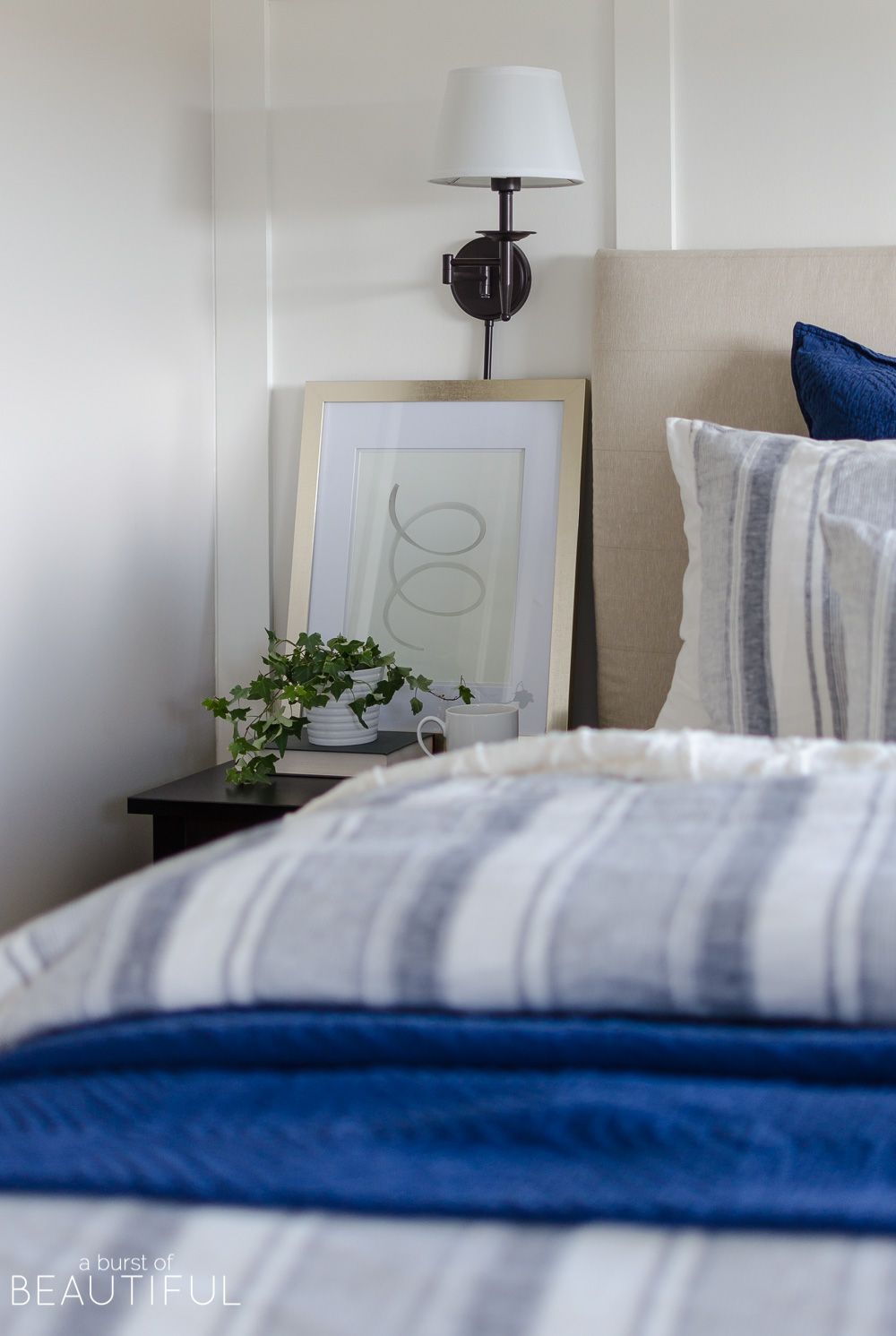 You probably noticed we changed our bedside lighting. We switched out our table lamps for these charming swing arm wall sconces. I found our previous silver lamps were too cold looking and were just a little bit washed out, so I've wanted to try something new here for a while. I finally settled on these wall sconces in a rubbed bronze and I think they were the perfect choice for a few reasons. The dark finish and added height really help to anchor the large white expanse of wall behind our bed. They add the perfect amount of ambient lighting for those dark evenings, and they give off a relaxed vibe – perfect for our modern farmhouse style.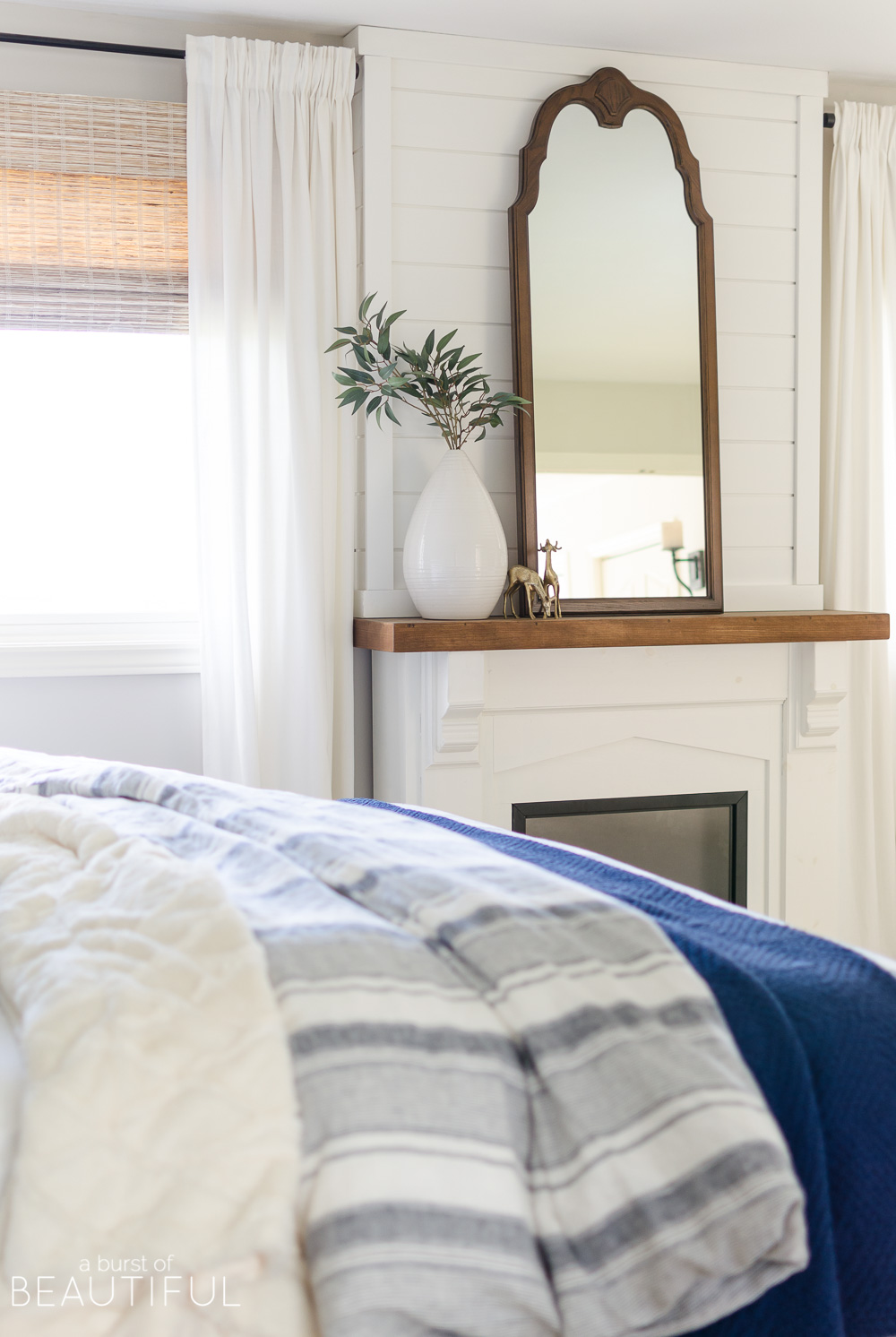 Speaking of rubbed bronze, I think another important element in creating a cozy space is to play with warm metallics and finishes. Our bedroom already has a lot of warm wood tones in the storage chest, fireplace and our woven wood shades, but adding in a few key pieces in gold and bronze really help to add that warmth. I propped two large gold frames on both bedside tables because I love symmetry. Trust me, you can never go wrong with symmetry in design. And two sweet bronze deer figurines add a touch of whimsy to our mantle. I picked up these little guys at an antique store and thought they would make the cutest addition to our holiday decor this year. Our little decided to name them Elliott and Marken, I'm not sure where the name Marken came from, but I didn't question it. 😉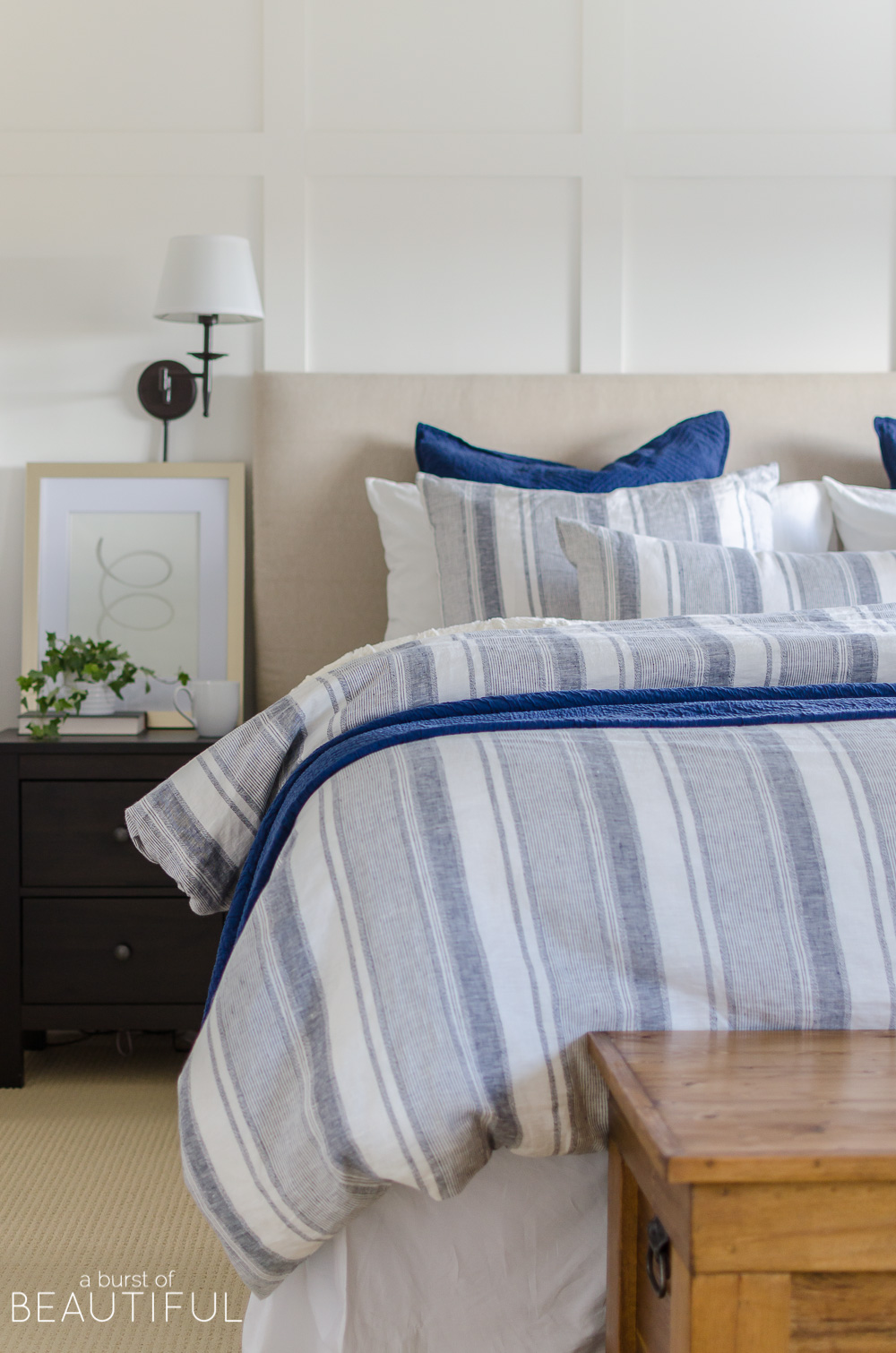 I think our bedroom is feeling quite snug and cozy, and if you haven't already head on over to Annie Selke and request a catalog so you can browse the inspiring Fall 2017 Collection. And remember, if you sign up to receive emails you'll get 15% off your order, you can't beat that. You'll have your own snug and cozy bedroom in no time!
Alicia xo