This post contains affiliate links, see our full disclosure policy

here

. Thank you for helping support our blog.
This week officially marked the start of the holiday season in our home. I know it might seem early to some, but our love of the holiday season runs deep and we want to make the very most of it. We've begun dressing our home for Christmas, starting with our kitchen, and have made a few simple holiday projects already, like this sparkly star garland. And as much as I love decorating our home for the holidays, choosing the perfect gifts for our loved ones comes in at a close second.
Throughout the year I make a list of gift ideas for everyone in our family and add to it as new ideas come up. It helps to keep me organized so that we buy (or make!) gifts that will be needed and appreciated. So over the next few weeks, I thought I would share a few of my favorite holiday gift ideas in hopes that it might make your holiday shopping run a little more smoothly.
Like many of you, we do most of our Christmas shopping online, it's just so much more relaxed (who really likes fighting those crazy crowds during the busiest season of the year anyway?), and I love that I can do it all while wearing my jammies, sipping hot chocolate and snacking on Christmas cookies. 😉 You might want to tackle all of your holiday shopping online this year, trust me, you won't be disappointed!
So, I thought I would start this little series with my personal favorite…Holiday Gifts for the Home! We all love the idea of freshening up our home, especially after the holiday season when all of the trimmings come down and it starts to feel a little empty. It's so nice to have a new throw or pillows to add to the sofa or a stash of beautiful smelling candles to light on a dreary, cold day, don't you think?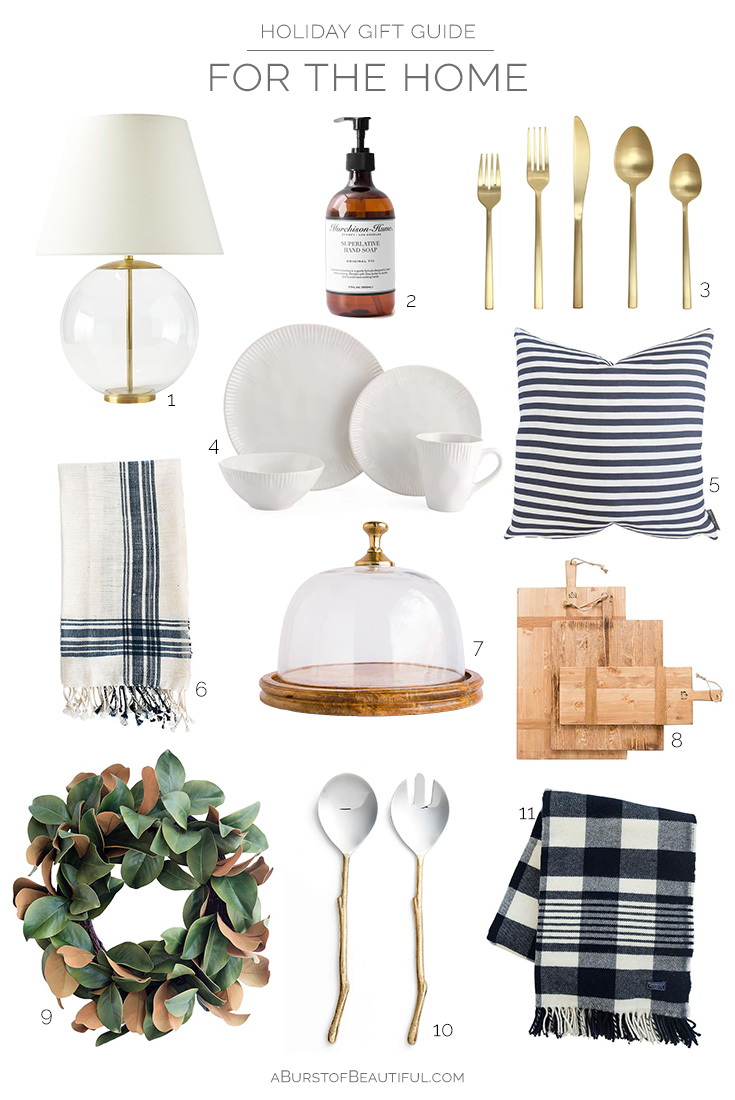 ONE | TWO | THREE | FOUR | FIVE | SIX | SEVEN | EIGHT | NINE | TEN | ELEVEN
Do you have favorite you want to add to your wish list? Happy shopping!
Alicia xo