A snowy flocked Christmas tree decorated in silver and gold adds a big dose of holiday cheer to this modern farmhouse living room.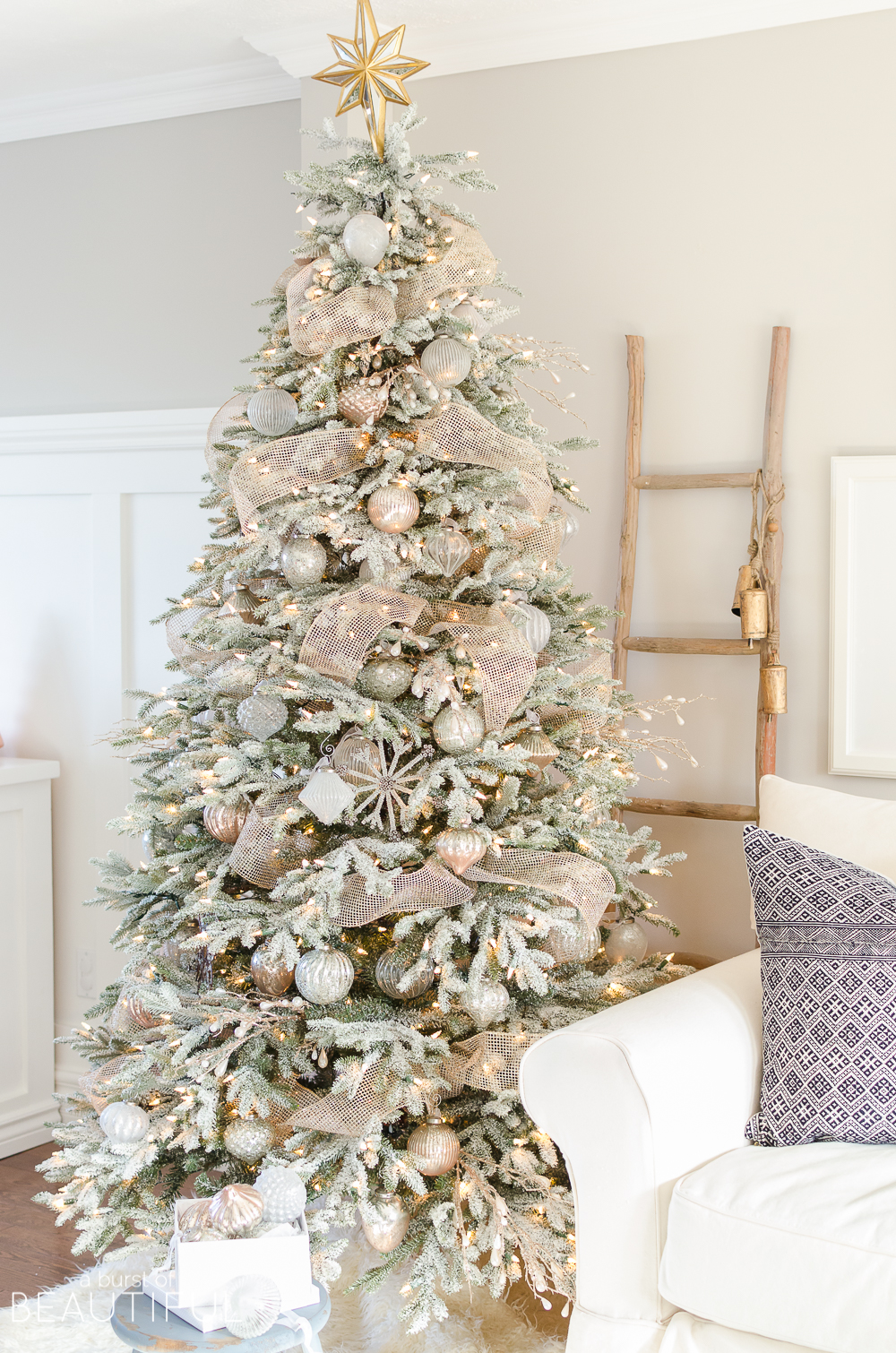 Pine trees dusted with a soft layer of sparkling snow is one of my favorite winter scenes, and I look forward to it after every snowfall. There is just something so serene and magical about it. So it should come as no surprise that for the past few years I have had my heart set on a snowy flocked Christmas tree for our home.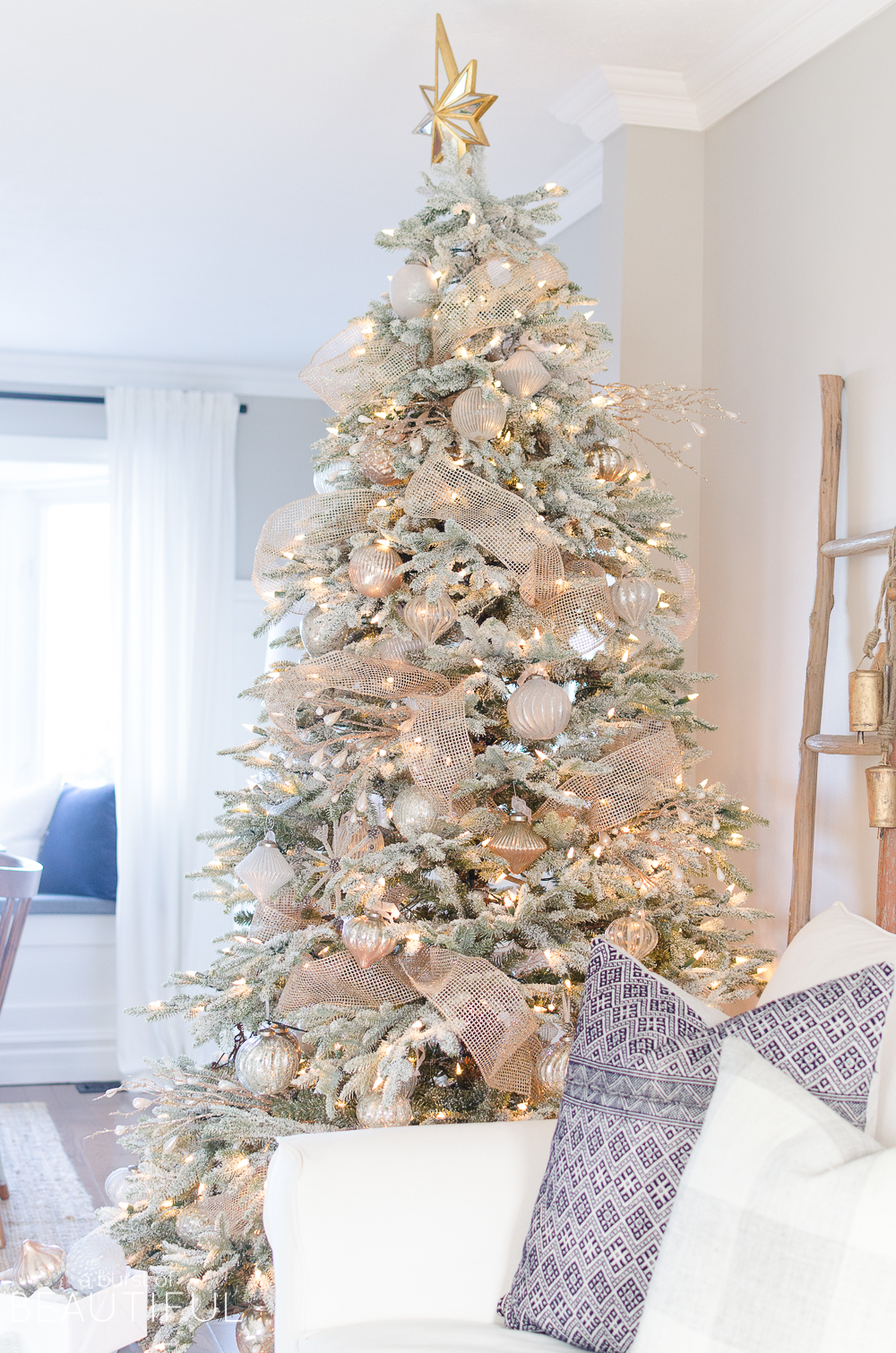 I wanted to capture a little bit of that magic inside our home this holiday season, so I was thrilled to partner with Balsam Hill as one of their 12 Bloggers of Christmas. There is so much talent and inspiration wrapped up in this group that I just know you will be busting with new holiday ideas for decorating your own home this year.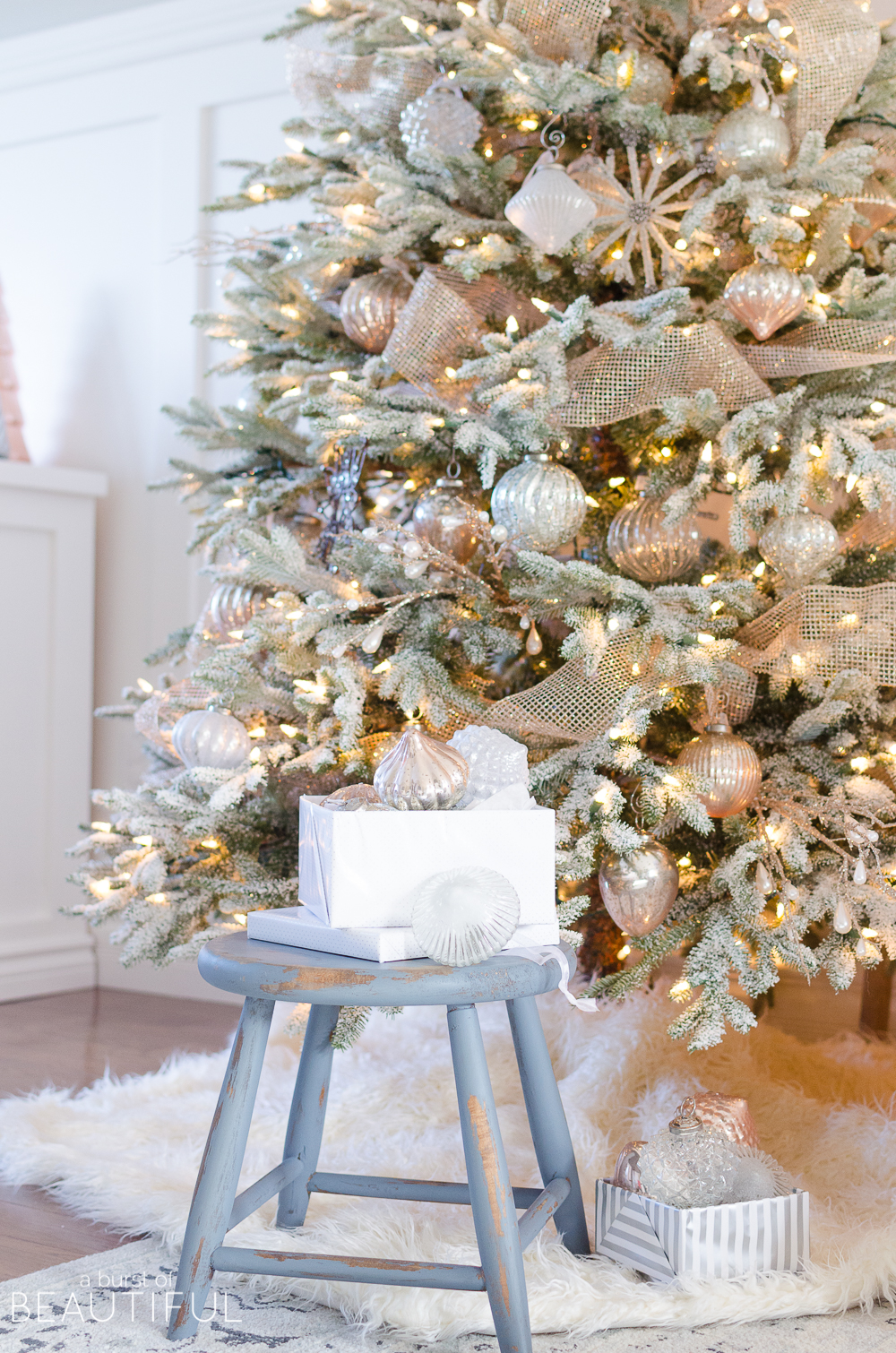 Now, if you're coming from my sweet friend, Cami of Tidbit's, welcome! Wasn't her holiday tree so special? This year we are seeing more and more colorful Christmas ideas and I just love her take on the soft pastel palette she used. I'm thinking next year might be a colorful Christmas for us too.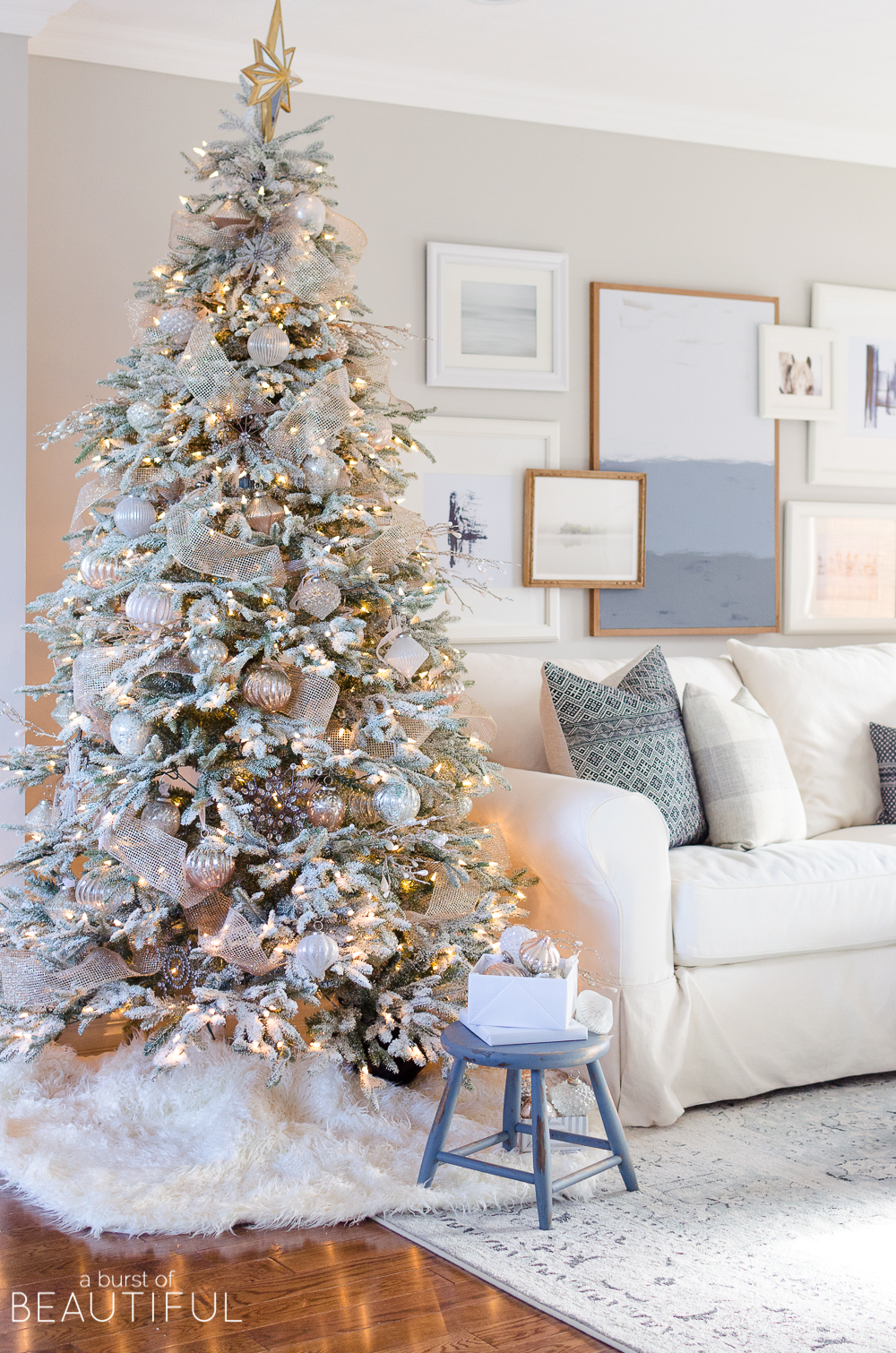 This year though we've stuck with our signature (my favorite!) color scheme with lots of white, hints of rich navy, textured neutrals, and a little bit of silver and rose gold to add sparkle and warmth. If you really want to see the sparkle, take a look at our home aglow in Christmas lights at night.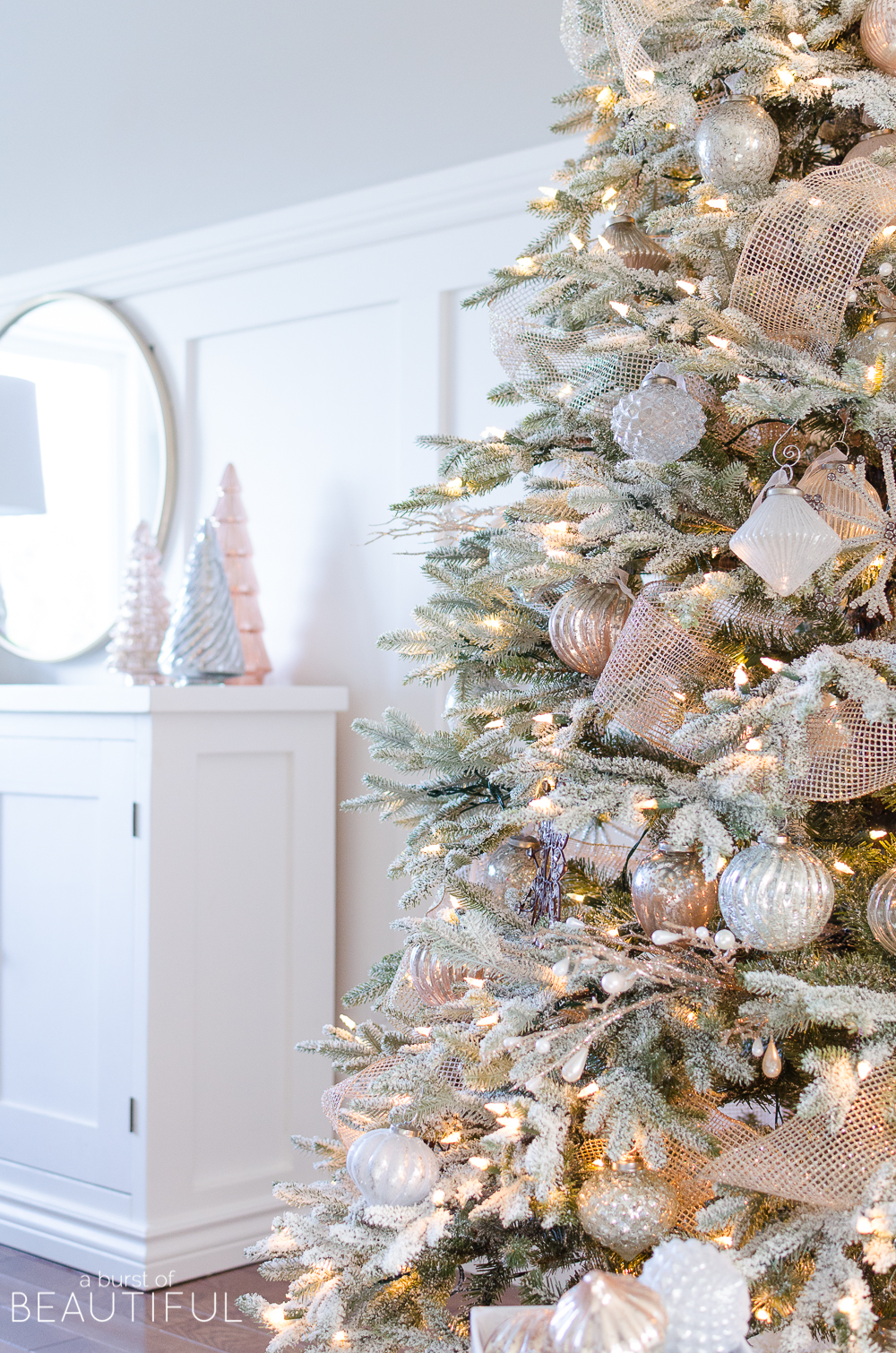 Our tree is Balsam Hill's Frosted Fraser Fir (7.5 feet) and from the minute we unpacked it I have been in love. It's lightly flocked so it has the appearance of a being covered in a fresh powdery snowfall. It is truly one of the prettiest Christmas trees I've seen.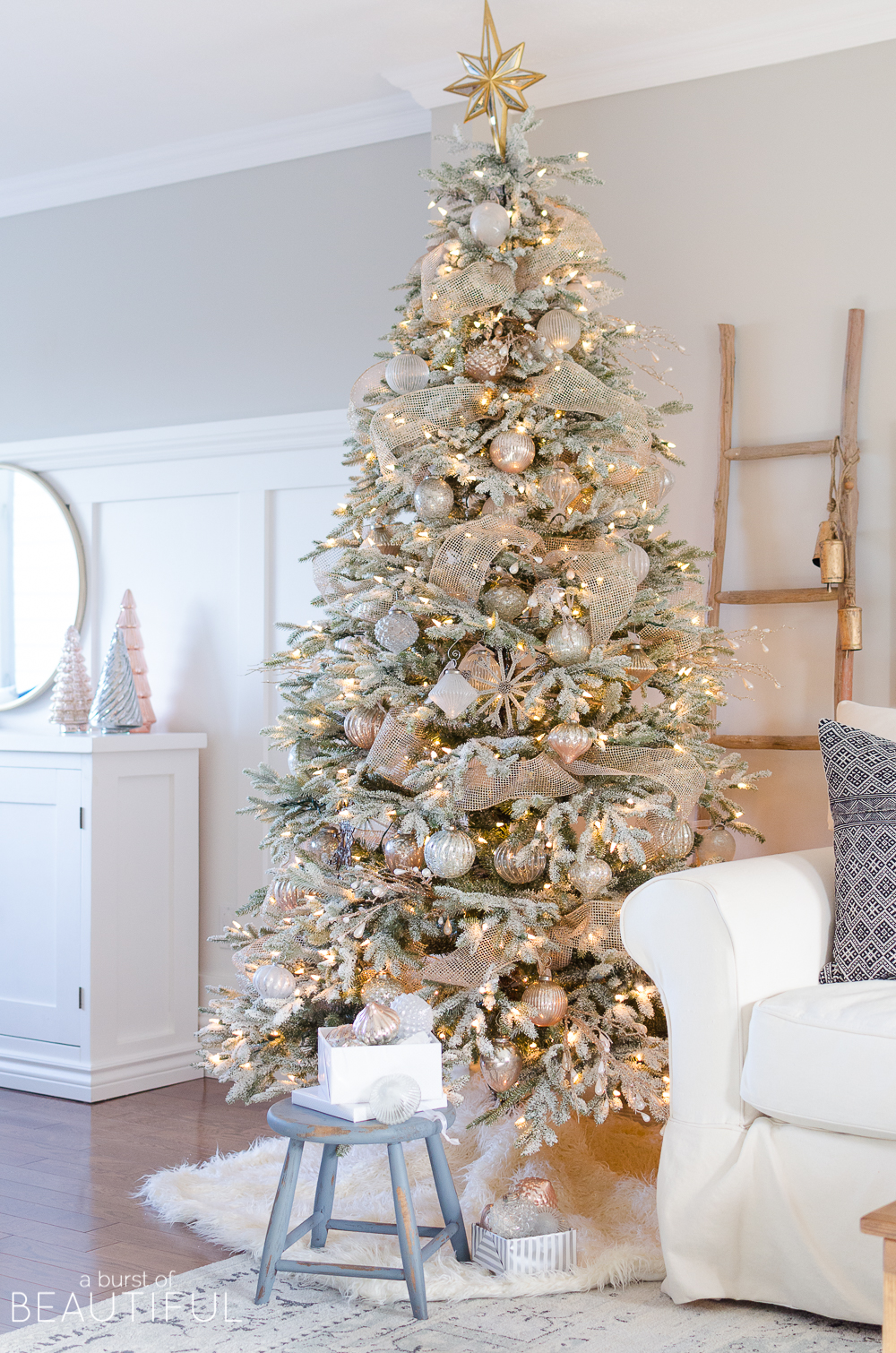 ---
get the look

---
I love its softness and subtlety. In year's past, I felt our traditional Christmas tree felt too heavy and dark against our light and bright living room. So this is the perfect middle ground. It's so beautiful I almost didn't want to cover it with ribbon and baubles. But once I did it really became a showstopper.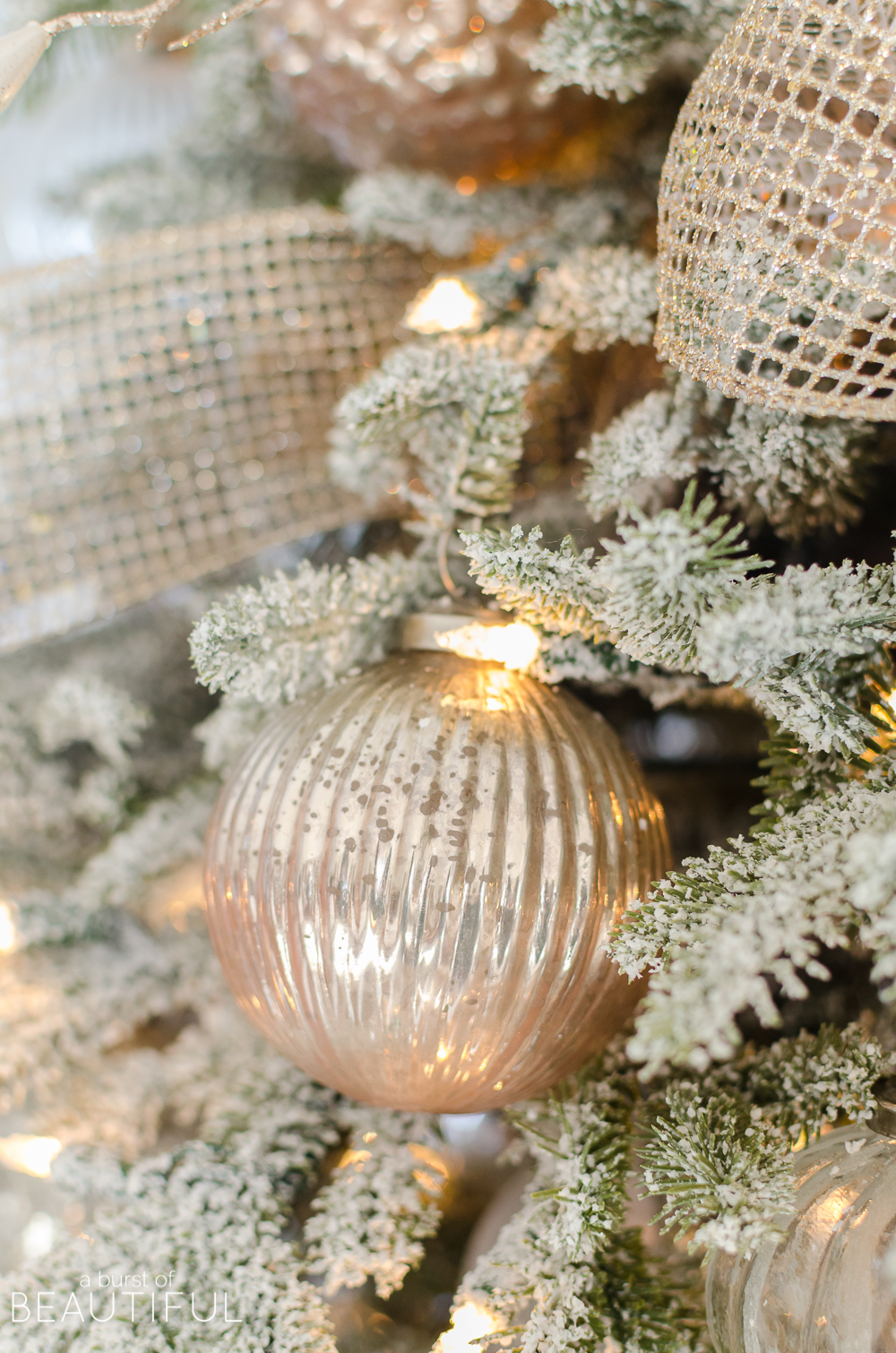 Choosing ornaments for our new tree was the toughest part for me. Balsam Hill has so many beautiful options and I bounced back and forth between stepping out of my comfort zone or sticking to what I know. In the end, I followed my instincts and chose this stunning French Country set.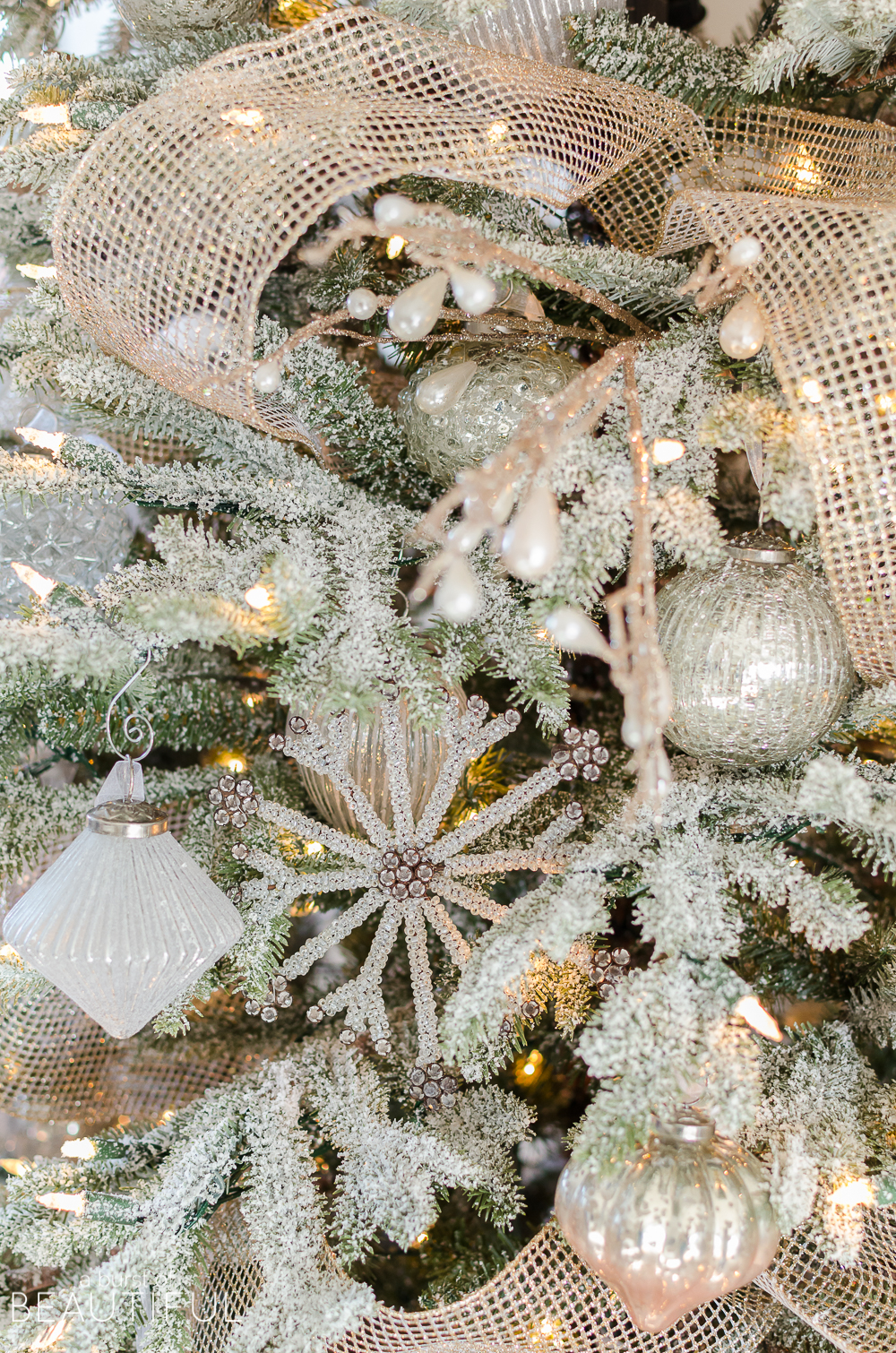 I just felt each piece was classic and timeless and would grow with our holiday decor each year. And just like our tree, I was amazed as I unwrapped each beautiful bauble from its packaging. I've been collecting Christmas ornaments for many years now and I can honestly say I've never come across such beautiful pieces before. You can feel the weight of the ornament in your hand, emphasizing the quality of each piece, and the detail is simply exquisite.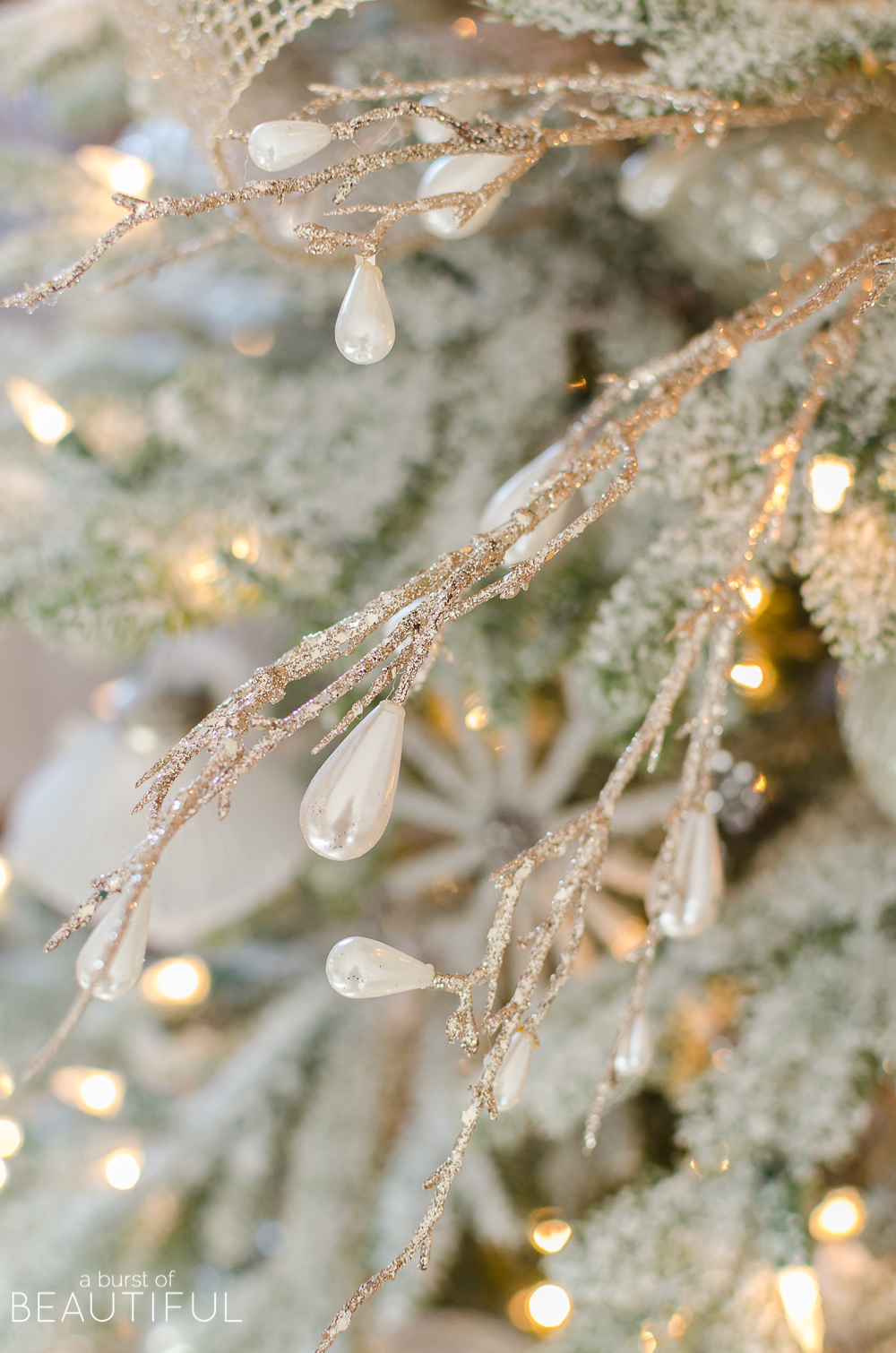 Simple champagne-colored mesh ribbon (no longer available) and pearl glitter picks add a touch of sparkle to our tree. And I love how sweet these little snowflake ornaments are. They have that charming antique look to them so they fit right in with the rest of our holiday decor. I had a few left over so I used them to embellish our stockings (you'll get to see the rest of our living room in the coming weeks!).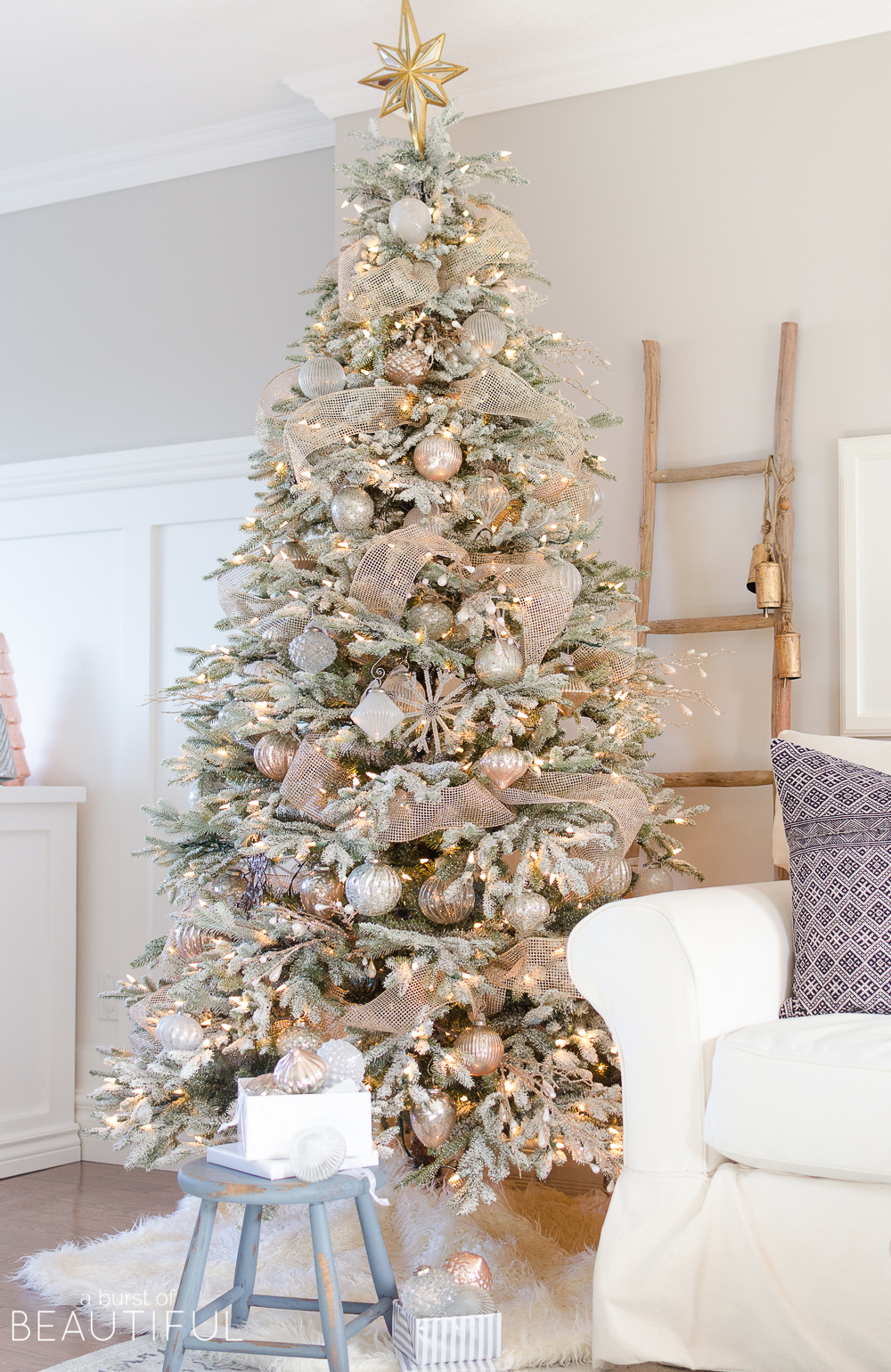 But the cherry on top is definitely this gorgeous gold mirrored star. I mean does it get any better than this? Even though it's a classic piece I feel like it adds a touch of modernity to our tree.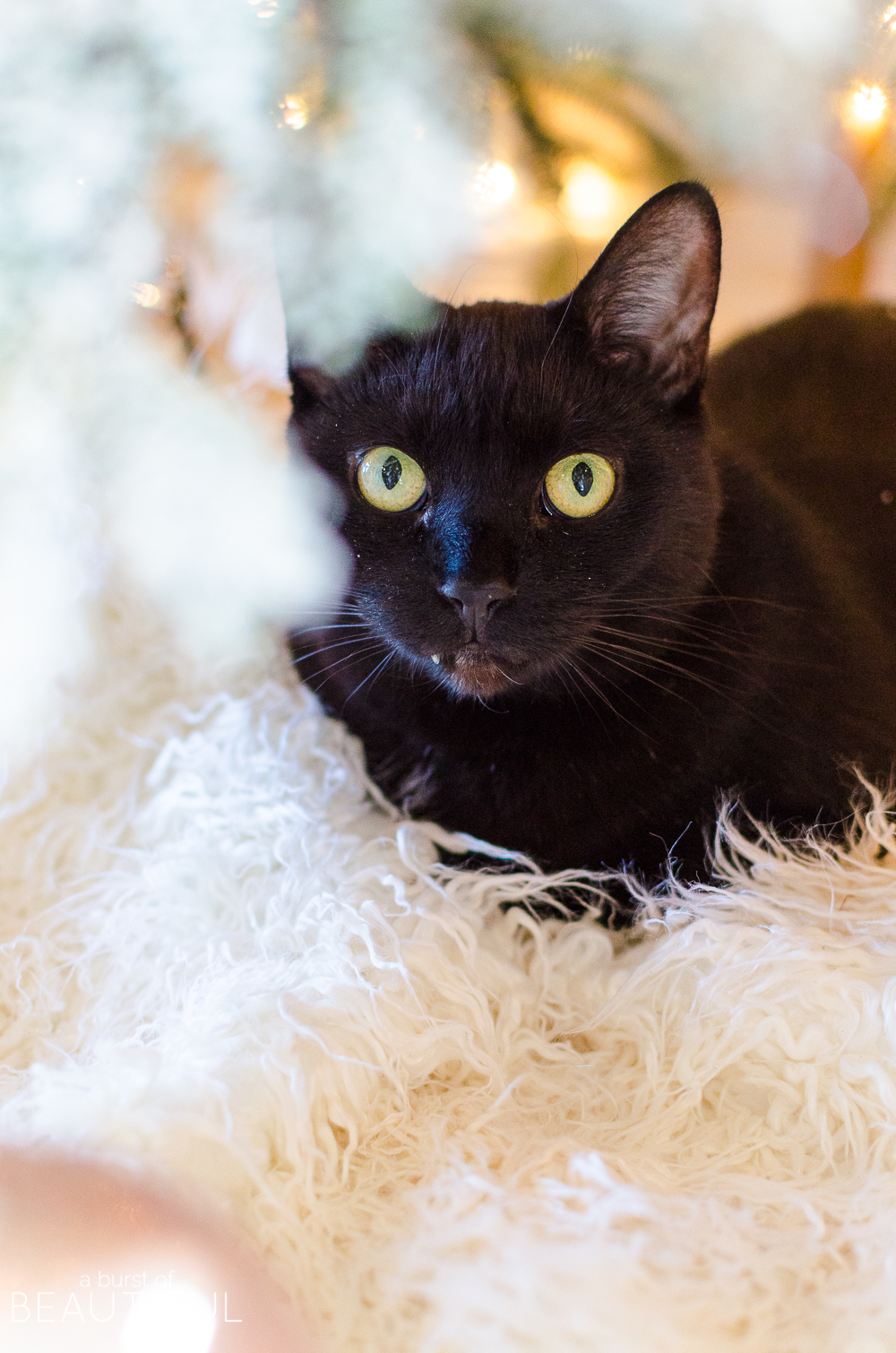 And from one end to the other is this cozy Mongolian faux fur tree skirt. I think everyone in our home agrees it adds a touch of softness…and is definitely the best spot to curl up for a midday catnap. 😉 We can always tell where this little guy has been as he comes out covered in "snow"!
Pretty soon this beautiful tree of ours will be surrounded by pretty packages and the people we love most of all as we join together to celebrate this joyous holiday season!