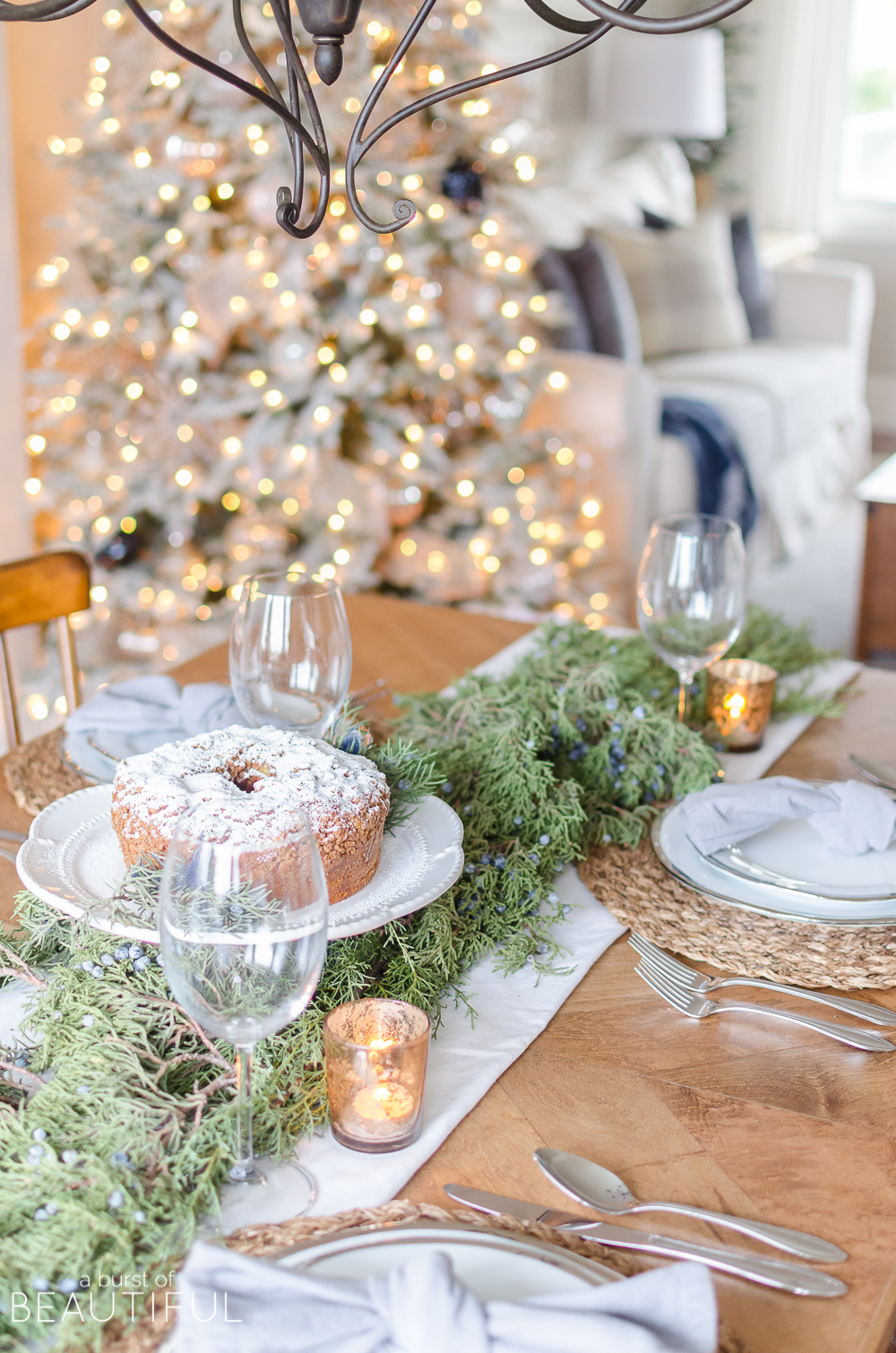 Today's post is simply a feast for the eyes and I just know you guys will love every little bit of it. I have to say, I'm incredibly grateful that I get to surround myself with such amazingly talented and creative friends on a daily basis. Every single time I organize a blog hop or take part in one, I am truly blown away by all of the incredible ideas and inspiration by everyone involved, and today is no different.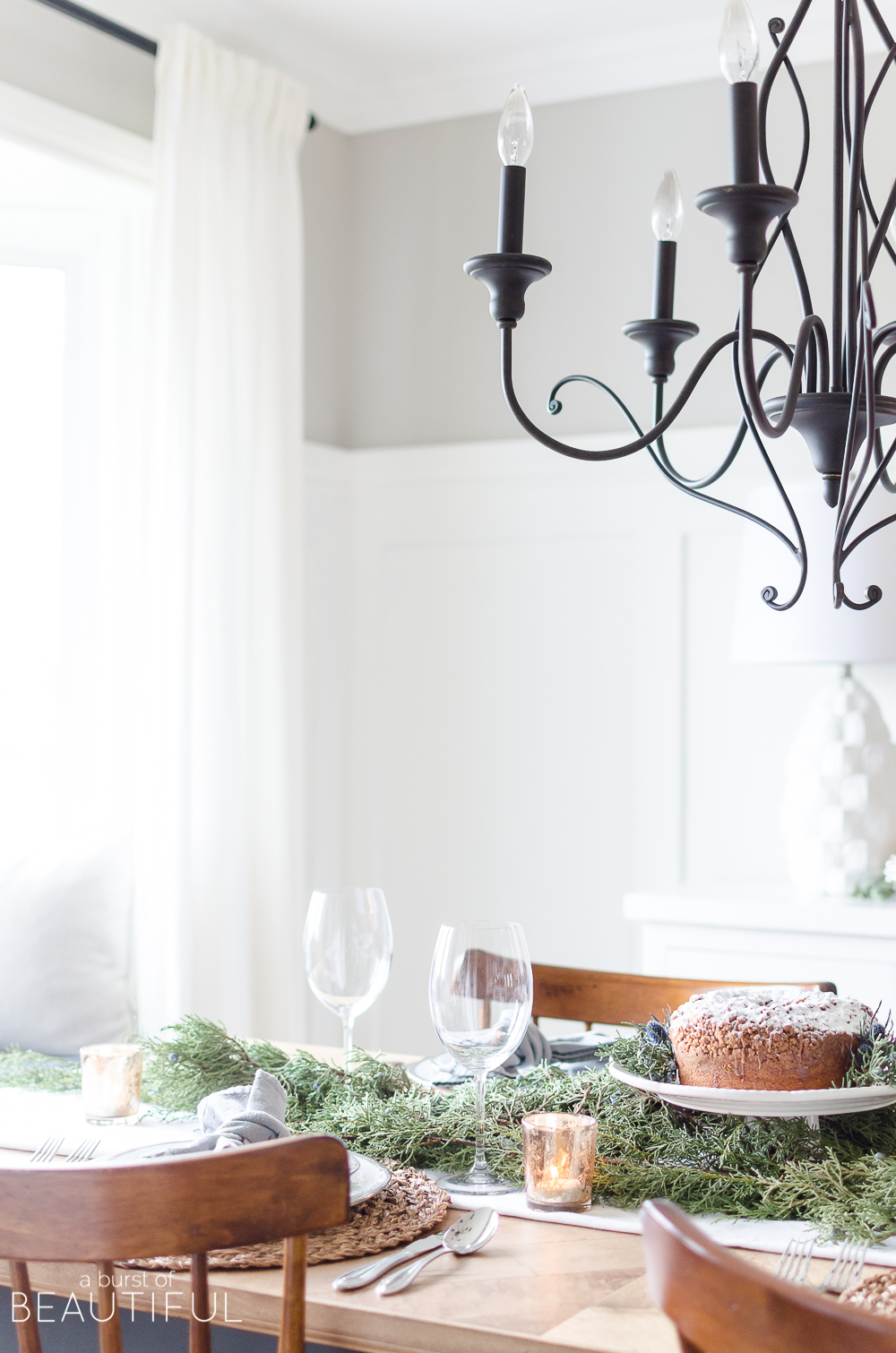 I have a group of sweet friends joining me for a festive holiday tablescape tour. We're opening the doors to our homes and sharing a little glimpse of how we set the table to welcome guests into our home during the Christmas season. And each table has a sense of magic and whimsy, so be sure to stop by each one shown below. 🙂
As much as I love the holidays I always end up feeling exhausted and stressed during the season, no matter how much pre-planning and preparation I do ahead of time. It's just the never-ending hustle and bustle and the last minute parties and celebrations that always seem to throw me. Anyone else?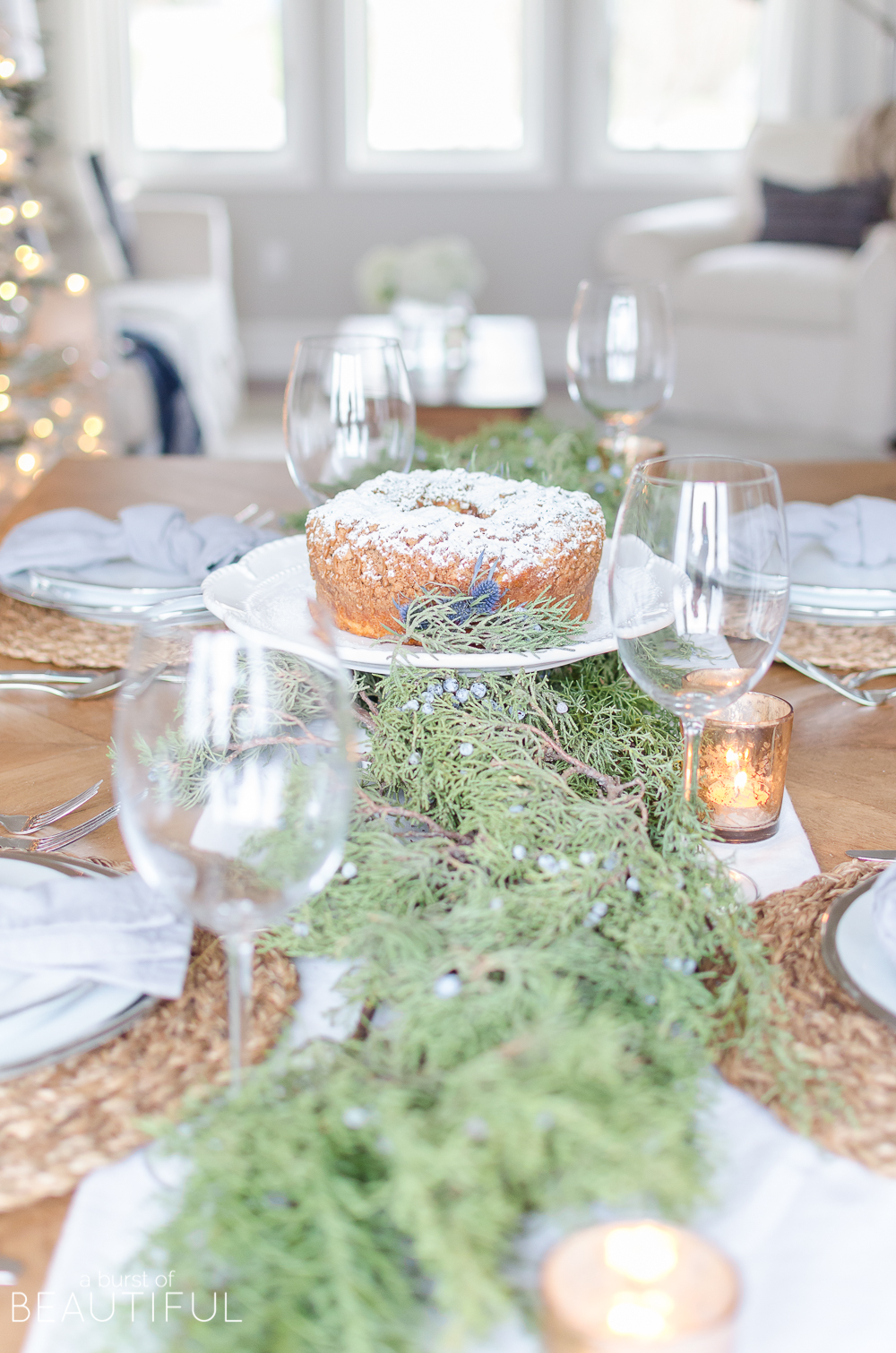 That's why for today's holiday tablescape I wanted to share a super simple and inexpensive idea that you can throw together in a heartbeat.
I typically like to start my table setting by placing a runner down the length of our dining table, I just feel it helps anchor all of the other pieces I will be adding. In this case, I didn't have a simple white runner so I took a rectangle tablecloth and folded it three times length-wise to create a runner.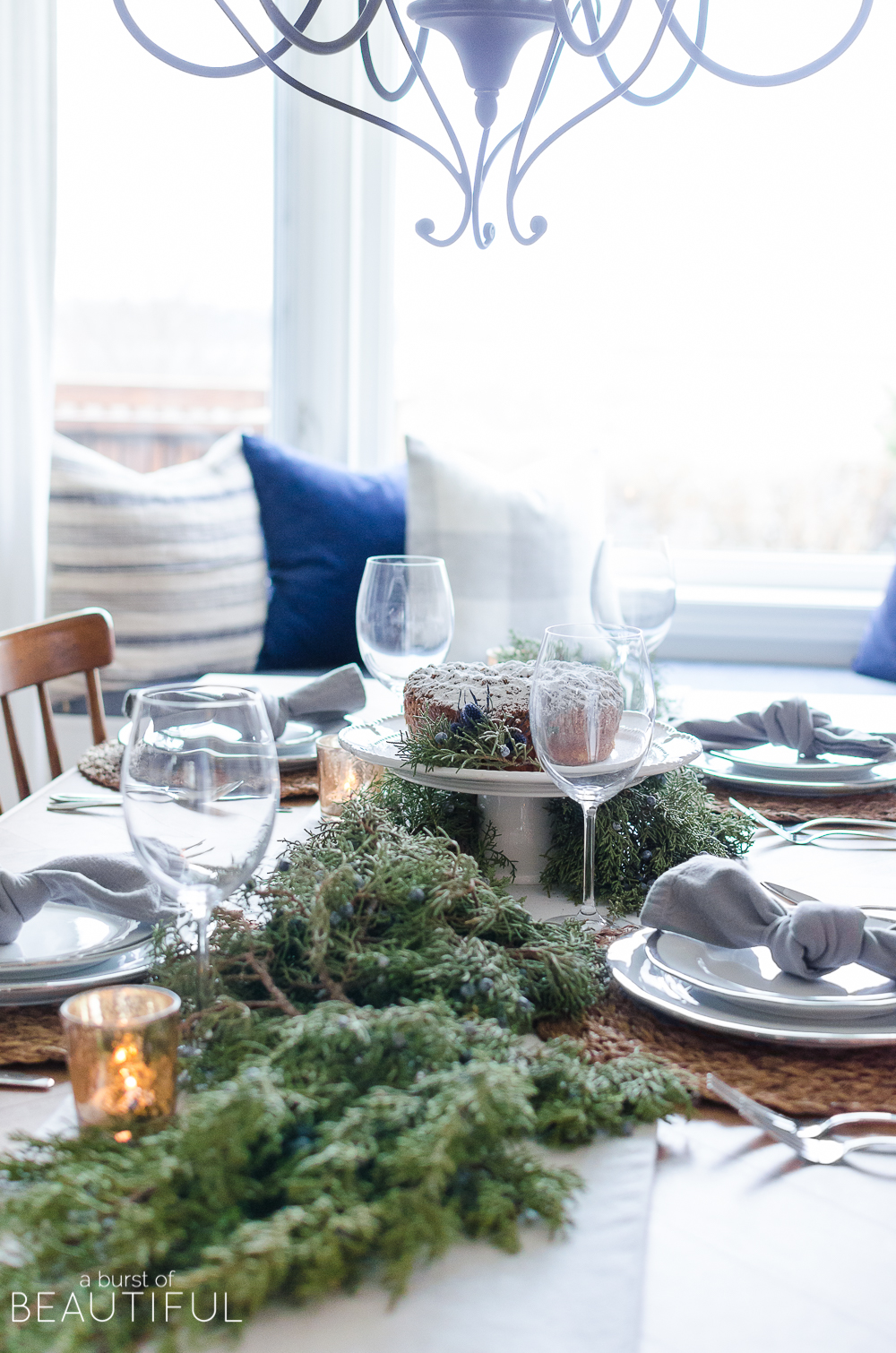 Next, I lined little bunches of juniper with blue berries along the length of the runner. I always love incorporating greenery (or fresh florals) in my tablescapes to give them some color and life. And Christmas is such an easy time to do this because there is such an abundance of inexpensive options to choose from – local grocery stores and nurseries are just teaming with fresh cut boughs, or better yet if you live in the country simply head outside and clip a few branches from your favorite trees. Not only are they beautiful, but they add the most enchanting scents…nothing says Christmas like the smell of fresh pine!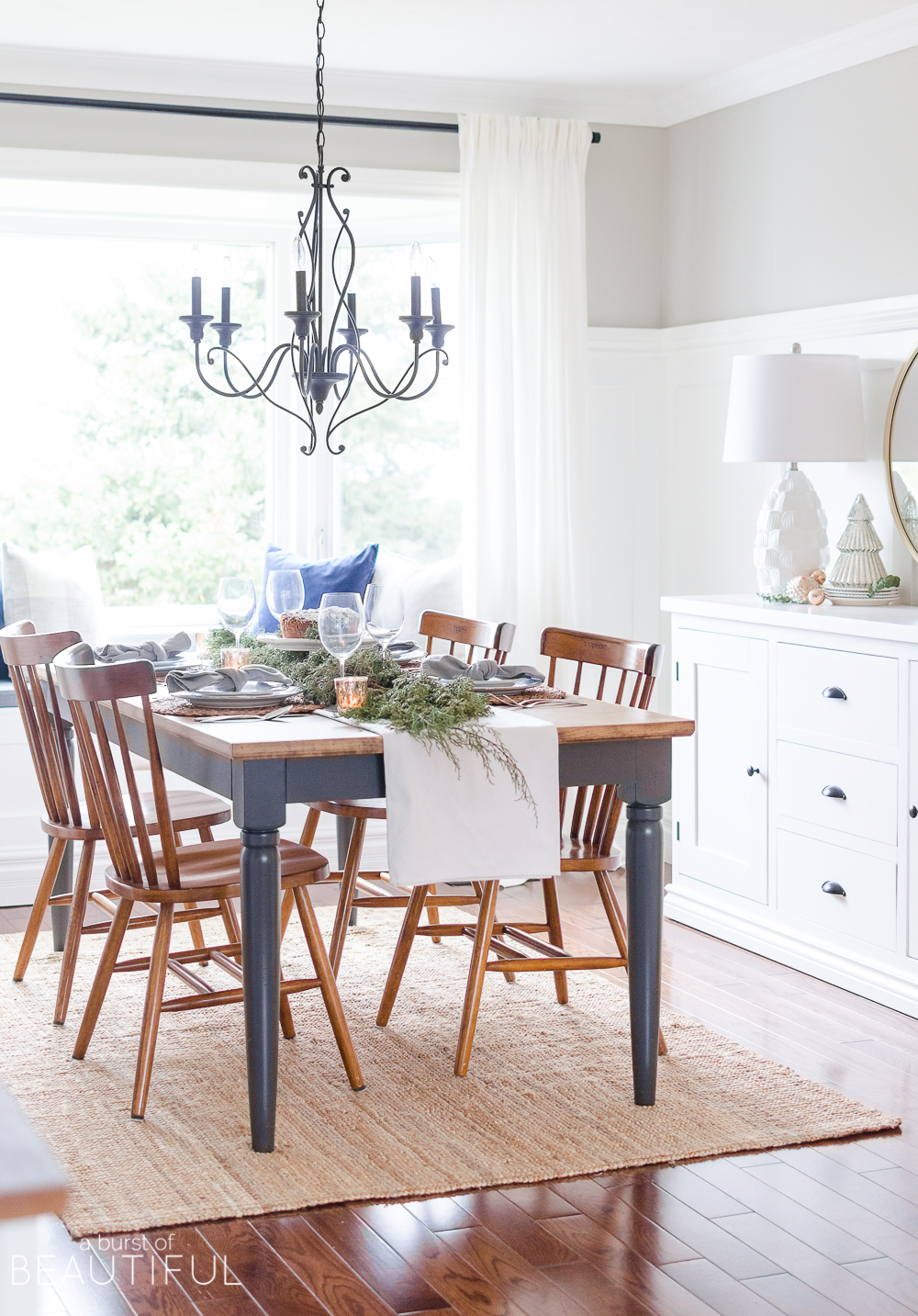 I chose this beautiful juniper simply for the little pops of blue berries throughout…because you know how much I love the color blue. 😉 I also added a few branches of this Carolina Saphire, I love the way it arcs and drapes at each end of our table.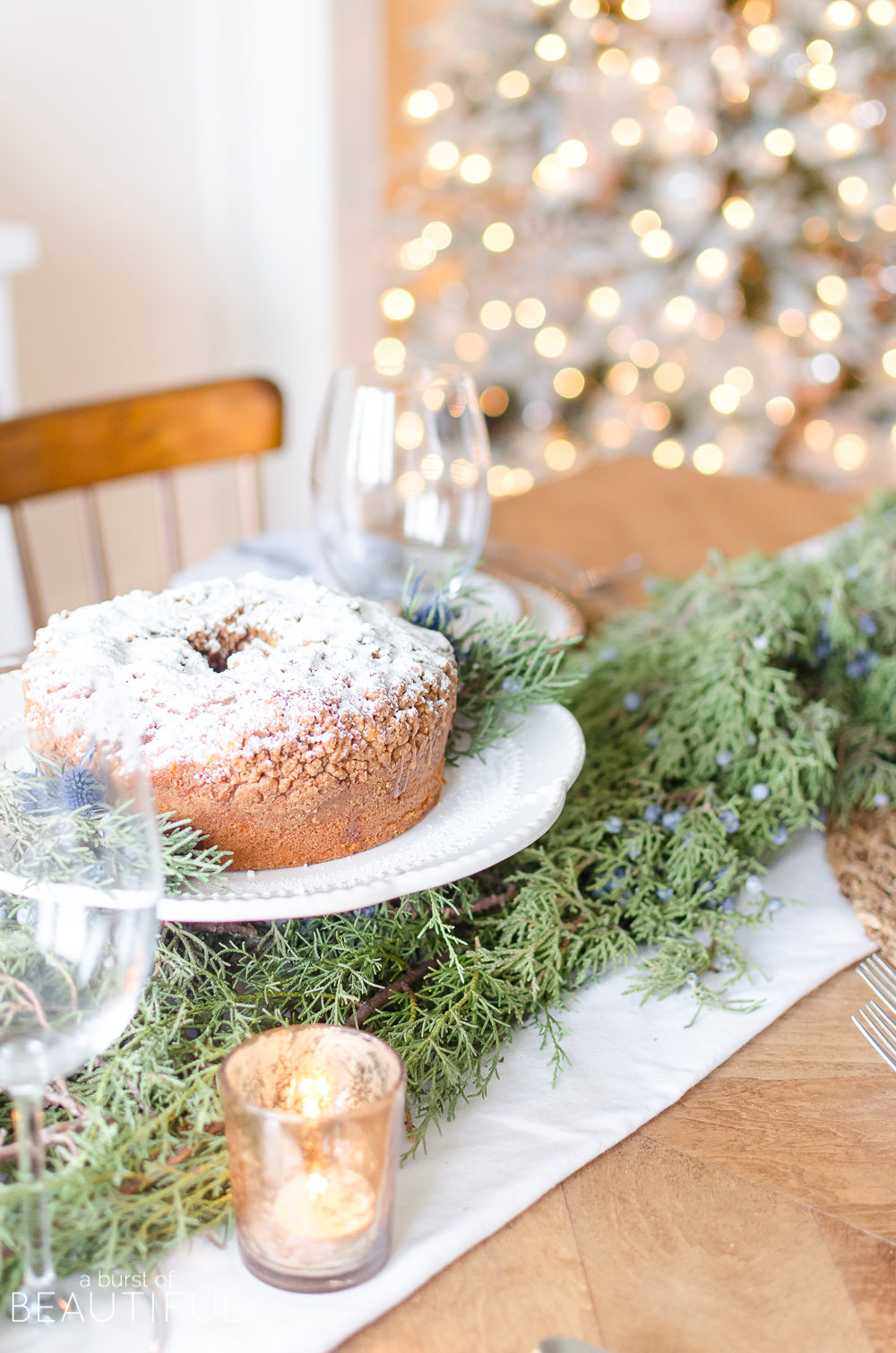 For a little hint of holiday sparkle and shine, I place a few rose gold votives throughout the greenery. I tried adding a few pillar candles mixed in as well, but I felt like it took away from the simplicity I loved so much.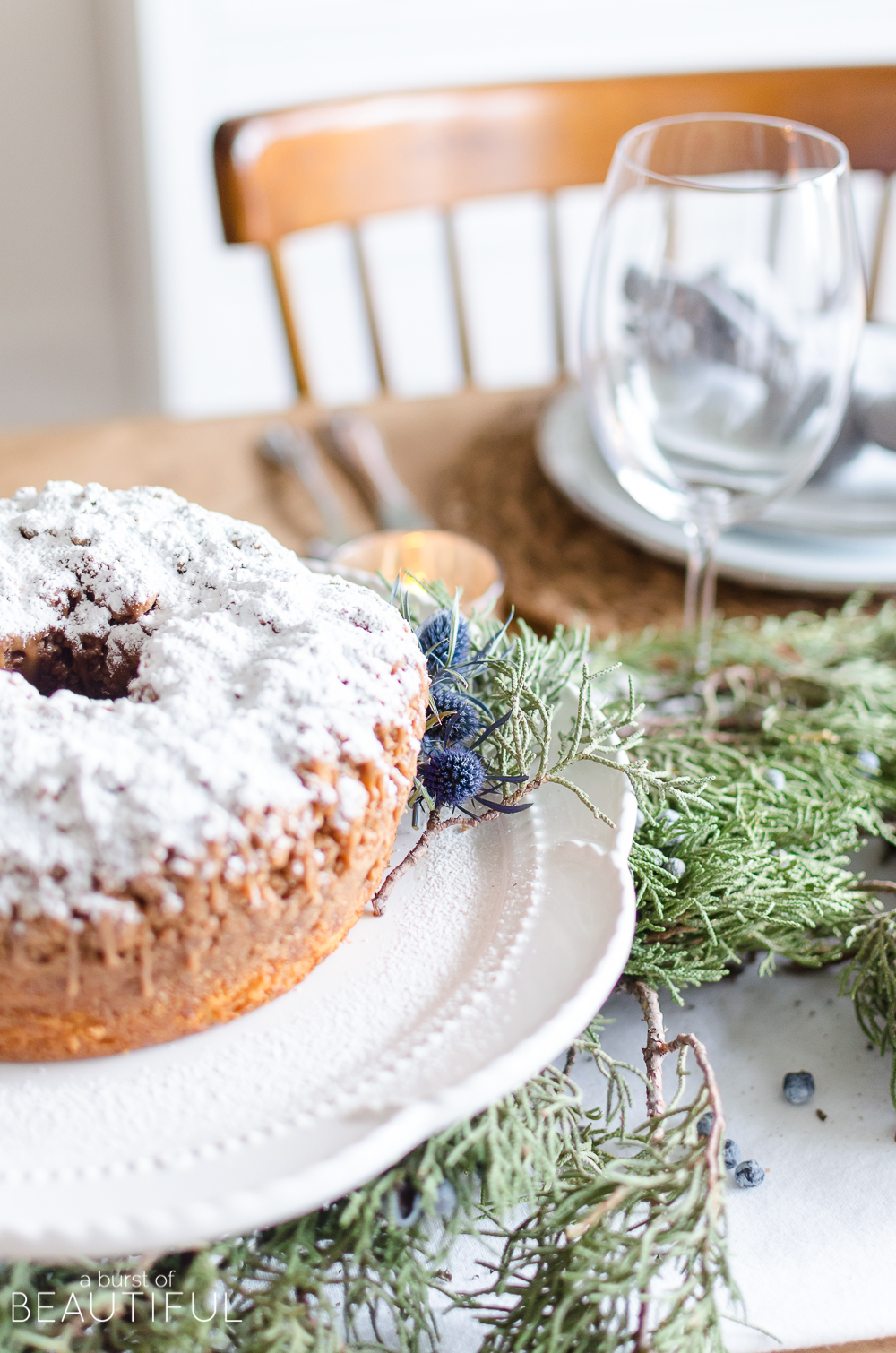 And for an inexpensive and easy centerpiece, I placed a store-bought bundt cake, sprinkled with icing sugar and adorned with juniper and blue thistle. It doesn't get much easier than that, does it?
Each place setting has a woven charger plate, topped with my favorite silver rimmed dishware. Usually, I like adding a little bit of gold to my tables too, typically in the form of taper candle holders or flatware, but I stepped outside of my norm by using silver this time around. I felt like the gold was a bit too jarring with all of the silvers and rose golds I used throughout our home this year. It's a soft and subtle nod to the icy winter weather that will soon be upon us.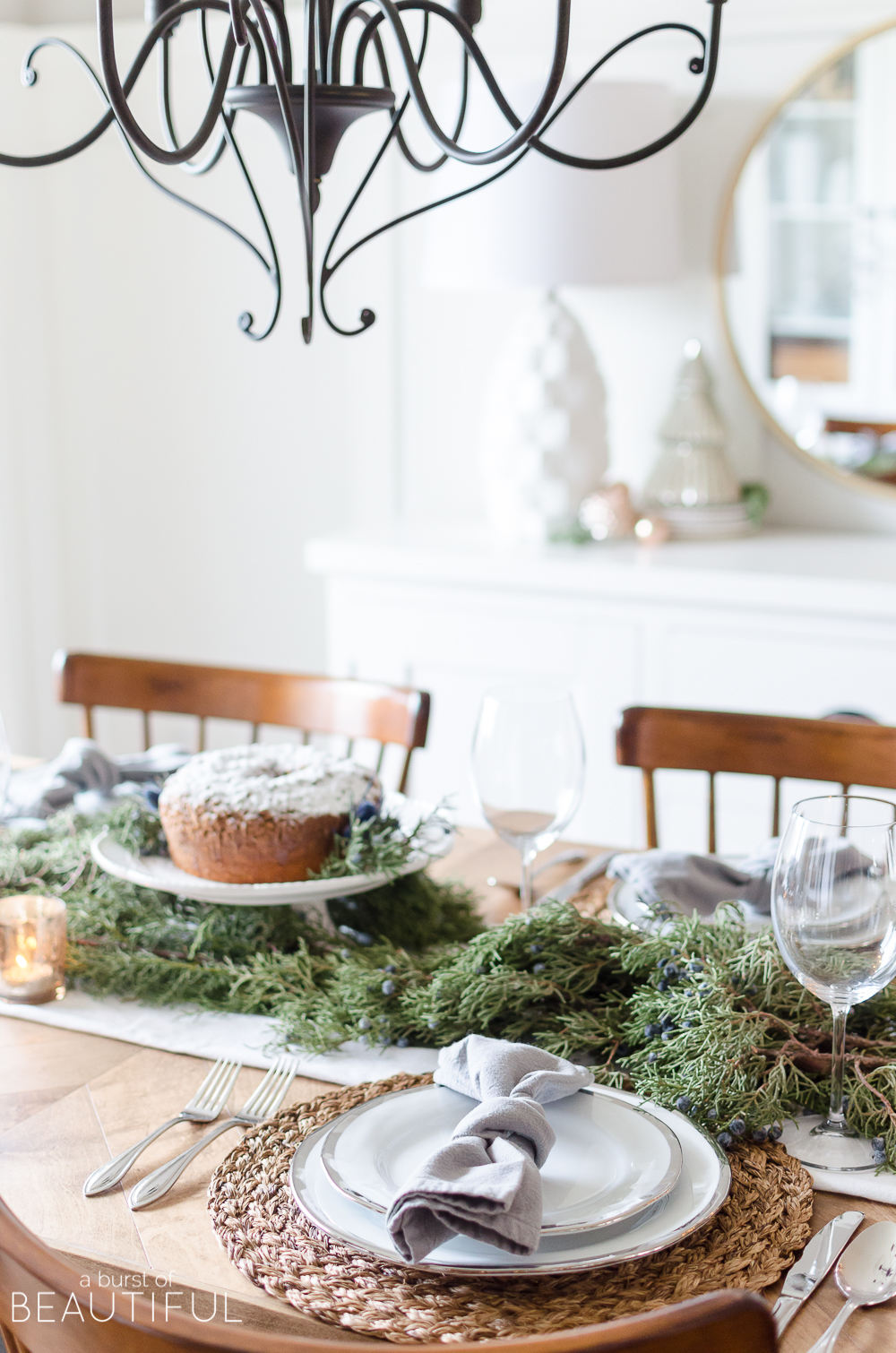 Finally, I added light gray linen napkin to each plate and instead of using a napkin ring to gather it, I simply knotted it.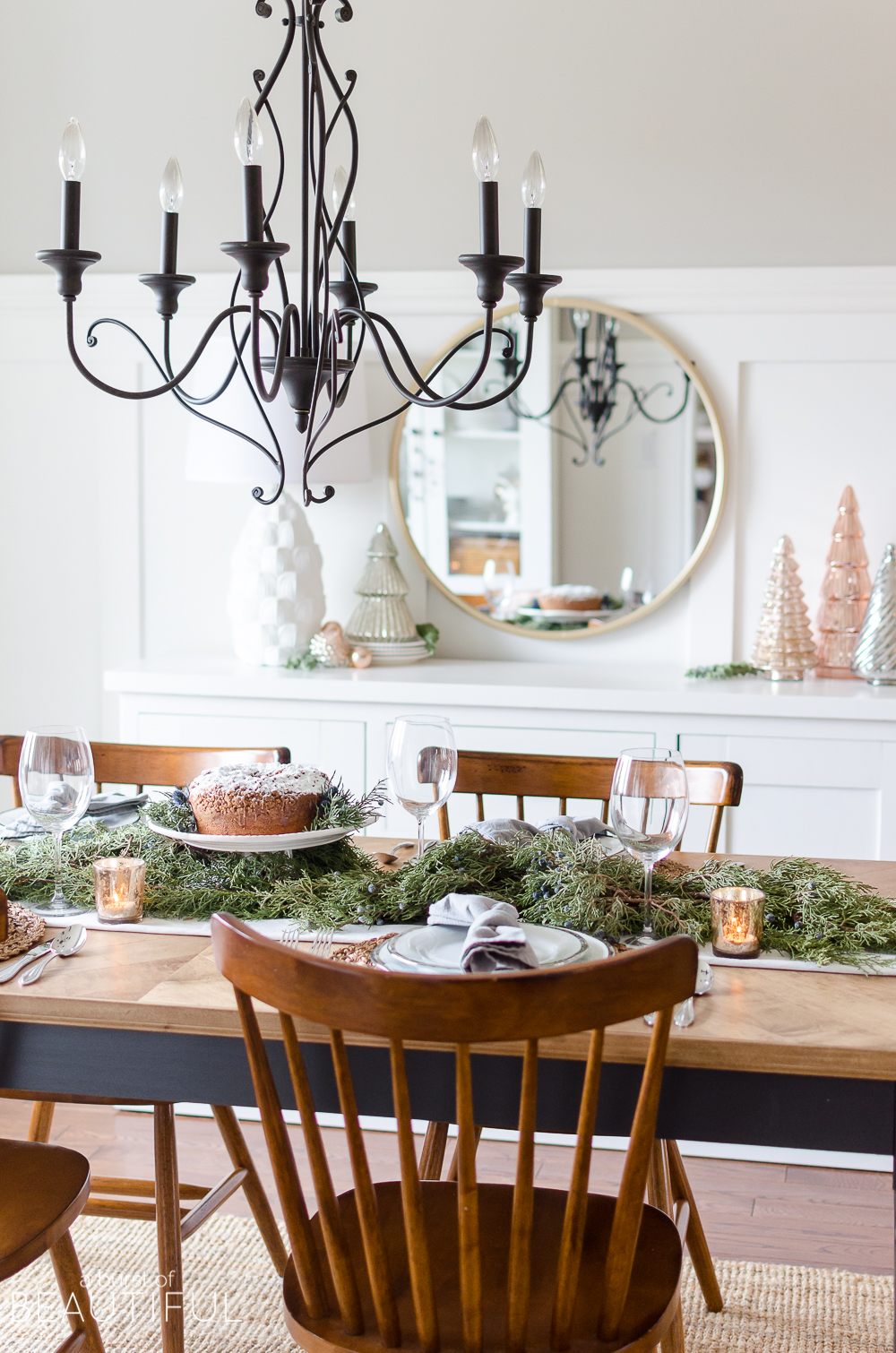 So if you decide to throw a last minute holiday party or if you receive a call announcing unexpected guests you can still set a beautiful holiday table to welcome them into your home and celebrate the season. Simply think about the ways you can save time, for example, a cake from the bakery will be just as tasty as a homemade one. It's all about giving yourself grace and the time and opportunity to enjoy the Christmas season. After all, Christmas should be about spending time with the ones you love most in this world and making memories that will last for years to come.
Now be sure to hop on by each of my friends' beautiful homes…
Alicia xo

A Burst of Beautiful | Finding Silver Pennies | The Wicker House | Zevy Joy

Nina Hendricks | City Farmhouse | The Wood Grain Cottage | My Sweet Savannah