Warm your soul and belly with the best homemade chicken noodle soup. It's a quick and easy recipe that will leave you feeling comforted and full.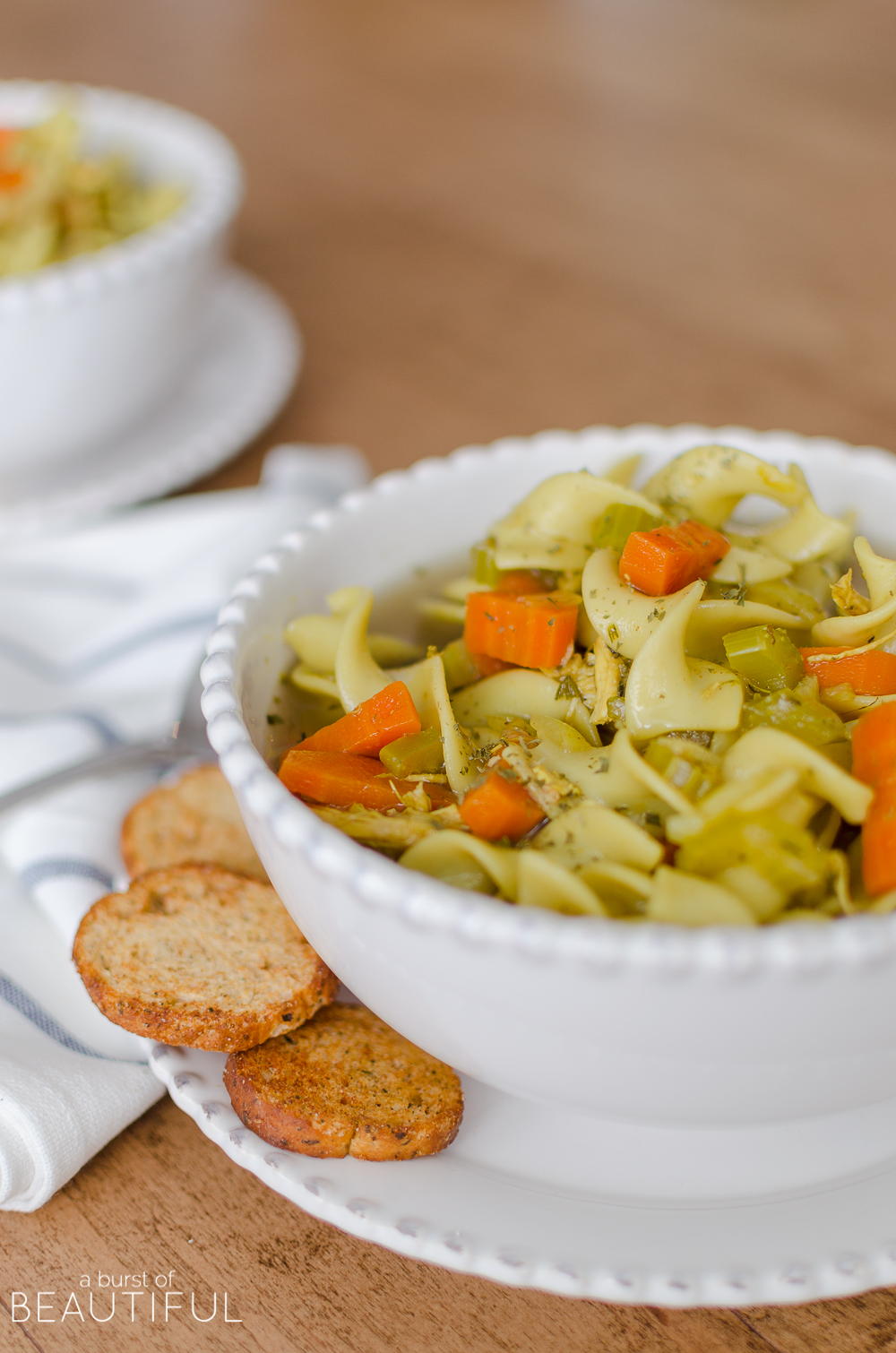 Hi friends, I hope you are keeping warm and healthy in this chilly weather. Our house has seen so many colds this season, I honestly feel like it's been one after the other for the past three months. I think a lot of these colds are coming home with our little one from nursery school. This is her first winter in school and we've definitely noticed a big change in the number of sniffles she's been coming down with (I can't wait for her immune system to start fighting off all of these bugs!). In the meantime, we've been fighting off these colds the best way we know how… with lots of cozy days inside and nourishing our bodies with the best homemade chicken noodle soup there is.
I truly can't get enough of this soup and whenever one of us is feeling under the weather the first thing we do is make a big pot of our chicken noodle soup for dinner. Even just the smell of it simmering on the stove is enough to perk us up just a little bit. What is it exactly about chicken noodle soup that is so comforting when you're feeling sick? It's usually the only thing I feel like eating, which always makes Nick laugh…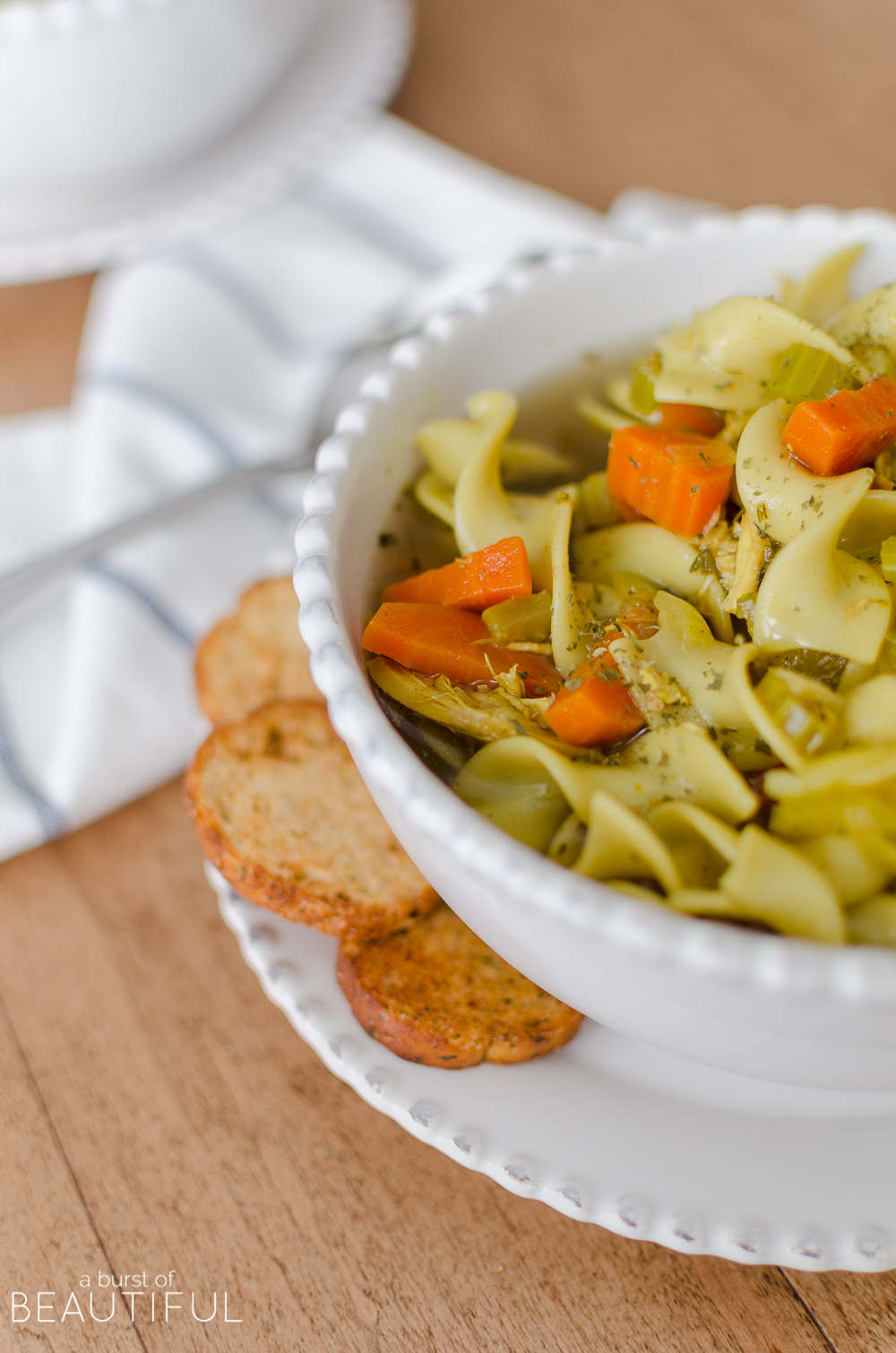 ---
get the look

---
You see, years ago, when Nick and I met, I used to eat a strict vegan diet. Coming from a Greek family, it was a hard pill for him to swallow. He truly couldn't understand how I didn't eat certain foods, especially cheese. But over the years I slowly began to re-introduce animal products into my diet, starting with dairy, then I added in fish and seafood, and most recently chicken. And even though I've started to include a bit of chicken into my diet most of our meals are still primarily vegetarian. But there's just something about homemade chicken noodle soup that can warm your soul.
So as we still have a few months of cold weather, snow and most likely, colds upon us I thought we would share our recipe for the best homemade chicken noodle soup to help get you through the rest of winter. And if you're a soup lover like I am, here are a few more of our favorite hearty and comforting soup recipes: loaded potato soup, slow cooker navy bean soup, hearty and healthy vegetable soup and Greek lentil soup.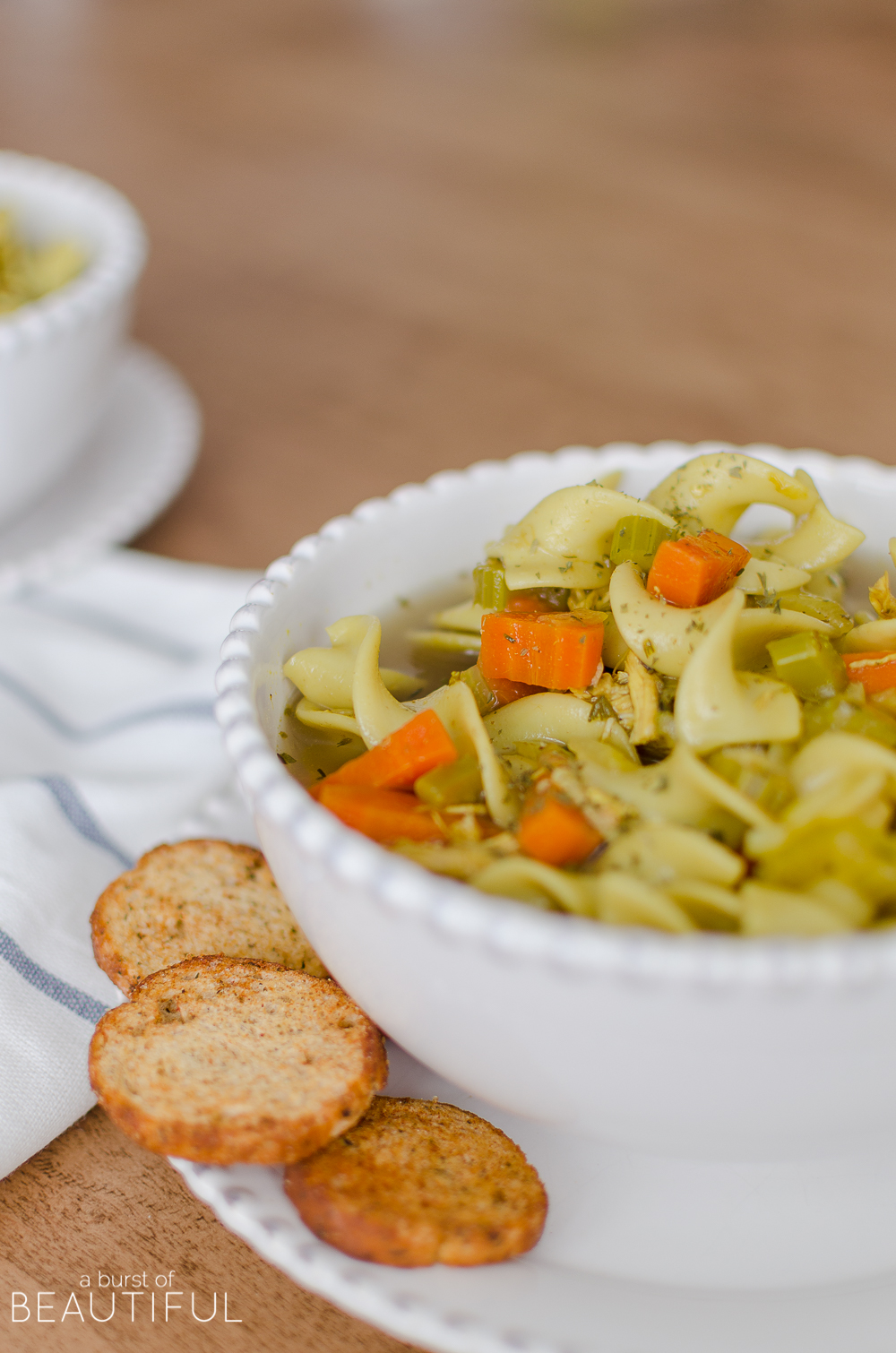 Do you have a favorite soup recipe? If you do, we want to know what it is! And if you give our homemade chicken noodle soup recipe a try, we'd love to know what you thought of it.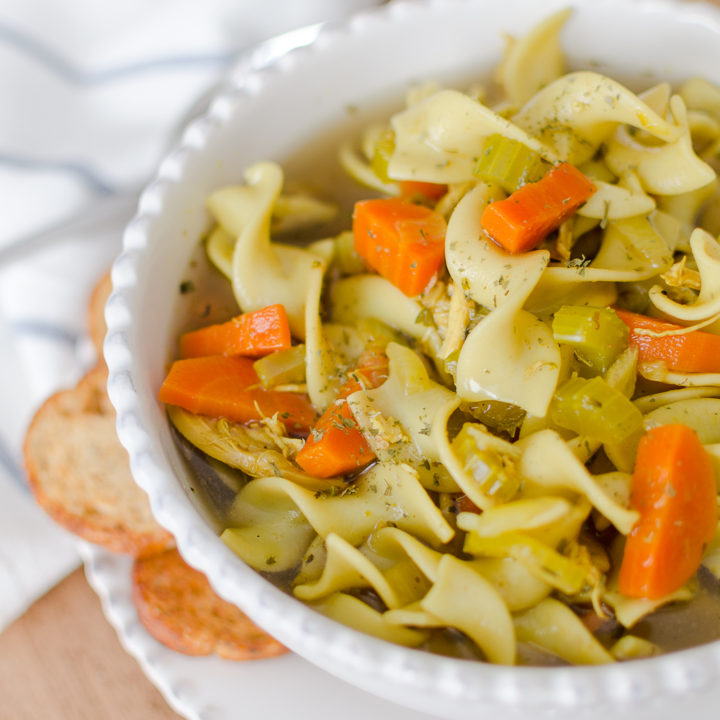 The Best Homemade Chicken Noodle Soup
Warm your soul and belly with the best homemade chicken noodle soup. It's a quick and easy recipe that will leave you feeling comforted and full.  
Ingredients
2 tbsp olive oil
1 medium onion, chopped
2 cloves garlic, minced
3 carrots, chopped
3 celery stalks, chopped
2 tbsp curry powder
1 tbsp celery salt
2 tsp poultry seasoning
2 tsp herbs du province
Salt & pepper to taste
4 cups chicken broth
8 cups water
1/2 rotisserie chicken, cooked shredded (or if it's not available at your local supermarket, cook 2 chicken breasts in the oven and then shred)
150g egg noodles, uncooked
Instructions
In a large soup pot over medium-high heat, add olive oil and onions and cook until translucent.
Add garlic, carrots and celery, curry, celery salt, poultry seasoning, herbs du province and salt and pepper. Cook for 2 minutes, stirring constantly until it becomes fragrant.
Add chicken broth, water and shredded chicken. Bring to a boil and cook for 10 minutes.
Add uncooked egg noodles. Cook until noodles are ready (as per package directions).
Nutrition Information:
Yield:

6
Serving Size:

1
Amount Per Serving:
Calories:

161
Total Fat:

8g
Saturated Fat:

1g
Trans Fat:

0g
Unsaturated Fat:

6g
Cholesterol:

34mg
Sodium:

1412mg
Carbohydrates:

13g
Fiber:

3g
Sugar:

3g
Protein:

10g