This romantic Valentine's Day centerpiece and tablescape are perfect for hosting a special dinner for two or throwing a party to celebrate with your closest girlfriends. Either way, you'll set a beautiful table that is both simple and stylish.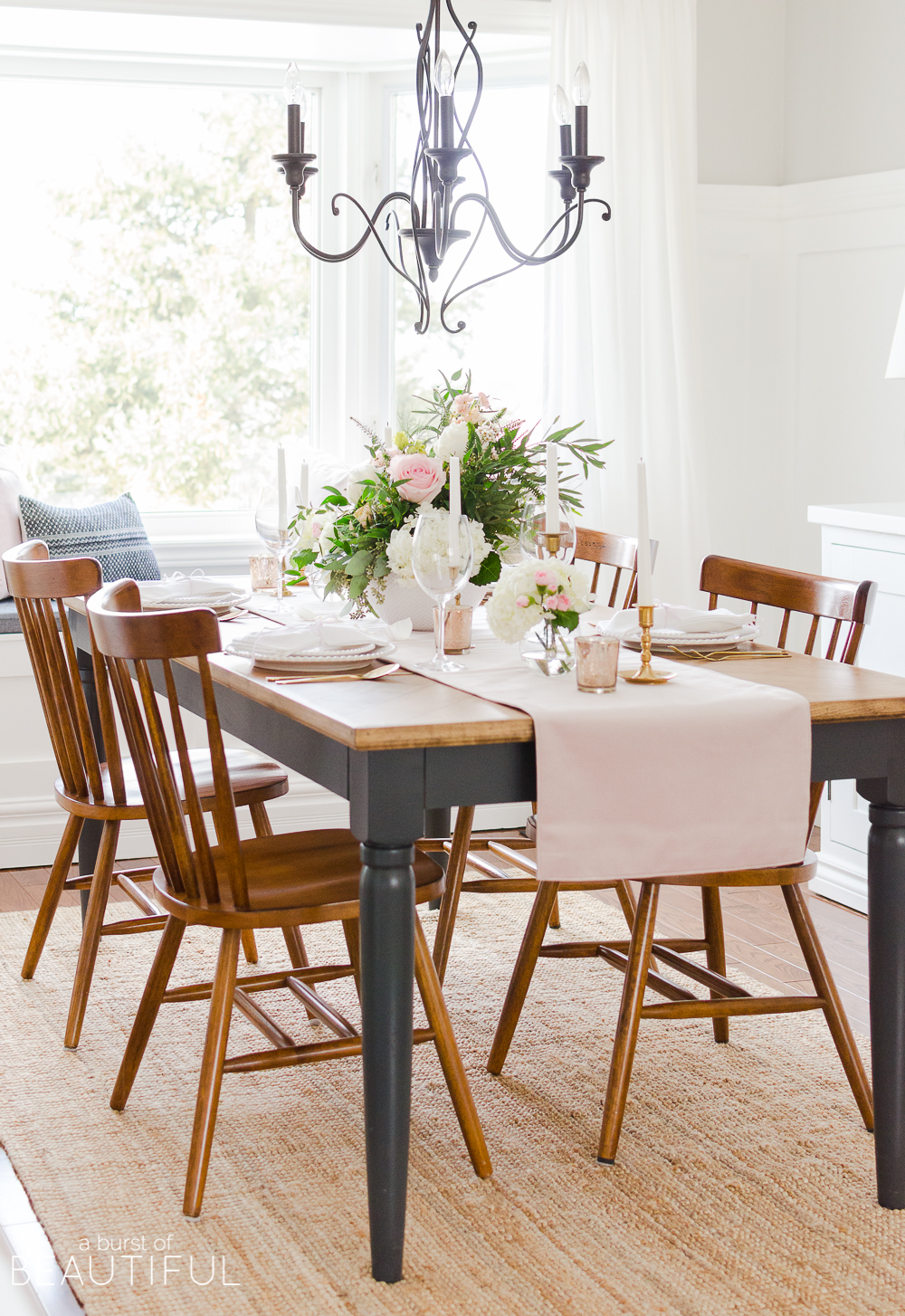 This post contains affiliate links, see our full disclosure policy

here

. Thank you for helping support our blog.
Happy Monday, friends, I hope you all had a wonderful weekend!
Last week I shared a sweet and simple Valentine's Day table with ideas for hosting a kid-friendly party (you can catch it here if you missed it), and today I am back with another really fun tablescape. This time I focused on a more grown-up version, with a beautiful centerpiece and candlelight. It would be perfect for a romantic dinner for two or a special way to celebrate with your closest girlfriends. Again, it's quite simple, but the details make a big statement.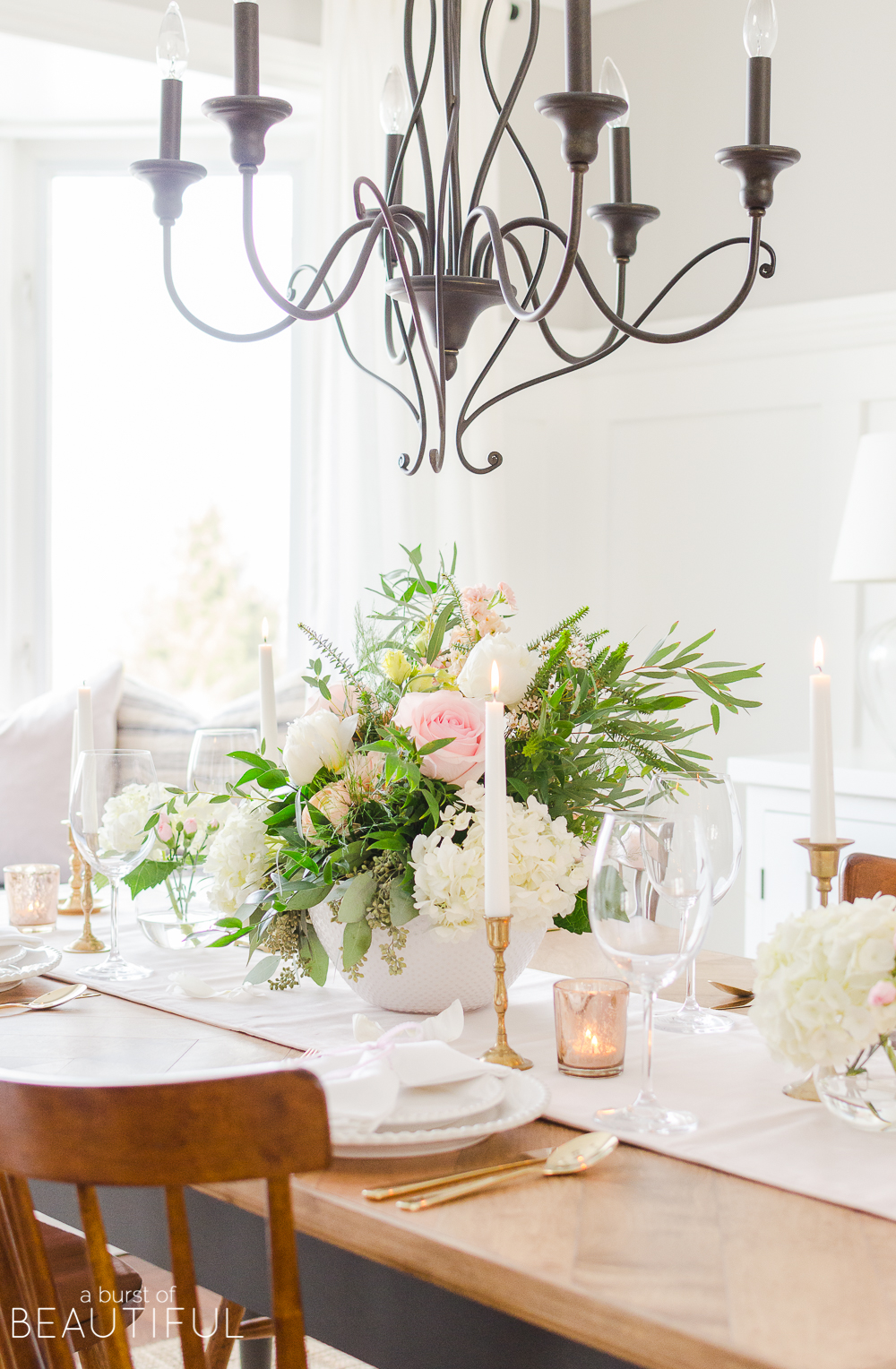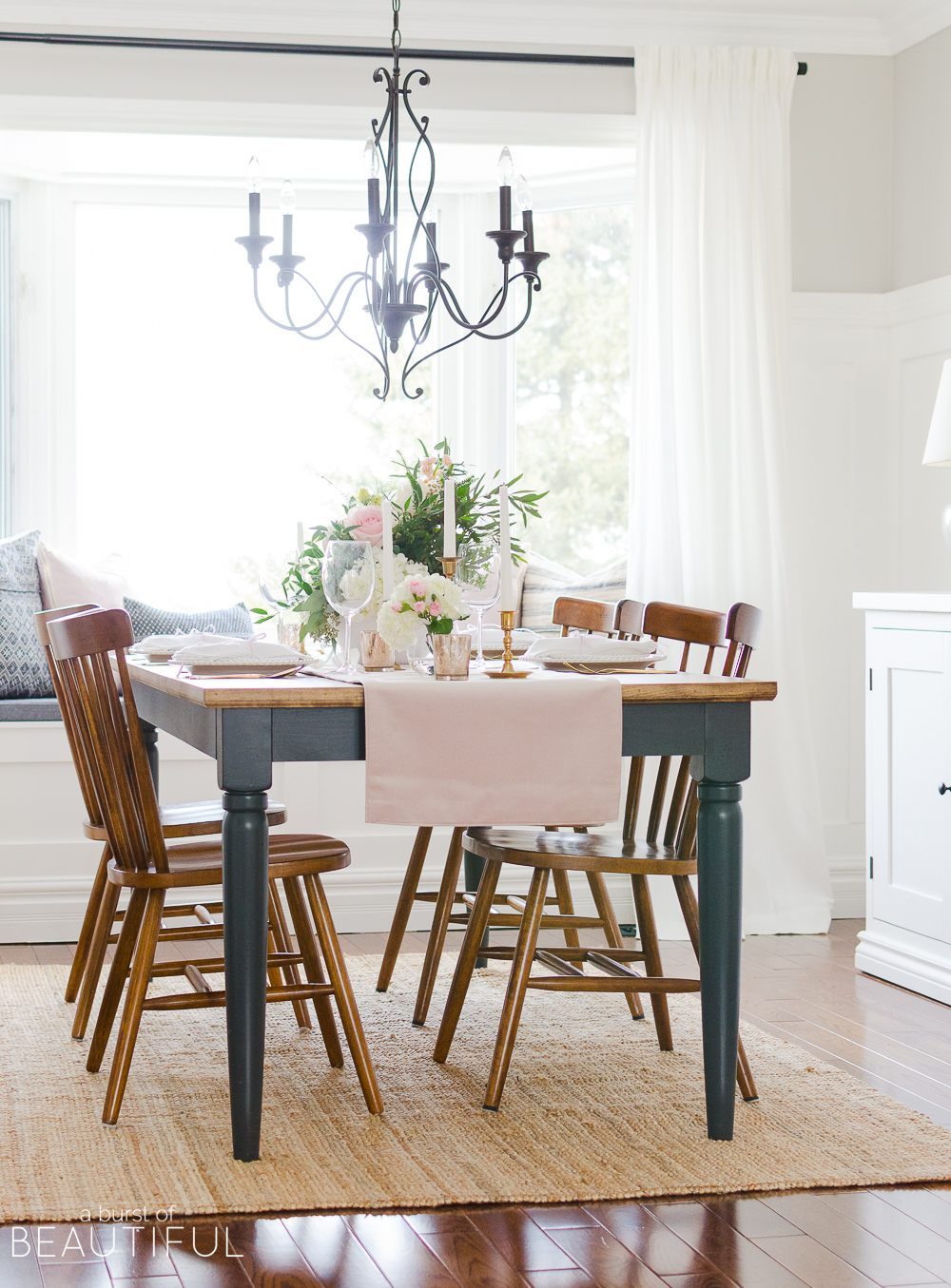 ---
get the look

---
Just like the tablescape I shared last week for the sweet little ones in our lives, this table setting was designed around this blush velvet table runner I found. It really was the starting point for both of these tables and helped point me in the direction I wanted to go. In my opinion, soft and sweet is the name of the game when it comes to Valentine's Day. 😉
Aside from the flowers I picked up, this was the only new piece I purchased. I was able to set the rest of the table using things we already had. It's a fun way to get creative and sometimes think outside of the box.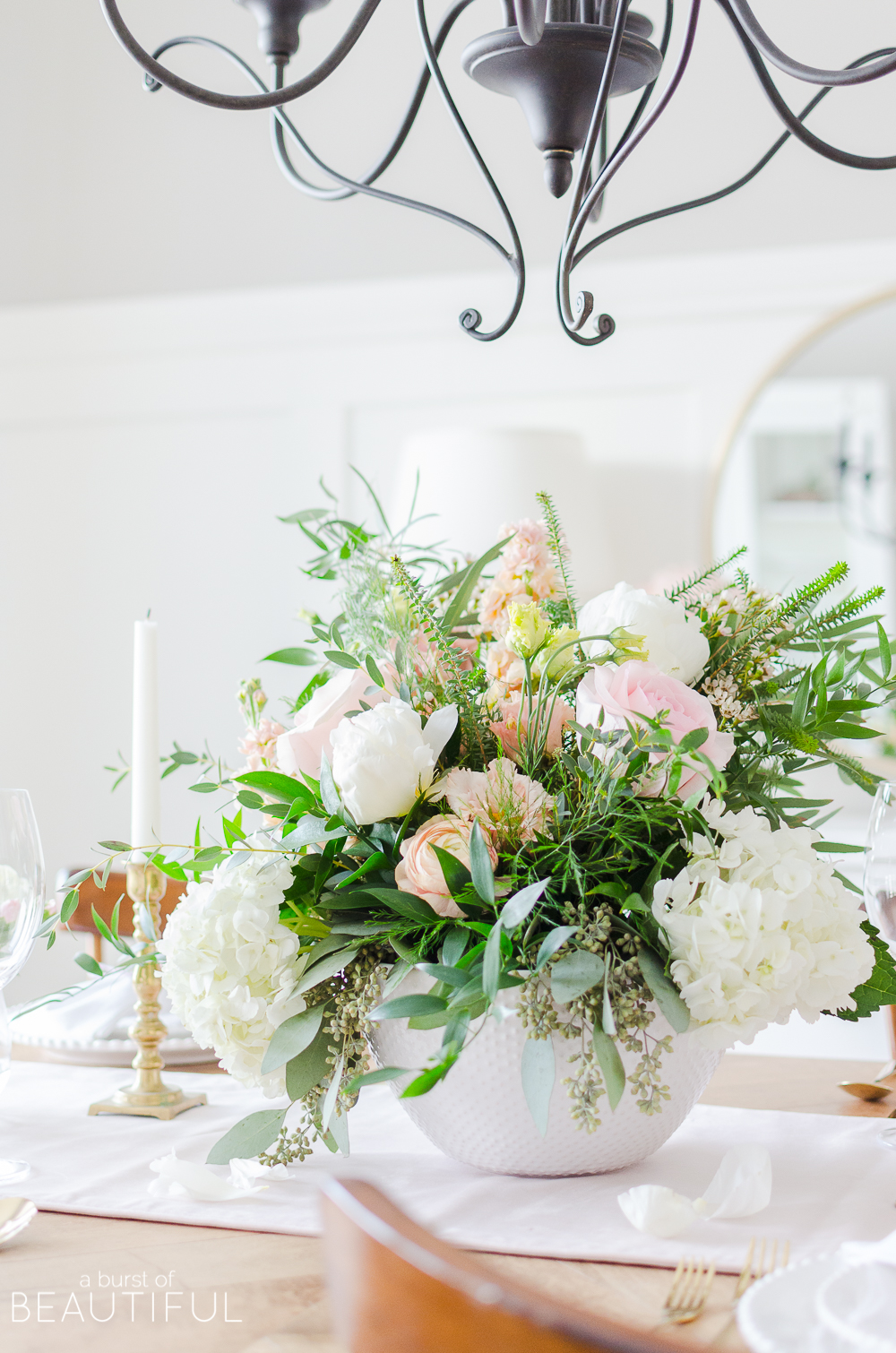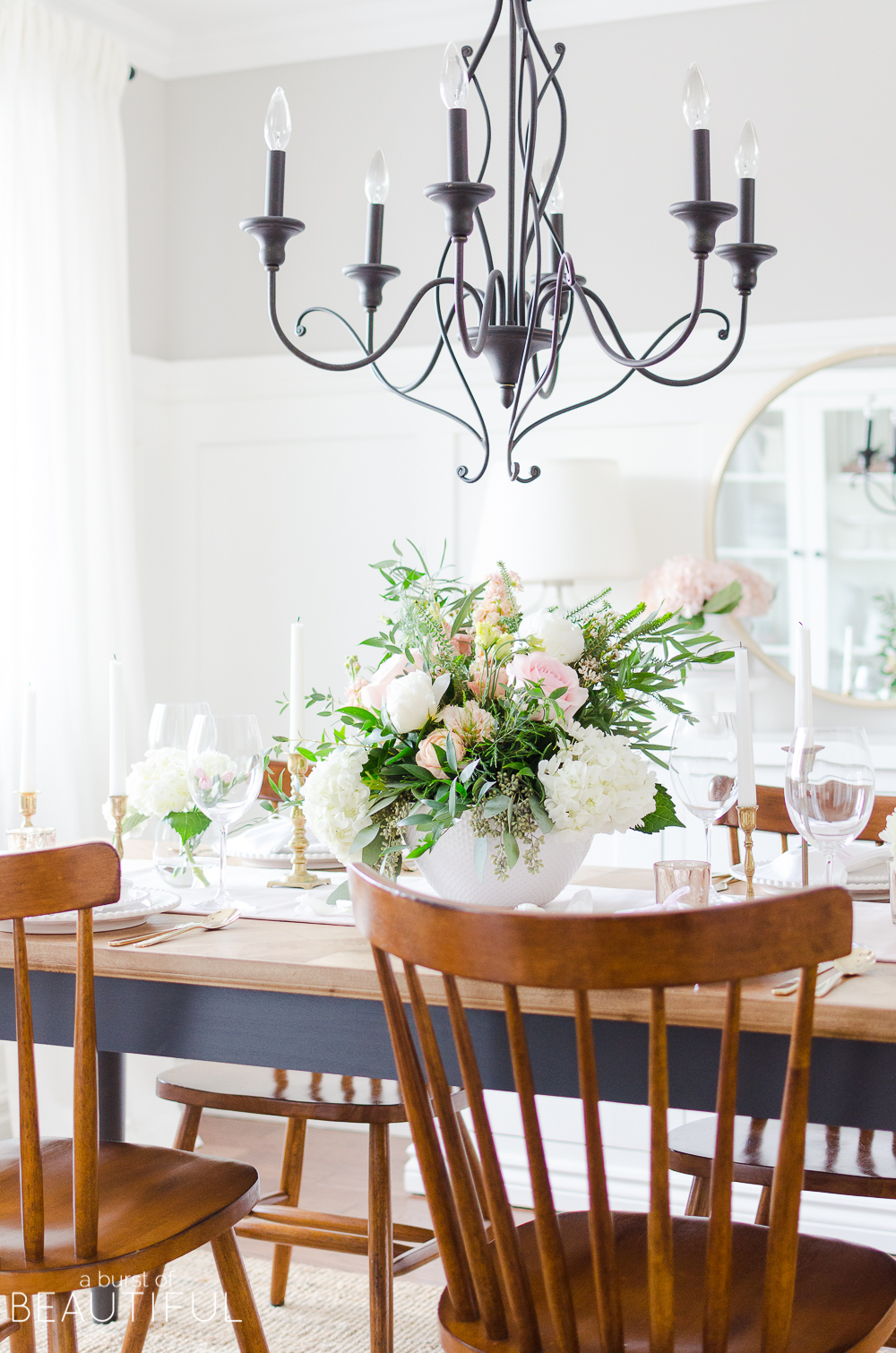 Now, see this gorgeous centerpiece? Isn't it one of the most beautiful things you've ever seen? Well, I can't take credit for it. I popped into my favorite local flower shop (it's Flower Expressions for all of our local friends. They seriously have the most amazing selection of flowers, you'll want to check them out if you haven't already), and I spotted this beautiful arrangement they had made and I knew it would be just perfect for a romantic tablescape for Valentine's Day.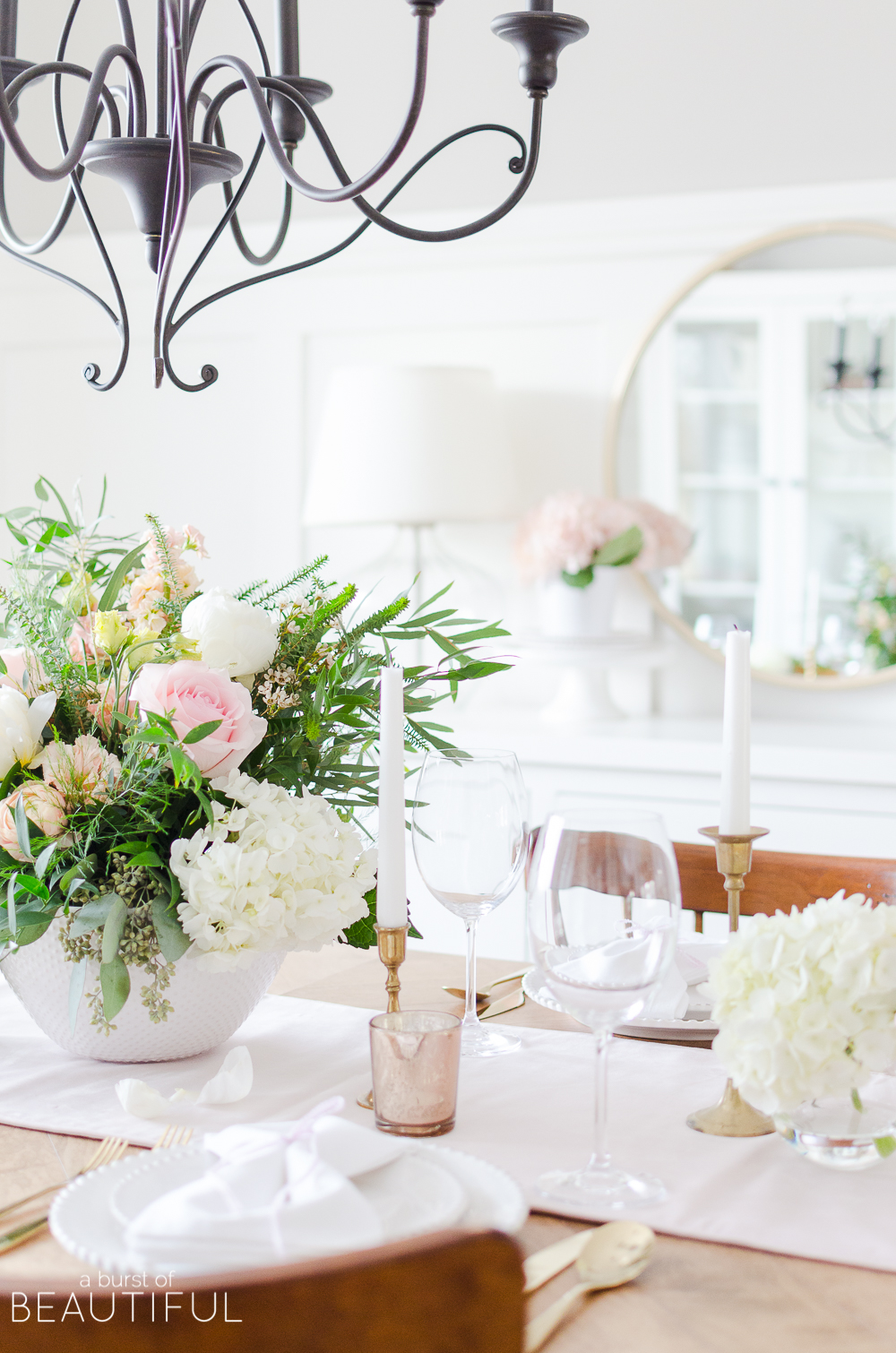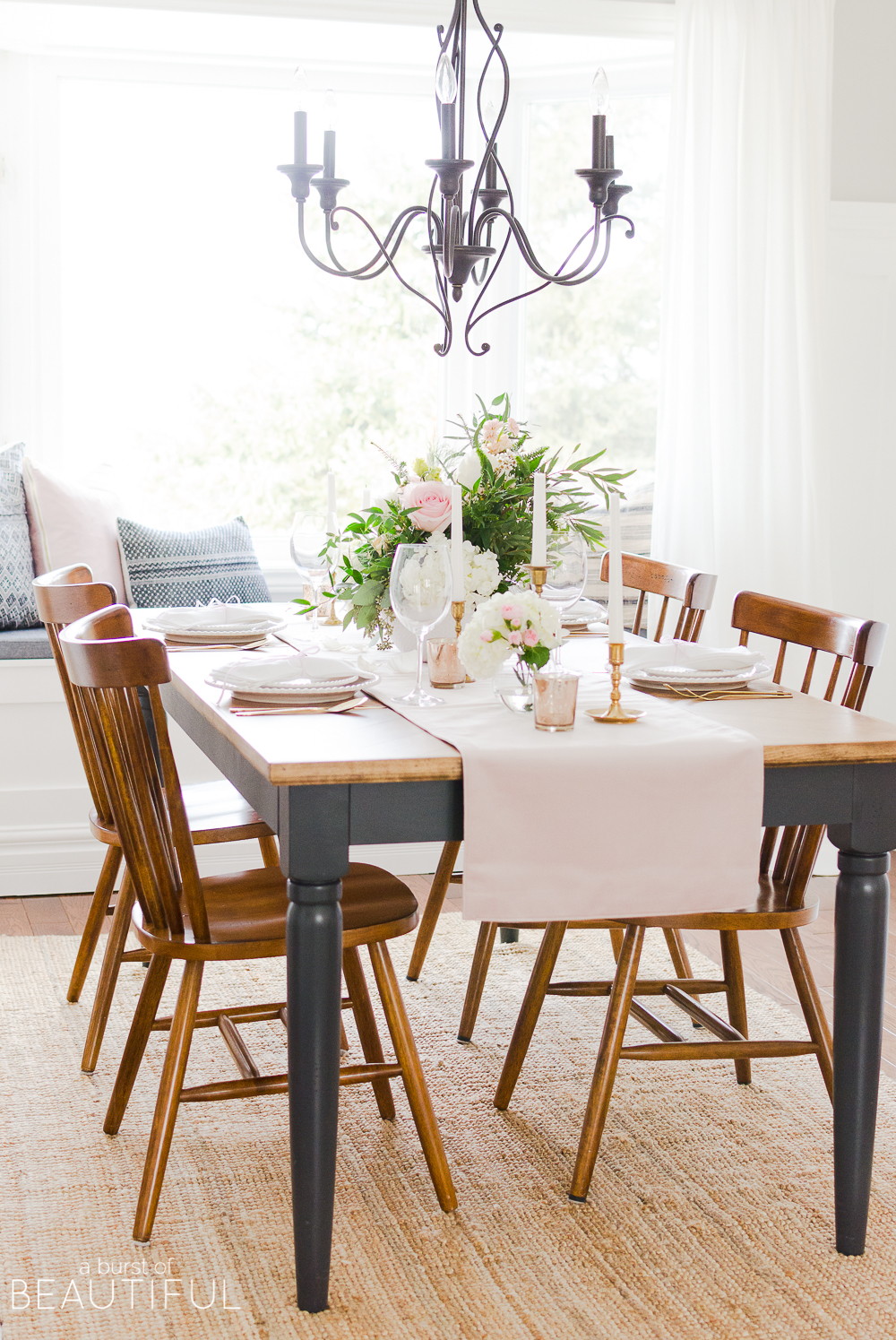 I brought it home, along with a few extra hydrangeas to add to the table. I love using hydrangeas because they are inexpensive and such a full flower that it doesn't take many to make an impact. Plus, they are just so darn pretty!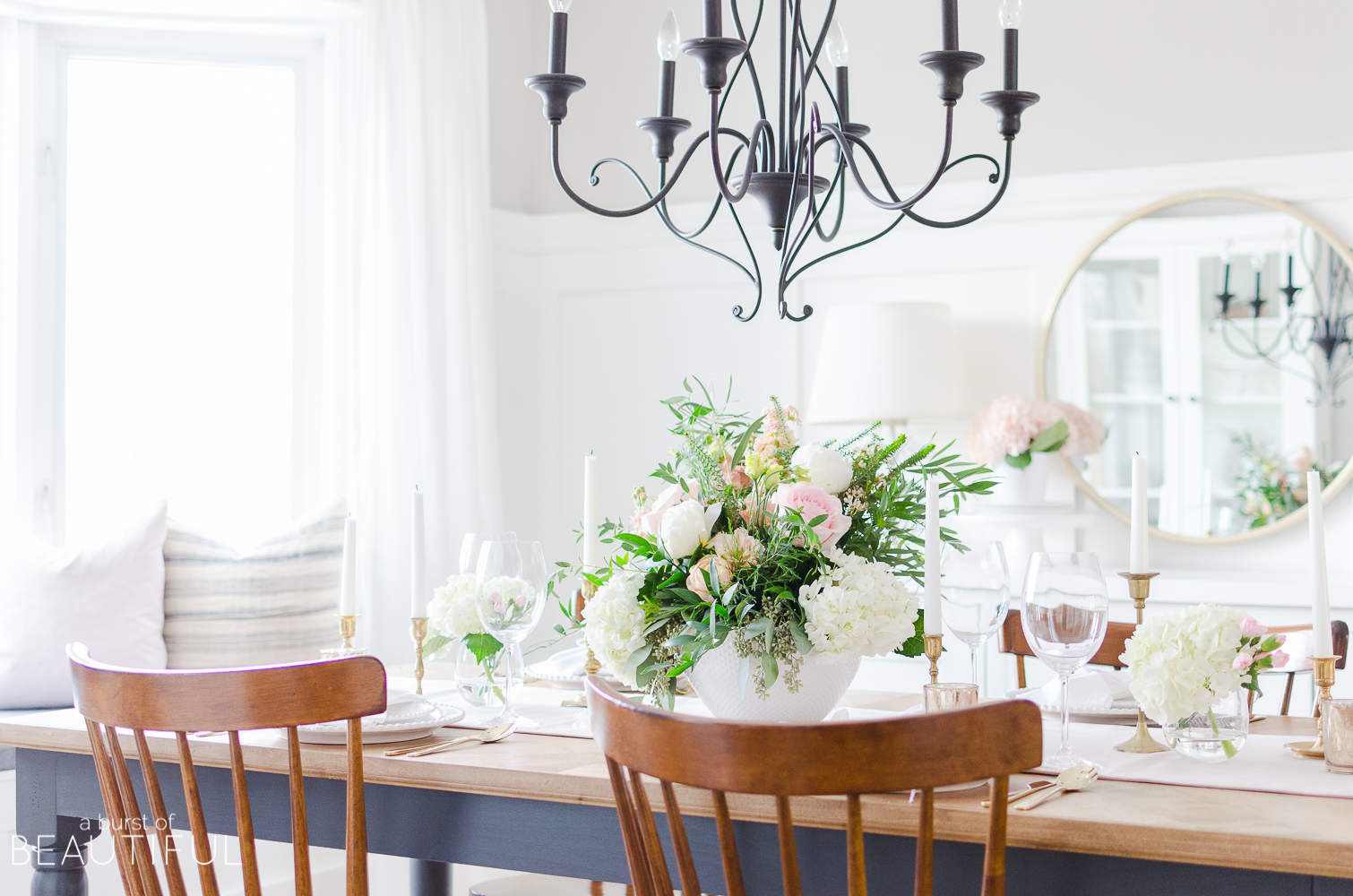 This time, instead of using a standard vase I used this textured white bowl I had recently picked up. I simply cut the stems down on the arrangement and propped it up in the bowl using a bit of floral tape. I just love the overall look, I think it's fresh and modern, don't you?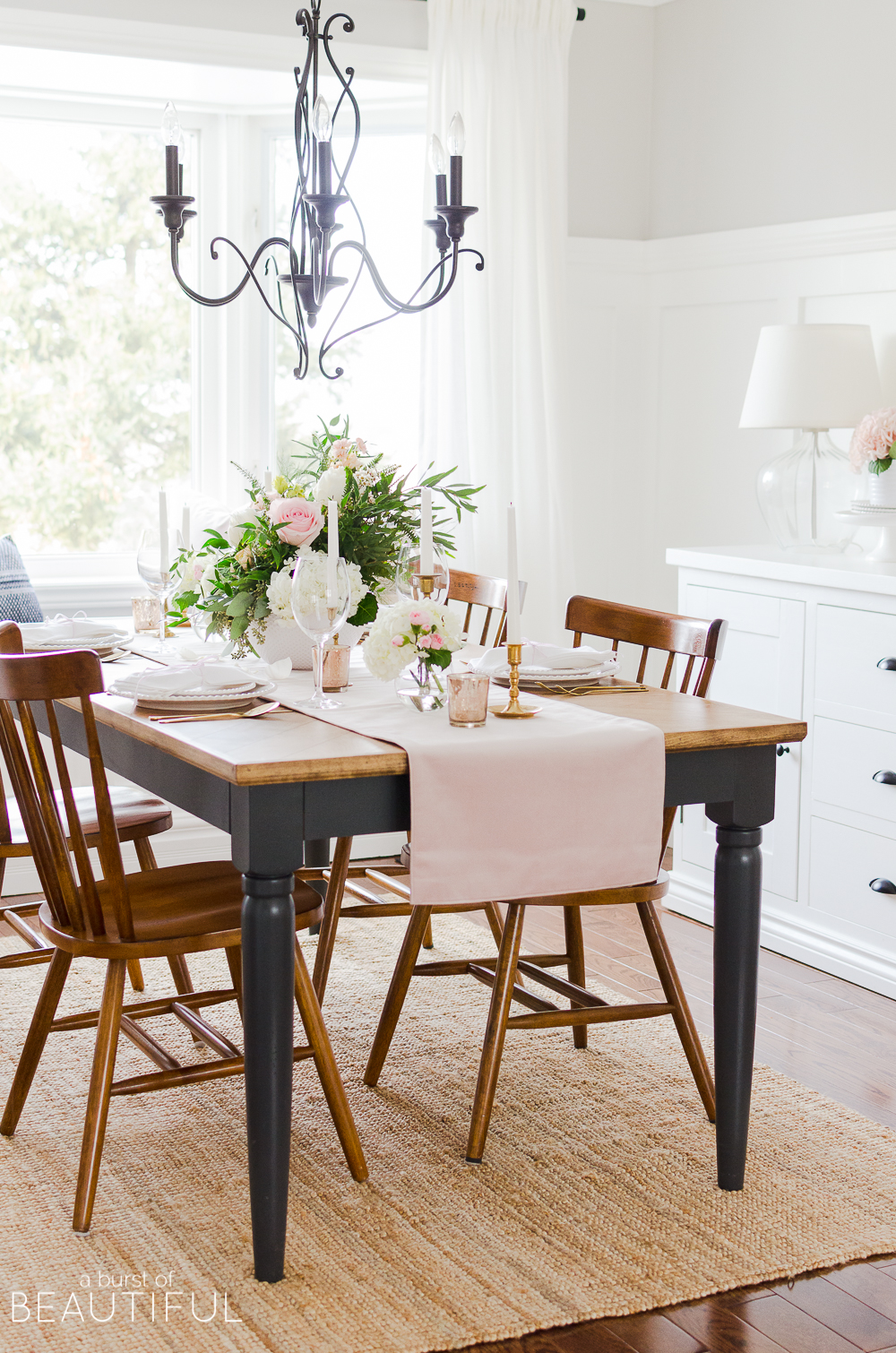 I placed the extra hydrangeas in these stemless wine glasses (see…thinking outside of the box!), with a few pale pink carnation buds. I used four in total and scattered them along the table runner. Oh, and if you're hesitant about a velvet table runner (I was too), you don't have to worry. I spilled these little vases a couple of times and the water just beaded off of the runner..no fuss and no mess. Phew!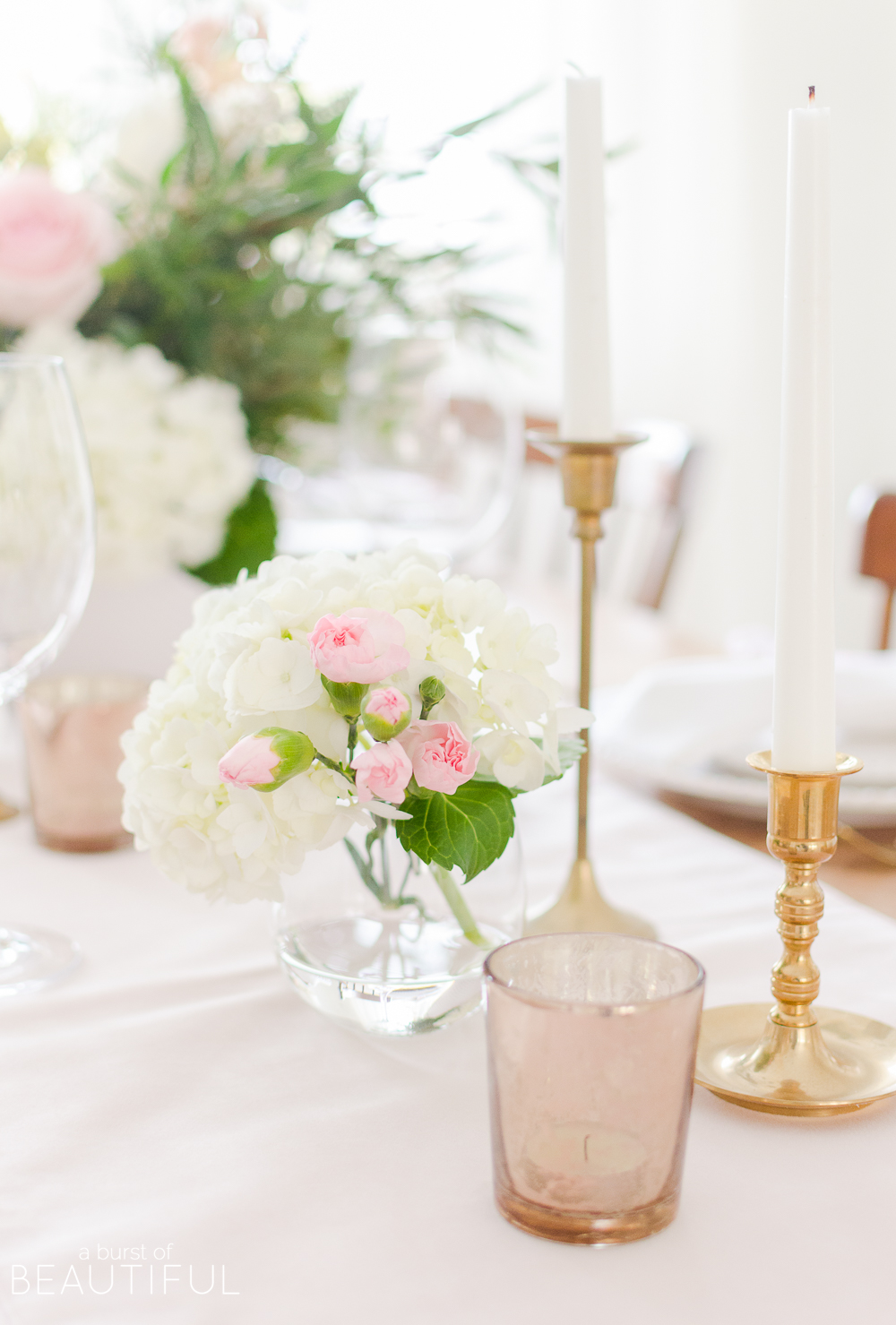 Next came candles for a little bit of ambiance. 😉 I used these vintage brass tapered candle holders I picked up at thrift stores throughout the years, mixed with a few rose gold votives. The brass candle holders are probably one of my favorite finds and I love using them when I set a table, like here, here and here. They add just a hint of warmth and sparkle.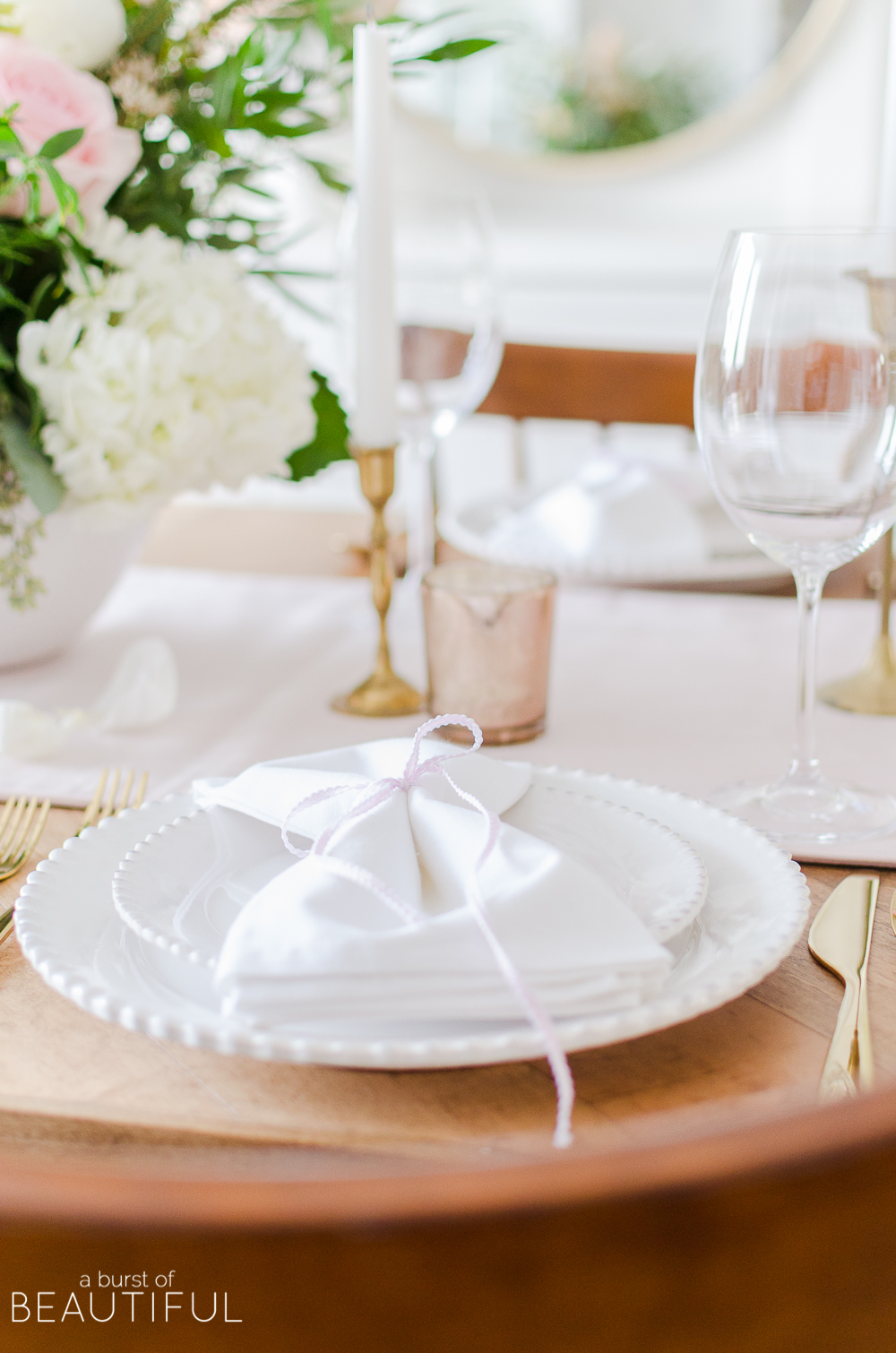 When it came to setting the table, again, I used our everyday beaded white dishes, they are pretty and a little bit playful. On top of each plate, I placed a simple white napkin tied with a dainty pink ribbon. And set out our simple gold flatware, which plays off of the brass candleholders. And of course, wine glasses.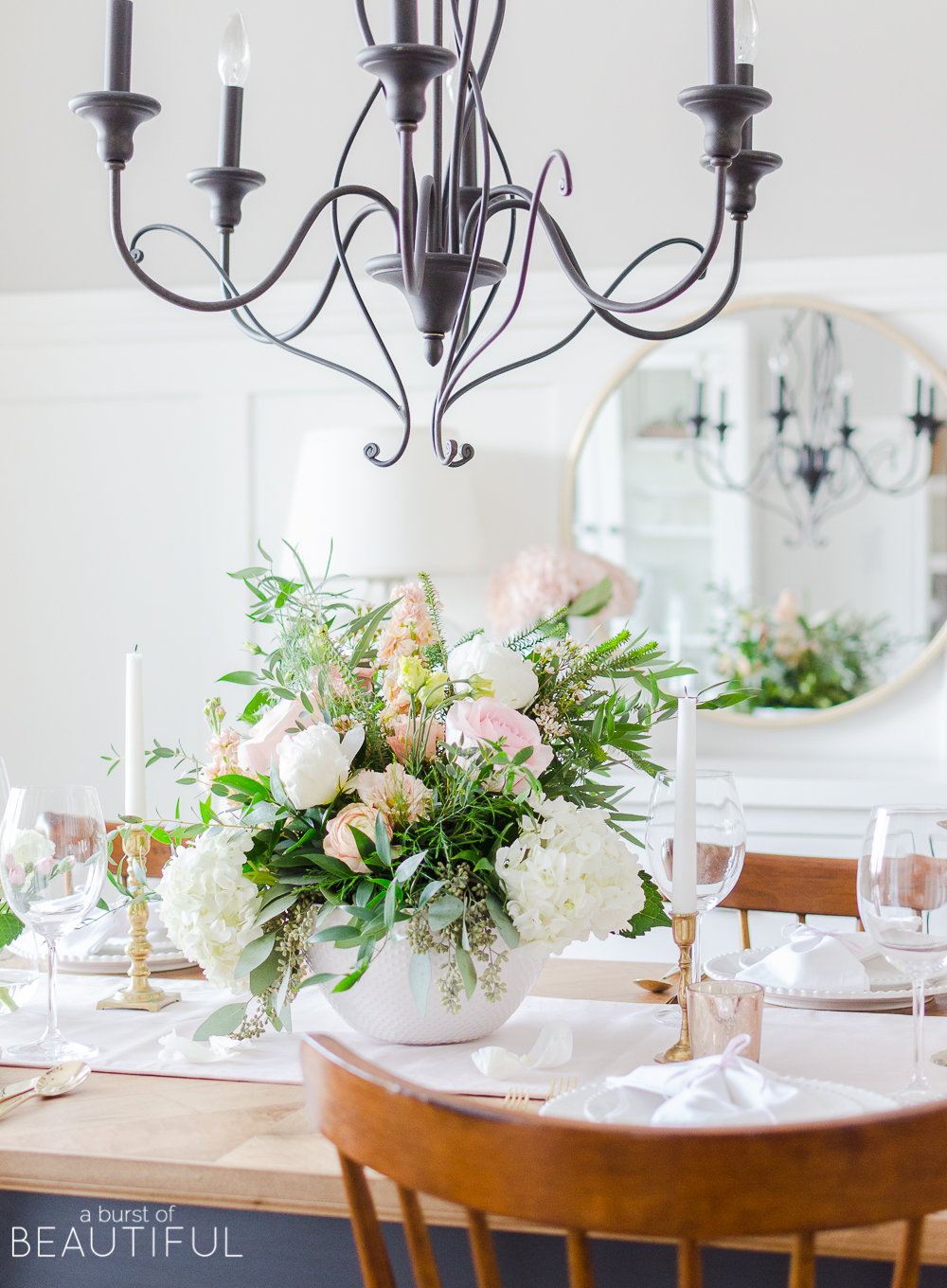 That's really all there was to it, simple, right? Like I've mentioned before I think it's so important to keep things easy when it comes time to host. Whether a dinner for two or a large gathering of friends and family you want to be right there enjoying the moment and not fussing over the little details.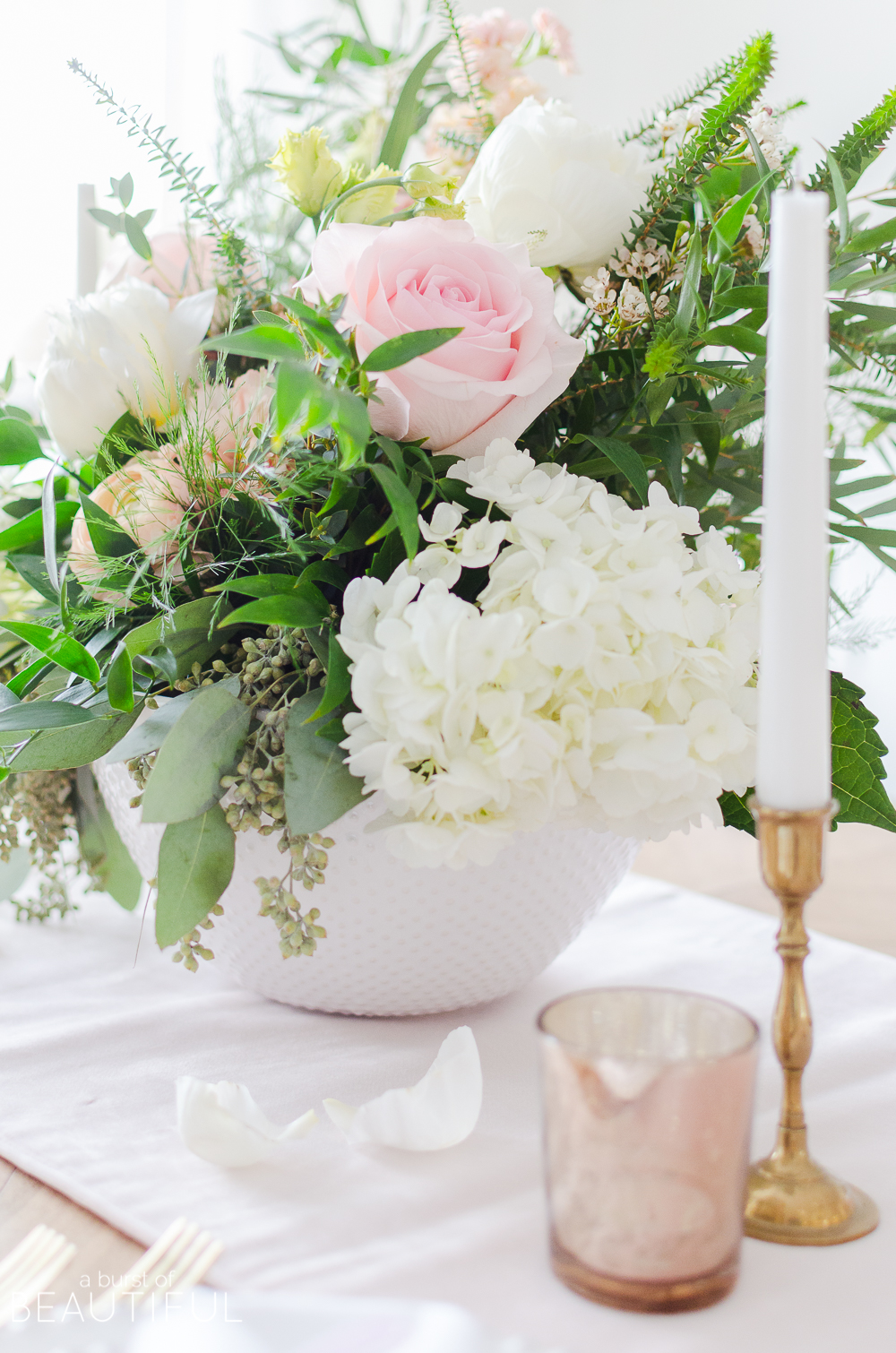 Well, I hope you enjoyed today's post and maybe found a little bit of inspiration for hosting your own Valentine's Day party. Oh, and I'm sorry about all of the photos, but there are just so many pretty ones, I wanted to share them all. Do you have any plans for Valentine's Day, I'd love to hear them!