Sharing our favorite ideas to help create storage solutions and maximize space in your home.
Hi friends, I hope you're having a wonderful week so far. We are in the middle of a deep freeze and have been getting so much snow I don't even feel like leaving the house. On the plus side, it's put me in the mood to clean and organize. Is anyone else feeling the same way?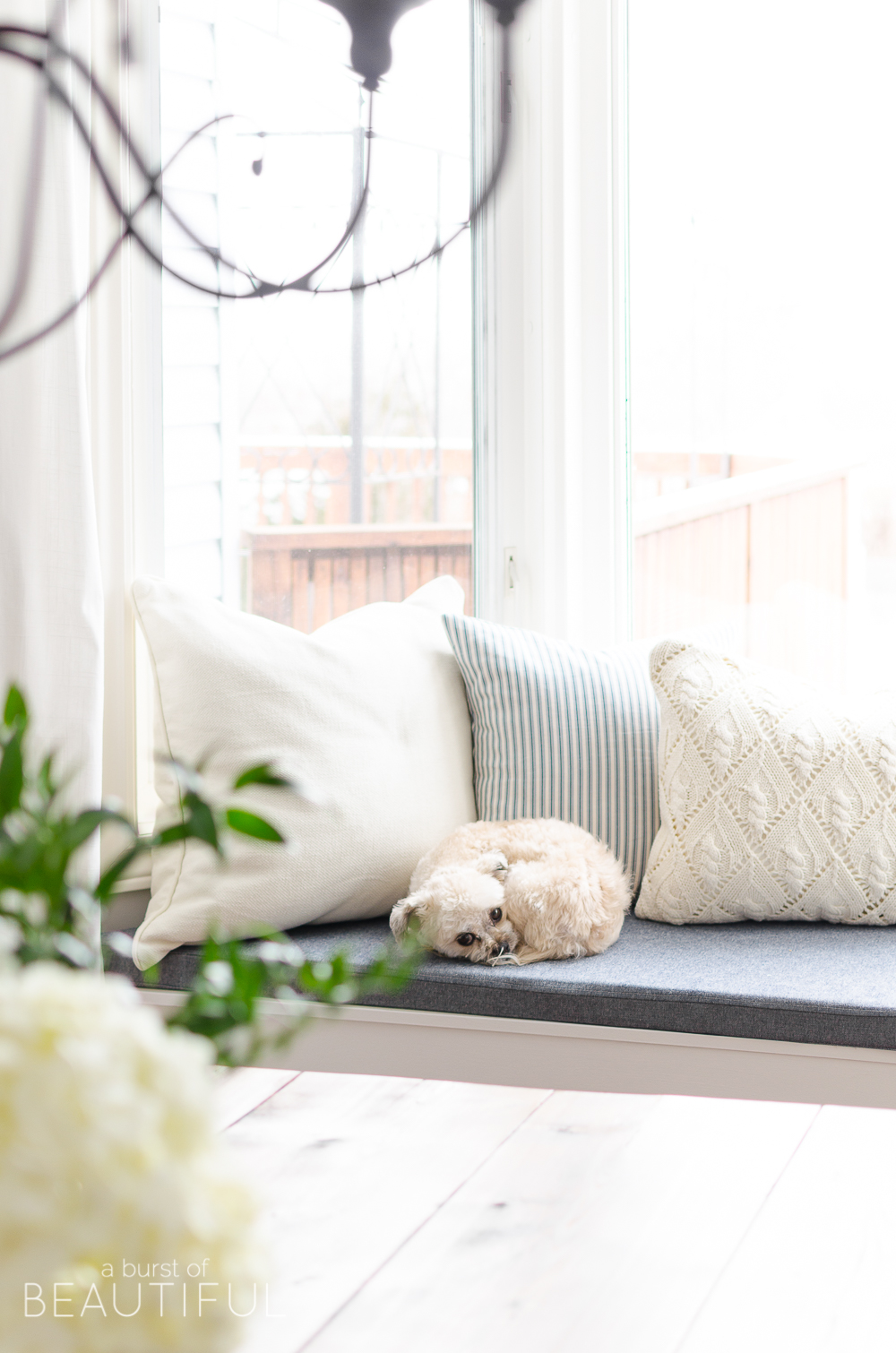 So with all of the energy and motivation I have to get our house into shape after the holidays, I thought it would be fun to share a few of the projects that have helped us maximize the space in our home and make organizing a little bit easier for us on a day to day basis.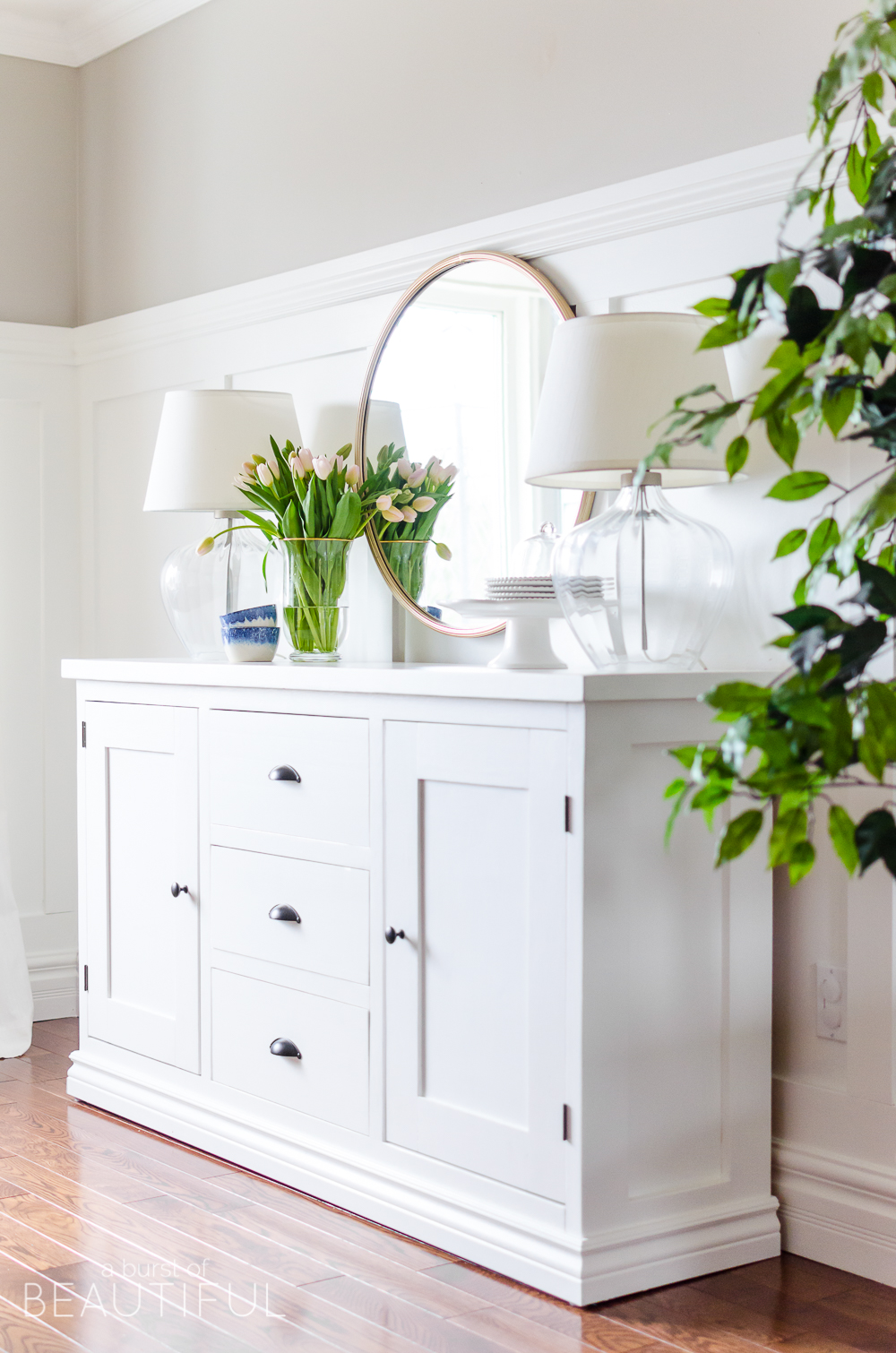 Our house is 17,00 square feet, so it's definitely not small, but it's also not huge either. I find it's just lacking storage space. We have a finished basement (more on that in a minute), but it doesn't have any extra storage space which means we have to get creative. I think everyone can have a beautiful and functional home, it's just about finding what works for you and your family's needs. We are a young family with a busy toddler and I work from home, but a playroom and home office are two things we just don't have. So right now, we make do. Our daughter's toys are stored in our living room so she can play close by and we can always keep an eye on her. It's cozy, but it works.
When it comes to working from home, my makeshift office is the dining room. Our computer sits on the dining room table, front and center and we just push it out of the way when it's time to eat. Not very practical and kind of an eyesore, but I love working in such a bright and sunny room. So again, we make do.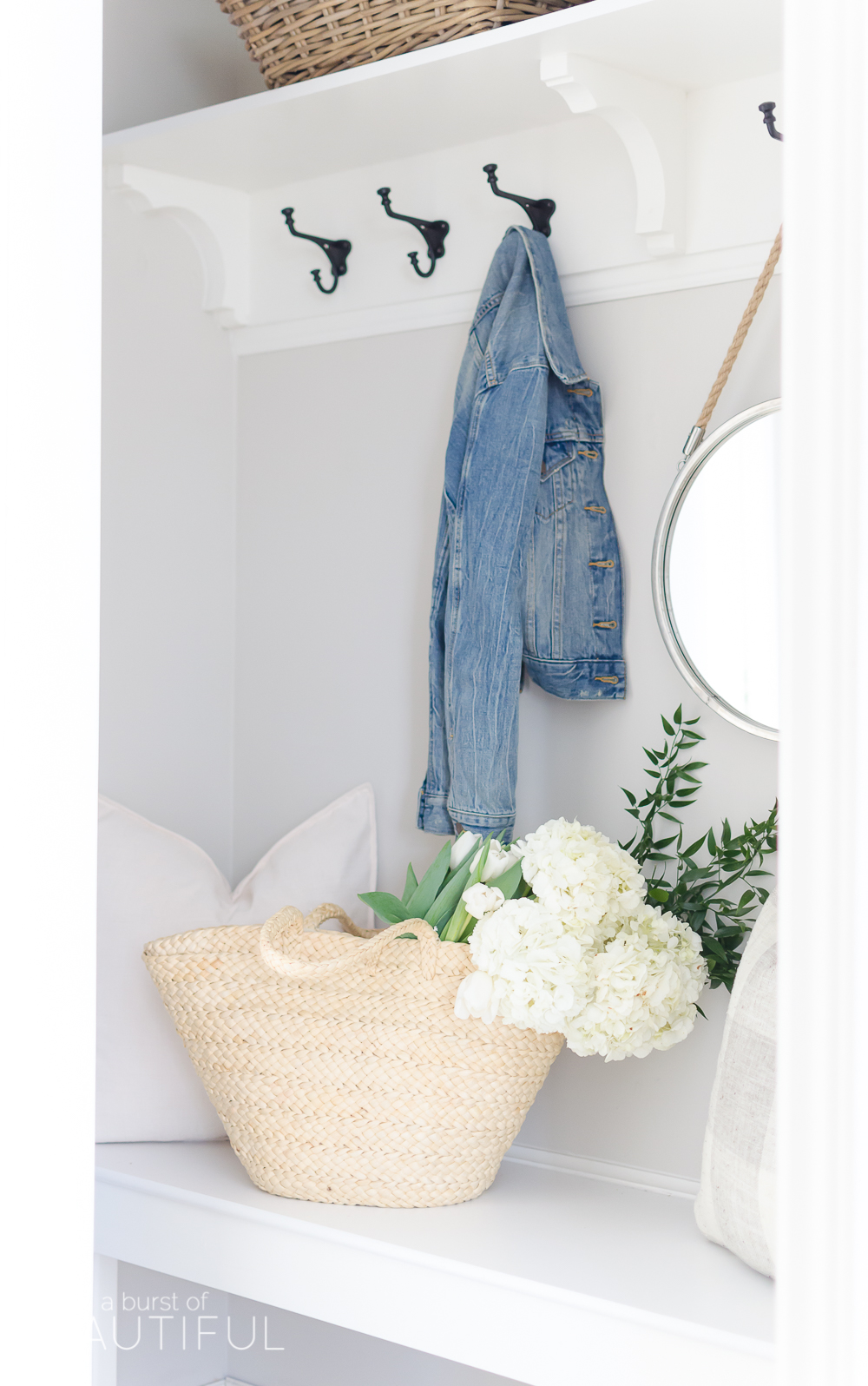 If you caught this post, you'll know we have big plans for our basement this year. And I'm so so so excited to get this project underway. Like I mentioned, our basement is finished, but we haven't done anything to it since we moved in five years ago. It's got a big oversized couch from Nick's bachelor days and a TV, and that's about it. It's a huge space with so much potential, but right now we're just not using it. Only because we haven't had the time or budget to make it into something more. I'll be sharing a lot more about the plans and design for the space as we begin to move forward on this project (which we're hoping to tackle in the early spring). But to give you a little hint it will include a home office, family room, and playroom – yah!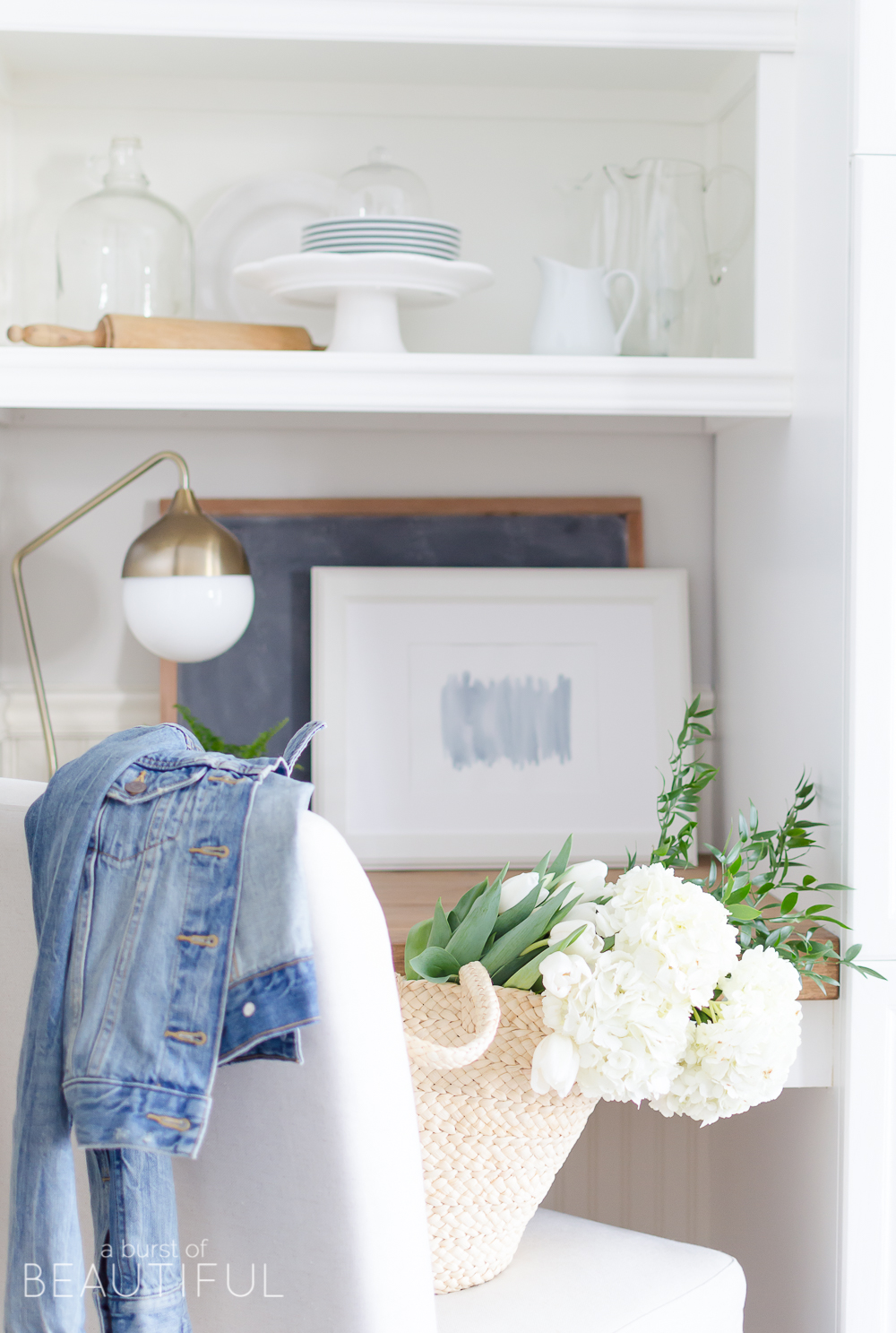 But I've digressed, so let's get back on topic.
We've utilized as much space in our home as we can, building and designing to make sure our home is functional for us and gives us the most storage possible. So here are my favorite projects and little bit about how they have helped keep us organized.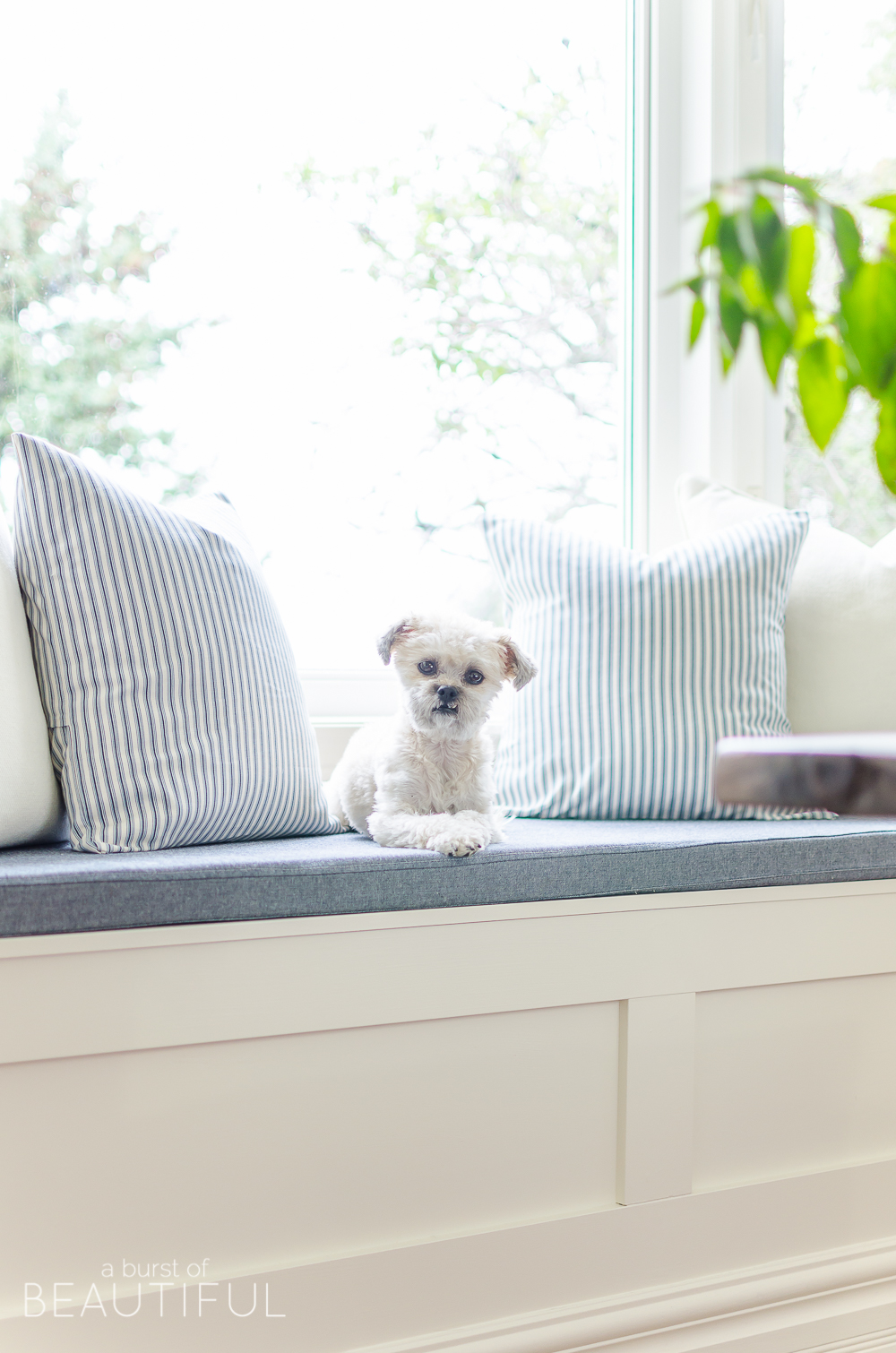 This was a fun project we completed a few years ago. We had a bay window in our dining room, which was really just wasted space so we thought it would be nice to add a window bench. It gives us a cozy little place to cuddle up and watch the changing seasons through the window, plus it adds a nice detail to an otherwise blank space. Nick designed and built the bench to have a lift top so we can use all of the extra room for storing things…like more pillows! Seriously though, it's filled with extra pillows right now. 😉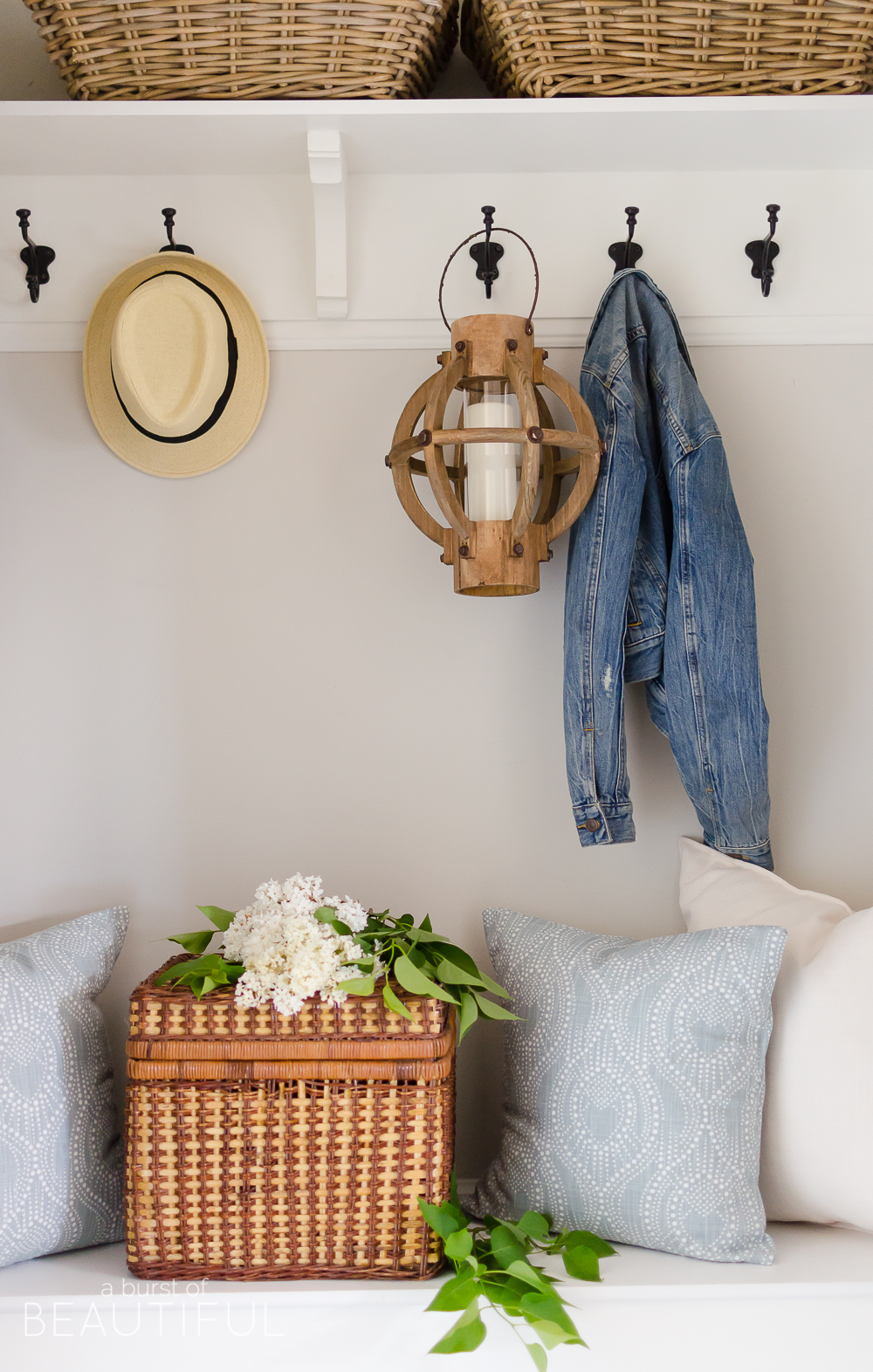 This is another project we completed a few years ago, but it remains one of my favorites. We took our cramped and cluttered coat closet and turned it into this adorable and functional mudroom. Embarrassingly enough I showed a before photo here, it makes me cringe every time I look at it. We always get asked if we really keep it looking so neat and tidy and the truth is yes, we do! I mean, it doesn't look so simply styled every day, but it keeps us hanging up our coats and bags on a regular basis, and all of our extras like hats and mitts are stored out of the way in the baskets above. And the bench makes putting boots and shoes on our little one so much easier. It's a win-win!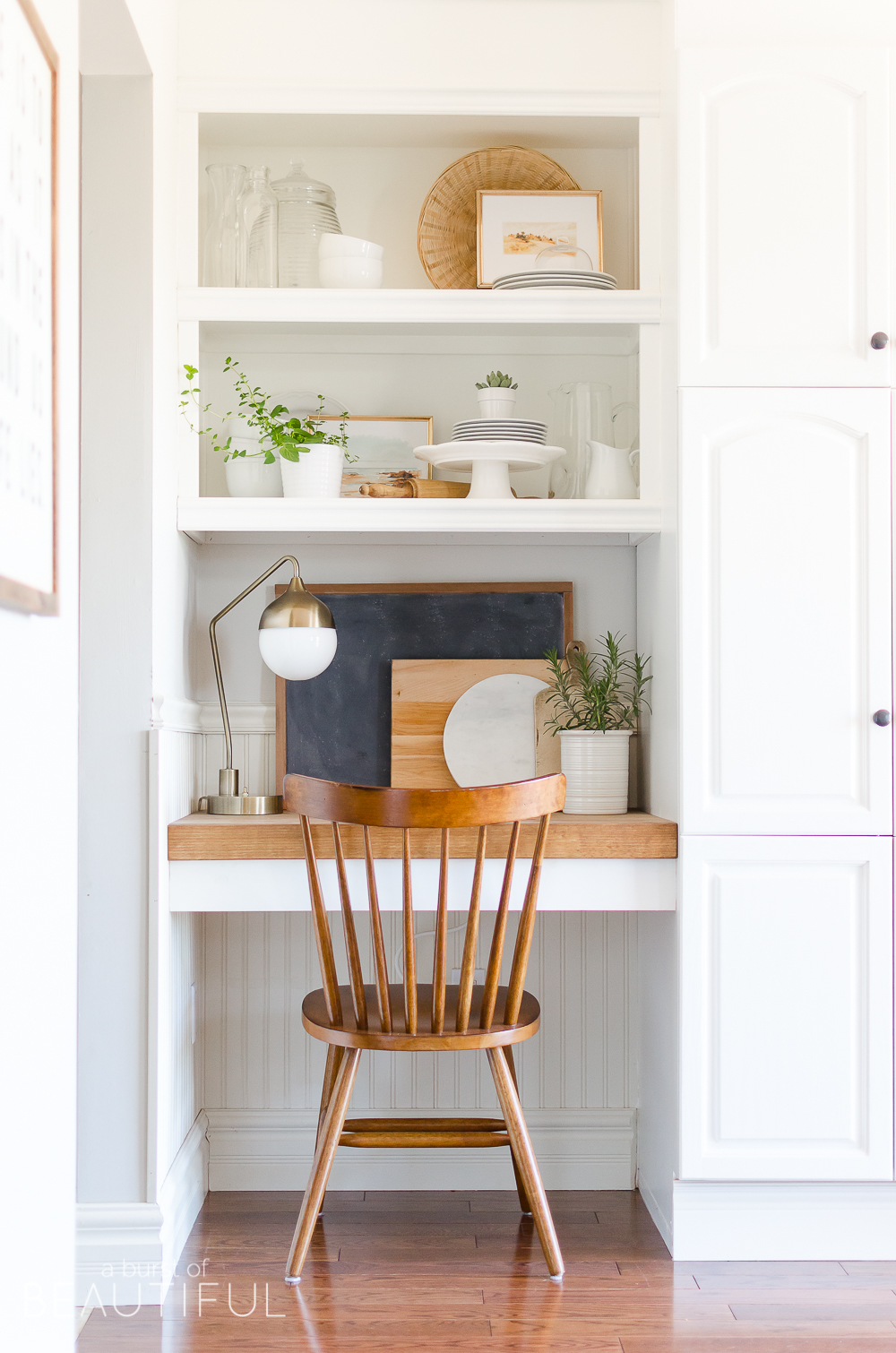 When we moved into our home, this wall was blank. So over the years we moved our fridge and pantry and built these charming little nooks on both sides. The open shelves give me a place to not only store, but display my favorite kitchen pieces, like vintage breadboards, pretty cake plates, and framed art. The floating desks were added a little bit later. They complete the look with a more modern touch and are perfect for dropping our keys and mail when we come in the door. The best part about these desks is Nick designed them to have hidden storage, so all of our cords, like the ones we use for charging our laptop and phones, are hidden. Genius, right? 😉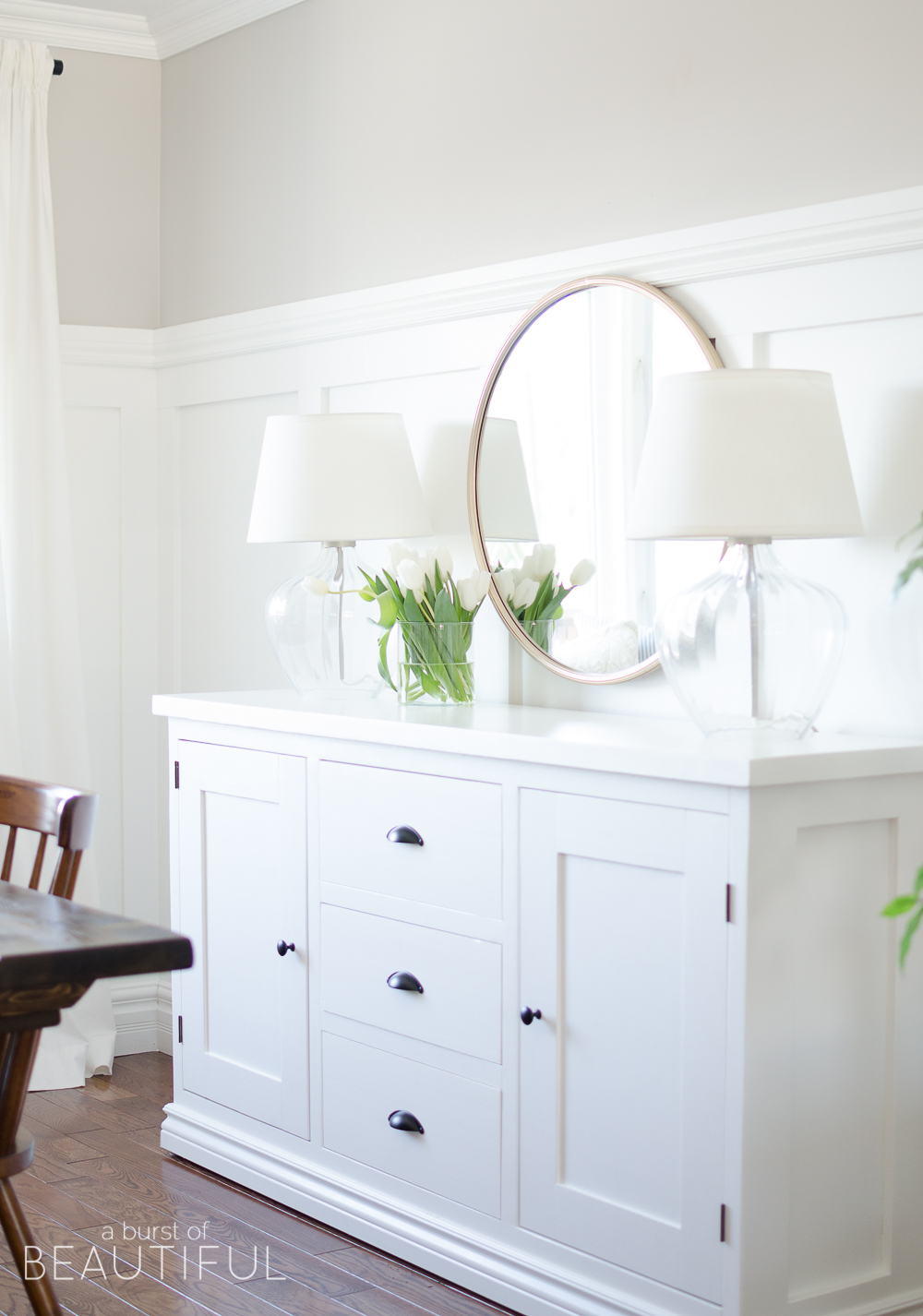 When we were working on updating our dining room we searched all over for the perfect sideboard, but I couldn't find anything I loved that was within our price range. I wanted a big piece that would fill in the big blank wall space we had, and provide lots of extra storage so Nick designed and built this beautiful sideboard. It has shaker style doors and we painted it a crisp white to reflect the modern farmhouse feel of our home. Now it houses extra serving ware and dishes, plus the ever-growing pile of craft supplies we keep to accumulating.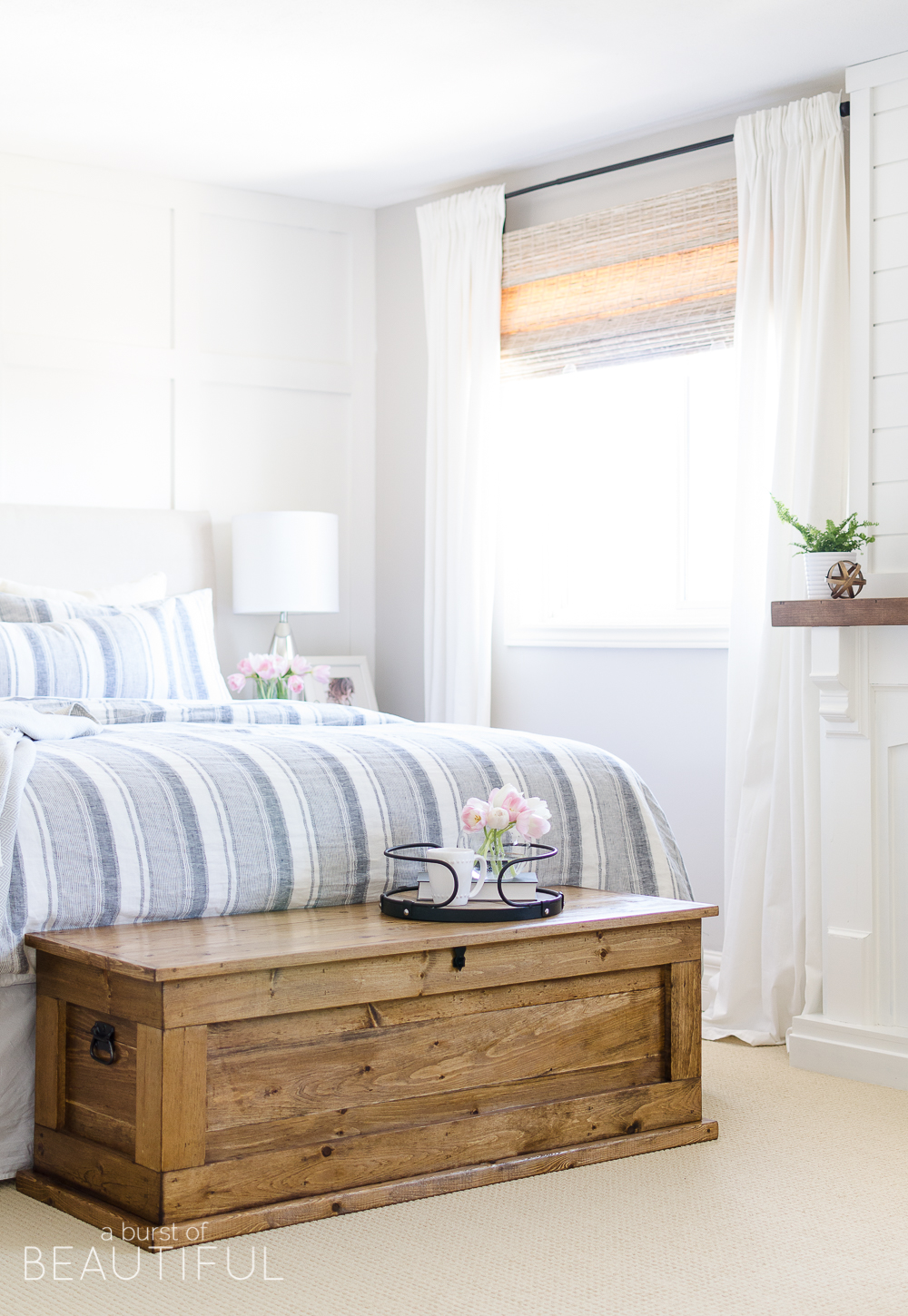 I really am so lucky to have a husband that can build just about anything. This blanket chest is the perfect piece for the foot of our bed and we use it to store all of our extra blankets that we aren't using. But it could be used for so many other purposes as well, like a coffee table for example. I also recently had a reader let me know she built this piece as a toy chest for her grandson, isn't that such a great idea!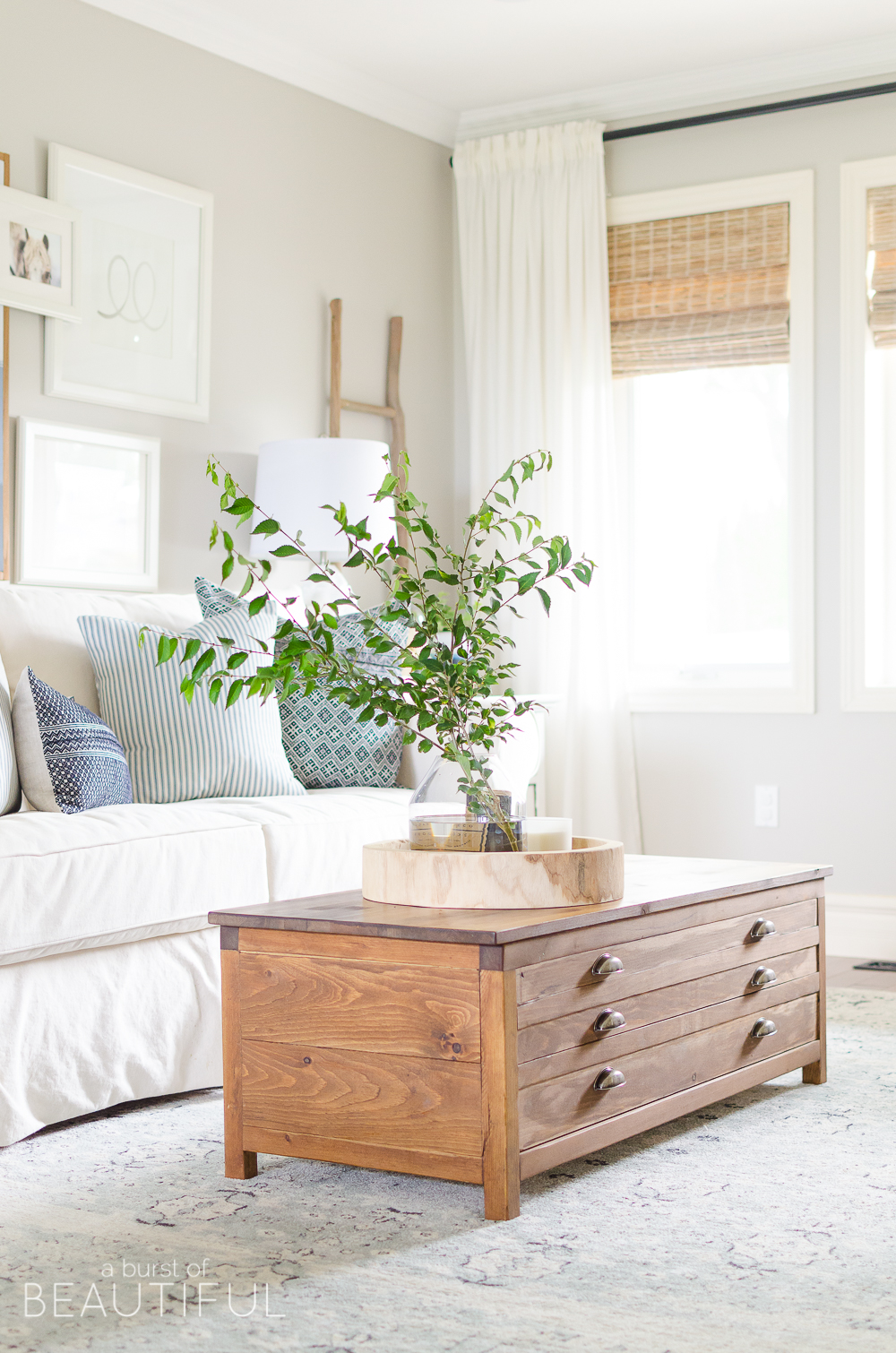 After Nick built the blanket chest for our bedroom, I kept thinking about great it would be to have something similar to use as a coffee table in our living room. I loved the industrial pipe table he originally built for us, but I felt it was time for a change and I wanted something that was a little more substantial. So he came up with this beautiful vintage-inspired print maker's coffee table. I love the design because it looks like it has these tiny little drawers on the front, but they are actually faux. Instead, the top opens to give us lots of room to store big items, like toys or you guessed it, more pillows!
Well, I hope you enjoyed these projects and I hope they have inspired you to make the most of the space in your own home. Keeping a tidy and organized house is as simple as ensuring everything has a place, and I'm a firm believer in that. If you've tried any of these projects we'd love to hear about them, just send us an email (we love photos too!) and let us know how it went.
Alicia xo