Celebrate Valentine's Day with your little ones by hosting a party just for them with these sweet Valentine's Day party ideas for kids.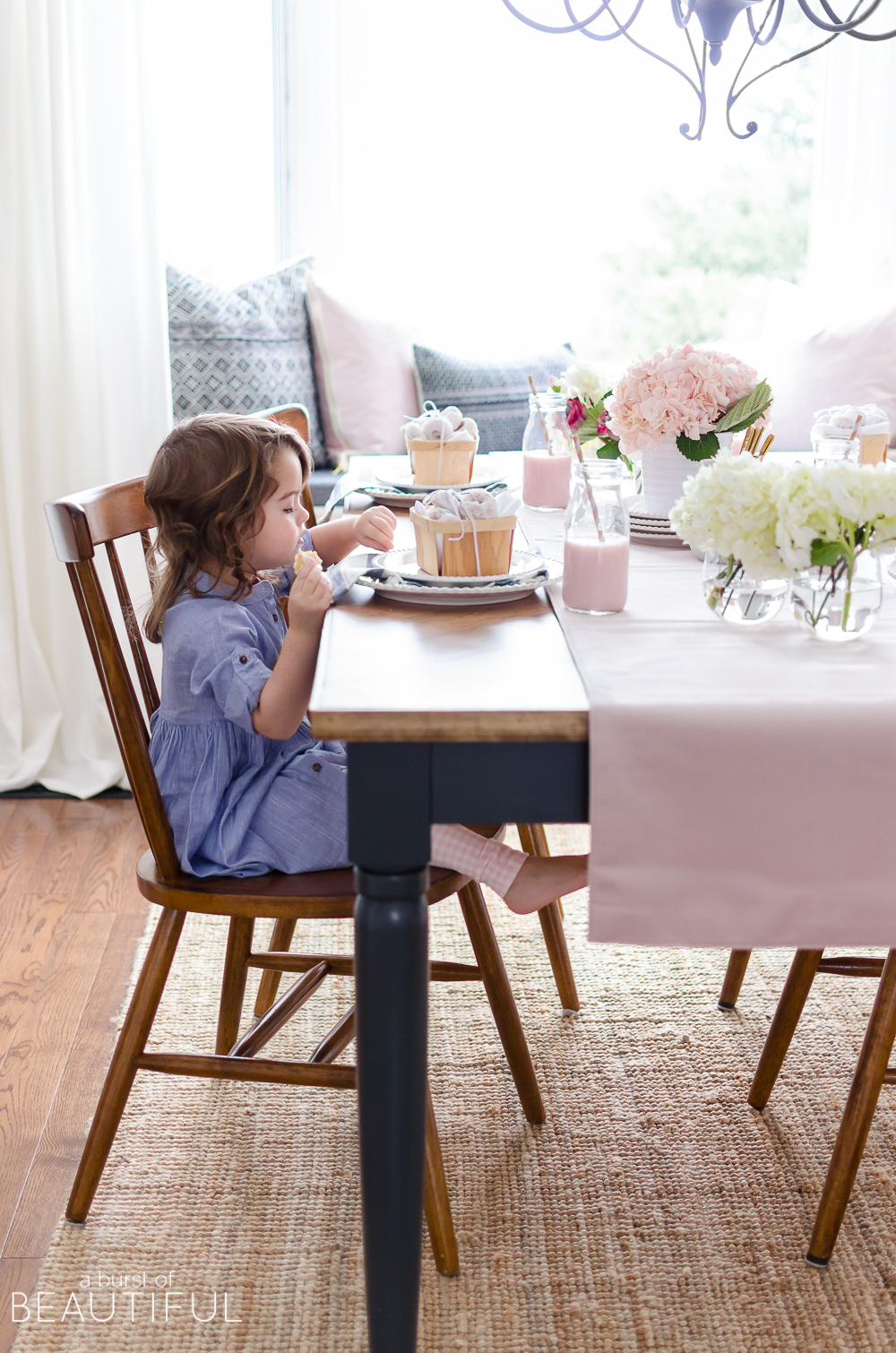 I had so much fun with today's post. It was one of those projects that I really enjoyed putting together…it was simple, fun and creative. Bringing in fresh flowers and decorating with pops of blush was a breath of fresh air and I truly hope you enjoy it as much as I did.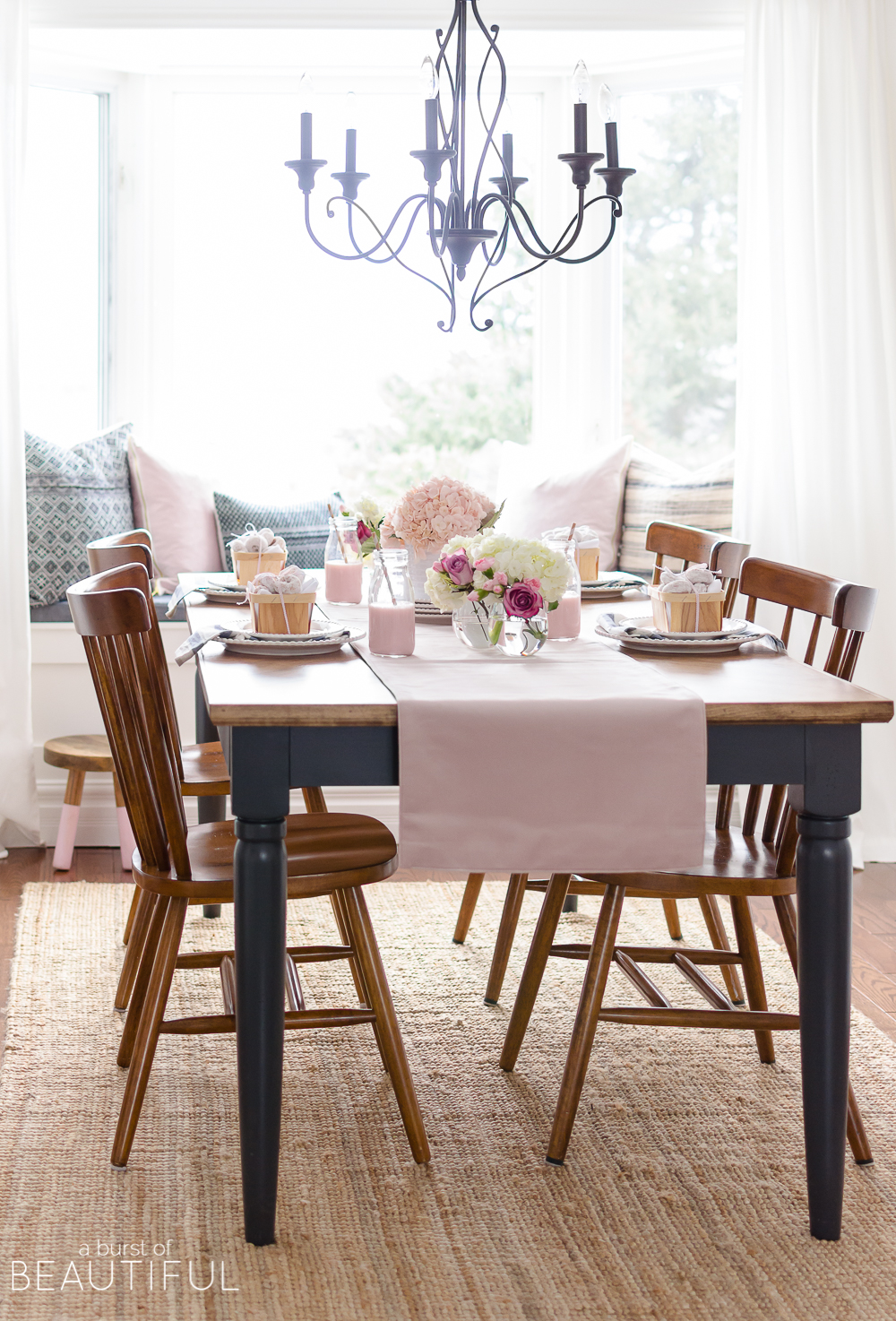 Valentine's Day is one of those holidays that I didn't really put much thought into before we had Zoe. Nick and I would always buy each other a little gift of some sort and we would always make plans have dinner at our favorite restaurant, but truthfully it always seemed just like any other day. But just like every other holiday since our little one arrived almost three years ago, Valentine's Day has become extra special.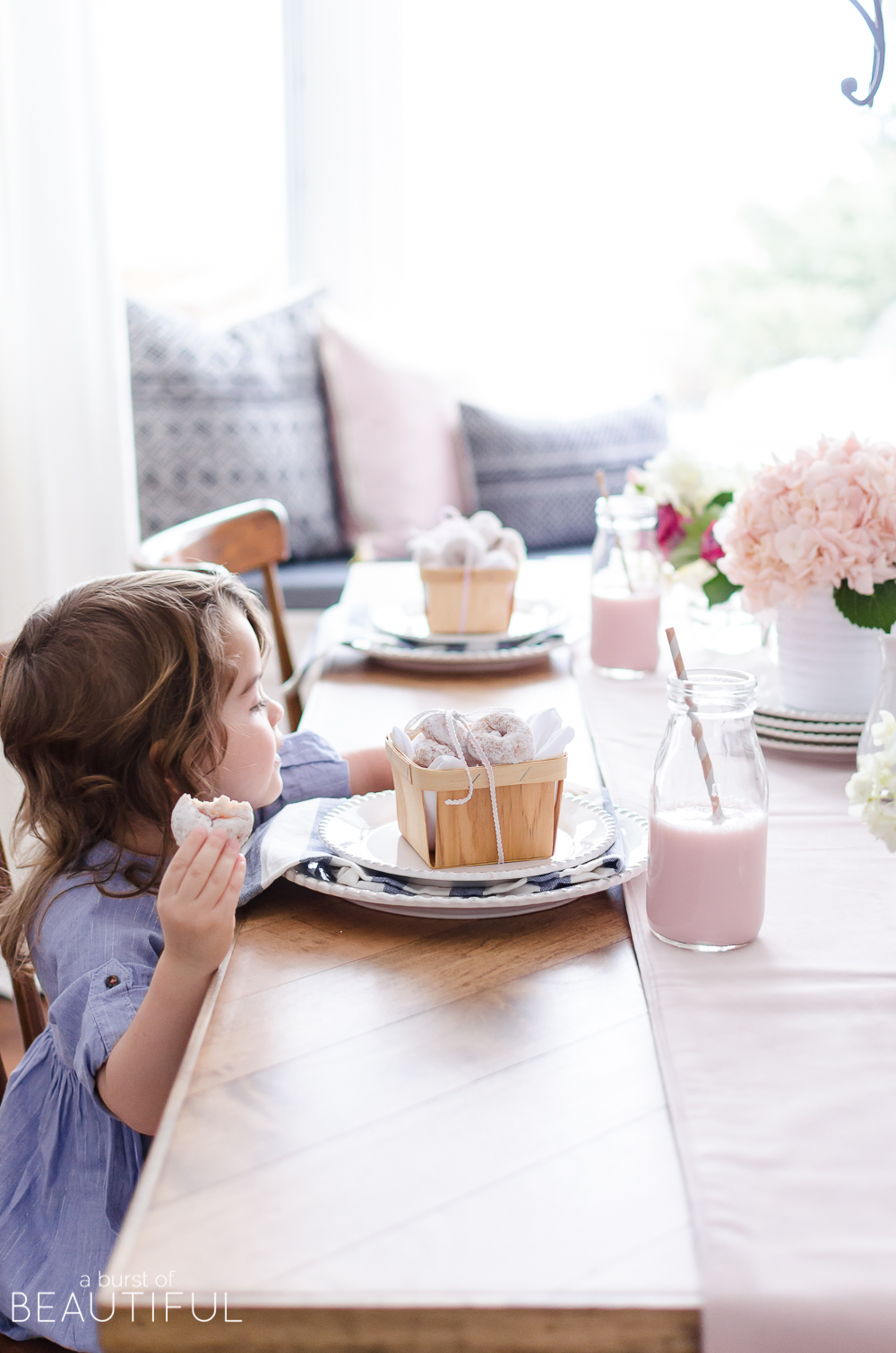 So I thought it would be fun to put together this cute little Valentine's Day party so that we could have a bit of extra fun on a sunny afternoon, and share a few simple Valentine's Day party ideas for kids with all of you.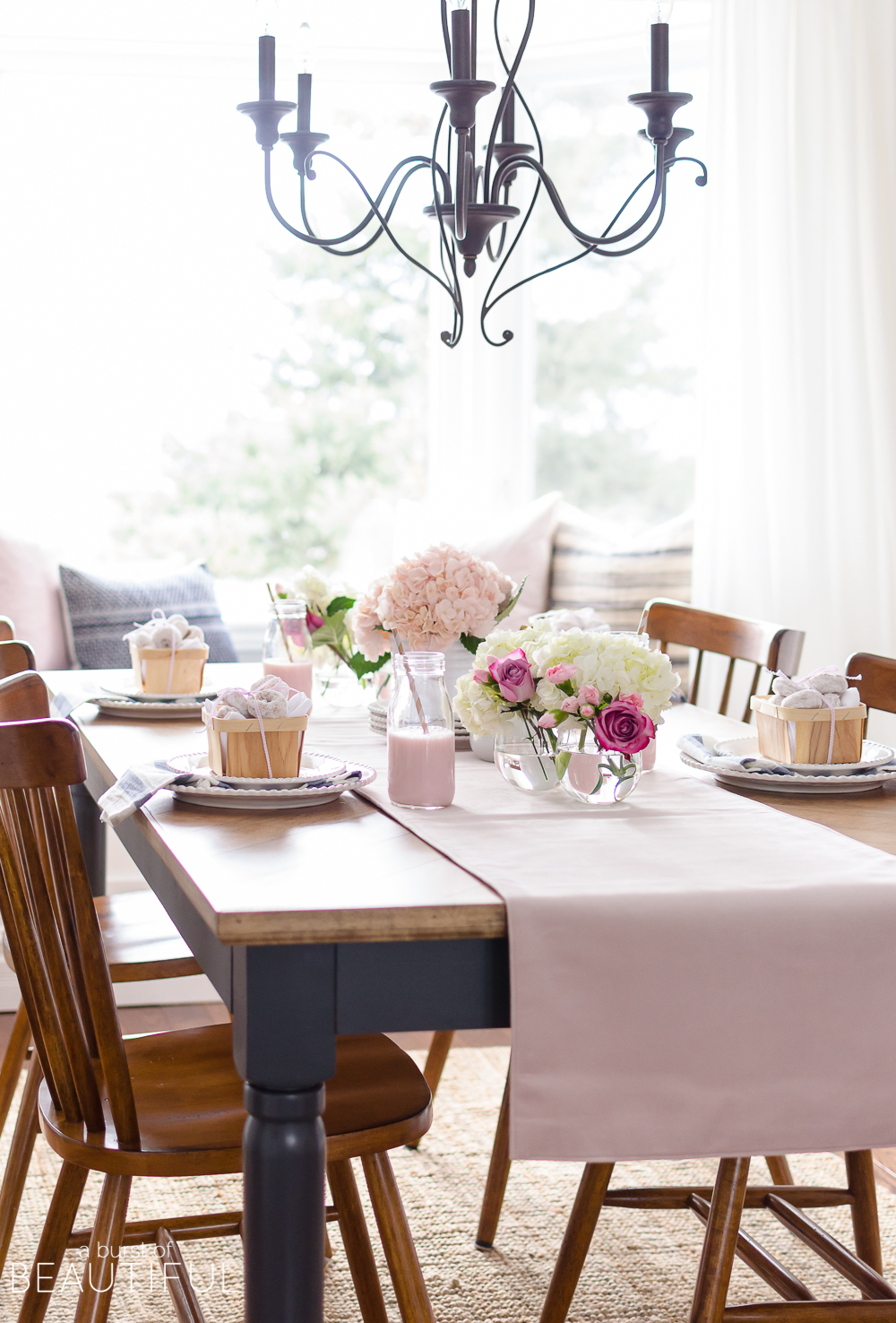 ---
get the look

---
When I think of Valentine's Day I think of the colour pink. This soft, sweet colour is both playful and romantic, which makes it perfect for the holiday, whether you're celebrating with your kiddos or your partner. And it was definitely the starting off point for planning this tablescape.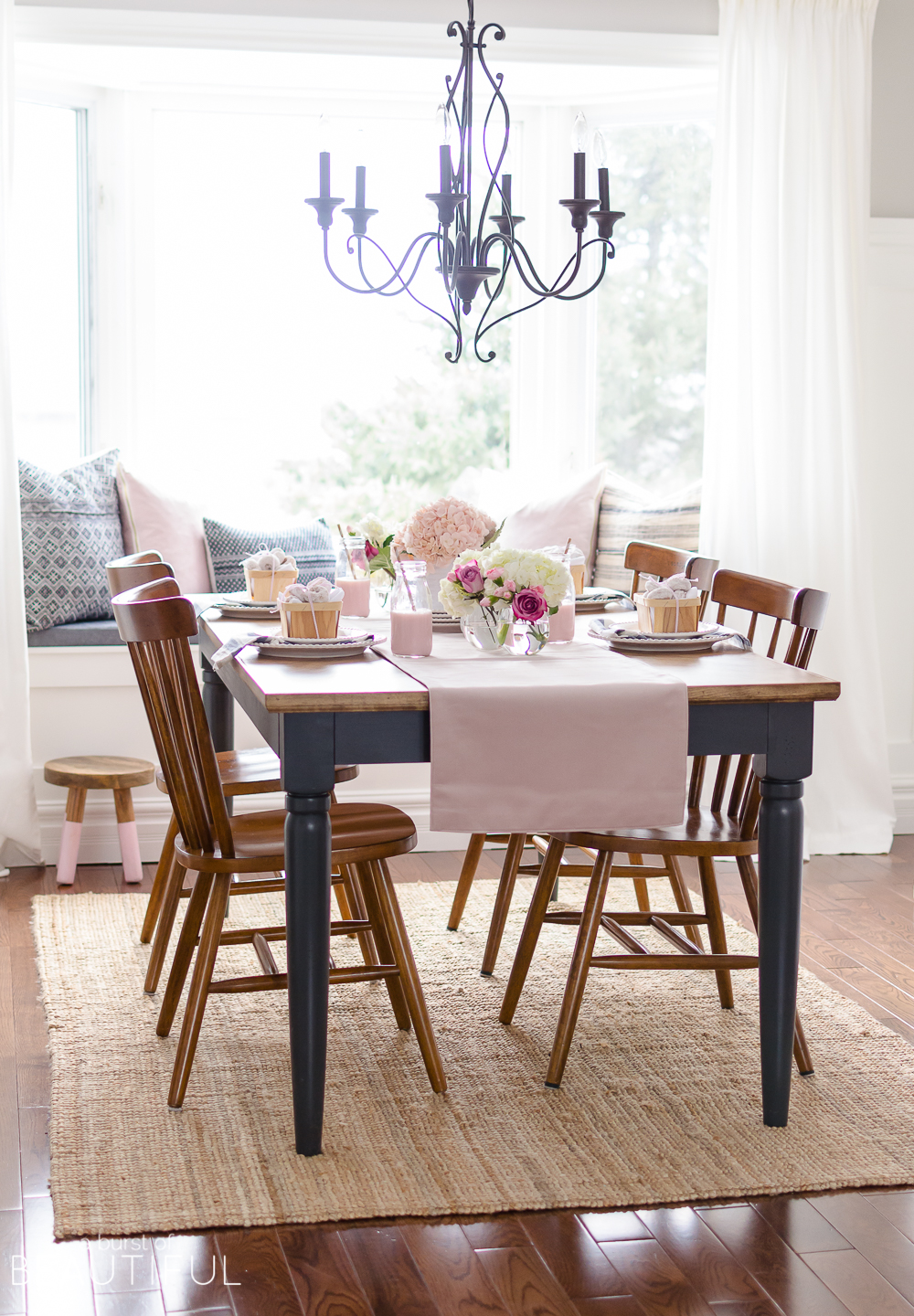 I came across this beautiful velvet table runner in blush earlier this week and fell in love. It is so pretty, but I debated whether I really needed a blush velvet table runner…I mean how often would I actually use it? But in the end, I left the store with it in hand, along with these two beautiful velvet blush pillows with gold zippers. And after thinking about it, I decided I'll be able to use it plenty throughout the spring months and Easter holiday (blush really is a neutral in my opinion).
While I was out I also grabbed a few yummy treats and pretty florals to complete our little party.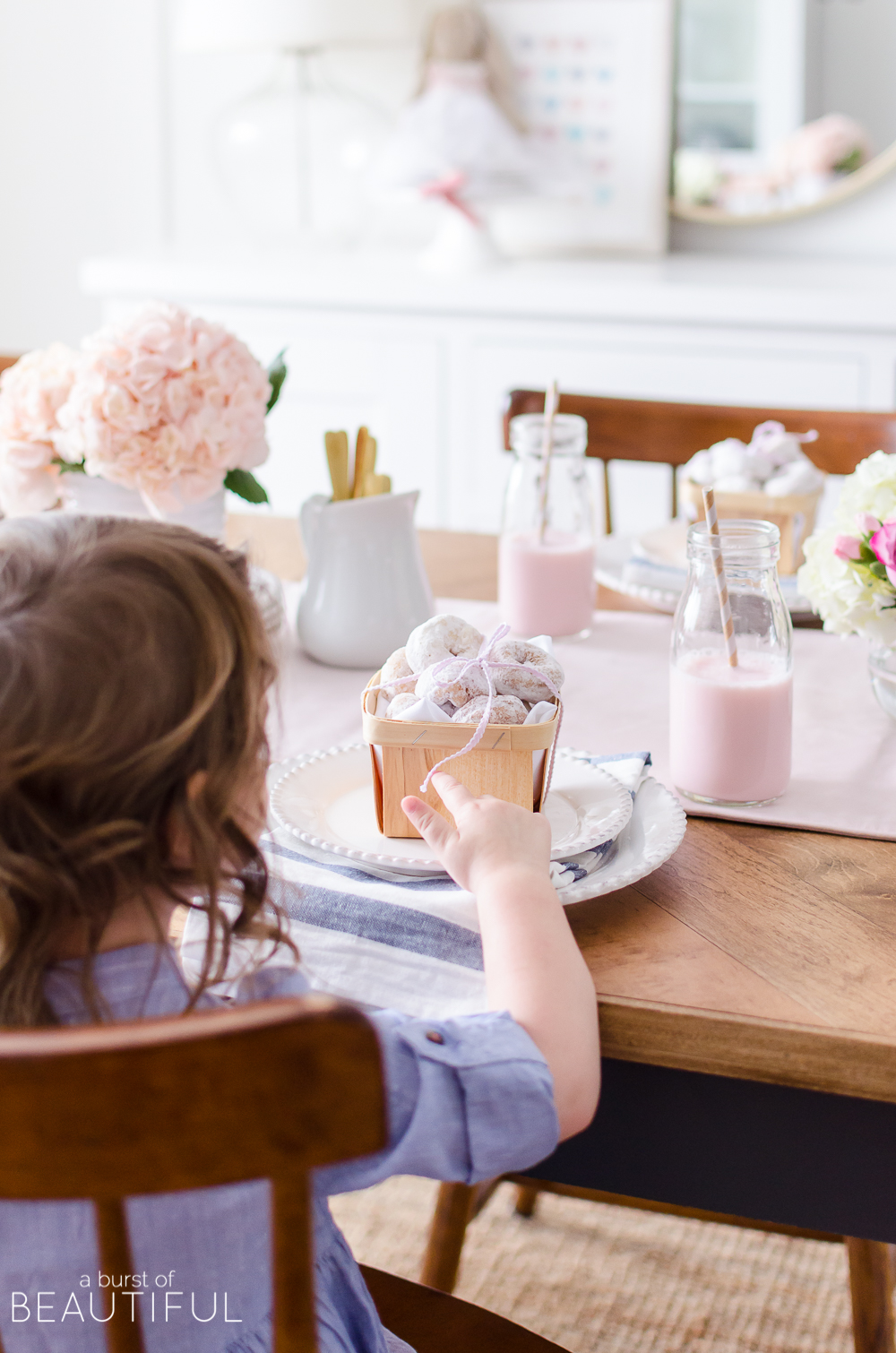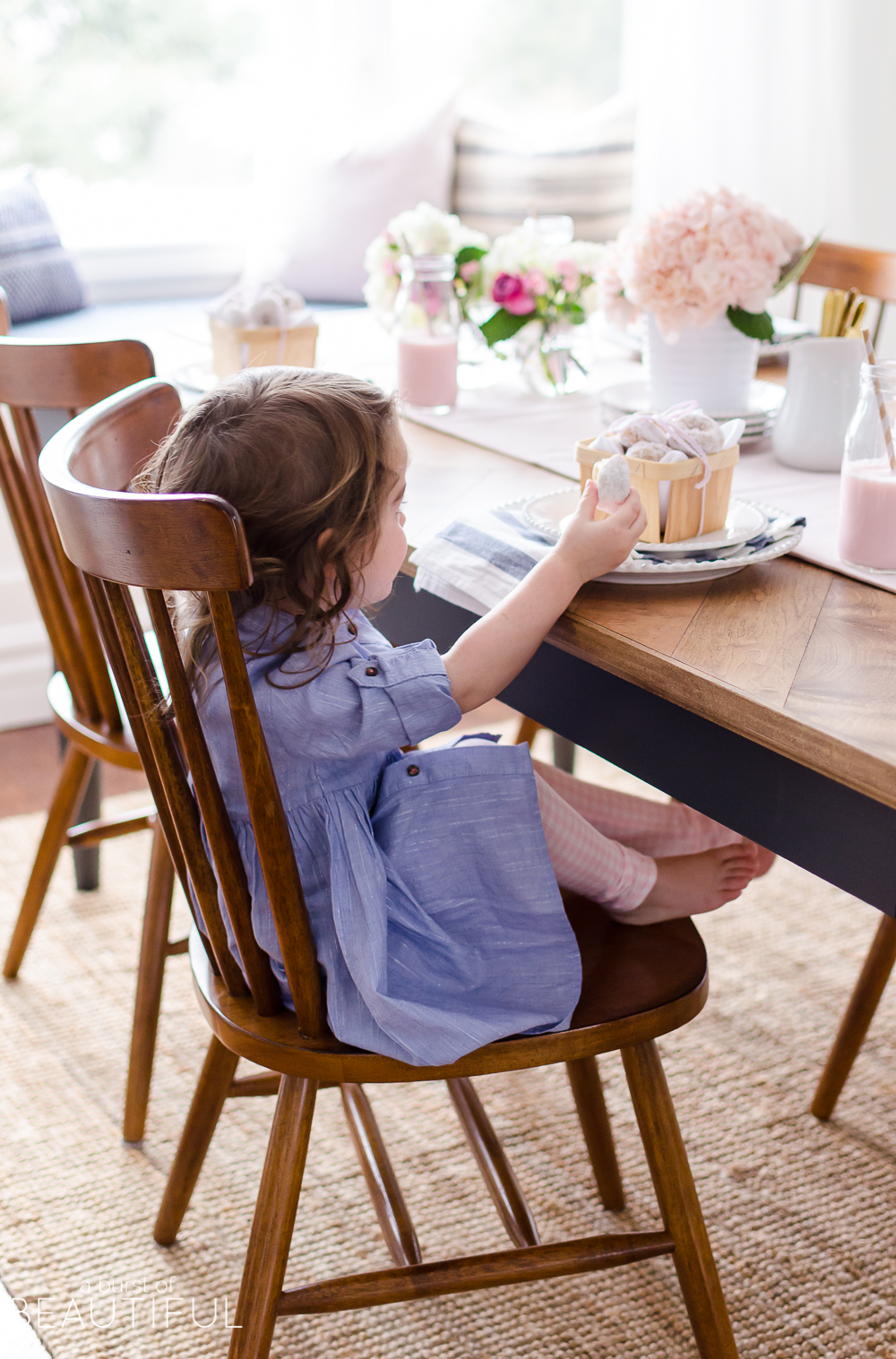 This was such an easy table to set, but I think it's so beautiful in its simplicity. It is effortless and inexpensive, which makes it perfect for any kid-friendly Valentine's Day party.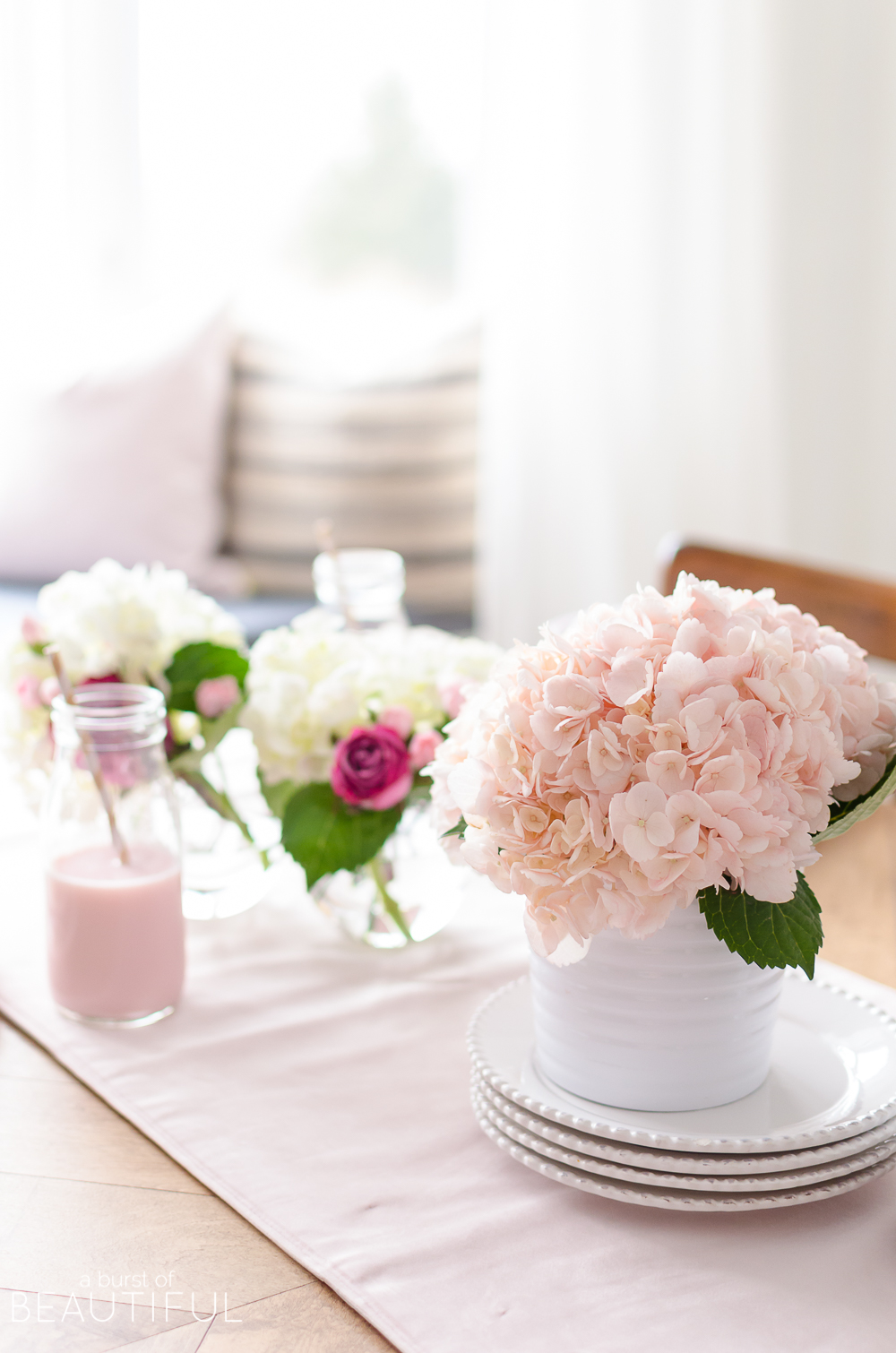 For the centerpiece, I used three pale pink hydrangeas placed in a small white pot and stacked it on a few plates to give it a little bit of height. I accentuated it with four small arrangements, made up of a white hydrangea, a pink rose, and a few carnations buds. I actually used stemless wine glasses as the vases for these, but any small glass vase would do the trick. Flower arrangements don't have to be grand (and expensive) to make a statement, small clusters of inexpensive flowers can have just as much impact.
A small white pitcher also in the center holds a few pieces of gold flatware.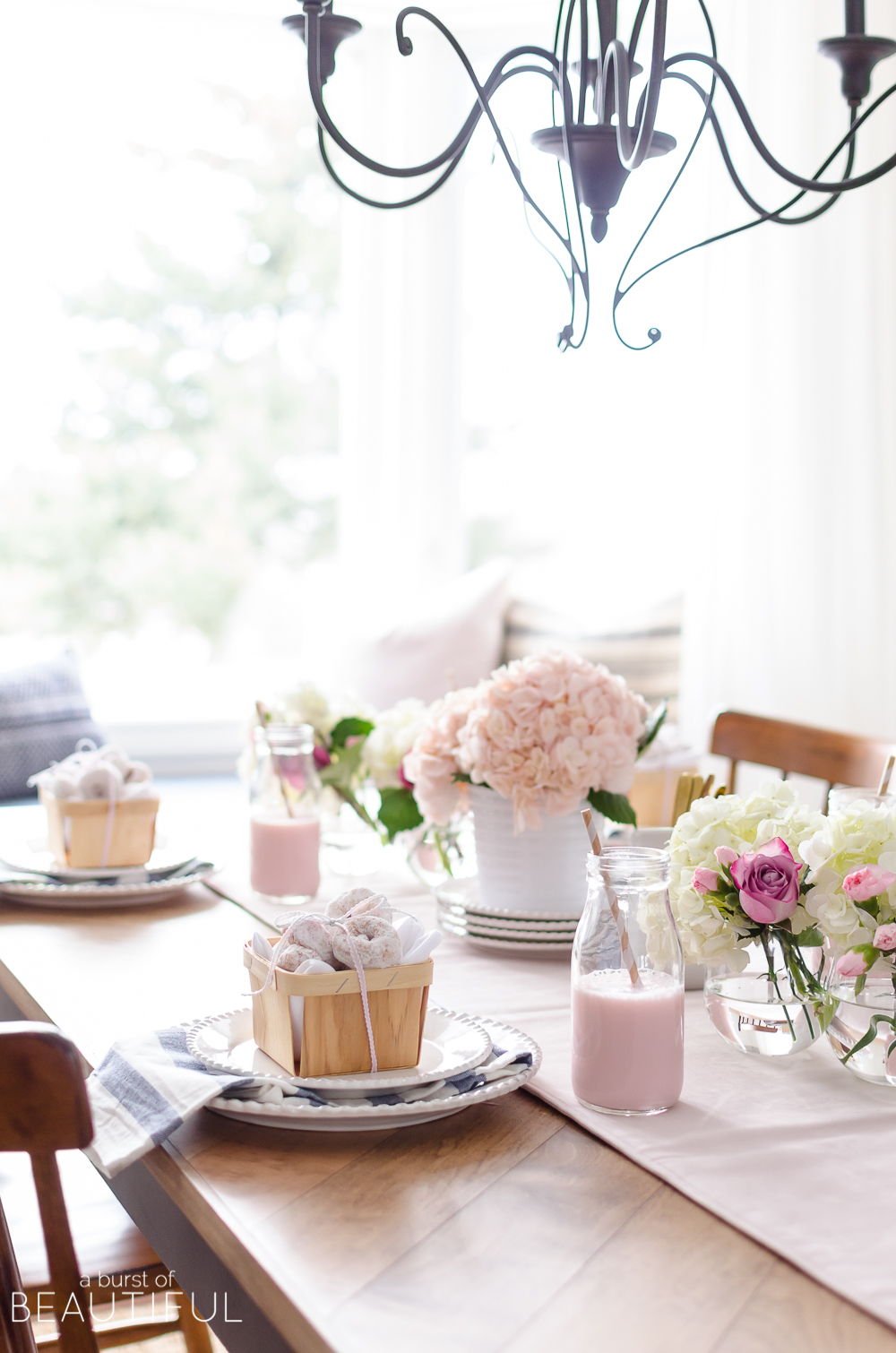 Each place setting is simple and informal. I used our everyday dishes and placed a blue and white striped kitchen towel in between the plates to use as napkins. Kids can get messy and in my opinion, the bigger the napkin the better.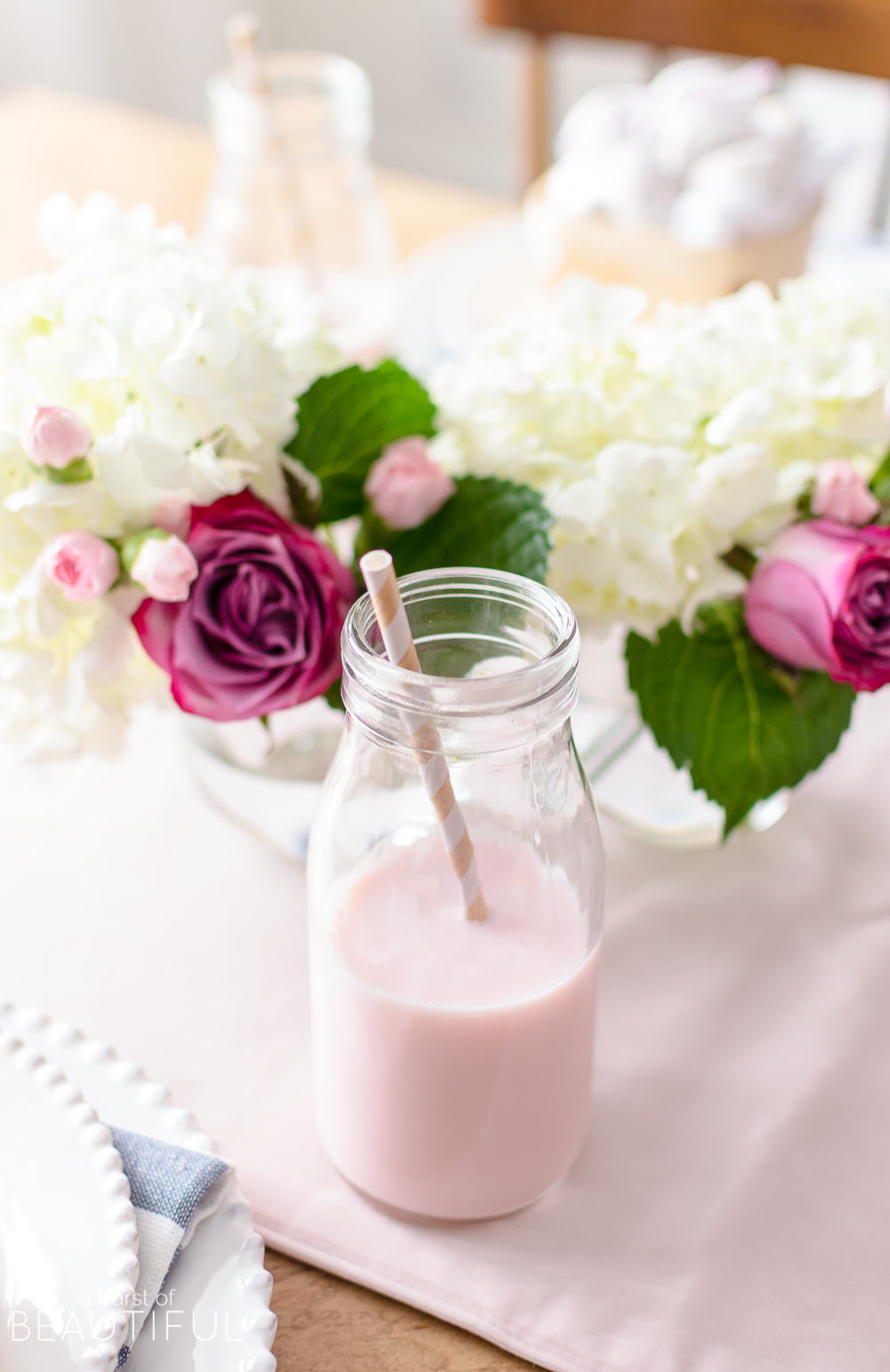 Instead of glasses, I used vintage-inspired milk bottles and paper straws. I thought it was a fun element to incorporate, and what kid doesn't love using a straw? To stick with our pink Valentine's Day palette I used strawberry milk. We've never had it before, but Zoe thought it was the best thing she's tried in a long time.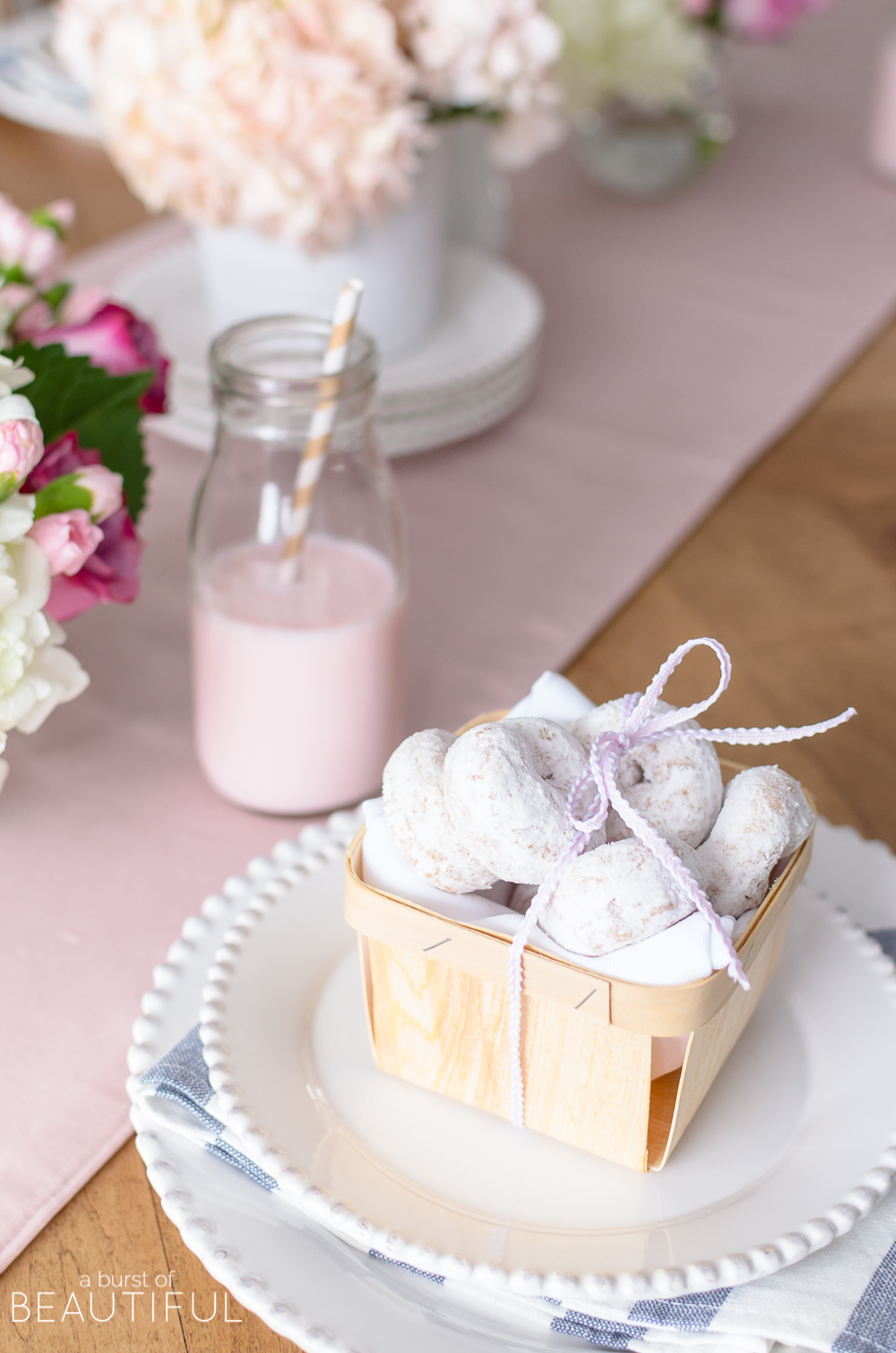 On top of each plate, I placed a wood berry basket filled with mini powdered donuts and tied it with a dainty pink ribbon. Now, giving each kid at your party a basket full of sugar is probably not what you'll want to do, but I thought if you wrapped it in cellophane (and then tied it with ribbon) it would make a sweet party favour to take home. Or you can make these little gift bags for another fun party favour idea.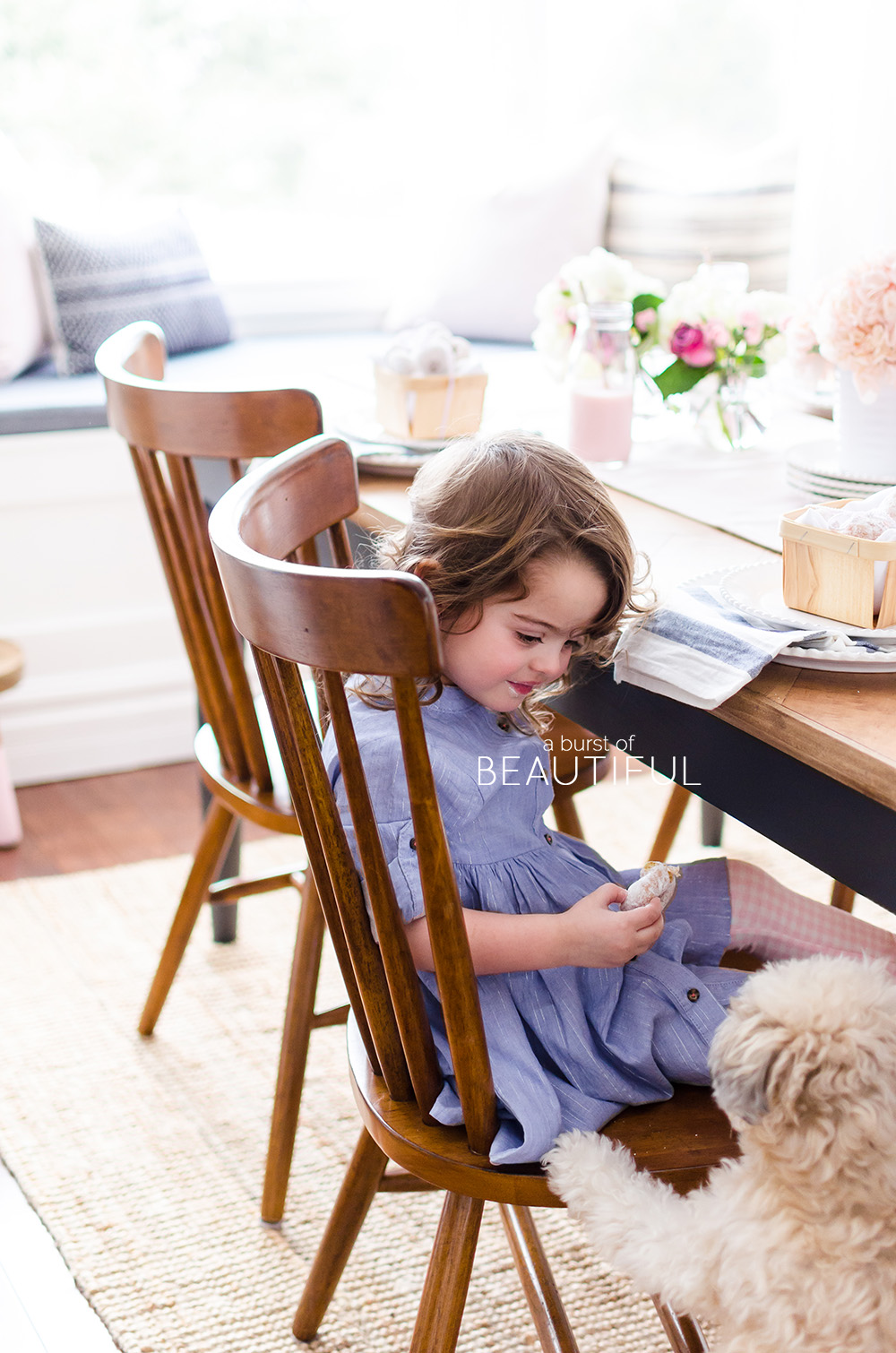 But as you can see our little one dug right in and shared a few bites with her furry friend.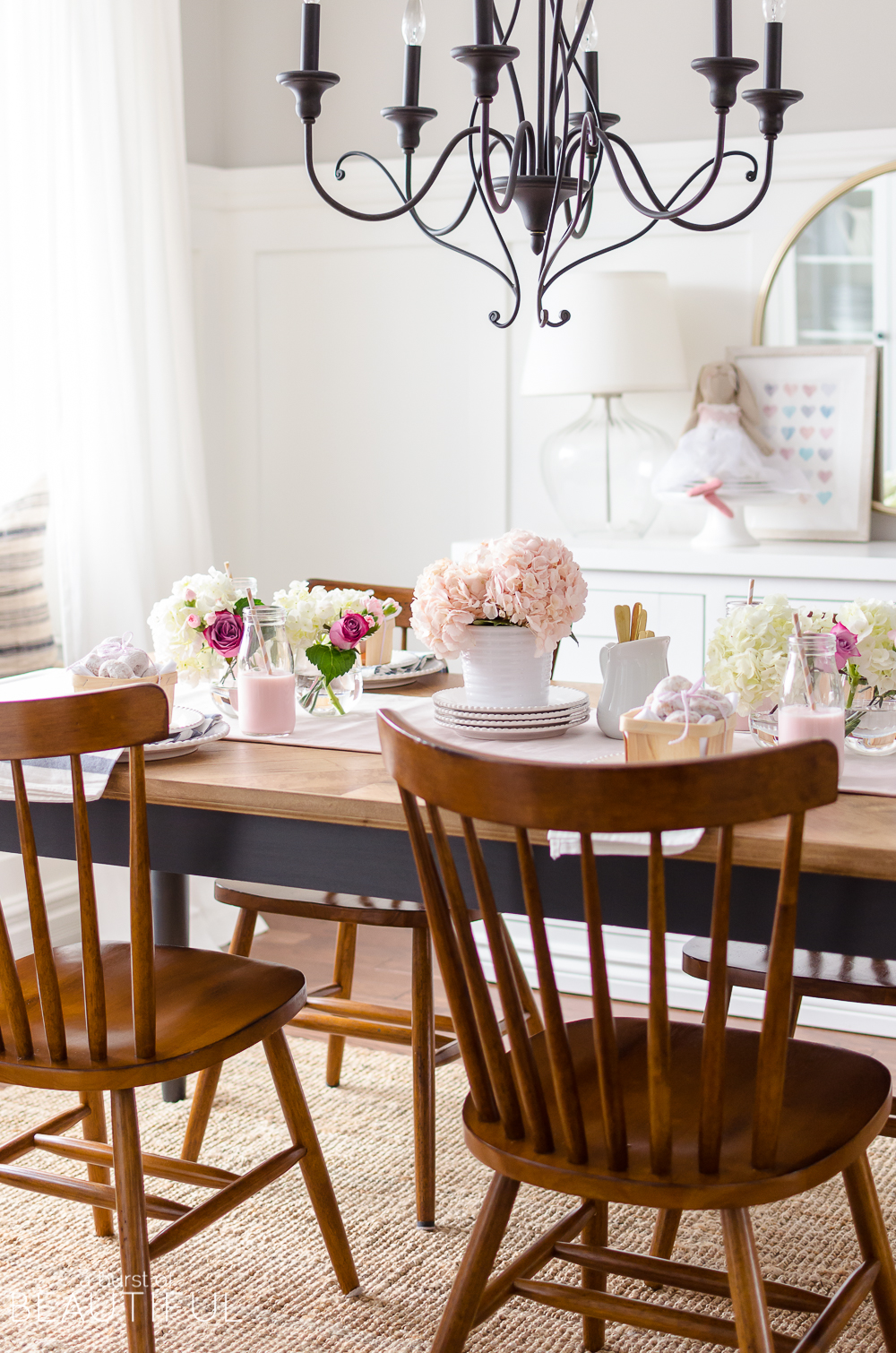 I also placed a piece of art and a little bunny from Zoe's bedroom on the sideboard, a simple touch that added a fun and youthful element.
And that's all it took to plan this simple, but sweet Valentine's Day party. My best advice when planning a party for your little ones is to keep it simple. Don't overdo it with elaborate decorations or food, they are there for the fun and the memories and want you to be a part of it too (not running around trying to make sure every detail is perfect). Enjoy yourself and enjoy making those memories you'll cherish for a lifetime.
If you're in the mood to celebrate Valentine's Day, make sure you check out our grown-up tablescape I set, it would be the perfect way to enjoy a romantic dinner with your partner or a weekend brunch with your girlfriends.