Take a look back as we share our most popular posts of 2017.
Good morning friends, I hope you all had a beautiful holiday season filled with laughter, love, and family! Although our Christmas was a whirlwind of celebrations we really made an effort to take in every moment and truly savor the season. And as much as I have loved spending quiet days with my little family, I am looking forward to settling into a routine again and embracing the new year ahead.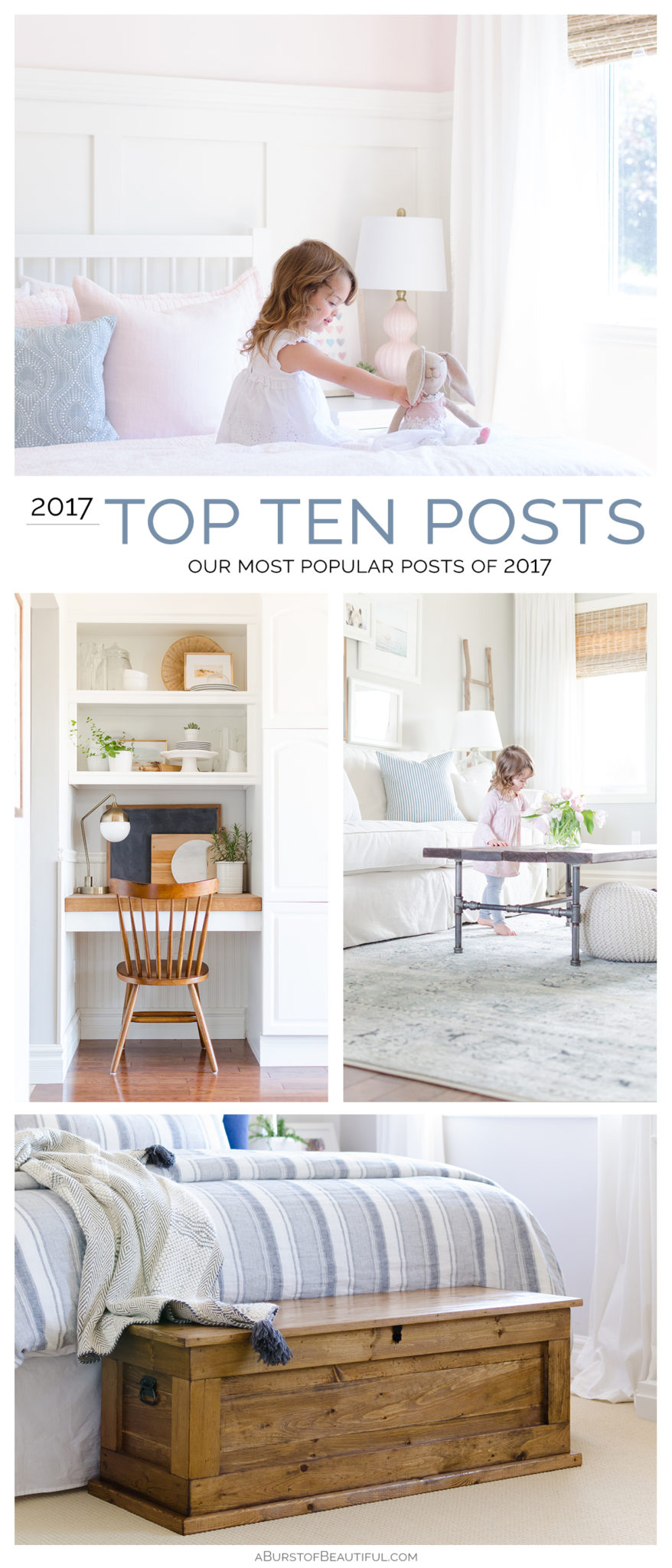 As with every year that passes, I always like to take a little bit of time to reflect on our successes and achievements, as well as those things that didn't go quite according to plan. Setting aside some time, whether a few quiet minutes or dedicated hour, to evaluate the past year is so beneficial to our growth, both personally and professionally. It's something I would encourage everyone to try.
And it's why I love this annual series, hosted by my friend Cami of Tidbits, so much. I get to take a look back at our most popular posts from 2017 and share a little bit more about what made them so special. And if you're interested what was popular last year, you can catch Our Top 10 Posts of 2016 here.
So let's get started…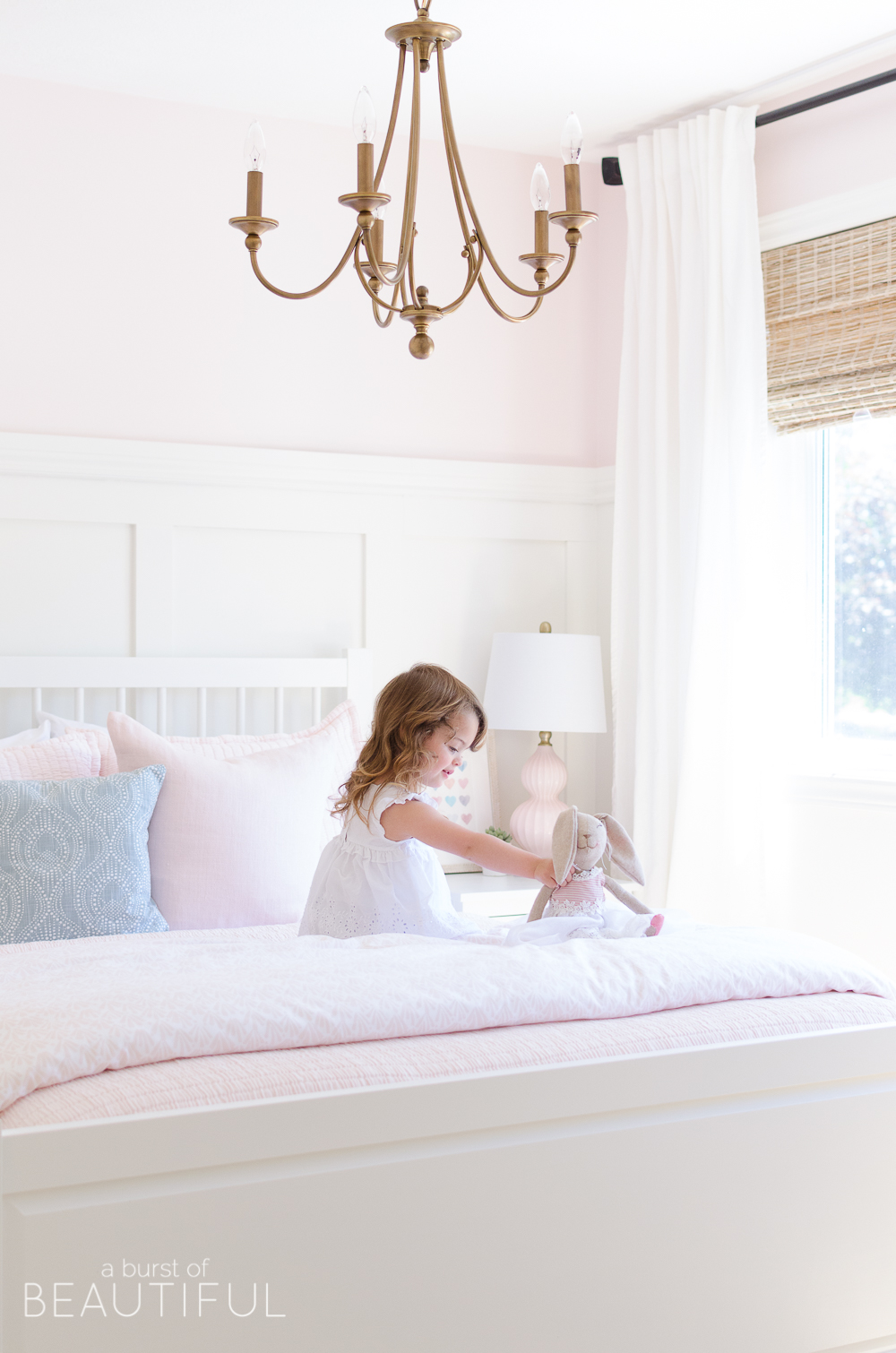 It comes as no surprise to me that our daughter's bedroom reveal was our #1 performing post because it is definitely my favorite too! We created this sweet little space for our daughter once she outgrew her gender neutral nursery, and it has been a favorite spot in our home ever since. My favorite thing about her bedroom is that she had the final say in most of the pieces that went into creating this space, including the wall color and art. I think letting our little ones' personalities and character shine through is so important when it comes to designing a room that they feel happy and comfortable in.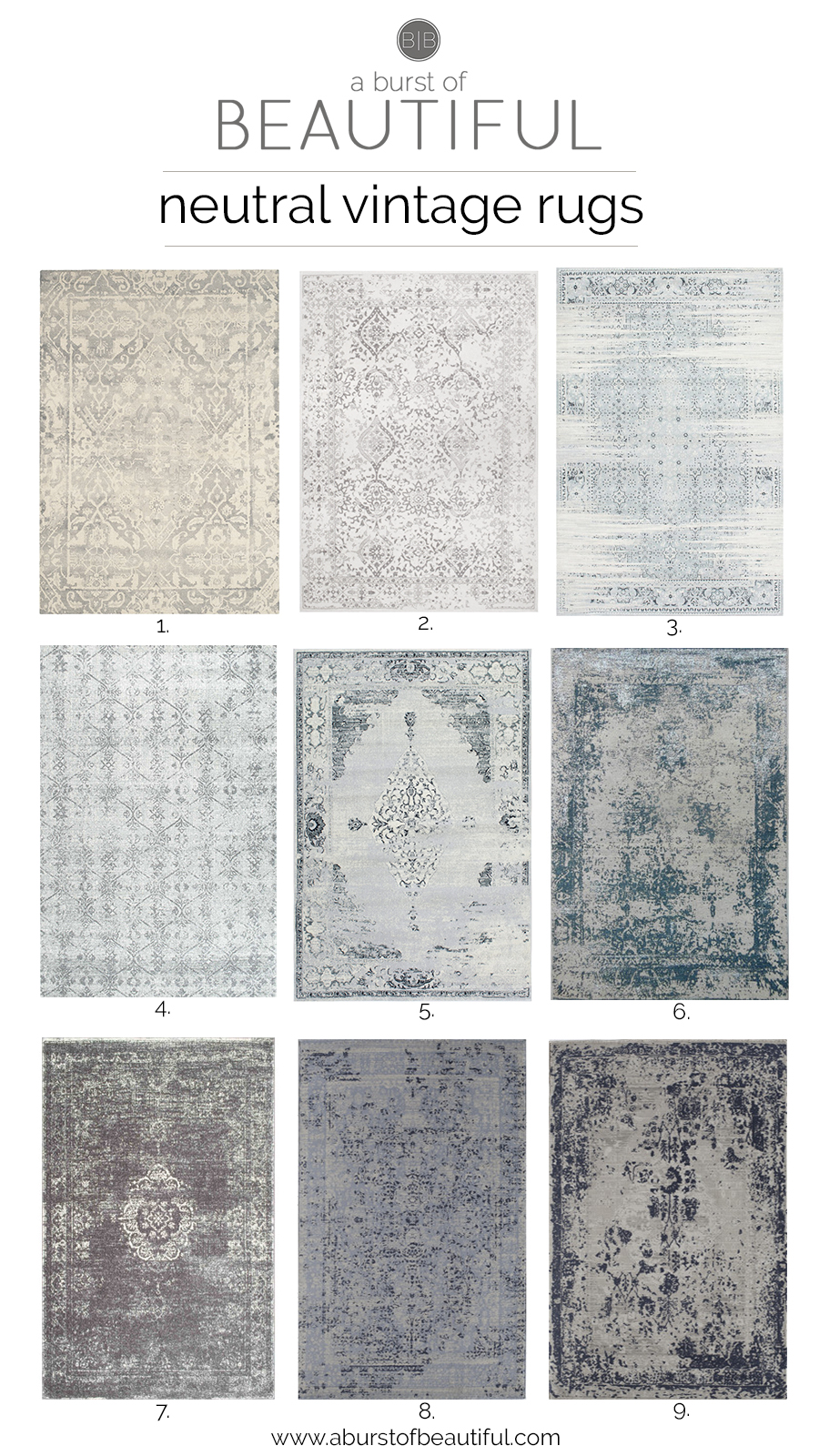 I was actually a little bit surprised that this post was our second most popular of 2017, only because it is a simple round-up post. Earlier this year I shared my thought process as I chose a new rug for our living room, it was long overdue, but something was holding me back (you can read the whole story here). When making a design decision, whether big or small, I always find it helpful to lay out all of my choices. Once I have them in front of me, I find it so much easier to make that final choice, and I have to say once our new rug arrived I was completely in love.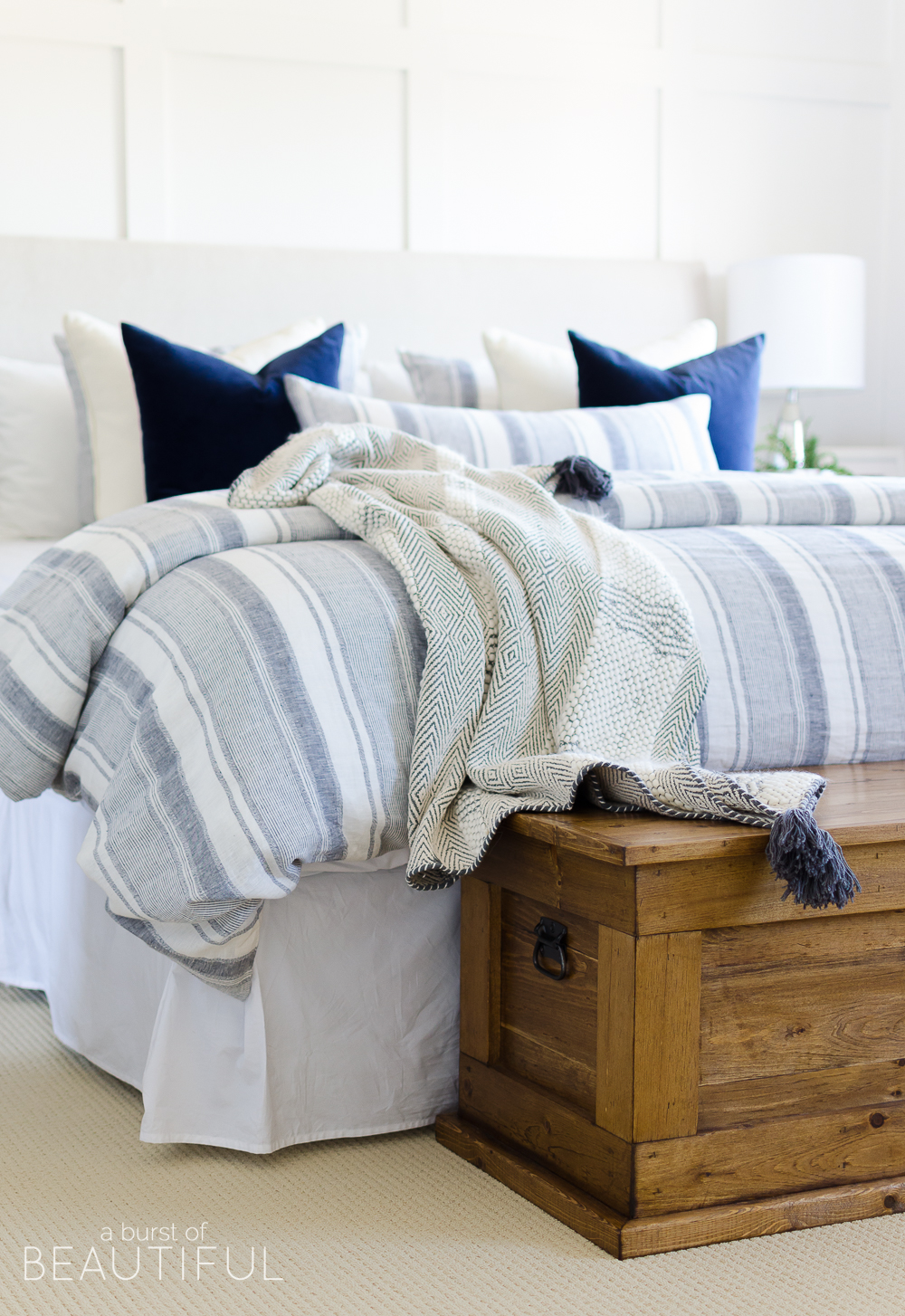 The next four posts are all thanks to my talented hubby, Nick (you can check out his blog here) and his ability to build me anything I ask for. 😉 But in all seriousness, his newfound talent and love for building and carpentry is inspiring, he is completely self-taught and I love watching him pursue his passions. Our home isn't particularly big, so we are always looking for ways to maximize our storage space, and this DIY Blanket Storage Chest came about when the need for more storage arose (as it does about every 6 months!). It's one of my favorite pieces he has built so far, I love its worn-in quality and I think it could pass for a piece that has been handed down from generation to generation, don't you think?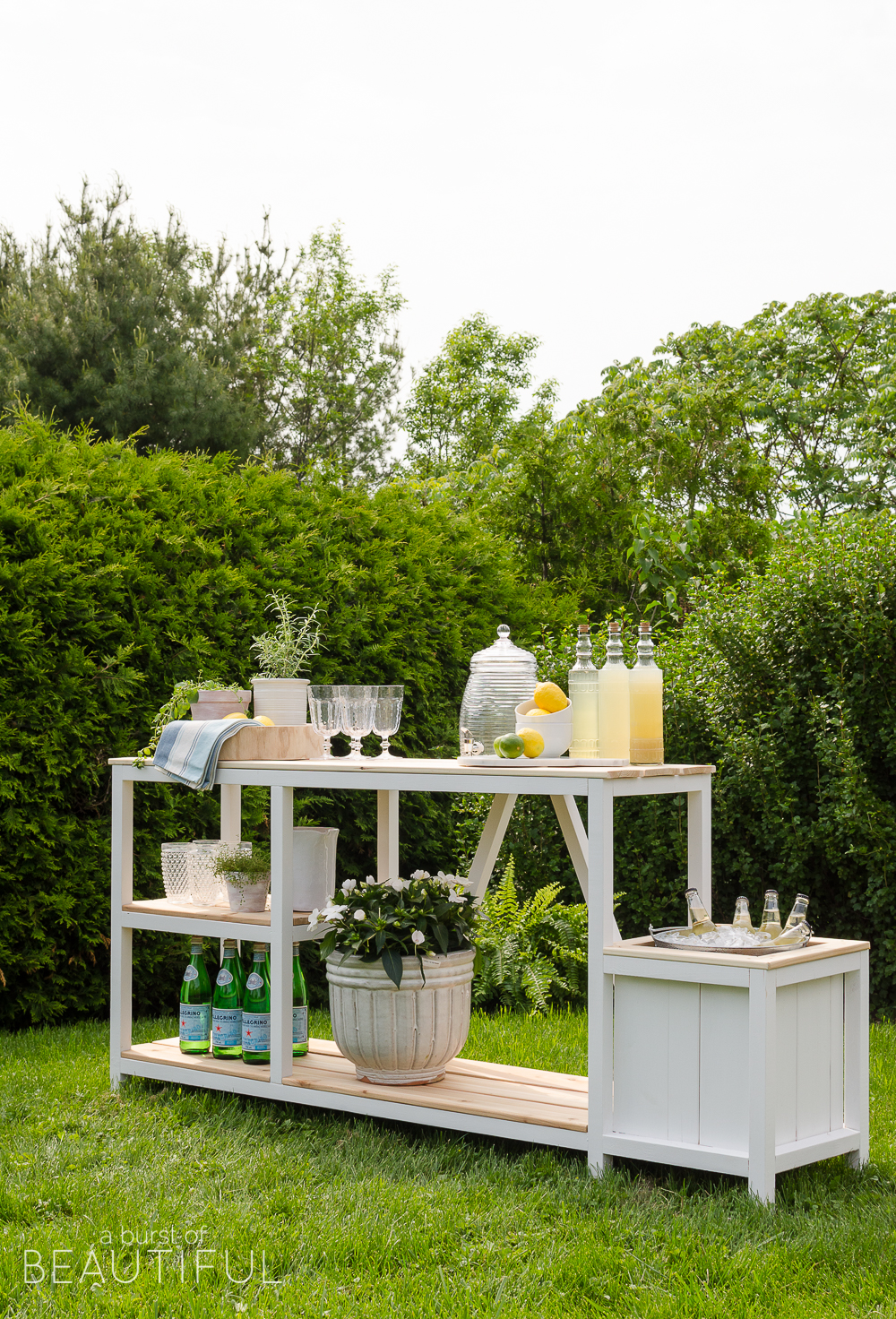 Another popular build from Nick, and just like all of the pieces we share, you can find the free plans here. This was a fun project to design and build, I think we all love summer entertaining, and having a dedicated bar cart makes it so much easier. What I loved most about this piece is it's versatility, if you don't do much entertaining, you can always use it as a potting bench for gardening or a BBQ prep station.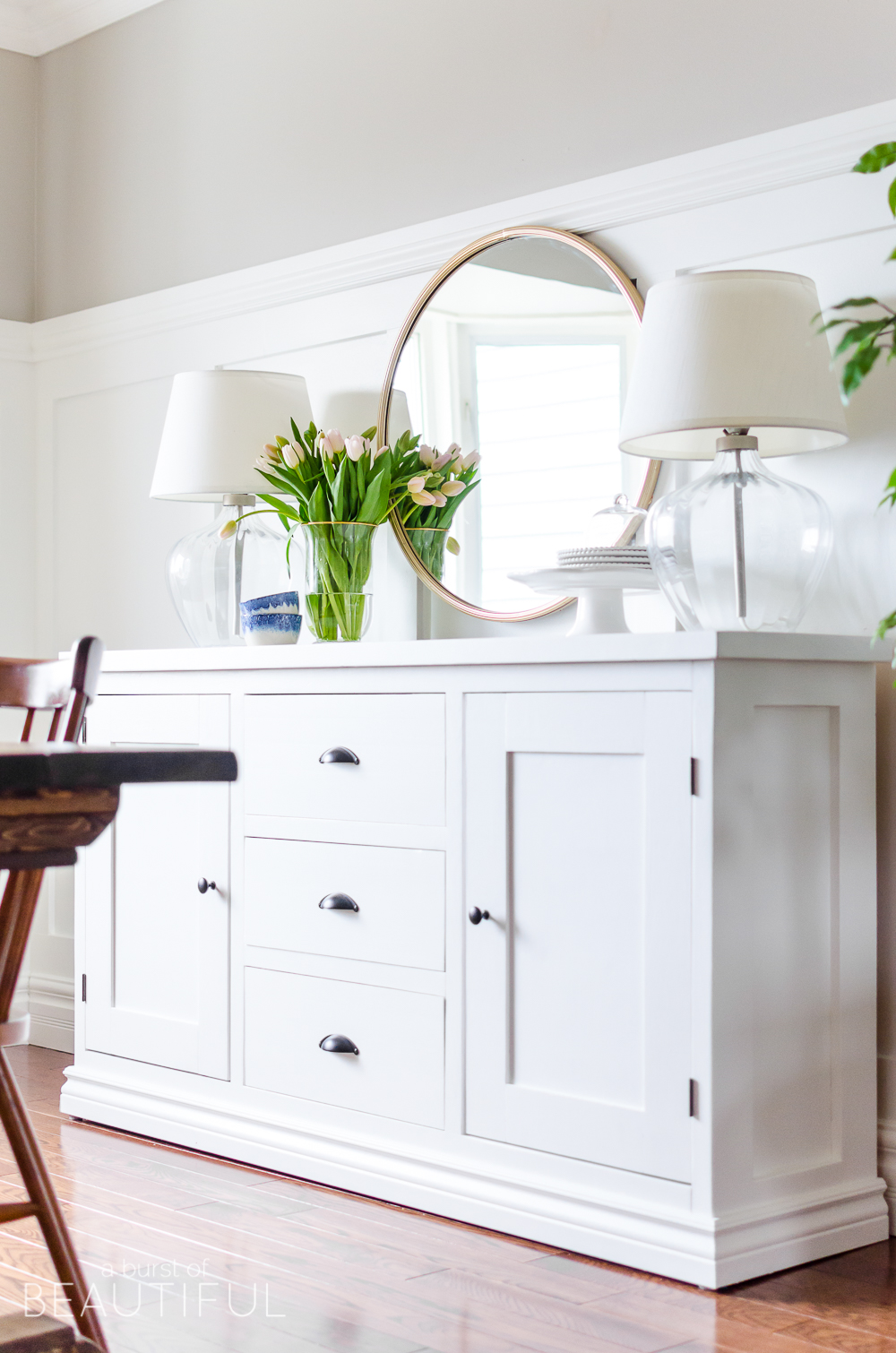 I think I say this about all of Nick's builds, but this is another favorite of mine. We had searched high and low for the perfect sideboard for our dining room, and one that was within our budget. But we came up empty-handed…that was until Nick decided he could build us one. This Modern Farmhouse Sideboard was his first big furniture build and he did such an incredible job. It's classic and timeless and a piece I know we will have for a long time to come.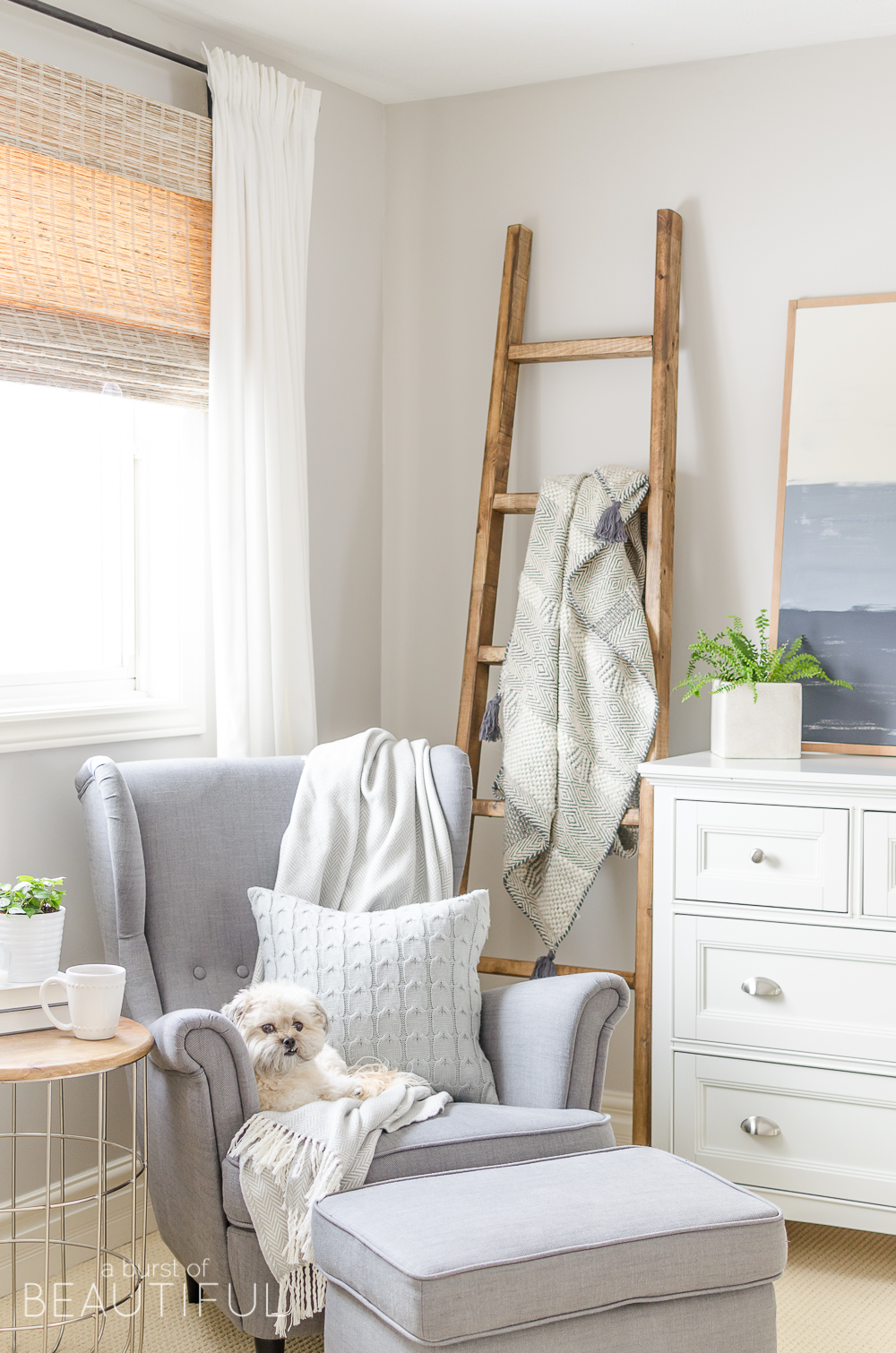 Well, it's safe to say you guys love Nick's projects! This DIY Blanket Ladder was a simple build, but the angled aspect gives it a bit of uniqueness.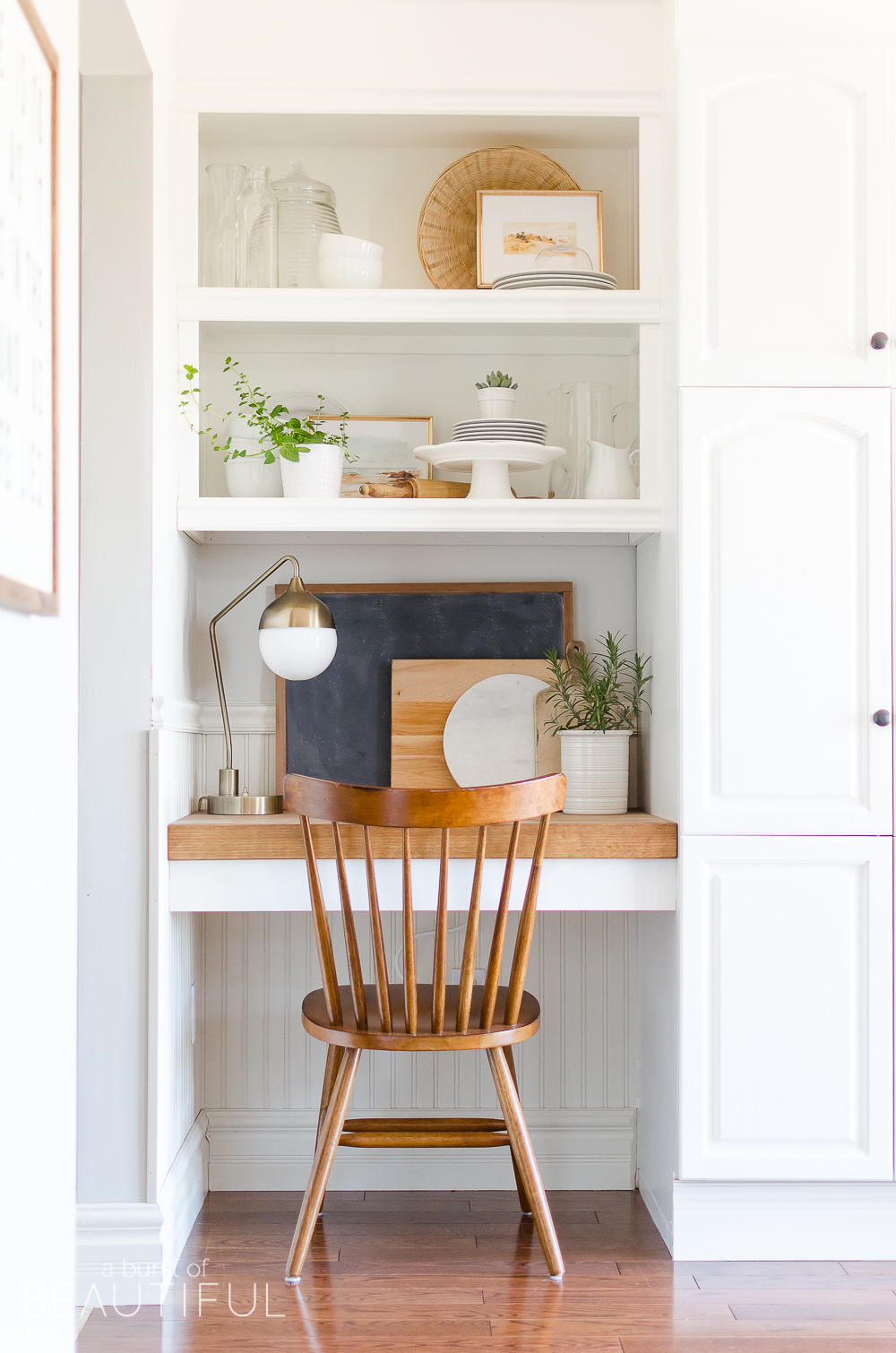 Sharing our home tours each season are always some of my favorite posts. It's refreshing to breath new life into each room as the season's change and our style and needs evolve. This particular tour left me feeling revitalized and happy and I think it's these shelves that made this post so popular (they were repinned a lot on Pinterest). I kept them feeling streamlined and simple to match our easygoing frame of mind during the summer months. But regardless of the season, our kitchen is a favorite space of mine and I love how bright and welcoming it feels.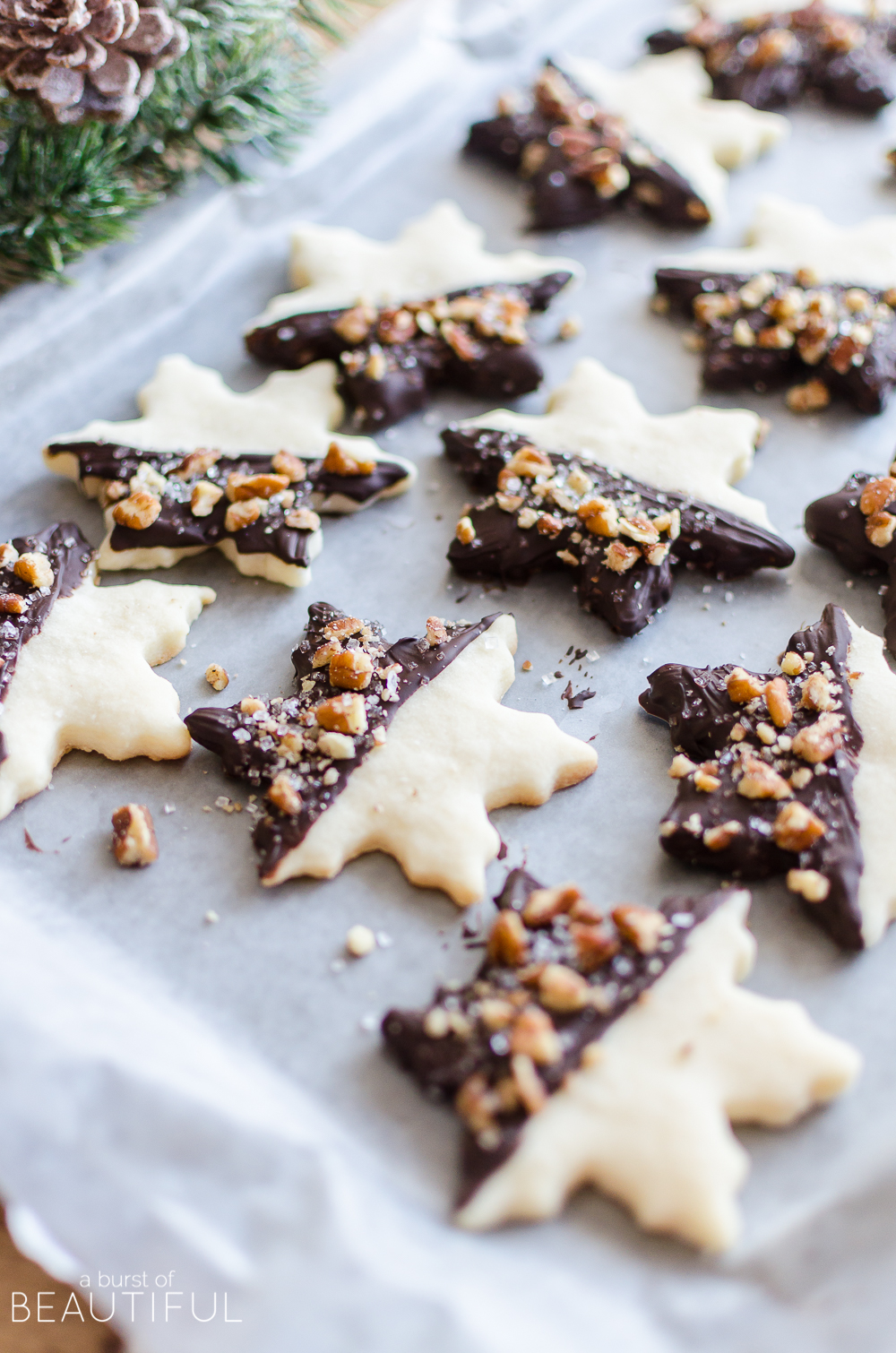 Here is a recipe we shared during the holidays, and it turned out to be one of your favorite posts! Shortbread is a must-have treat in our home during the holidays. But this year we put a bit of a twist on our favorite cookie, dipping it in chocolate and sprinkling it with pecans. We're glad it was a hit!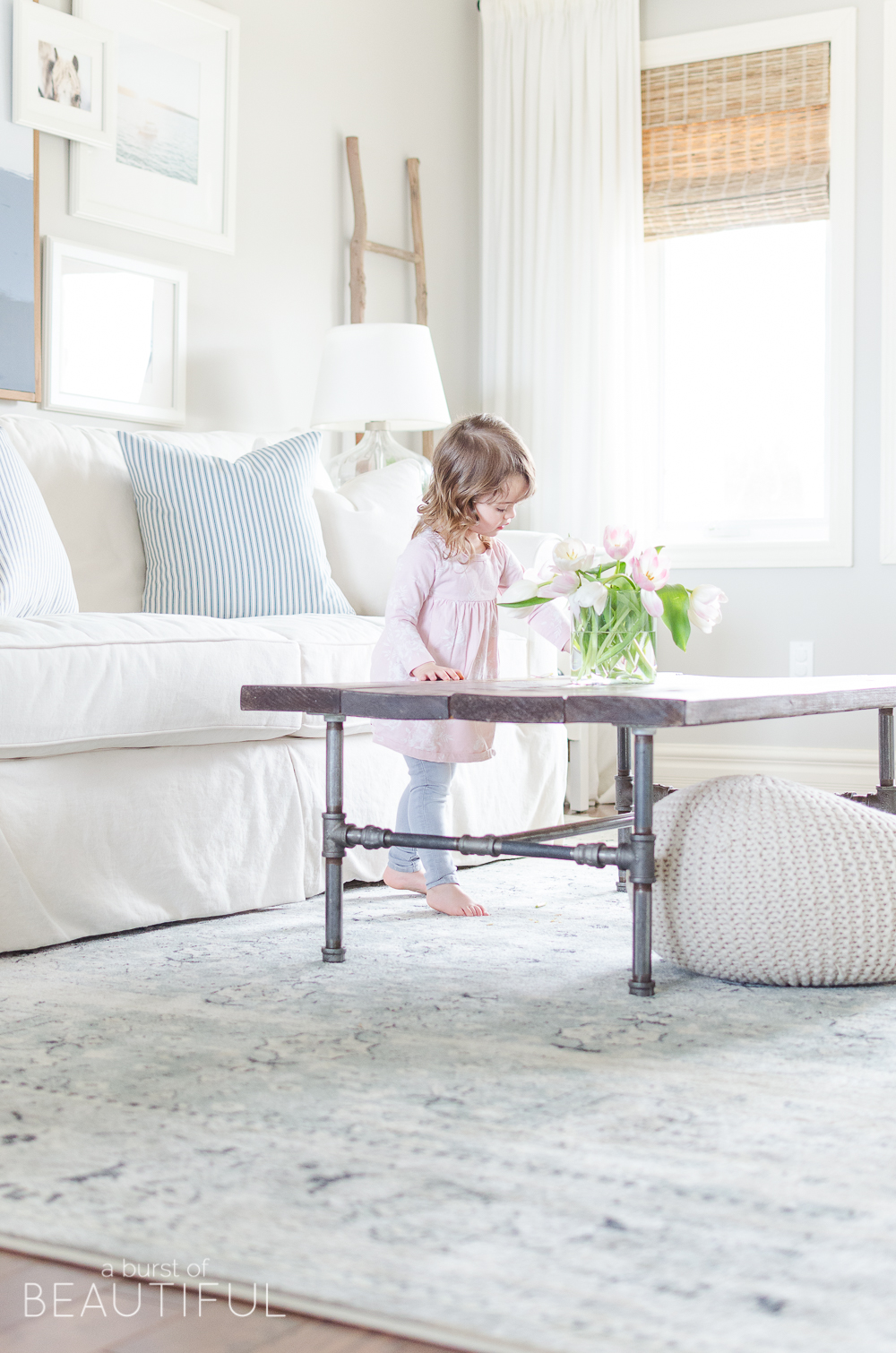 Remember our second most popular post, the one where I shared my favorite neutral vintage wash rugs? Well, once we chose our new rug, it easily became one of your favorites too! I truly cannot believe I was so nervous to add some color and pattern to our living room, but I can tell you I will never be afraid again. I have a newfound love for rugs and the extra dimension they can bring to a space. This year I'm hoping to add a few more to our home. 😉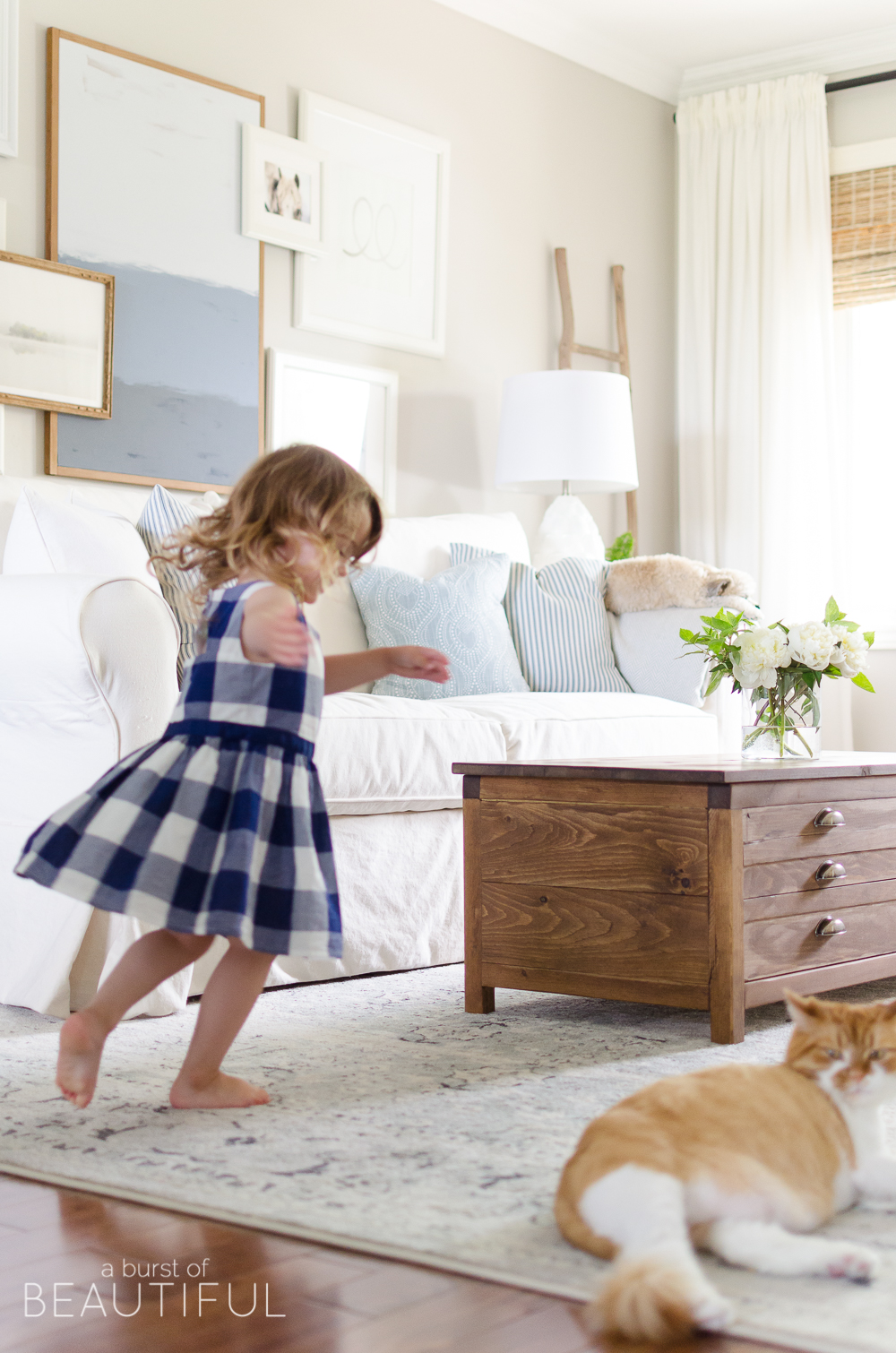 Another summer home tour to share, you must all love summer as much as we do. And I can't say I blame you. There is just something so wonderful about those long and lazy summer days that keep us wanting more and more. In this tour, I shared our living room and dining room pared down for the summer months. A few simple touches, like fresh hydrangeas, new pillows in shades of soft blue and of course, lots of plants lend our home a fresh and inviting summer feel.
Well, I hope you enjoyed this little look back over 2017, I know I sure did…it was a bit like a trip down memory lane. And although 2017 brought us some wonderful memories, we are looking forward to forging ahead and can't wait to see what 2018 has in store for us.
Alicia xo
TIDBITS | Finding Silver Pennies | Stacy Risenmay | Julie Blanner | Live Laugh Rowe
Maison De Pax | House by Hoff | Town and Country Living | Summer Adams | Unskinny Boppy
Zevy Joy | Decor Gold Designs | A Burst of Beautiful | Shabbyfufu | Seeking Lavendar Lane
Nina Hendrick Design Co. | Shades of Blue Interiors | Bless'er House | ZDesign at Home | Life on Virginia Street
The Wicker House | Cherished Bliss | Nesting with Grace | Place of my Taste | Simply Designing
AKA Design | Rooms FOR Rent | So Much Better with Age | French Country Cottage | Thistlewood Farms
Designthusiasm | Love Grows Wild | The Happy Housie