You don't need a lot of space to create a functional home office. This DIY built-in office nook provides the perfect space for an office, homework zone or studio.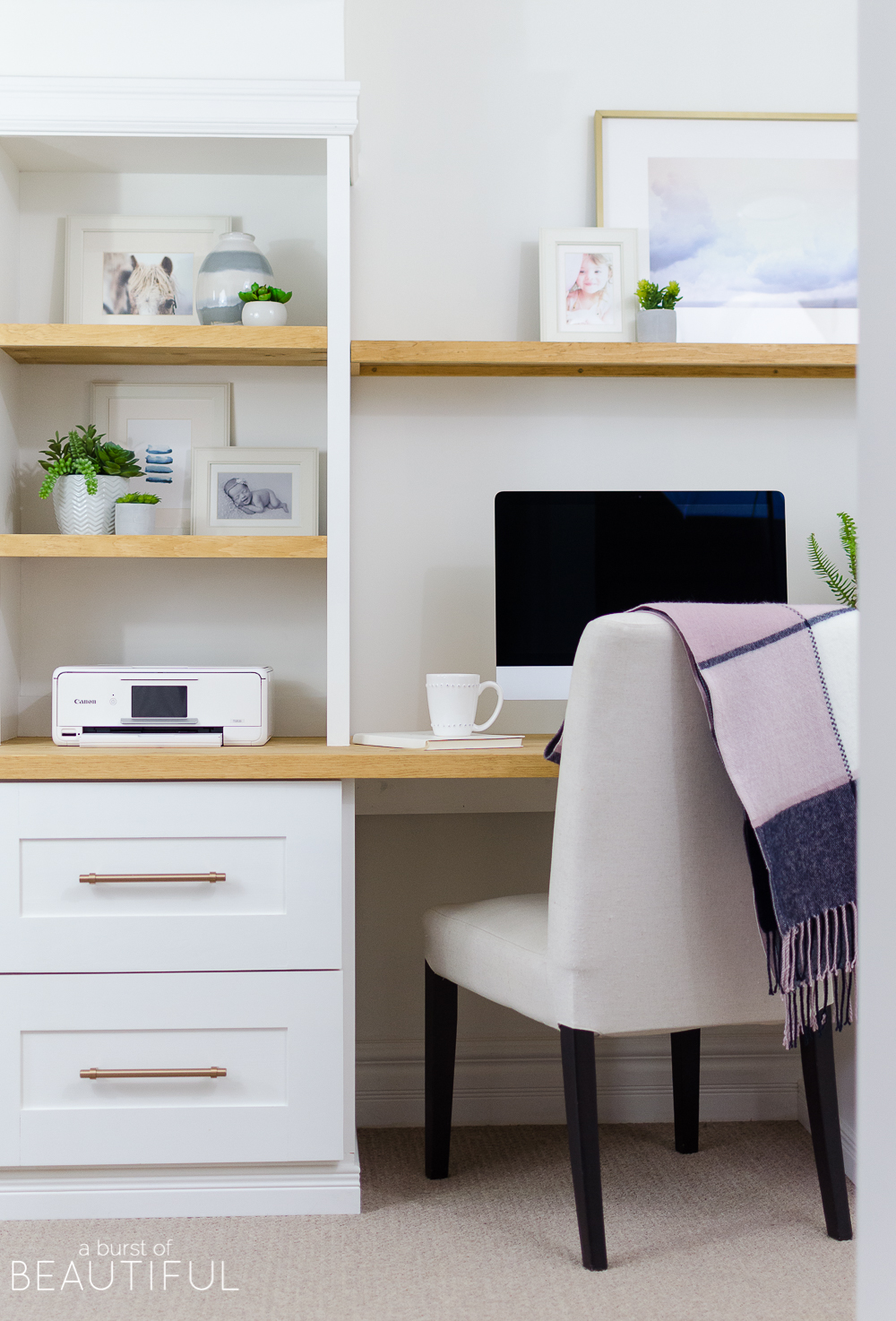 This post was sponsored by Kreg. All opinions and thoughts are my own, see our full disclosure policy

here

.
Good morning friends, I'm so excited to share a little peek at the work we have started in our basement. At the beginning of the year, I talked a bit about our home and how it functions (or doesn't function) for us. One of the big struggles we have is not having a dedicated office space, which makes working from home a challenge. So it was with thinking about the year ahead and the projects we wanted to complete that we decided to focus our efforts on converting our finished basement from a cold, boring space to one that works hard for our busy family.
We are taking the space from one big open-concept room to a space that functions as a family room, playroom and home office. I've been busy finalizing all of the details to make this a reality and I'm so excited to share more about those plans with you. But today I want to focus on this perfect office nook that Nick (remember you can follow along with Nick's projects on his blog too!) built for me.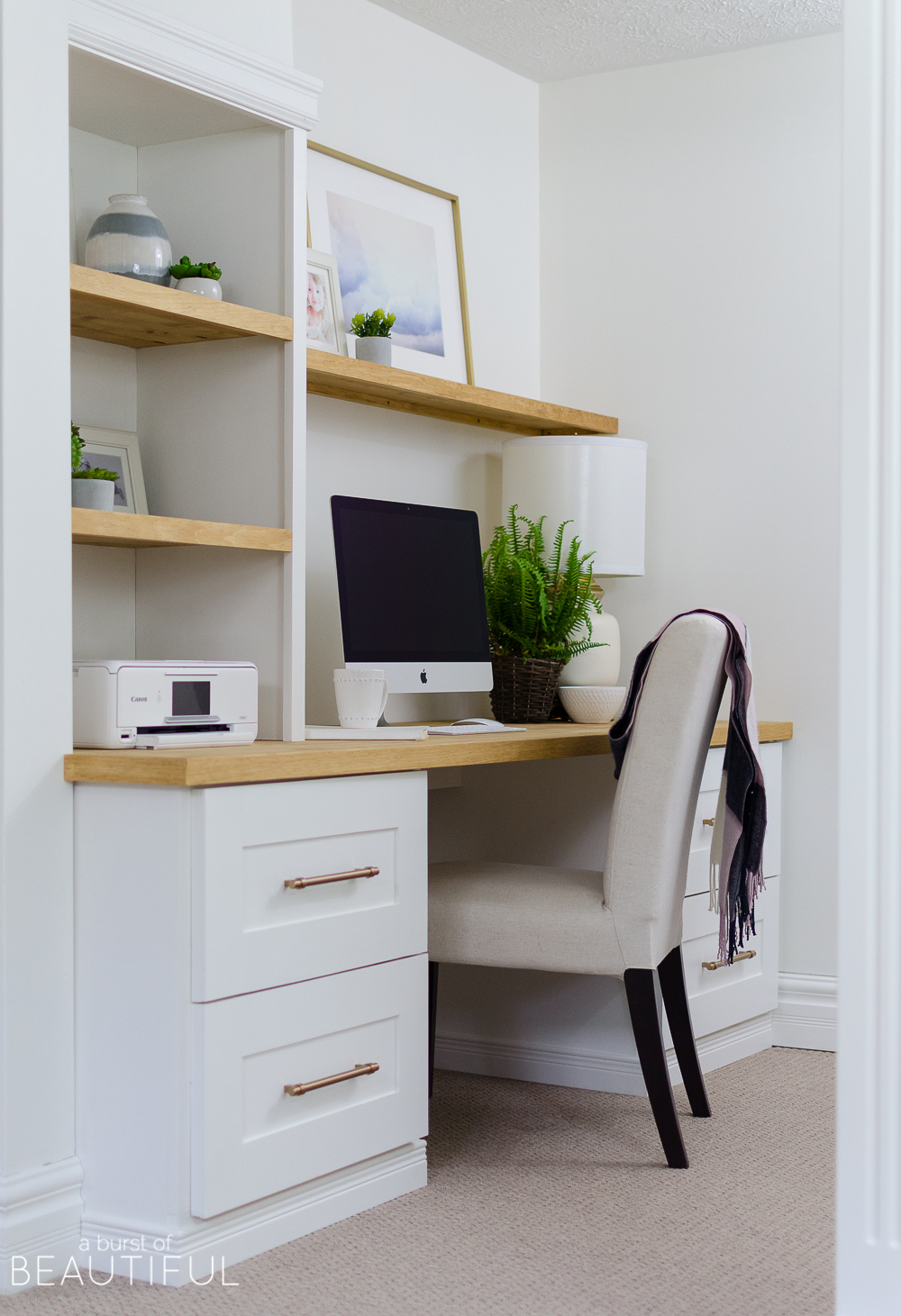 As usual, it started with a vision in my head and Nick brought it to life. Aren't I lucky? 😉
We have this little nook at the bottom of the basement stairs that we knew would be perfect for a small office space. I don't need much room, just a dedicated area for my computer, printer and countless piles of office supplies, notes, and files that I seem to accumulate while working from home. I envisioned a clean modern look. More and more I am feeling pulled towards a change in our design style, and while I still love our modern farmhouse aesthetic, I find I am leaning towards adding in more mid-century modern elements to keep our home feeling fresh and youthful. Do you remember me saying earlier this year that I'm feeling more drawn to clean lean lines and minimalist design? Well, this big renovation is where I really want to test this new style and see how it all comes together in our home.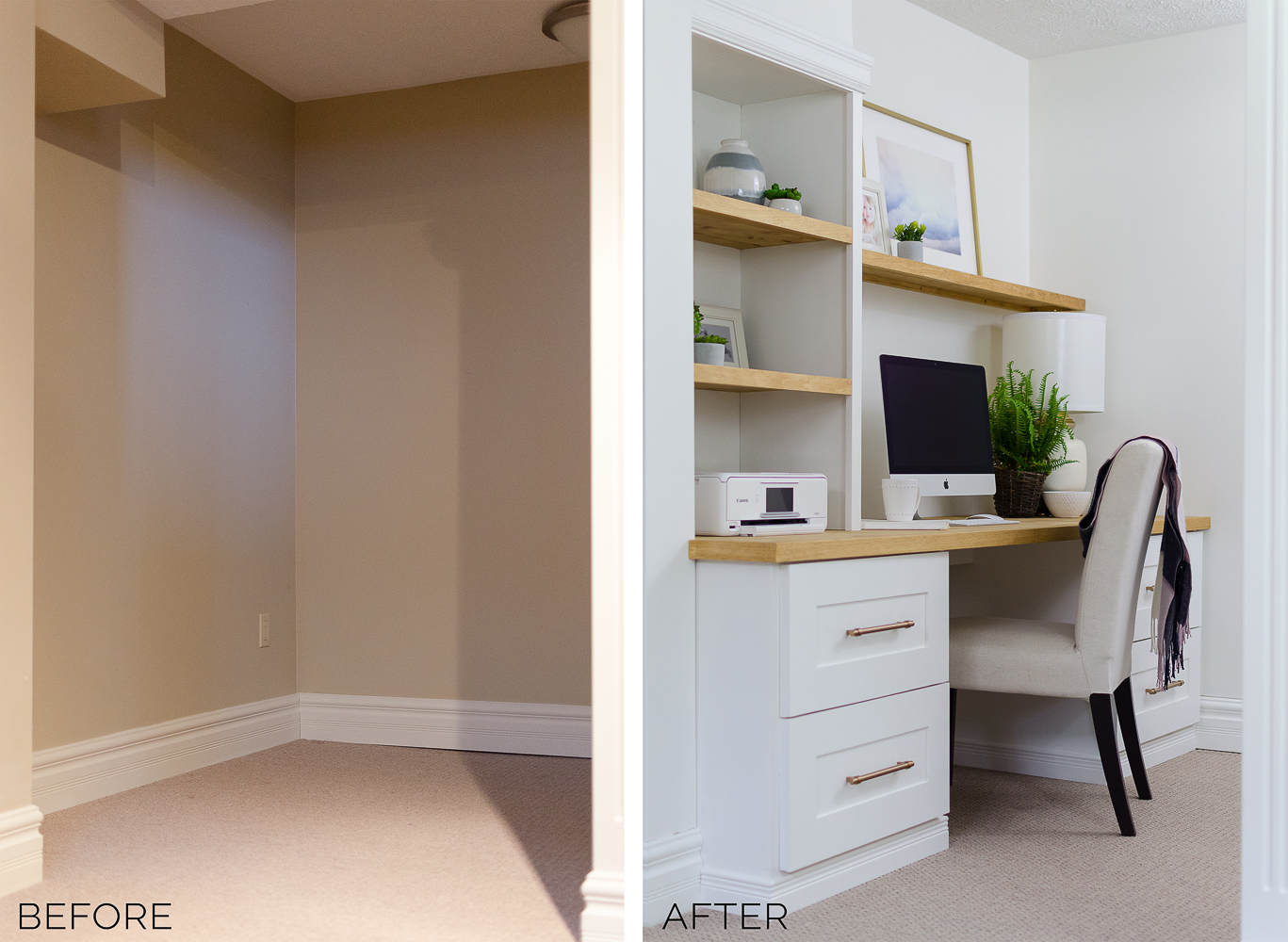 First, we said goodbye to the boring beige walls and painted everything a crisp, bright white. Surprise, surprise, right? I choose my favorite color, Simply White by Benjamin Moore, and I can't believe how much brighter it has made the space.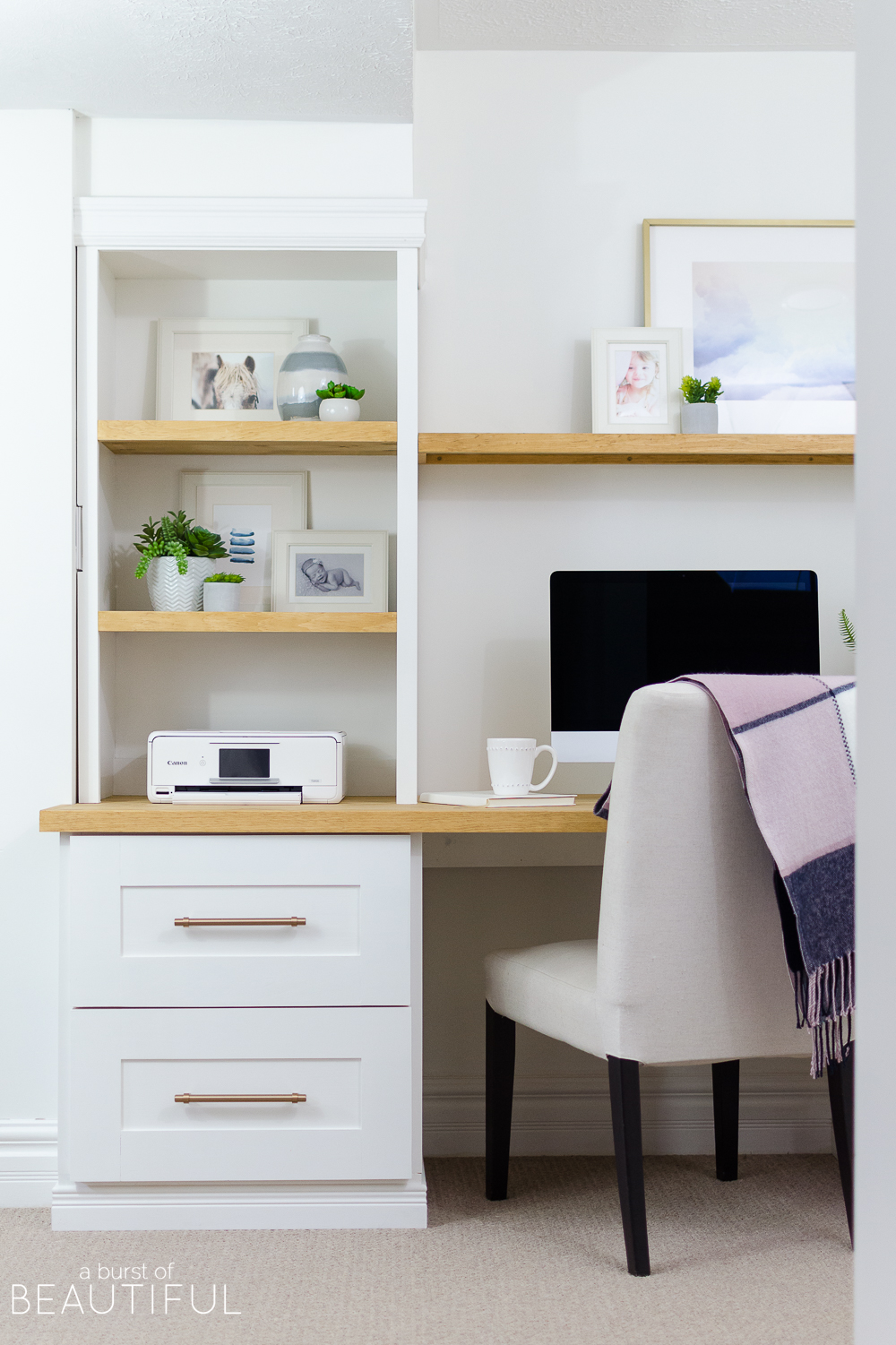 The design of the actual desk took a little bit of creativity. We had an awkward bulkhead I wanted to hide and not emphasize, so we decided to create a shelf unit on the left to conceal it. I think it does a pretty good job, don't you? Basements can be tricky spaces to work with because they often have weird quirks or layouts, but don't feel defeated! With a little bit of creativity and imagination, you can make anything work.
The great thing about the plans for this desk is that they work as a standalone desk as well since the space in your home will not be the same as ours.
I love the look of our floating desks in the kitchen and I wanted to mimic that look down here as well. But I knew we needed storage too, so we added these two sets of drawers on both sides. They are deep, which will give me a lot of room to store files, paperwork and office supplies. I'm so excited to finally have a place to put all of it! It's currently been taking up space in our dining room sideboard because I have been working from the dining room for the past four years – not ideal!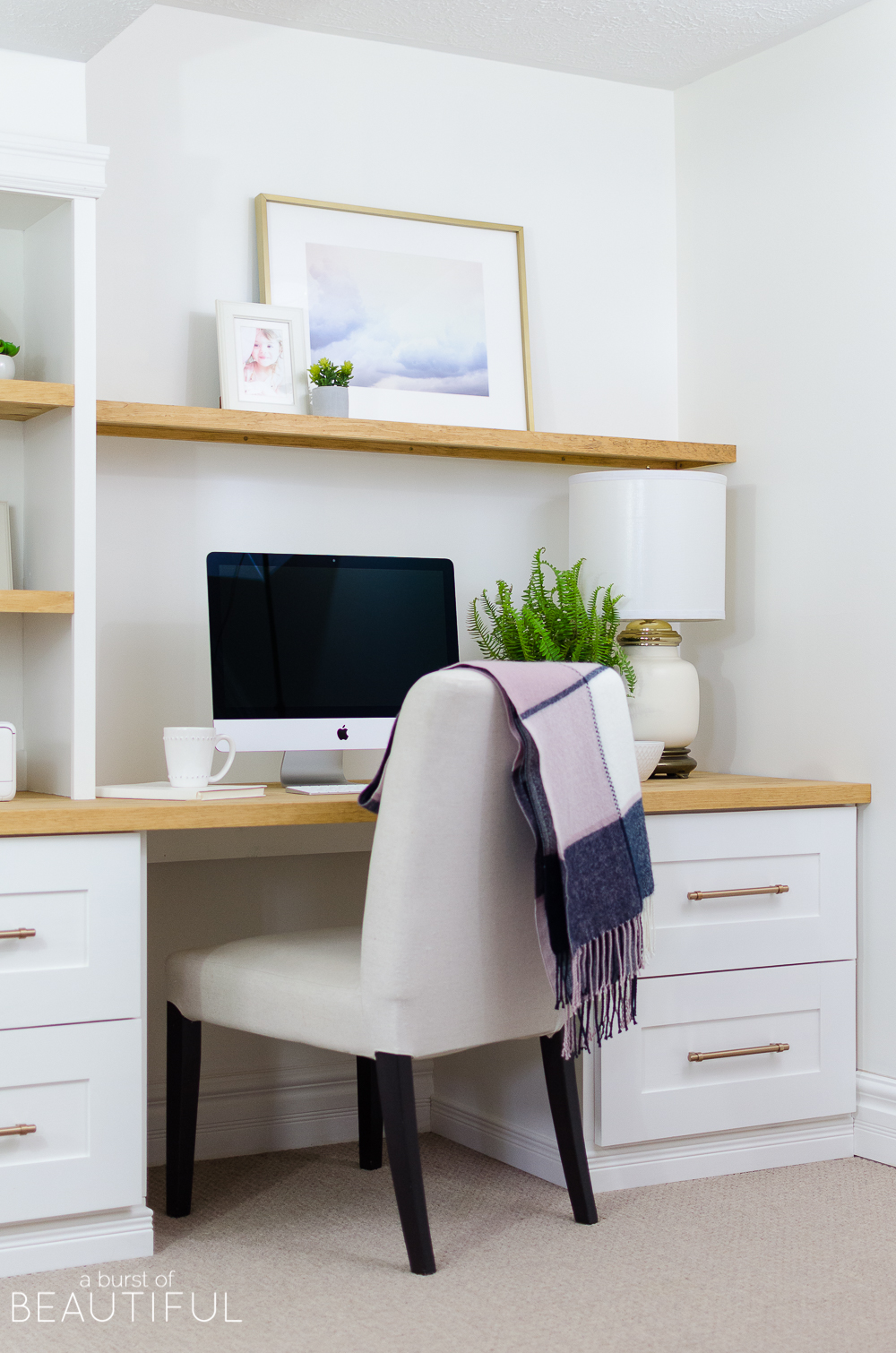 In terms of a color palette, I went with my favorite – wood and white! I love how bright and clean the white looks, but adding the natural wood desktop and shelves add so much warmth. We decided to stain the shelving and desktop Golden Oak by Minwax because I wanted a bit more of a contemporary feel and I felt the lighter wood conveyed that best. This combination will be repeated throughout the whole space, which will really help it feel cohesive since it's such a large area.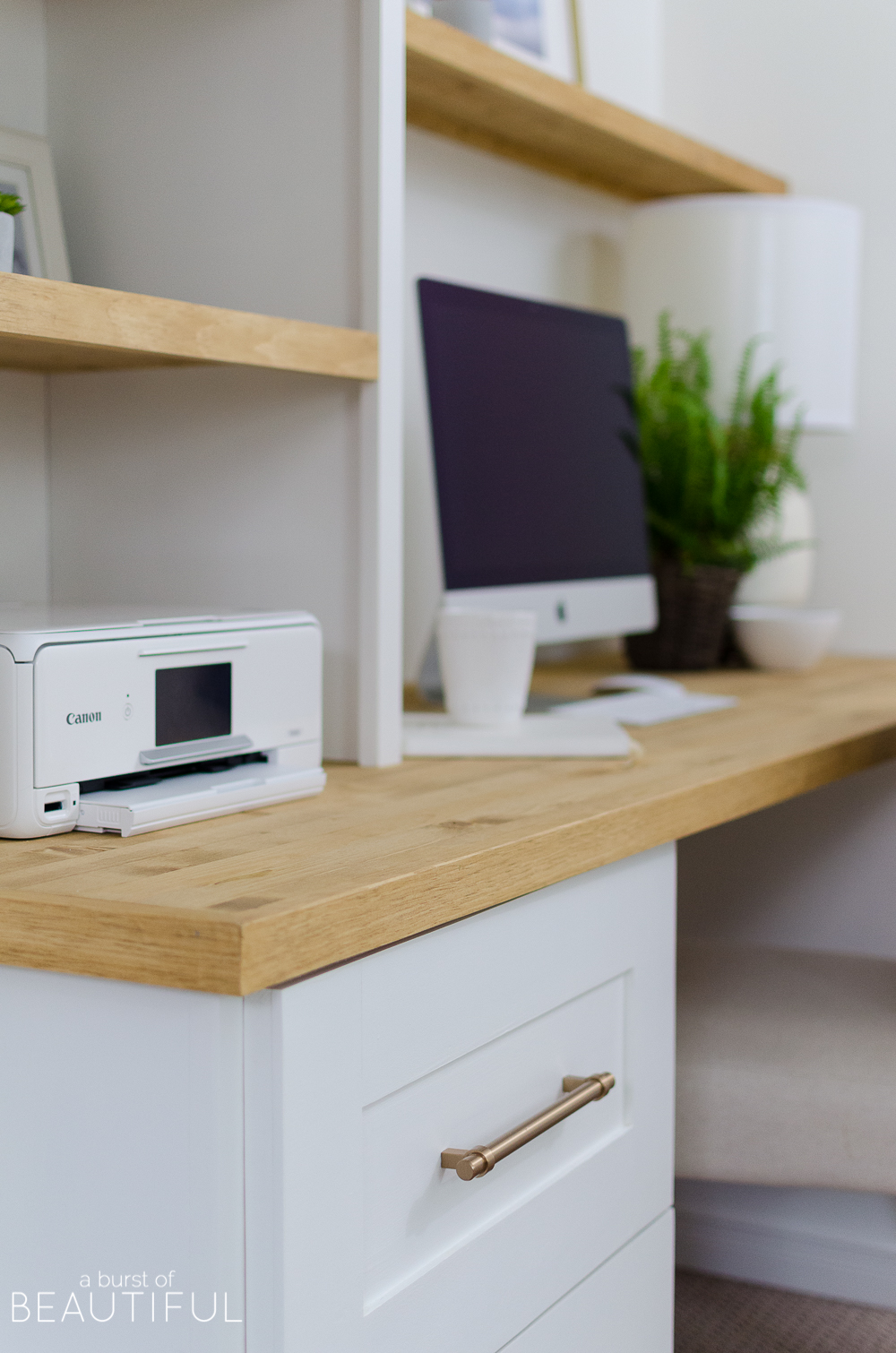 I have to take a minute too to point out these amazing pulls we added. Aren't they gorgeous? Again, they have a bit more of a modern feel to them, without feeling too contemporary. We also plan to use a lot of gold throughout the space to help it feel warm and not so stark and cold with so much white.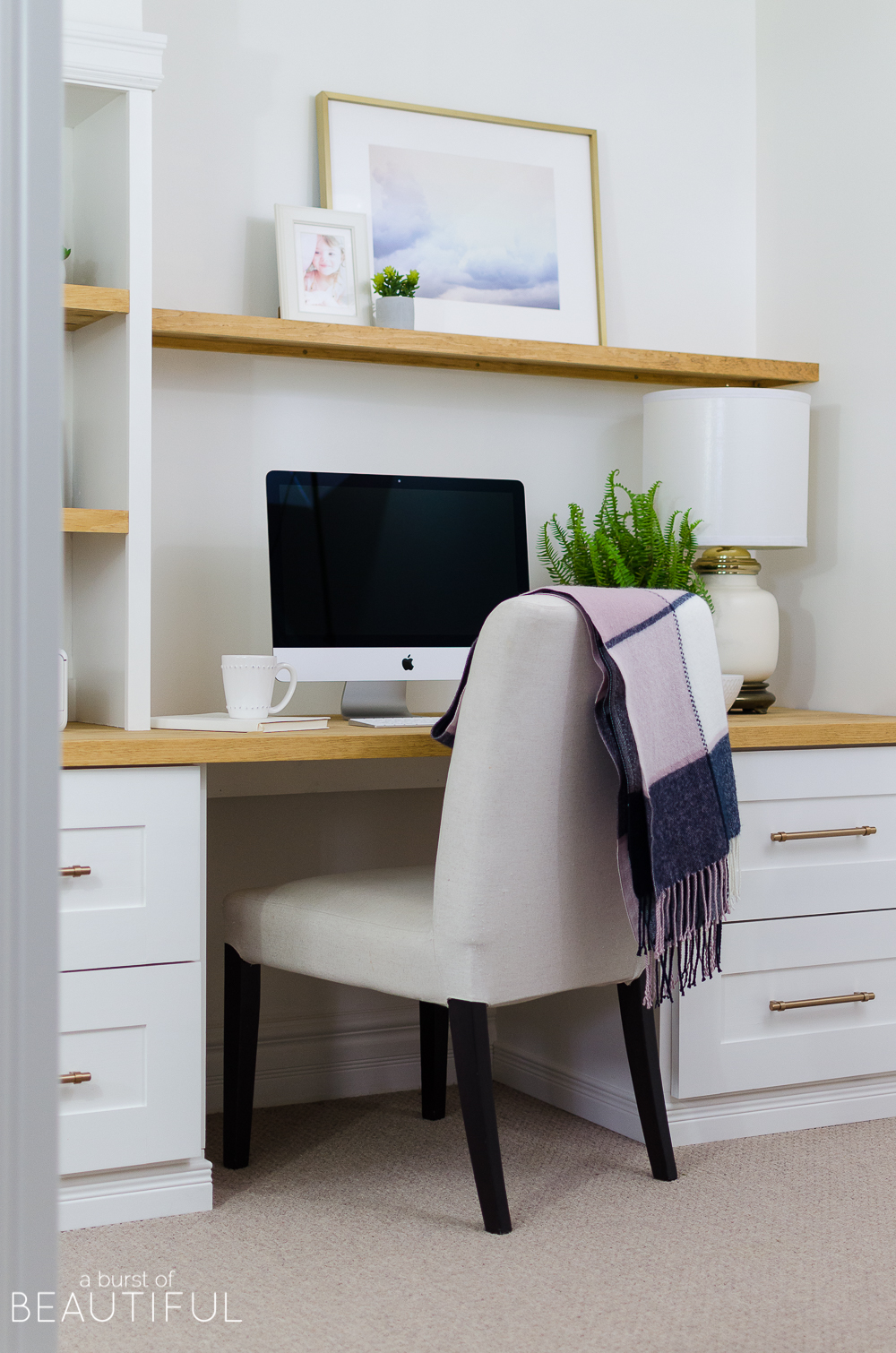 We will be planning another full reveal of this space once we complete the family room and playroom, and it will have a whole new look (see the updated look here). But we wanted to give you this little sneak peek today and offer you the free plans to build your own standalone version of this office desk if you're interested.
You can find the free plans by following the link below to Kreg's DIY project plan site, BuildSomething.com. I know you'll find some other great projects on their site too that you will want to add to your to-do list!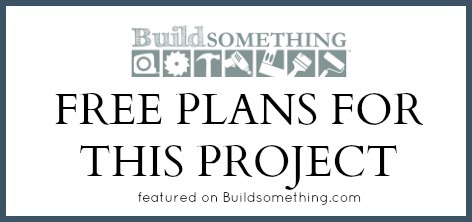 Have a wonderful day!