Host a beautiful Easter brunch or dinner with these colorful Easter tablescape and centerpiece ideas.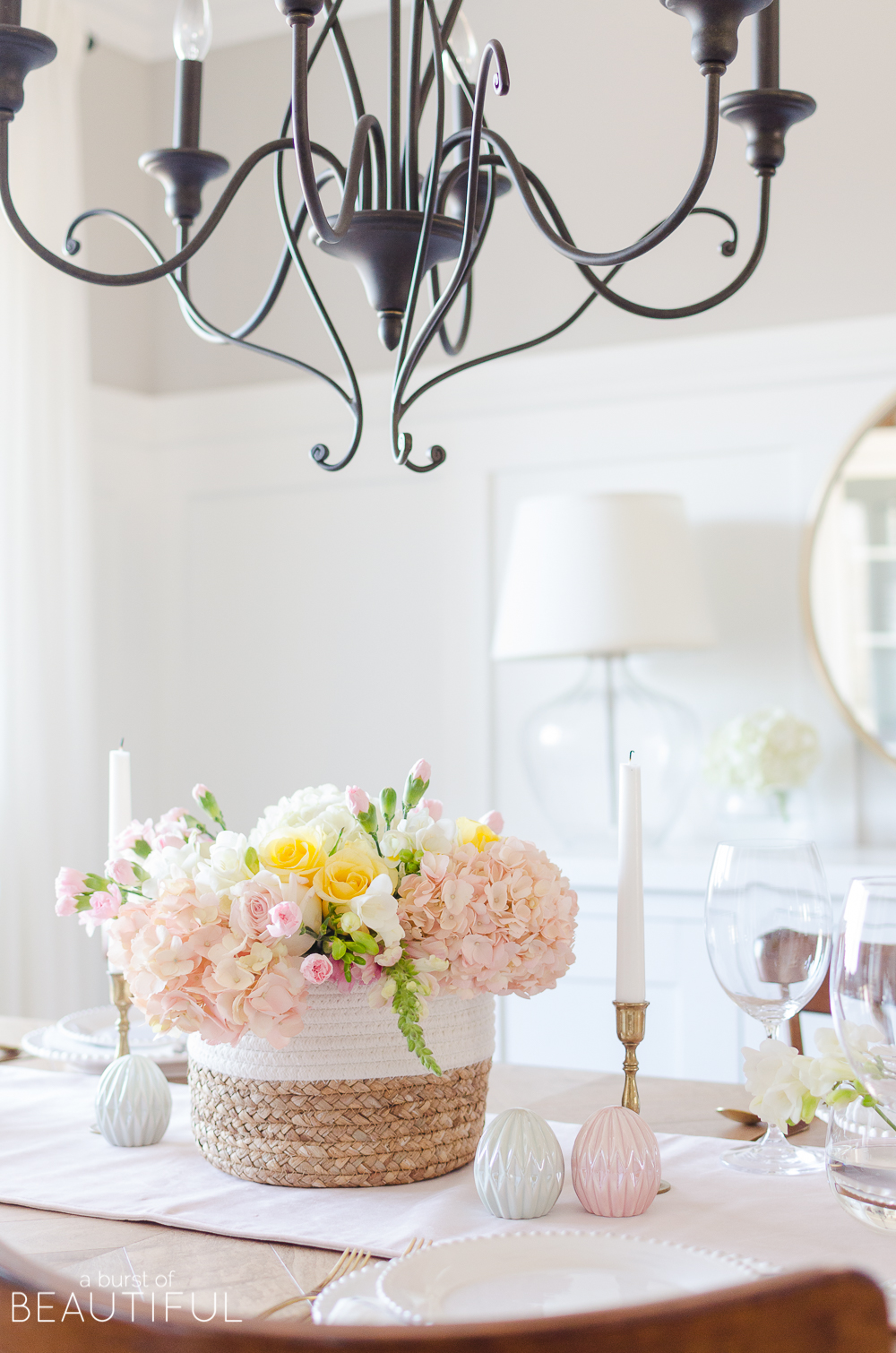 This post contains affiliate links, see our full disclosure policy

here

. Thank you for helping support our blog.
Good morning, friends! I hope you all had a wonderful weekend. I promised you this post last week, but life just kind of got in the way and I haven't had a chance to share until today. But I hope it was worth the wait. 🙂
I had so much fun styling and photographing this colorful Easter tablescape and centerpiece, there is just something that I love about pretty pastels. They get me every time, and maybe that is why I love Easter so much. I get to use these subtle colors without worrying about them coming across as child-like.
So without further ado, here is my colorful Easter tablescape, I hope you enjoy it!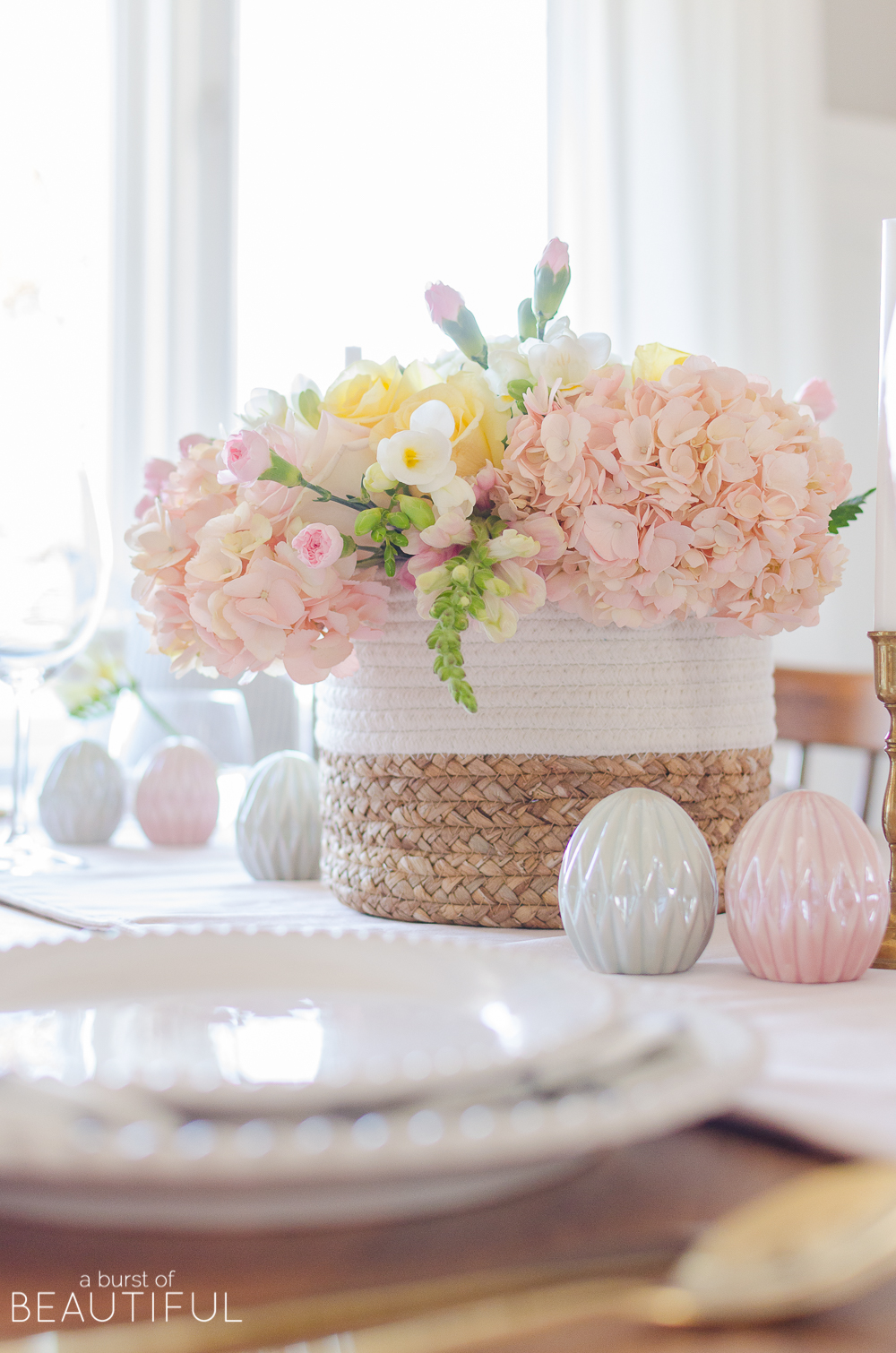 While setting a table for a holiday or event, I always try to use what I already have on hand, of course, with the exception of flowers. And that is exactly what I did with this tablescape, the only pieces I bought were flowers and the colorful glass Easter eggs.
First, I arranged this simple and full flower arrangement in these pretty pastel Easter colors. I picked up all of these blooms from our grocery store, and this time I even sneaked in a little bit of yellow, which I am loving!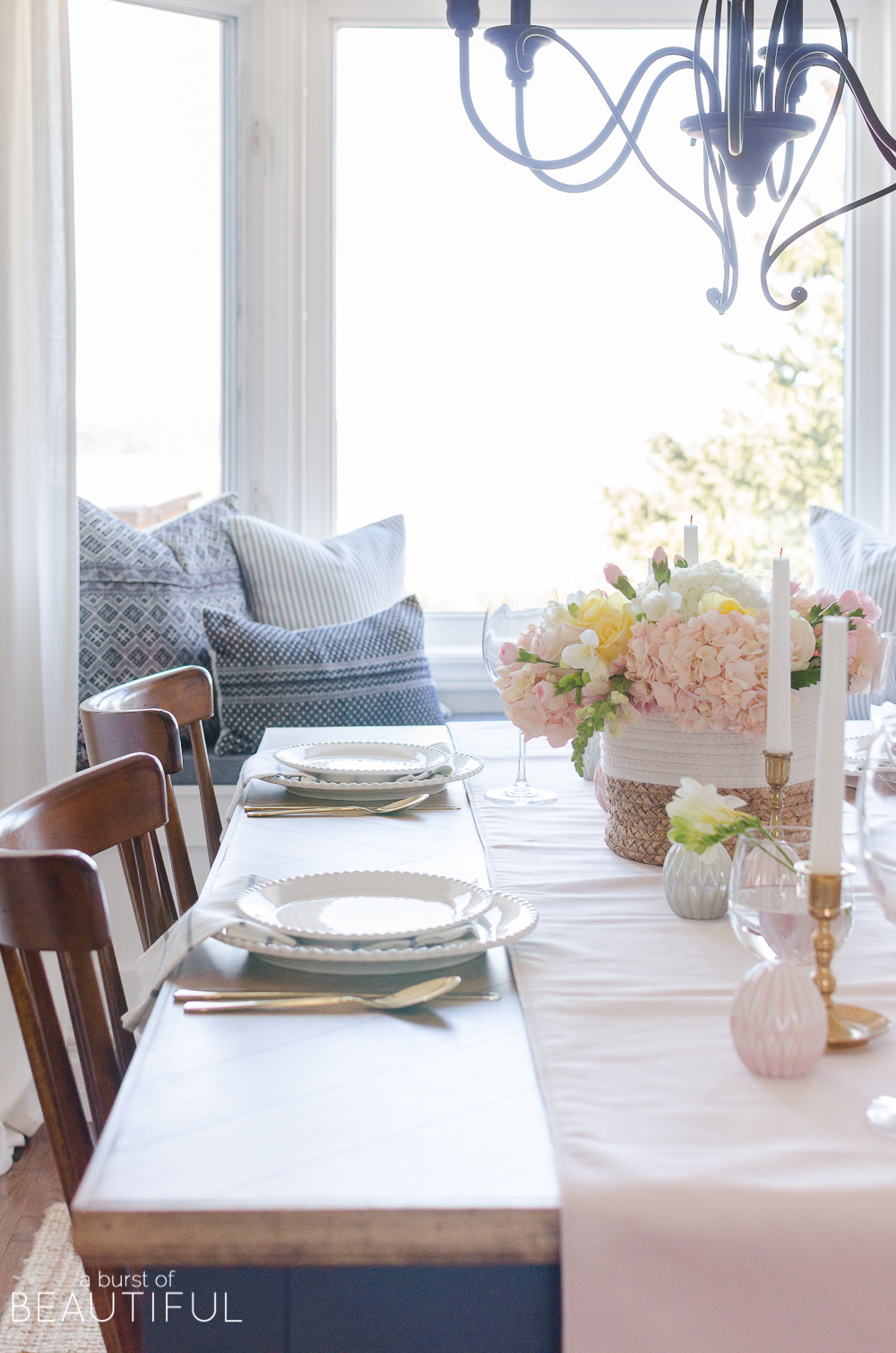 I used white and pink hydrangeas, pink mini carnations, pink snapdragons, white crocuses and yellow and pink roses. When arranging flowers in the same color I like to mix in a variety of shades and tones to help each type of flower to stand out, instead of blend together. And the yellow roses really help to add a bright pop of color.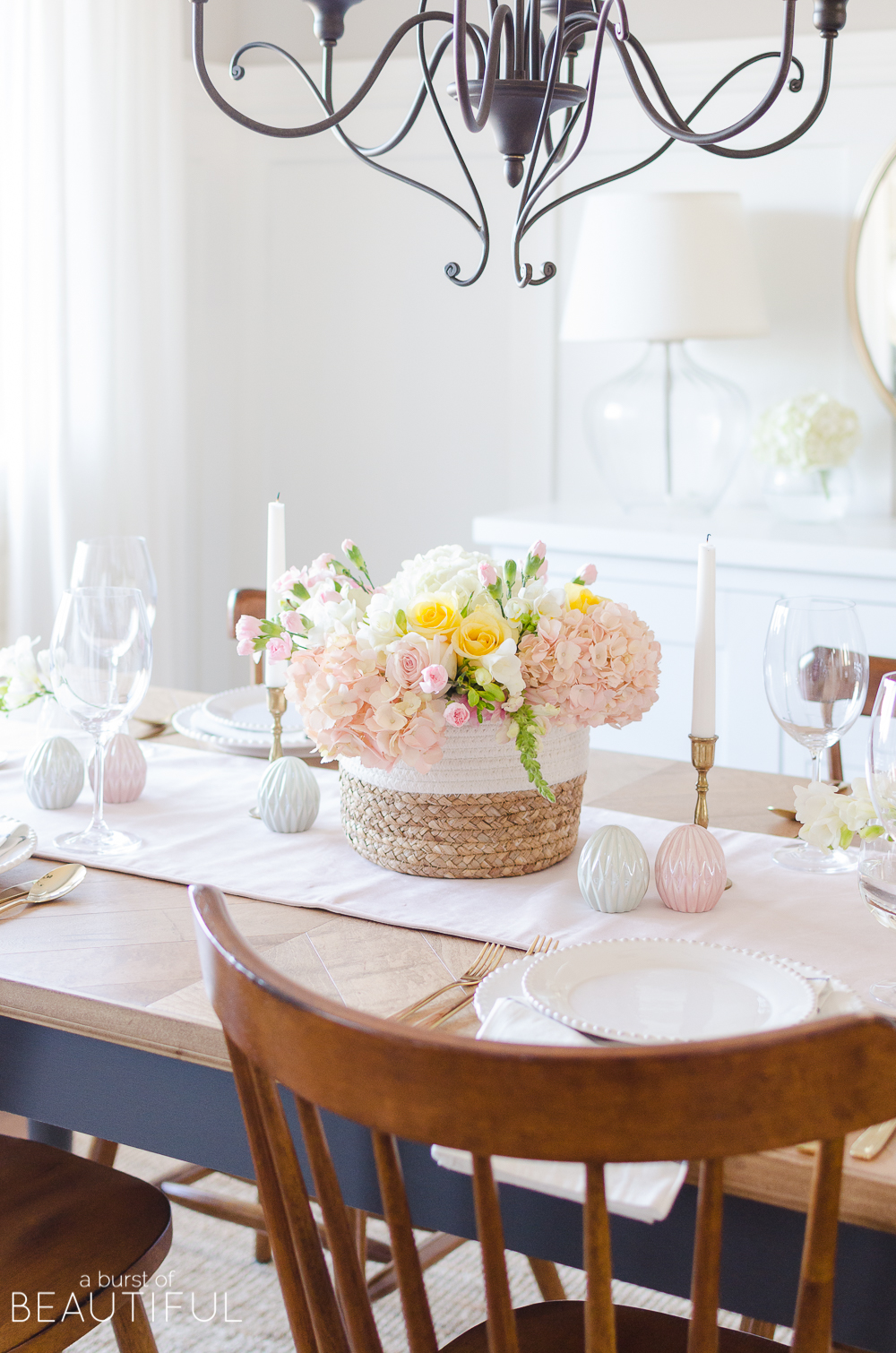 Every time I create a flower centerpiece, I try to think outside of the box and arrange it in something other than a basic vase. There is absolutely nothing wrong with using a vase, I just feel like I share so many tablescapes on our blog that I want to give you new and fresh ideas. I've used everything from a utensil holder to a large bowl, and this time I used this cute two-toned woven basket.
It was a perfect size and I love the extra texture it adds to the table.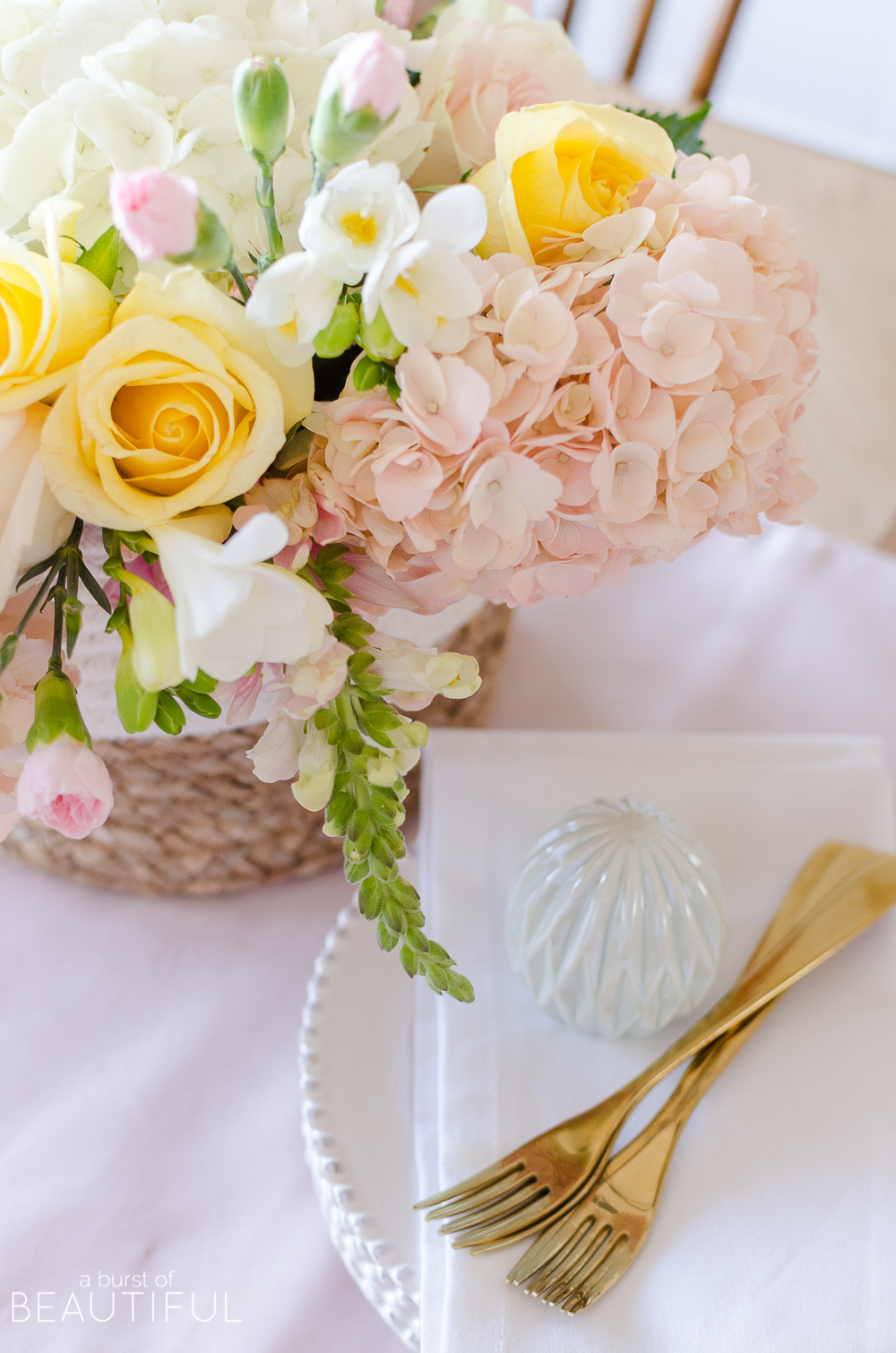 I simply placed a glass vase inside of the basket and arranged my flowers within it. A few quick tips about flower arranging…I always start with my largest flowers first, so in this case, I added all of the hydrangeas around the outside of the vase and one in the middle this will help create the fullness you need. Next, I added the roses (because they were the next biggest flower) to fill in the empty spaces. Then came the snapdragons. I love using flowers that have unique forms because they add interest and shape to arrangements.
The mini carnations and crocuses were added last to fill in any remaining gaps in the centerpiece. I kept these ones sticking up and out a bit, to help with the organic feel I was hoping to get (this works best with smaller flowers). Just like vignettes, your flower arrangements should also have a bit of height to them. 😉

So, once I had the centerpiece finished I started on the table.
This pretty blush velvet table runner was placed down the center. I bought it around Valentine's Day for two of the tables I set (you can see them here and here) and I thought Easter would be the perfect time to pull it out again.
The centerpiece, obviously, was placed in the center. 🙂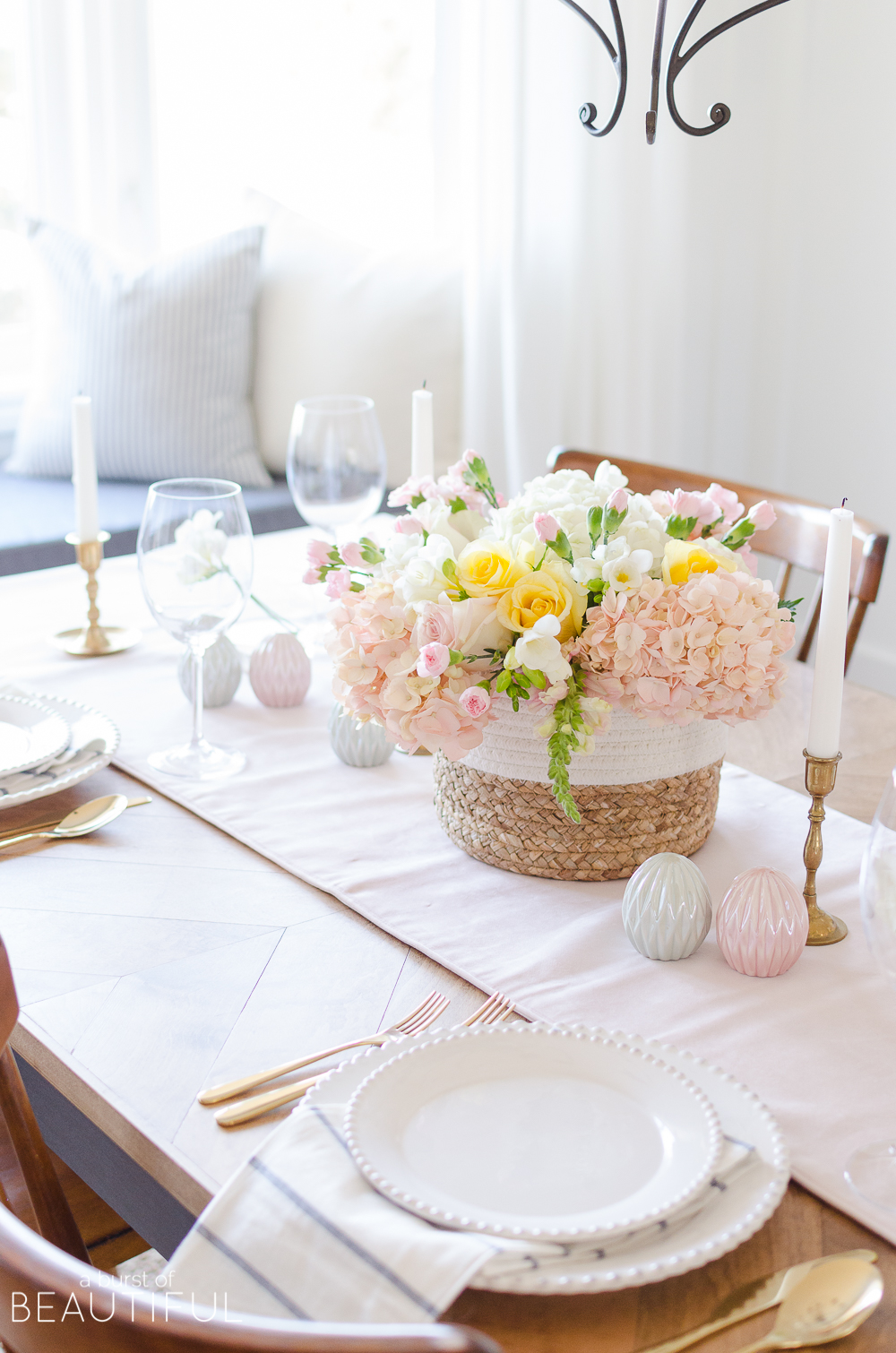 ---
get the look

---
I think candles are such an important part of any table setting, and these vintage tapered candle holders are a favorite of mine. I've picked them up over the years in various thrift stores or flea markets and I love to keep adding to my collection. I like that they are mismatched and have a really pretty patina to them. Although, I am on the lookout for a nice set of matching gold tapered candle holders. Maybe this time with a more modern feel. If you've seen any, please let me know!
To add a little bit more detail, I added these really pretty glass Easter eggs in blush and light blue and a few of the leftover crocuses in stemless wine glasses. I love using these a little vases when I set a table. I just scattered them along the middle, grouping the eggs together in threes (another favorite vignette tip of mine).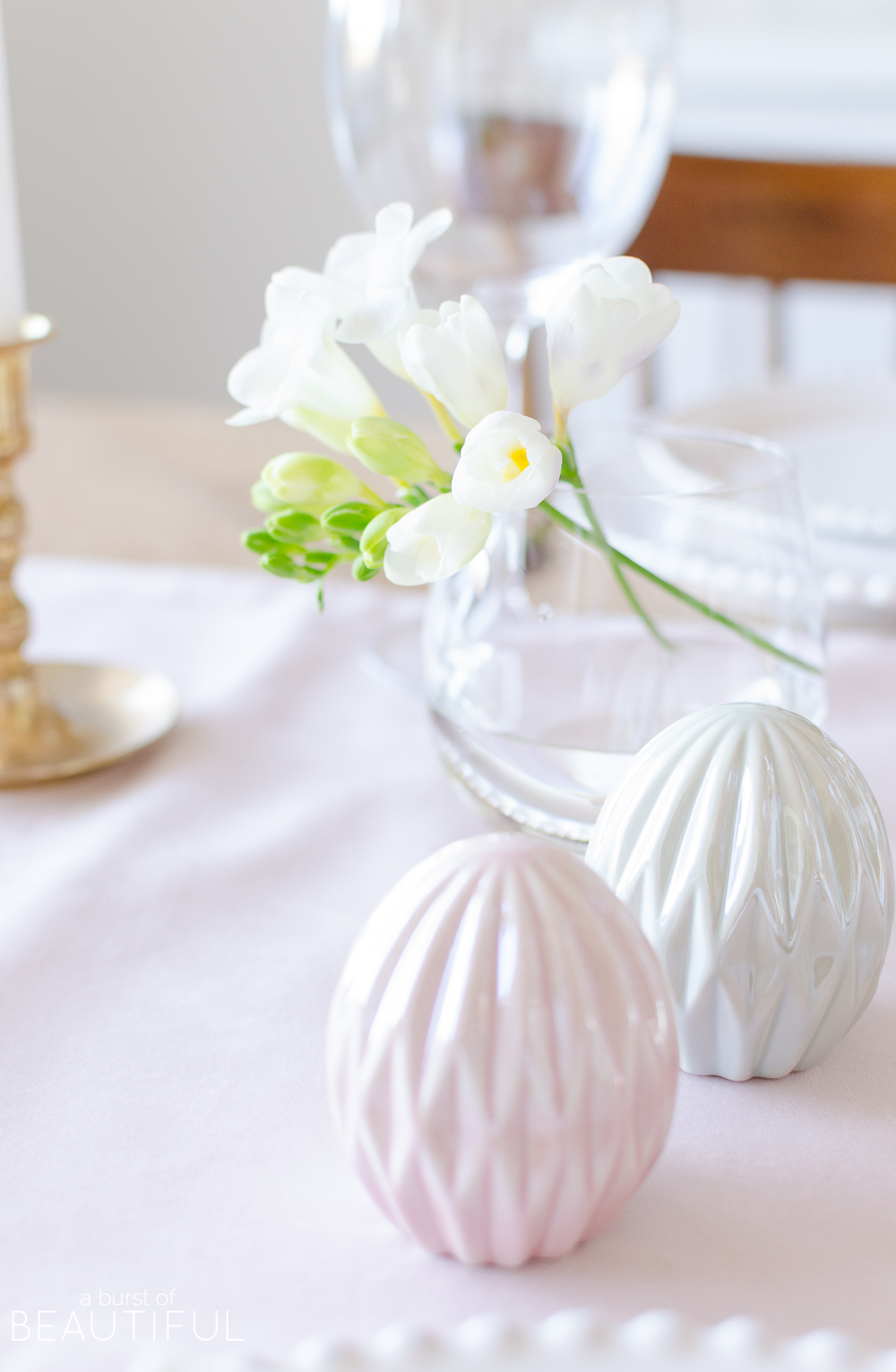 For each place setting, I used our every day white beaded dishes, white kitchen towels with a thin blue stripe and our gold flatware. I like to try to keep our place settings simple and uncomplicated. I think it helps keep your guests feeling more relaxed, and not to mention, it's easier for the after meal clean-up…everything just goes straight into the dishwasher!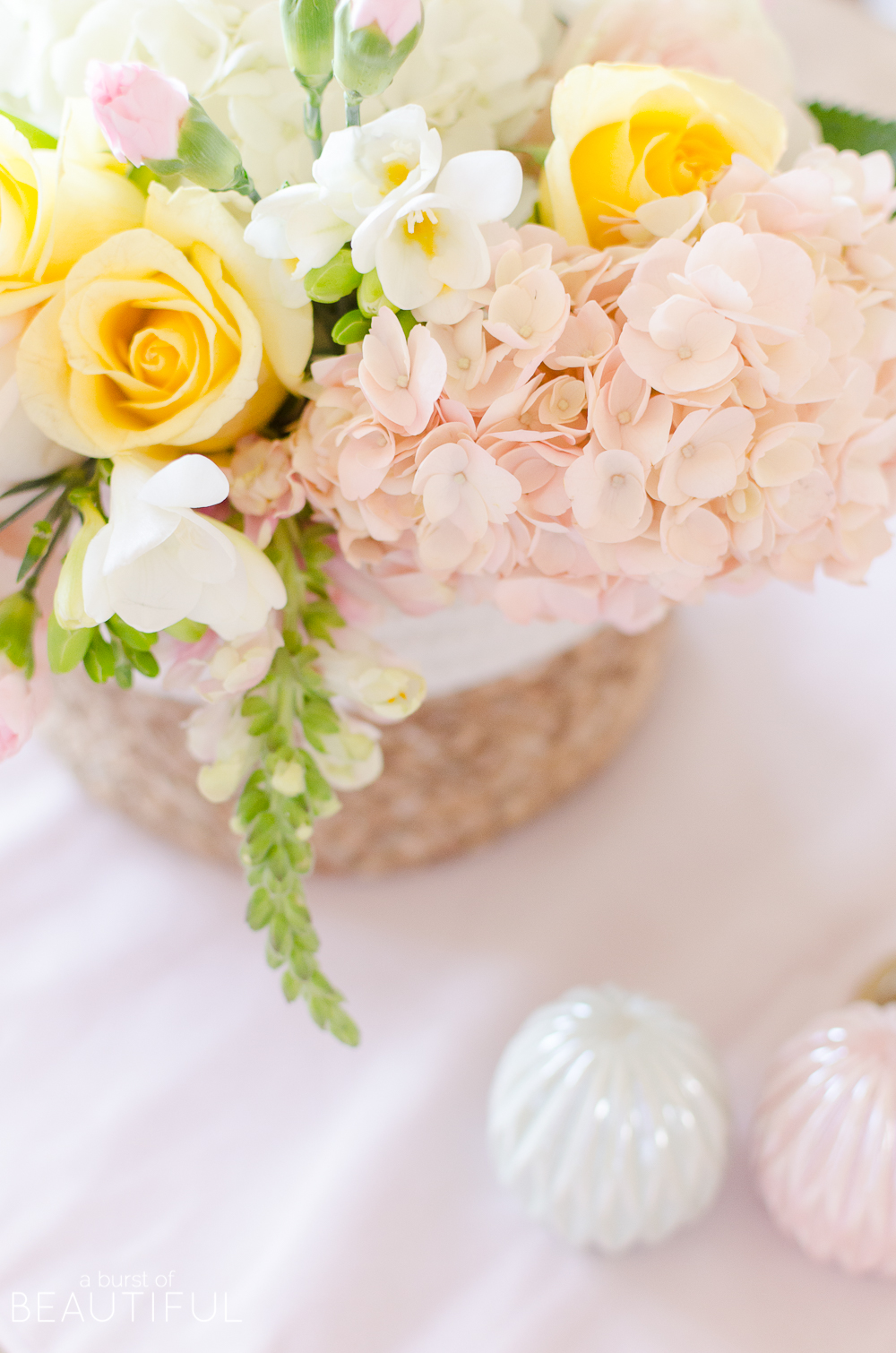 Well, I am so happy to finally share this tablescape with you. I photographed it over a month ago, so it was long overdue! I would love to hear what you thought of it.
Have a wonderful day, my sweet friends!