A simple spring tablescape set in a classic blue and white color palette with a centerpiece of white hydrangeas and crocuses leads to easy spring entertaining.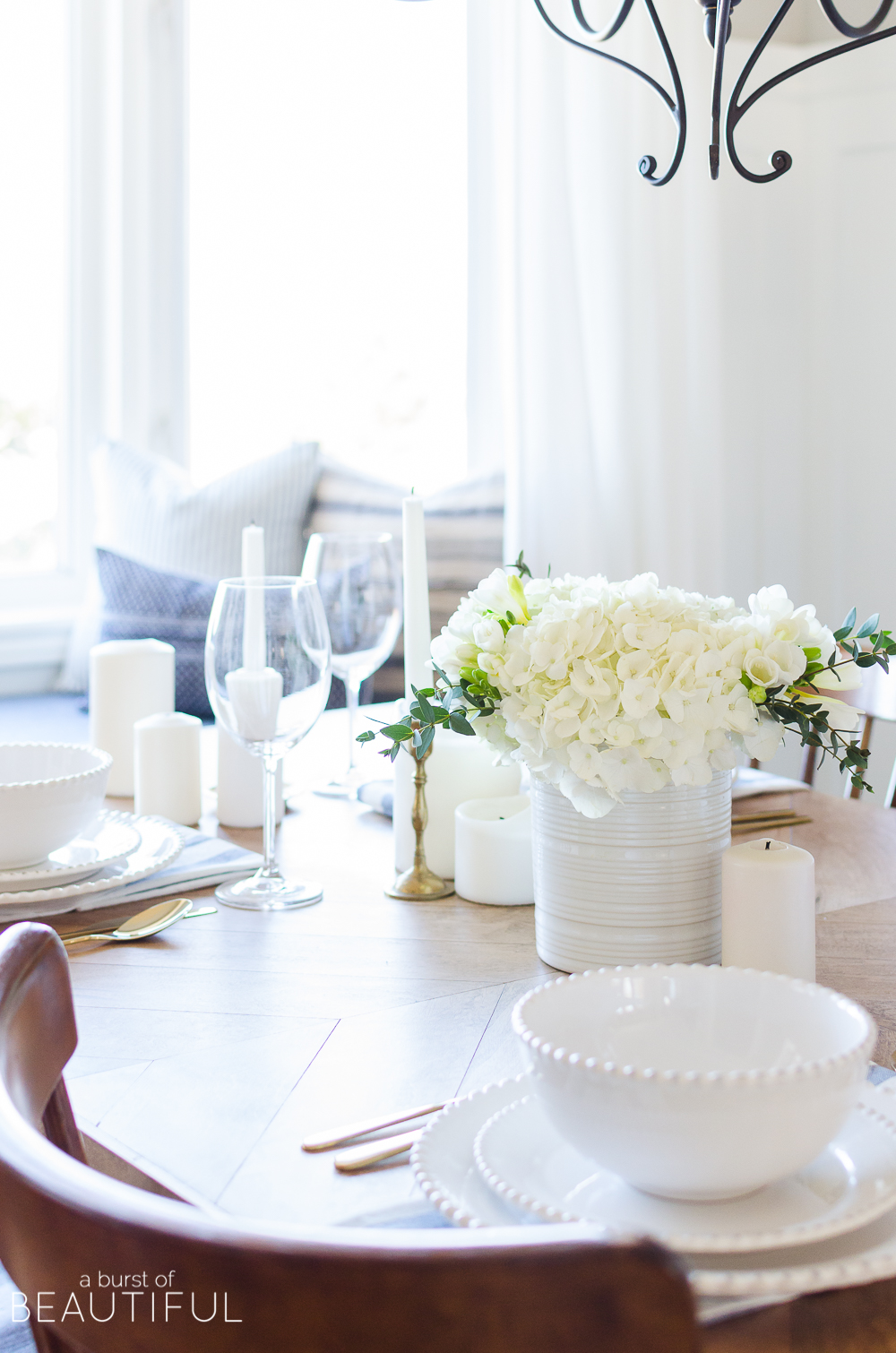 This post contains affiliate links, see our full disclosure policy

here

. Thank you for helping support our blog.
Good morning, friends! I hope you had a wonderful weekend and were able to get outside and enjoy some of that sunshine! Waking up to a bright, sunshiny day always makes me feel more productive and full of energy, don't you agree?
Speaking of sunshine it also reminds me spring is just around the corner, so today I am excited to share this simple blue and white spring tablescape with you. And I have a few sweet friends sharing their easy spring looks too that are sure to inspire you.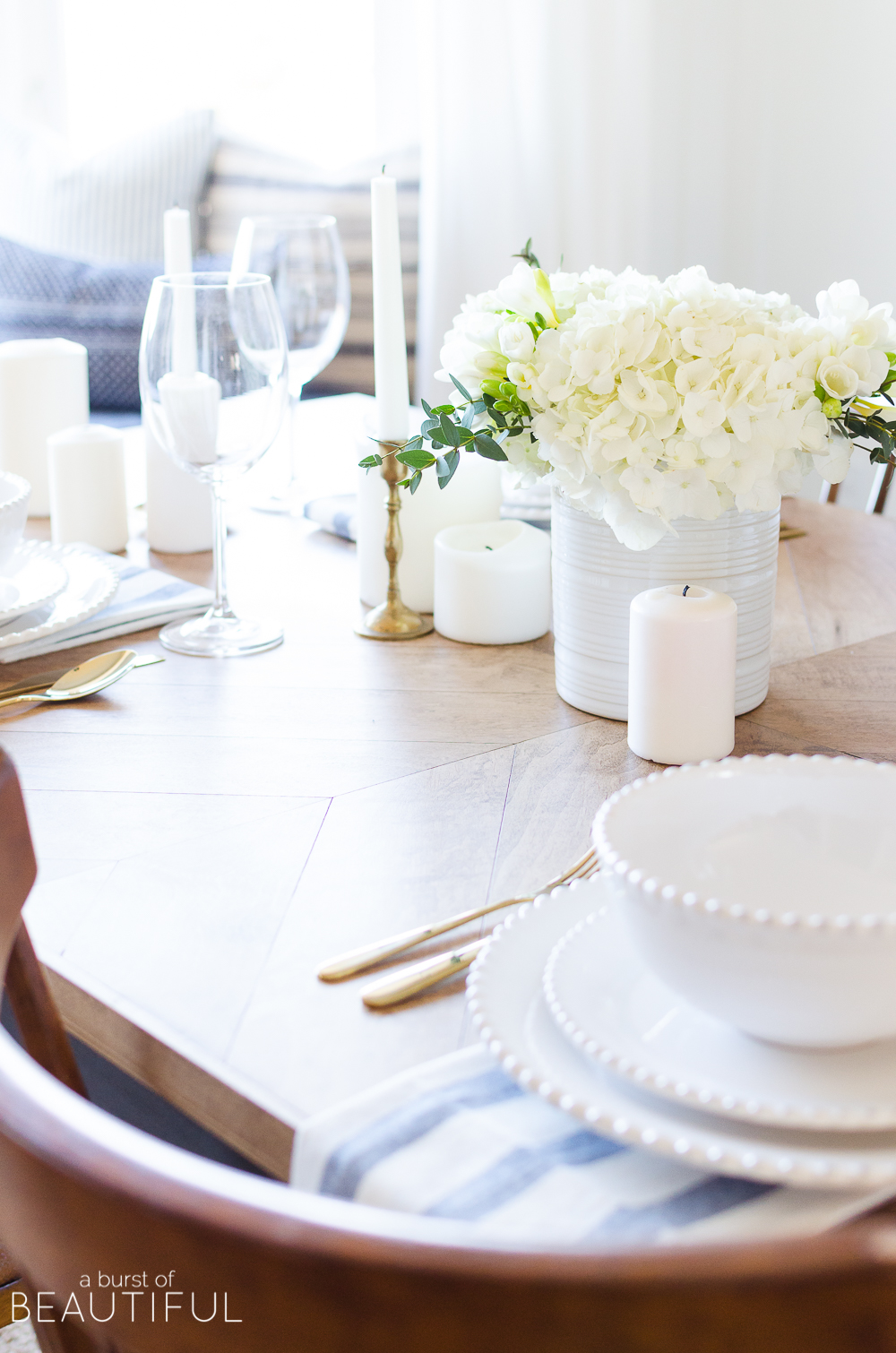 I tend to set a lot of tablescapes, depending on the season or the holiday. It's something I love doing and find it really lets me tap into my creativity. But because I set so many, sometimes I feel like they are repetitive in style, so this time I wanted to try something a little bit different.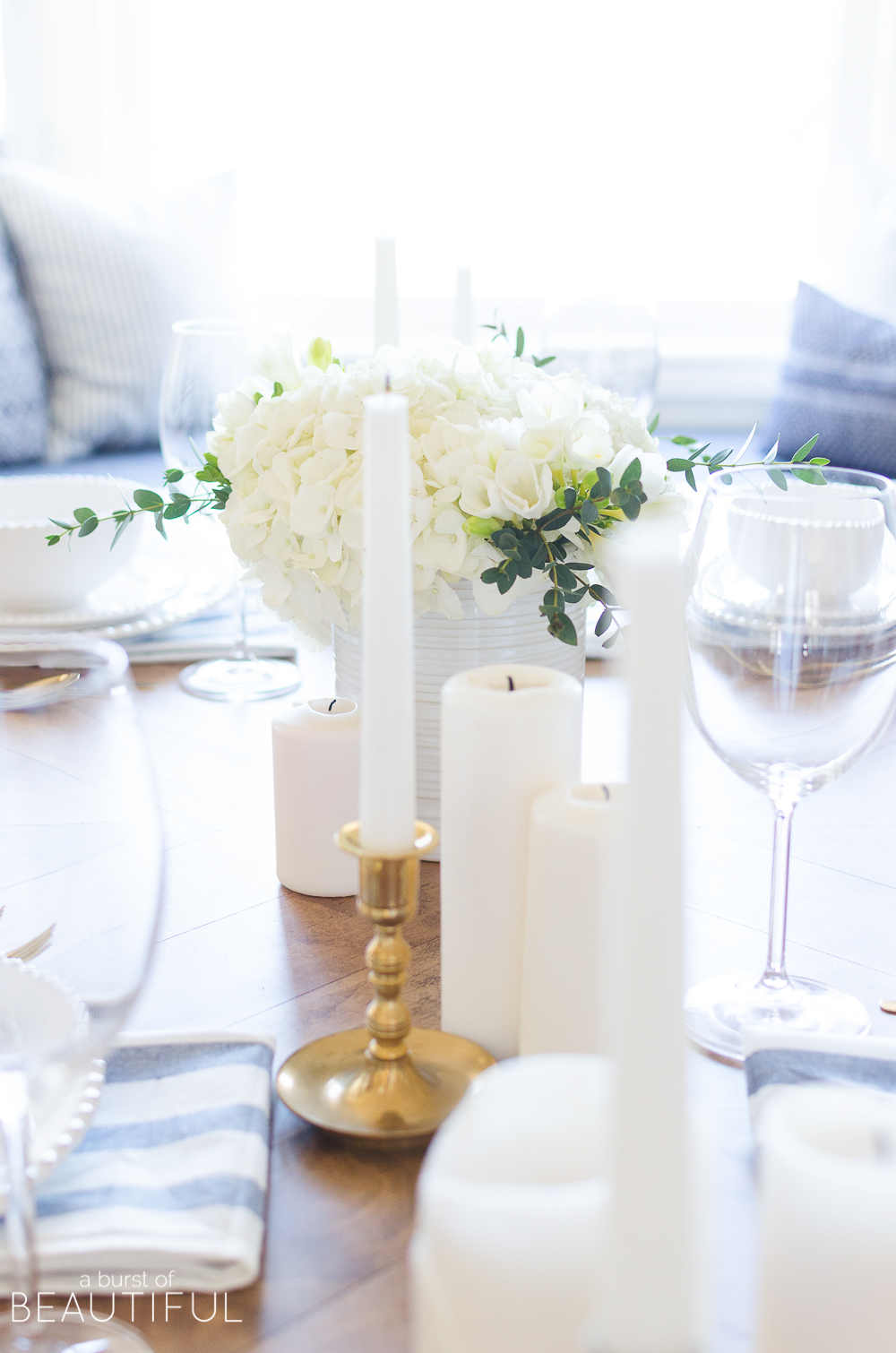 The first thing I usually do is start with the sideboard. I like to keep this fairly simple and not too cluttered, plus I always make sure it reflects the style and colors of my tablescape. Last week I shared how I styled it for spring (see it here) and I thought it looked perfect just the way it was so I left it be.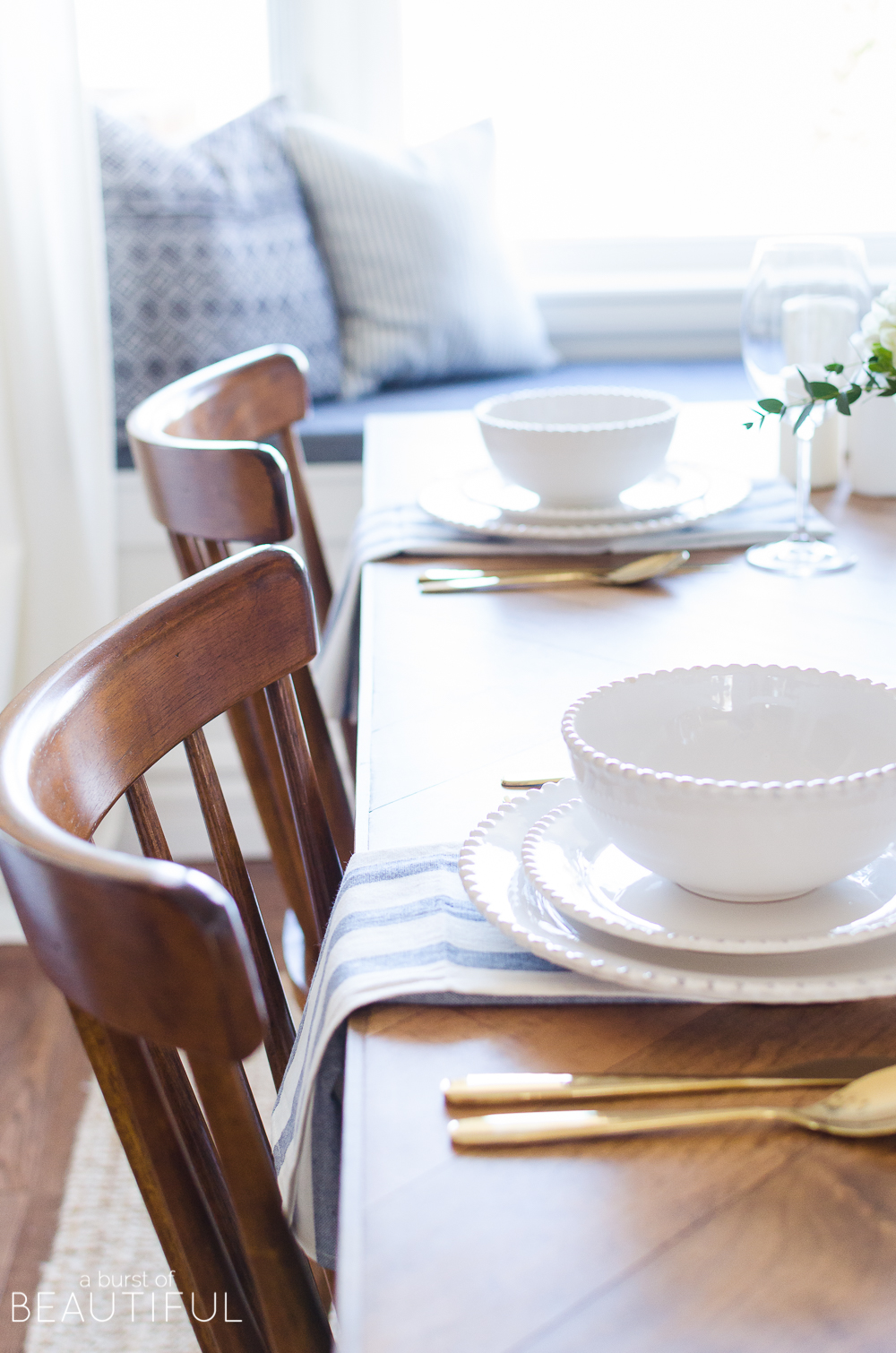 Next, I almost always start my tablescape with a table runner. I like incorporating a runner because I feel like it helps all of the different pieces I add feel anchored but in an effort to try something different I decided to forgo the runner this time! 🙂 And I actually like how it looks, it feels a little more casual and relaxed.
Sometimes I create elaborate floral centerpieces (like here and here) and sometimes I stick to simple arrangements like this one. I picked up a bunch of white hydrangeas and crocuses from the grocery store and placed them in this utensil holder, which has become one of my favorite vases. I saw these sweet little crocuses and immediately fell in love with them, I think they are so delicate and just so perfect for spring! I had a couple sprigs left over that I didn't use in the centerpiece and placed them in stemless wine glasses as a little something extra for the table.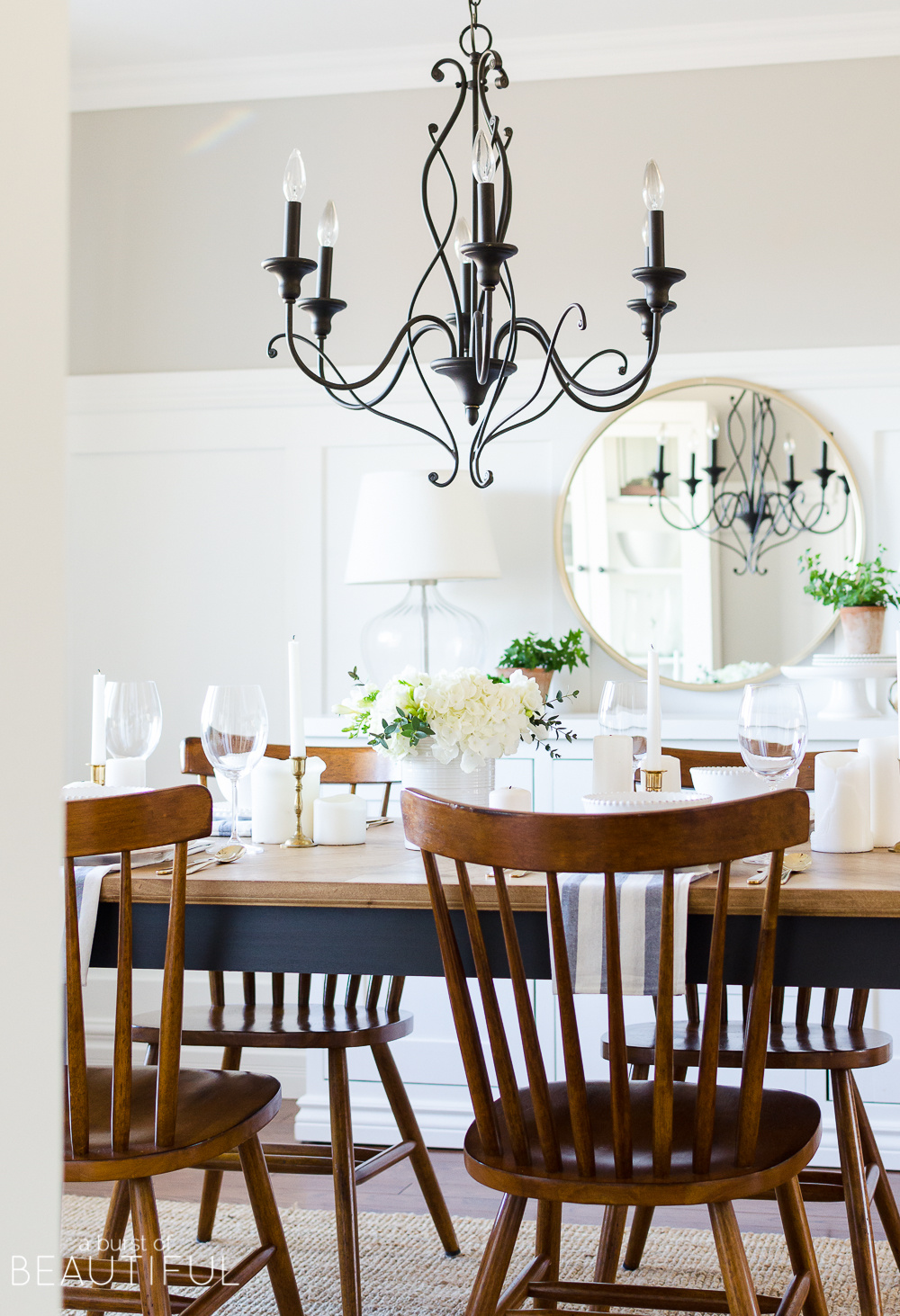 ---
get the look

---
Again, I usually only use these gold candlesticks with tapered candles when I set a table, but this time I mixed in a bunch pillar candles in different heights to give the table a little bit of variety.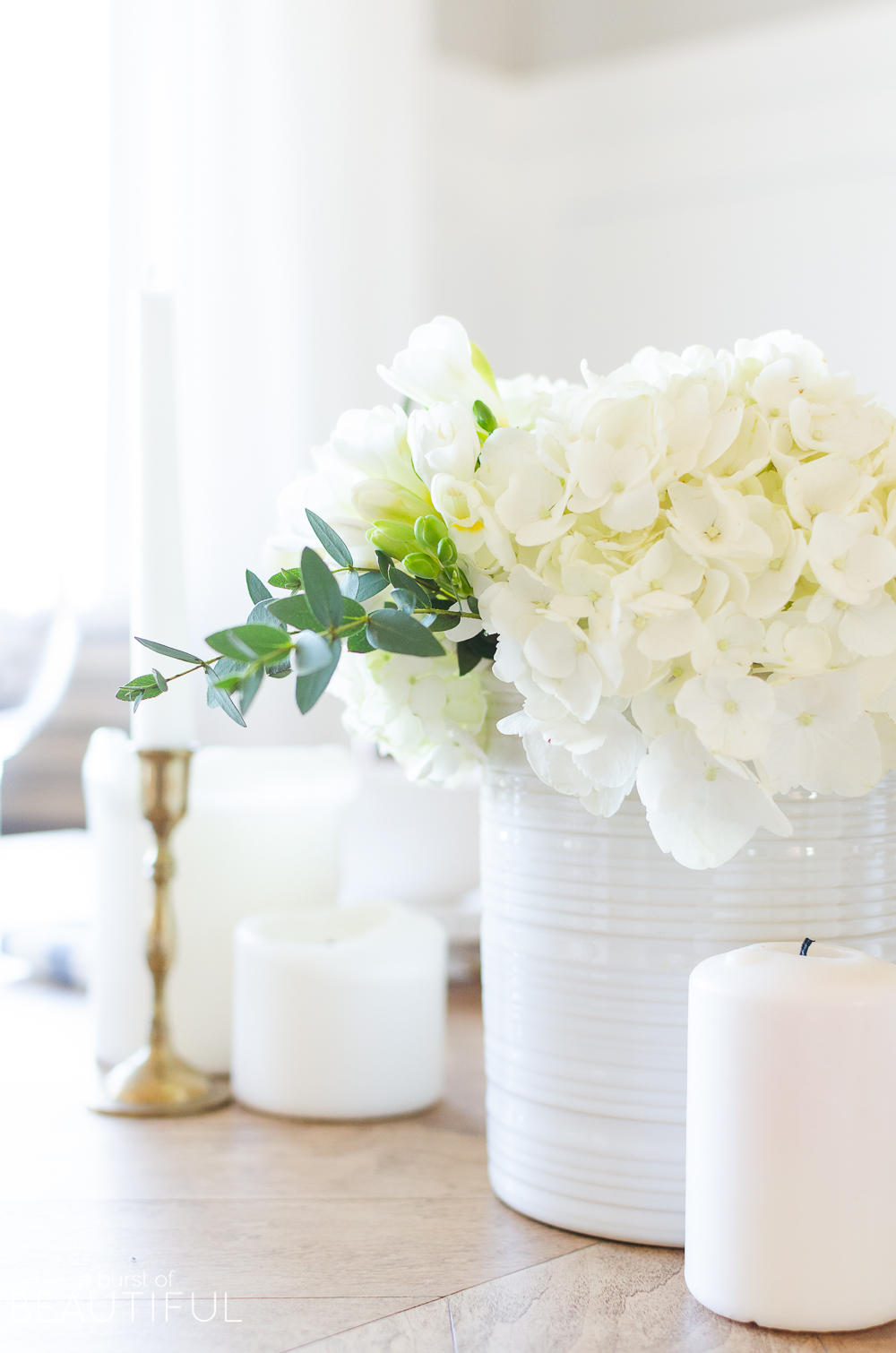 At each place setting, I added a striped blue and white kitchen towel. I always love using kitchen towels as napkins because they are oversized and stand out a lot more. Next, I layered my favorite white beaded dishware on top of the napkins.
I used gold flatware at each setting because it plays so well with the other touches of gold in the space and helps to add a bit of warmth. And finally, simple wineglasses.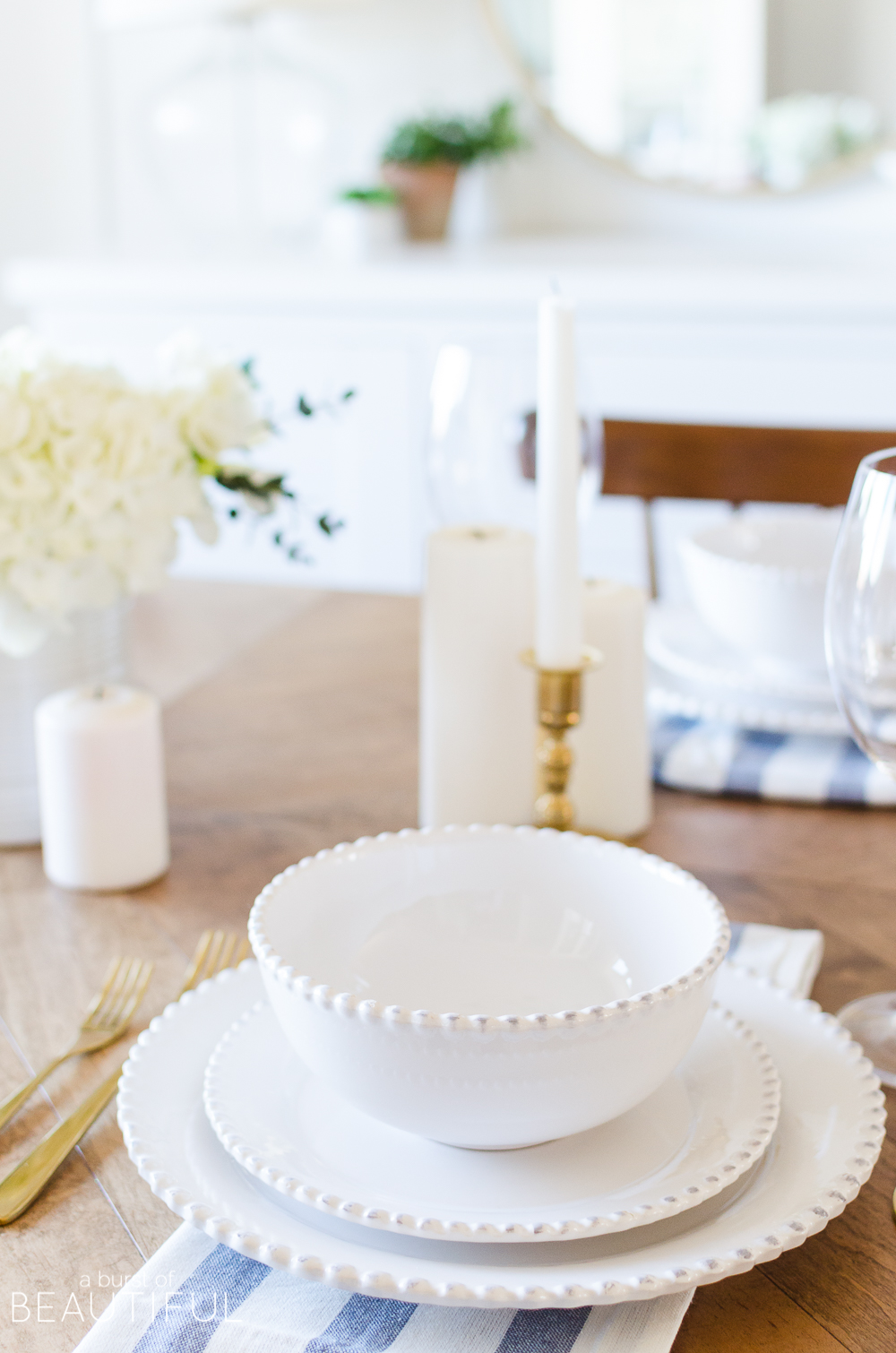 That is all there is to it, easy right? I love how relaxed it feels, not to mention bright and cheerful. It almost has a coastal feel to it.
Now, I hope you'll stop by and visit these lovely tablescapes from a couple of my favorite friends, and be sure to come back later this week because I am sharing a colorful Easter tablescape too!

A Burst of Beautiful | Nina Hendricks | Rooms FOR Rent | My Sweet Savannah