We're sharing the best white paint colors for walls, trim and furniture.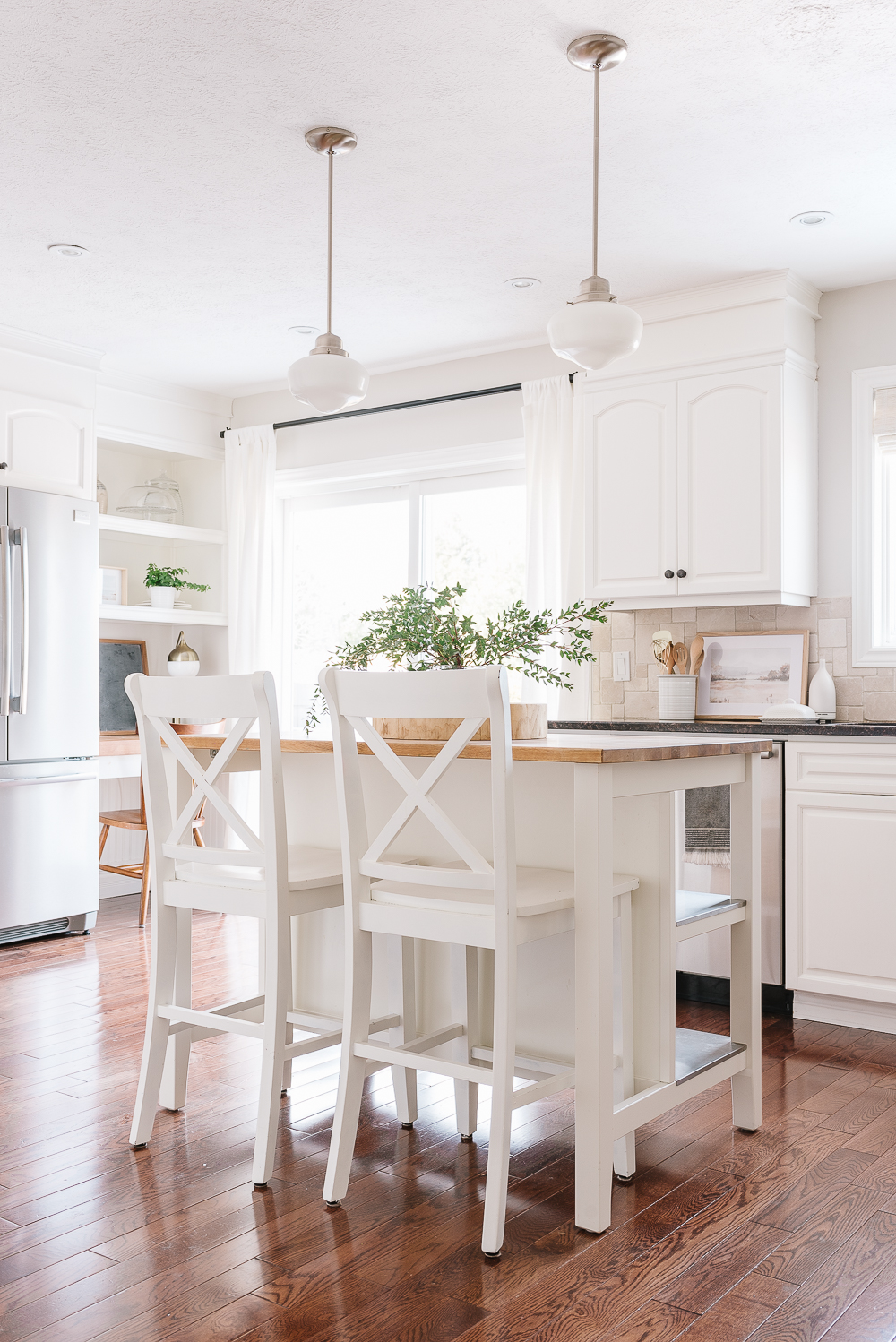 Choosing to paint a room (or a piece of furniture) white may seem like a simple task, but choosing the perfect white paint color can be overwhelming and intimidating. There are so many different shades and hues available and from so many different brands that just thinking about it can make my head spin. Am I right?
How do you know which white paint color is the best?
Well, guess what…there isn't one universal perfect white paint color.
Of course, there are shades out there that are used time and time again by designers, shades that they've used faithfully over the years and would recommend in a heartbeat. But I think if you were to ask anyone of those designers, they would all tell you what I am about to tell you…there is no one white paint color that trumps all others.
It all depends on the space (or piece) you are painting. Just like choosing any shade of paint, there are so many different factors that play into choosing the perfect shade for your space, like how much natural light the room gets or the time of day, these are the things that are going to make a paint color look different from room to room.
All that being said, we've had a lot of experience with white paint…just look around our home, it's no secret I love the color white! We recently completed a large-scale makeover of our home's lower level, creating a family room, playroom and home office, which is all very white. So I thought today I would take some time to chat with you about our tried and true favorite white paint colors, and give you a little bit of feedback on why we love the shades of white we do.
The Best White Paint Colors
Simply White | Benjamin Moore
Let's start with Simply White by Benjamin Moore, it is by far my favorite white paint color. It's so versatile, it looks beautiful on walls, trim and furniture. It's a soft crisp white that still feels warm and inviting. We've used it in pretty much every room in our home. All of our trim and millwork is painted Simply White, including the board and batten in the dining room and our daughter's bedroom and the wainscotting in our hall and our bedroom. As I mentioned, it's also the color we used for our basement renovation, we painted the walls and all of the built-ins (family room and playroom) as well as my office desk Simply White. Can you tell it's my favorite?
Mountain Peak White | Benjamin Moore
Mountain Peak White is the color we choose to paint our kitchen cabinets and built-ins (see our kitchen cabinets painted Mountain Peak White here) over four years ago and I still love it! It is part of Benjamin Moore's "Off-White" collection, but it still feels bright and crisp. I honestly love walking into our kitchen every morning, it feels so bright and welcoming, and we often are asked what color we used for our kitchen cabinets.
Cloud White | Benjamin Moore
We typically use Cloud White when we are painting furniture, like the kitchen stools at our island. It's a subtle white that feels bright without being too stark (see our barstools painted Cloud White here).
Lily White | Benjamin Moore
Lily White definitely has a blue undertone to it, I actually chose it because I wanted to paint our daughter's nightstands a very pale blue, but it turned out white as white can be (see Zoe's nightstands painted Lily White here)! So if you are looking for a white with cool undertones, this would be a good one to try. If you're wondering, we eventually did repaint the nightstands an actual shade of blue, you can see how they turned out here.
Swiss Coffee | Benjamin Moore
We haven't used Swiss Coffee in this home (yet!), but we have used it in other homes, and it's another favorite of mine. It's soft and creamy and perfect for walls, it is a great shade of white if you are looking for a color that has warm undertones without looking too yellow.
Chantilly Lace | Benjamin Moore
Chantilly Lace is another classic. Again, we haven't used it in our current home, but we have painted previous homes in this color. It is a classic white, it's crisp and clean without being too bright.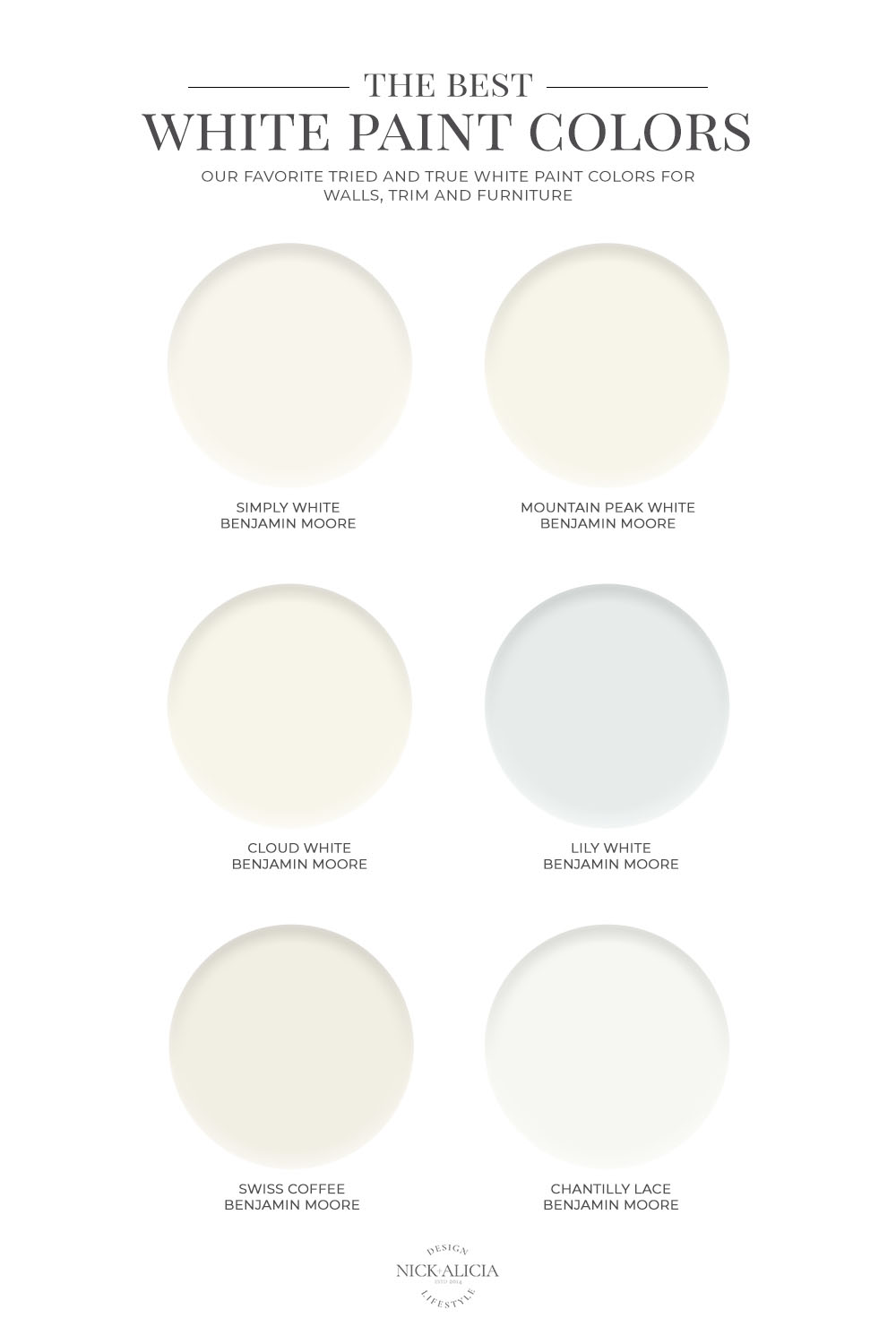 Well, I hope you enjoyed today's post and found it helpful. The best piece of advice I can give is to remember it is only paint. If you choose a color that you aren't happy with, in the end, all it takes is another can and a little bit of time to give it another go. Always remember to test a few different shades on your walls before committing to a particular color (even if you've used it before), paint will always look different room to room and house to house.
Well, we're on the topic, another common question we often receive is how to keep a neutral home from feeling too bland or stark, and my answer is to always add lots and lots of texture and natural wood tones. I love layering in pillows, throws, shades or curtains, anything that can help give your space dimension and keep it from falling flat. And of course, natural wood tones always help to add warmth and keep a space feeling inviting.
Let me know if you have any questions, I am always happy to hear from you!