A simple kid-sized table is a perfect addition to any playroom or kid's space, providing a sweet space to colour, play games or finish homework.
Build your own kid-sized table using these easy free plans.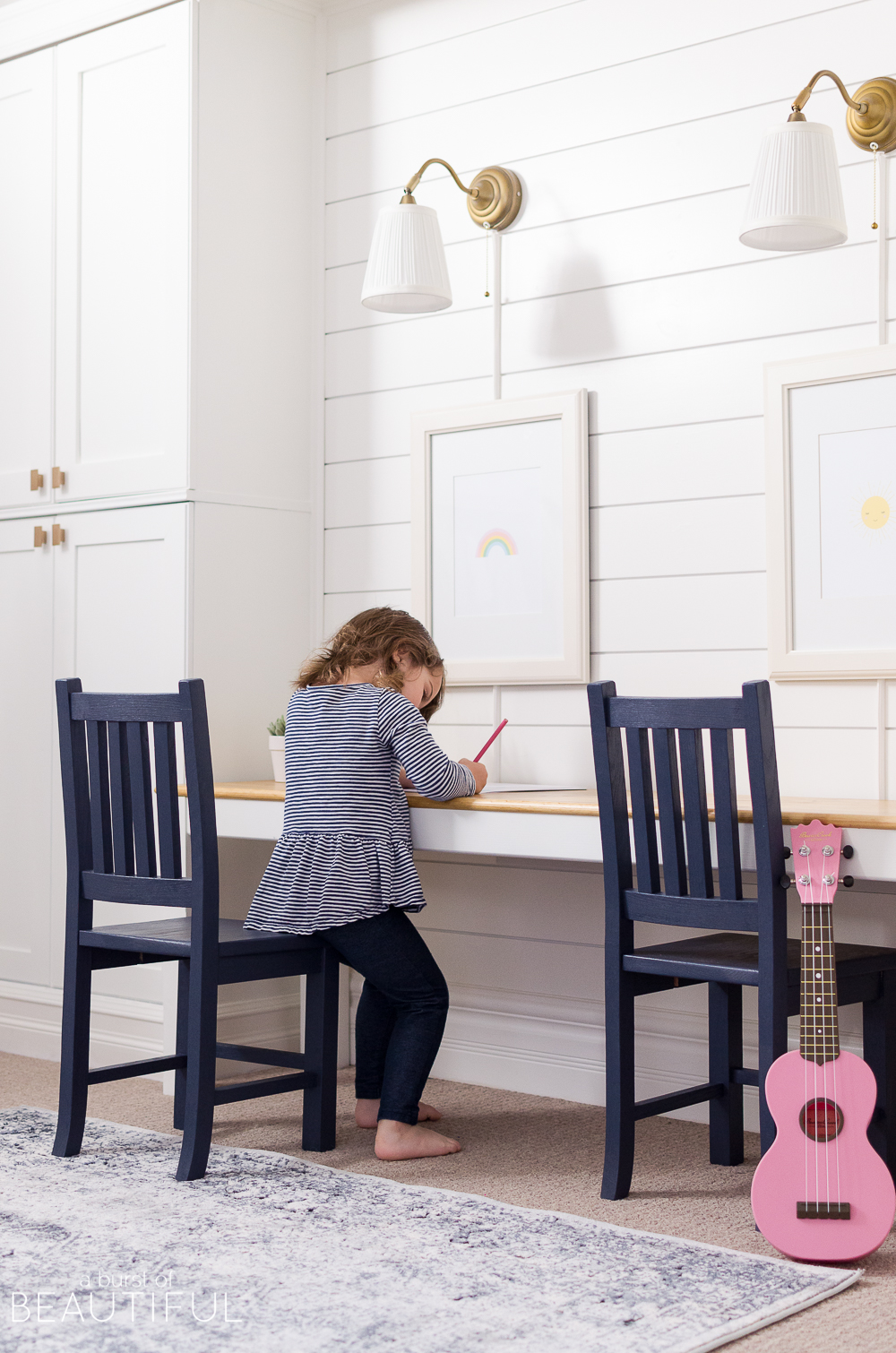 This post was sponsored by Kreg, it may also include affiliate links. All opinions and thoughts are my own, see our full disclosure policy

here

.
This kid-sized play table is not only adorable, it's also so practical and just happens to be one of my favorite pieces in our family room and playroom makeover. I mean, how could you not love it, it's just so cute!
When we started planning our little one's playspace we knew we wanted to incorporate some type of table or desk. She needed a spot where she could color, play with playdough and make crafts, a spot that was central to all of her activities and art supplies. It made sense to have an area in her playroom that allowed her to be creative and get her hands a little messy, without lugging everything upstairs to the dining room each time she wanted to play.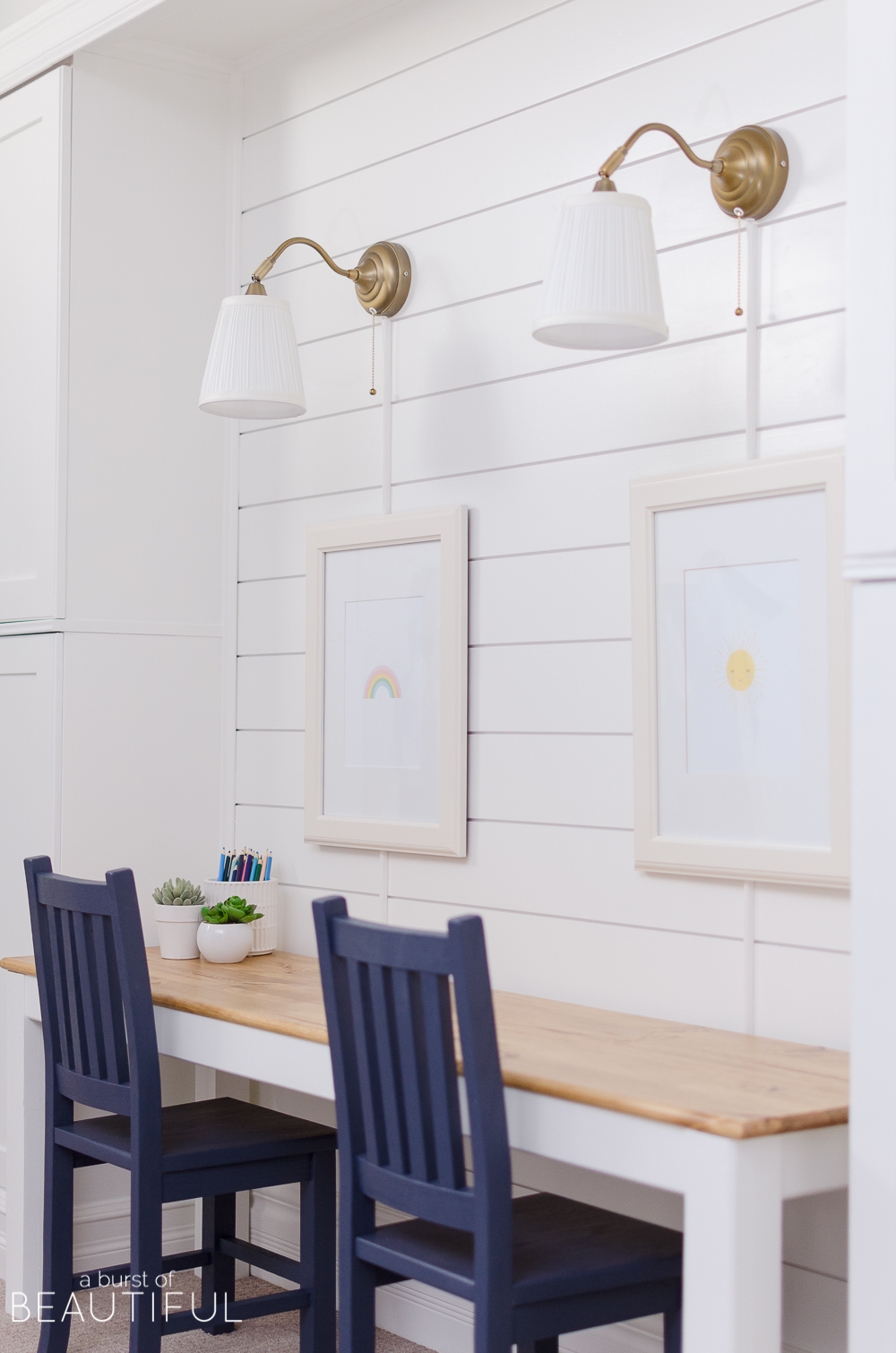 All along we planned to keep a kid-sized table and chairs in the center of the playroom, but Nick came up with the idea of building a small desk into the space between our built-in shelves.
Originally we had a few ideas for this empty space when we started planning our renovation. First, was an upholstered bench to create a reading nook. I envisioned a cozy little spot to curl up and read our favorite stories together. Secondly, we thought about adding two more units to create a full wall of closed storage. We were thinking long-term and (I especially) loved the practicality of having lots of extra storage for toys, books, games, and crafts. Finally, Nick suggested tucking a small desk into this space and creating a craft and future homework zone. It made so much sense!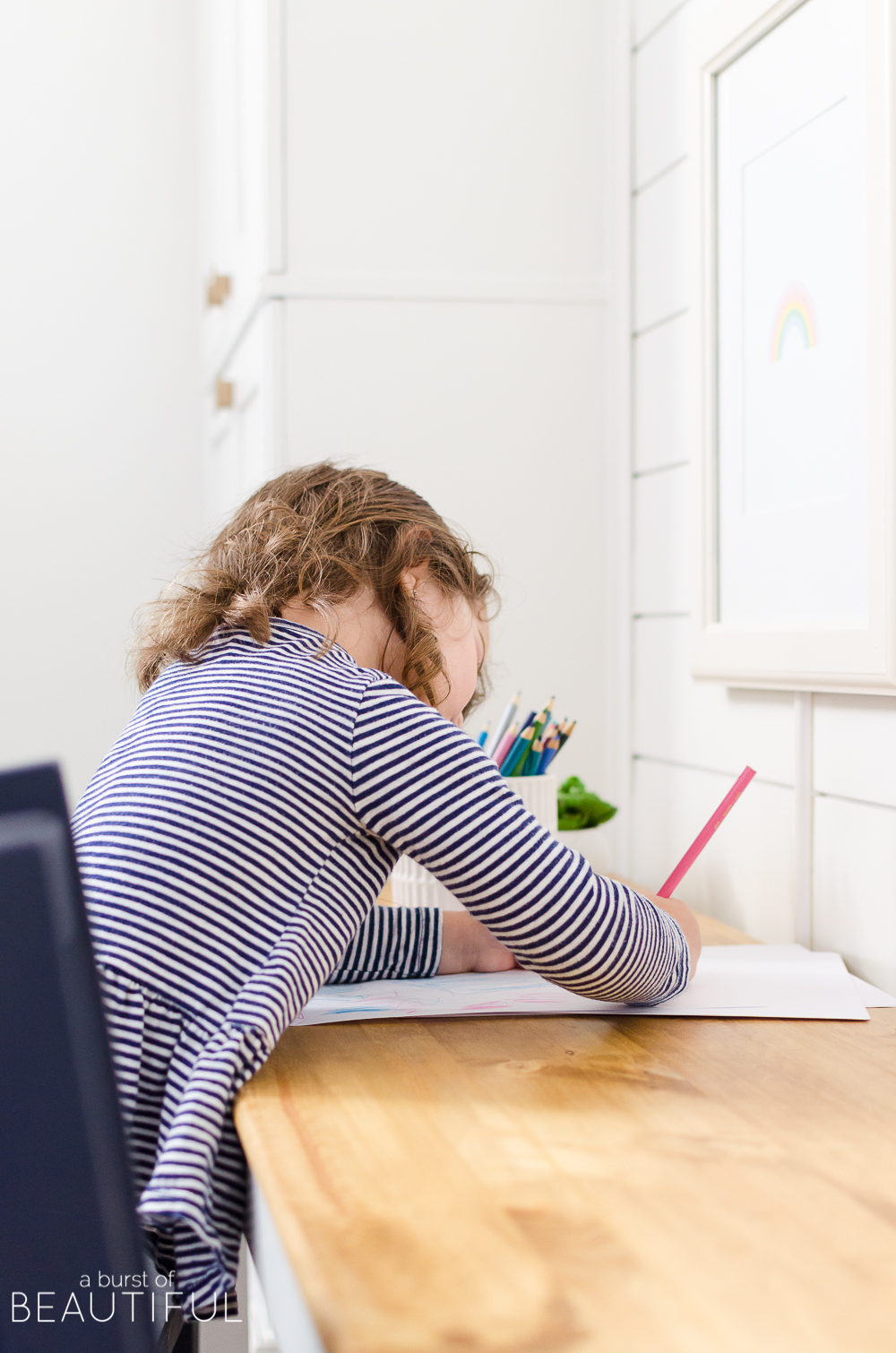 With the desk tucked away it left the rest of the playroom open. Now our little one would have a ton of space to sprawl out and play with her toys, without us needing to move a table and chairs out of the way all of the time.
Genious, right? This guy is always thinking! 😉
As usual, I gave Nick my vision. I told him I wanted it to be simple and classic and he got to work building this adorable kid-sized table. It has such a simple design, but I love the way it's still traditional, yet fits so well with the more modern design elements down here. Now, it's not just pretty, there are also a few features I have to share about it that make it even better…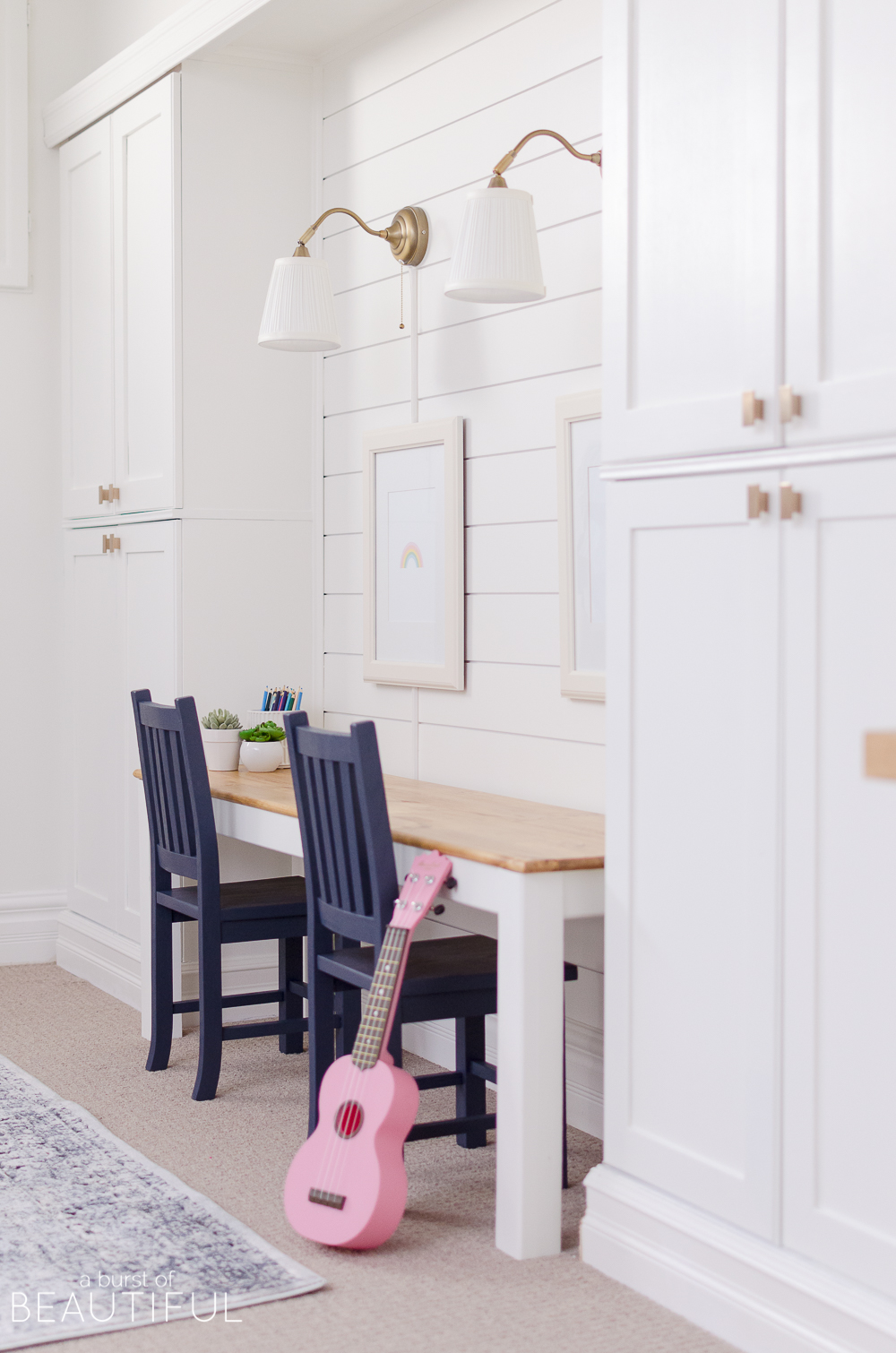 Nick didn't just design and build it for right now, he took into account the future.
Even though the table looks like it's part of the built-ins, it's not. Surprise! It's actually completely portable. If we have a bunch of little friends visiting, we can simply pull the table away from the wall and add a few more chairs to make sure everyone has a seat. It's perfect for play dates or if there are more than two kids in our future. 😉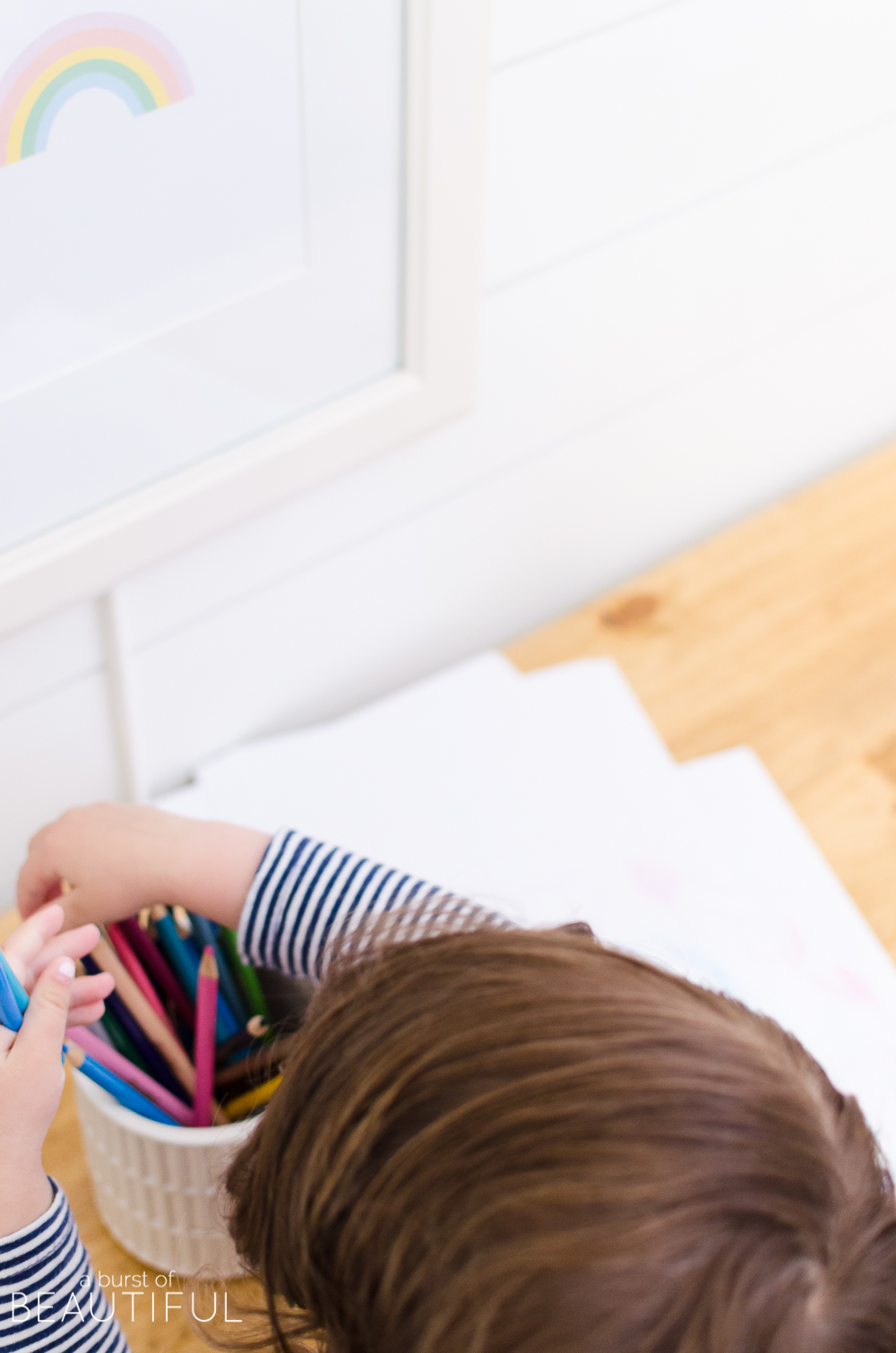 It's also completely customizable. Nick built it so that we can easily change the height to grow with our kids, or if we decide it's dad's desk instead (check out Nick's Instagram for a funny shot of him working away here). You could also use these plans to build a sofa table instead of a kid-sized table, Nick will touch on that in his plans. I love how versatile it is.
So that's the story of how this sweet little kid-sized table came to be. It's funny how you can have one particular idea in mind but by the end of a project it has taken on an entirely new concept.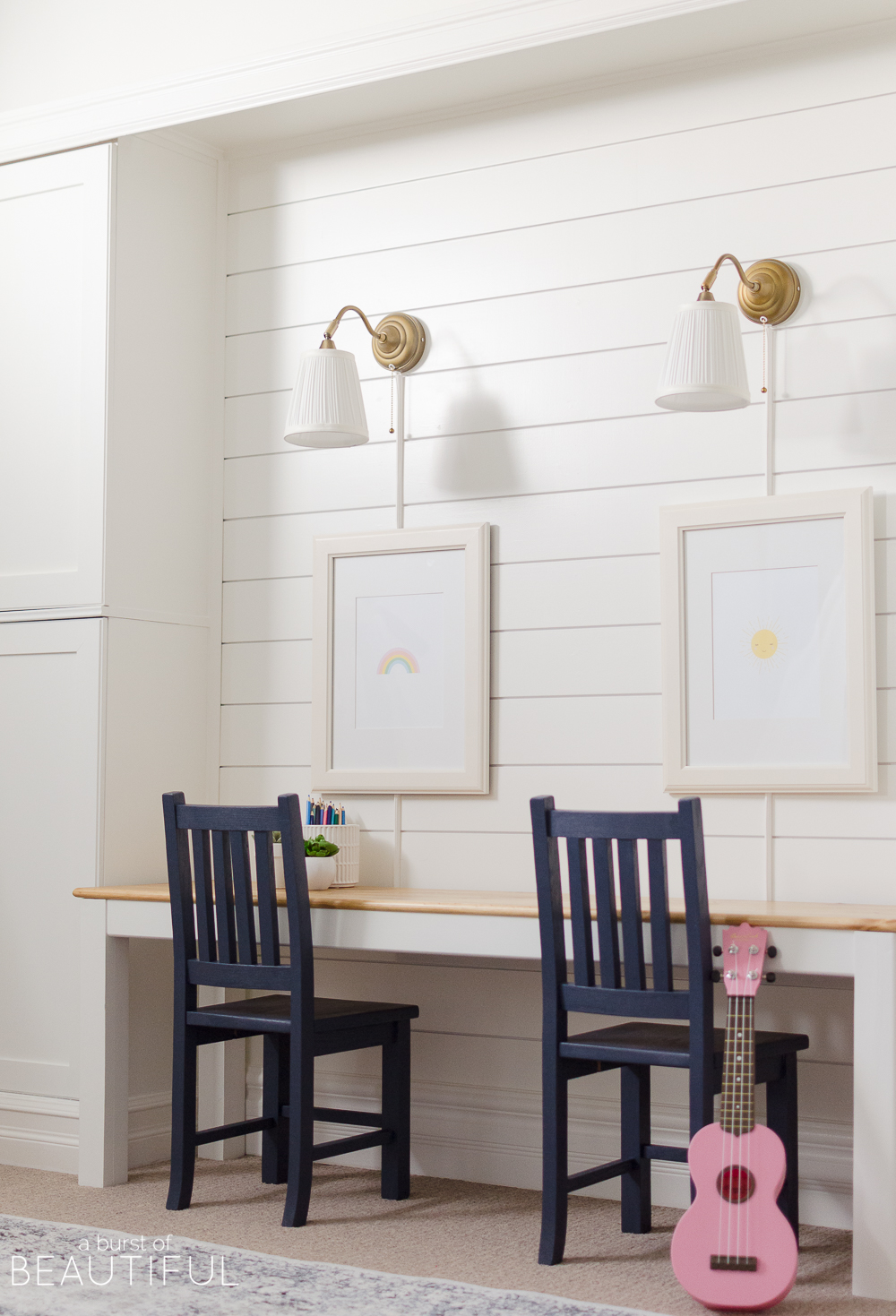 ---
get the look

---
Before I go, I want to talk a bit about the details we added to complete the look and feel of this cute craft zone.
We added shiplap behind the desk to add a bit of interest and dimension to the white walls (I recently shared our favorited white paint colors here), we also repeated that same shiplap on the opposite wall between the open shelving in our family room. I love repeating elements like this to help a space feel cohesive and consistent.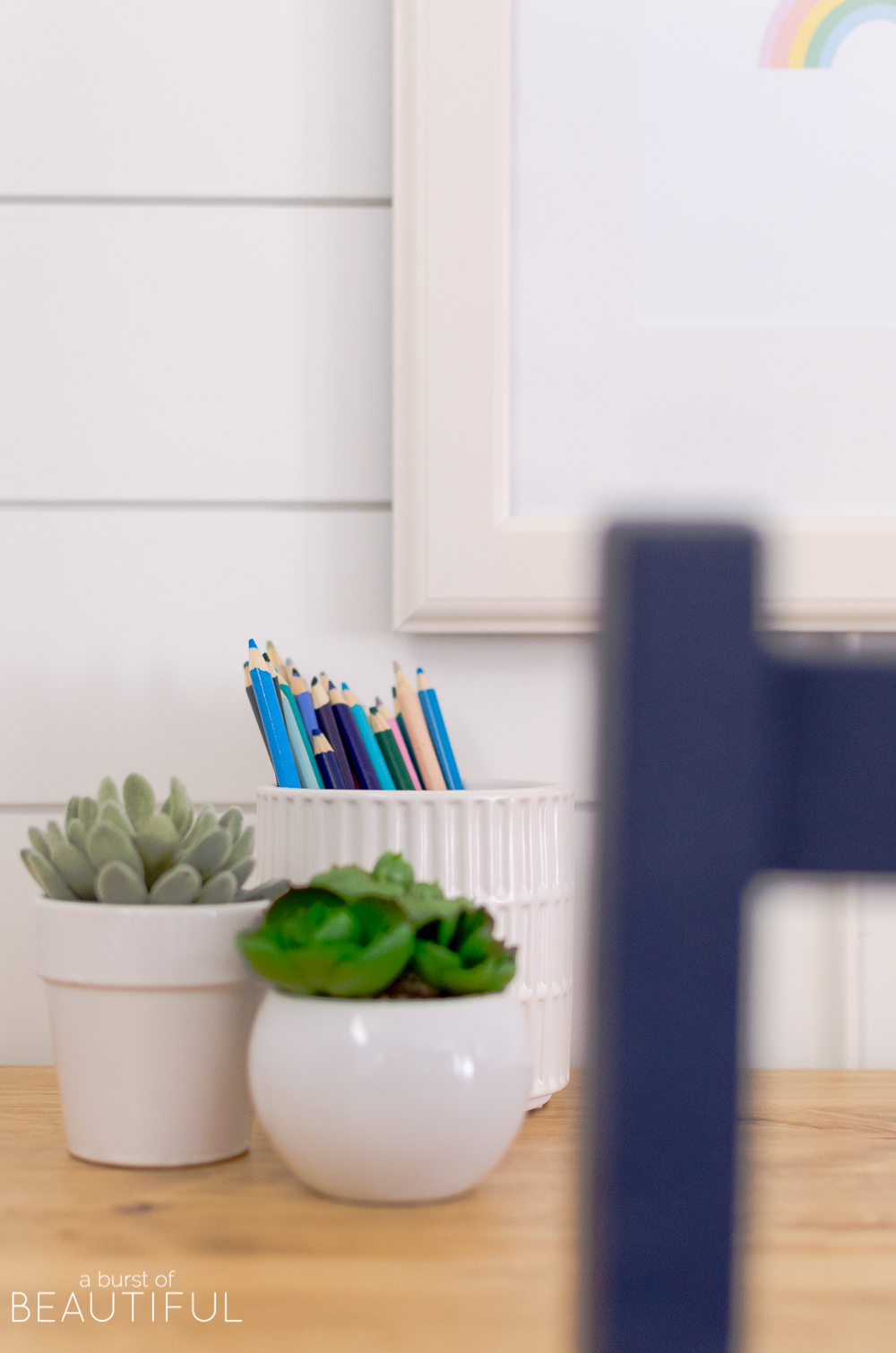 Next, came these sweet and inexpensive gold sconces. Again, I can't take credit for this design element, it was all Nick's idea (I think I'm teaching him well! Haha!). Not only do they add an adorable detail to the space, they also act as extra lighting, which is so helpful when it's craft time.
We hung two framed prints in simple white frames below each sconce to help balance the space. There are so many sweet prints available to add color and whimsy to kid's spaces you definitely won't have a hard time finding ones that fit your kids' personalities or the design style of your space. Or even better, frame a few of your own kid's pieces of art, they will be so proud their hard work is being displayed at home.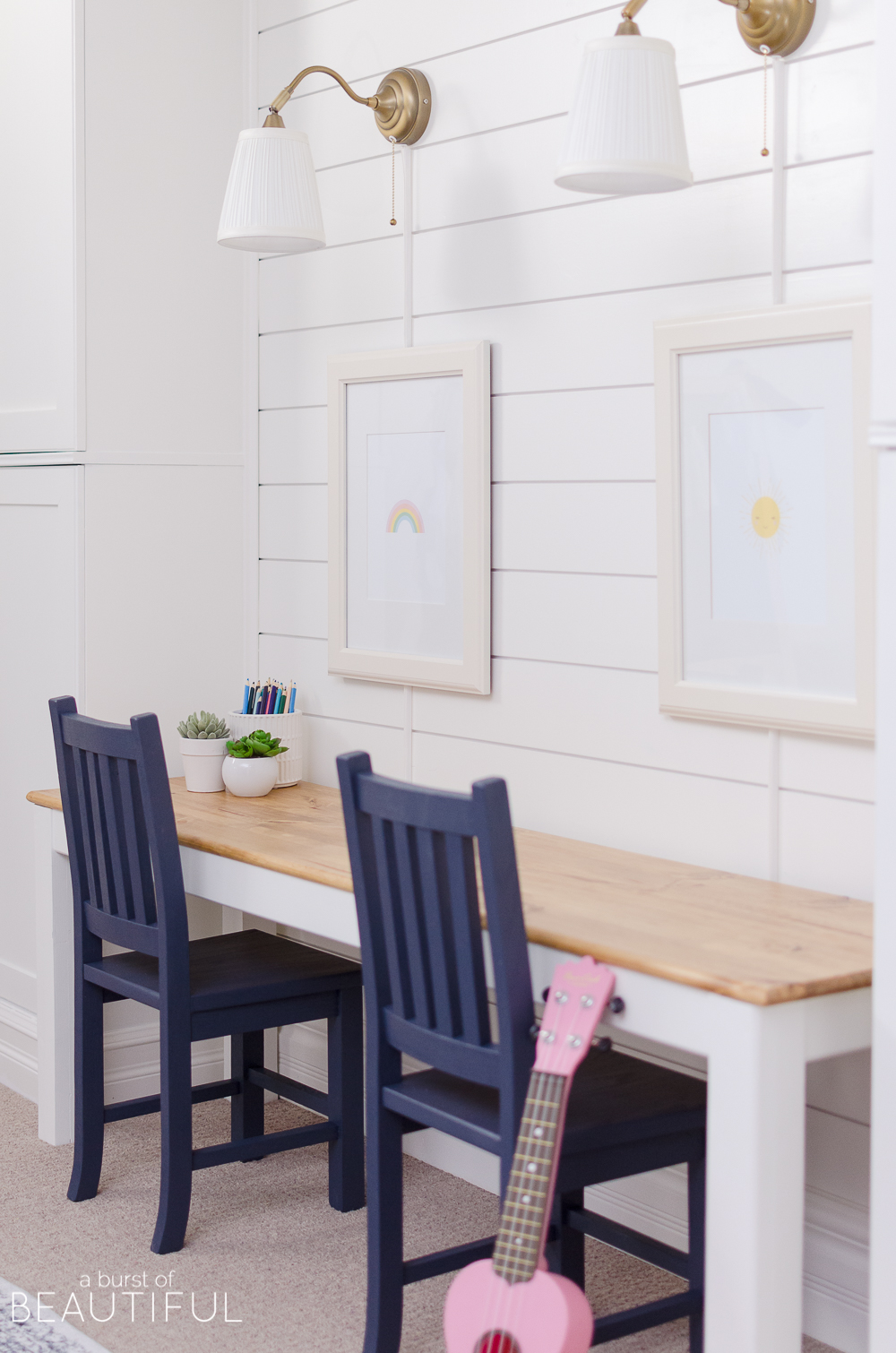 Finally, two simple solid wood chairs, painted Hale Navy by Benjamin Moore add a pop of color. I love the contrast they add and our little one had fun choosing the perfect shade of blue to paint them. She is a little designer in the works!
You can find our kid-sized play table free plans by following the link below to Kreg's DIY project plan site, BuildSomething.com. I know you'll find some other great projects on their site too that you will want to add to your to-do list!