A simple renovation turns a basement into a modern and sophisticated family room, playroom and home office.

This post was sponsored by Article, it may also include affiliate links. All opinions and thoughts are my own, s

ee our full disclosure policy

here

.
Our family room and playroom renovations are finally complete, and I couldn't be happier with the outcome. Seriously, renovating this space has been completely life-changing for our family. And I promise I'm not being overdramatic.
The basement of our home used to look like this…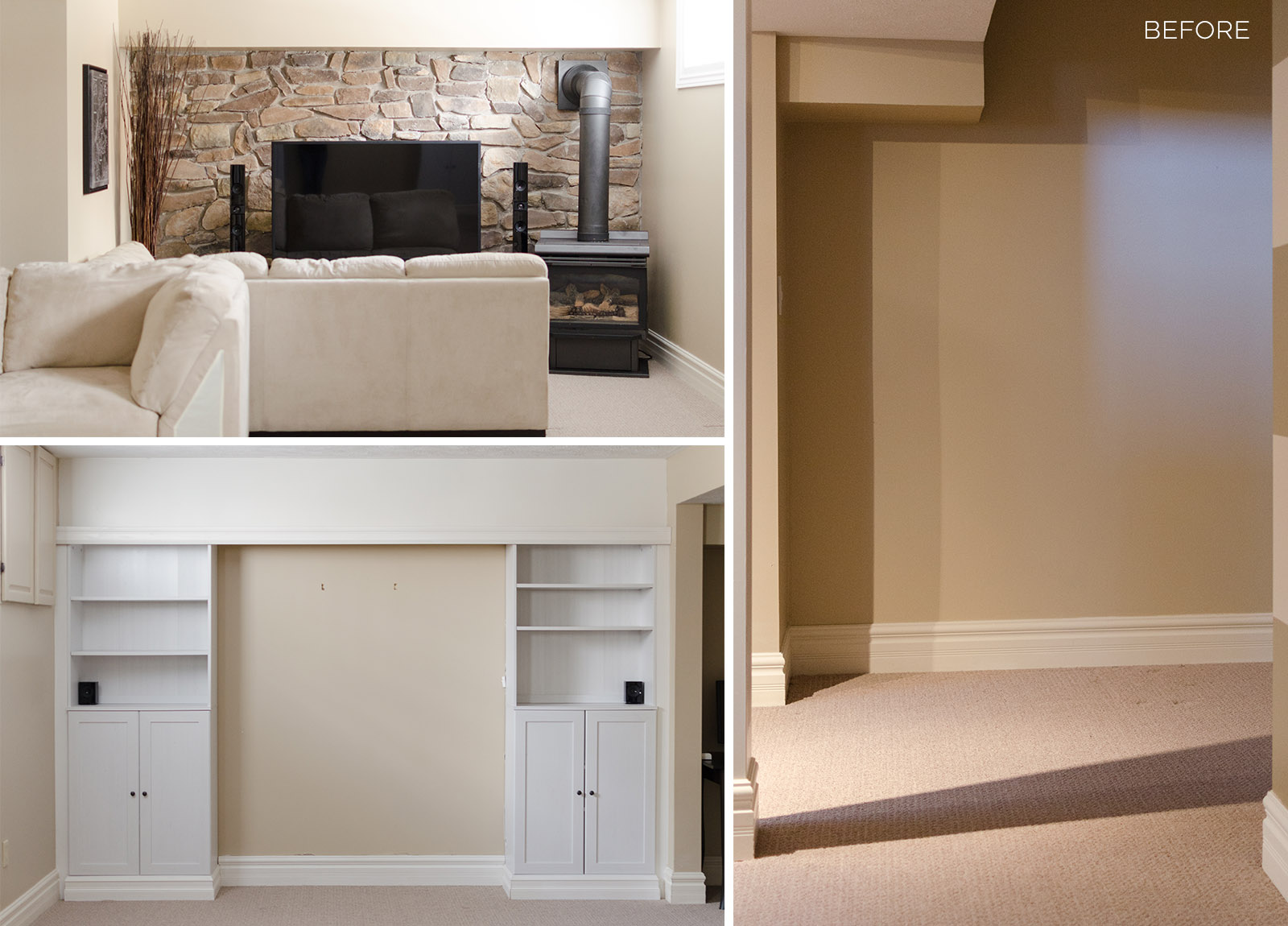 Now it looks like this…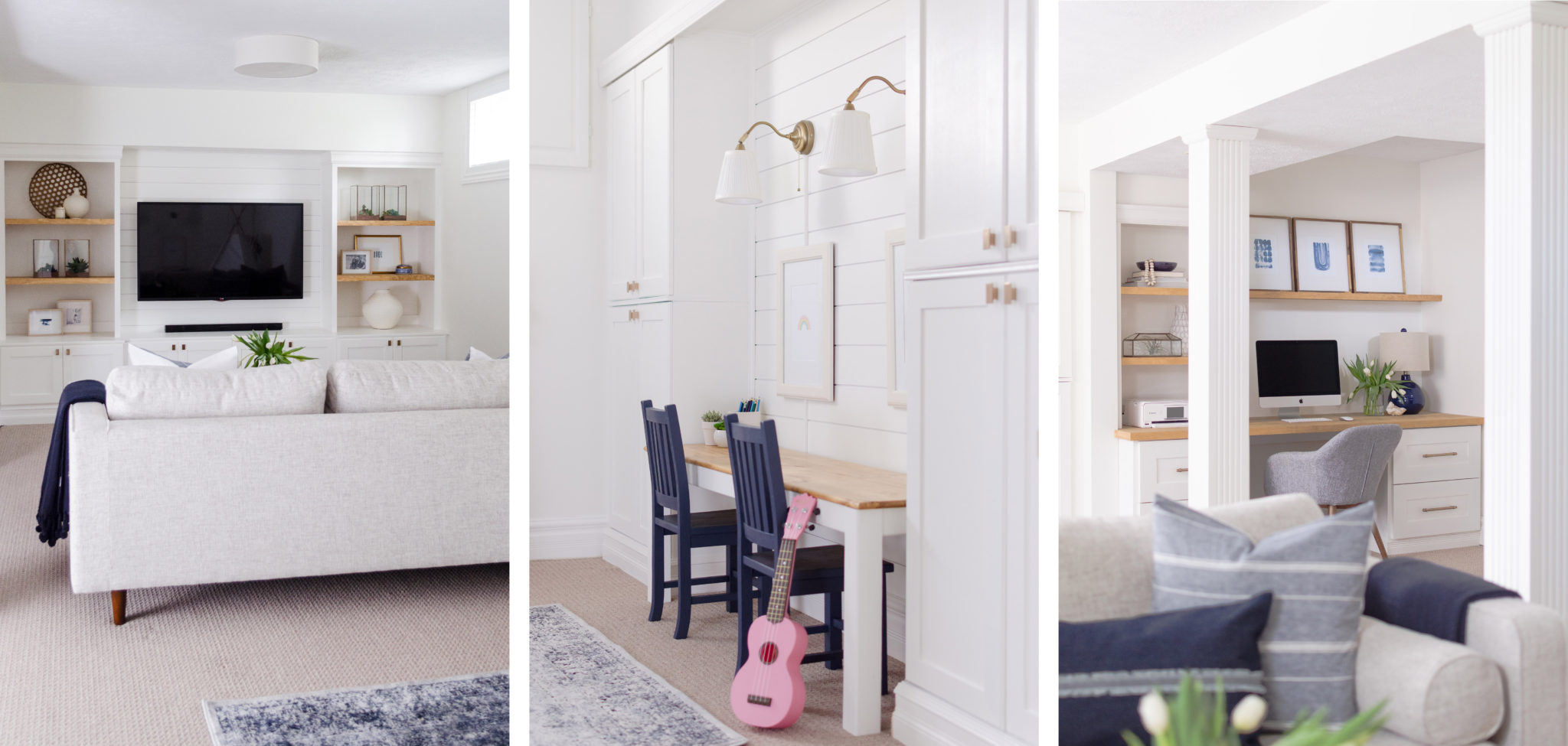 We truly can't get enough of this new living space. We already spend so much time down here, whether it's crafting, playing, working or simply relaxing while catching up on our favorite TV shows. It's gone from a space that felt cold and uninviting to a bright and happy family space for our growing family. And that is just what I was hoping for, a happy space that our whole family can enjoy and spend time together.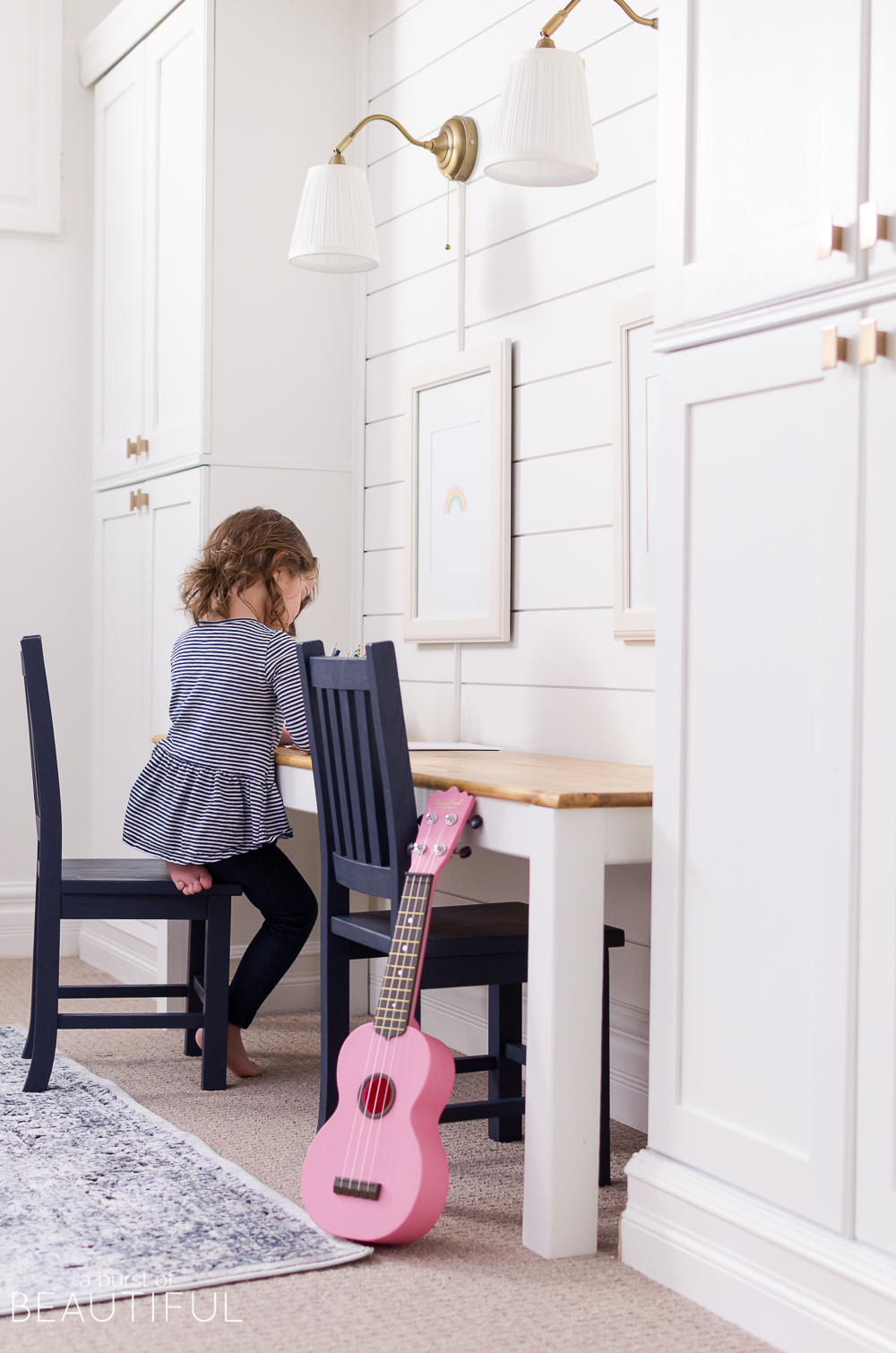 It all started when we realized we needed more space for our busy family, in particular, our daughter and her growing collection of toys and craft supplies. We had maxed out our living space on both the main floor and upstairs, so we knew going down was our only option. We had all of this space downstairs, but we never utilized it. Partly because we didn't really need the space until now, but also because I worried that despite renovations it would always feel cold and dark, simply because it's a basement. Boy, was I wrong. This space still gets plenty of natural light, especially in the mornings, and we made sure to incorporate a lot of different lighting options for those darker days when we need a little extra light.
Giving the entire space a fresh coat of paint really helped too. We chose our favorite, Simply White by Benjamin Moore, which was the first step in making sure this room felt light and bright, and nothing like a basement. It's a soft white that is just the perfect mix of bright, but still warm.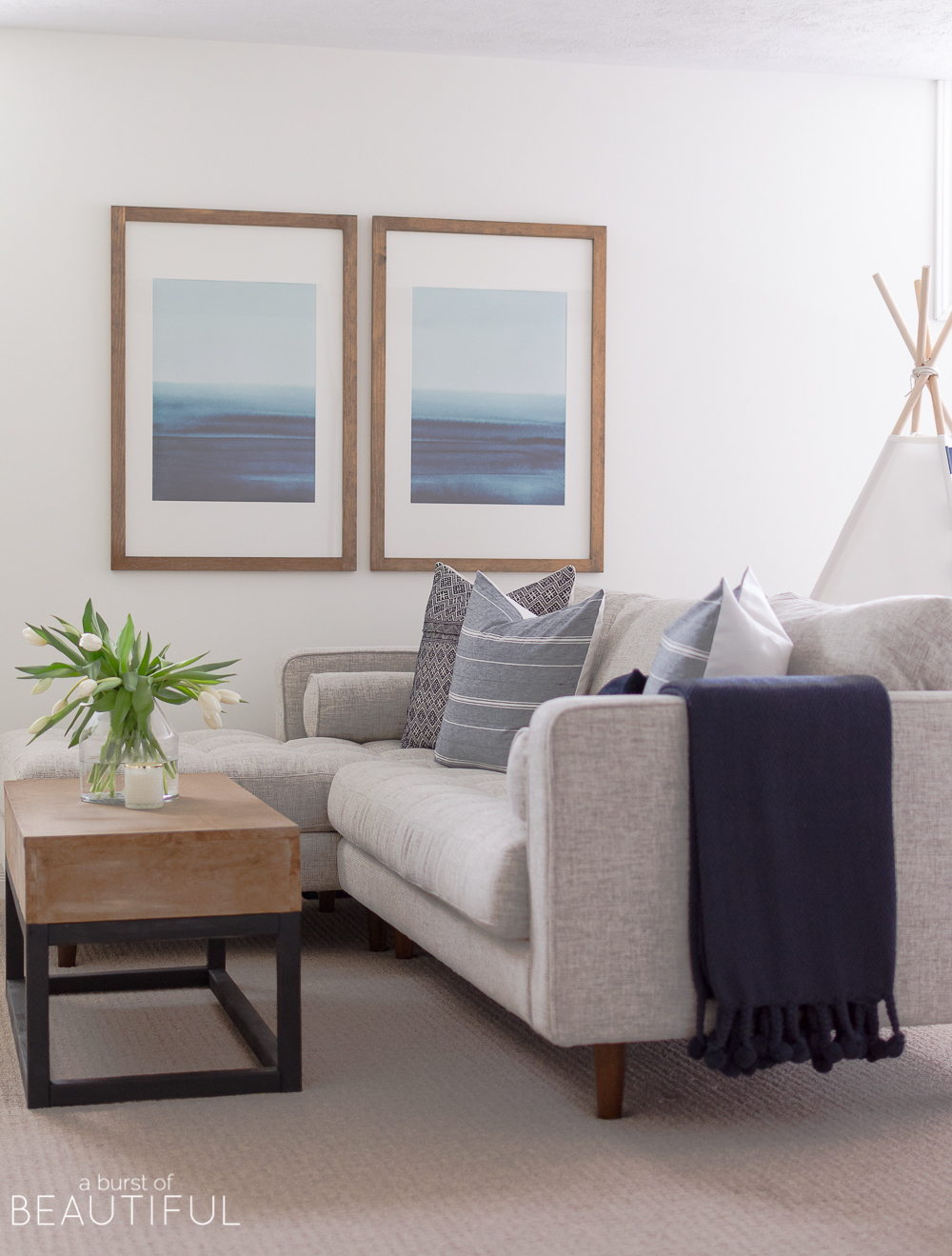 Now, I need to take a minute to chat with you about our gorgeous new sofa. It really was the jumping off point to this entire makeover. Before we make a purchase, big or small, I spend hours and hours online and in stores researching all of our different options. I want to make sure we are purchasing the best quality we can within our budget, I also always want to make sure we truly love a piece before we bring it into our home. It needs to stand up to life with a preschooler and pets while being classic in design so that we will still love it months and years down the road.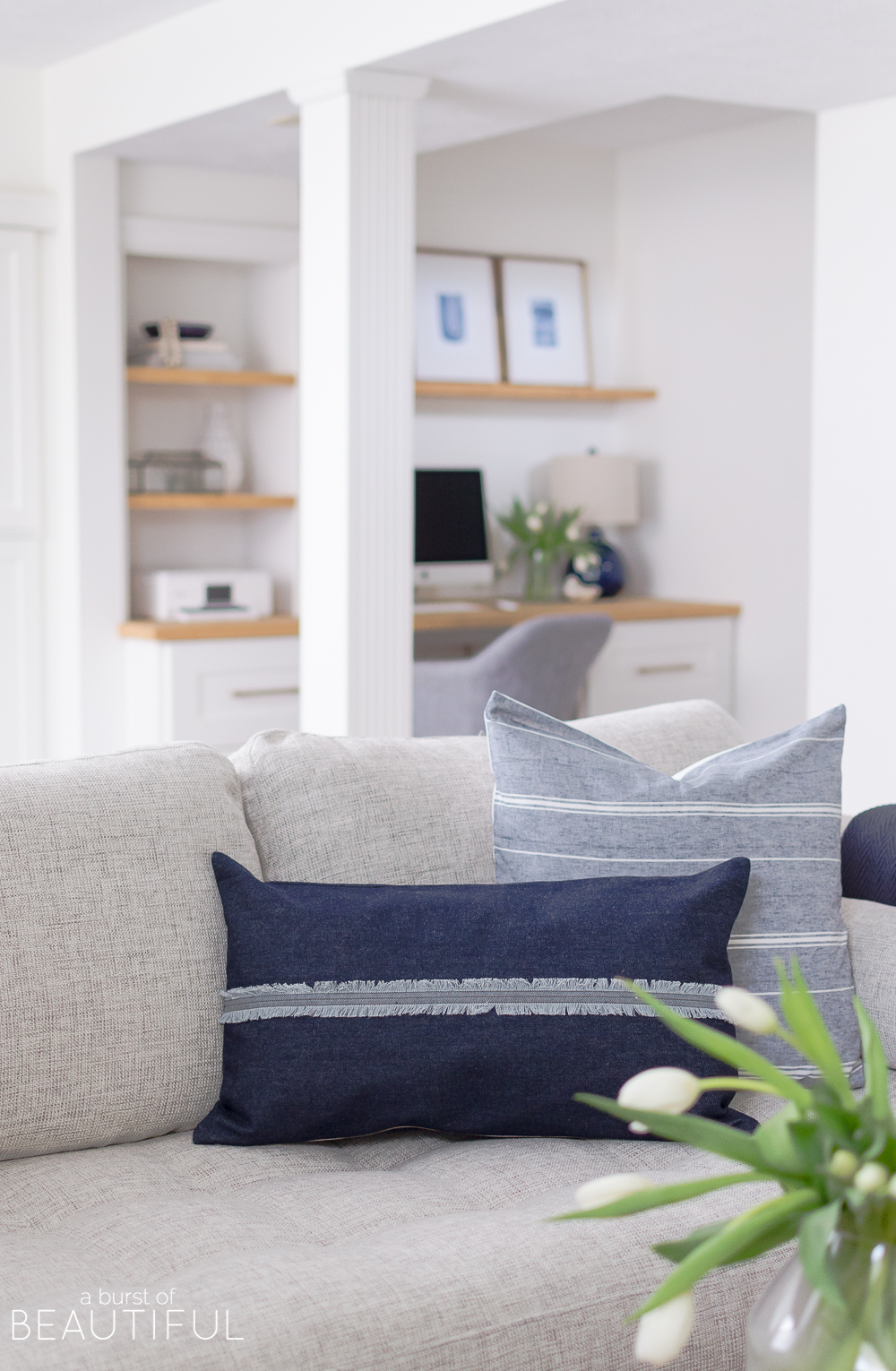 And this beautiful sofa fits the bill. No matter where I looked I kept coming back to Article and their beautiful Sven Sectional. Do you remember back in January when I talked about wanting to incorporate a more modern style into our home (if you missed it you can catch up here)? I love the traditional feel of our house, but I also want it to feel youthful and fresh, and this sofa helps to do just that.
It's a modern take on a mid-century classic, but the clean lines, tufted cushions, and soft neutral color keeps it feeling traditional enough for our home. It looks so sleek in our new family room and we all love it. Honestly, I was a little afraid of what Nick might think when he saw it for the first time. You see we sold his beloved oversized sofa from his bachelor days to make room for this one. It was too big and bulky for this space, making the room feel closed in, but I can't deny it was comfortable. So the minute he sat down on our new Sven Sectional I breathed a sigh of relief because the first words out of his mouth were "wow, it's actually really comfortable!". Phew, it checked all the boxes, we had a winner!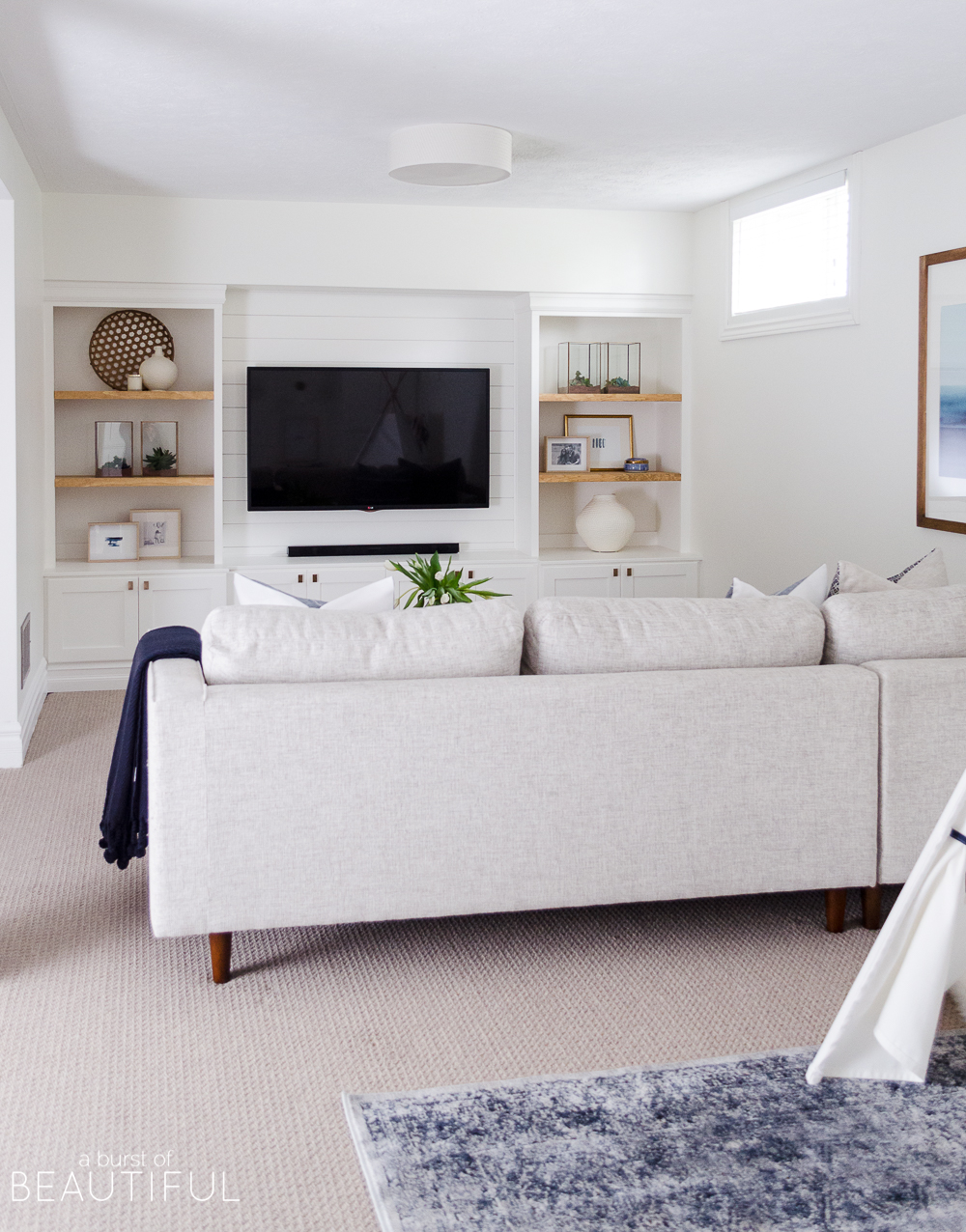 He also loved that it came with in-room delivery and assembly. We didn't have to worry at all about getting it down the stairs and putting it together. It took about 15 minutes from the time the delivery truck showed up to the time they left. Seriously, you can't beat that, can you.
So back to how this one sofa set the design for our entire family room, playroom, and office space. It reinforced my love of clean lines and my wish for a more modern take on our classic design. Initially, I wavered a bit in my design plan for the space (you can see the final design plan here), I was stuck in the mindset that a playroom should be bright and colorful and full of toys. Which is a wonderful idea, and I was drawn to so many beautiful designs just like that, but I knew it wasn't going to work for us. Because our basement is a large open concept space we had to fit a family room, playroom and office into it and I didn't want it to feel disjointed or pieced together. It needed to flow well and feel cohesive, and that meant designing a space that felt modern and sophisticated while still being family friendly.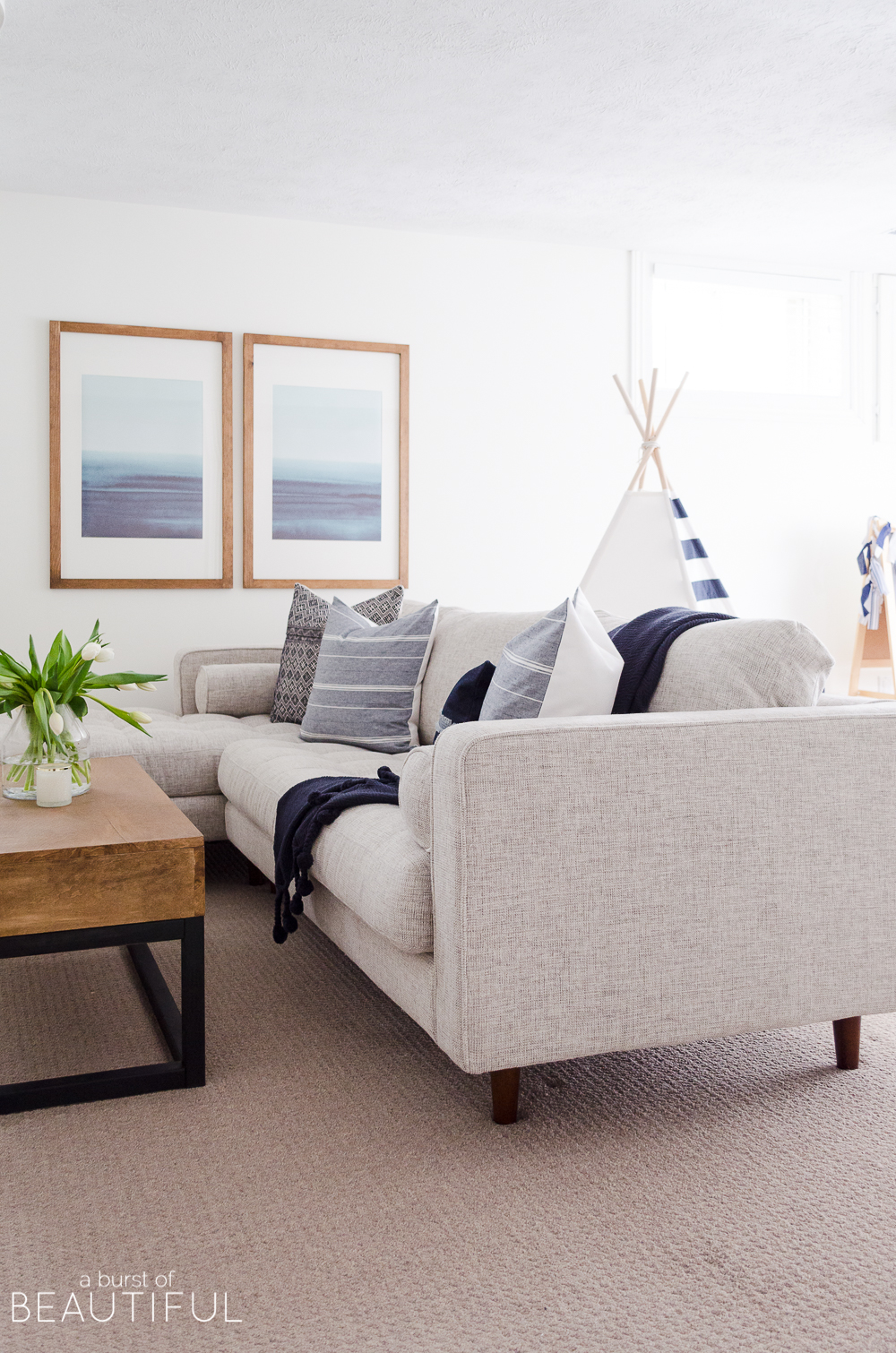 A bright light-filled space with elements of natural textures, cozy layers, and unique art lend to the modern and sophisticated feeling I was after, while plenty of storage and sweet details like a teepee and painted desk chairs play to the family-friendly element.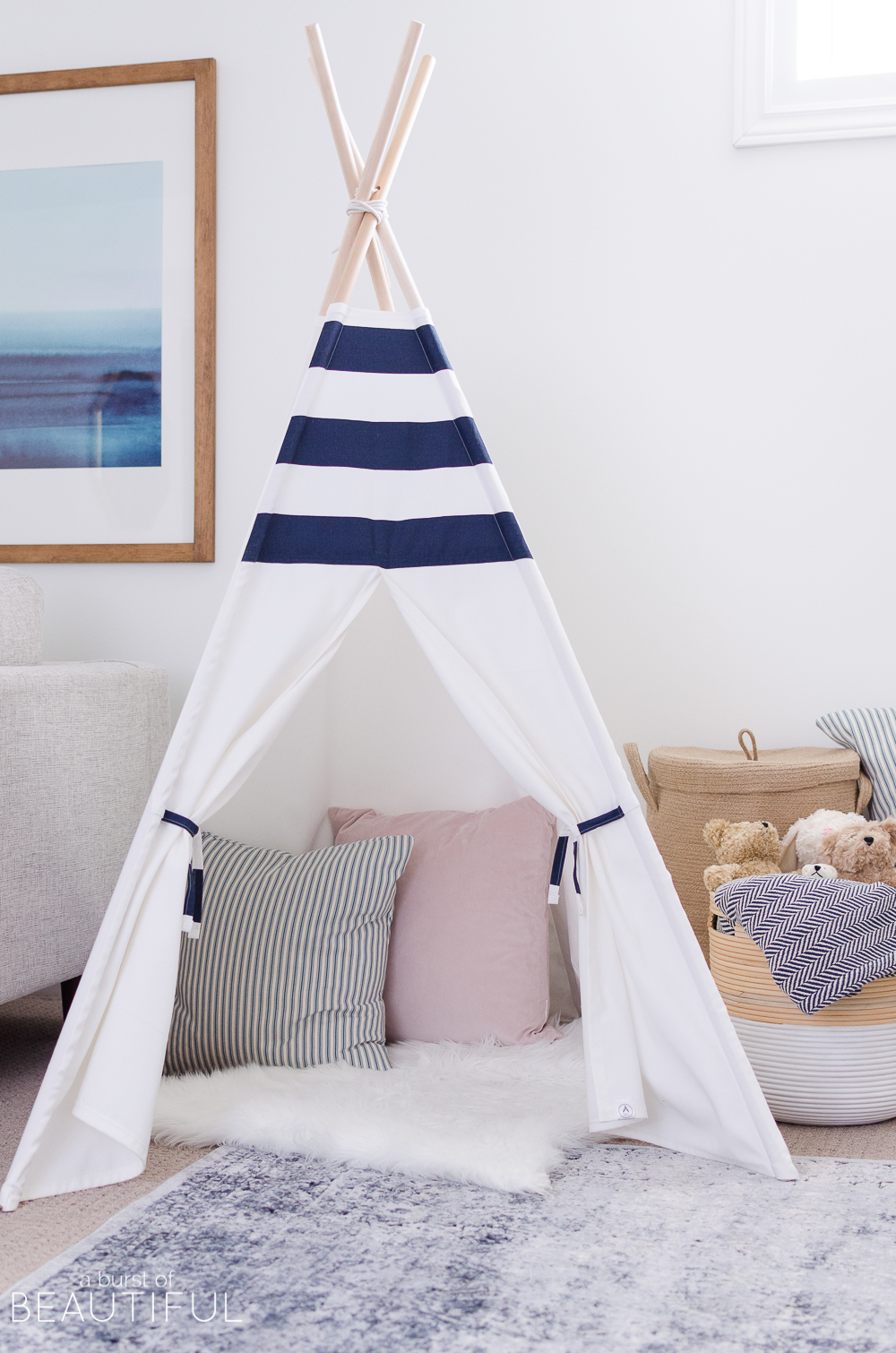 So let's touch on storage and practicality for a minute. Nick designed and built all of the built-ins in the family room and playroom, as well as my custom desk. It was a huge undertaking, with most of the work taking place on the weekends. But I am so proud of him and what he accomplished. They turned out better than I could have ever imagined, and they provide so much extra storage space for us.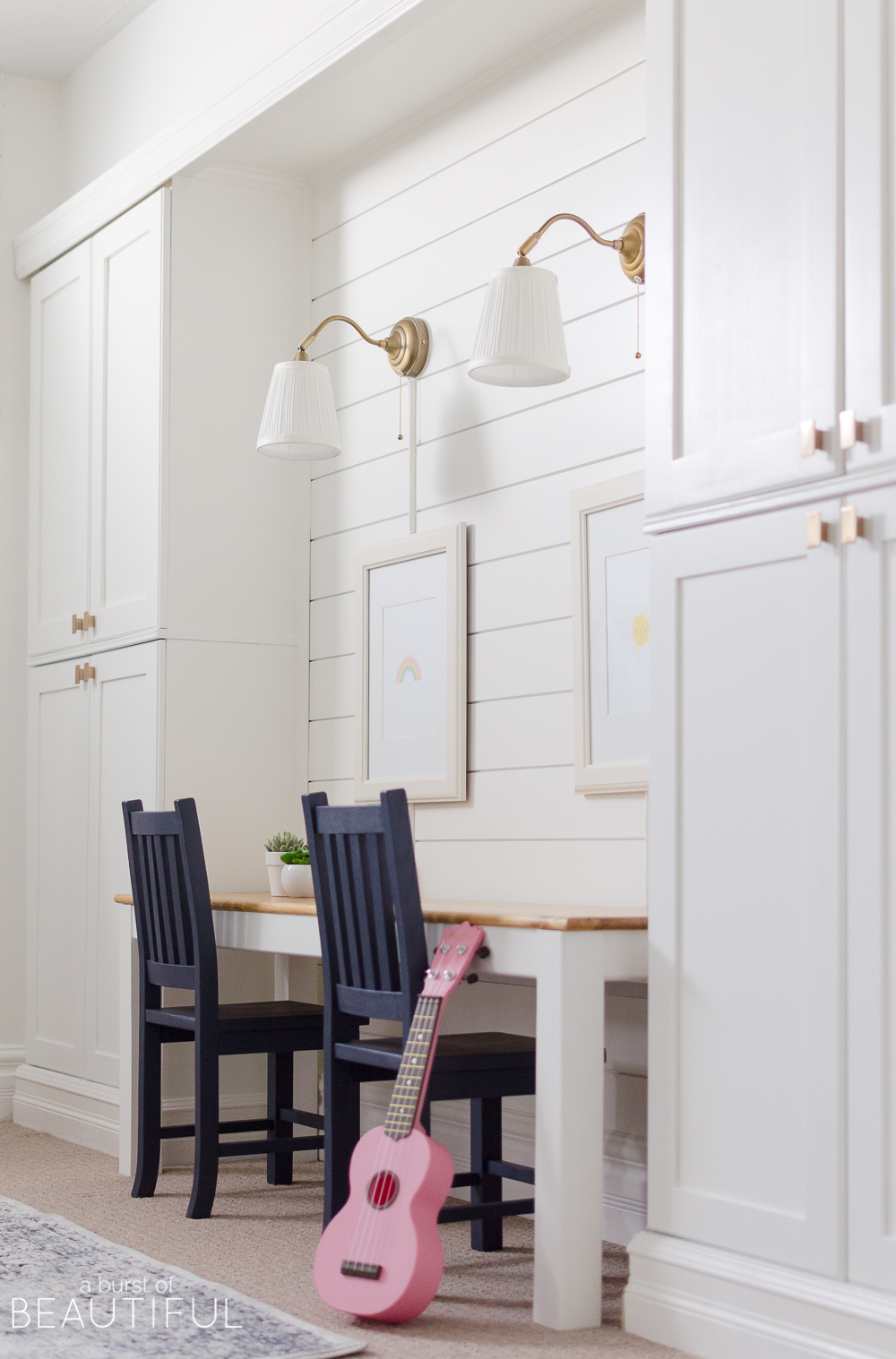 In the family room, Nick demoed this stone wall that played a big role in making this room feel so heavy and dark. Again, it was a process but he got it done! We also removed the gas stove from the corner, it had been here since we moved in but never worked. Just getting rid of it made the room feel more open and spacious.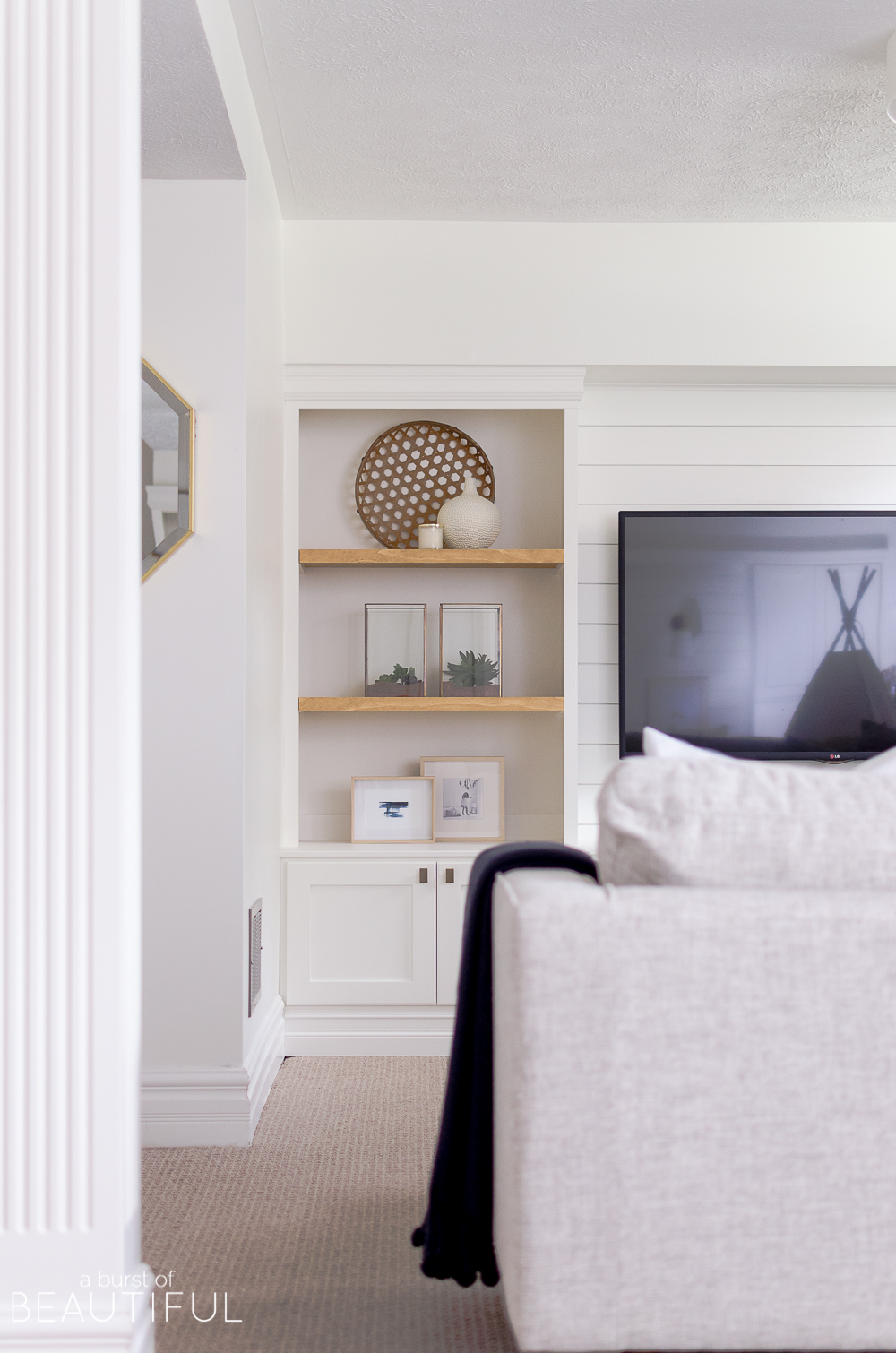 Next, he set to work building these amazing built-ins. I love everything about this unit, from the way it helps to disguise the bulkhead above to the extra storage for toys and games below to the thick wood shelves for displaying a few of my favorite pieces. We chose to build all of our pieces using a mix of white and natural wood to help the space feel warm and inviting. Traditional details like the trim and Shaker style doors lend to the classic look we love so much, but a light stain and this beautiful brass hardware add a touch of modern sensibility. I feel it's the perfect combination of traditional and modern.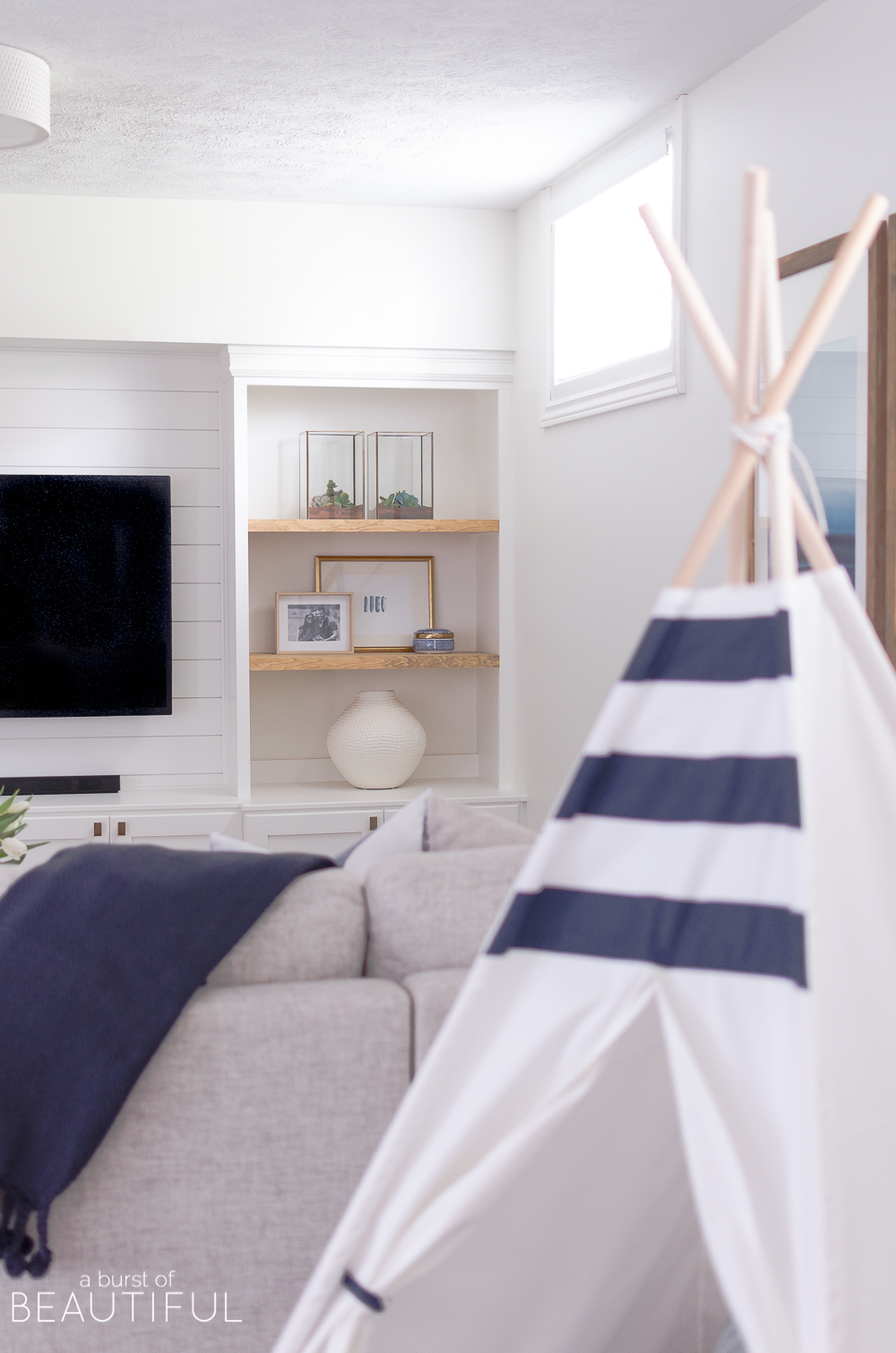 I'm so happy to have shelving to style in a living room setting again. We had it in our upstairs living room a few years ago but got rid of it when we change our furniture layout, we also have it in our kitchen (see it here) and I always have so much fun styling it for the different seasons and holidays.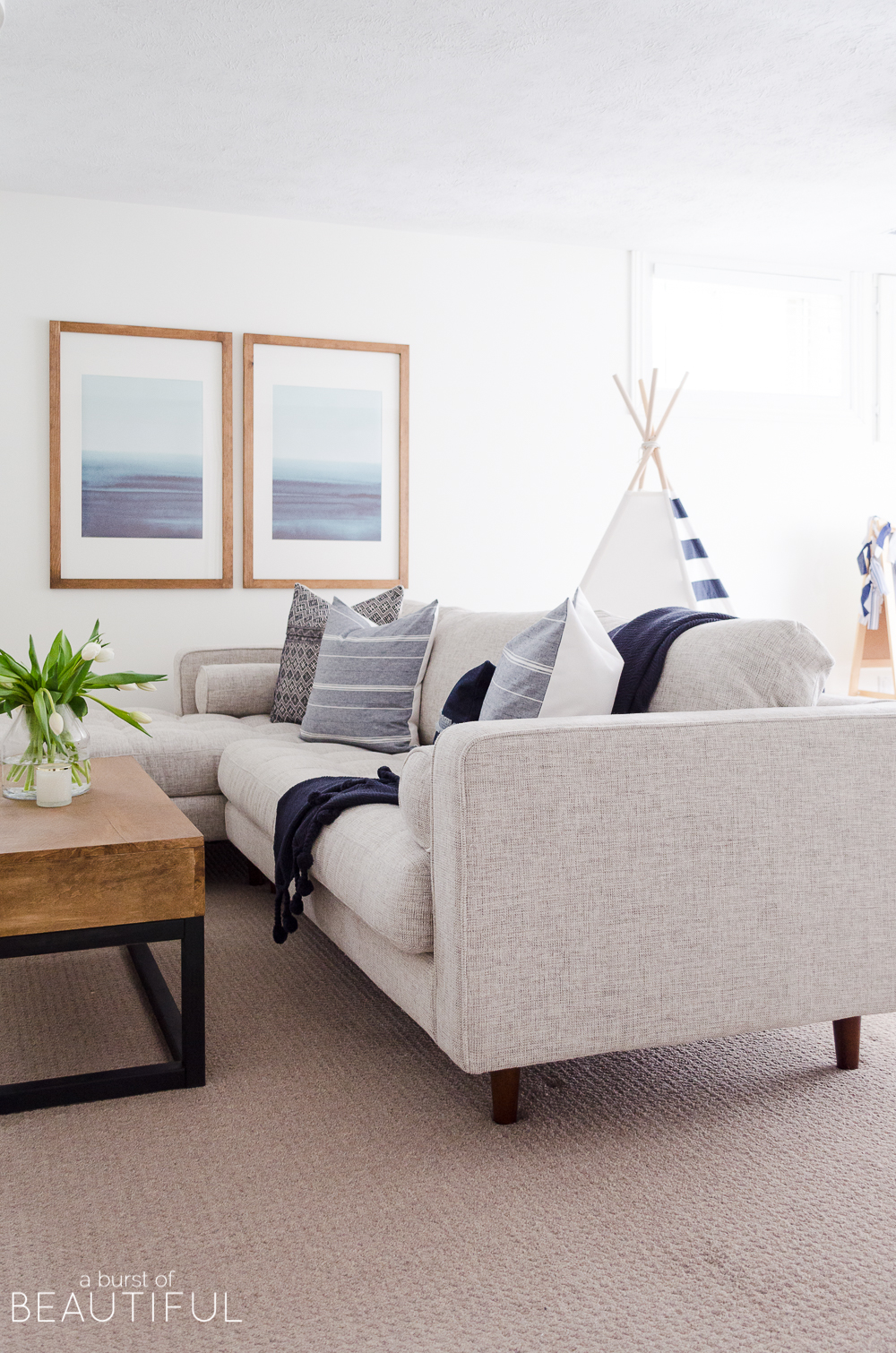 ---
get the look

---
Then it came time to think about art. We have this huge empty space between the two windows down here and I really struggled with finding the perfect art to fill it with. I wanted to hang two large frames with coordinating prints but no matter how hard I searched I couldn't find the right frames. I was looking for something made of dark wood with narrow frames, again to keep things feeling modern. So we ended up getting creative. I found picture frames at our local craft store, they were the perfect size 24″ x 36″ and came complete with glass (not plexiglass) and matting, and they were very inexpensive (around $30 a piece). The only problem was I didn't like the frames. But I bought them anyway, hoping Nick would be able to build me two new frames from wood so I could get the look I was after. And as usual, he pulled it off!
I ordered these coordinating prints and had them printed here, now it looks like we have custom framed art but at a fraction of the cost!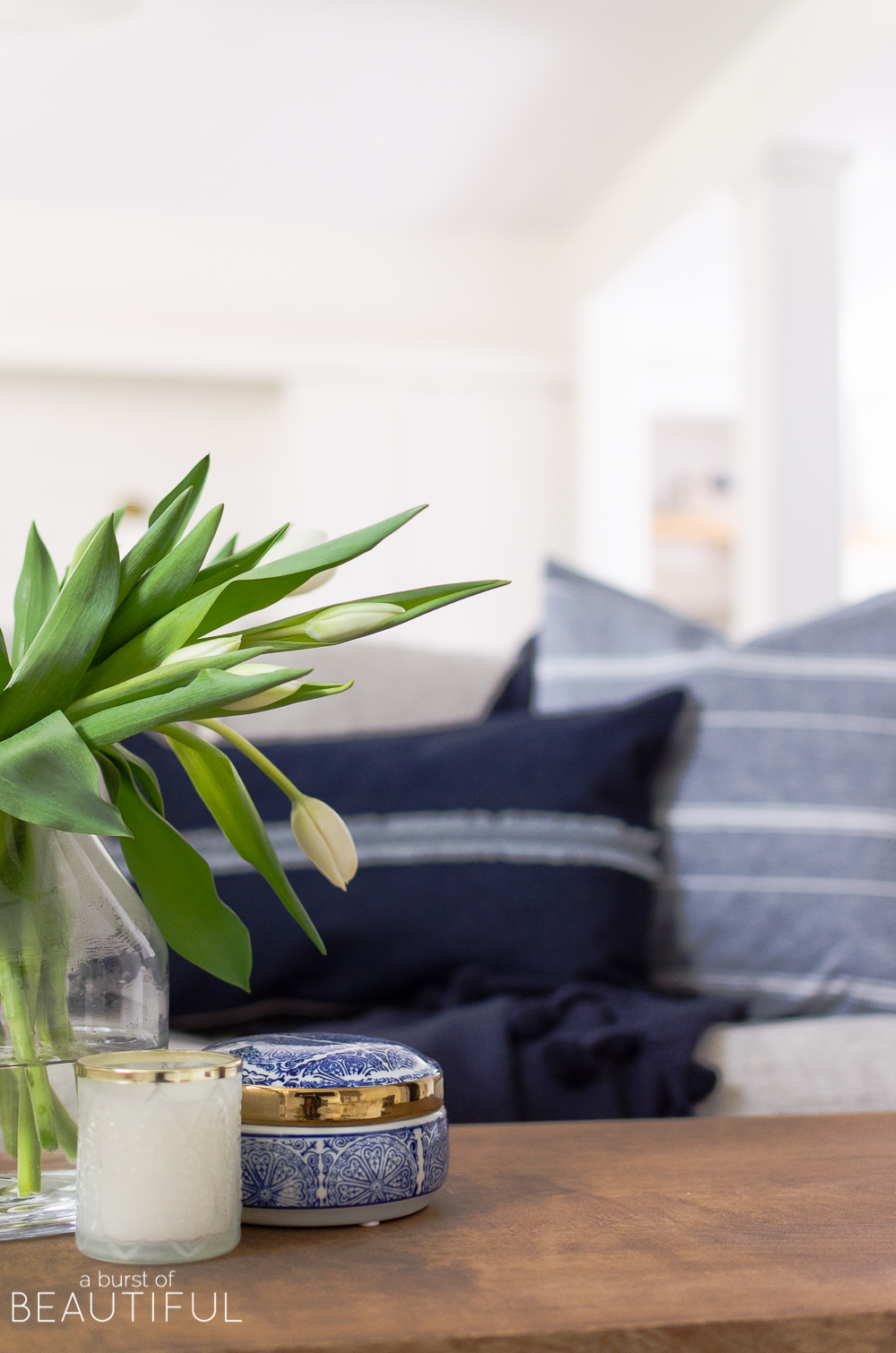 Finally, I added decorative touches in my signature color, like this luxurious pom pom throw, denim fringe pillow, and beautiful ceramic box, all from this incredible new company, Rainsford Company. A few framed family photos add a personal touch, and faux succulents planted in terrariums add a hint of greenery, without the maintenance.
I layered this vintage-wash rug under our sofa and coffee table (another project by Nick, he will be sharing the plans on his site soon!) as well, for an added touch of color and texture. I'm not sure I love it here though, what do you think?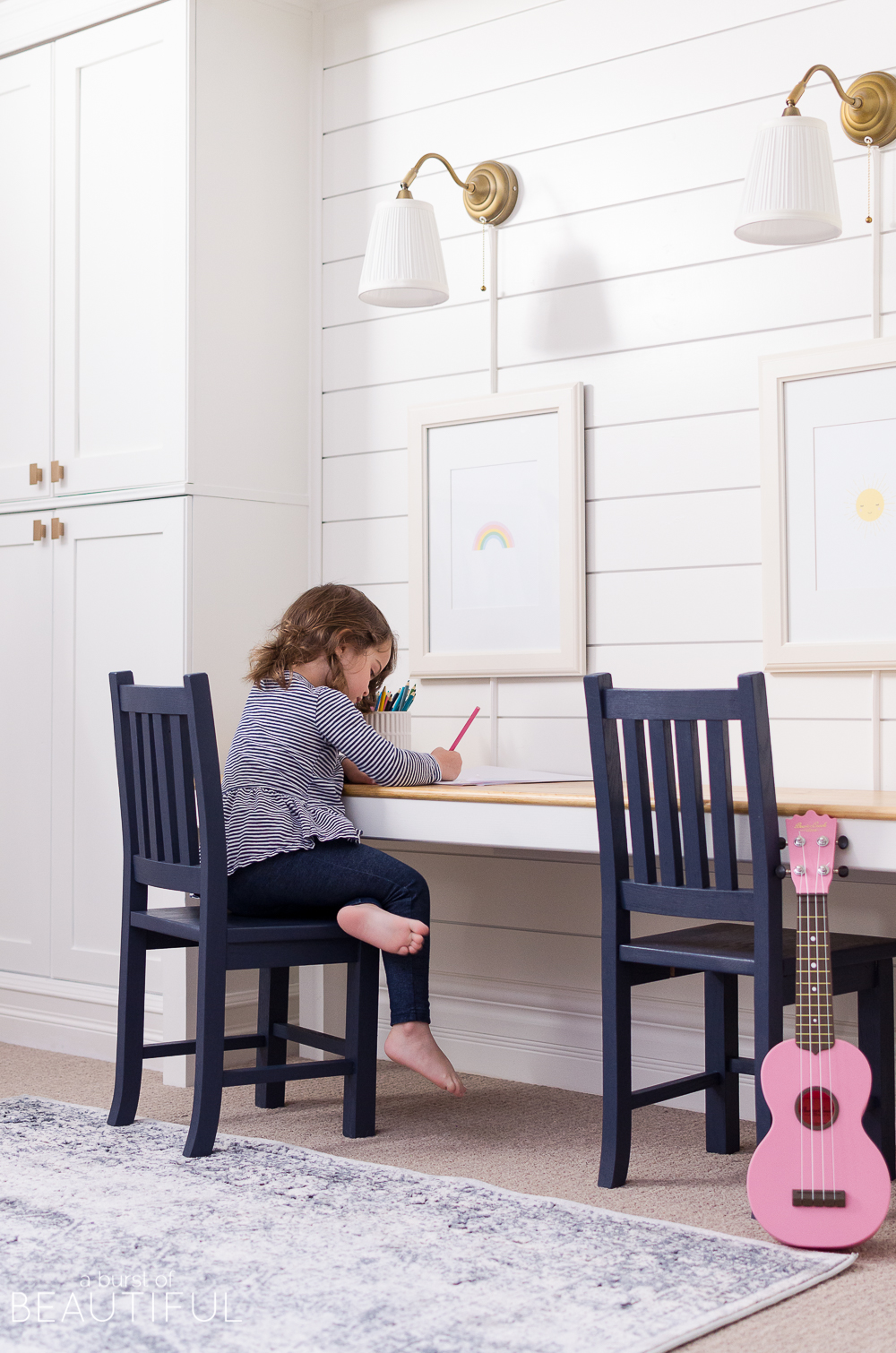 Ok, now on to the playroom. I had so much fun designing this sweet room for our daughter and seeing her enjoy her own space brings us so much happiness. When we began the planning stages of the playroom, the most important element was storage. I didn't want the space to feel cluttered and messy all of the time so we made sure we had lots of space to put everything away and organized it so that everything had a place. Remember, this whole area functions not only as a playroom but also as my workspace and a family room too. I'm not sure about you, but I know I am more productive and can relax a whole lot better when I don't see piles of messes everywhere.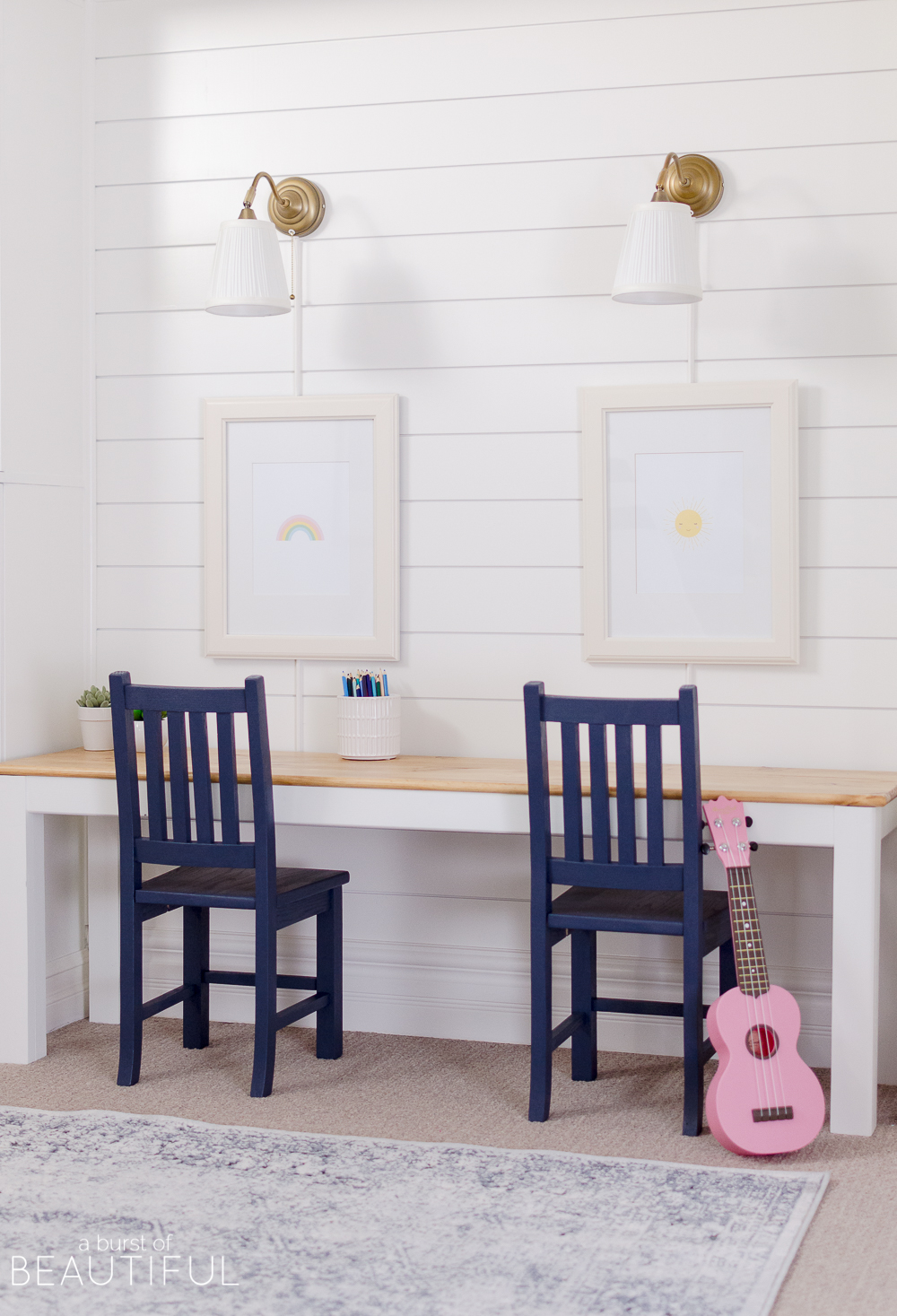 ---
get the look

---
We started with inexpensive bookshelves (remember them from the BEFORE photo), we had installed them years ago and felt we could still make them work. Nick simply built doors for them to hide all of the toys and craft supplies, and finished by adding shiplap between the two. We also added the same brass hardware as we used in the family room.
Originally we had planned to build a cushioned bench between the two units to use as a reading nook, but then decided it would be best to create a work area instead. Nick built this sweet child-sized table (we will be sharing the free plans at the end of the month) and we picked up two small chairs which we painted Hale Navy by Benjamin Moore. I love the pop of color they add.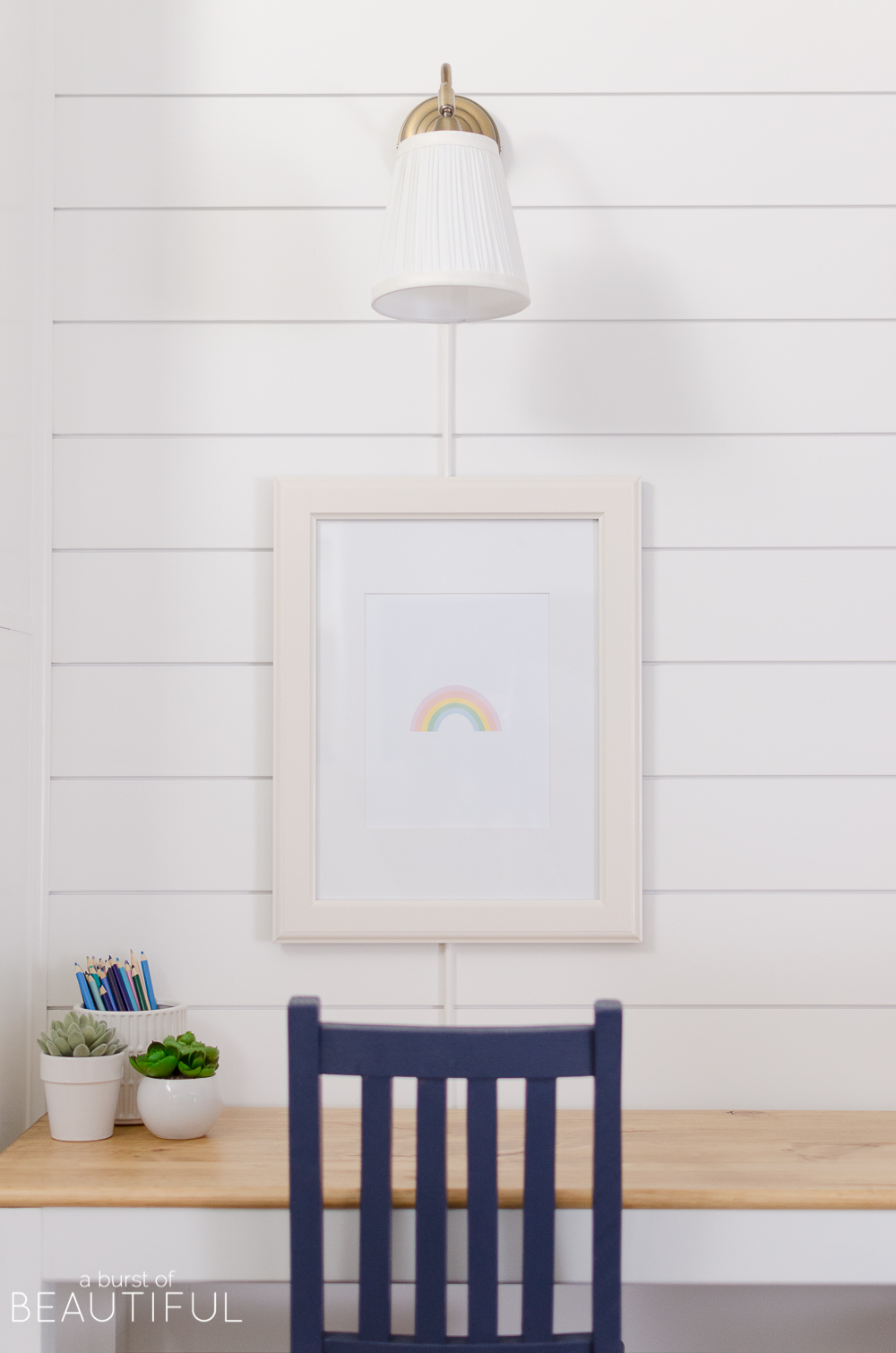 But my favorite part of this little workspace is definitely these adorable sconces, and they were totally Nick's idea. They just add a perfect amount of charm, don't you think? Not to mention, they are functional too, giving off lots of light for craft time.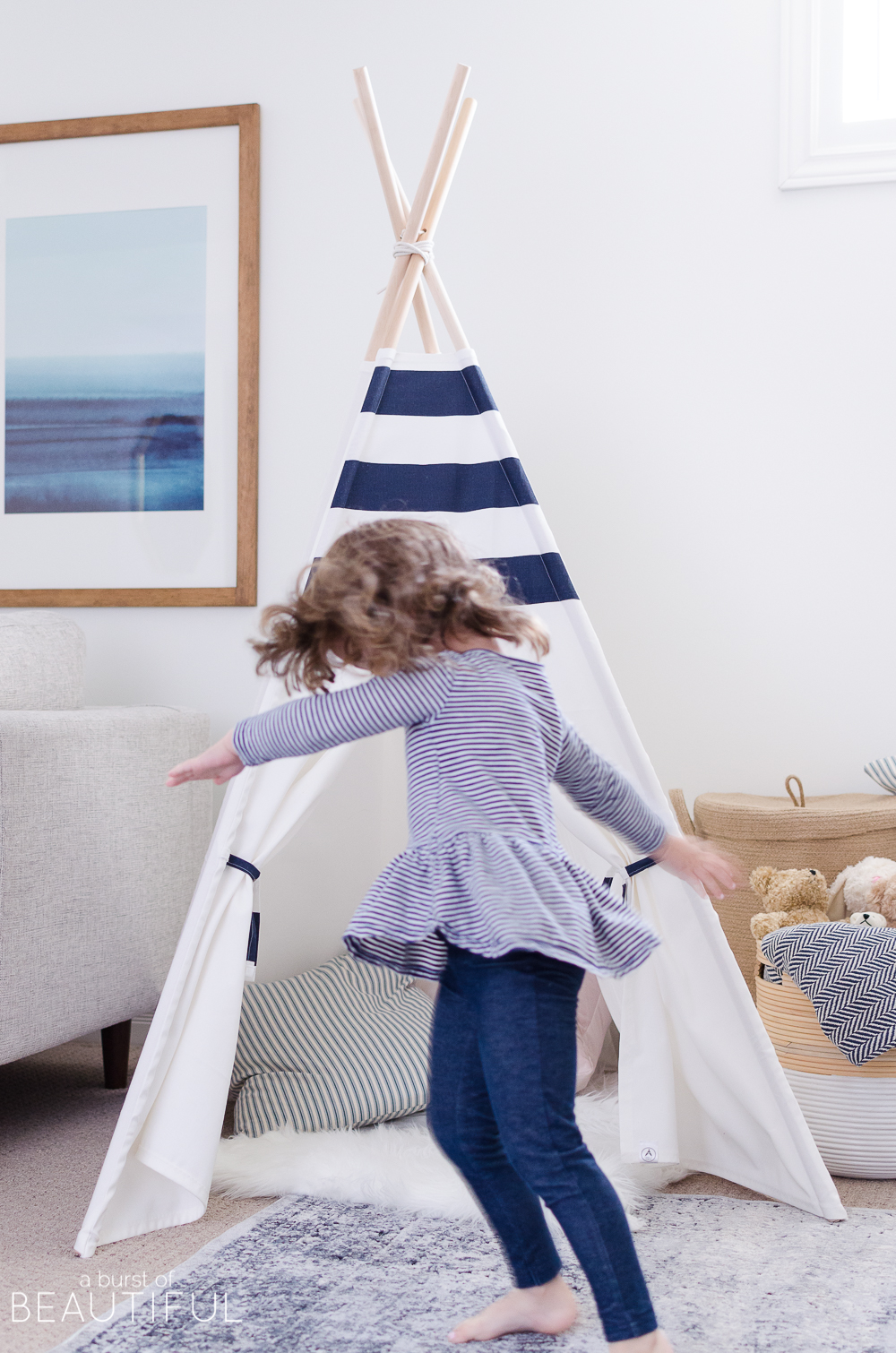 The space is completed by adding a few practical, yet beautiful activities/toys for our little one. This sweet teepee is the perfect hideout for imaginative play or a cozy spot to curl up and read our favorite stories. Honestly, I'm not sure who was more excited about it, me or Zoe! Our cat, Elliott always loves to curl up in here for a little midday snooze.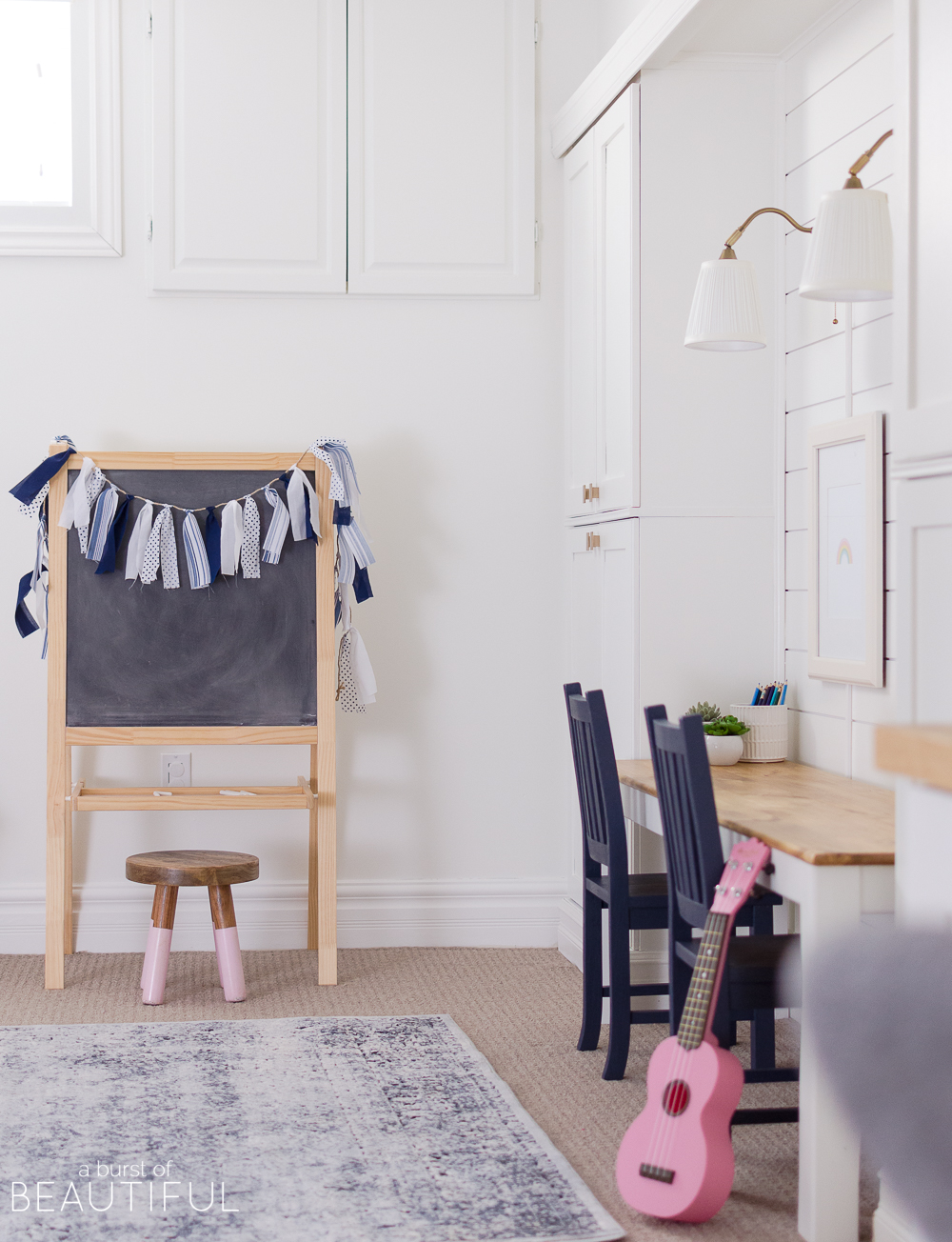 An inexpensive easel is perfect for impromptu drawing sessions or practicing our counting and writing. And a few pretty baskets add additional spots to toss toys, like stuffed animals and dolls at the end of the day.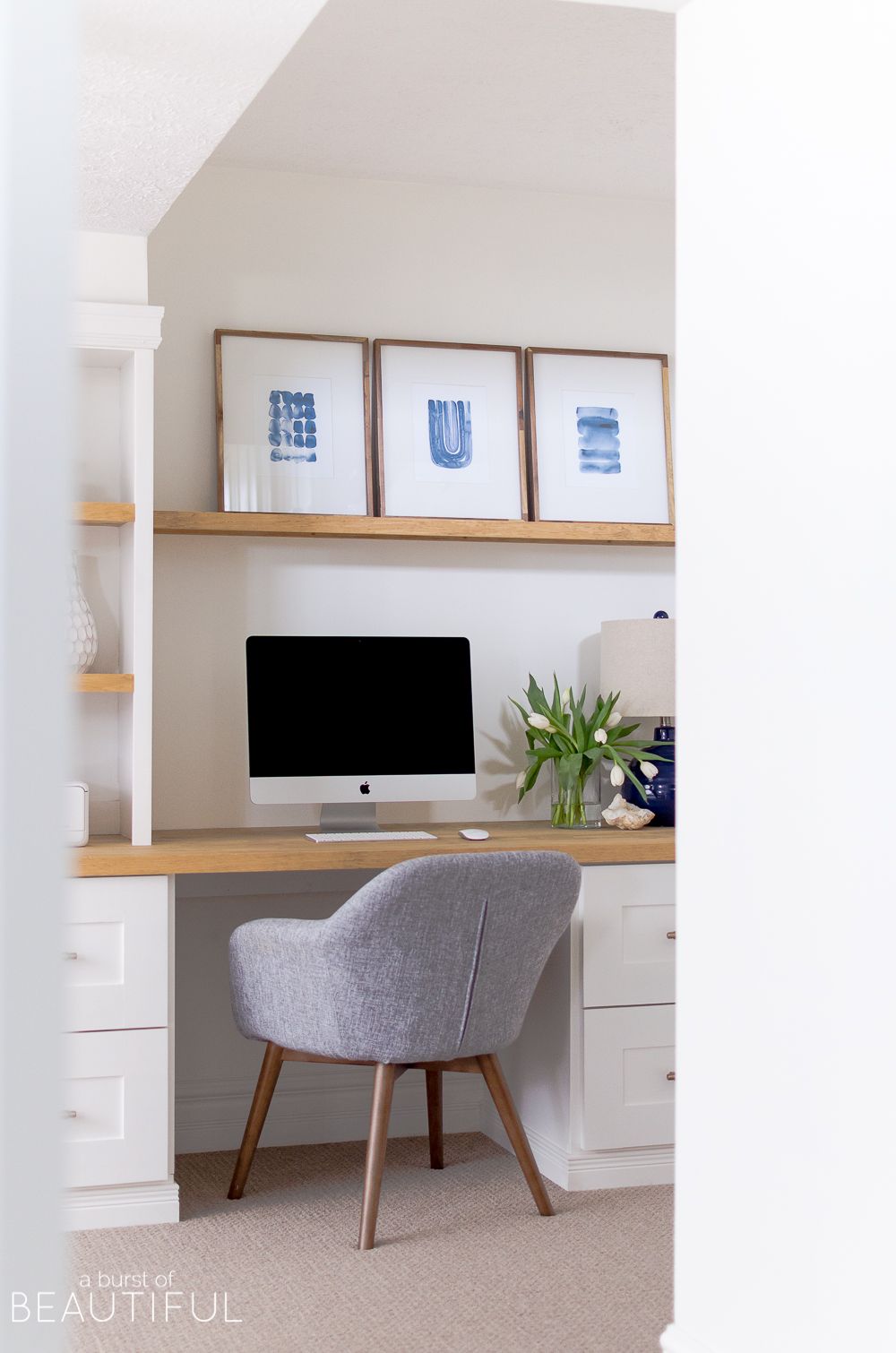 Finally, I'll share a little glimpse at my office, even though I shared all about it earlier (you can see the post here). I still can't get over how wonderful it is to have a dedicated workspace, it has helped to keep me more organized and productive, two very good things!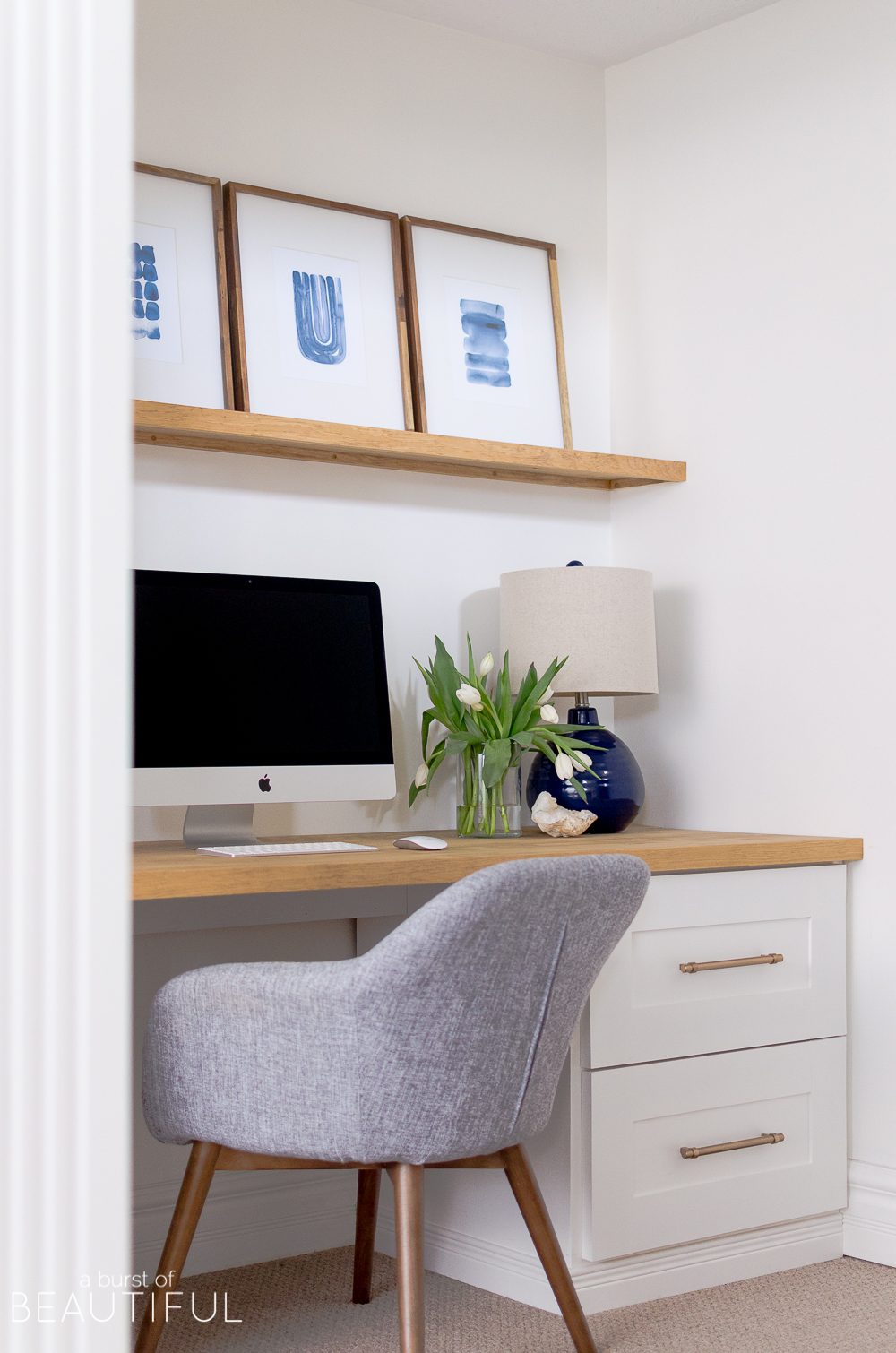 ---
get the look

---
I have changed a few things since we shared it last, like adding a mid-century modern chair and changing out the artwork on the floating shelf. Two elements that keep it feeling cohesive with the rest of the space.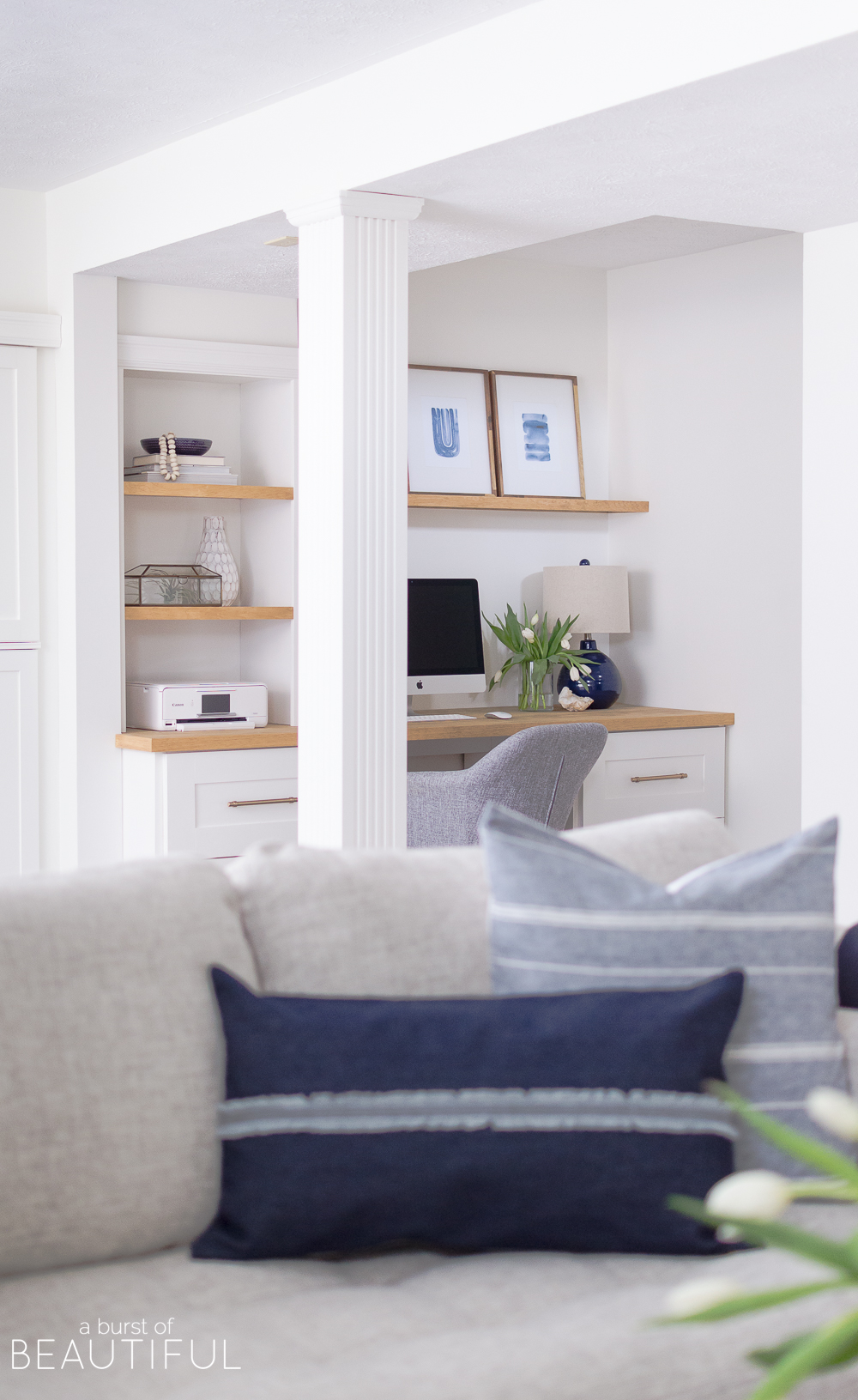 Well, I think that is it! I really hope you enjoyed seeing this new space in our home and I hope it may have inspired you to make use of any extra space you may have hiding around your home. Sometimes all it takes is a little bit of creativity and hard work, but it is always worth it in the end. If you see anything we forgot to mention or have any questions please ask them in the comments below, we are always happy to answer!