This bright and cheerful family home welcomes summer with a neutral color palette and lots of texture while mixing a modern aesthetic with classic farmhouse style.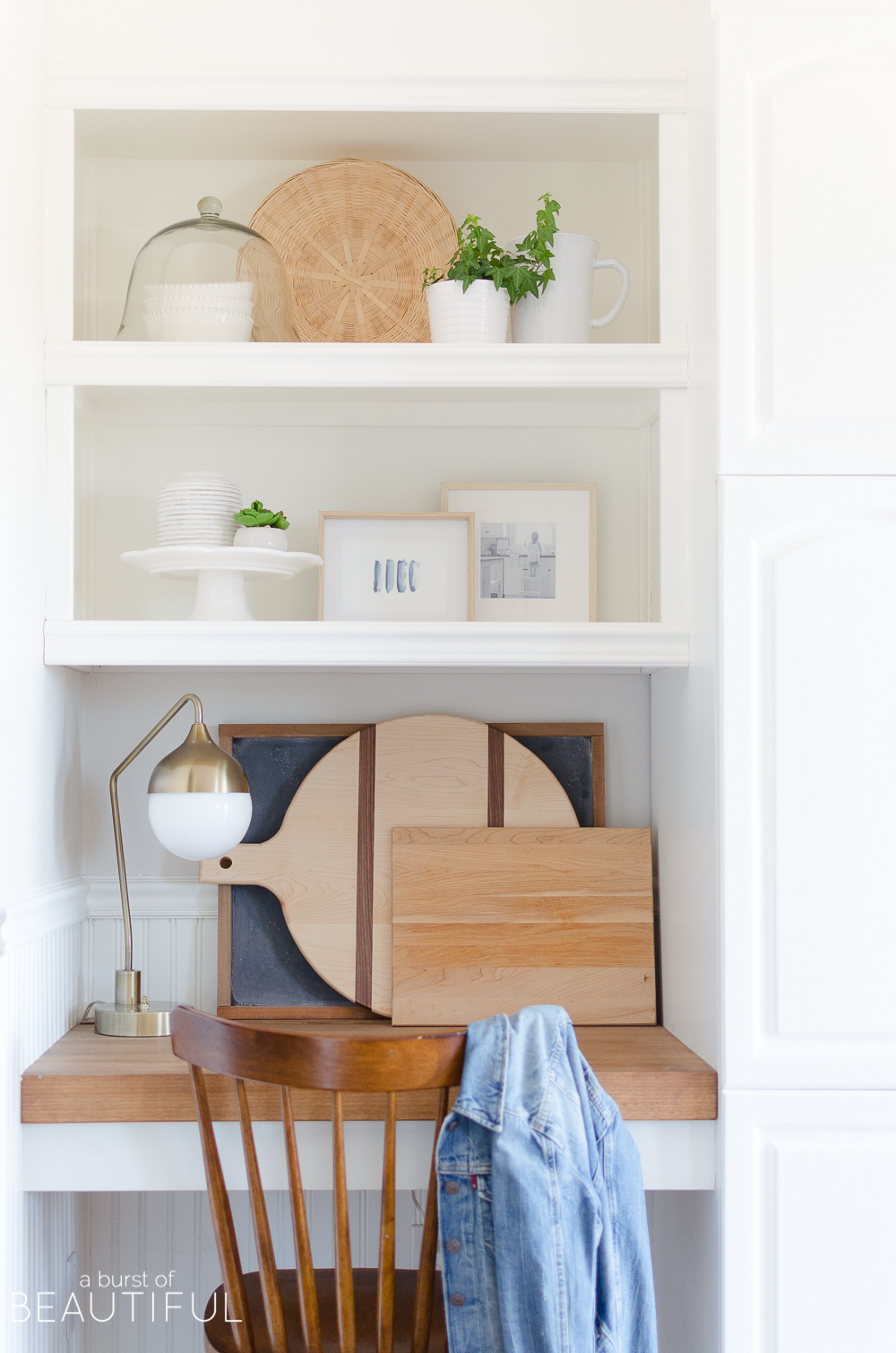 This post contains affiliate links, see our full disclosure policy

here

.
There are so many things I love about summer, but I think my favorite part of this season is the feeling of freedom. It's the sense of fewer responsibilities and obligations and the joy of days that haven't been scheduled from wake to sleep. This feeling probably stems back to childhood when summer meant the beginning of summer break. Which most of us don't have the luxury of enjoying anymore, but nonetheless, I still love that feeling!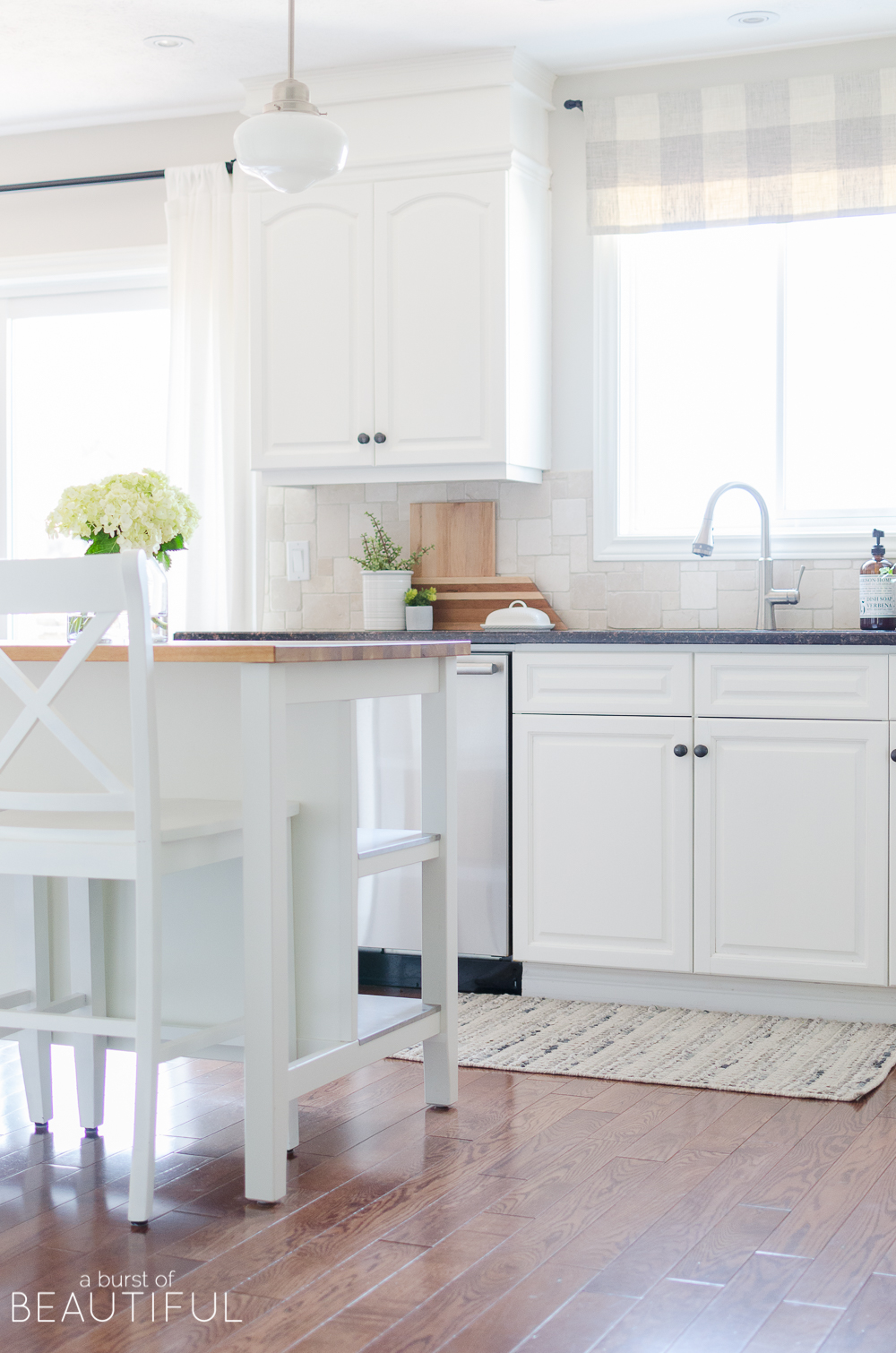 And I hope it's a feeling our little one learns to embrace too, so I do my best to convey the feeling of summer around our home. Today I will be sharing how we take our home from spring into summer, along with a few of my favorite decorating tips for the season. We're joining my friend, Krista, from The Happy Housie in her annual Seasonal Simplicity tour. Each day this week you'll find a talented group of bloggers sharing their summer inspiration and decorating ideas with you, and if you are coming over from Chelsea's at Two Twenty One, welcome!
Mudroom
Our summer home tour begins in our mudroom. It's the door we use to come and go, and it's one of my favorite tiny spaces to style. I use the term mudroom loosely, as it actually used to be a closet. We made a few simple changes and turned it into a space that actually functions for our family (if you're interested, you can see the tutorial here, including a very messy before photo).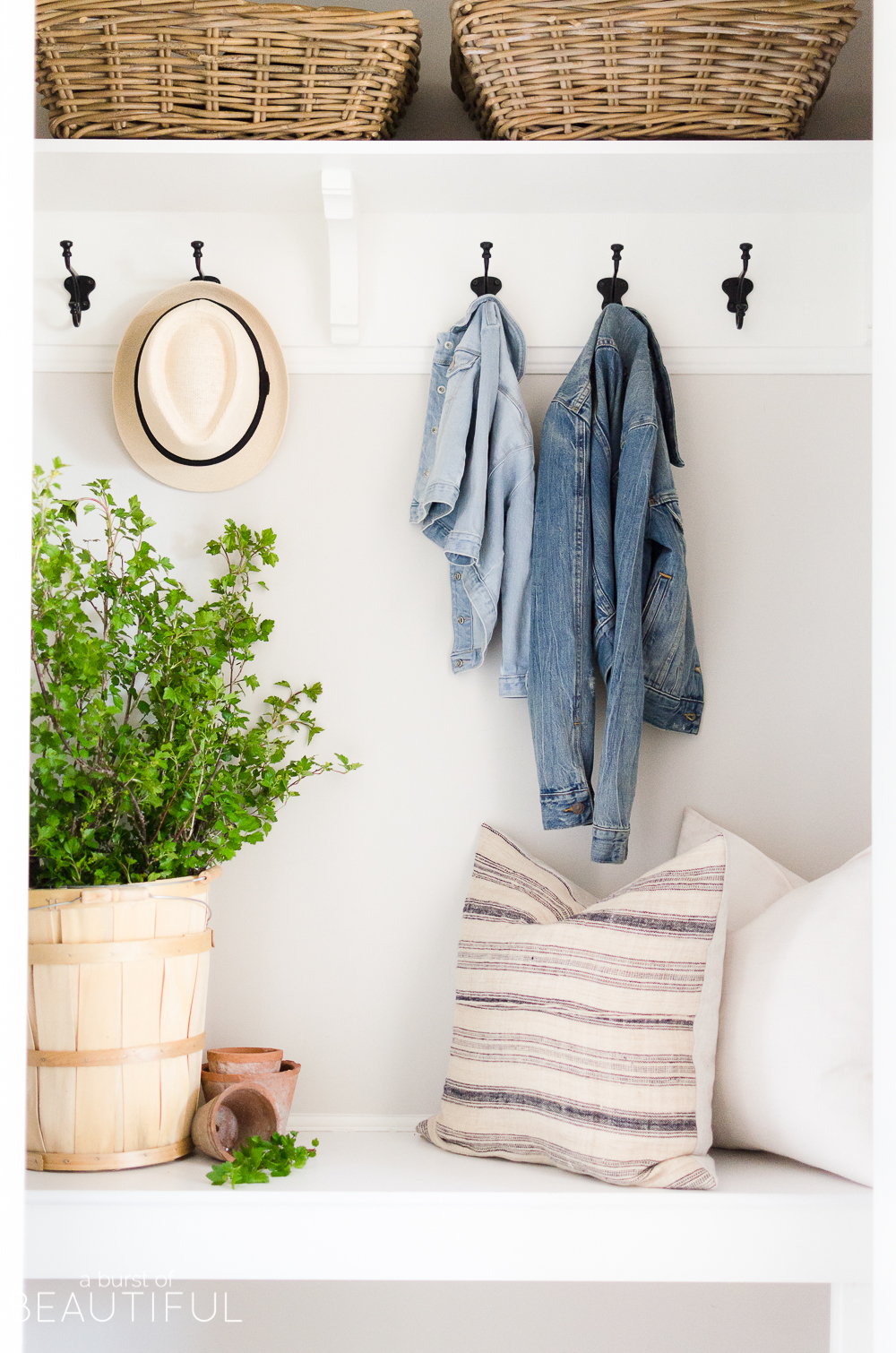 ---
get the look

---
I love this little room best during the summer because we get to keep it free of bulky winter gear. It's right off of our kitchen, so you have a straight sightline into it when you're in the kitchen. During the summer months, we usually stock it with one coat for each of us (it can still be chilly some evenings) and few sunhats…simple and easy!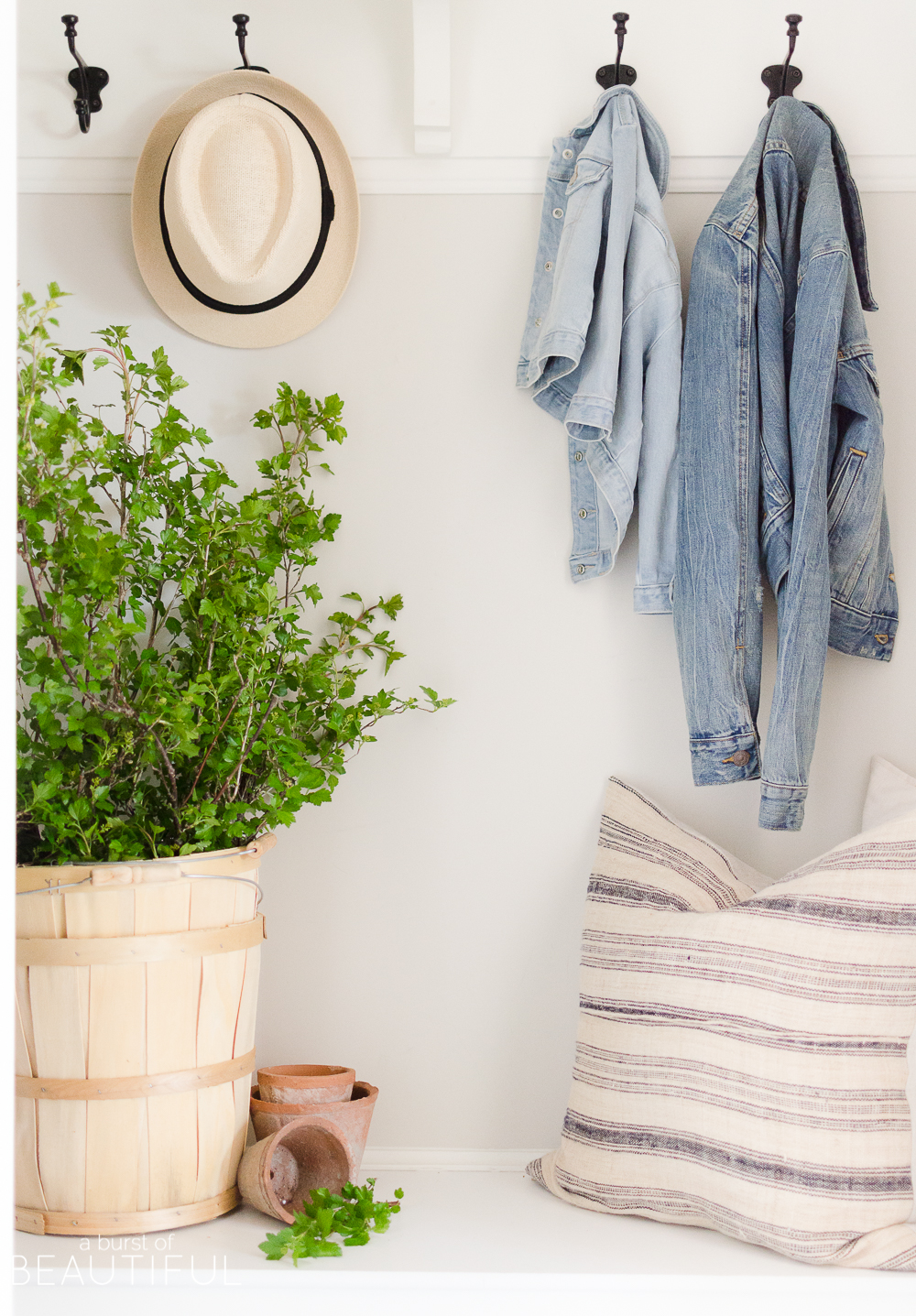 Kitchen
Once you come through the mudroom, you'll end up in our kitchen. This is definitely the biggest and brightest room in our home, and I love how much natural light it gets, especially during the long days of summer. But it didn't always look this bright and fresh. When we moved into our home we put a lot of work into the kitchen. We built the bulkheads above the cupboards, shifted the pantry and fridge from one wall to another and painted all of the cabinets bright white. We also added new lighting and an island, and eventually built these cute nooks to bookend the fridge and pantry. It was a lot of work, but definitely worth it.
I made a few simple changes to the open shelving to keep it feeling fresh (if you're interested you can read more about these floating desks and the formula I follow when styling our open shelves no matter the season). I added a couple of frames made with natural wood to display favorite family photos and abstract prints to add a bit of personality and a few potted plants (both real and faux) to add color and life. I love how both the natural wood and greenery pop against the white background of these shelves.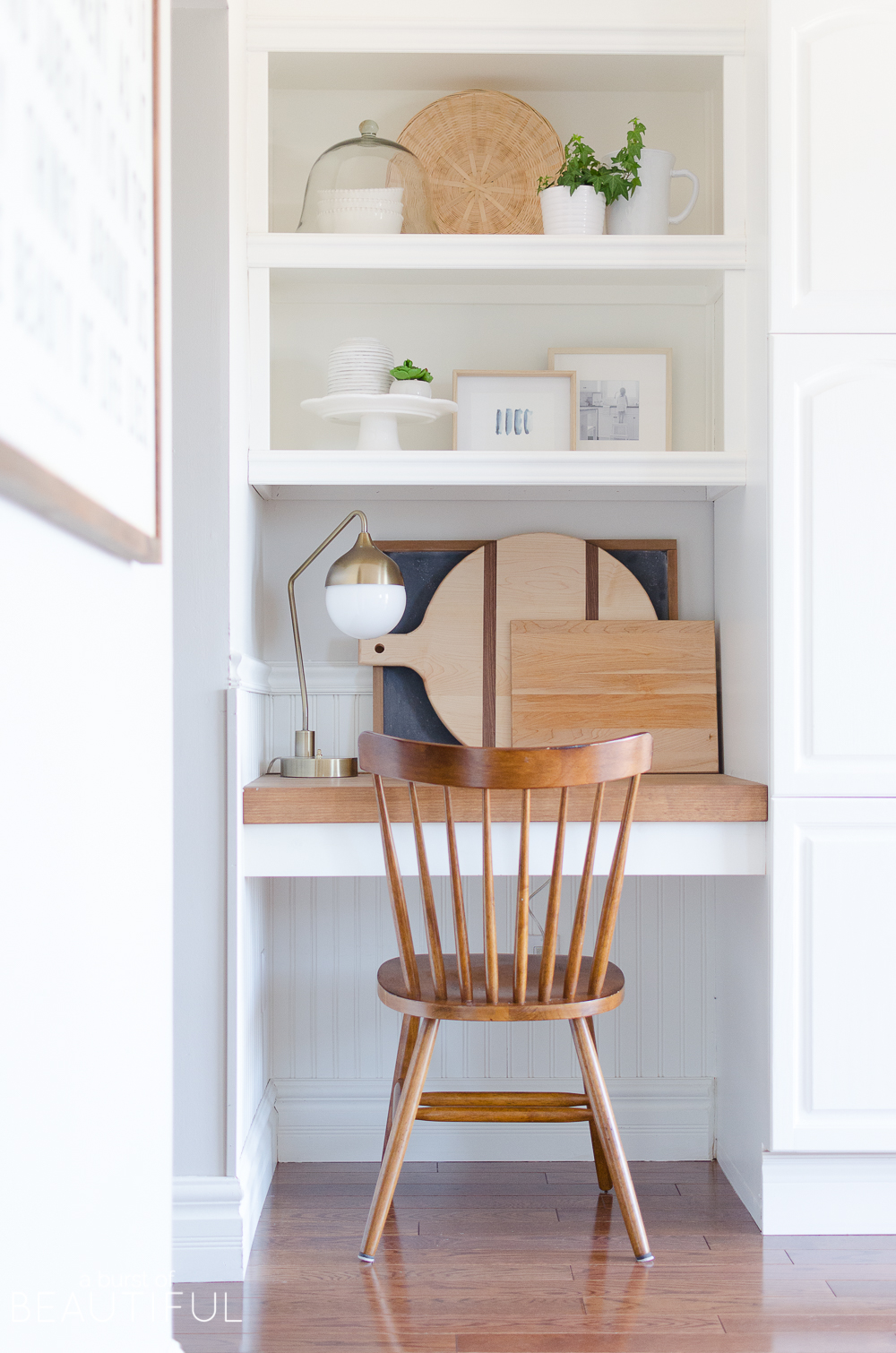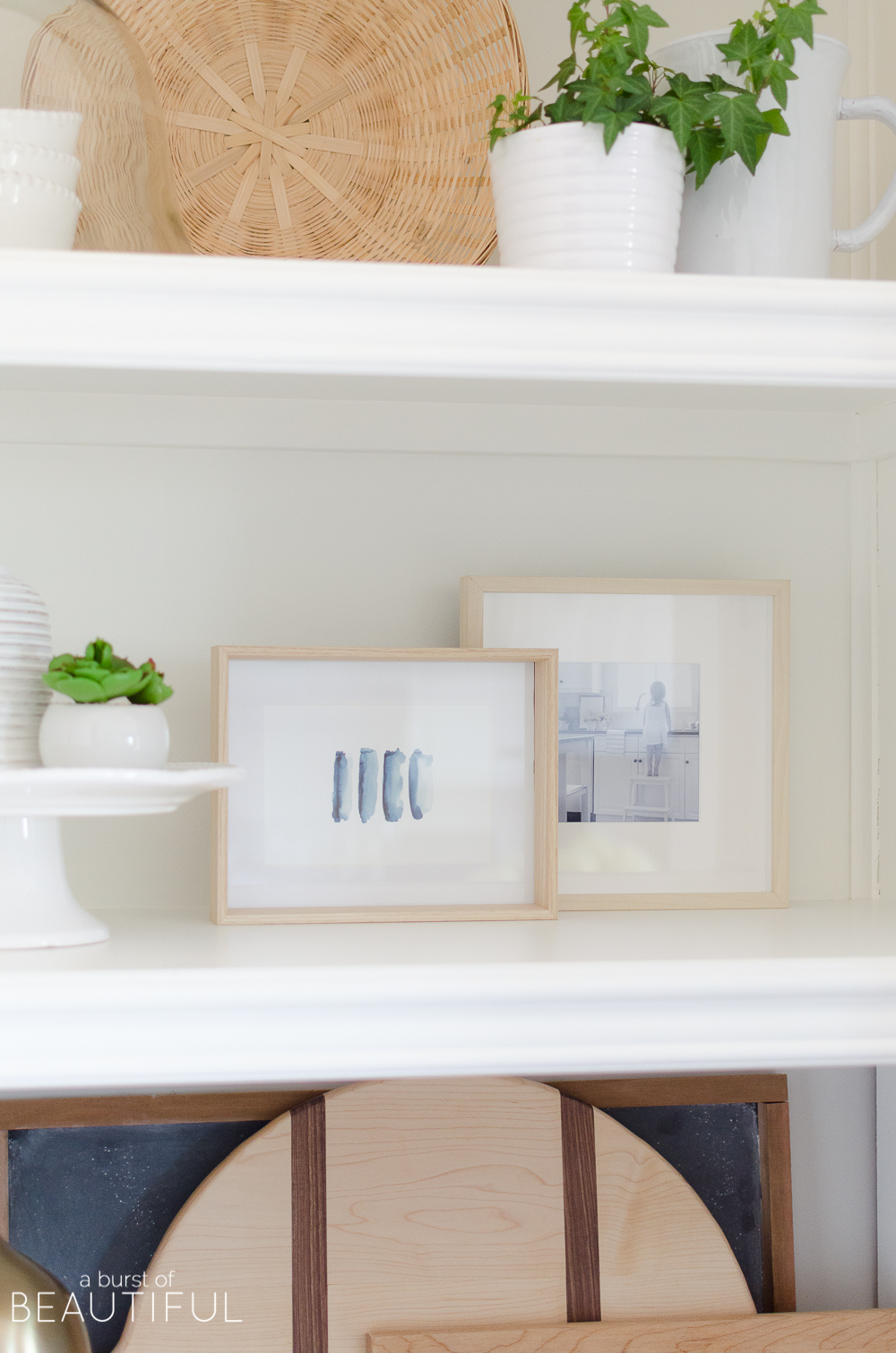 ---
get the look

---
Other than those few changes the rest stayed pretty close to the same. I like to keep a few pieces from my collection of white dishes here, like the pitchers and cake plates, along with textural elements, like the woven baskets and wood cutting boards (we shared the free plans for the oversized vintage-inspired cutting board here).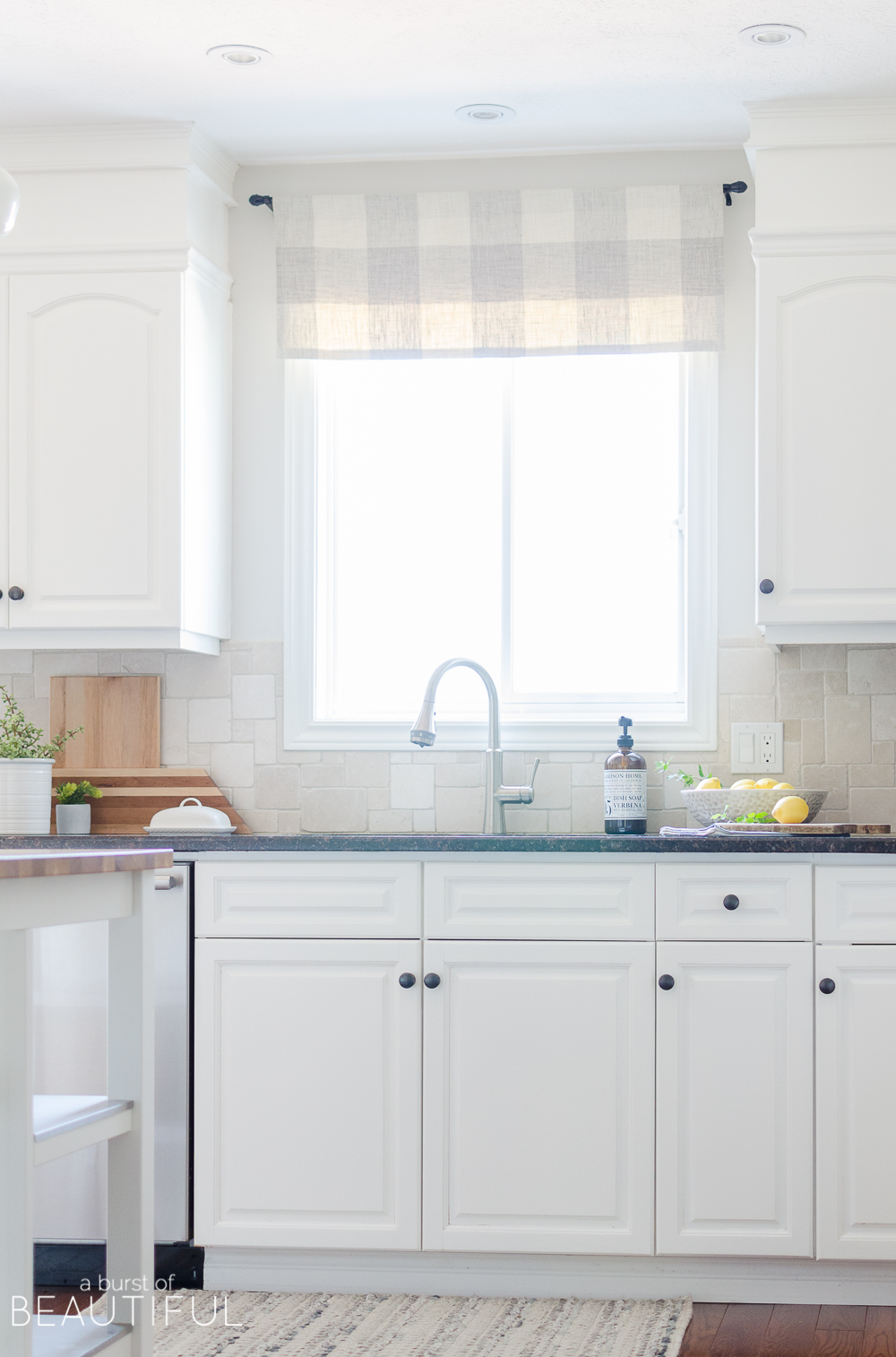 ---
get the look

---
In an effort to keep our home feeling relaxed and uncluttered I kept our countertops mostly bare, except for a few of the things we use daily. Wood and marble cutting boards not only look pretty but are easy to grab when we're making dinner or cutting up veggies from our garden, and a classic butter dish left on the counter adds an extra little touch.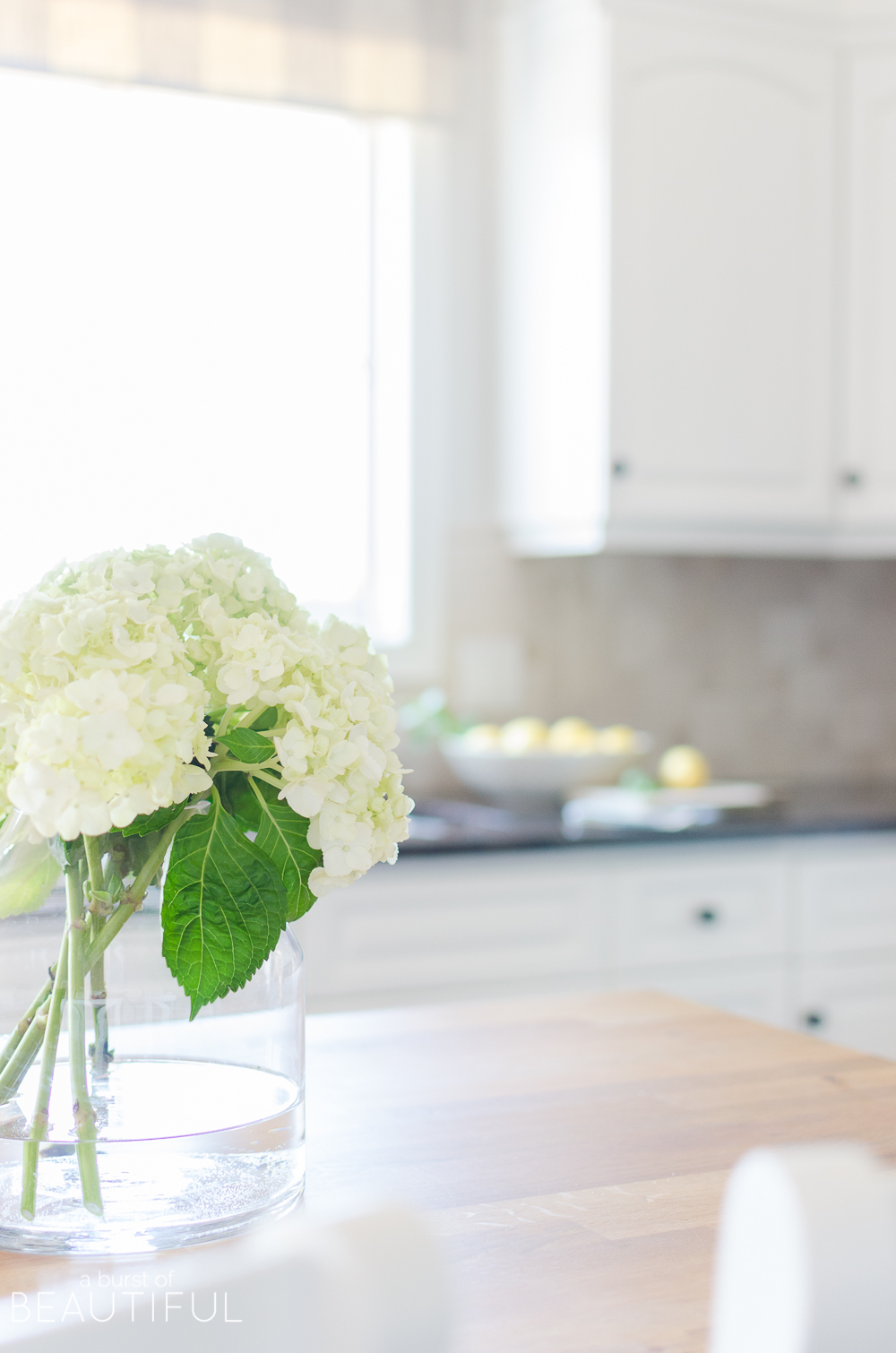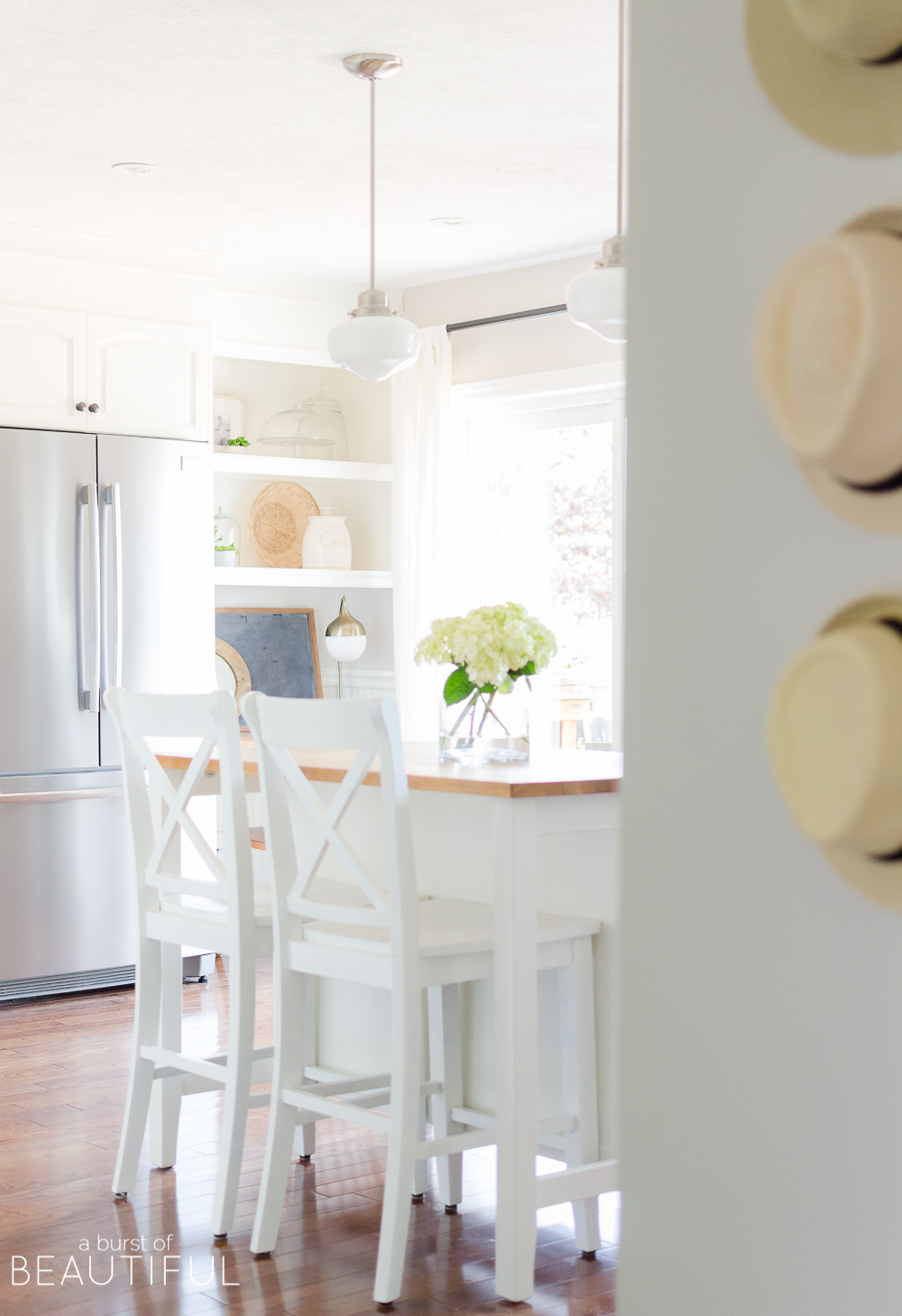 Plants and fresh flowers are such an easy way to add life to a room, especially during the summer when you can head out to your own backyard for an abundance to choose from. Even if you don't have any flower gardens, a few branches in a vase look so summery and can make a really big impact. I like to keep a vase of flowers on our island throughout the summer, whether I've cut them from our garden or picked up an inexpensive bouquet from the grocery store, they are always a welcome addition.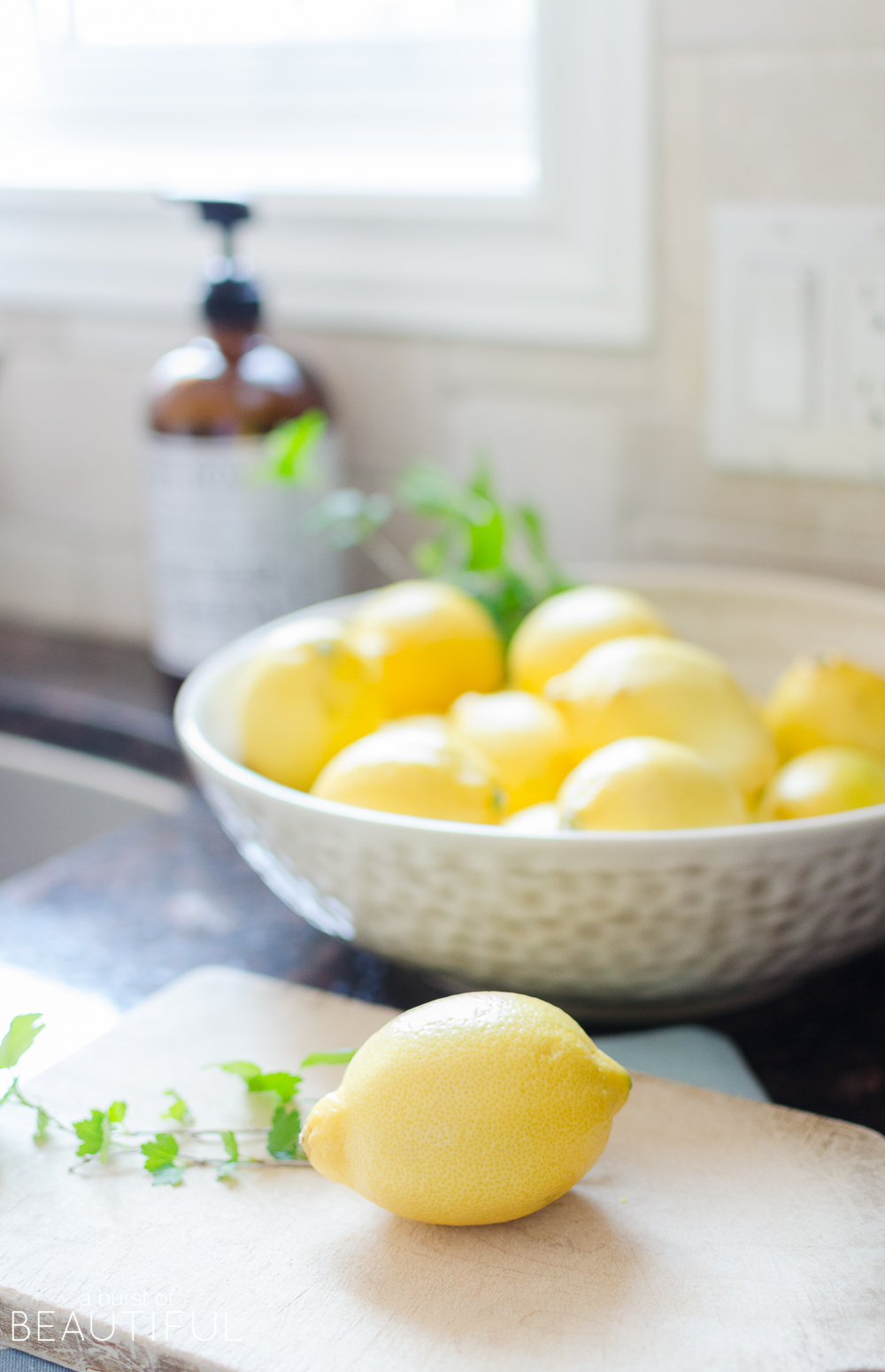 Now, if you thought sunhats were for wearing only, you're missing out on a fun way to decorate your walls. A row of three sunhats adds whimsy and character to this otherwise blank wall. Fun, right?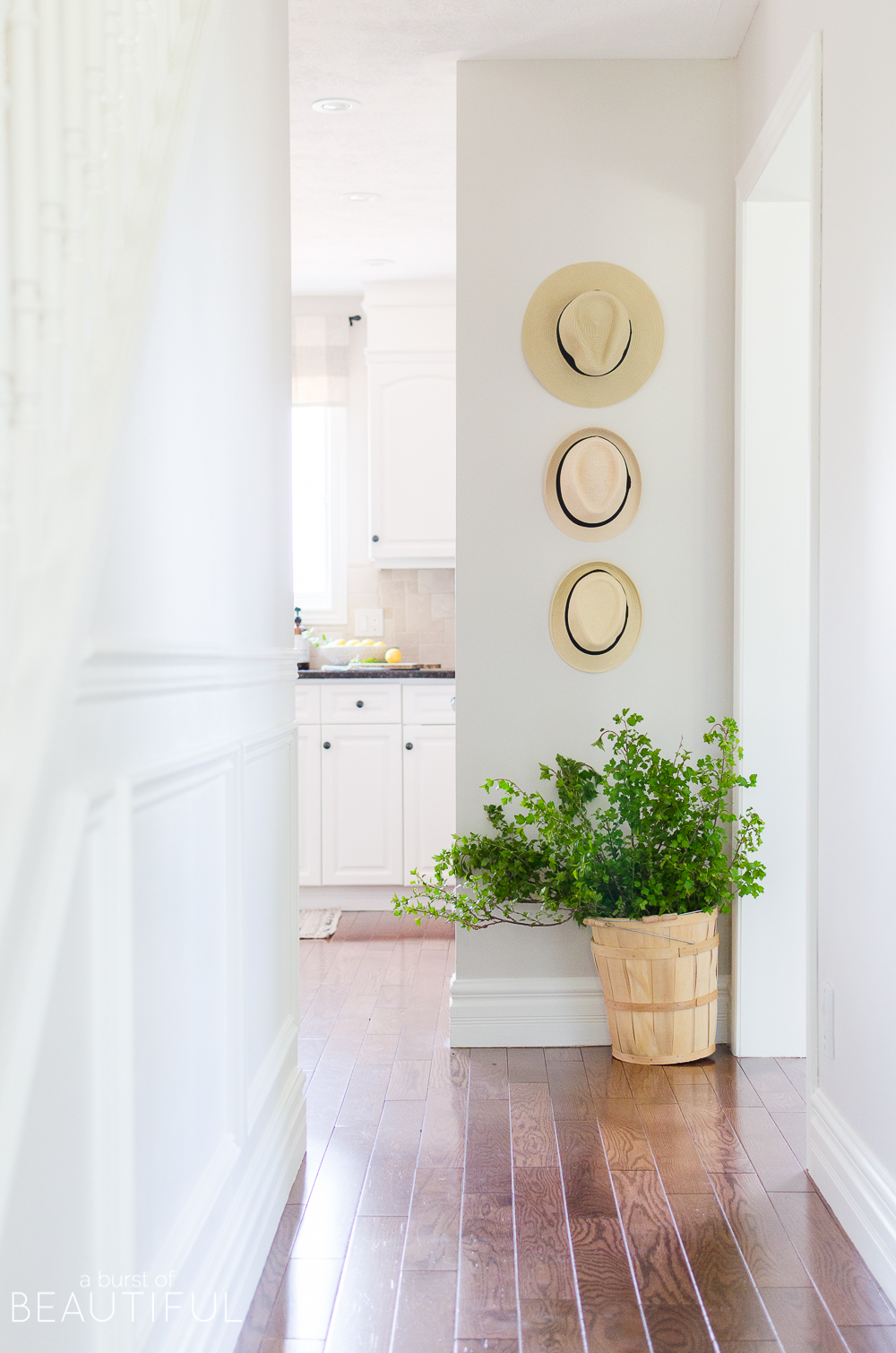 Dining Room
Even in the summer, we still usually eat our dinner in the dining room, sometime's it's just easier than taking everything outside. 🙂 Just like the rest of our home, our dining room is pared down and simple during the summer months. I like to keep a simple vase of fresh flowers, usually hydrangeas cut from our garden, on the table. And I never create elaborate centerpieces, unless of course, we are entertaining (see our latest summer tablescape here or check out all of our past table settings here), I just find it's too much hassle to move every from the table each evening before we eat. Sometimes simple is best.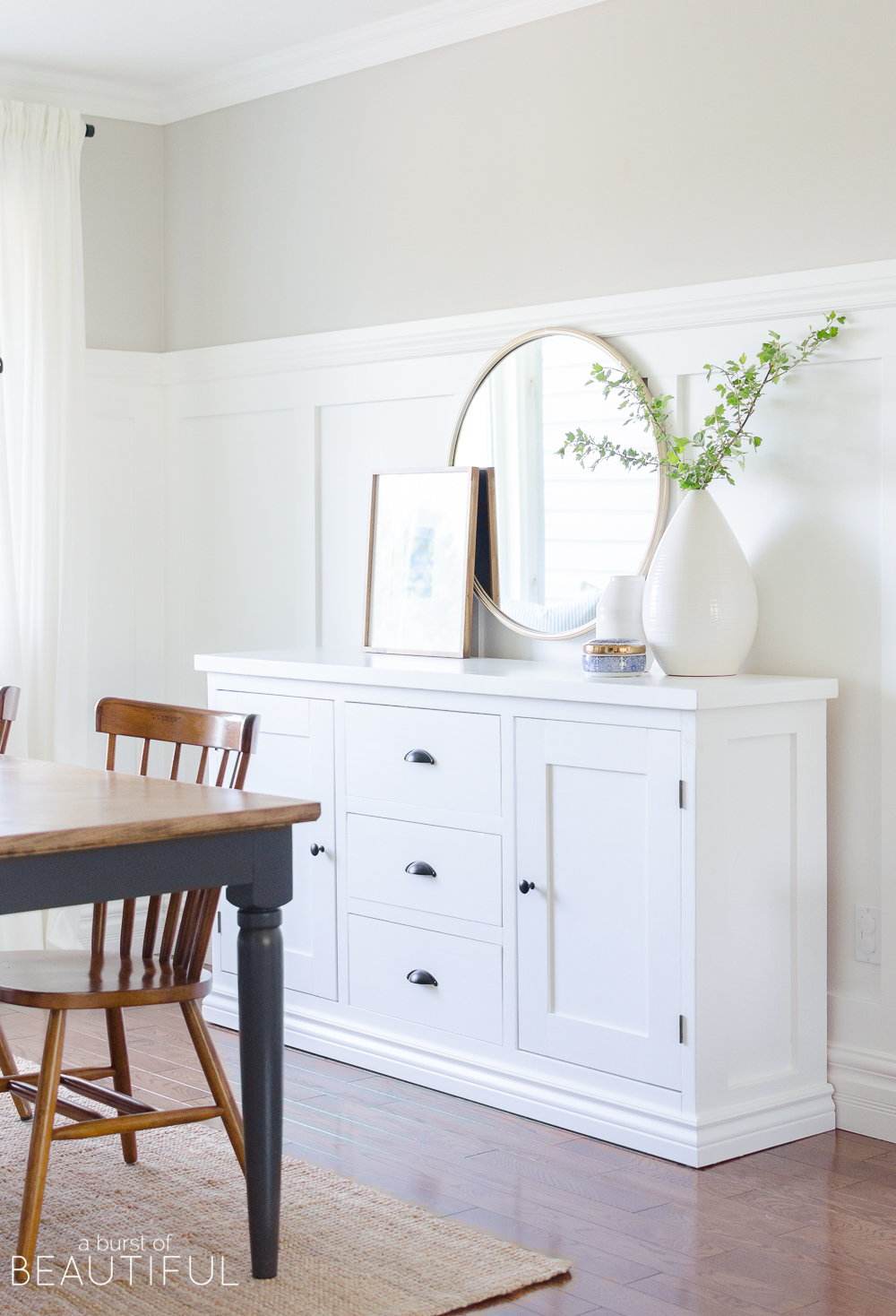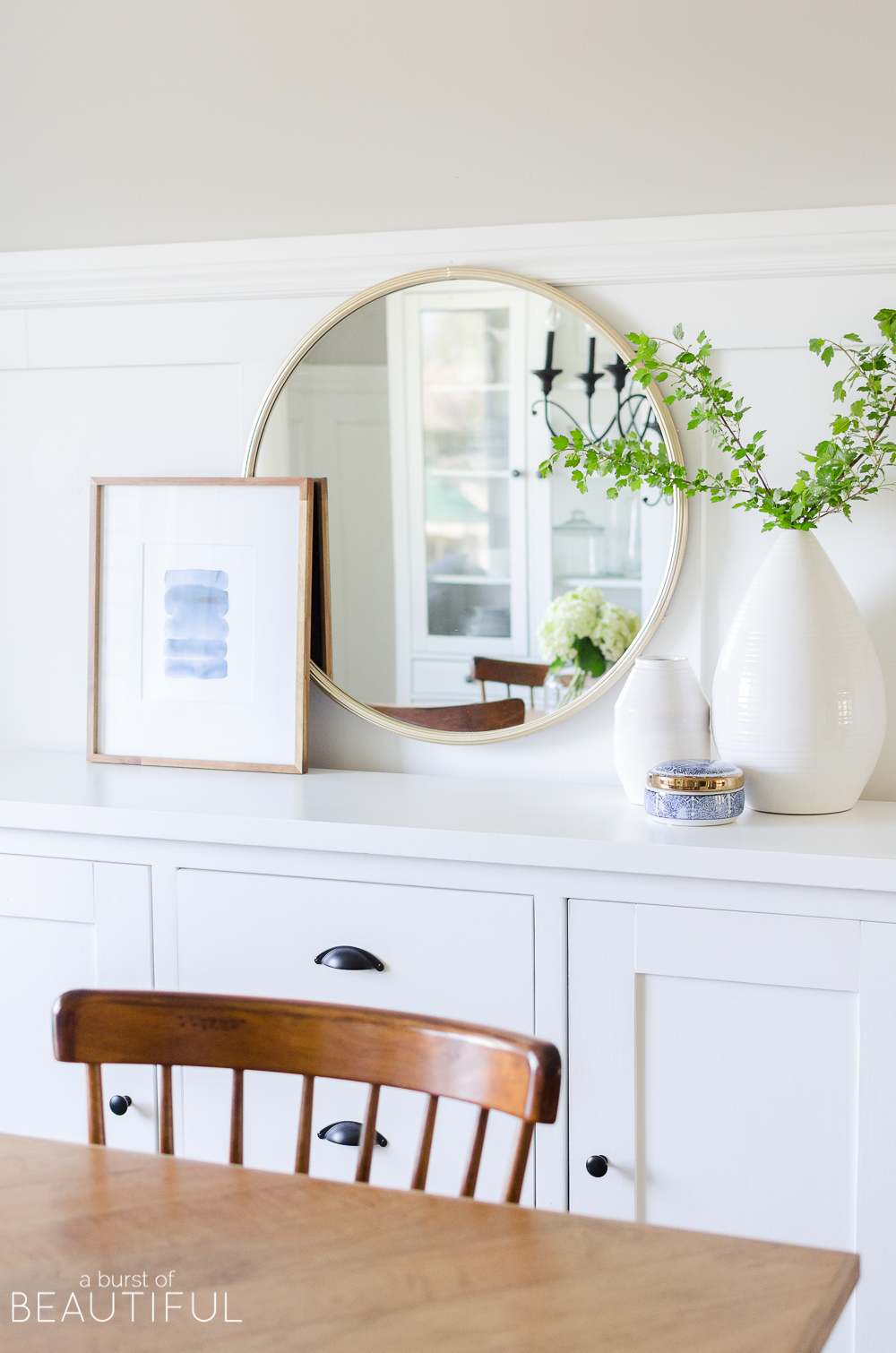 ---
get the look

---
Speaking of simple, I changed our sideboard for the summer as well. I moved the two lamps I had here to our bedroom, but I am kind of missing the symmetry. I kept the gold mirror because I love how delicate it looks here, and flanked it with two white vases filled with greenery and a simple wood photo frame and abstract print. I'm not sure I love this look, like I said, I am really missing the symmetry of two lamps, so it will probably change again before the summer is over. What do you think?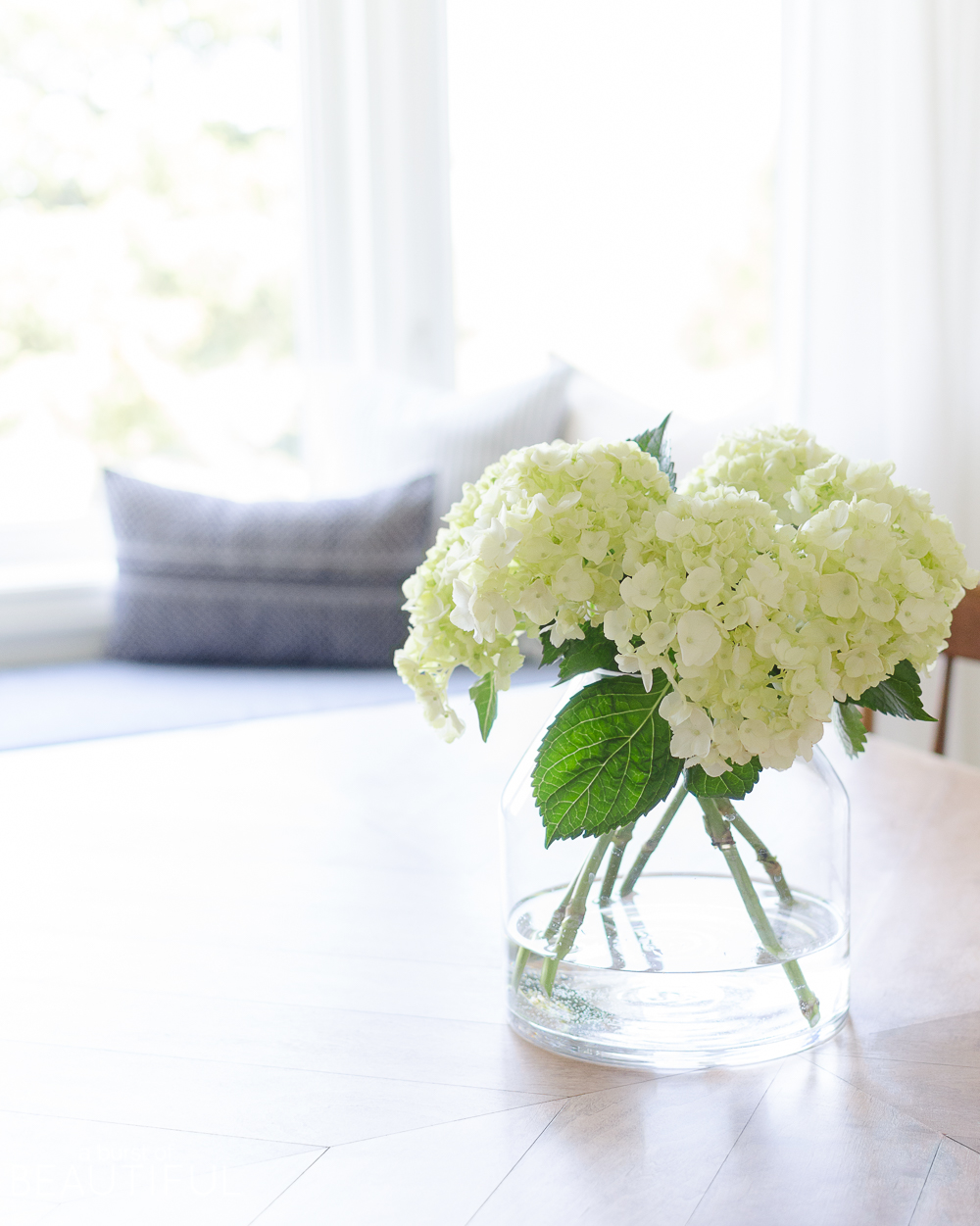 Living Room
Next to the dining room is our living room. I still struggle with decorating this space, I'm not sure what it is, but I am never 100% happy with how it looks, maybe someday I'll figure it out. 😉 But to make way for summer living, I made a couple easy changes.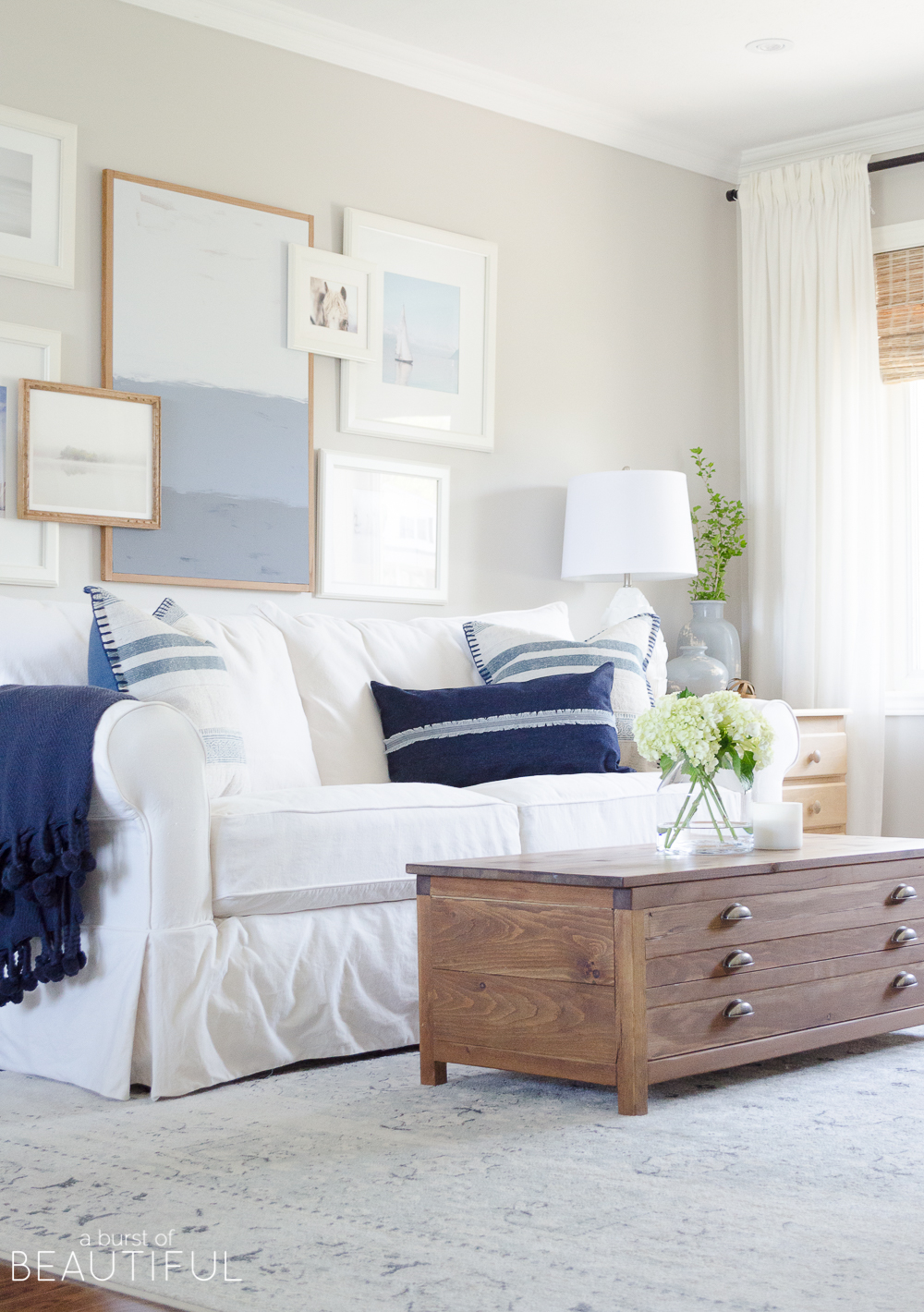 I started by adding two new prints to our layered gallery wall. Our gallery wall is a project we are asked about all of the time, and I have to say, it's the one thing about this room that I absolutely love. I took away the abstract prints I had here during the winter and spring, I love both of these prints, but I felt like they were just a little too "heavy" for the room. Instead, I added two coastal prints that fit better with the style of our living room and give off a cottage feel.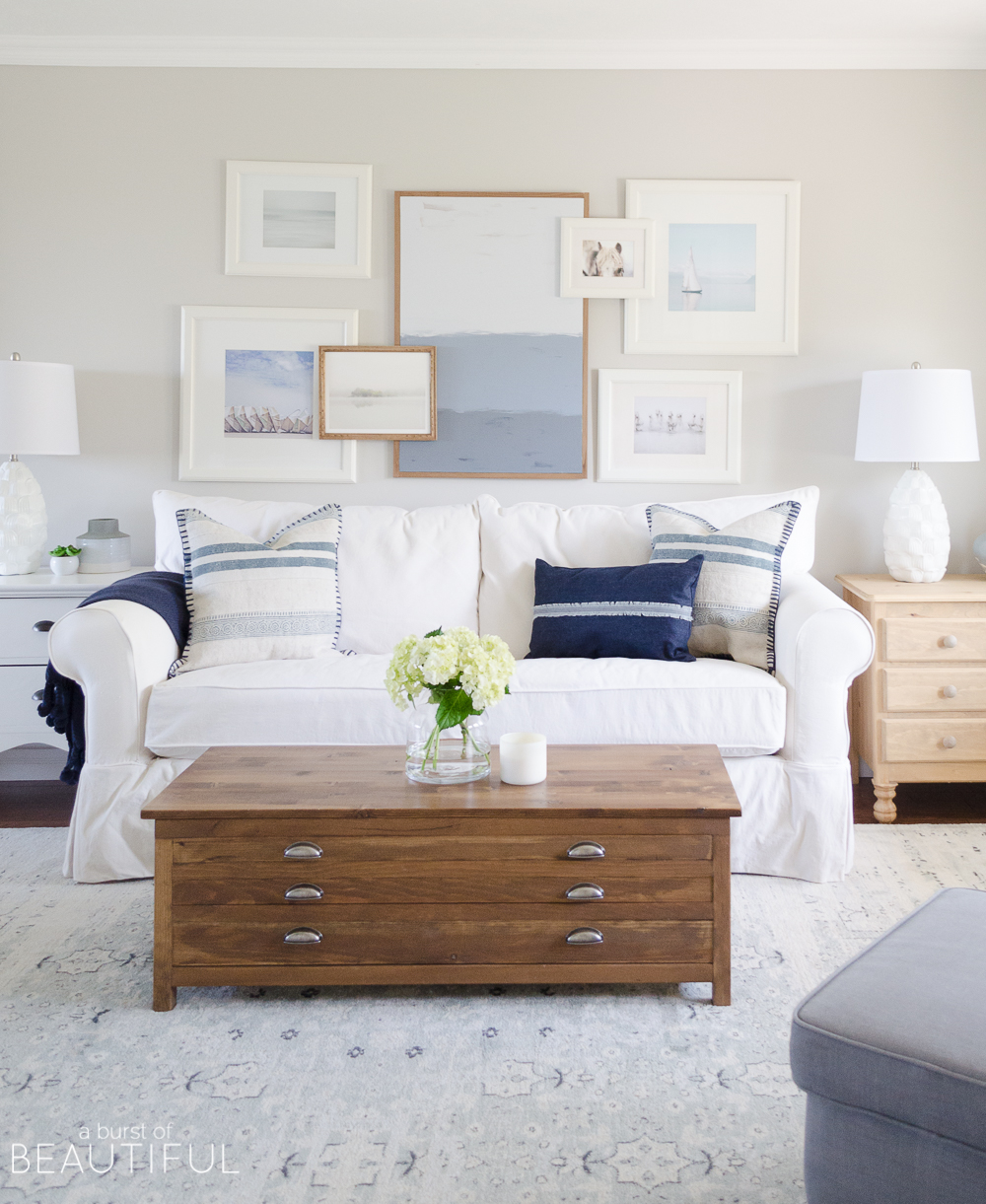 ---
get the look

---
Changing the artwork in our home depending on the time of year is one of my favorite tips for seasonal decorating. It's such an easy and inexpensive way to keep things feeling new and fresh. You can use favorite family photos, download prints from online shops (my favorite is Etsy) or if you're artistic try your hand at your own unique art.
Next, I switched our two end tables, I'm not really sure why…I thought it might make it feel new. Building new end tables is a project we have planned for the fall (hopefully!). If you saw our recent family room renovation, you'll know we have started leaning towards a more modern aesthetic in our home. I want our home to feel youthful and fresh, and mixing this style with our classic farmhouse look is just what needs to be done, I think.
I also added new pillows to our sofa, I've been eyeing these ones for almost a year now and finally decided to just buy them.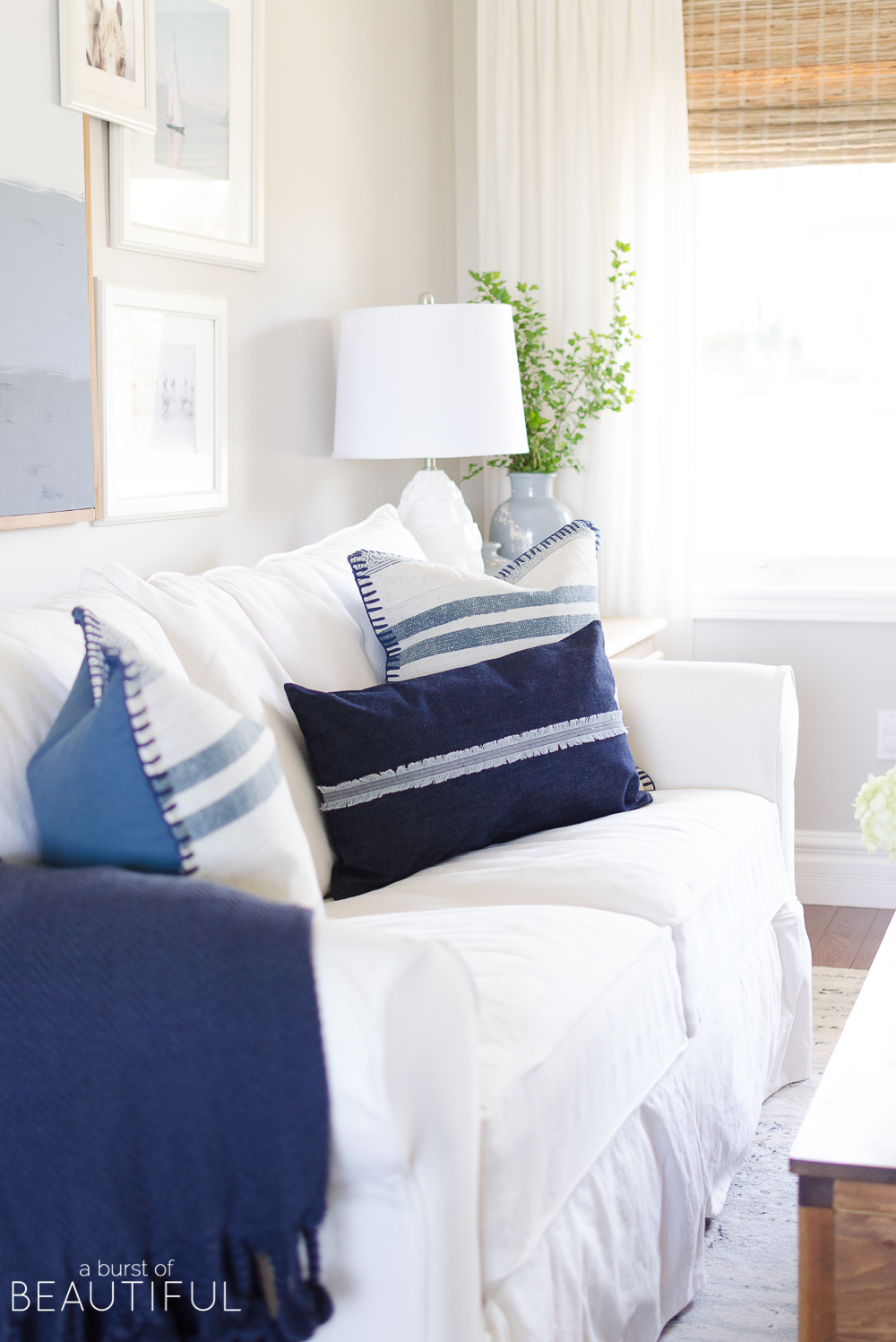 Finally, you may have noticed that we moved the armchair from our bedroom to our living room, and the chair that used to be here has a new home in our bedroom. I've been moving things around a lot lately, again, it's one of my favorite ways to keep our home feeling fresh and new without spending any money.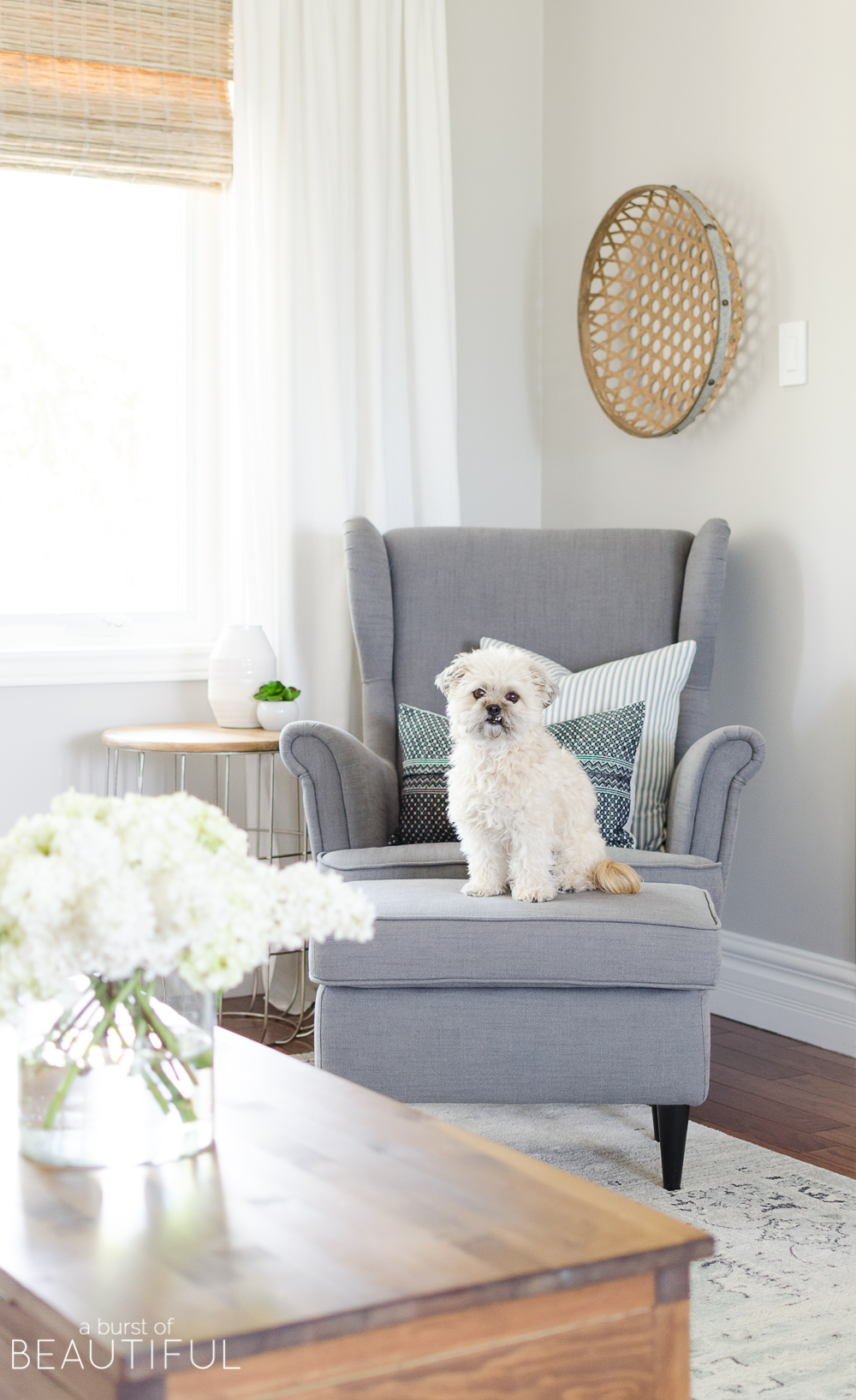 Little Girl's Bedroom
And last but not least, I thought I would share a little peek into our daughter's bedroom. It is such a sweet and whimsical space, I simply love sharing it whenever I can.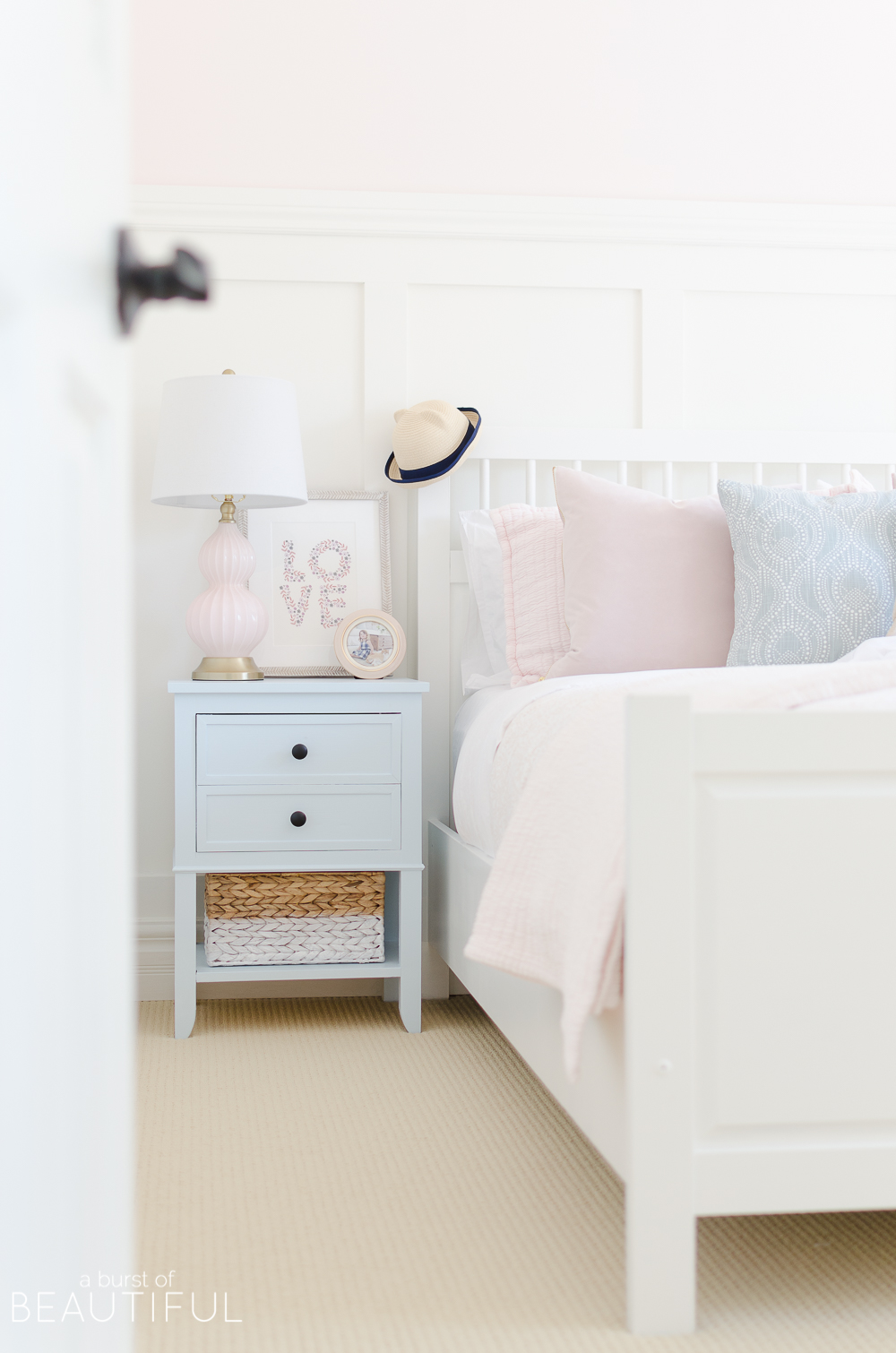 The biggest change you'll notice in here is the color of her nightstands. When Nick built these end tables for her bedroom (you can find the free plans here), I planned to paint them blue. But the color I chose was so light it just looked white, but we still liked them so I didn't bother repainting them. Fast forward one year later and we decided to give the blue another go and painted them this pretty shade of light blue (you can read more about it here).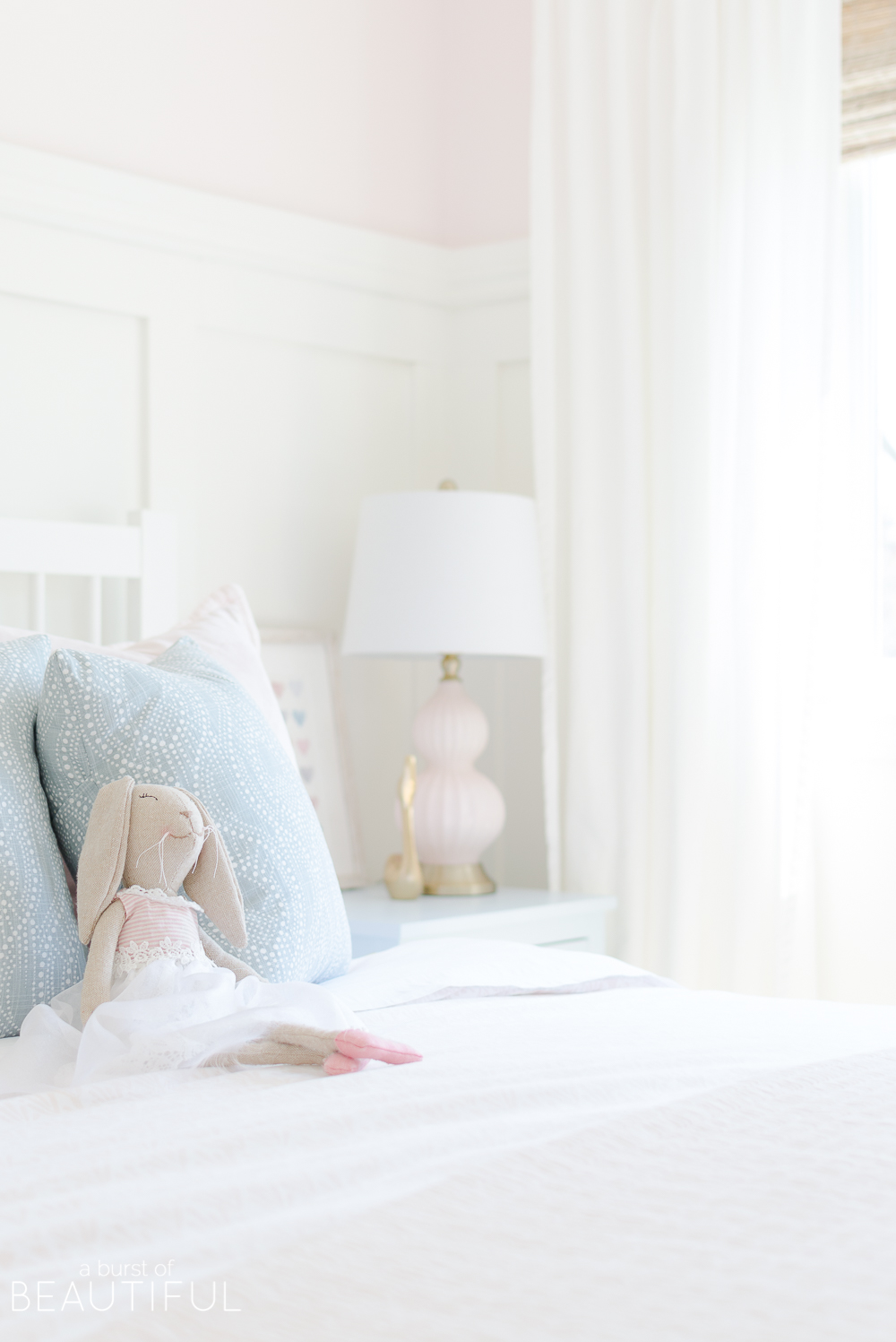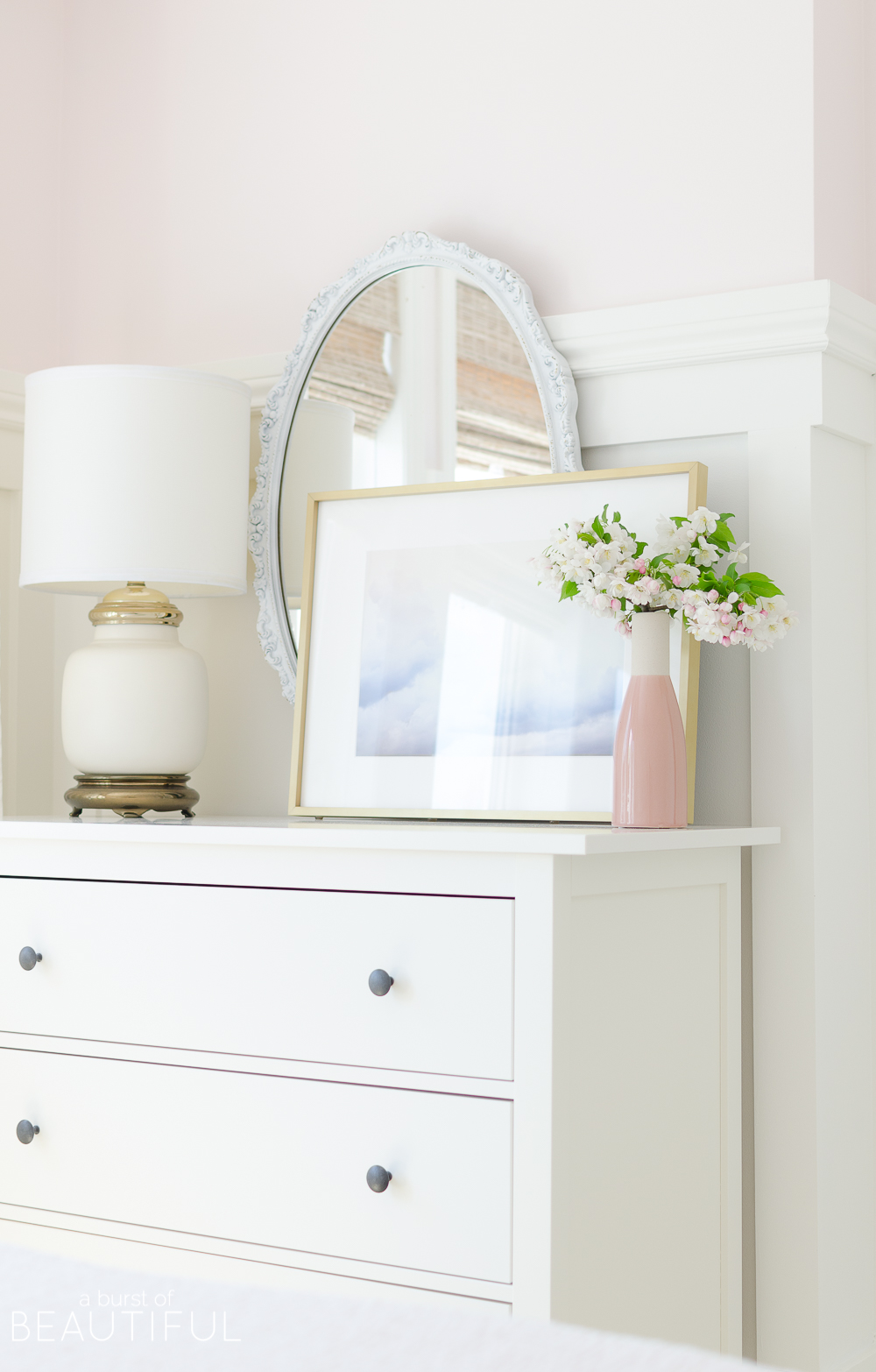 ---
get the look

---
Really, that's the only change we've made in here, aside from a few flowering branches on her dresser. It's these little details that I love adding throughout the summer months to make every room in our home feel happy and cheerful.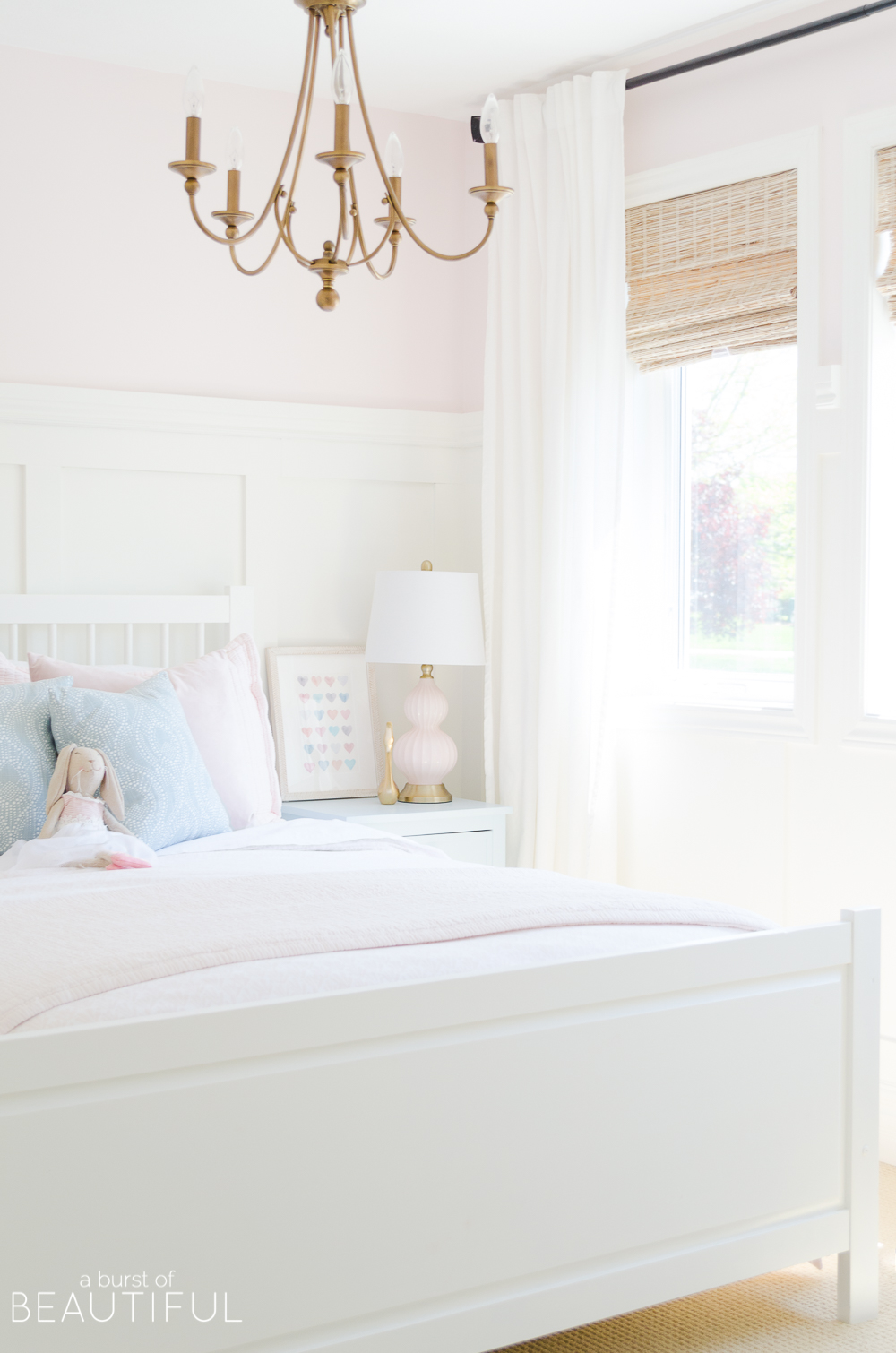 I hope you enjoyed our Summer Home Tour this year, I really enjoyed sharing it with you. Now, I hope you'll head over to Kristi's, Making it in the Mountains, and all of the other blogger's sharing their take summertime inspiration. I know you'll be so inspired!
The Seasonal Simplicity Home Tour series is back; and this time we're all about simple summer decor touches! All week long, my talented blogging friends and I are sharing part of our homes. I can't wait to take in all the gorgeous inspiration…
Sharing today…
Bless'er House // Finding Silver Pennies // Rooms for Rent // Amber Tysl
Deeply Southern Home // Two Twenty One // A Burst of Beautiful // Making it in the Mountains
And sharing the rest of this week…
Monday
The Happy Housie // Maison de Pax // Shabbyfufu // Just a Girl and Her Blog
Inspiration for Moms // Clean & Scentsible // House of Wood // Summer Adams
Tuesday
Sincerely Marie Designs // House by Hoff // Rambling Renovators
Town and Country Living // Newly Woodwards
Craftberry Bush // On Sutton Place // Designthusiasm // Zevy Joy
Thursday
The DIY Mommy // The Turquoise Home // Nina Hendrick // Home Made Lovely
So Much Better with Age // Maison de Cinq // Paint Me Pink
Southern State of Mind // Jenna Kate at Home