Soft shades of white, lavender, and rose mixed with whimsical details bring this sweet and colorful nursery to life.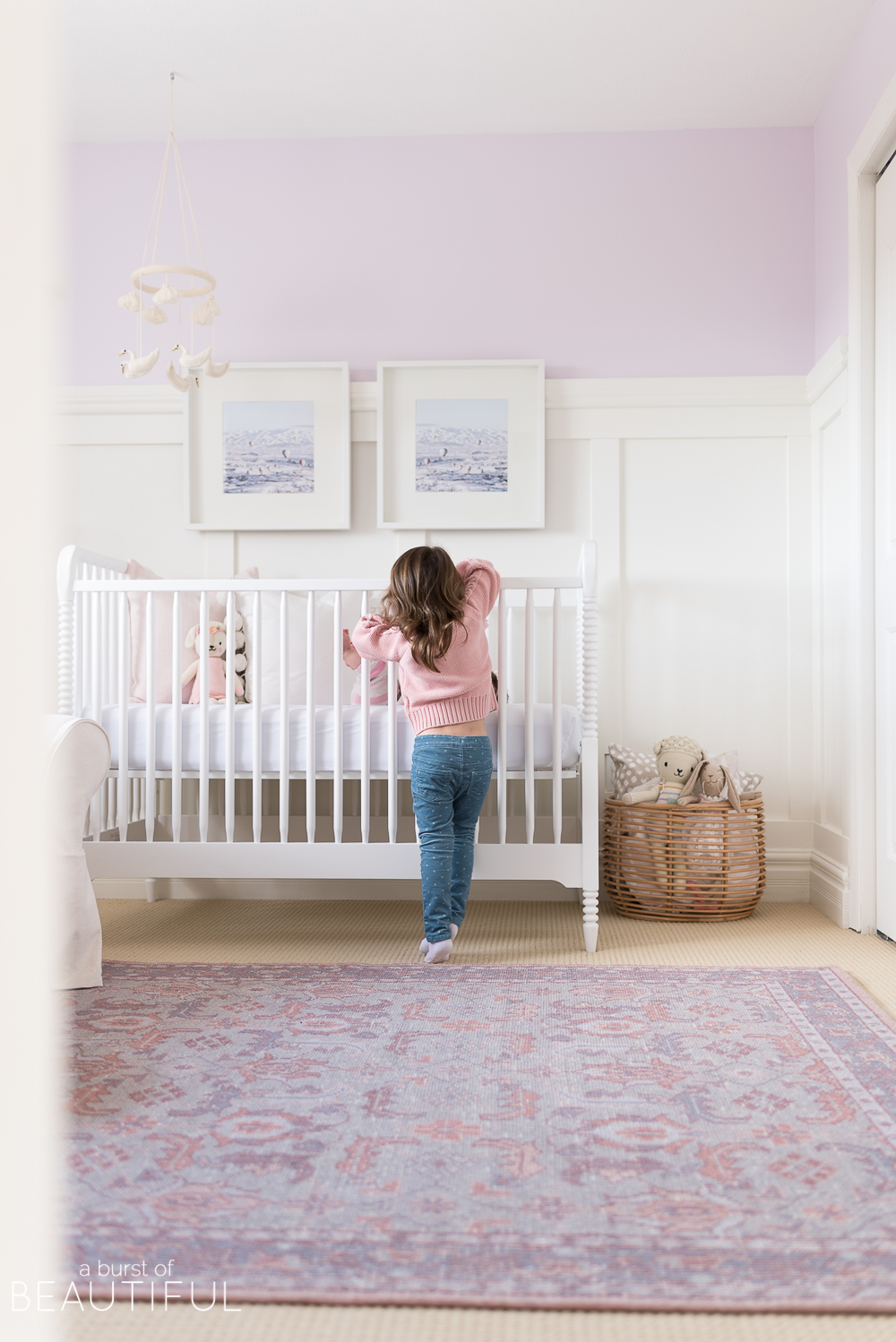 Our little Ella's peaceful nursery decorated in a soft palette of white and cream has undergone a few changes and now completely reflects her bright and happy personality. Seriously, she is such a content baby. She is always smiling and has the most infectious giggle, we just can't get enough of it.
You probably know the story by now, but in case you don't here is the short version. We love a good surprise and chose not to find out the gender of either of our babies while I was pregnant. The suspense and anticipation were so much fun, but the planner in me wanted to have a finished nursery to bring our babies home to. With Zoe, I was content to have a neutral space until we moved her into her big girl bedroom (you can see it here). It is such a beautiful room, and I loved using a muted color palette of pink and blue. In fact, I loved it so much I didn't want to commit to another neutral nursery the second time around. I was really hoping to decorate a space that embraced color and pattern.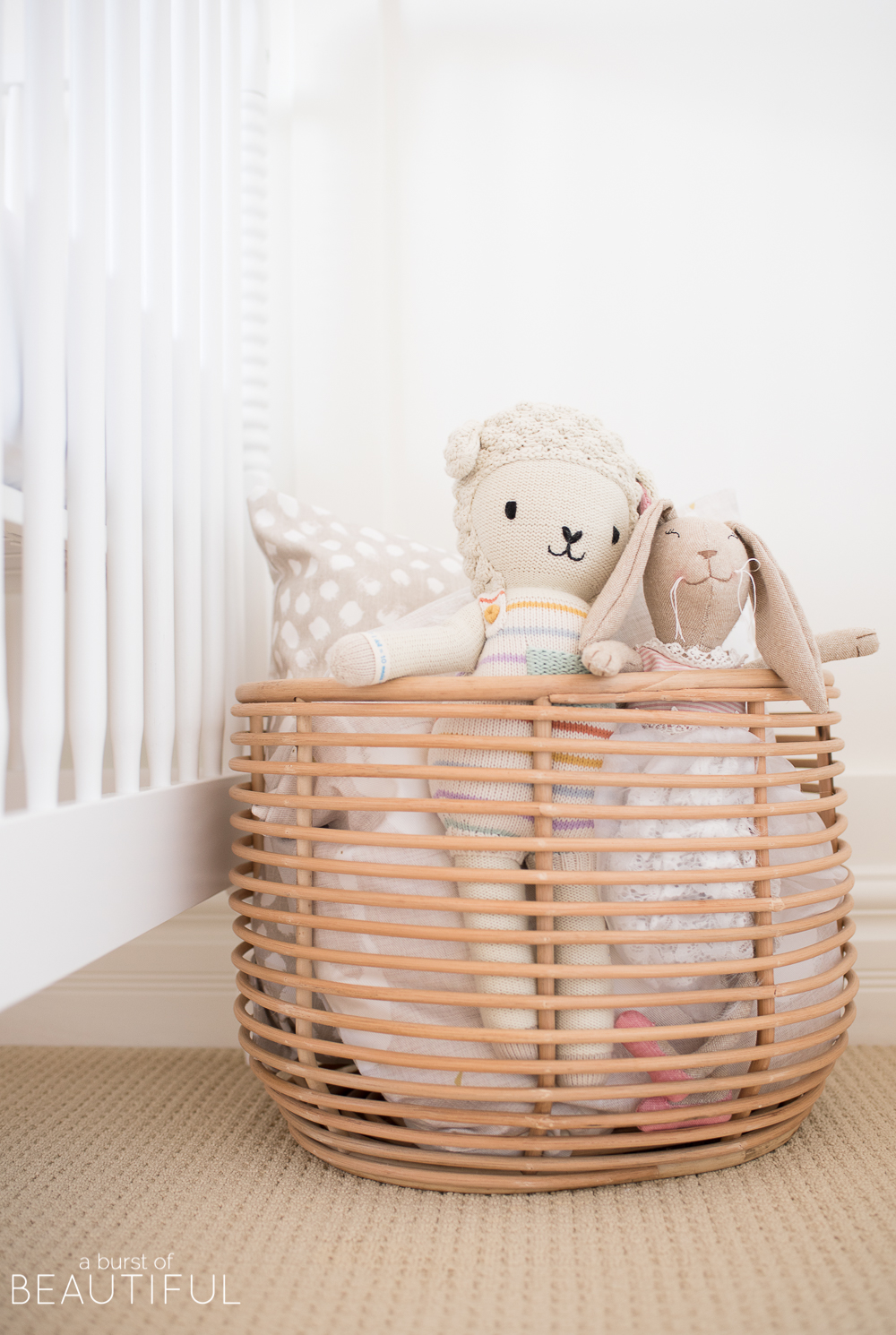 But that would have meant waiting until our baby arrived to finish the space and I knew I wouldn't have the energy or time to devote to a complete room design. So I got creative.
I designed a nursery using gender-neutral colors (white and cream) and chose design elements and pieces that I loved and I knew would fit a nursery for either gender. If you're interested you can take a tour of her nursery and learn more about the decisions I made initially when picking furniture and investment pieces (here).
It was so simple to transform her neutral space into a sweet and colorful nursery with only a few small and easy updates. We partnered with a few of our favorite brands – Plush Rugs, Blindsgalore, and Benjamin Moore – to show you how you can modify a gender-neutral nursery into a space that reflects your little one's budding personality.
When designing a room, I usually start with an inspiration piece and for Ella's room, it all started with this beautiful hand-knotted wool rug from Plush Rugs.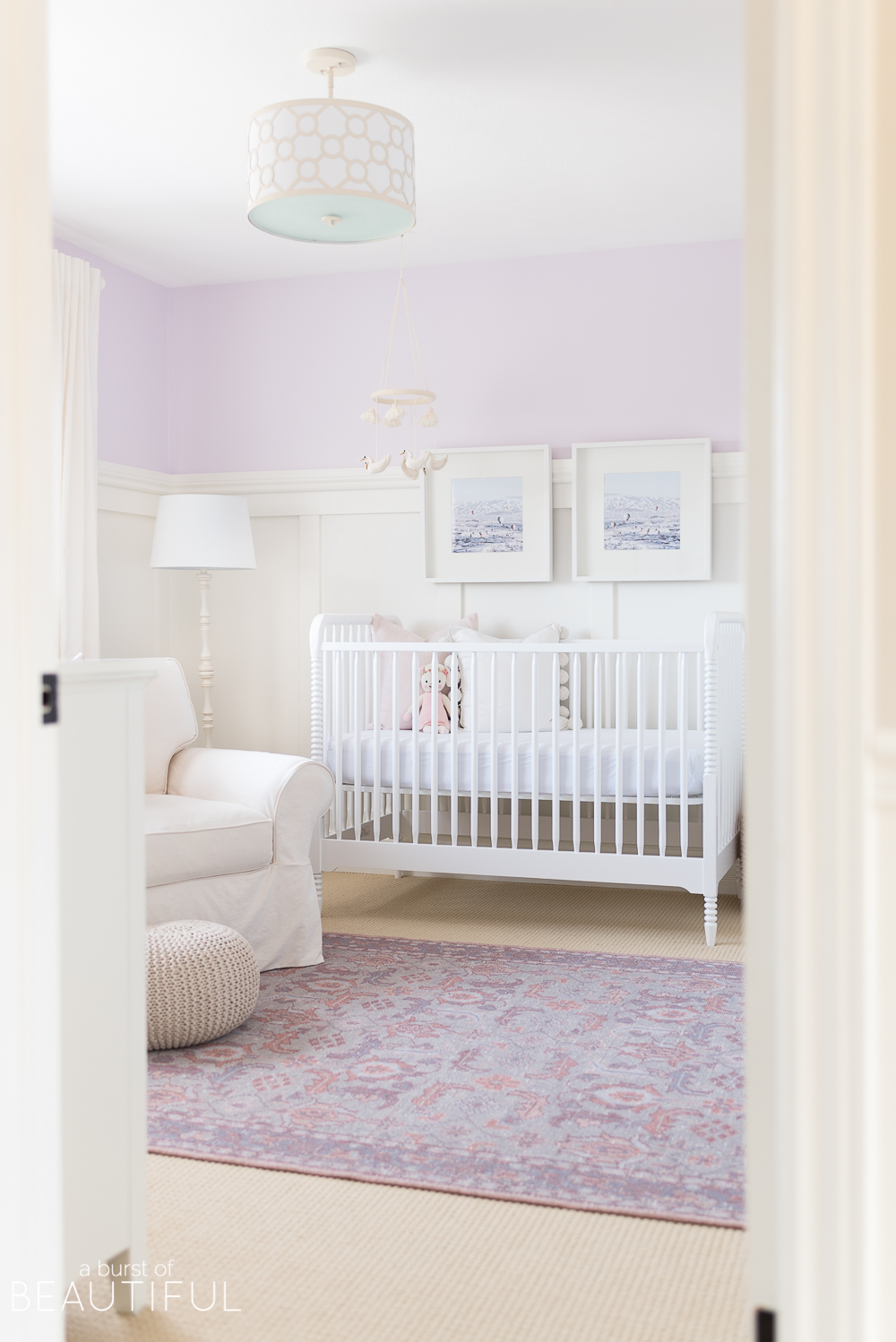 I mean, just look at it, it was love at first sight. As soon as I spotted it, I knew it was the perfect rug for Ella's nursery. The subtle tones of rose, mauve, and lilac were just the combination I was dreaming of. It gave me the courage to step out of my comfort zone and try something a little different in her space. The beautiful motif can be both modern and traditional to fit with any style and I love that it strikes the perfect balance between soft and dramatic.
I know layering a rug on top of a carpet is often a big debate, and it was in our house too. Nick wasn't too keen on the idea, but I knew it would be a great way to add color and pattern so I finally convinced him. And I'm so glad I did because every time I step into Ella's room this rug steals the show.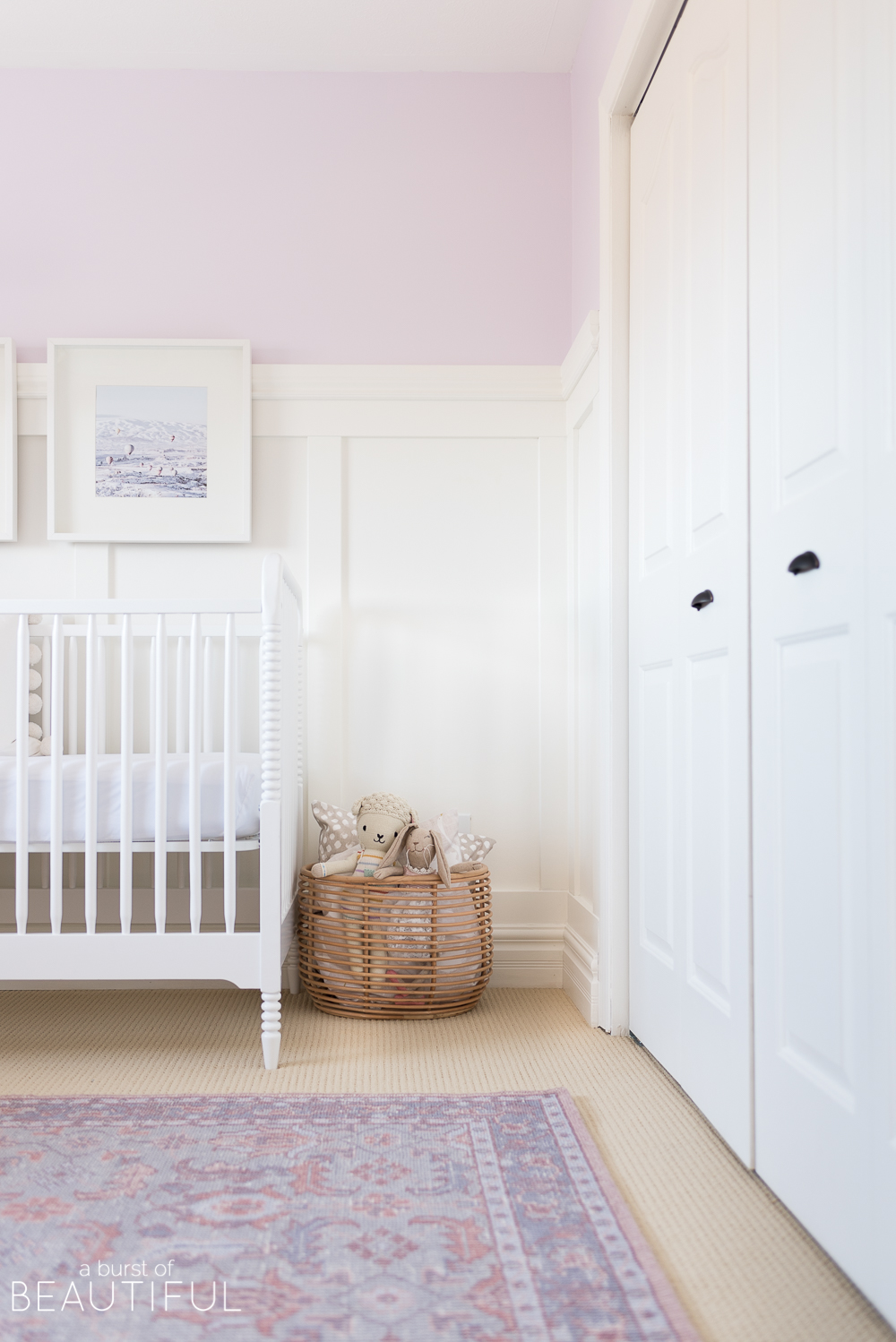 ---
get the look

---
Once the rug arrived, I started looking at paint colors. I debated between a shade of pink or purple but ended up choosing purple, simply because we already had a pink room for Zoe and I wanted Ella's room to feel different. I tested a few different shades of purple from Benjamin Moore and finally settled on this beautiful hue, it's called Raspberry Ice. It's very soft and pretty, but it does have a lot of color to it. I think it works so well in Ella's room because the board and batten, painted Simply White by Benjamin Moore, help to balance it.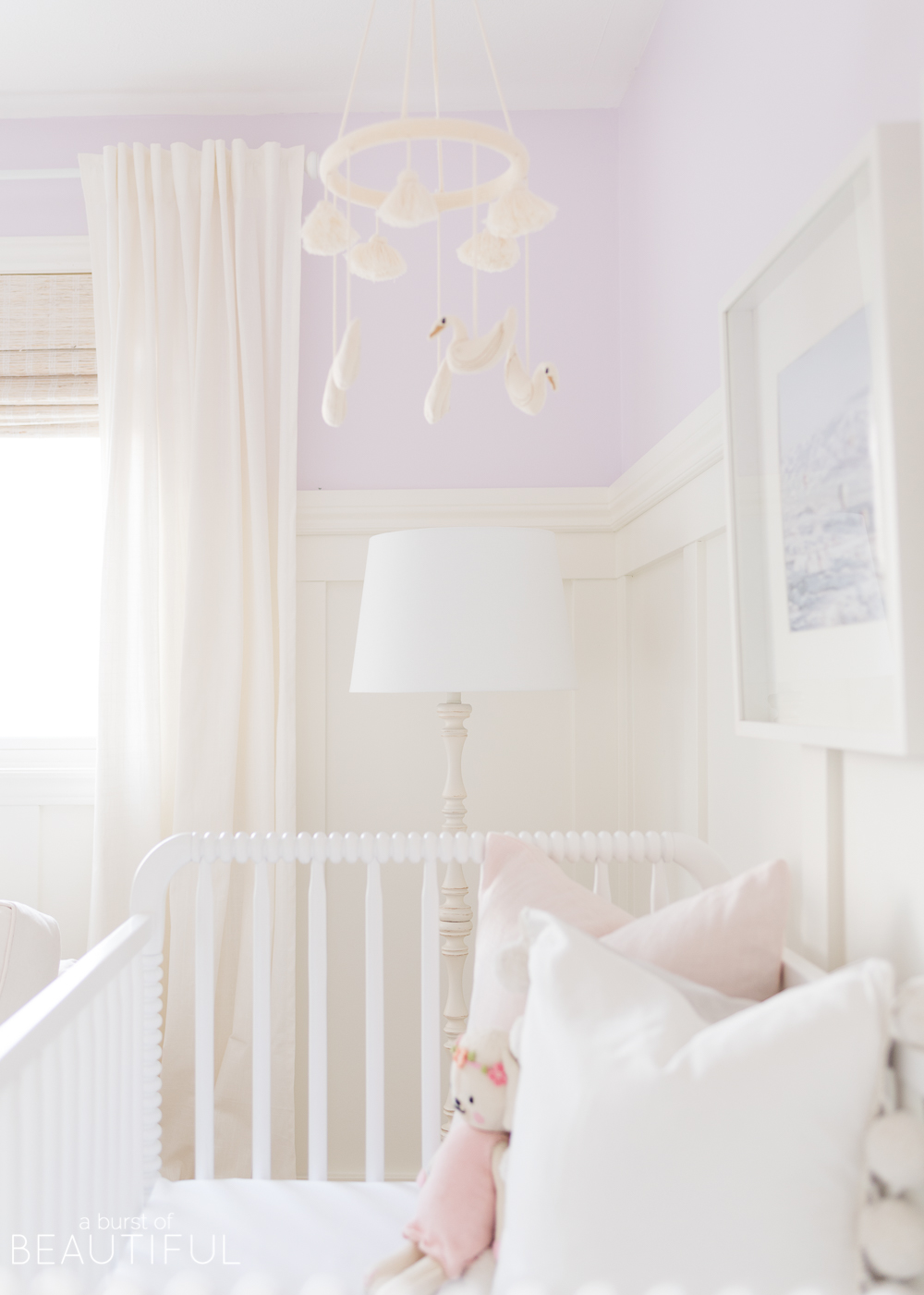 I'm always amazed by how much a different paint color can change the look of a space. It instantly felt like a brand new room – cheerful and youthful. We all love it, especially Zoe who is now asking to have a purple room. 🙂
If you saw the initial design of Ella's nursery, you'll know most of the furniture stayed put, including the beautiful crib and armchair. Furniture pieces are often costly purchases so you'll want to be sure to choose wisely the first time. It's important to consider both quality and style when choosing furniture, especially for a nursery or a kid's bedroom. Kid's spaces are often busy rooms and you'll want to pick pieces that are going to stand up to a lot of daily wear and tear. You should also try to choose pieces that have clean lines and a classic style so they can grow with your child (or be moved throughout your home when they are no longer needed in a nursery or bedroom).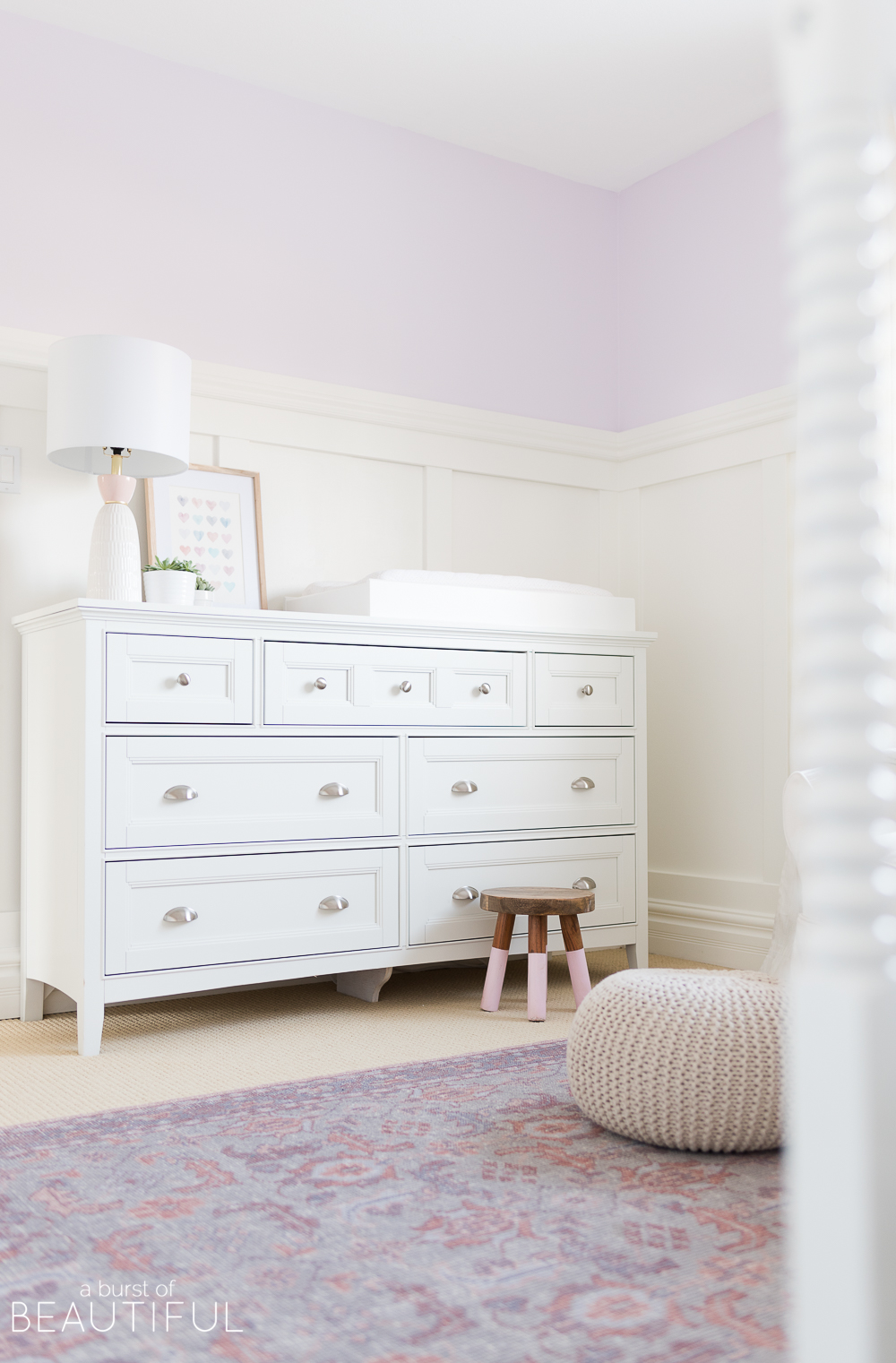 We moved our living room armchair to the nursery because we didn't want to spend a lot of money on a rocking chair or glider that would only be useful for a year or two. We thought it made more sense to make do with what we had.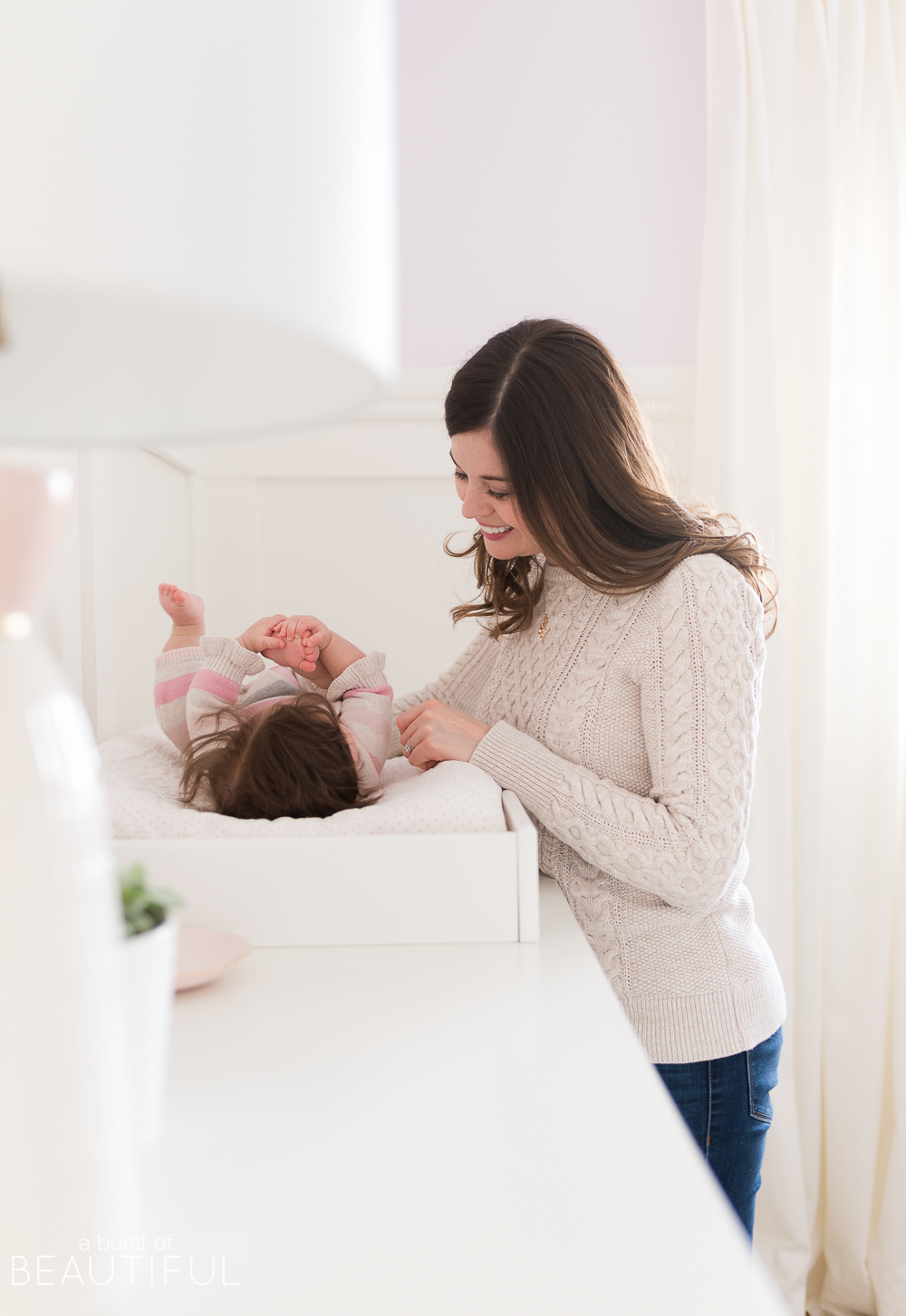 The one piece of furniture we did update was the dresser. Initially, we chose a white dresser with spindle legs that matched the crib, it was beautiful, but as Ella grew we found we needed something a little bigger. We already owned this dresser, we simply added the change tabletop to it and now we have a lot more room for clothes, sleepers, diapers, and blankets.
Speaking of big-budget purchases, I think window treatments are right up there with furniture. In my experience spending a little bit more is often worth it in the long run. I choose window treatments with the understanding that they will be in our home for years to come, so again I like to consider quality and style.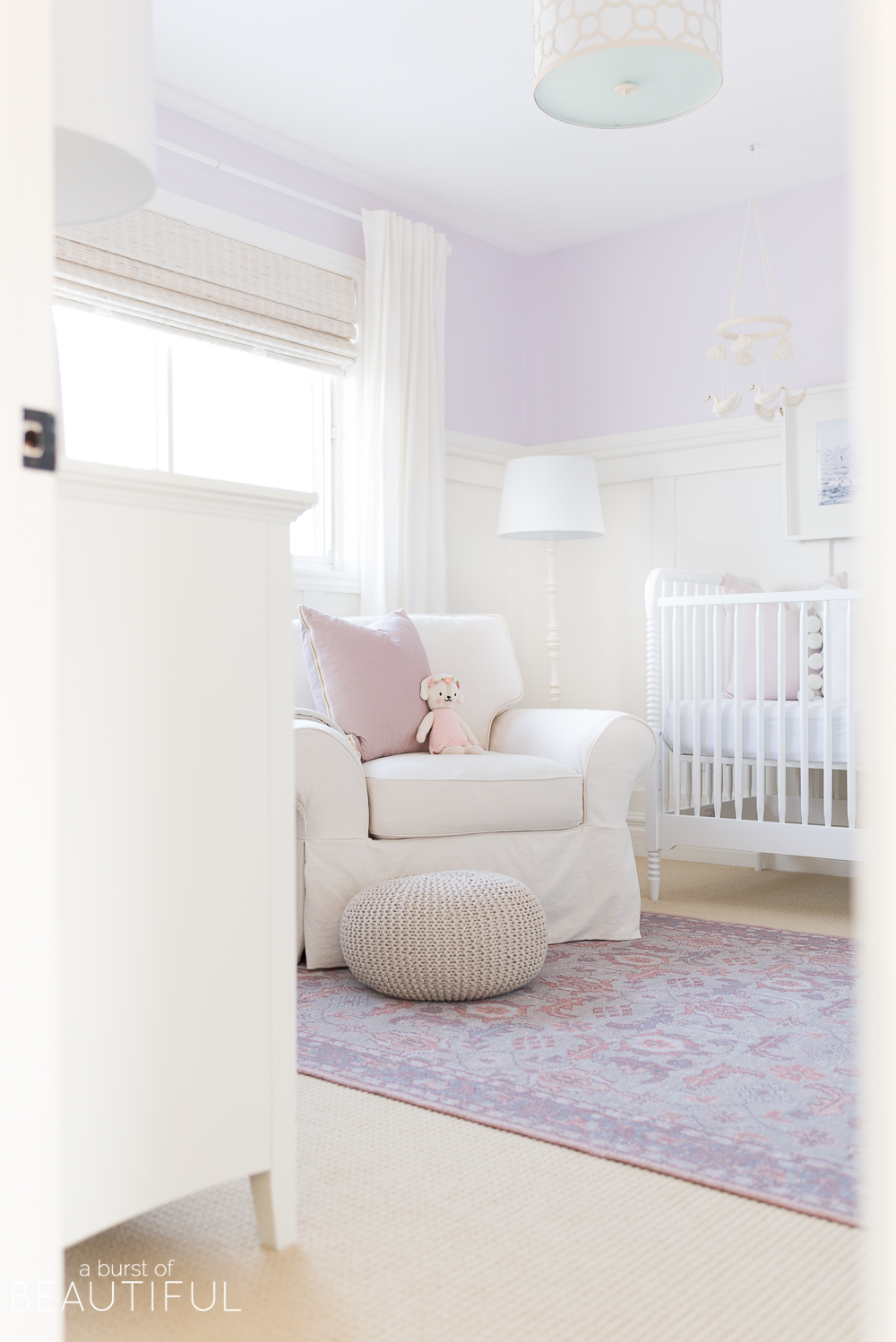 I was really torn when it came to choosing window treatments for Ella's nursery and debated back and forth between drapery or a roman shade for a long time. I love the clean look of a simple roman shade, but in the end, I felt it might look too sparse in her room. We ended up deciding on these beautiful woven wood shades in Faroe Oyster from Blindsgalore. The natural material adds so much warmth and texture to her nursery, which is just what it needed.
We also chose to have the shade lined in a blackout fabric so that her room will always be dark and ready to invite sleep. I think all parents will agree sleep is a precious commodity with a new baby and I am willing to take all of the help I can get in that department. And just like the rest of our woven wood shades throughout our home, we opted for the cordless lift so we have peace of mind knowing our babies will never become tangled in the cord.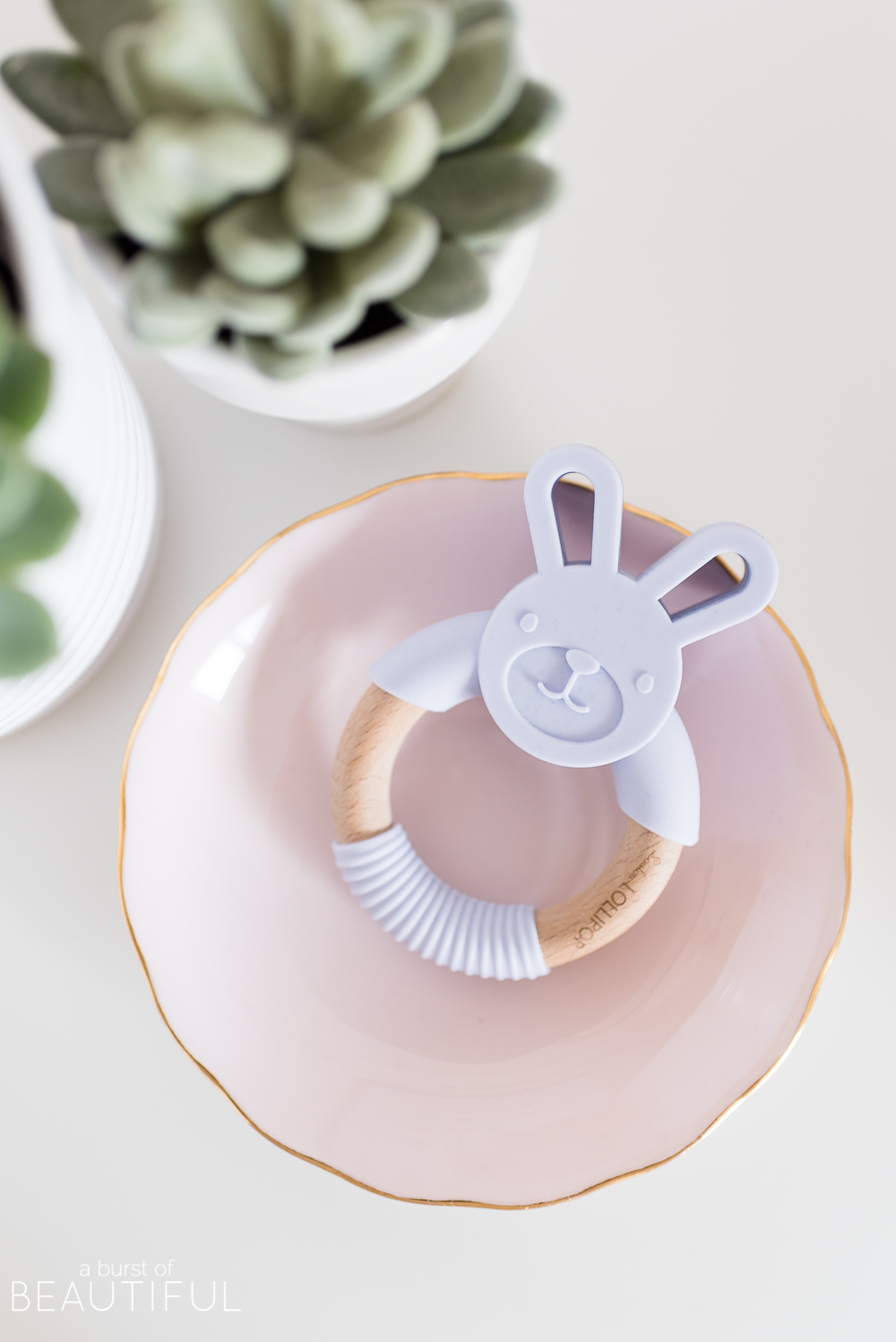 Once all of those big design decisions were made I mixed in a few new accessories for fun, like a couple of soft pink pillows, a new lamp, and a sweet vintage teacup saucer to keep a soother or teether close by for diaper changes. We also ended up spray painting the existing ceiling light, after a months-long search didn't turn up anything I loved.
Finally, we added art. I reused this sweet watercolor heart print we had on hand and I love how it pulls all of the colors together. I spent a few hours searching Etsy (my favorite place for unique and inexpensive art) and finally came across this whimsical print of hot air balloons (original print no longer available – similar option here) in the same muted color as Ella's rug. They look adorable in these matching frames above her crib but will have to be moved as soon as she can stand and reach them.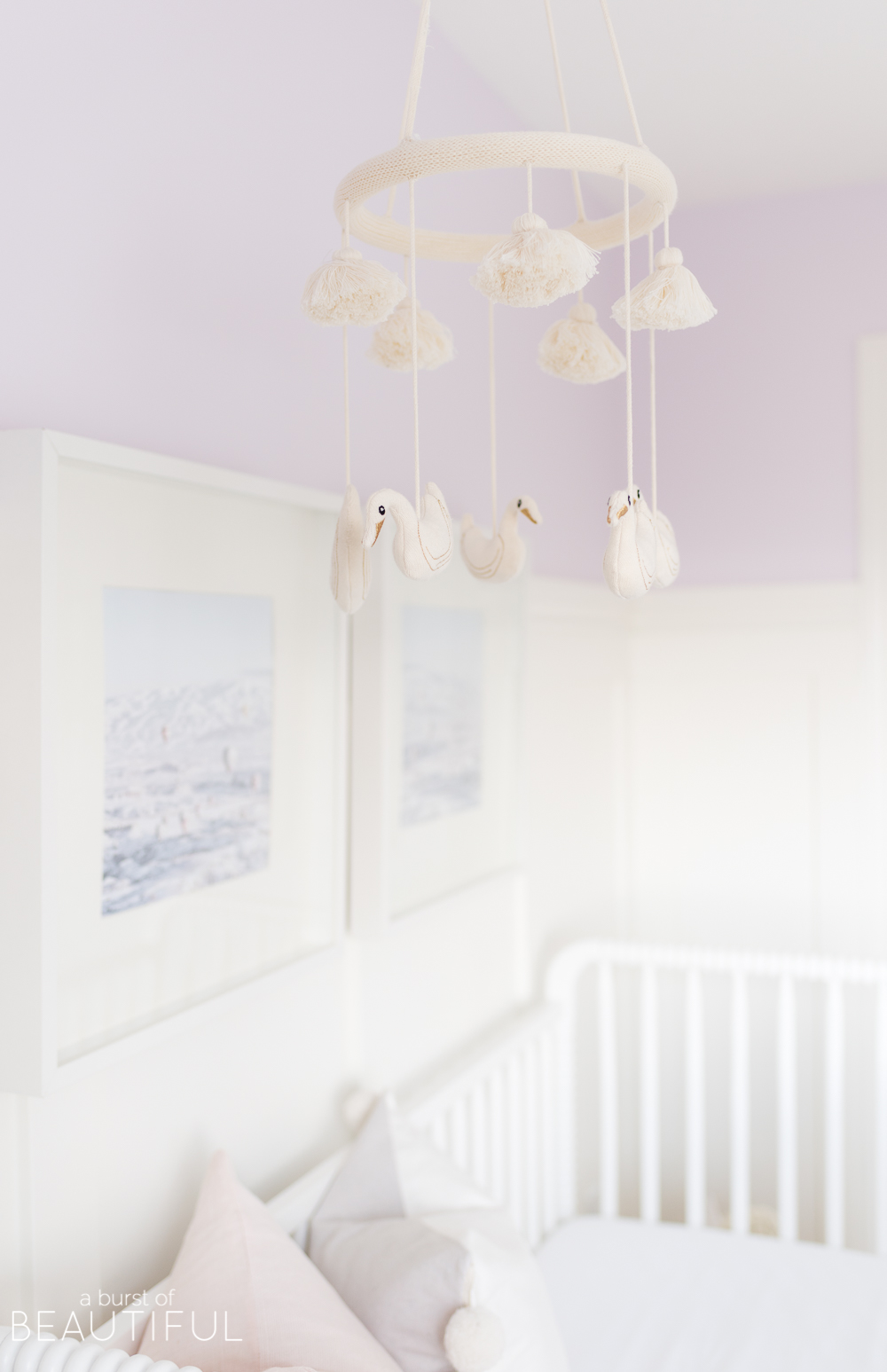 Well, I think I've shared all of the details and changes we made to this space. We are absolutely in love with Ella's sweet and colorful nursery, and I had a lot of fun stepping out of my comfort zone to decorate with colors I wouldn't normally use. I'd love to hear what you think!