A table set with fresh flowers, sweet treats, and simple white dishes conveys a relaxed atmosphere, perfect for an easy weekend brunch or afternoon tea.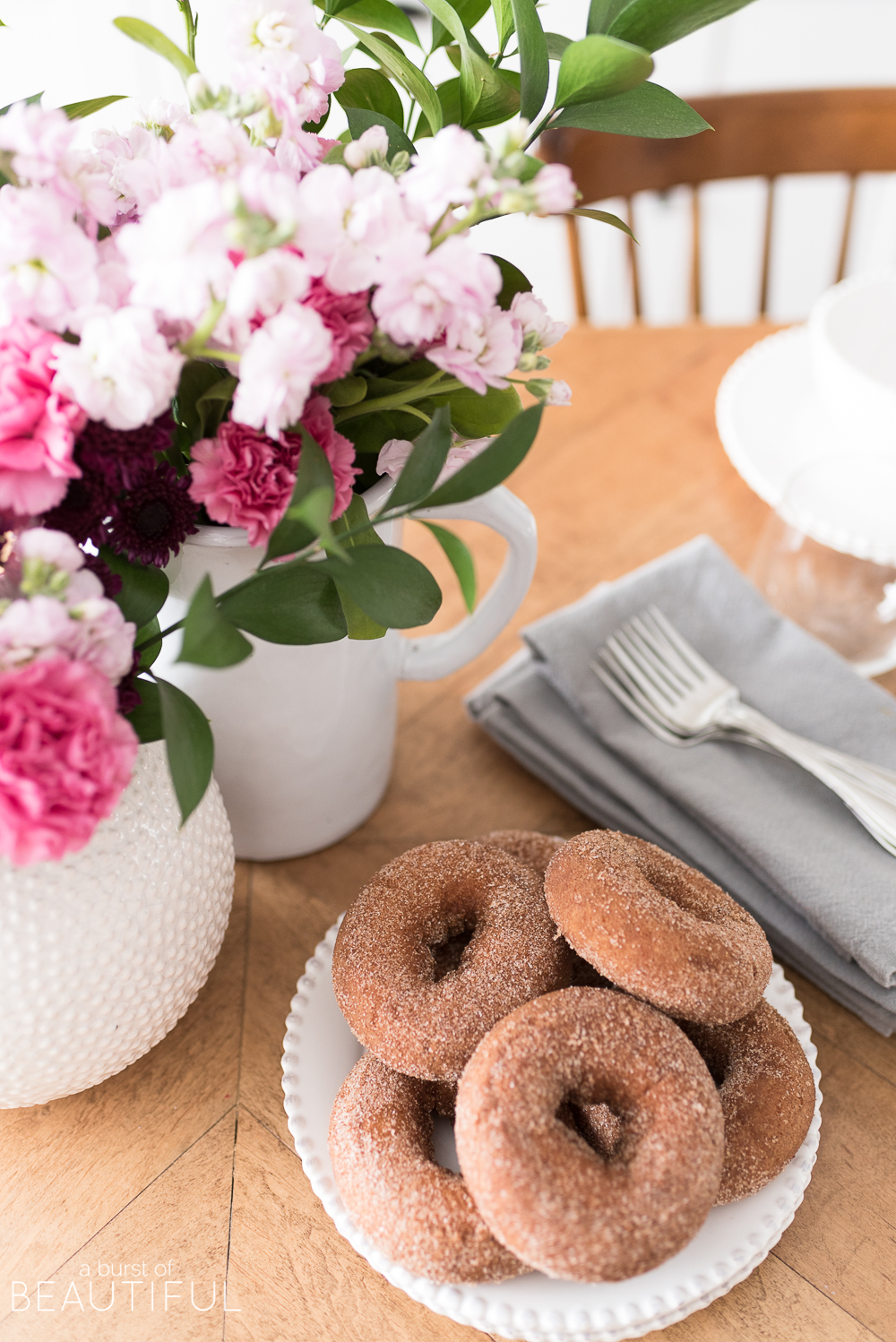 Setting a pretty table is something that always brings me joy. Arranging a vase full of fresh flowers, creating each place setting using beautiful dinnerware and textural linens and finally, adding those thoughtful or whimsical little touches just makes me happy. We don't do a lot of entertaining right now, two little ones sometimes make that hard, so that's why I love setting these pretty tables to share with you. 🙂
We recently celebrated Zoe's fourth birthday, which was such fun. We had a house full of sweet little girls and I loved watching Zoe play and interact with some of her favorite little people. Once the party was over and the gift wrap was tidied up and the balloons had deflated I was left with a bunch of beautiful flowers which inspired me to set a simple tablescape.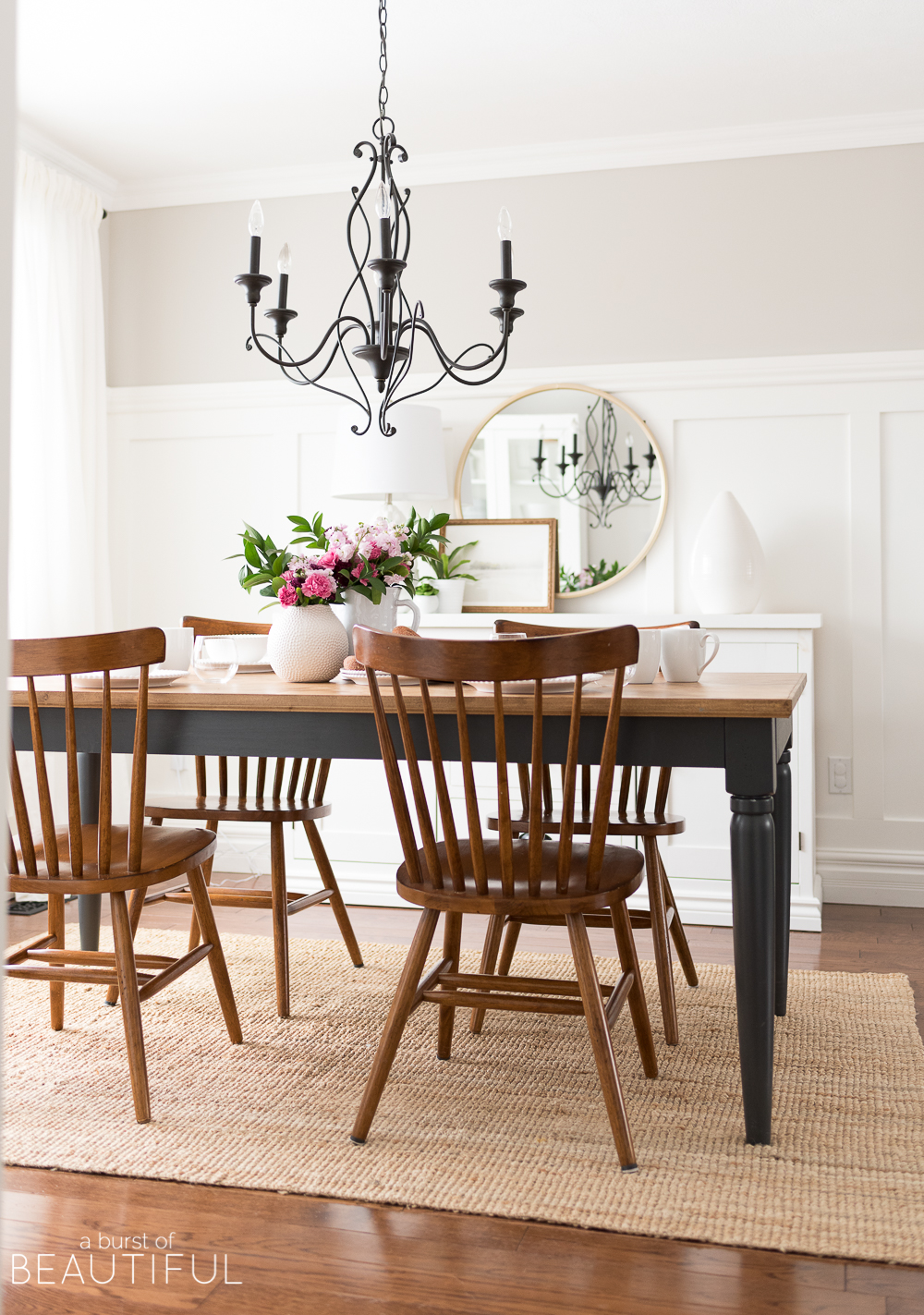 ---
get the look

---
I had picked up a few stems of pink carnations, deep purple mums and light pink spray stock, along with some greenery for her party and I thought the colors were perfect for Valentine's Day, or even a simple get together with girlfriends.
I love how easy and relaxed this table feels, and even though it's simple I think it looks so pretty and inviting.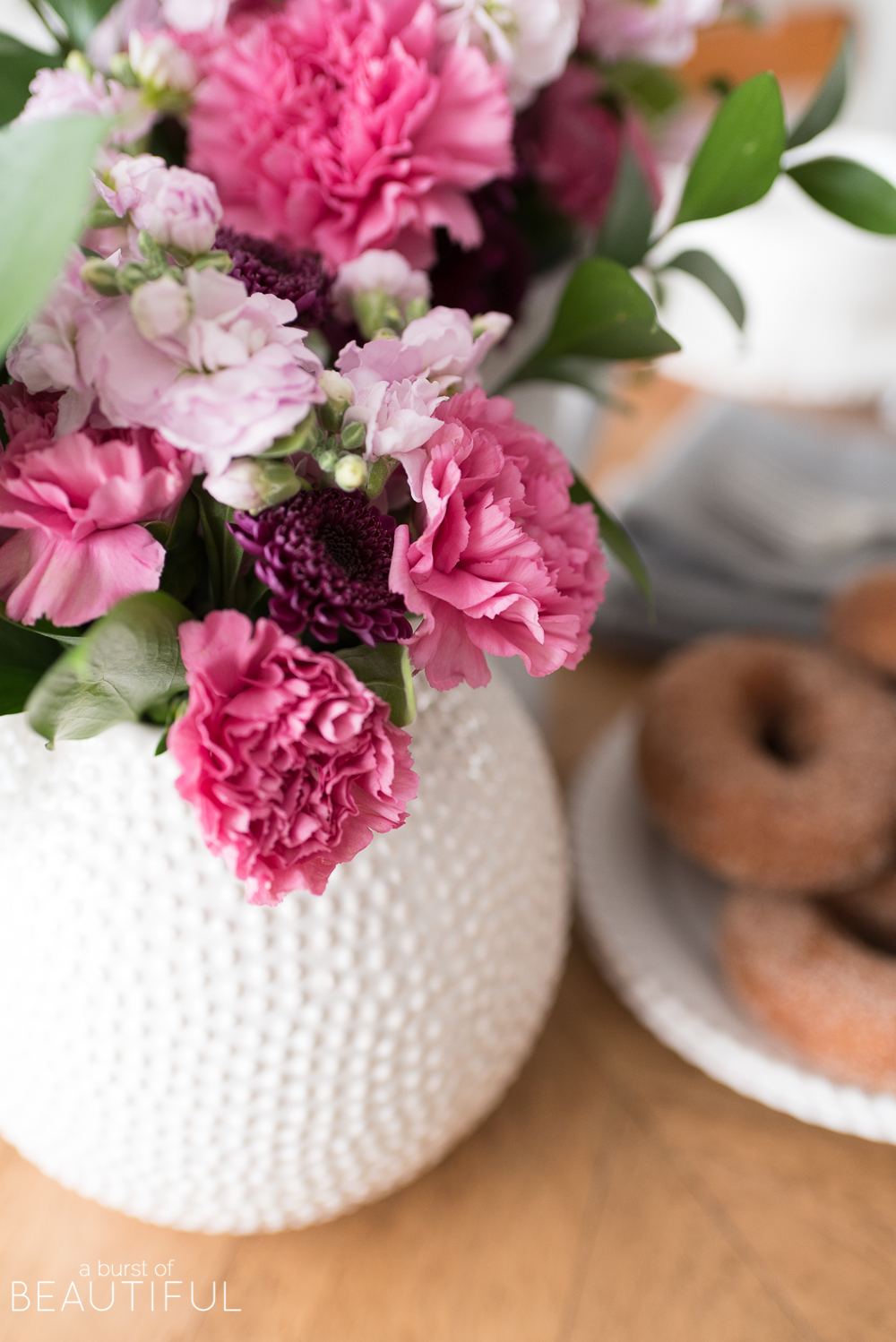 As I mentioned, I wasn't planning on posting a tablescape this week, but these pretty little flowers and the bright sunshine inspired me. I didn't buy anything new and used only what I had on hand, which can sometimes be challenging, but it always makes me think outside of the box. First I chose two white vessels from my collection, one white ceramic pitcher and one textured round vase, for the centerpiece. Dividing the flowers into two arrangements gives a bit more impact then just one would have.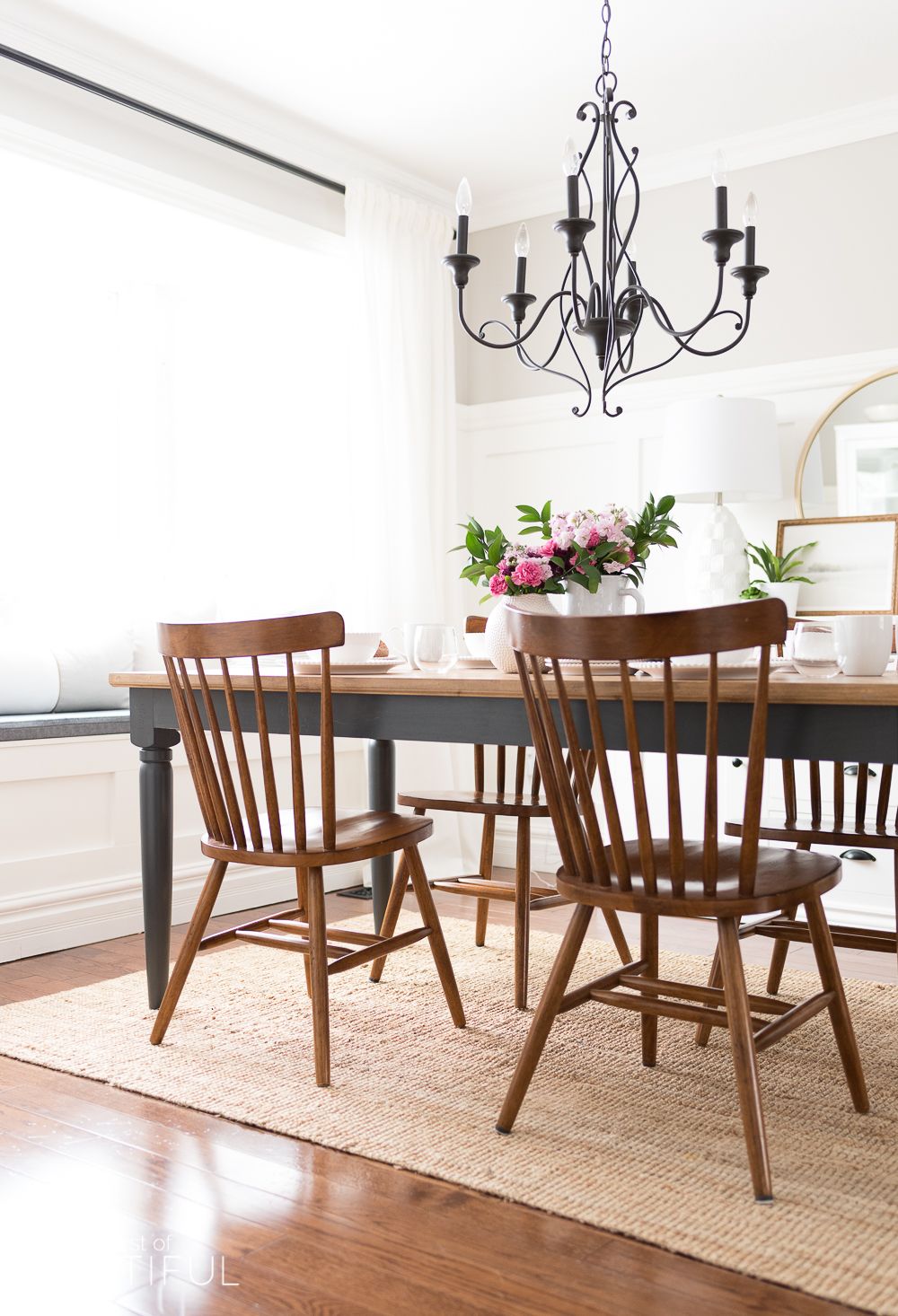 While arranging the flowers, I started with the spray stock because they are the fullest. I always start my arrangements with the fullest flowers and then add in smaller flowers or greenery to fill it out. Once the spray stock was placed in each vase I added a few pink carnations to each arrangement. The mums came next. I love the deep color of these flowers and I think it helps anchor the lighter pinks that I used. I left the stems a little longer so that they popped out and above the rest of the arrangement for a little bit of interest and an organic feel. Finally, I added a few stems of greenery into the back for height.
I grouped the two arrangements in the center of the table. The trick to creating a grouping that looks pretty and not messy is to use vases of different heights, sizes, and shapes. But the vases should be in the same color palette to help maintain a feeling of cohesion.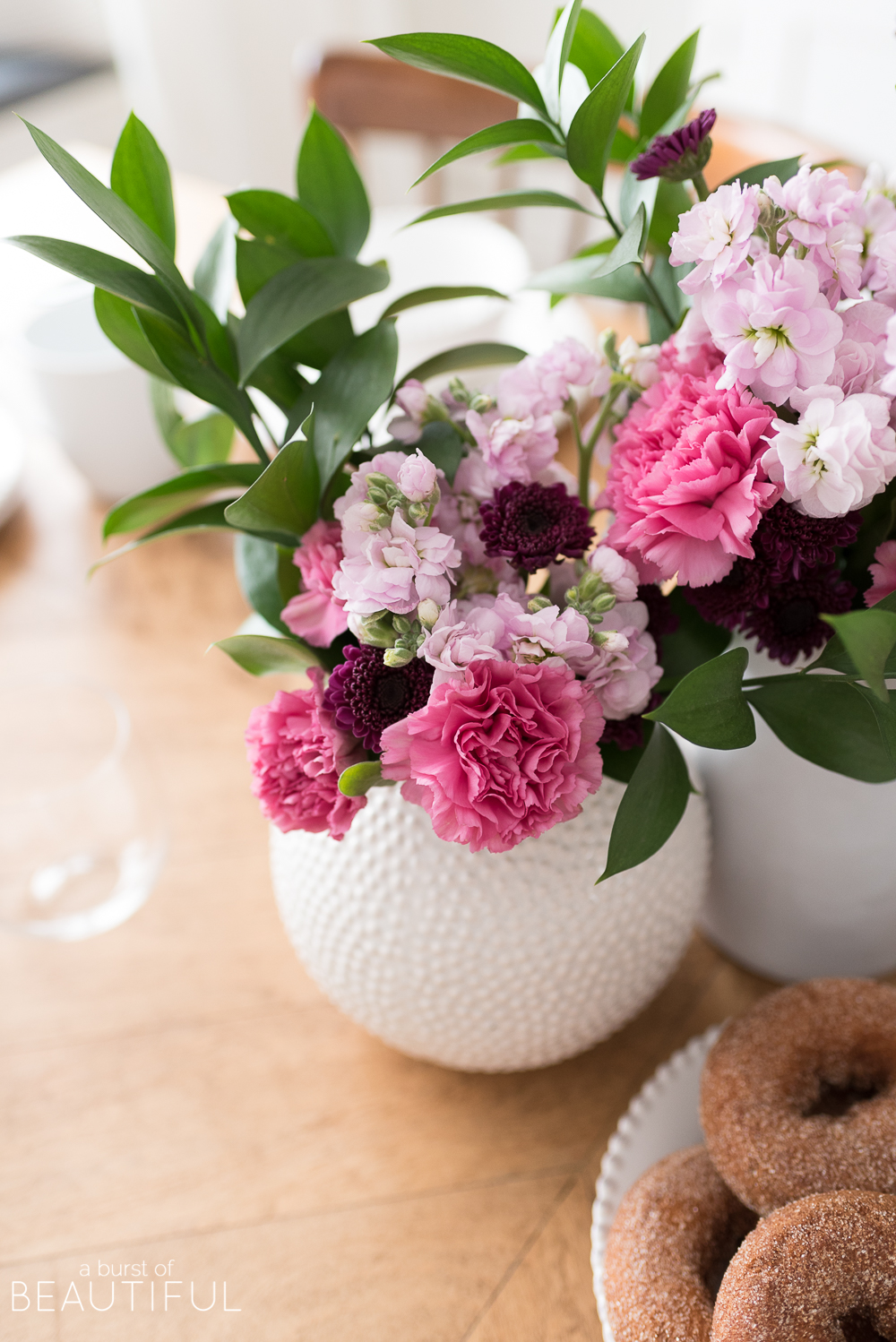 I thought it would be nice to set a table for a simple brunch or afternoon tea, so I used my favorite white dishes, juice glasses, and a few mugs. I wanted to keep things feeling casual so I placed a stack of grey linen napkins in the center of the table with a few forks on top so they are easy to reach.
Finally, I added two plates with a yummy treat, sugared donuts…my favorite! All you need to add is a big bowl of fresh fruit salad, a pitcher of juice and coffee or tea brewing for the perfect little brunch.
Easy, right? I always say entertaining doesn't have to be stressful or overwhelming. A few fresh flowers and good nibbles is all you need, the rest is about the company you share it with.