A classic craftsman style fireplace is the perfect addition to this coastal casual living room. A herringbone marble facade combined with bi-fold doors that easily open to reveal a hidden TV mix style and convenience. We are sharing the free plans here.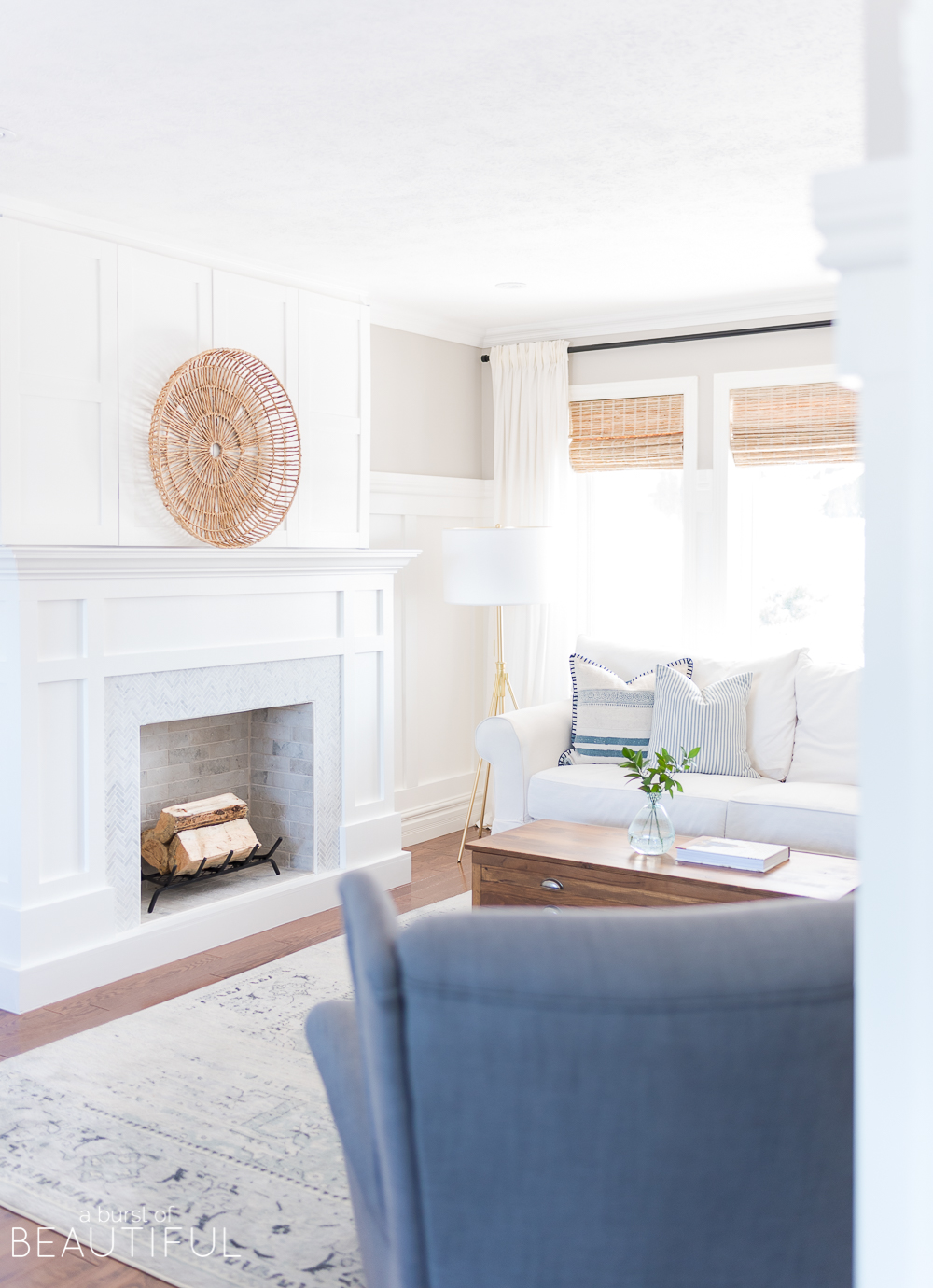 This post was sponsored by Kreg. All opinions and thoughts are my own, see our full disclosure policy here.
We made a big change to our living room…have you seen it yet (you might have caught a glimpse of it here)? I'm talking about our brand new fireplace!
Just after the holidays, when the tree and all of the holiday decor came down I had the urge for a change. I really liked the way our living room was shaping up, particularly our layered gallery wall. I loved that gallery wall and we always received so many kind comments and messages about it, it was a favorite of yours too. But we decided it was time to say goodbye to it and welcome a different look.
Our living room is fairly small, and it is open to our dining room, so there are only so many ways we can arrange the furniture to work in this space. Two to be exact.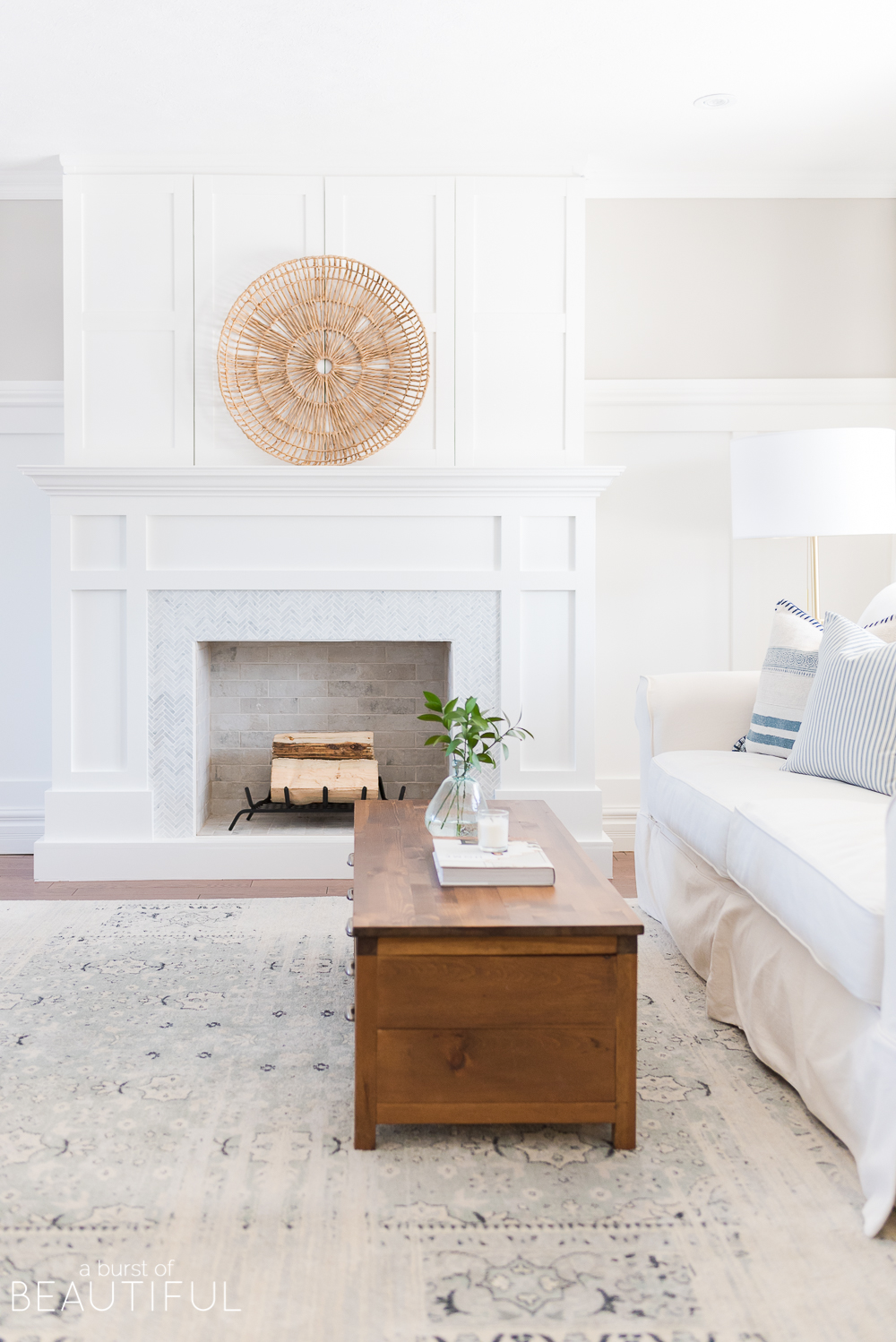 The first is to place the couch against the back wall (where it was, with the gallery wall above it), the second is against the wall with the windows. A few years ago this is how we had our furniture arranged, with the couch against the window wall and a smaller love seat backed against the entrance to the dining room.
The problem was our TV. With the furniture arranged this way, the only place for our TV was against the back wall and I really didn't like that it was the first thing you would see when you walked into our home. There's nothing special about a big black box, right?
So we moved everything around again and the couch and our pretty layered gallery became the focal point of the room. Perfect, right? Well, it was for a few years until I started to crave a change.
We moved that couch again, back against the wall with the windows. And I just loved how cozy it made our living room feel. I'm not sure why, but this layout just made the space feel more relaxed and welcoming.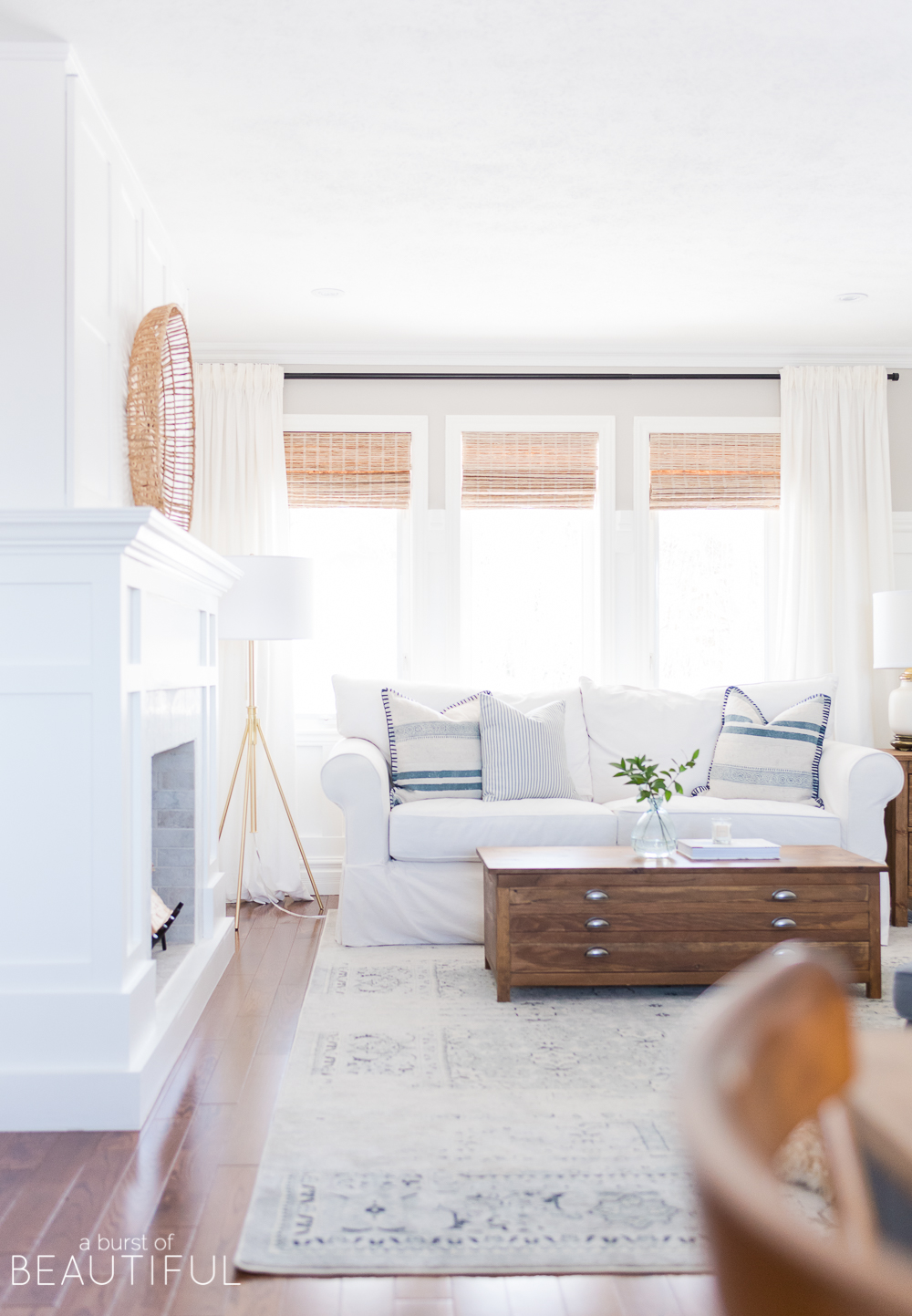 ---
get the look

---
Aside from just the overall feeling, there are a couple of reasons I love this layout better. The windows frame our couch so perfectly (you can find all of the details on our window treatment here). And as you can see from our photos, this layout really helps open up the space. We have so much more room now, which is great for giving the girls space to spread out and play.
But we had that same problem again, where were we going to put our TV and what were we going to do with this big empty wall?
A fireplace seemed like the best solution. It would fill a lot of the empty space, it would look pretty and it could be built to conceal our TV. It's a win-win! So we started discussing the details and Nick got busy with the plans. Weekends were the only time Nick would work on it, so it came together over several weeks. Our weekday evenings are busy with dinner, baths, and early bedtimes for the girls. And once they were down we weren't going to risk waking them up again with the noise that comes with building a fireplace. Luckily, Nick has a Kreg Foreman that helped speed things up!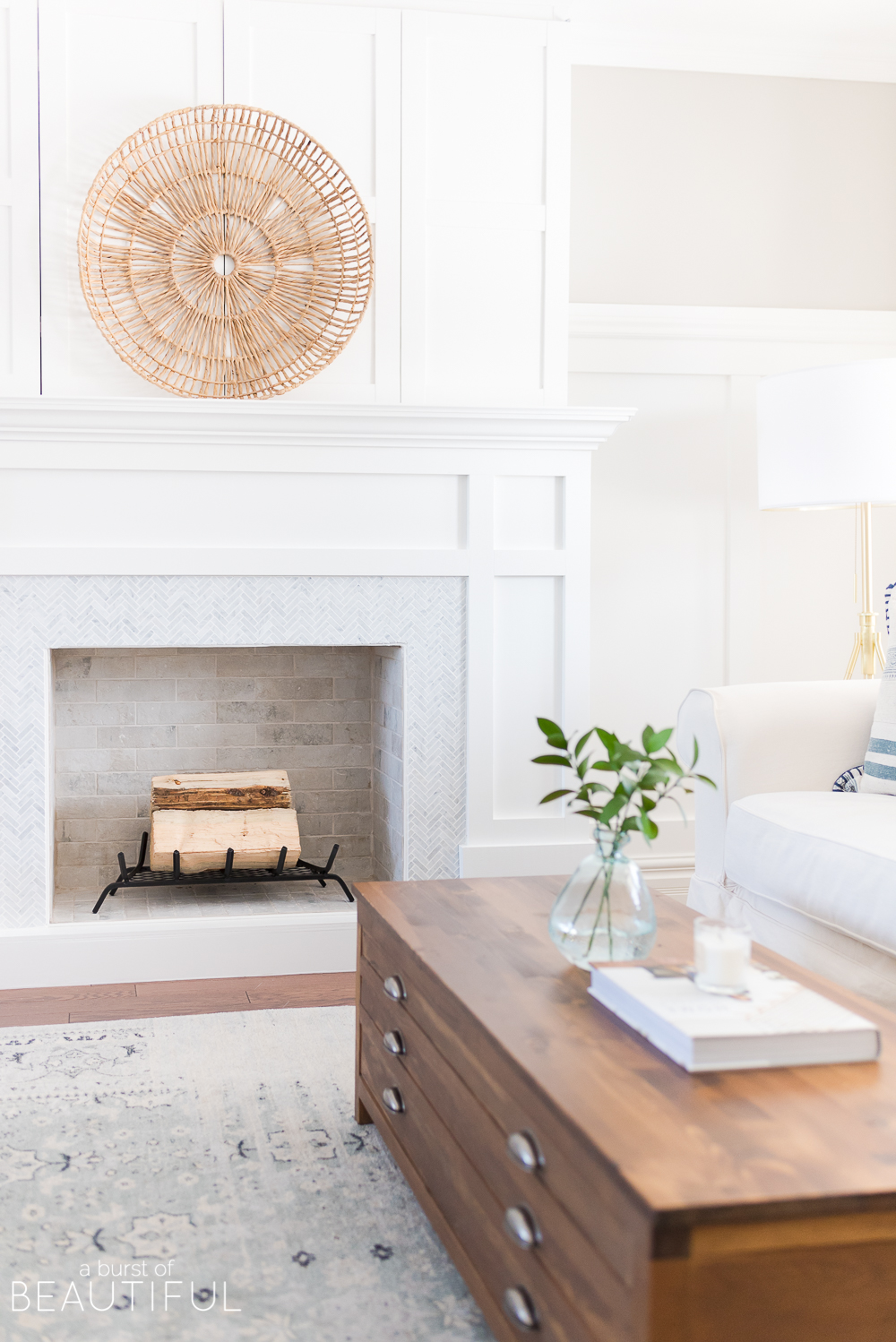 So slowly, but surely our fireplace took shape. It's finally finished, and it's even better than I imagined!
I wanted the fireplace to have a very classic design, but we also needed it to blend with our craftsman board and batten wainscoting. The paneling Nick added matches the wainscoting perfectly so that it all ties together (you can find the tutorial for our wainscoting here). And of course, because we chose to paint it white, along with the simple tiles we chose (marble herringbone for the face and brick for the firebox), it feels timeless. As if it's always been here.
We used two different types of tile to make it feel more authentic. The first tile is a soft cream and gray marble in a herringbone pattern. I think it keeps it feeling fresh and youthful. While the gray brick used inside is a nice contrast. This was the first time Nick has tiled and it went easier than he thought, but if you don't feel comfortable tiling, you can always explore alternative ways such as faux brick hardboard panels or use mortarless adhesives to set the tile.
We also added a fireplace grate with wood logs, simply for looks. Obviously, this is a faux fireplace, and we chose to build it that way for two reasons. First, we love the look of a traditional wood-burning fireplace with a brick interior. Second, the budget didn't allow for a gas insert, but we did leave the opening the proper size to add one down the road! We thought about using an electric insert as well, but when deciding between an electric insert or faux traditional look, we chose the latter.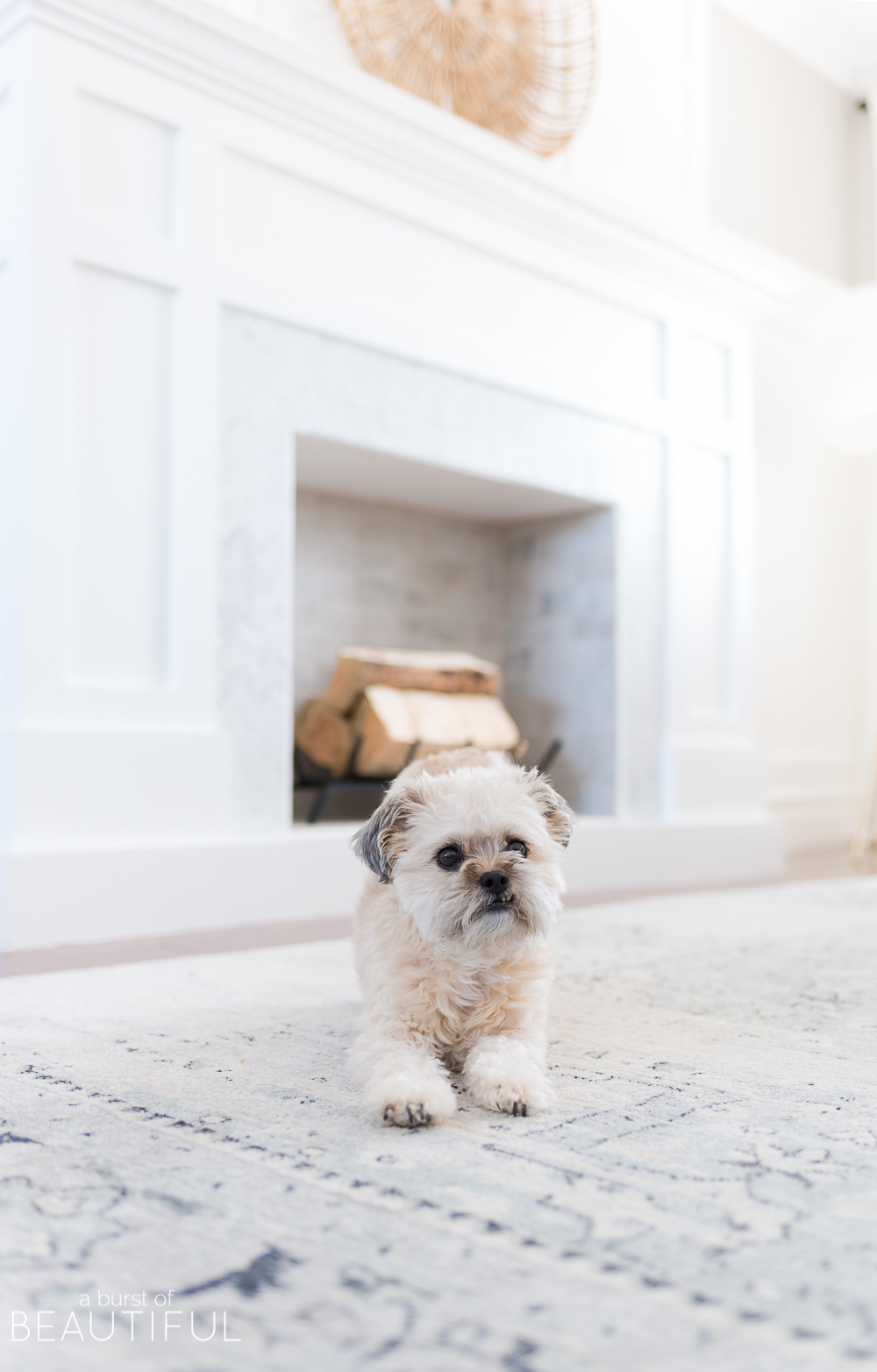 Now, on to the fun part! Where is our TV?
It's hiding behind those perfect bi-fold doors! This part was really important to me. I wanted the fireplace to look as if was a traditional fireplace. I didn't want it to be obvious there was a TV hiding in there. And Nick did an incredible job of making this happen. Have a look at the video to see how it works! Nick's plans allow you to add this as an option.
We recently turned our unused basement into a family room, playroom, and home office (
see the full reveal here
) so we spend most of our downtime there. After a busy day, if Zoe needs a few minutes of quiet time with her favorite movie or when the girls go to bed and we want to catch up on our favorite TV shows, this is where we end up. Now that we have our
family room
finished I knew we wouldn't use the TV in our living room as much, so my main priority was aesthetics.
But luckily, I got the best of both worlds. We have a beautiful living room, that looks polished and put together, while still having the convenience of using this room as a family space (TV watching included!).
To keep it as convenient as possible, I simply lean this large woven basket on the mantel. It's texture, color and size give it enough impact that I don't need to use anything else to decorate the mantel. So when it's TV time, I just simply move it and open the doors. So easy!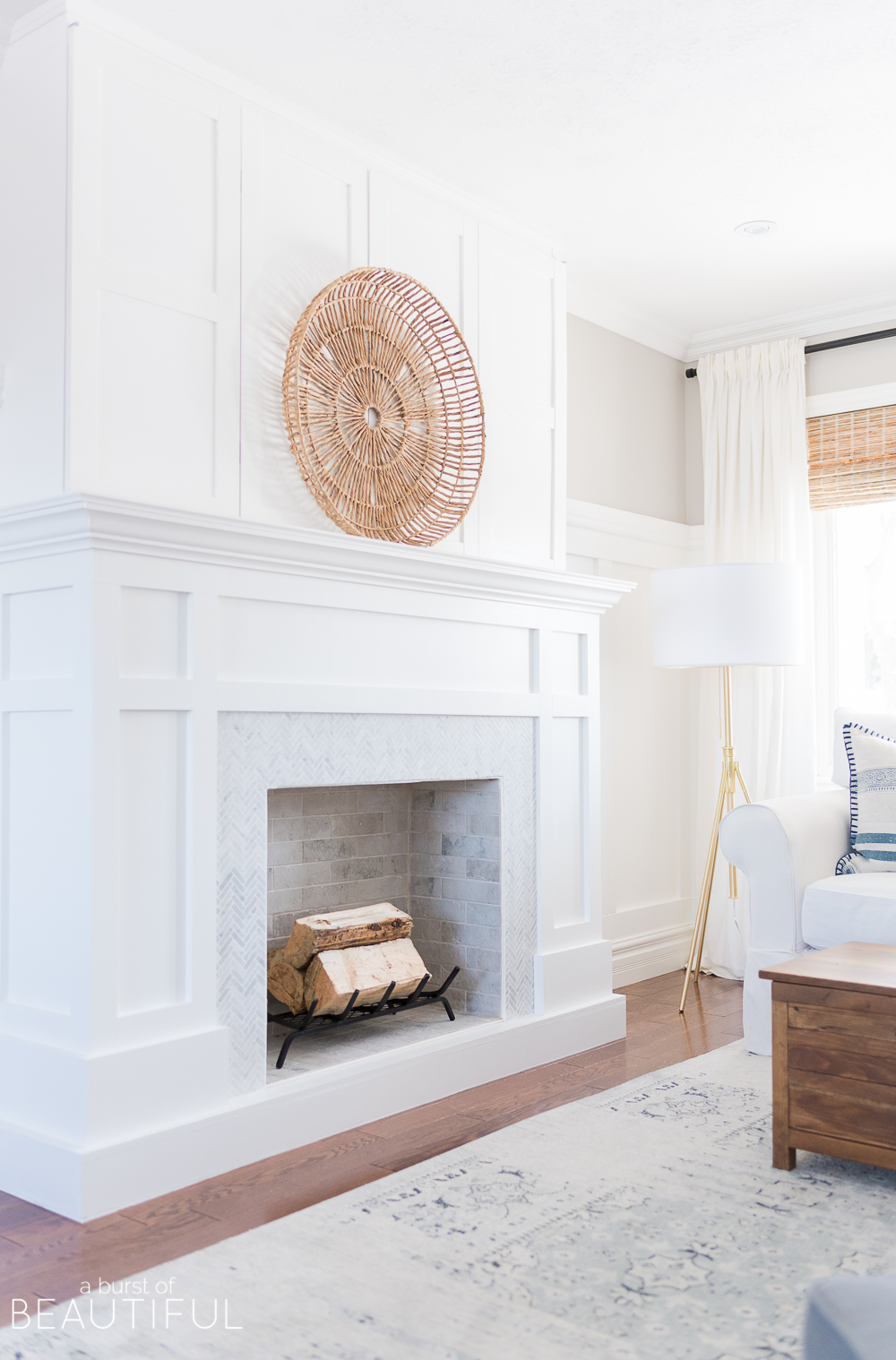 I love the way our living room looks now, it's such a nice change, just what we needed to keep our home feeling fresh. I'm thinking about adding two new chairs to sit directly across from the couch. I love the idea of creating a seating arrangement that really encourages conversation. Now I just have to hunt down the perfect chairs…
We would love to hear what you think of our fireplace, and of course, if you use our plans to build your own, we'd love to see photos!
If you want to give these plans a try, you can find them following the link below on Kreg's DIY plans site. And please let us know if you make your own fireplace, we would love to see it! I'm sure you'll find plenty of other DIY plans to put on your to-do list there as well!