Celebrate Easter around a table set with classic white dishes, linens in pastel shades and a centerpiece full of spring blooms.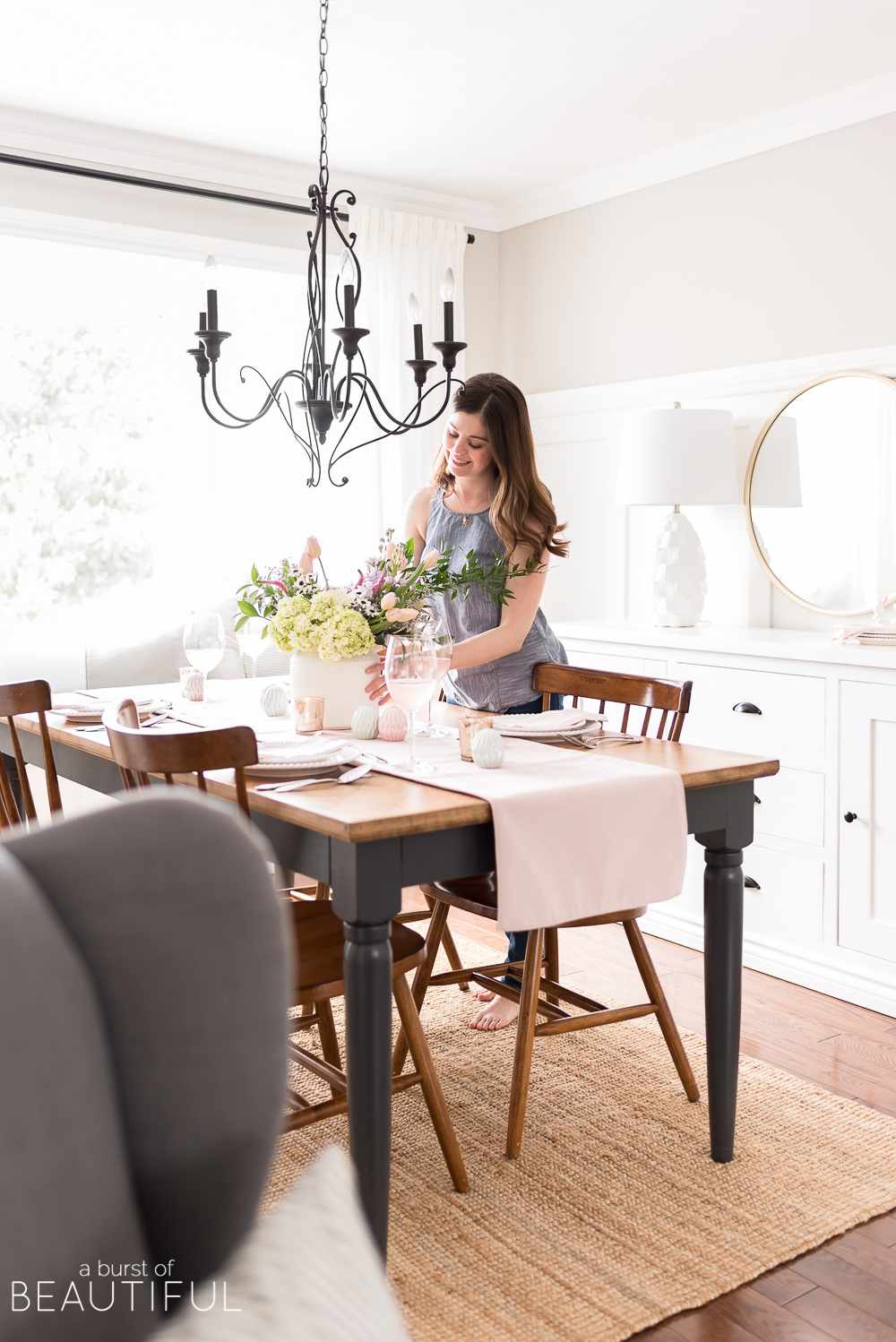 When it comes to Easter I love the sweetness that surrounds the holiday, in particular, the colours. I know that might sound funny, but Easter colours are my favourite. Buttery yellow, pastel pink, creamy white and pale violet are popping up all around us and I'm completely in my element. So it was an easy decision to include these shades while setting a pretty table to celebrate Easter.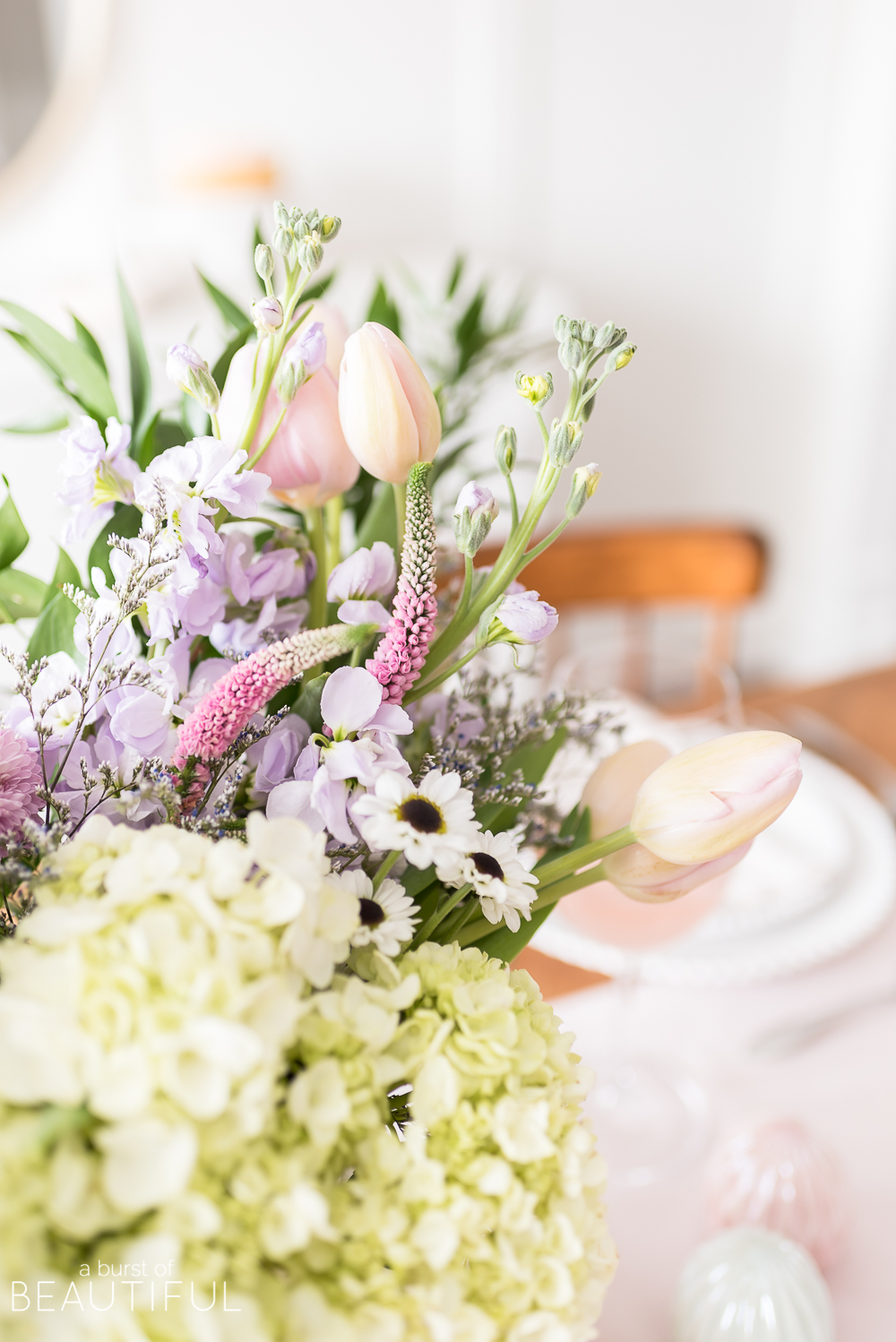 If you've been following us for a while, you'll know I love creating tablescapes, from choosing the perfect linens to arranging a beautiful centerpiece of seasonal flowers, I love every single detail (you can see all of my past tablescapes here). I always try to share a new idea with you each season and I hope to offer a bit of inspiration with simple ideas that are beautiful, practical and attainable.
I do my best to use pieces we already own because I know it's not realistic to go shopping every holiday or every time you host a meal. Instead, I like collecting pieces over time that I can use from season to season. Although, every once and a while it is fun to incorporate something new, like a set of napkins or a pretty bowl.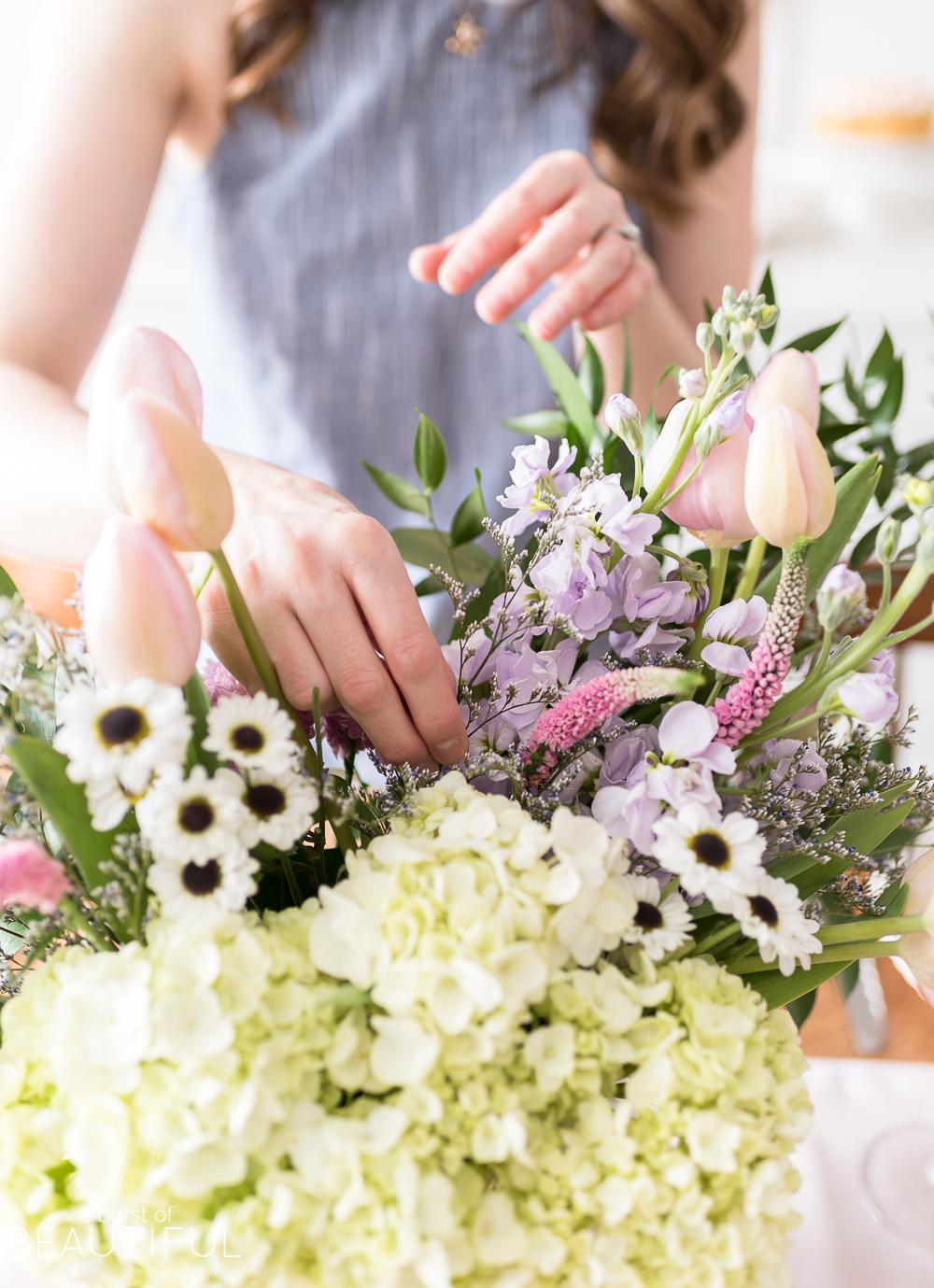 Before I set our table, I always start with our centerpiece. I take a look around our house to find what I will use as a vase, a large bowl, basket or traditional vase are always fun to use. I always choose my vase first, so I know how many flowers I need to pick up, then I head to our favourite flower shop. This time I bought a mix of flowers in pale hues that remind me of spring, like lavender stock, pink veronica and white yin yang, along with a bit of greenery.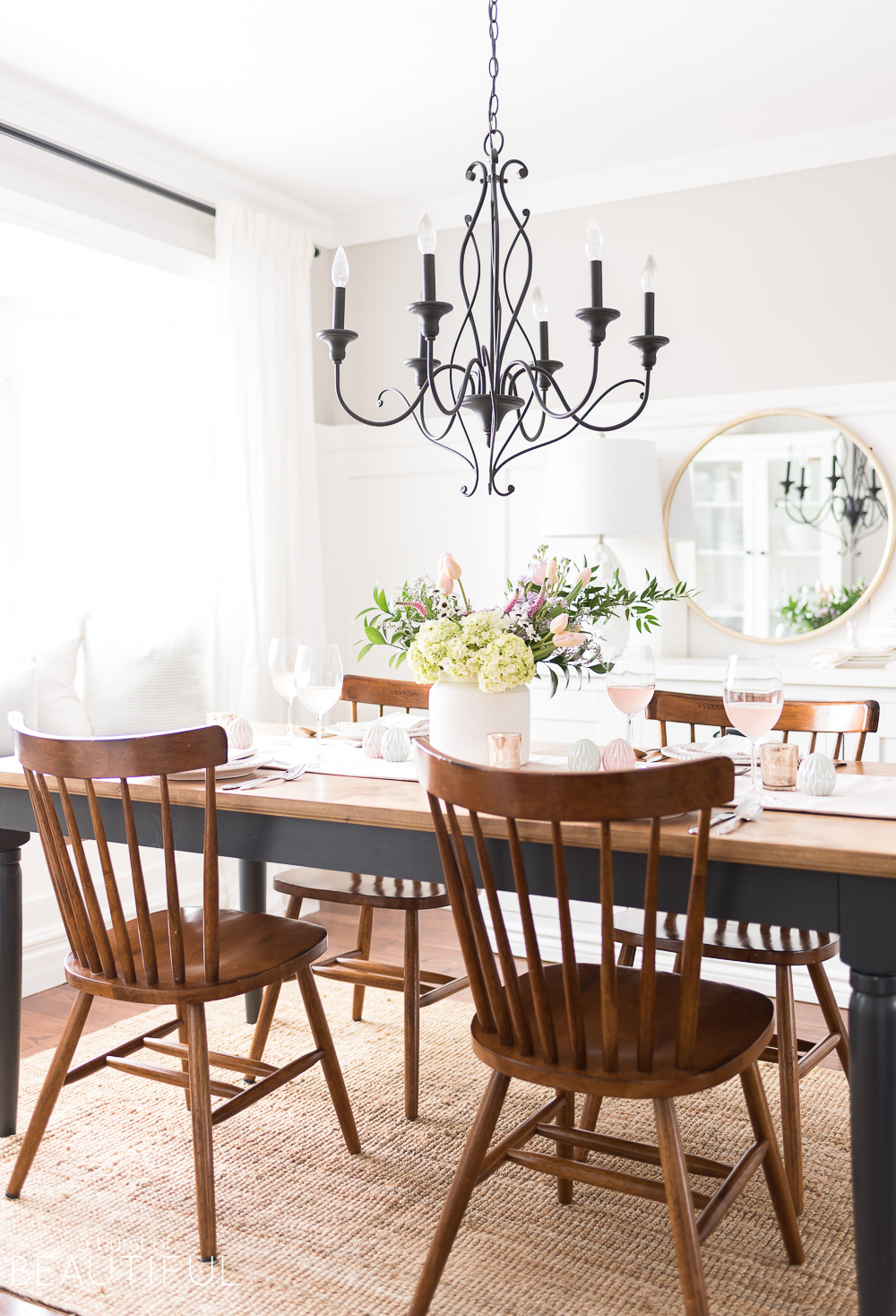 When I make these arrangements I always start with the biggest flowers first, in this case, it was the hydrangeas, and then fill in the arrangement with the more delicate ones, saving the greenery until the end. I'm definitely not an expert, but this is what works for me.
Once I have the centerpiece finished, I will set the table!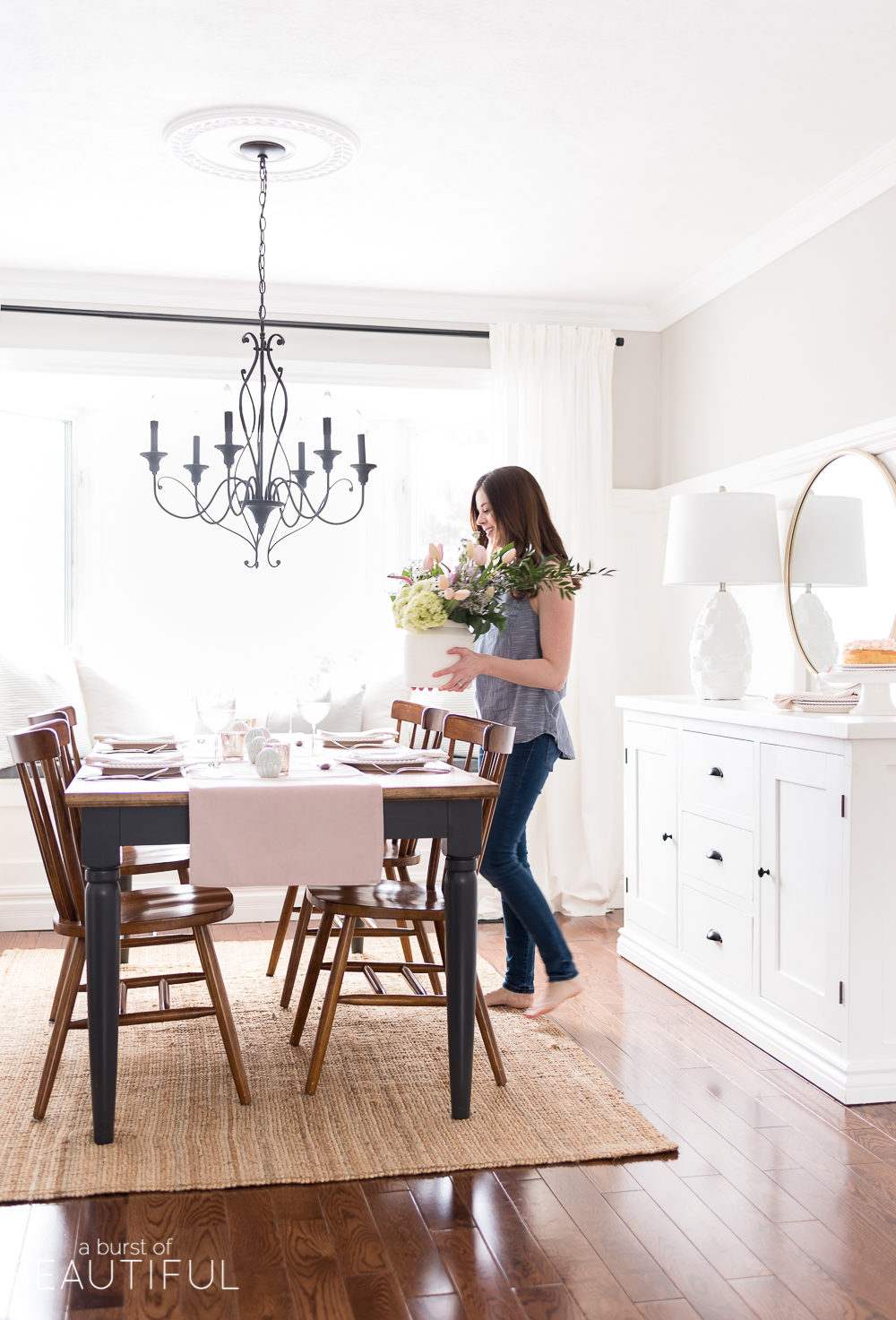 In my opinion, every pretty table starts with a really great set of dishes. We bought our dishes about four years ago, and I still love them today (see them here). I chose a white set because I knew I wanted them neutral, but the beaded detail keeps them feeling sweet and feminine, instead of boring. We use these dishes every single day, and I love that they easily work for everyday dining and special celebrations.
Simple wine glasses and silverware look pretty without feeling too fussy. Again, these pieces are classic and we will be able to use them for years to come.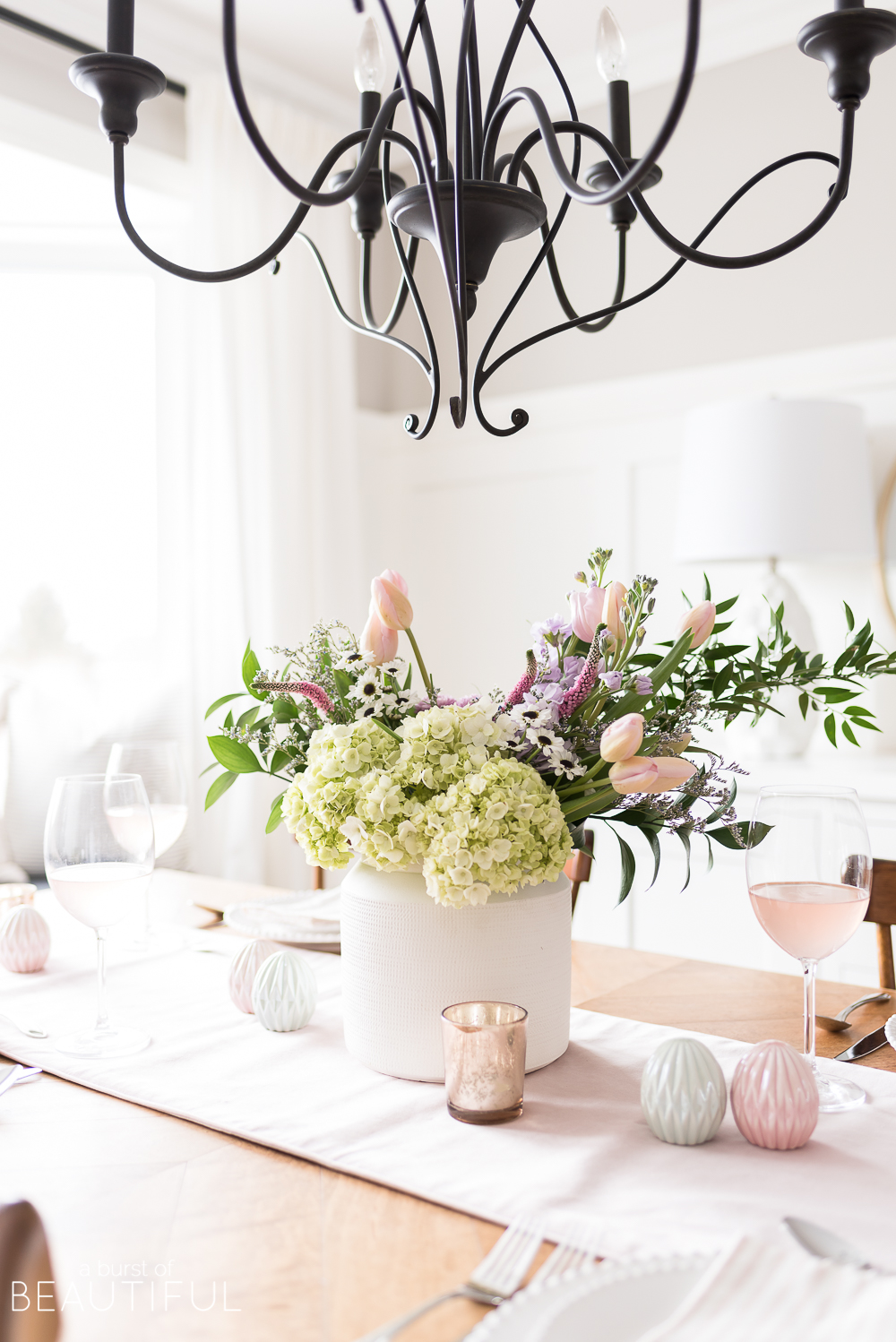 I pulled out the pretty pink velvet table runner I bought two years ago for Valentine's Day (you can see how we used it here and here). I thought Easter would be the perfect time to use it again, and I think it looks so pretty with these pink striped napkins. I also lined the runner with these decorative eggs and votive candle holders that I bought a few years ago to pull all of the colours together.
This was such an easy table to set, but it will make the day feel a little extra special.
Now, as much I love sharing these pretty tables with you, I sometimes feel like they aren't very useful. I am trying to think of ways to make these posts more helpful for you. Should I include our favourite seasonal recipes, a step by step guide to setting the table, video of how to create the flower arrangements? Is there anything else you'd like us to include that you would find helpful? Leave us a comment to let us know!