A rug is a great way to add color, pattern, and personality to your little one's nursery or bedroom. Use our guide to ensure you're choosing the best rug for your space and lifestyle.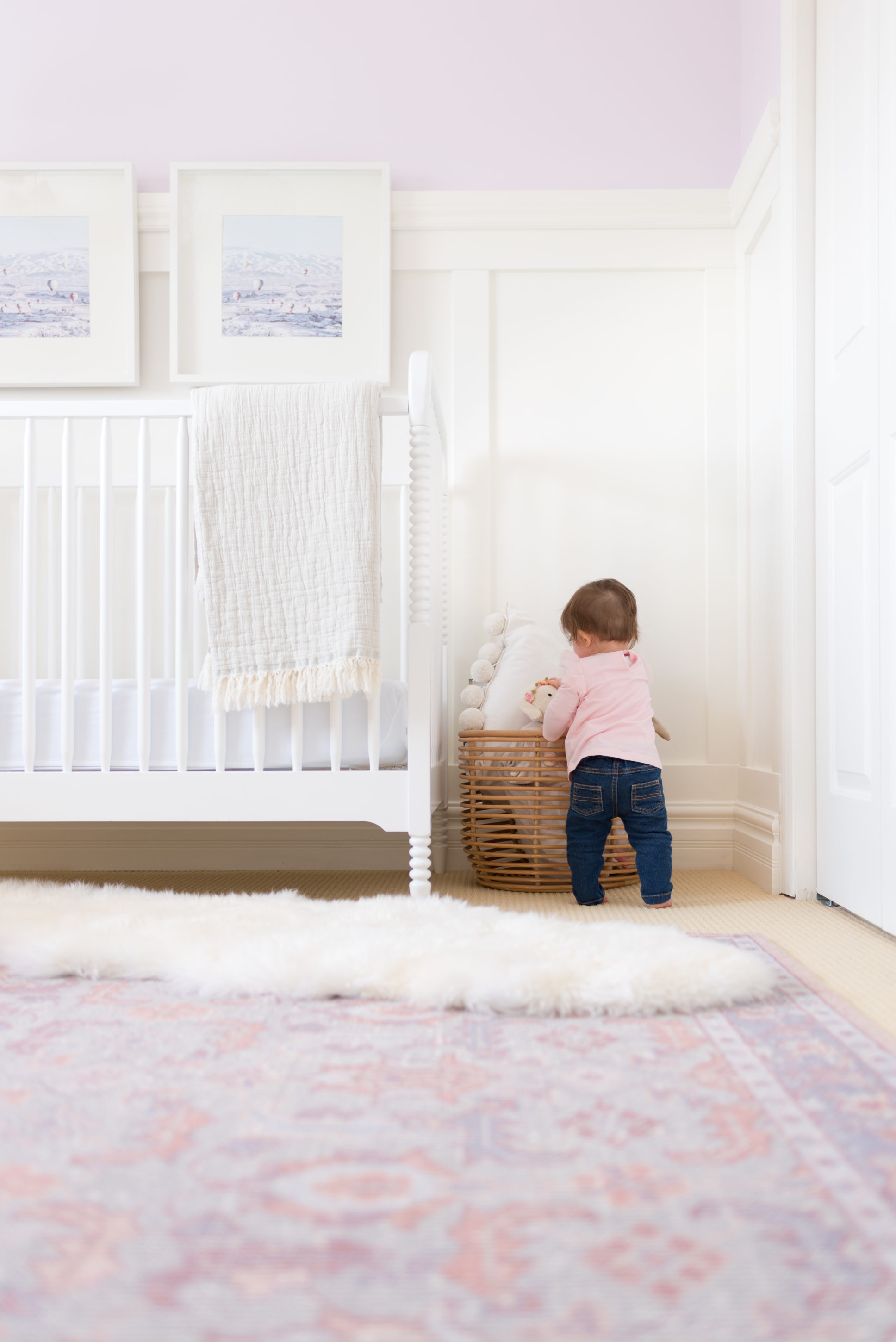 There are certain pieces in our home that tend to garner a lot of attention, and the rug in Ella's nursery is definitely high on that list.
After our little Ella arrived we took her nursery from gender-neutral to sweet and feminine and it's been one of my favourite projects so far. After we finished Zoe's bedroom I quickly learned I loved designing kid's spaces, I think because it gives me the chance to step out of my comfort zone and try something new. And in Ella's nursery, it was definitely the colour.
Our Recent Kids' Posts
I really wanted their spaces to reflect their personalities, and from the very beginning Ella has been such a happy and free-spirited little one, and I wanted her room to be just as cheerful. So as I began planning the updates to her nursery (you can see the design plan here) I fell in love with this rug and it became the entire focus of her bedroom.
I absolutely loved everything about it, but Nick needed some convincing. He wasn't sold on the idea of a rug in Ella's nursery because her room already had wall-to-wall carpeting. But I knew a rug was the best way to add colour and personality to her neutral space. So I thought it might be helpful to share what to consider when choosing a rug for a child's bedroom or nursery to make sure you're picking the best option for your space.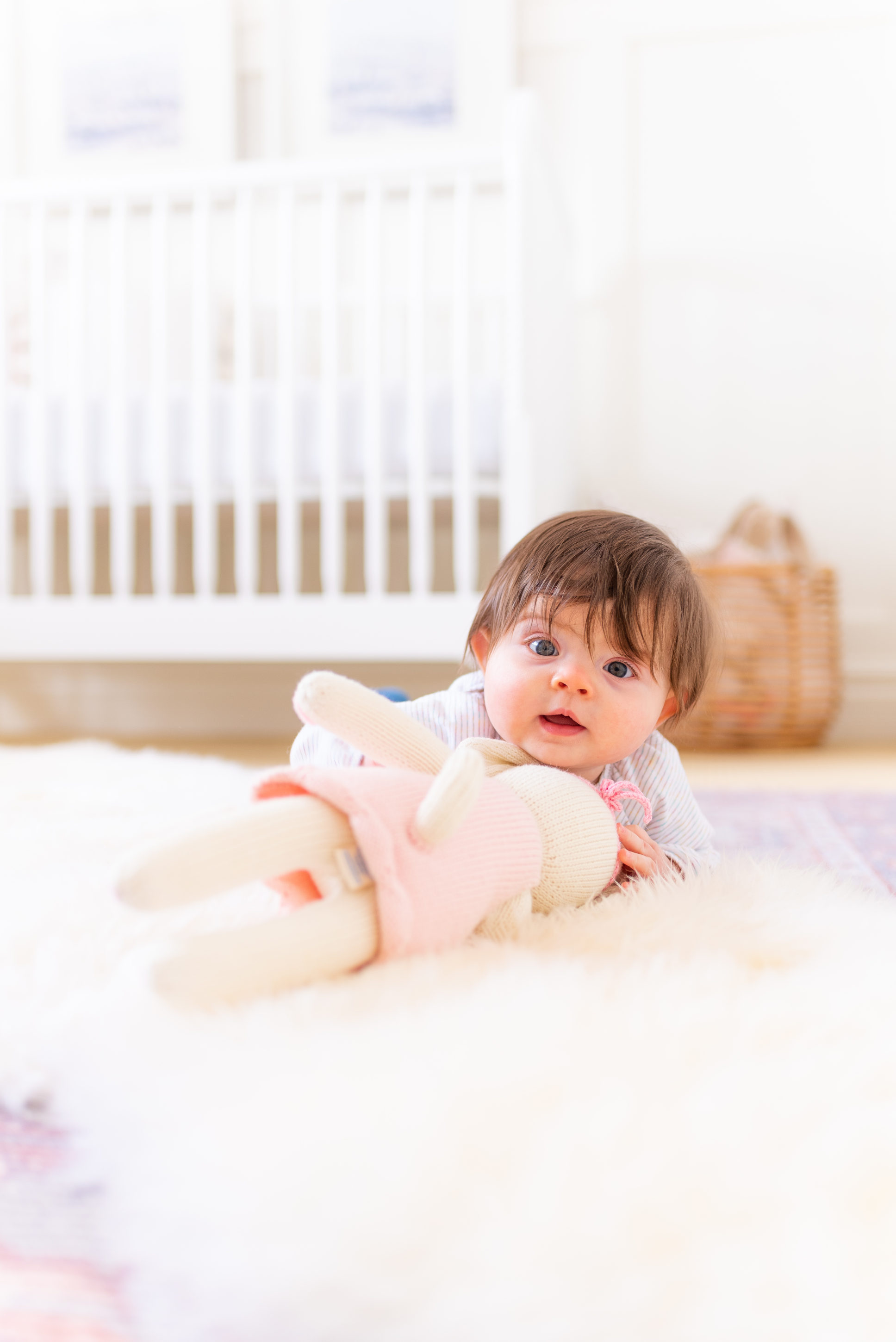 Size and Shape
First, you'll need to consider the size and shape of the rug. If your child's bedroom has hardwood floors you'll likely want to choose a rug in a larger size as it will be providing a functional purpose as well. You'll want to make sure the rug is big enough to anchor the furniture in the bedroom, this means the front legs of the crib and dresser or change table should be anchored on the rug.
But if the bedroom is already carpeted and you're choosing a rug purely for design aesthetics you'll want to pick a rug that is small enough to provide a few inches of space between any furniture and the rug. As I mentioned, Ella's bedroom already had wall to wall carpeting so I chose a smaller rug simply to add a bit of personality. To give you an idea of scale, Ella's bedroom is 12′ x 12′ and the rug we chose is 5'6″ x 8'6″.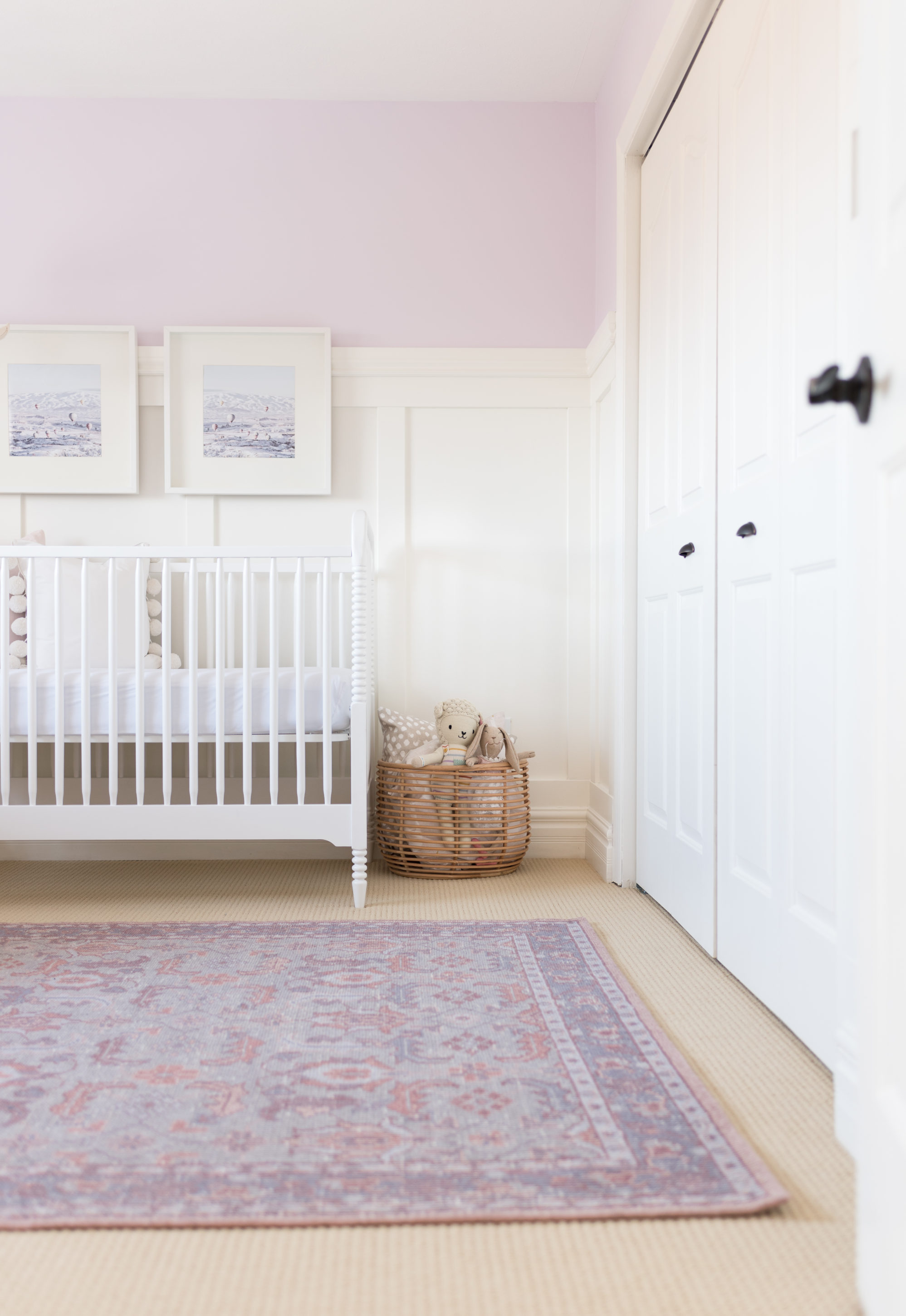 If you're unsure about the size, I'd recommend using painter's tape to visually mark the size and shape of the rug. I did this for Ella's nursery as I was debating which size to order and seeing it taped out on the floor really helped.
The other aspect to consider is the shape. Don't feel like you're limited to a traditional rectangle rug because there are so many adorable options to choose from. Round rugs are very popular for nurseries, but you can also find some really cute shapes, like animals or clouds, that will add so much character and personality.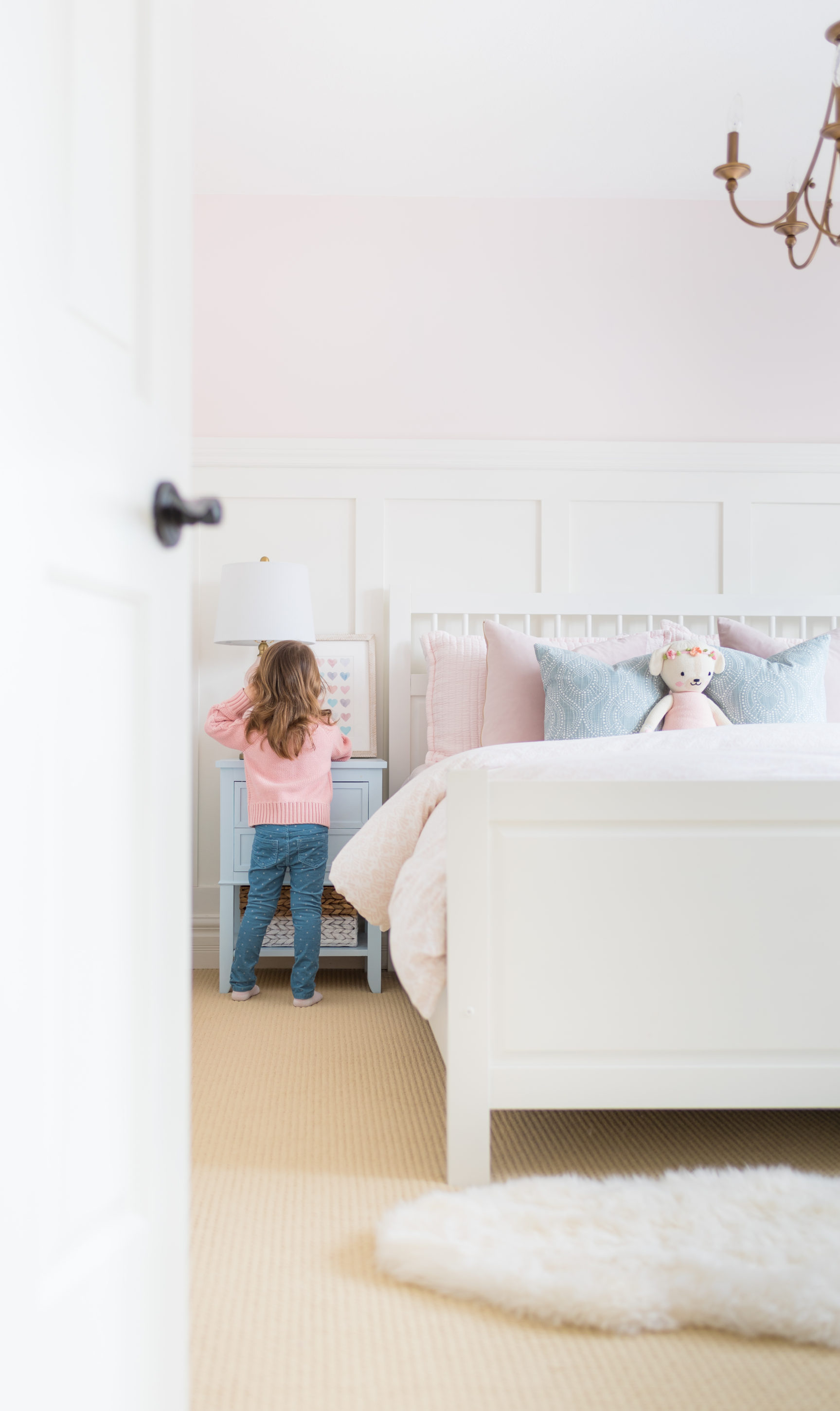 Colour and Pattern
Once you have determined the size you'll need, have fun choosing a rug with some personality! Keep in mind the overall feel of the space and what you're trying to achieve. Will your little one's bedroom be traditional or modern? Are you using bright colours or muted shades?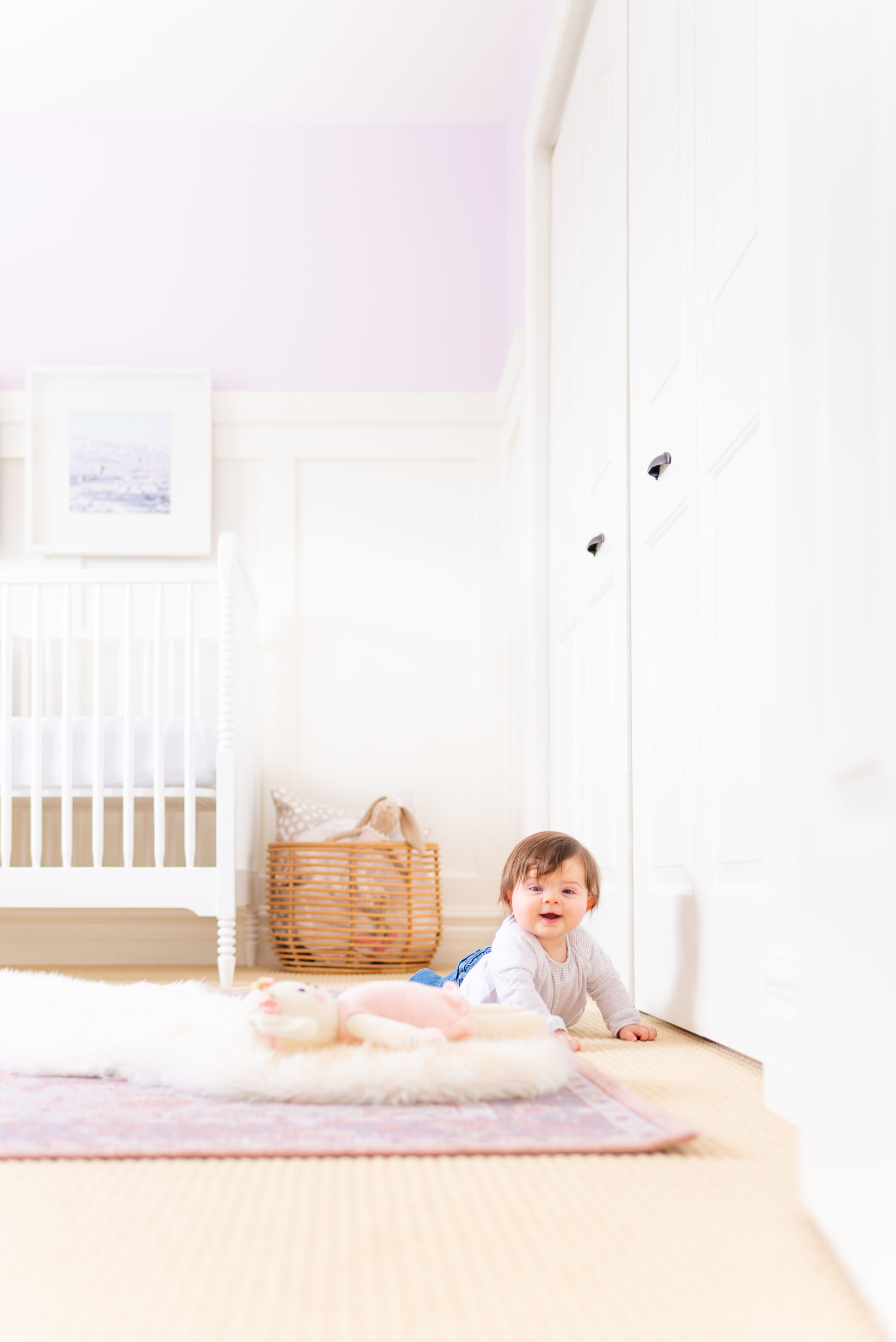 When designing Ella's nursery, I used our rug as the starting point and chose the paint colour, window treatments, art, and textiles afterward. Because the rug I picked has a prominent colour palette and pattern, I chose the remaining pieces with this in mind. But if you've already chosen a bold wallpaper or a large-scale piece of artwork you'll want to keep that in mind while picking a rug.
But remember to have fun! A child's space should feel inspiring and happy, and a beautiful rug is just one way to add a bit of their personality to their own space.
Material
The material of the rug you choose for your child's bedroom is just as important as the size or look. There are a few things to take into consideration, including durability and comfort.
Let's face it, babies and kids are messy, from newborn spit up to spilled juice, it's guaranteed your child's bedroom floor will see some kind of mess during their young years. So you'll want to make sure you choose a material that will stand up to those daily spills and stains. You might also want to consider a rug that will hide any hard-to-remove spots. The rug we choose for Ella's nursery does a great job of this. You'll also want to think about comfort.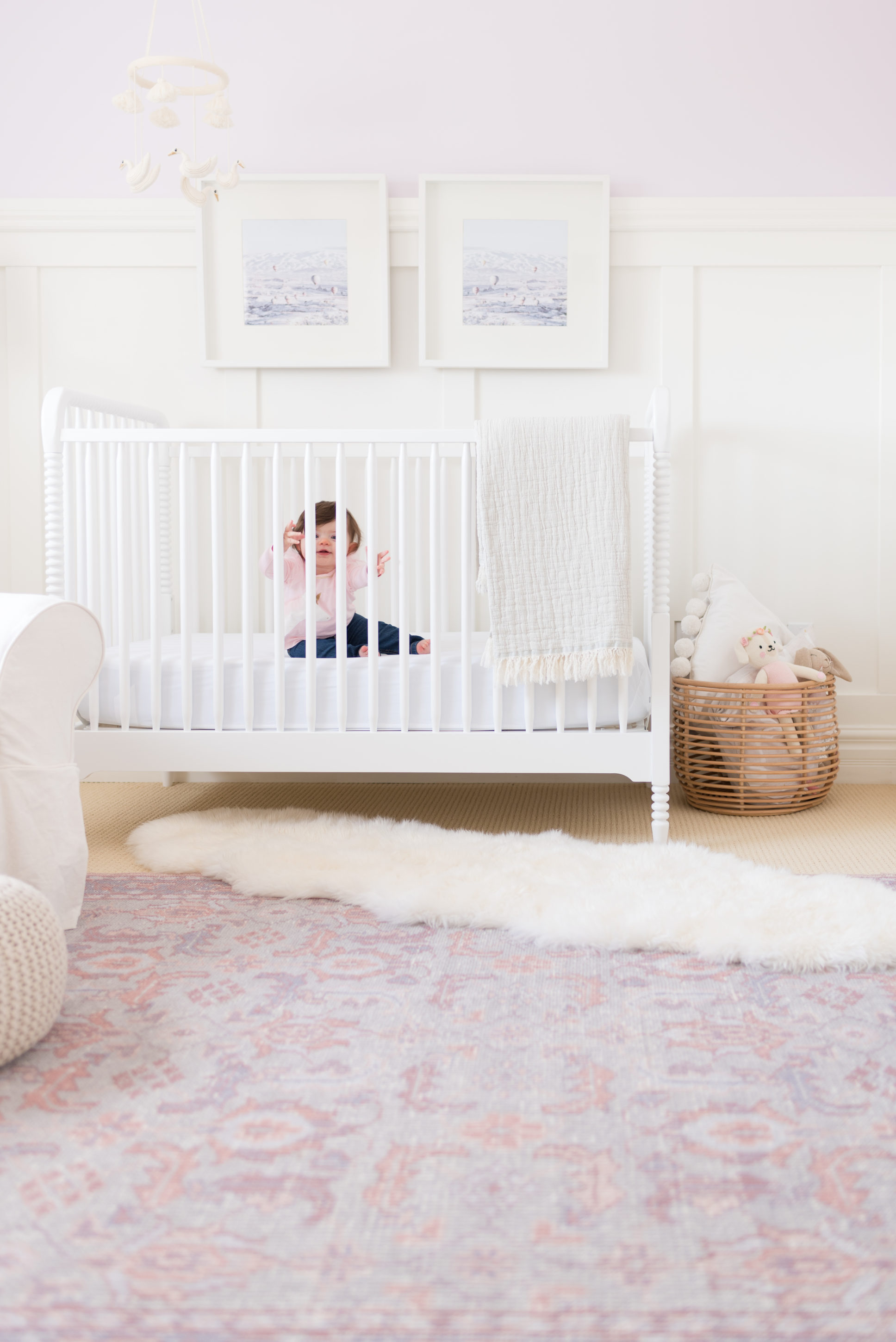 Wool
Wool rugs are a great choice for nurseries and kids' bedrooms because of their durability and softness. They are very hardy, so they will withstand a lot of wear and tear and they also do a great job of repelling water and stains. However, they do tend to be a little more costly.
Cotton
Cotton rugs are naturally hypoallergenic, very easy to clean and are often more affordable than wool rugs, but they do not wear as well over long periods of time.
Jute
While a jute rug is hardy, durable, and easy to clean, its fibers can sometimes be rough and itchy. A jute rug probably wouldn't be the best choice for babies or kids that will be playing on the floor often but would be a great choice for an older child's bedroom. We also love that jute rugs are often free of chemical processing because they are a natural material.
Animal Hide
Animal hides, like sheepskin rugs (real or faux), are a great way to add softness and texture to a space. Layering a sheepskin rug in front of a crib or beside a bed is a great way to add a little softness and warmth underfoot.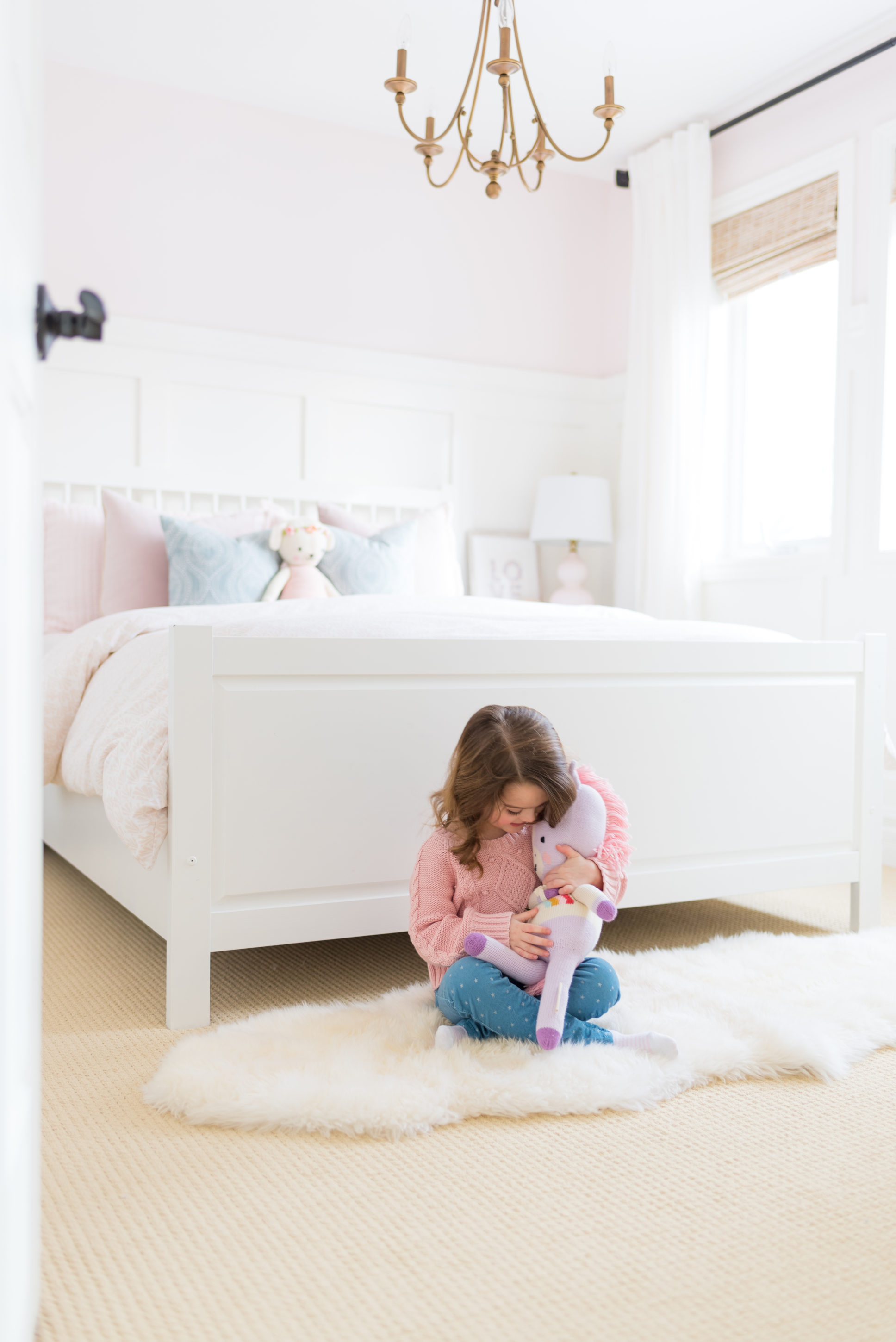 Before we wrap up I wanted to share just a couple more things to consider. Safety is always important, so make sure you have an anti-slip pad underneath your rug to prevent it from sliding and moving around. And if you can't decide on just one rug, try layering rugs, as we did in Ella's nursery. It's a fun and easy way to play around with multiple colours, patterns, and textures.
A Few of Our Favourite Rugs for Kid's Bedrooms