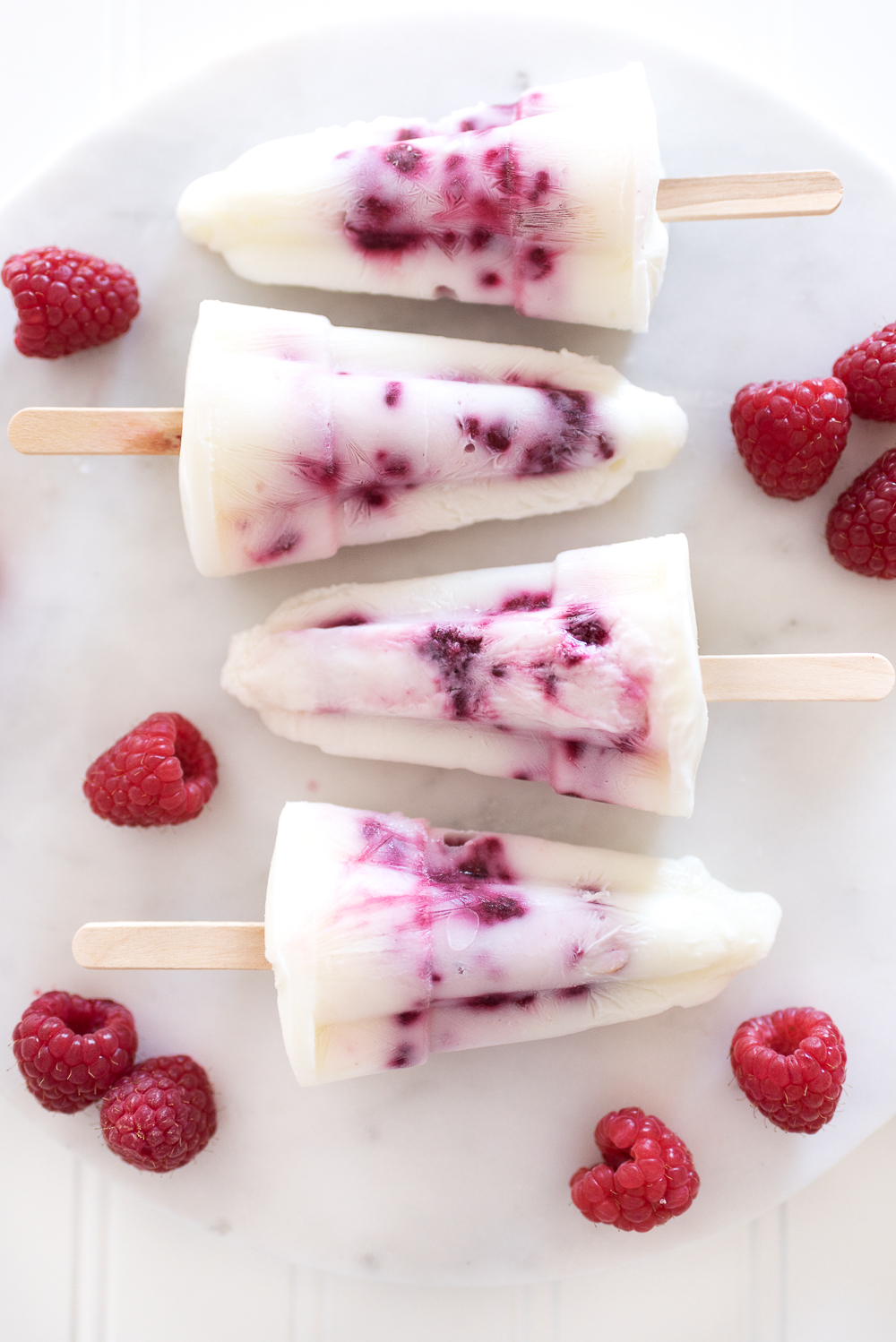 To say that this summer has been hot would be quite the understatement. The last couple of weeks have been incredibly hot in our part of the country. I'm not complaining, I mean, after the long winter and spring we had I'm happy that we've finally got some nice weather!
We've spent the last few weeks finding ways to keep cool, whether it's running through the sprinkler, going for a swim, or making a trip to our favourite local ice cream shop.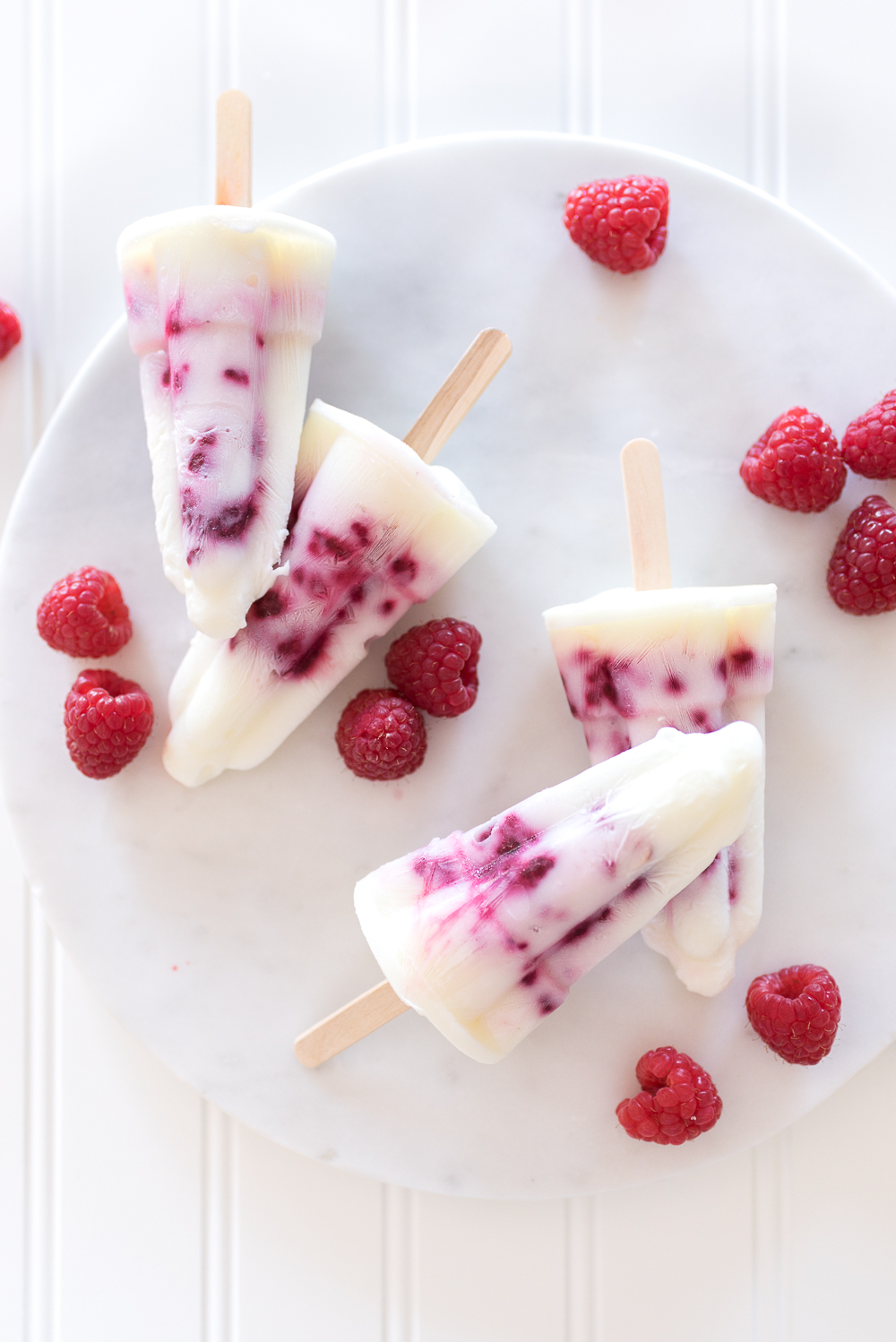 Going out for ice cream is a great treat, but we wanted to make something healthier for ourselves and our girls to snack on at home.
So we whipped up these simple three-ingredient creamy raspberry popsicles and they have been a hit with the girls and they are totally kid-friendly. It's great because they think they're getting a sweet treat, but we know better.
These popsicles are completely healthy, and you could even eat one for breakfast! Wait, breakfast? If my mom had told me when I was a kid that I could eat a popsicle for breakfast I would have been all over that! Sometimes it's all about making healthy foods fun!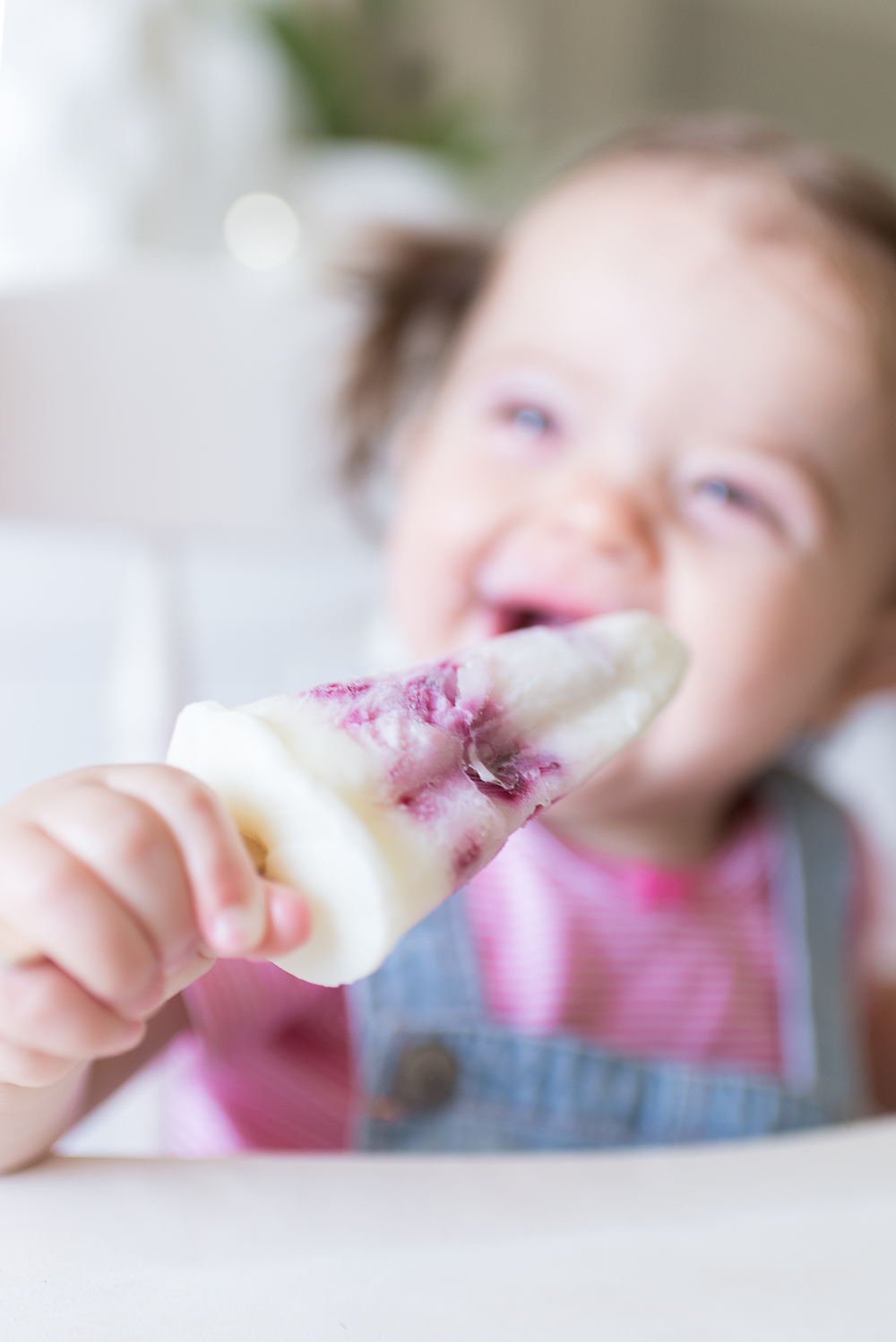 Ella has been teething lately and I can only imagine that these gave her some relief when the frozen popsicle hit her gums. Maybe that's why she loves them so much?
We didn't overthink this recipe or make it more complicated than it needed to be. We put together two of our girls' favourite ingredients, raspberries, and vanilla yogurt, then we added a bit of honey for some natural sweetness. It's a summer-time treat that all of us can enjoy. It takes less than five minutes of prep and then just pop them into the freezer overnight.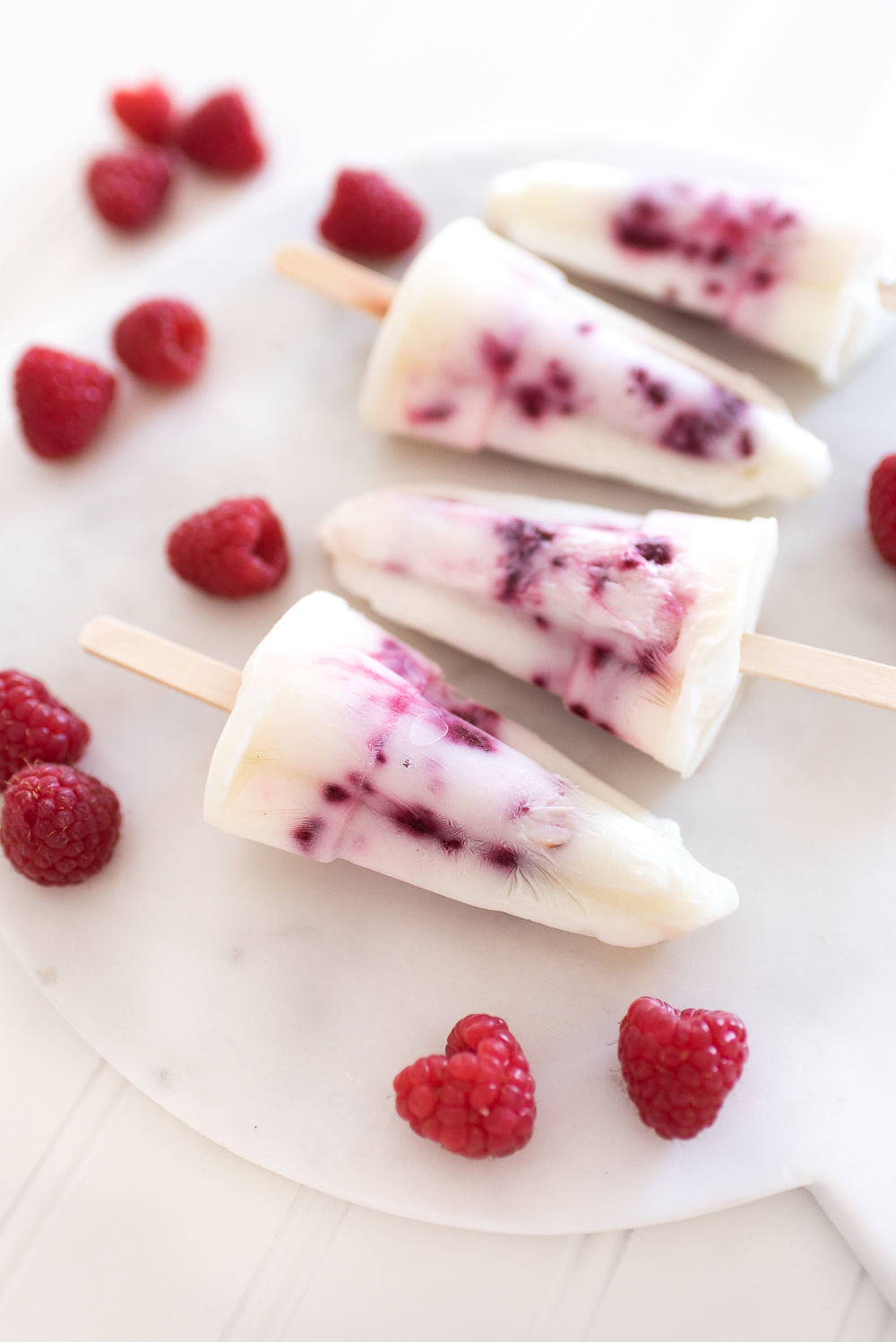 The great thing about making your own popsicles is that you can choose your own flavour combinations. Use your favourite yogurt flavour and your favourite fruit (or more than one!) to create your own custom flavour. You can use full-fat or Greek yogurt for a creamier popsicle packed with protein. Or a fat-free yogurt for a healthier, but not quite as creamy (but equally delicious) popsicle.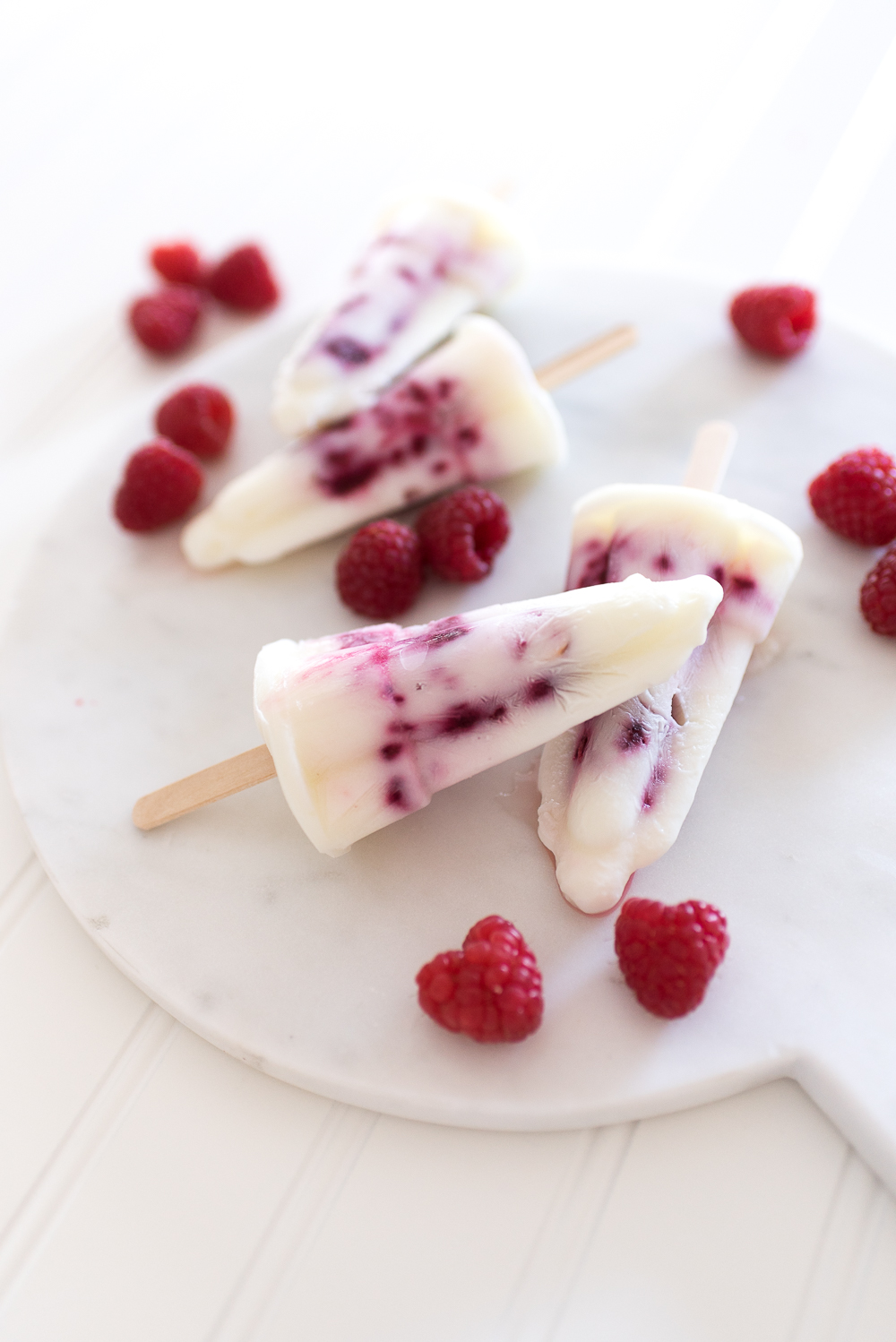 Not only can you personalize the flavors, but the colors as well. By using different fruits and yogurts you can tailor it to your summer party theme. You can even use non-berry fruits, like peaches and mangos, and soften them by placing them on a baking sheet in your oven until they are a little more tender. Then let them cool and chop them up very finely.
If creamy popsicles aren't your thing, you might want to give our refreshing Pineapple Raspberry Popsicles a try! Or if its raspberries you love, try our Homemade Raspberry Muffins.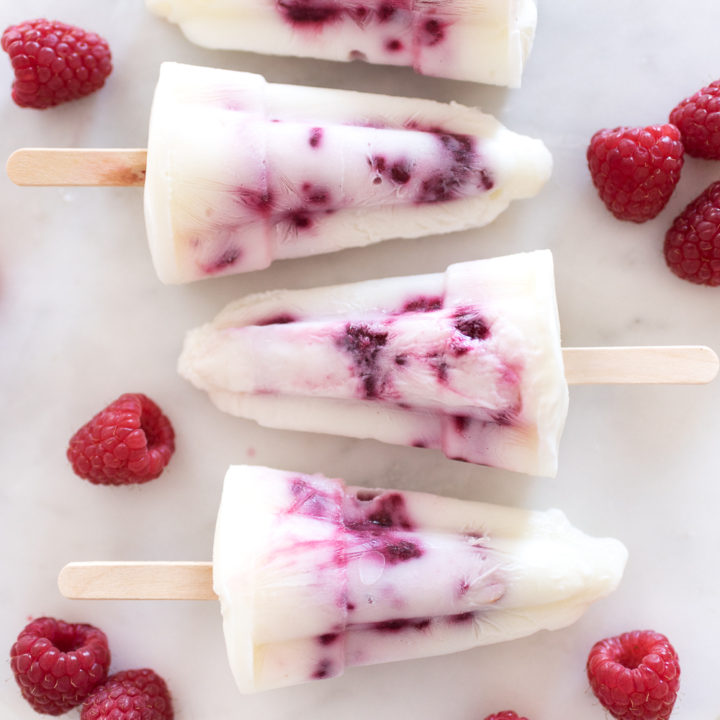 Creamy Raspberry Popsicles
With only three ingredients, these creamy raspberry popsicles are simple and refreshing!
Ingredients
2 cups vanilla yogurt, divided(Full-fat, fat-free or Greek yogurt for a healthier version)
1 cup fresh or frozen raspberries
1 tbsp honey
Instructions
Place one cup of vanilla yogurt, all of the raspberries and honey into a small bowl and mix thoroughly until they begin to break apart.
Place a large spoonful of the plain yogurt in each of the popsicle molds.
Add two heaping spoonfuls of the yogurt/raspberry mixture in each mold.
Then top off each mold with vanilla yogurt.
Insert wooden popsicle sticks into the center of each mold.
Place in the freezer overnight.
Run the outside of the popsicle mold under hot water to release the popsicles.
Notes
This recipe makes roughly six popsicles, but depending on your mold it could make more or less.
Babies under twelve months old should not consume honey.
Nutrition Information:
Yield:

6
Serving Size:

1
Amount Per Serving:
Calories:

92
Total Fat:

1g
Saturated Fat:

1g
Trans Fat:

0g
Unsaturated Fat:

0g
Cholesterol:

4mg
Sodium:

50mg
Carbohydrates:

17g
Fiber:

2g
Sugar:

15g
Protein:

4g