Plan a bright and colourful rainbow birthday party for your little one with these simple party and decorating ideas.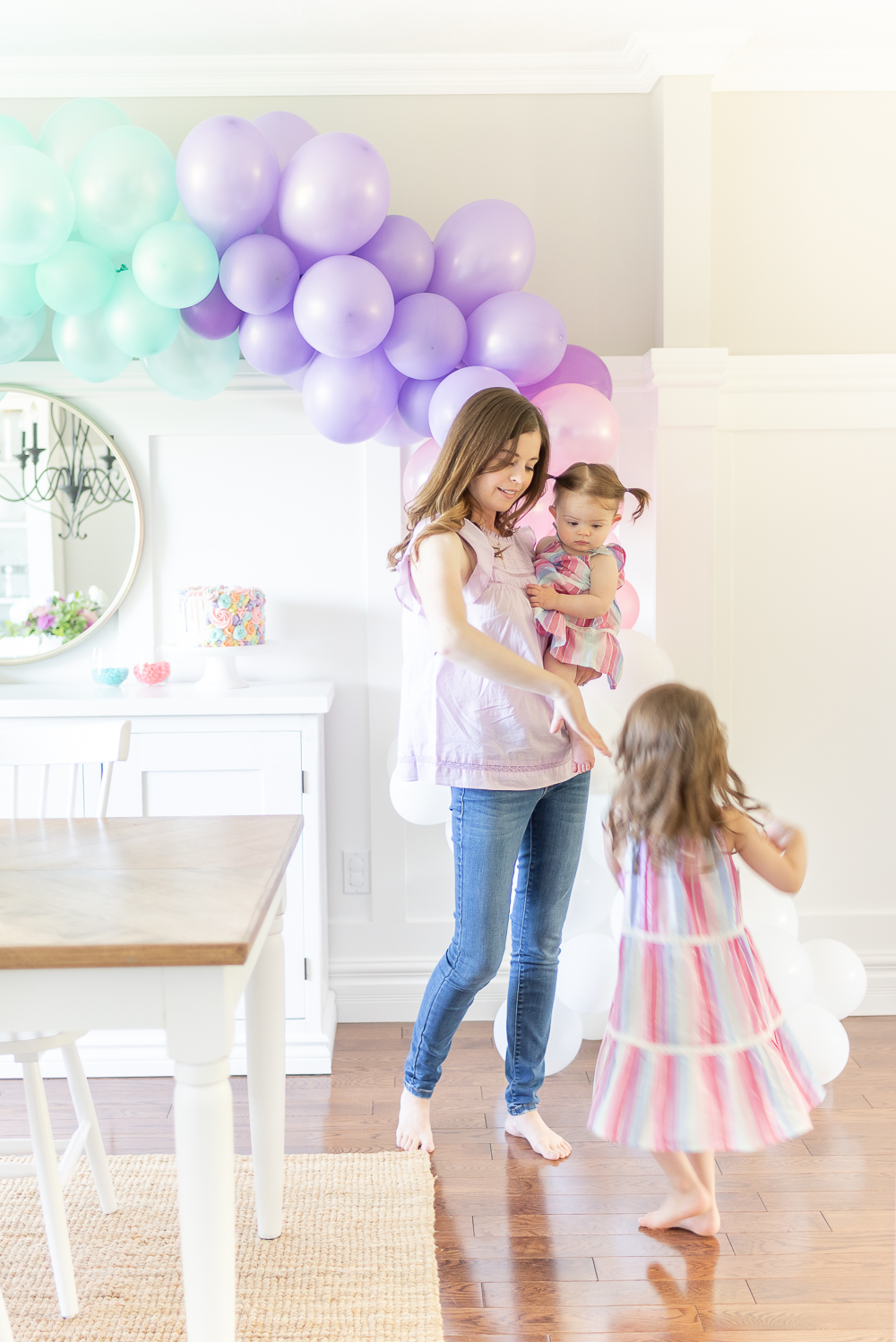 Last month we celebrated our sweet little Ella's first birthday. I know it sounds cliche, but it truly feels like just yesterday that we brought this tiny bundle home from the hospital while navigating our new role as a family of four. But a year has passed and Ella is growing and thriving, Zoe is the sweetest big sister and Nick and I are exhausted, but loving our happy little family.
Before becoming a mother I had always imagined celebrating my children's birthdays would be special, but I never realized how much I would enjoy planning a special day just for them each year. I'm sure part of this is because I'm a planner by nature, and of course, I love hosting family and friends at our home. But it's more than just planning a big party, it's about instilling a feeling. I want our girls to feel all of the love and joy we poured into a special day just for them!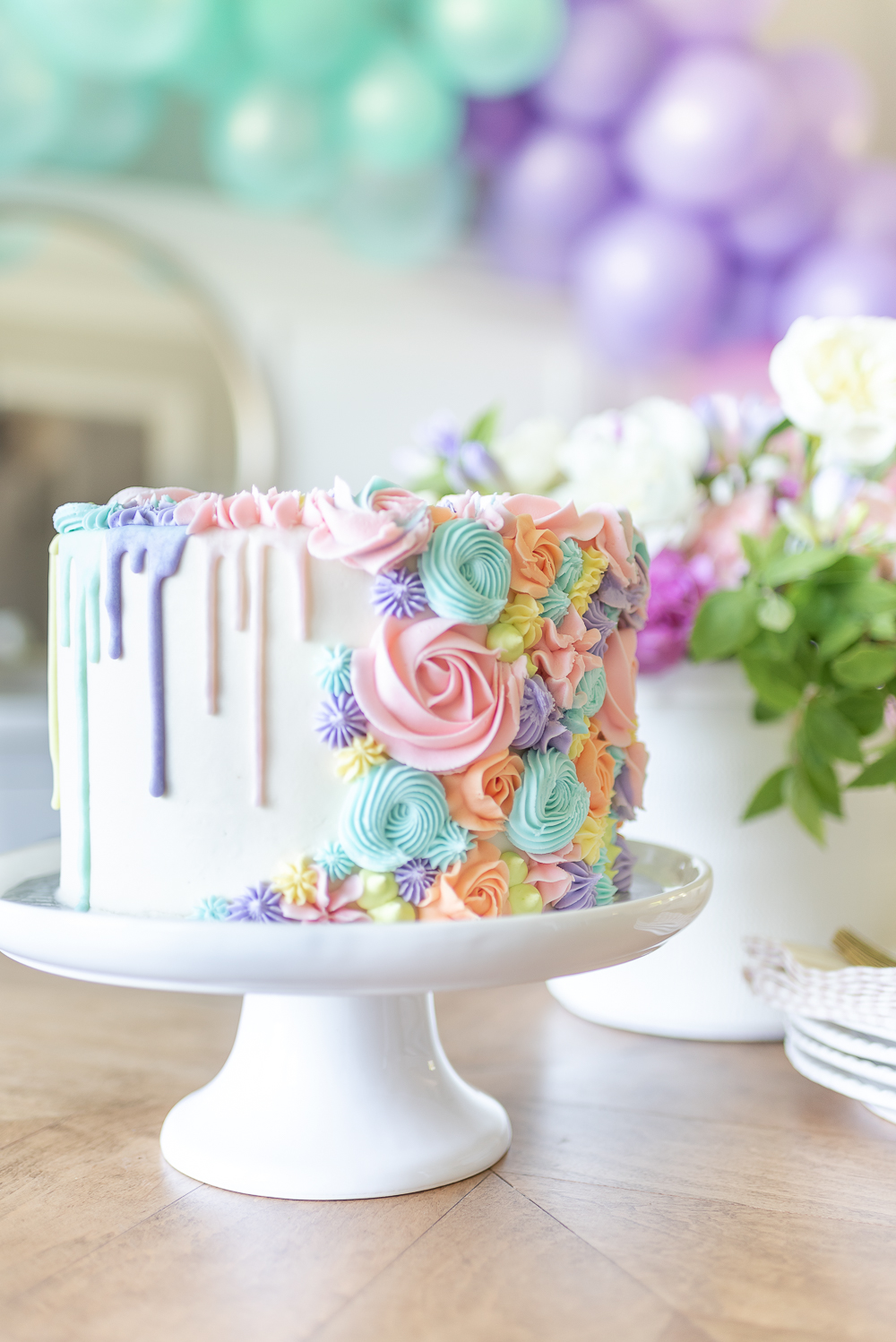 Of course, this doesn't always mean throwing a huge, elaborate birthday party. It can be as simple as preparing their favourite meal or making a new family tradition they can look forward to each year. Maybe it's a day at the beach or ice skating at your local park, whatever it is choose an activity they love and just spend time together as a family.
I started thinking about Ella's birthday months ago, but I kept coming up empty-handed when it came to a theme. Then one day I was chatting with Zoe and she mentioned we should throw a rainbow-themed party for Ella. And it just all came together. You see, before I host any type of party I always like to choose a theme. It doesn't necessarily have to be super theme-y, it can even just be a feeling you hope to invoke or a colour palette you want to stick with. But having a clear idea of a theme will help streamline all of the party details and create a cohesive look.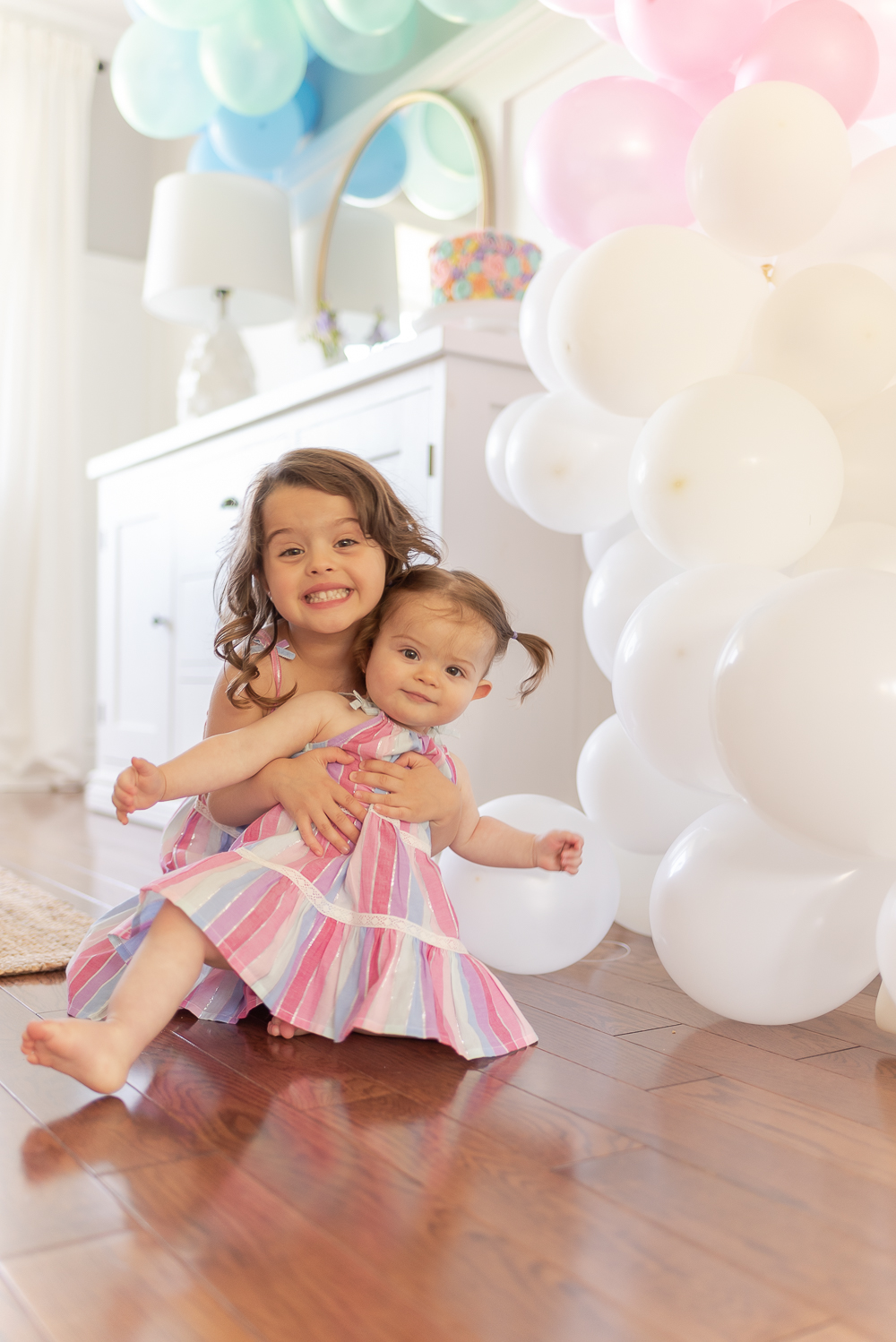 Ella is such a happy girl and has been from the very start. Always smiling and giggle or putting on a show to make everyone around her laugh, she is such a bright light. So a rainbow-themed party full of happy and bright colours just seemed like the perfect fit for our little Ella.
So once we had our theme finalized, I started planning all of the little details. And as I was planning Ella's party, I realized I always turn to my three party essentials which make for easy decorating.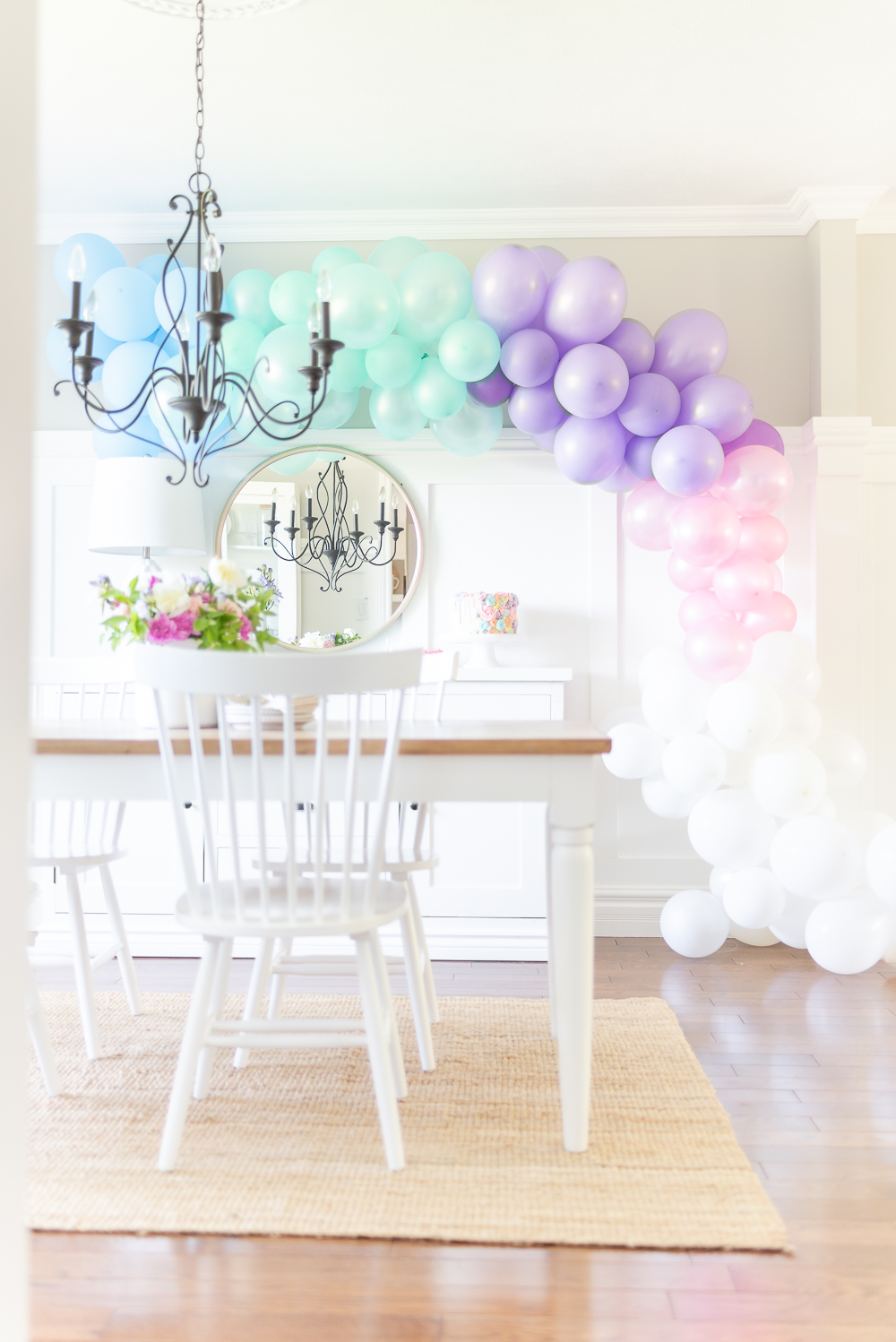 Balloons
Balloons add such a fun and festive touch to any birthday party or celebration. But my favourite thing about balloons is they can make a big impact on a little budget. In the past, we've filled our entire dining room and living room with helium-filled balloons and we've grouped together balloon bouquets of oversized balloons. You can find confetti-filled balloons, foil balloons and number, and letter balloons. There are so many fun options out there.
As soon as we started talking about a rainbow birthday party, I knew a rainbow balloon garland was a must, but truthfully, I almost didn't make one. I loved the idea but it seemed overwhelming and I was worried it was going to take hours and hours to create. In the end, I gave it a shot and I'm so glad I did. It was a lot easier than I thought, it looked super sweet and provided a lot of entertainment for the girls.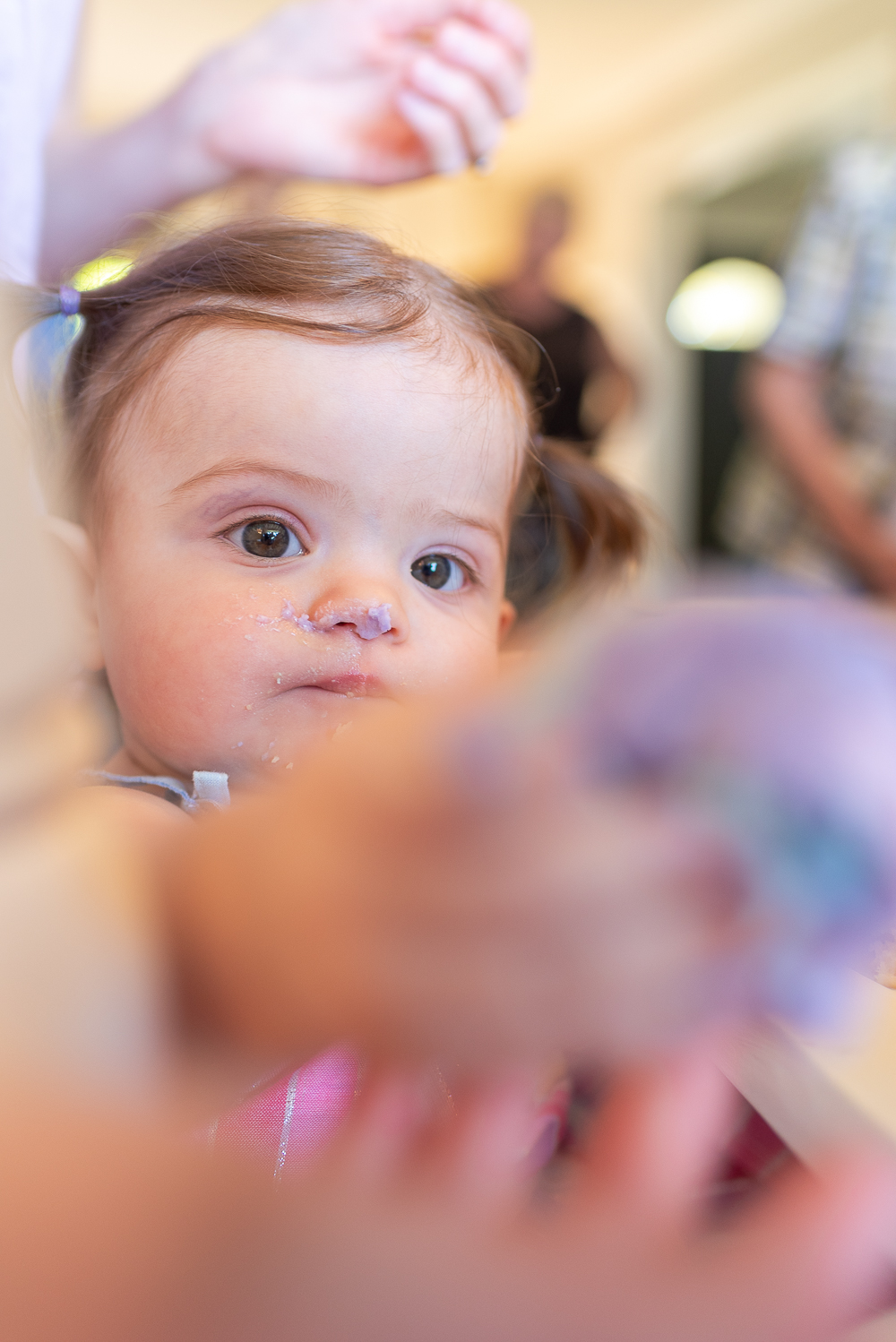 Cake
Now, you can't have a birthday party without cake, right?
After Zoe's first birthday (you can see it here), we vowed never to make our own cake for a party again. Hosting a birthday party is a lot of work, and the less you have to do the better. We thankfully have an amazing local gal that we always rely on. Not only are her cakes delicious but they are like little art pieces (I sent her this gorgeous cake as inspiration). Every time we cut into one of her cakes I feel like crying, they are just that pretty. But that didn't stop Ella, she had no problem gobbling up her piece.
A beautifully decorated cake should be on display. Pop it onto a pretty cake plate and let it take center stage.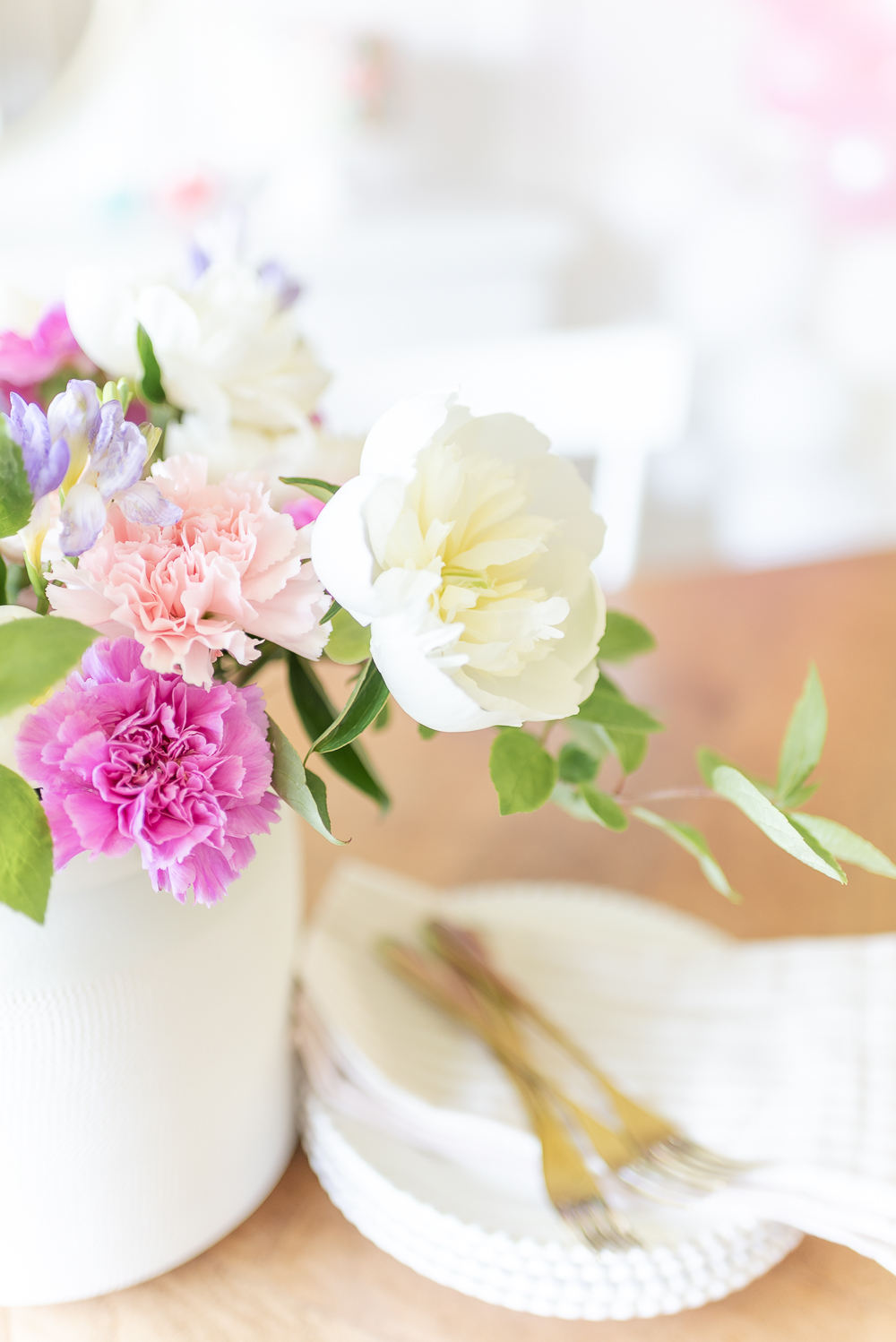 Flowers
Another easy and failproof way to decorate for a party is with flowers. Whether you choose an elaborate centerpiece of gorgeous blooms or a simple bouquet of wildflowers, they will instantly add colour, warmth, and personality to any space.
I created our rainbow-hued centerpiece with flowers I grabbed from the grocery store and mixed in a bit of greenery from our garden. I usually create a few smaller arrangements from the same flowers to scatter throughout the house to create a cohesive feel from room to room.
In the end, Ella's birthday was a success, it was a beautiful day filled with love and laughter, and lots of cake. We kept things simple and were ready to host a fun-filled birthday in no time by sticking with our favourite party essentials. Do you have any favourite party decorating tips or advice? We'd love to hear all about them, just leave us a comment below.