This small-batch peach jam recipe is simple and easy to prepare and has just a hint of spice, without the added hassle of the traditional canning process.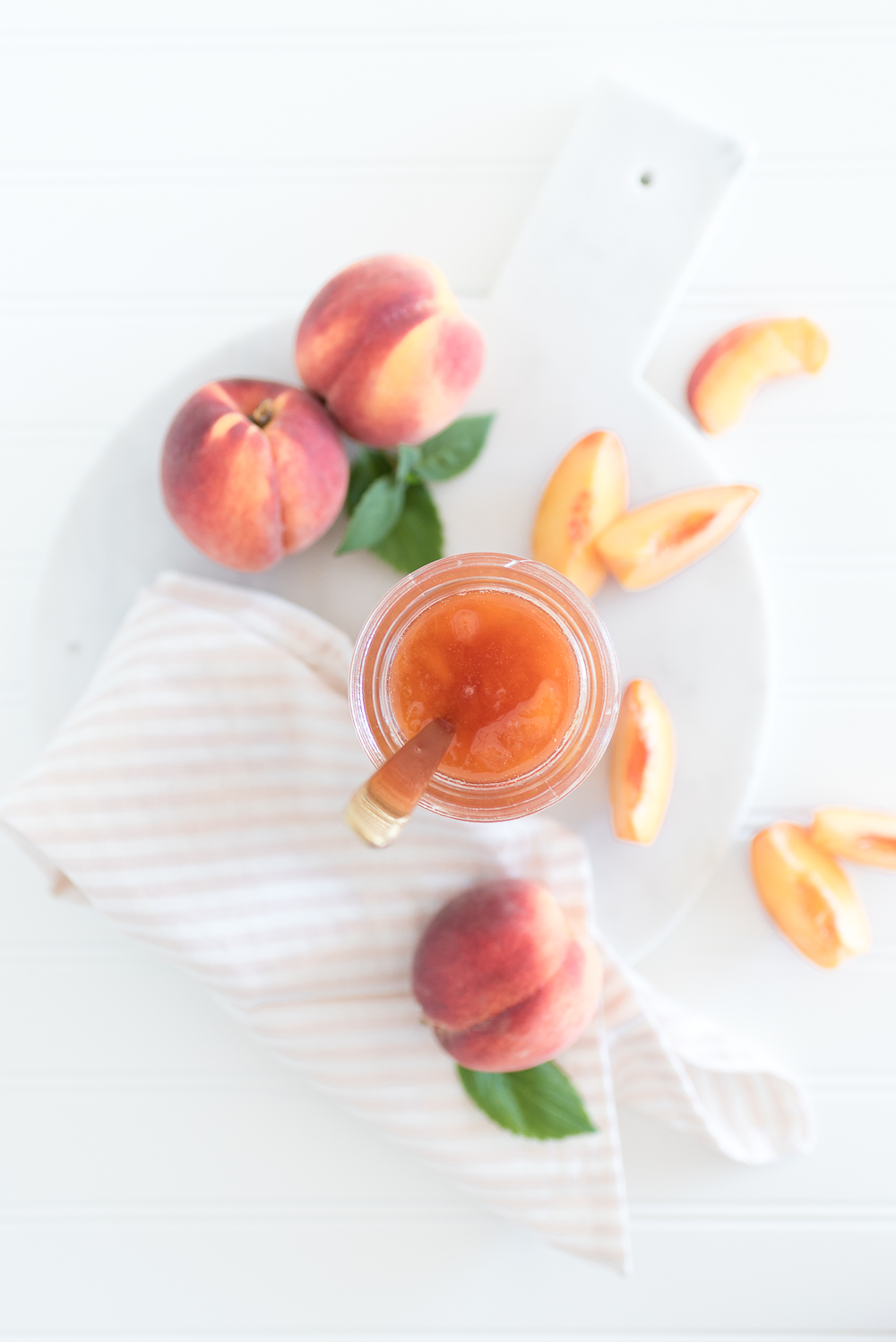 One thing we love about summer is sourcing local fruit when it becomes available. Strawberries in June, raspberries in July, peaches in August and apples in September. There's just something about fruit harvested and served on your table on the same day. It hasn't travelled across the country (or world) on trucks over several days and picked prior to reaching its peak. It doesn't rely on travel time to ripen them, they are picked exactly when they are ready.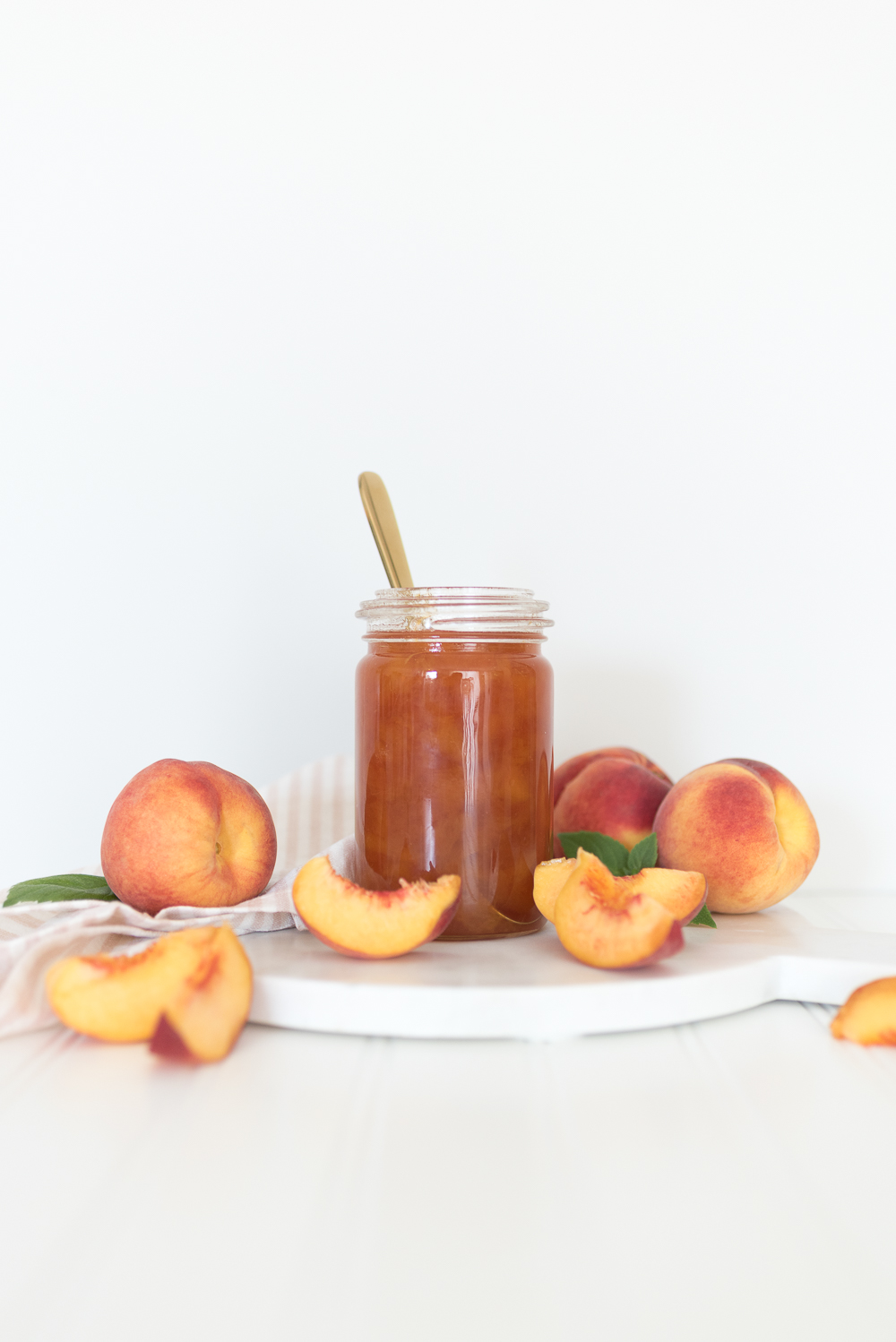 You can tell the difference in the flavour and texture of the fruit and if you're lucky enough to have pick-your-own farms nearby then you get to be super selective and only pick the best…and maybe sample a few while you're picking!
This year the fruit is a little behind schedule because of the cold and wet spring we've had, but we're gearing up for peach season in August. When I buy local in-season fruit I'm always thinking of different ways to cook or bake with it before it spoils. One quick and easy way to use up seasonal fruit is to make jam, and the great thing is that you can use it even if it's a little over-ripe.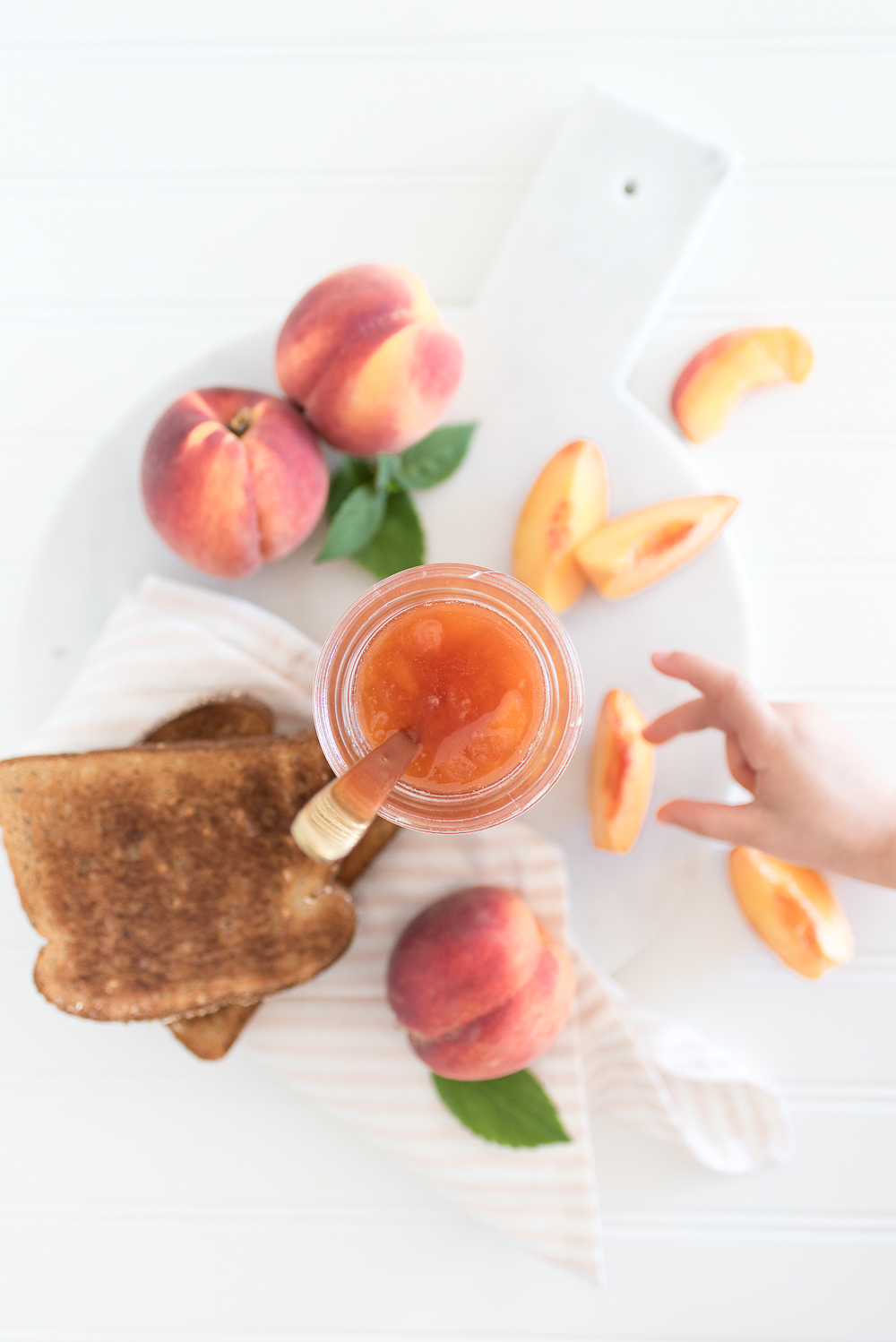 ---
get the look

---
I don't love the traditional canning process. As a kid, I remember my mom used to take us strawberry picking. She would spend days turning the strawberries into jam which we would enjoy for the next year. It was great having homemade strawberry jam in the house, but eating it ALL the time gets a bit mundane. This easy small batch method is so much quicker and you don't end up with thirty jars of the same jam.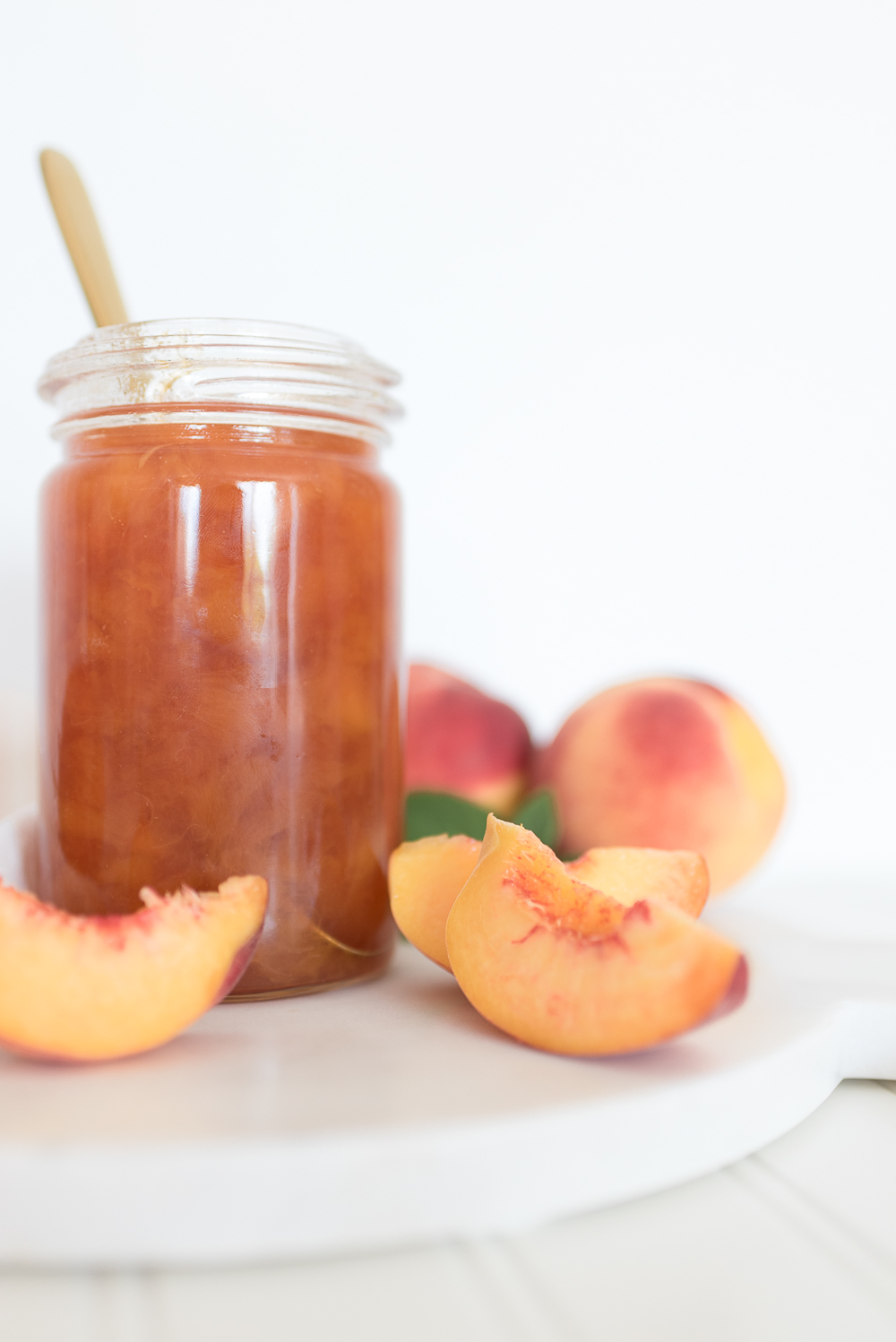 Our small batch peach jam is perfect spread on toast or an English muffin. You can also use it to top vanilla ice cream for a refreshing dessert or mix it with some plain Greek yogurt for a tasty snack. I've even been guilty of just eating a spoonful of it on its own as a quick sweet fix! If you give this recipe a try, you might just find yourself doing the same thing!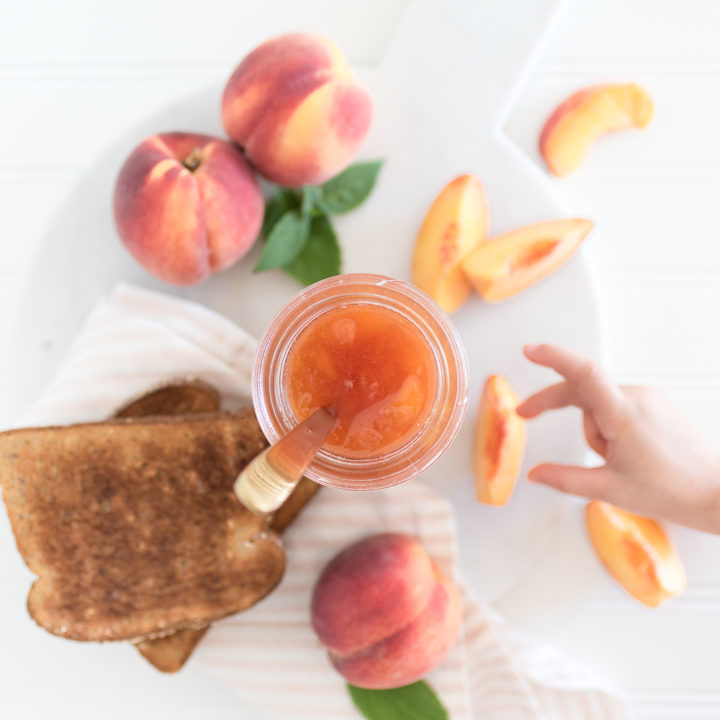 Small Batch Peach Jam
This easy refrigerator peach jam is perfectly sweet with a hint of spice.
Ingredients
6 peaches, peeled and diced
2 cups granulated sugar
1 tbsp lemon juice
1 tsp vanilla extract
2 tbsp honey
1 cinnamon stick
Instructions
Peel and dice peaches. Here's a quick and easy method to peel the peaches. Bring a pot of water to boil. Place the peaches into the water for 1 minute exactly. Promptly remove, and immerse peaches in a cold ice water bath. You'll be able to remove the peel easily with your hands.
Place all ingredients into a medium saucepan and bring to a boil on medium/high heat. Once it begins to boil, lower to medium heat and simmer for 20-30 minutes, stirring frequently and removing any foam on the top with a spoon.
Just before the 20-minute mark, use a potato masher or fork to break down some of the diced peaches in the saucepan (about one-third of them).
After 20 minutes, the mixture should start to thicken. Test the consistency by placing a spoonful of the jam on a plate or small bowl and placing it into the freezer for a couple of minutes. If after that time the consistency is like jam, then remove from heat. If not continue simmering, repeating the test every five minutes until it is ready.
Ladle jam into two 8oz canning jars and allow to cool completely on the counter or in the refrigerator prior to capping.
Notes
This recipe keeps well in the refrigerator for two to three weeks, or for up to three months in the freezer. If you are placing in the freezer, allow a bit of room at the top of the jar for expansion.
Nutrition Information:
Yield:

25
Serving Size:

1
Amount Per Serving:
Calories:

84
Total Fat:

0g
Saturated Fat:

0g
Trans Fat:

0g
Unsaturated Fat:

0g
Cholesterol:

0mg
Sodium:

0mg
Carbohydrates:

21g
Fiber:

1g
Sugar:

21g
Protein:

0g