Create a warm and cozy feeling in your home this fall with these 5 easy ideas for fall decorating.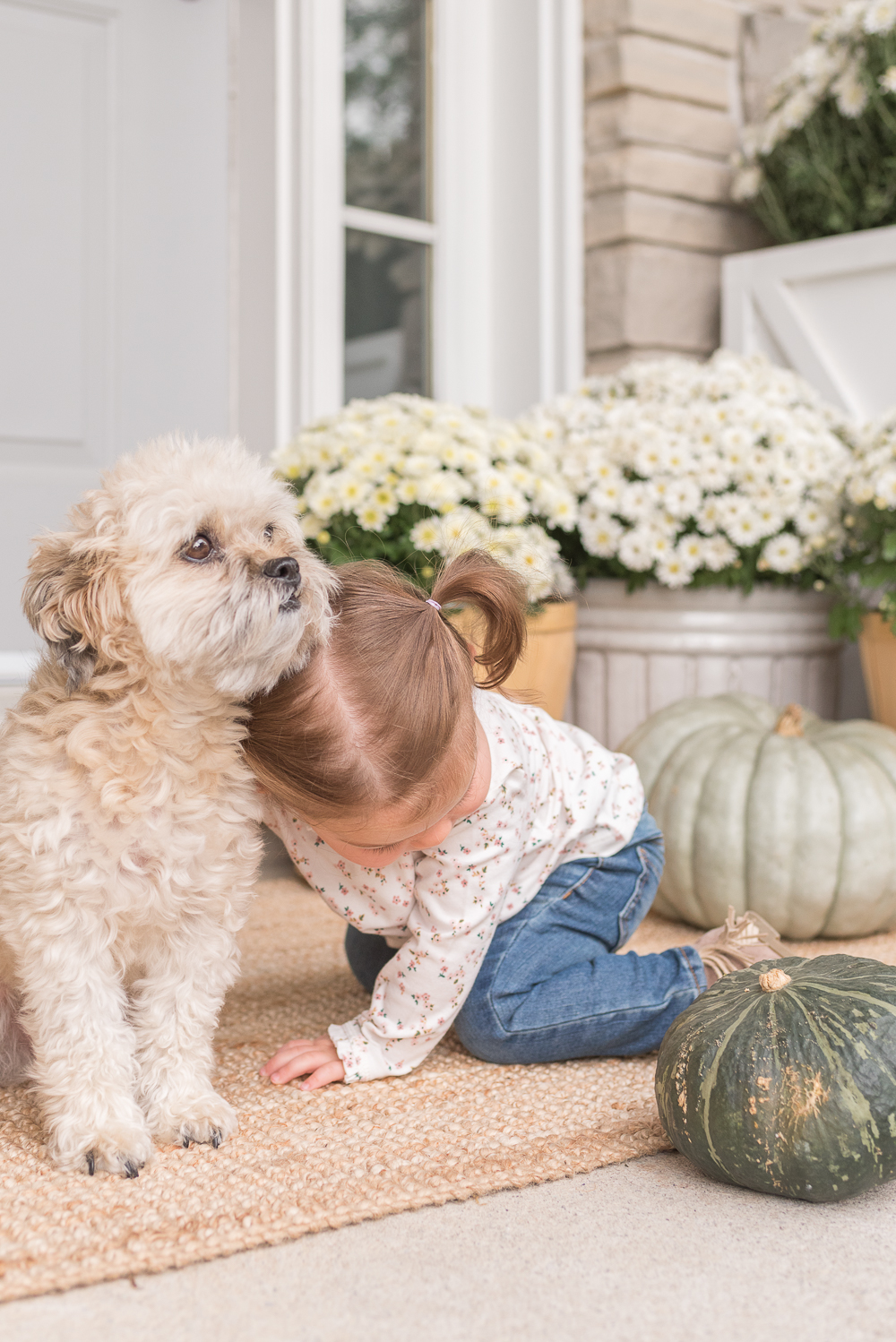 For us, autumn is a season of comfort. As we transition into the crisp cool days of fall I like to spend some time transitioning our home as well. I tend not to decorate for fall per se, instead, I add elements and pieces to our home that reflect the changing season. For me, that means creating a feeling of coziness with texture, warm hues, and natural elements.
I like to decorate this way because it helps to create a seamless transition from season to season. It also means I'm not buying a bunch of decor that can only be used for a few months each year, plus you don't have to worry about storing it all during the offseason. So, today I thought I would share 5 easy ways to create a cozy and inviting home this fall.
Add Seasonal Elements With Pumpkins, Gourds, and Fruit
Make the most of the fall season by displaying pumpkins, gourds, squash, and seasonal fruit. It's an easy and inexpensive way to add a little touch of fall to your home. I love to add pumpkins to our front porch in different sizes, shapes, and colours. While inside a pretty bowl filled with small white pumpkins make a great centerpiece and blue-hued heirloom pumpkins look great stacked on a sideboard or kitchen counters.
And don't forget about the fruit! I added Bosc pears to the centerpiece in our fall tablescape this year, but they look just as pretty in a simple white bowl in our kitchen. Plus they make an easy grab and go snack!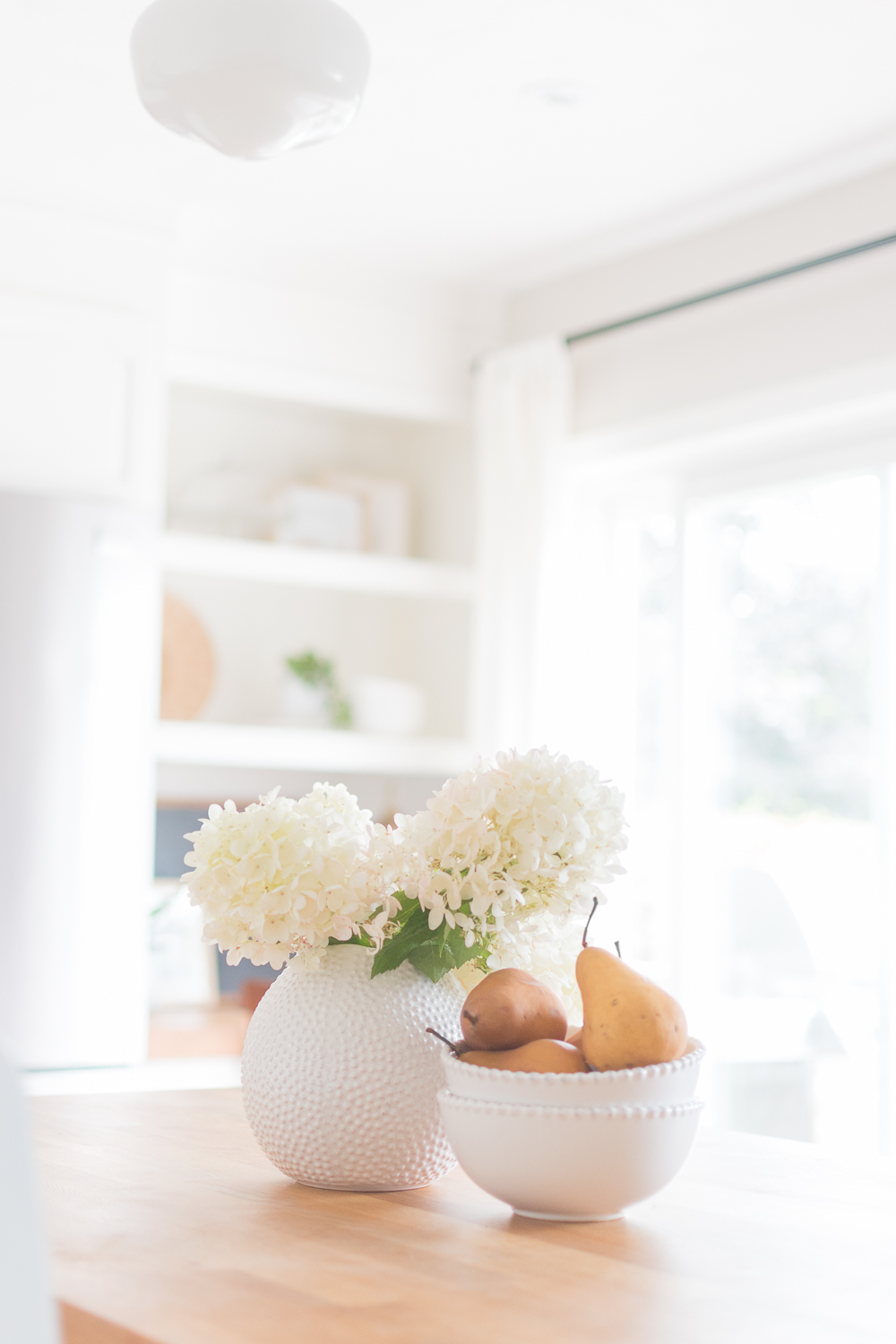 Add Ambiance With Candles
We usually have candles scattered throughout our house all year long, but once the temperature starts to dip I find we are lighting them more often. I like to keep one in our kitchen, living room and of course as part of our table setting if we are hosting dinner. They add such a cozy element and so much ambiance.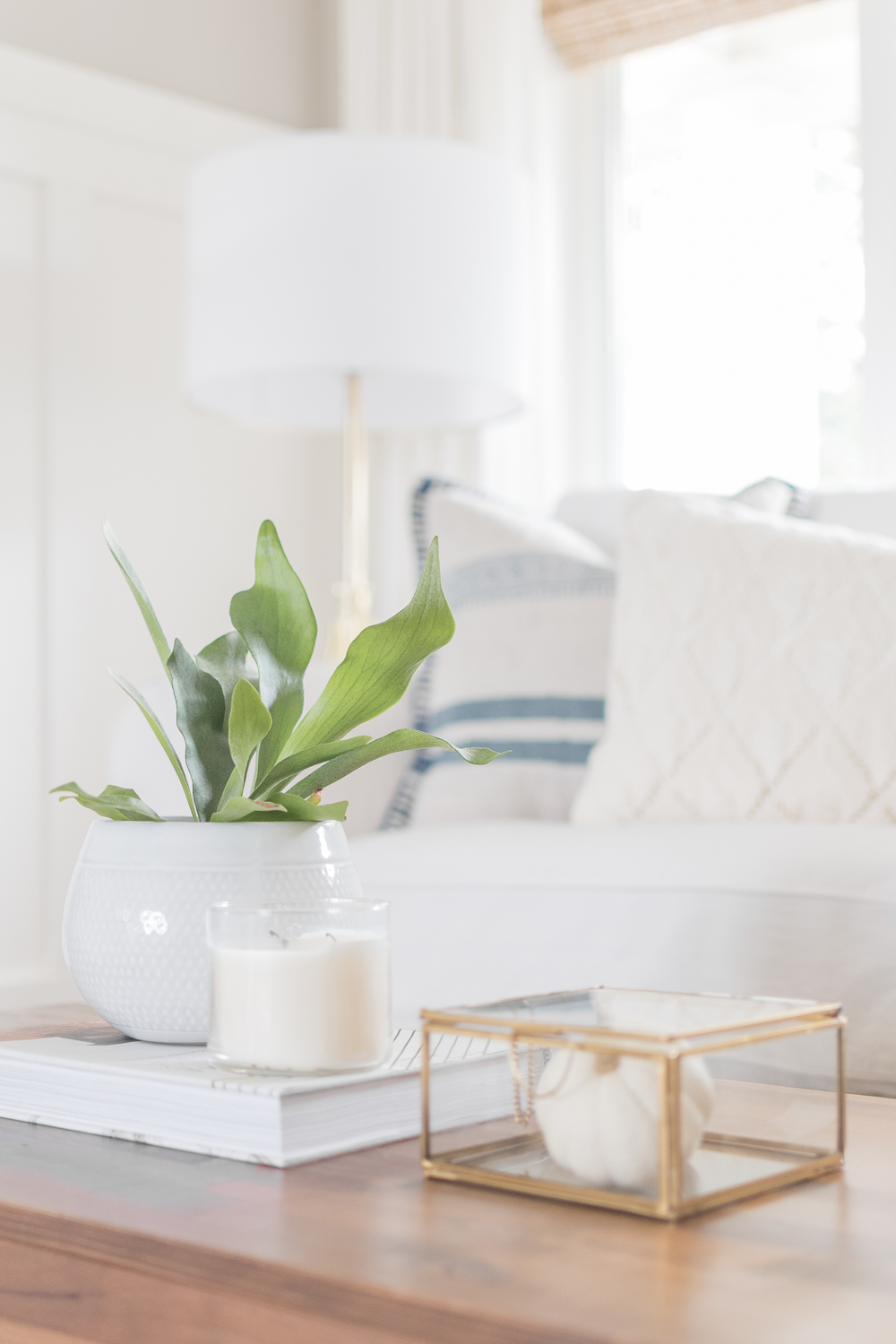 Create a Welcoming Front Entrance
Adding seasonal touches to your front entrance is an easy and inexpensive way to welcome not only your guests into your home but the fall season as well. Earlier this week we shared three ideas to keep in mind when decorating an outdoor space for autumn, so make sure you check out our fall front porch for some festive ideas you can add to your own home.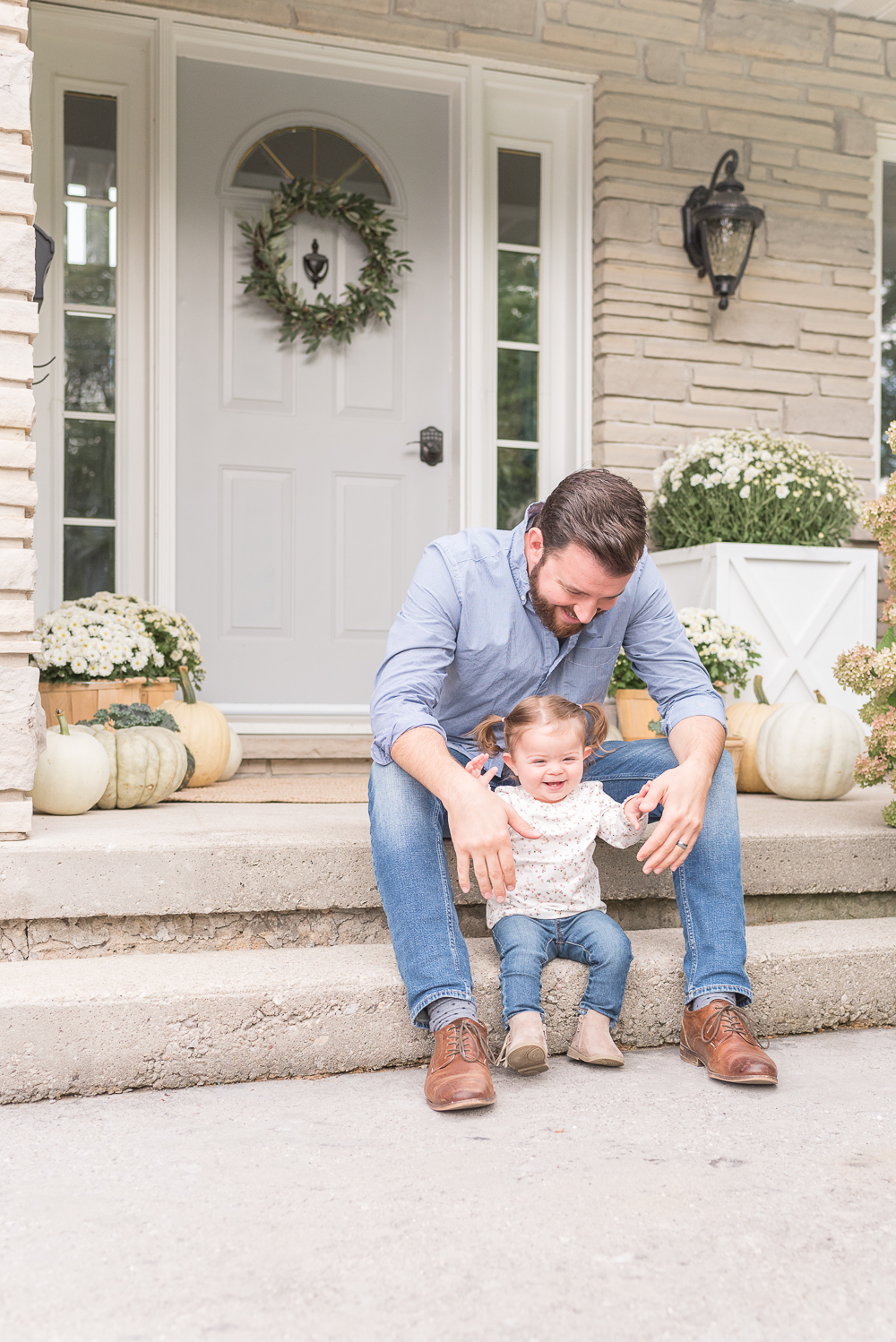 Add Texture
Texture is another super-easy way to bring a bit of the fall season into your home. Our home has a lot of white, so naturally, I've brought in a lot of texture to warm it up. But come autumn I add even a little bit more. Woven wicker baskets or trays, knitted throws, and textured pillows are all easy ways to add depth and warmth to your home during the cooler months.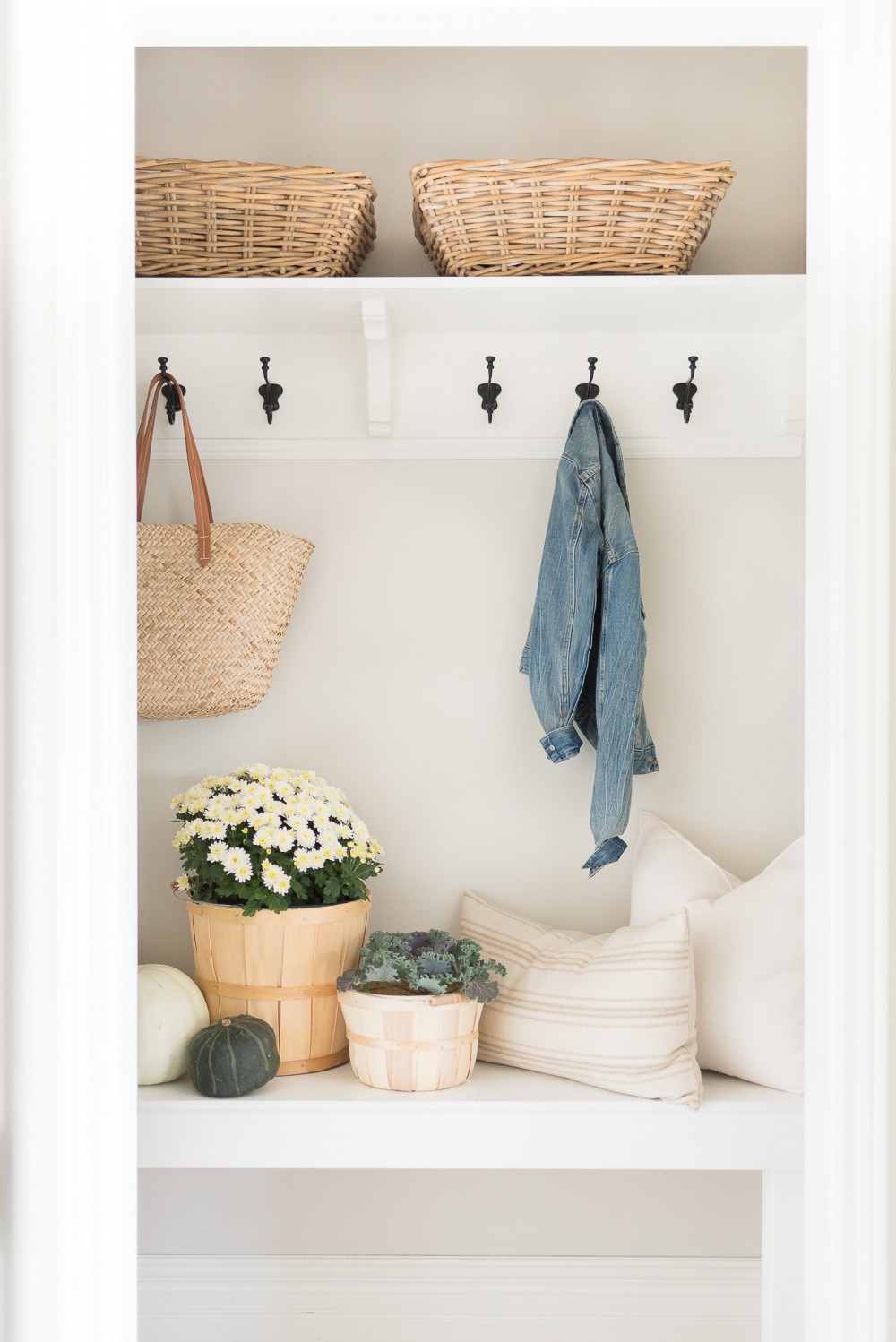 Incorporate Warm Hues
This can be done by adding a new pop of colour to your home, maybe a pillow in warm golden hue or perhaps a new piece of art that reflects the changing colours of the season. If you don't want to be so bold, you can achieve the same effect by subtly adding warm tones through metallics. Our dining room and living room got a dose of warmth with these repurposed lamps. It was an easy update to make, and they look so good with the other gold and wood tones in our home.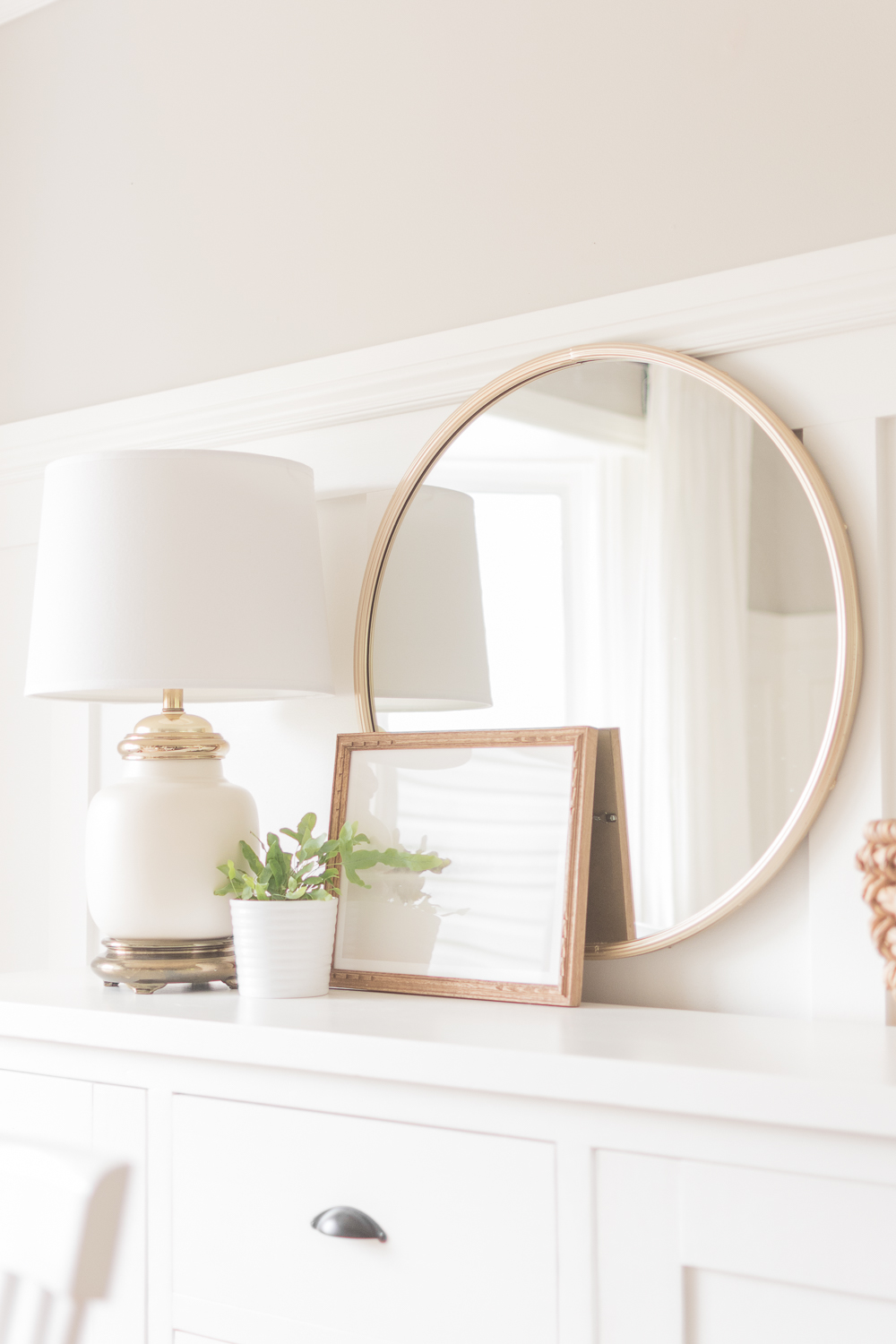 Well, there you have it! Five simple ways to make your home feel warm and cozy this fall, and they were all pretty easy, right? If you have any other ideas or tips for adding warmth to your home during the fall, we'd love to hear them. Just leave us a note in the comments section below!