These healthy homemade granola bars are soft and chewy, nut-free, loaded with seeds and grains and can be made gluten-free or vegan.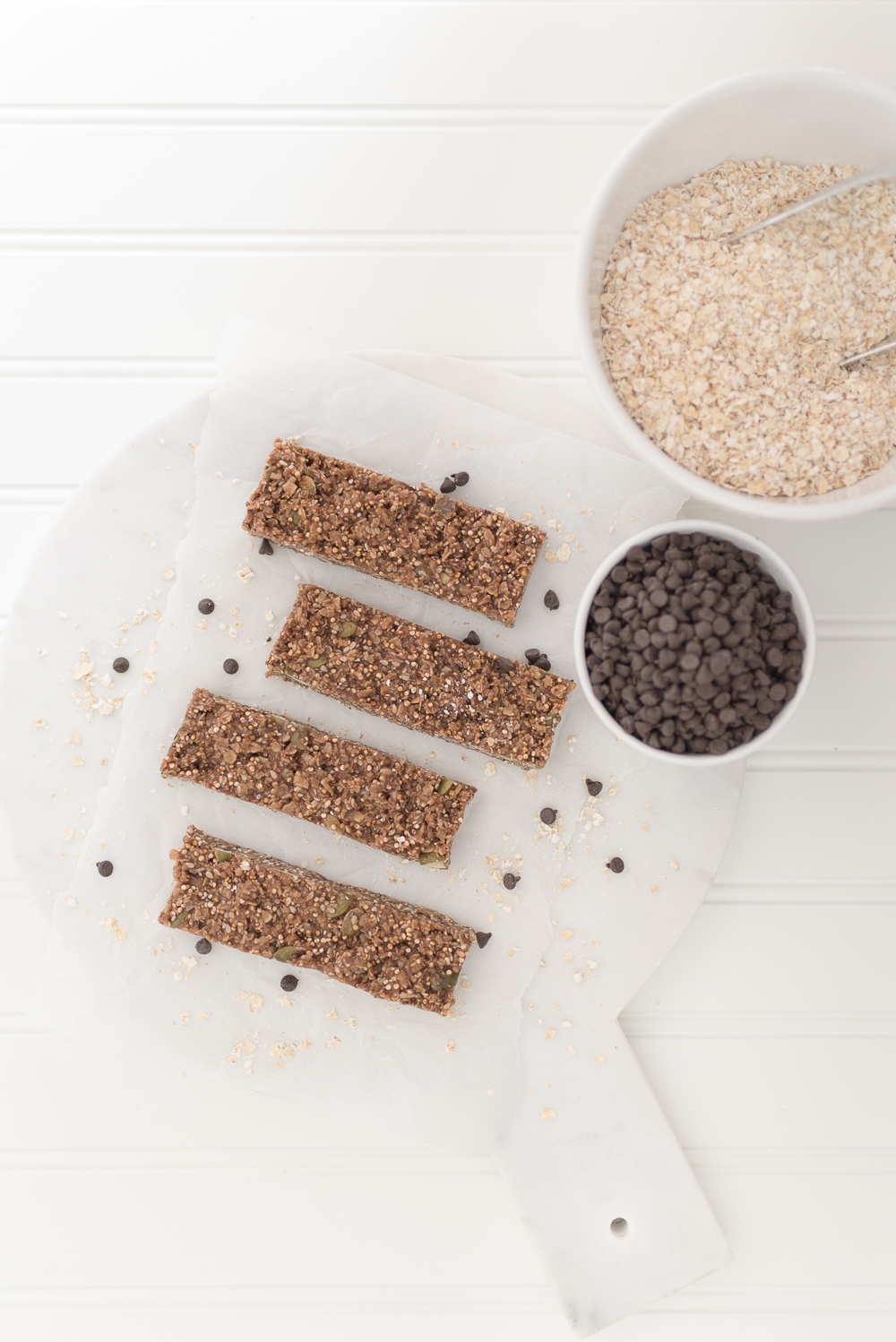 Well, we survived Zoe's first week in school and she is absolutely loving it! She is so excited to go each day. It's been amazing to watch her be so enthusiastic to learn new things and play with her new friends. She has adjusted just fine, and it is such a relief for us. As parents, you're always worried about how your kids will react to big changes, and Zoe has conquered this one like a champ!
One of the new tasks for us as parents is packing her lunch box every day. We're only into the second week, but I find it fun packing her lunch. I'm sure this novelty will wear off really quickly in the next few weeks. I hide treats for her to find and sometimes attach notes to her lunch box that are coded with drawings and letters to form a phrase that she has to decode.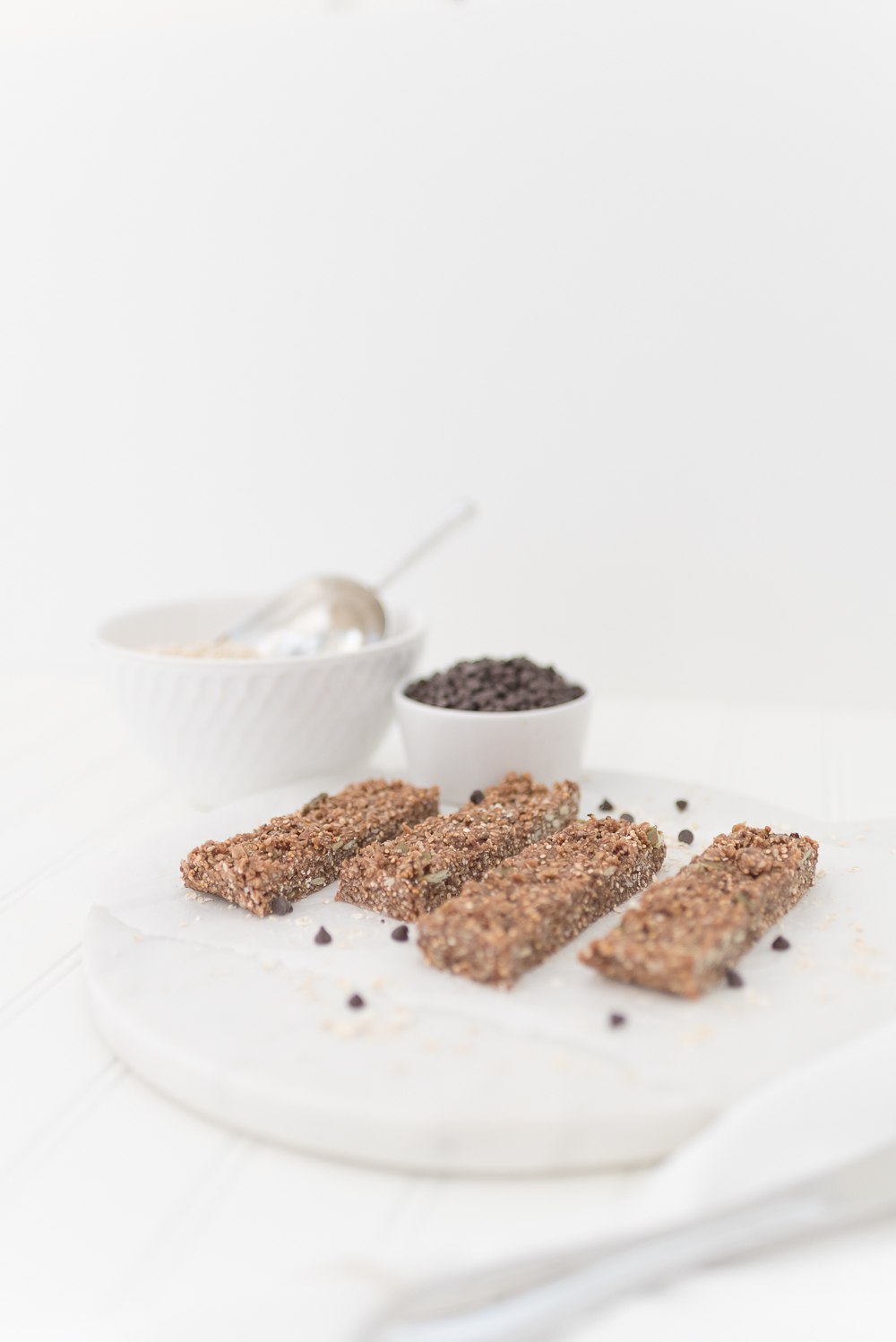 Nowadays, there are limitations on lunches, with good reason. They have to be nut-free and garbage-free at Zoe's school. Most granola bars are now made in nut-free facilities, but a lot of them are pretty basic. So, I set out to make my own recipe that was nut-free and filled with lots of healthy ingredients!
These granola bars are extremely soft and chewy and a great sweet treat. The recipe does contain sugar, but it's a mix of cane sugar, maple syrup and honey (or more maple syrup for a vegan option). Cane sugar has not been stripped of the vitamins and minerals, like white refined sugar, and maple syrup and honey are two of the healthier sugars you can consume – and they all add great flavour!
I should note that because of the natural sugar ingredients, these bars are also on the sticky side, not dry like the packaged ones you get at the grocery store.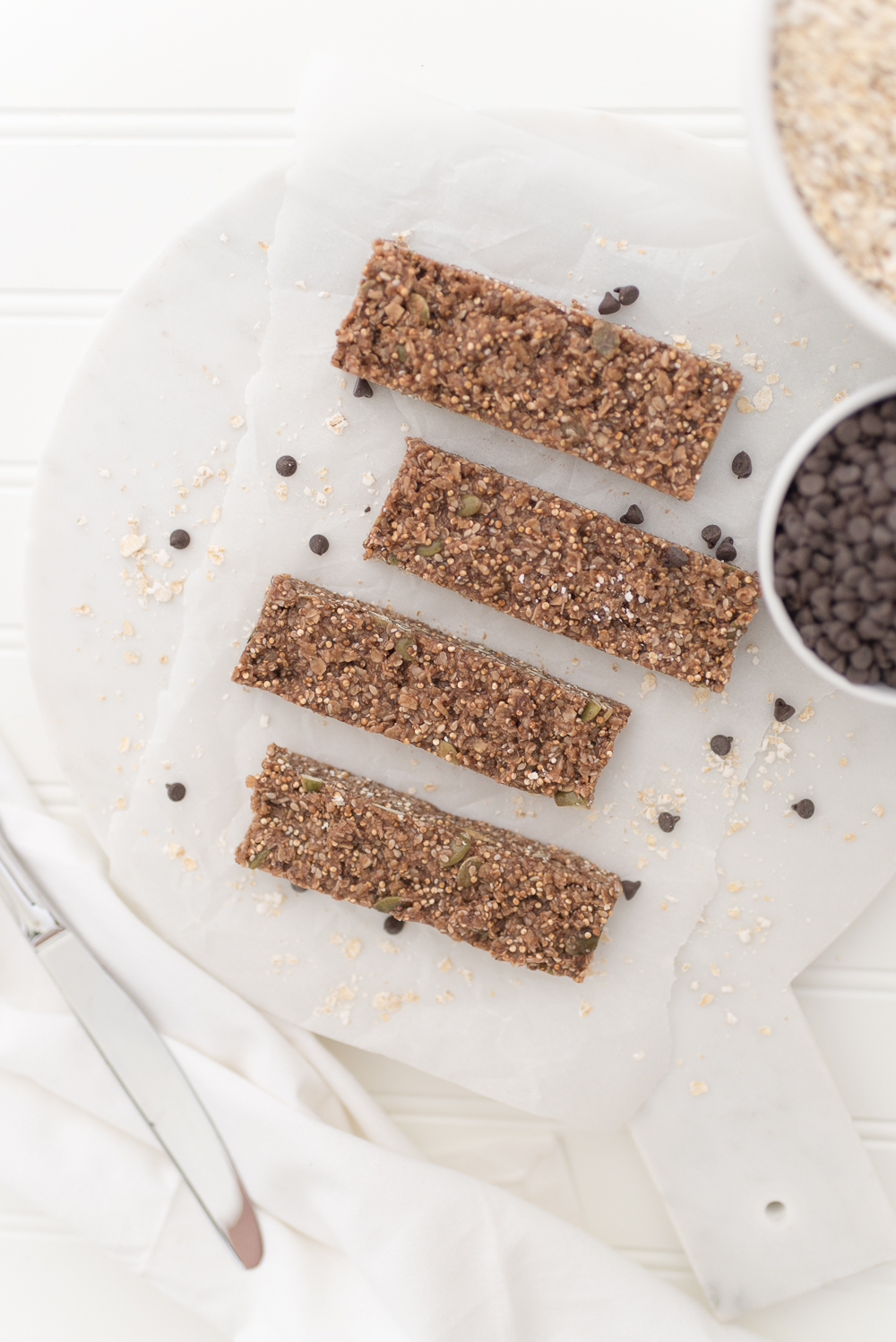 All of the dry ingredients in these healthy homemade granola bars are also high in nutrients, well except for the chocolate chips, but even they're not too bad for you and you can omit them if you prefer. You can also add your favourite dried fruit (or nuts if your school/workplace allows it) for an even healthier version.
They're a great snack to take to work for a mid-morning or mid-afternoon pick-me-up when you need a sweet fix. I've packed these as a snack a couple of times and rarely do I even wait until it's break-time. If it's sitting on my desk, I will likely eat it with my first coffee of the day.
I hope you enjoy these granola bars. We'd love to hear what you think of the recipe and if you made any additions to it.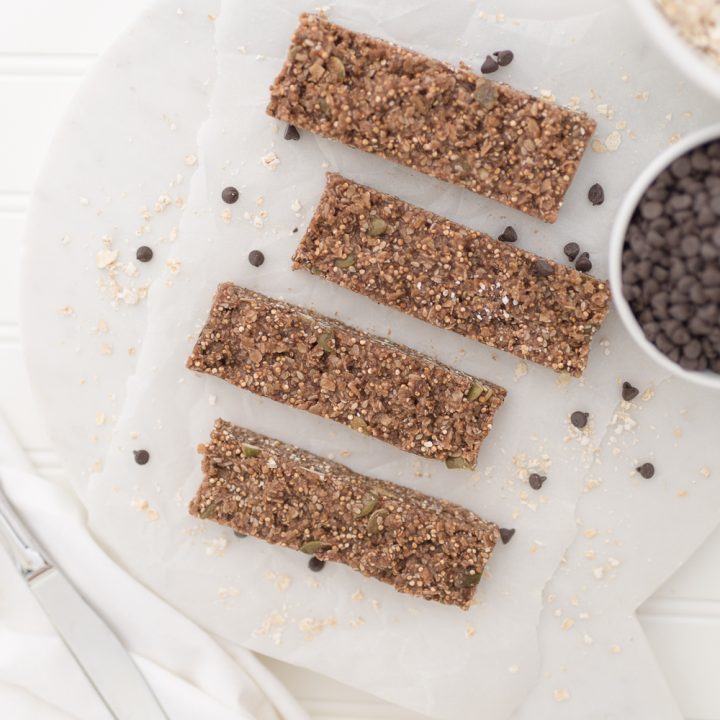 Healthy Homemade Granola Bars
These healthy homemade granola bars are soft and chewy, nut-free, loaded with seeds and grains and can be made gluten-free or vegan.
Ingredients
Dry Ingredients
1/2 cup quinoa seeds, uncooked
1/4 cup unsweetened medium shredded coconut
2 cups quick oats
1/2 cup pumpkin seeds
1 tbsp whole chia seeds
2 tbsp sesame seeds
1 tbsp flax meal
1/4 cup mini semi-sweet chocolate chips
1/2 tsp ground cinnamon
Syrup Ingredients
1/4 cup cane sugar
1/2 cup maple syrup
1/2 cup honey (substitute another 1/2 cup maple syrup for vegan option)
2 tbsp coconut oil
1 cinnamon stick
Instructions
Preheat oven to 425°F.
Pour uncooked quinoa onto a parchment-lined cookie sheet. Toast for 5-6 minutes until the quinoa just starts to brown a little and then remove from the oven and allow them to cool.
Combine all dry ingredients in a large mixing bowl, including toasted quinoa.
In a medium saucepan, combine all syrup ingredients, including cinnamon stick.
On medium-high heat, bring the mixture to a boil and immediately lower to medium-low heat.
Allow it to simmer about 10 minutes, stirring frequently (there will be significant foam produced and stirring will keep this down). By this point, the syrup should start to coat the back of a spoon. If not, continue simmering for another few minutes.
Pour the syrup into the bowl of dry ingredients and mix thoroughly it is well combined. The chocolate chips will melt and help thicken the granola bars.
Pour the mixture into an 8"x8" parchment-lined pan. Grease the bottom of a measuring cup (or any utensil with a larger flat surface) and tamp down the mixture into the pan.
Place in the refrigerator to cool completely.
Once cool, turn it out onto a large cutting board and cut into bars or squares.
Store in the refrigerator in an airtight container with wax paper between the layers of bars to help keep them from sticking together.
Nutrition Information:
Yield:

12
Serving Size:

1
Amount Per Serving:
Calories:

218
Total Fat:

7g
Saturated Fat:

3g
Trans Fat:

0g
Unsaturated Fat:

3g
Cholesterol:

0mg
Sodium:

39mg
Carbohydrates:

39g
Fiber:

3g
Sugar:

27g
Protein:

3g