Set a beautiful table for Fall or Thanksgiving entertaining with these simple and inspiring table decor ideas.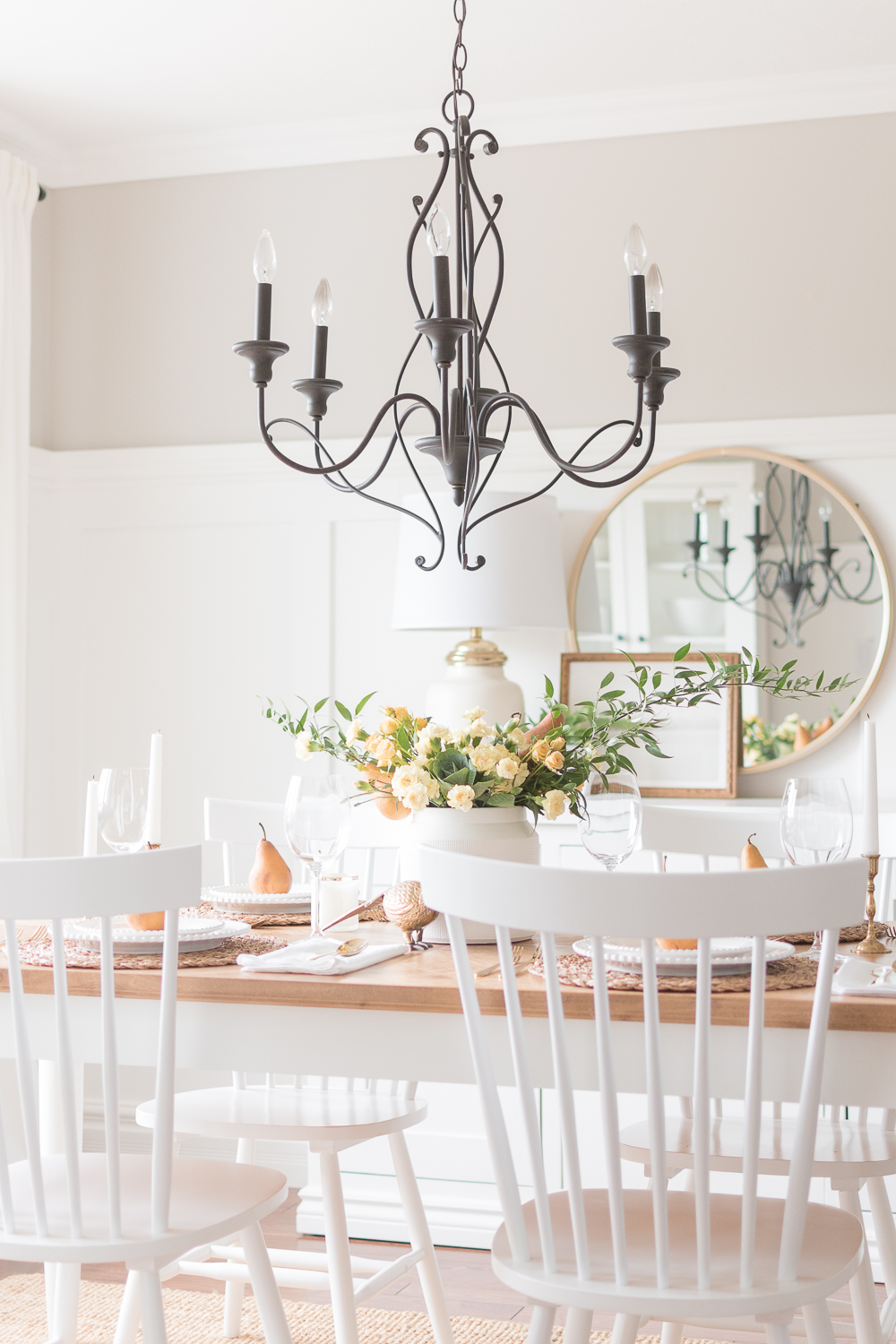 Hosting family and friends always seems a little more meaningful during Thanksgiving. And growing up, Thanksgiving was always one of my favourite holidays to celebrate. Even as a child I could sense that undeniable feeling of togetherness the holiday brought. It was a feeling of warmth and comfort, and I loved every minute of it. And that's a feeling I hope our girls will experience too. I think a lot of it comes from being with family and friends, of course, but it also comes from the comforts of home. The smell of Thanksgiving dinner drifting from the kitchen, candles flickering on the table and the sound of laughter and stories being shared.
I love entertaining, and I think it's important to remember that you don't need a lot of money or a big beautiful home to host family and friends during the holidays (or any time). It's about being together with the people you love most in the world. That being said, it is always fun to set a pretty table!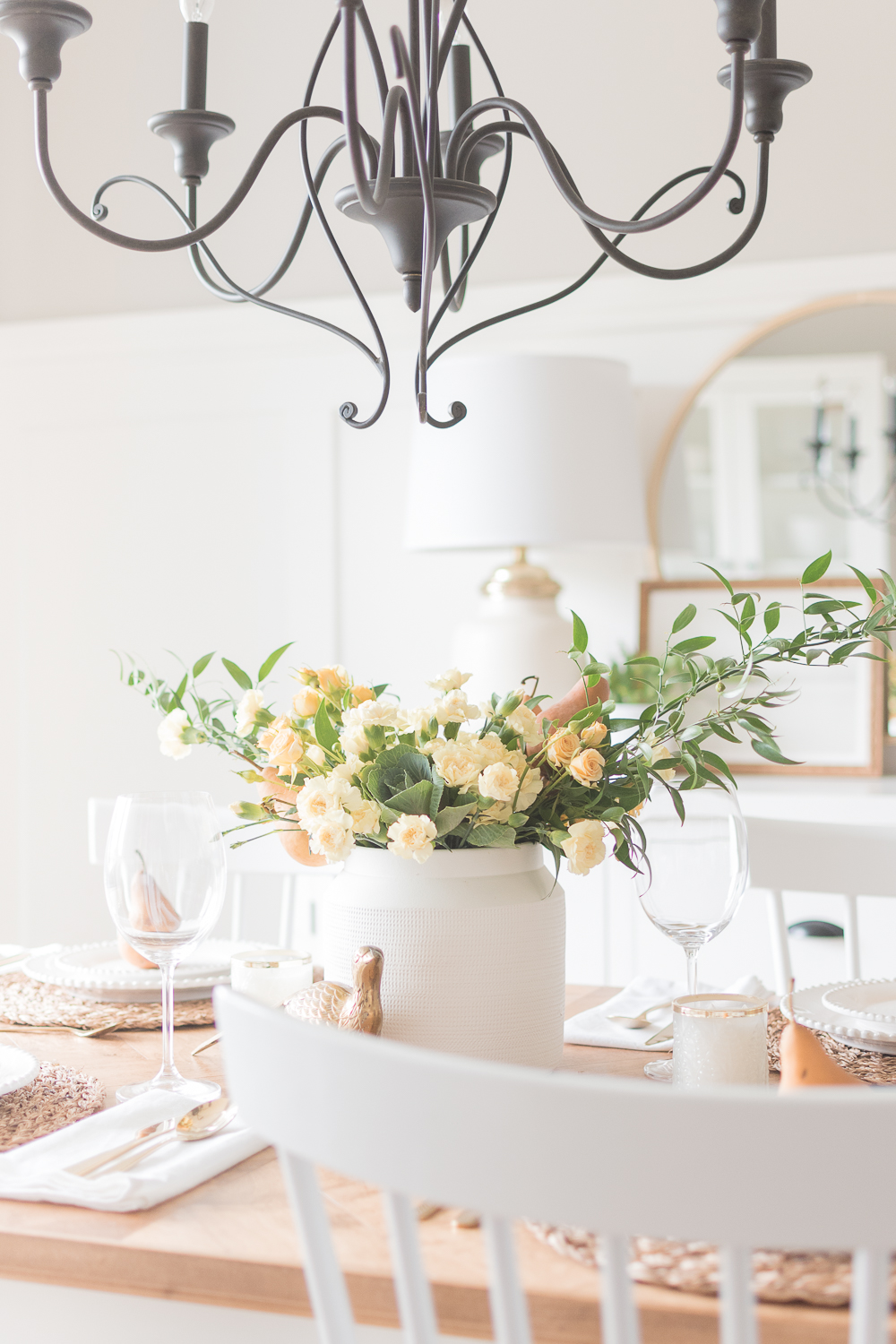 As I mentioned, you don't need to spend a fortune on new dishes or huge flower arrangements to host a beautiful gathering in your home. You just need a bit of creativity! Repurpose pieces you already own, visit your local thrift store for unique items and forage your own backyard to create a stunning centrepiece. I promise it's easy, and I've got 17 of my friends here to show you just how simple it can be to set a beautiful fall table (visit them all at the end of this post).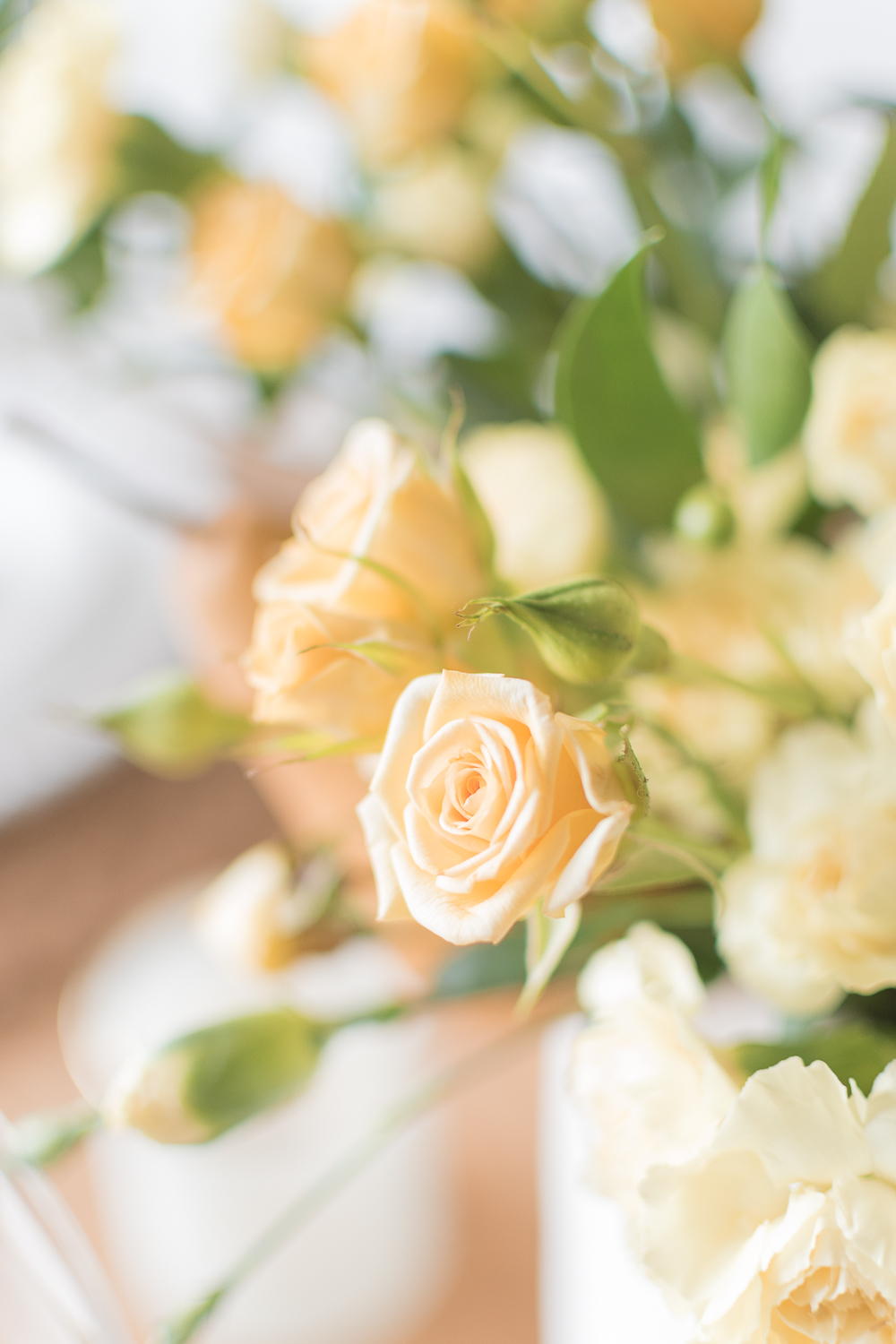 Every time I set our table, whether for the blog or for actual company, I have to find my inspiration. It usually stems from some little detail which then leads everything to fall into place. This year while planning our Thanksgiving tablescape, I was inspired by these miniature golden-hued roses. I spotted them in our grocery store and I knew they were going to be my starting point. I loved the softness of their colour and thought it was the perfect compromise to traditional autumn hues.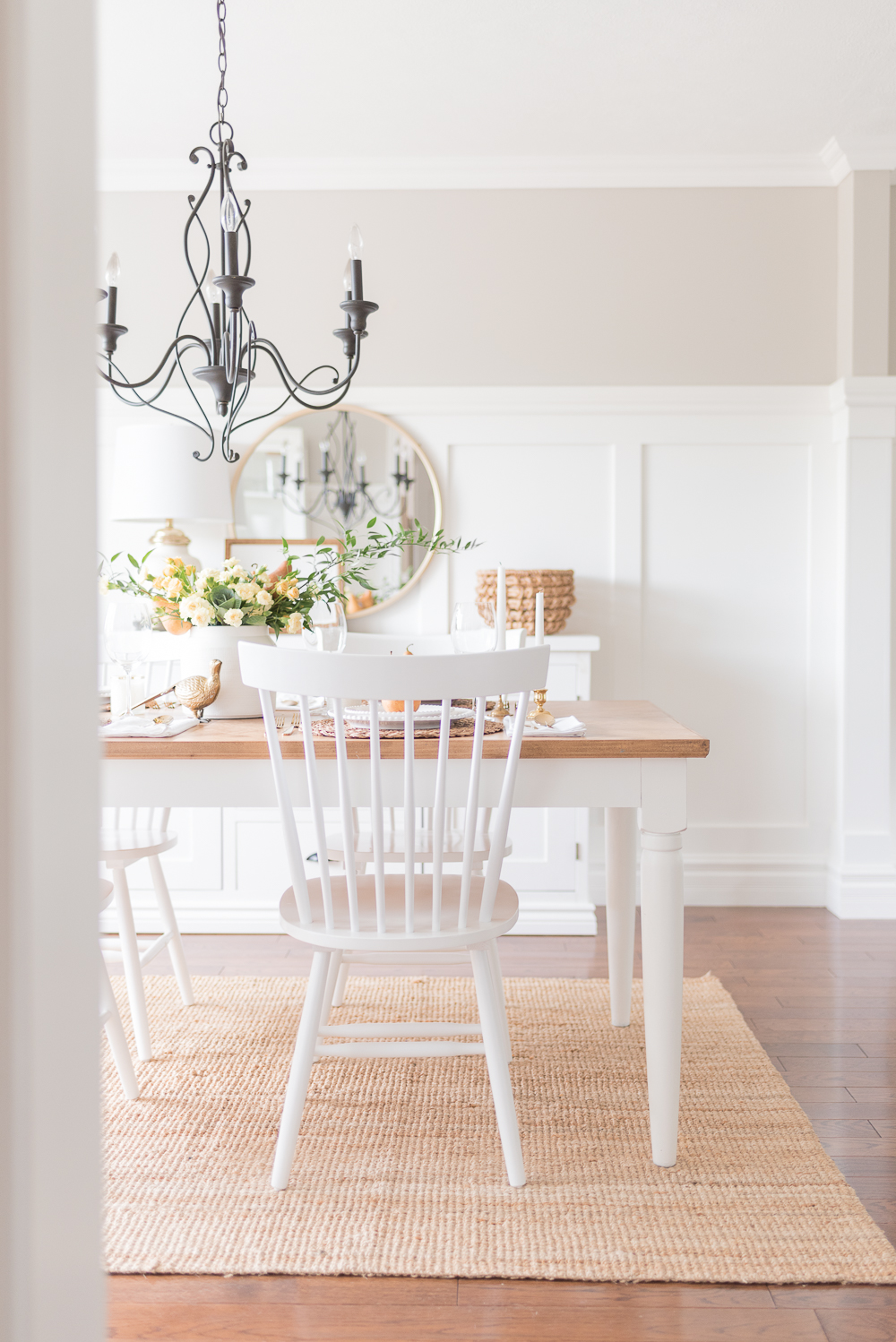 ---
get the look of our fall and thanksgiving table decor

---
Once, I had these pretty little roses in my basket, I started thinking about what would go well with them. I grabbed a few yellow carnations and greenery (Italian Ruscus and decorative cabbage) and headed to the produce section. Sometimes, I like including fruits or veggies on our table, it's a fun way to add a little bit of interest (you can see how I've used peaches, lemons, pumpkins, and squash before). I grabbed a few Bosc pears, which seemed like the perfect fit and started thinking about different ways to include them.
While I was buying the flowers and fruit I was also thinking about what items I already had at home that I could use. Make sure you're planning ahead so that anything new you buy will also work with what you've already got on hand. You want your table to look and feel cohesive.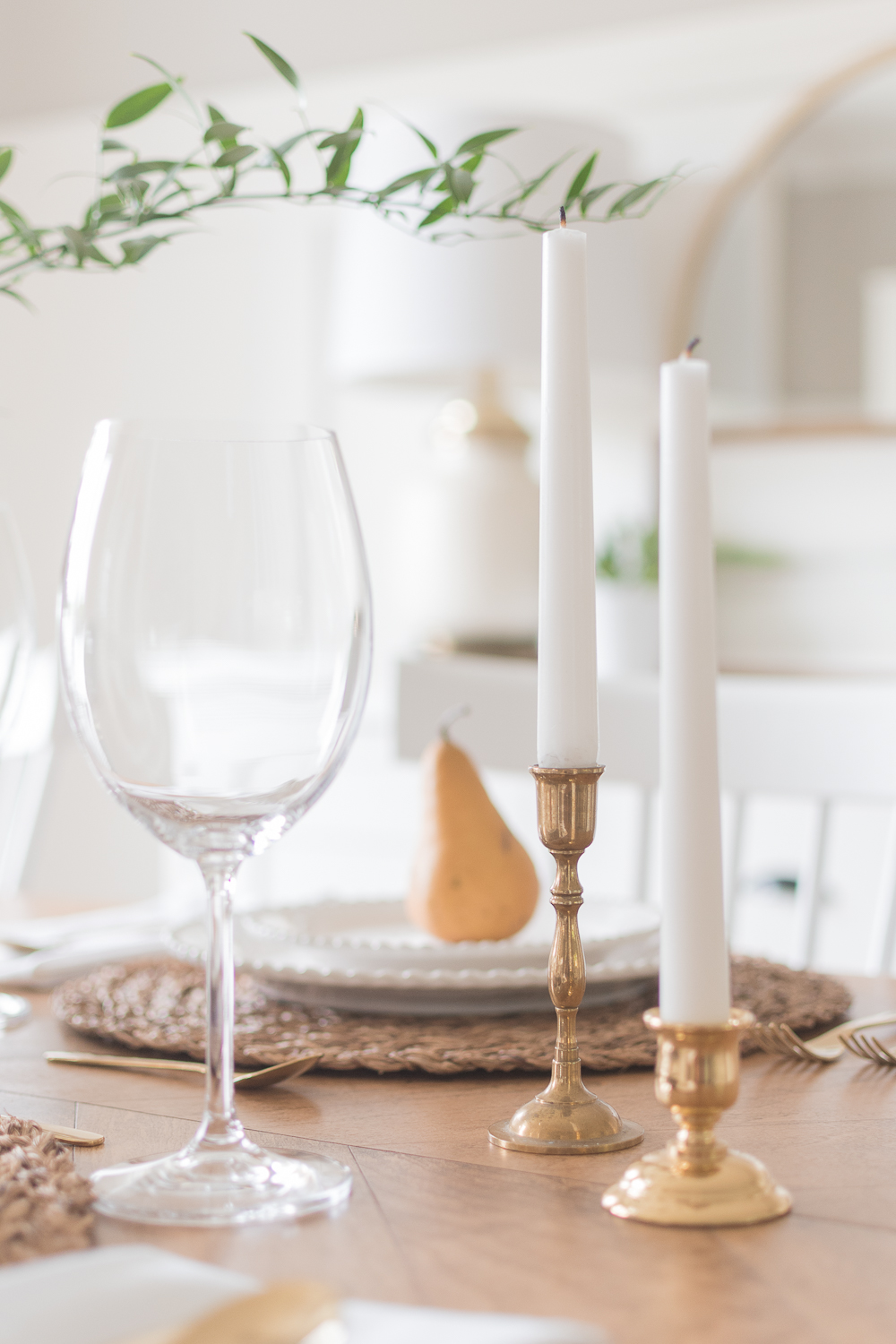 I knew the yellow flowers and gold pears would look really pretty mixed with the gold and brass details in our dining room. And I also knew I already owned antique brass candlesticks and gold silverware, these were the pieces I knew would pull the whole look together. Everything else would easily coordinate, like my favourite everyday white dishes, white linen napkins and simple wine glasses.
When I'm hosting dinner, I usually create my centrepiece and set our table the evening before. I want to make sure I have enough time to get everything in place without feeling rushed.
To make the centrepiece, I used a simple white vase and placed a smaller glass vase inside. I did this because it's not meant to hold water and it also helps to keep the flowers closer together instead of spreading outwards -a just a little tip! When arranging flowers, I find it easiest to start with your biggest or fullest flowers first and add your smaller elements last. So, in this case, I started with two decorative cabbages and two Bosc pears (I inserted small wood dowels into the bottom of the pears). Then I used the yellow carnations to fill in the rest. And finally, I added the sprigs of miniature roses and the Italian Ruscus. It was really easy to put together, but just like anything, arranging flowers takes practice.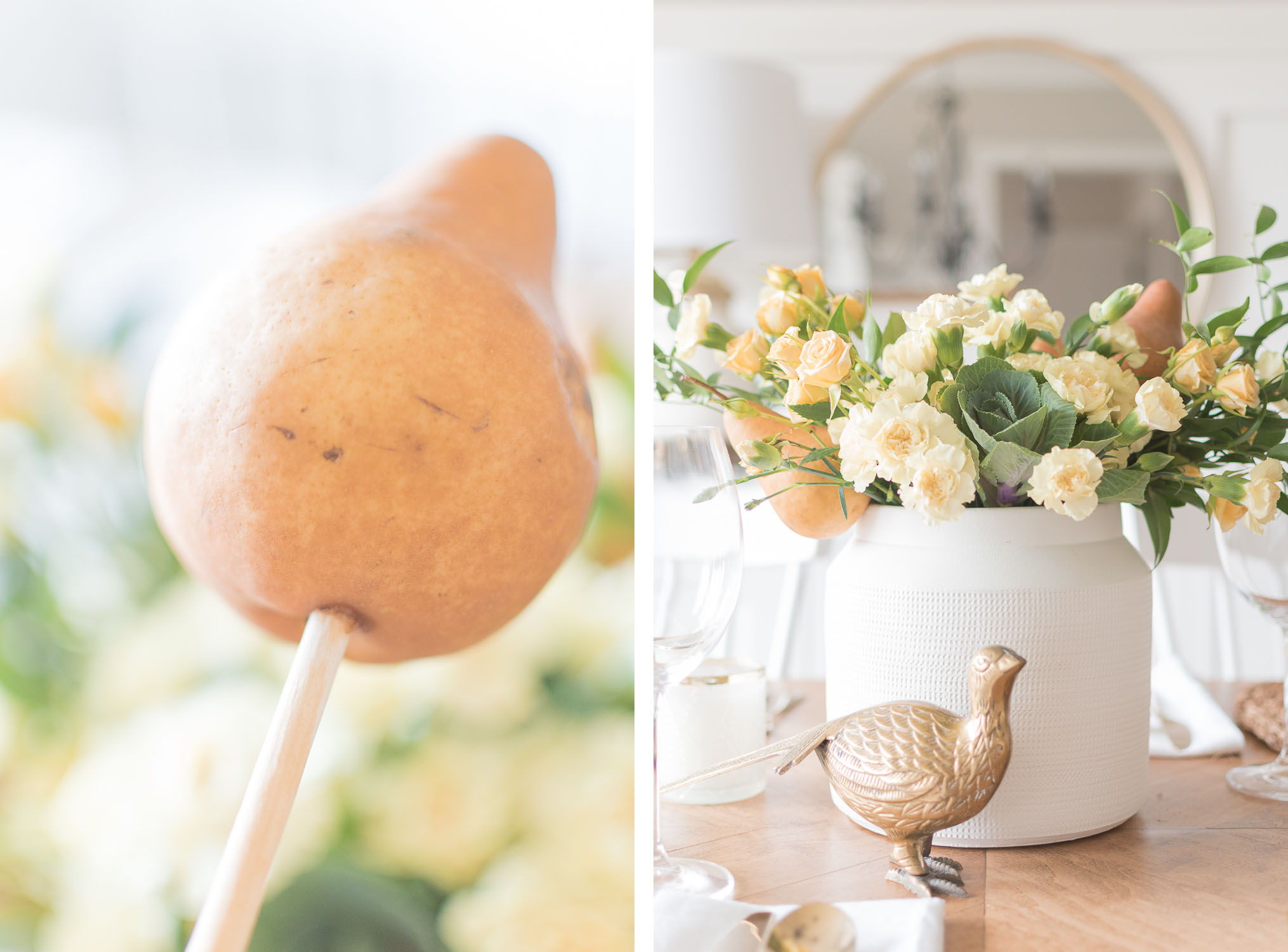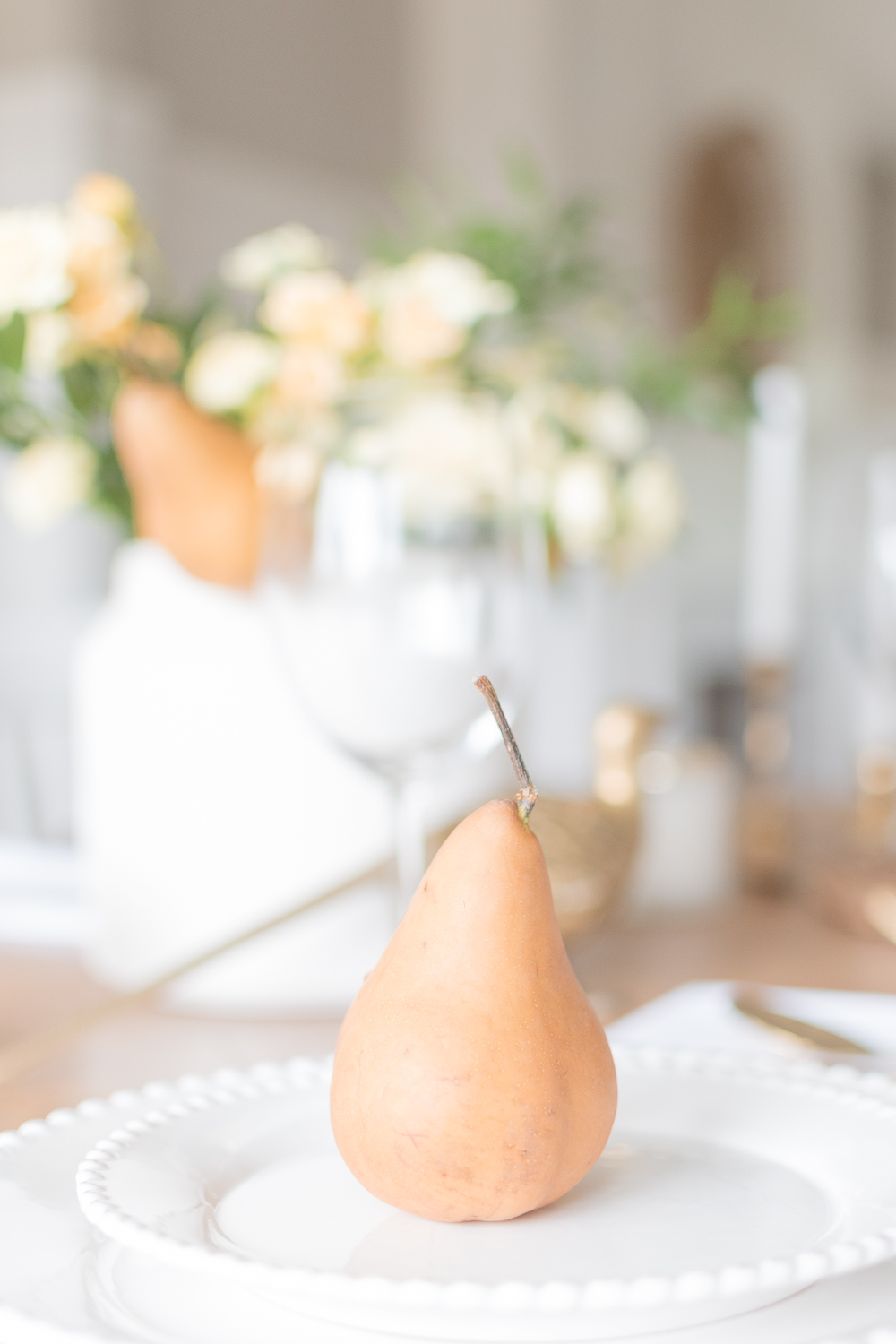 I set the table using natural woven chargers, white dishes with beaded detail, white linen napkins, gold flatware and wine glasses. Each place setting got a Bosc pear too as a fun little detail. I placed the flowers in the center of the table and lined antique brass candlesticks and small votives with gold rims down the middle.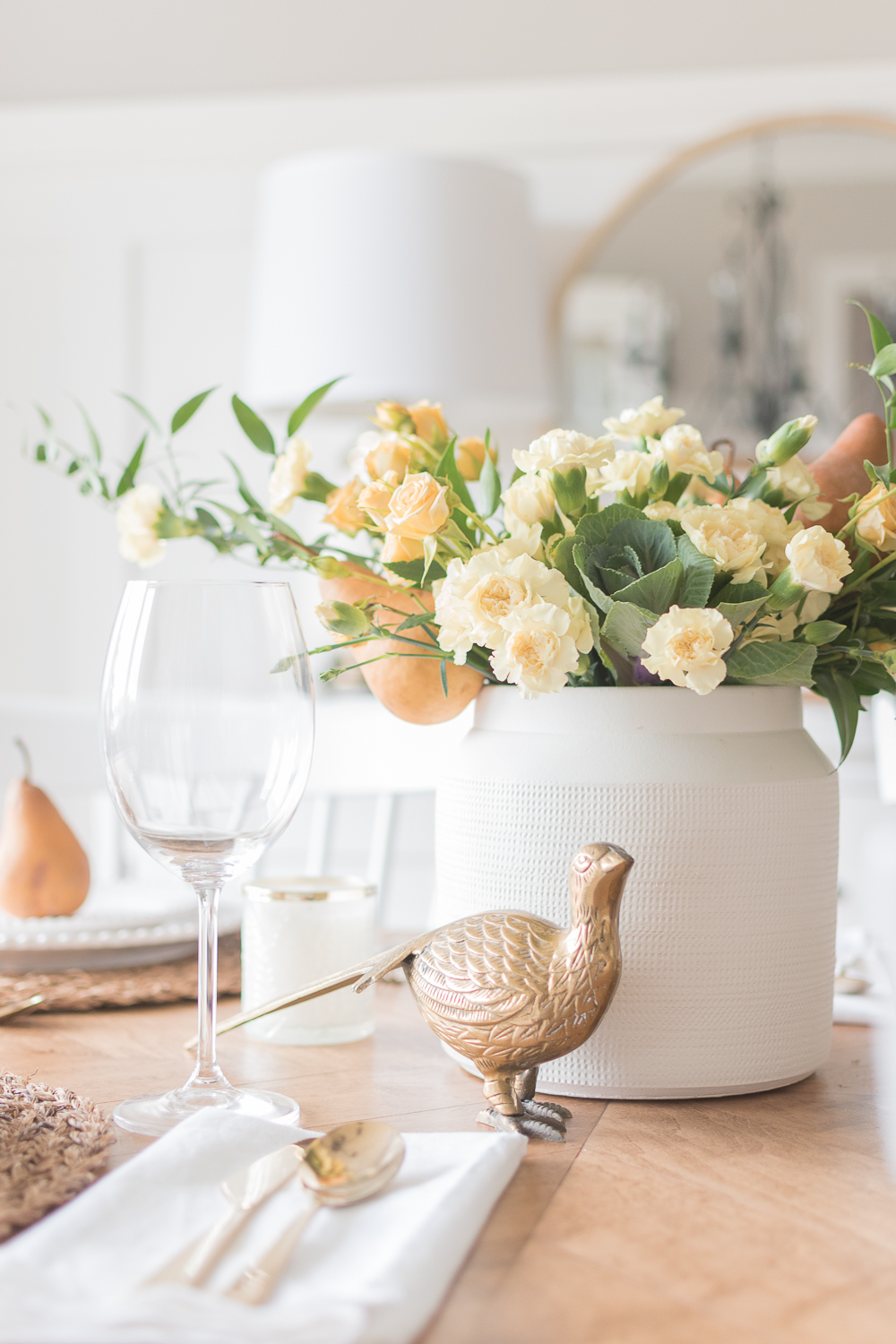 And the cherry on top is this adorable bird. I picked him up a few years ago at a second-hand store and he's come in so handy. I bring him out each fall, and I think he looks right at home with this tablescape, don't you?
To be honest, I was a little unsure of how this table was going to turn out, but I think it's one of my favourites. It feels like autumn, but still incorporates my love of soft colours. Now, please make sure you check out all of the incredibly beautiful fall and thanksgiving table decor ideas from some of my friends…

Nick + Alicia | Sincerely, Marie Designs | Craftberry Bush | Clean and Scentsible

Home Made Lovely | The DIY Mommy | The Wood Grain Cottage | The Turquoise Home

Rooms FOR Rent Blog | Kim Power Style | The Wicker House | Caitlin Marie Design

Lolly Jane | The Learner Observer | Satori Design For Living | Summer Adams