Celebrate Halloween with little ones by hosting a party with kid-friendly decor, Halloween-themed food, and fun activities and crafts.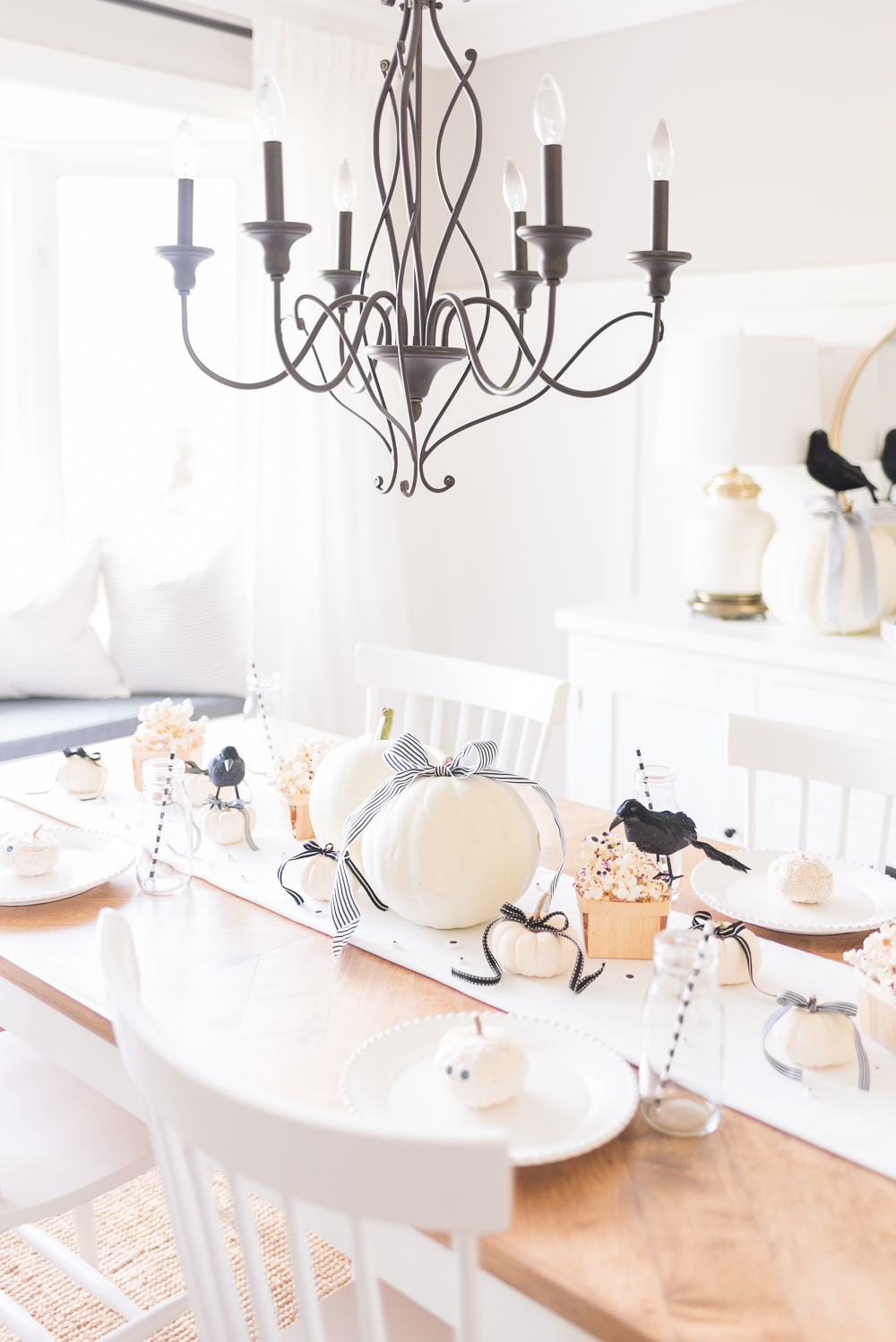 I was never really one to celebrate Halloween. Of course, as a child, I loved the holiday and always looked forward to dressing up to spend the evening trick or treating. But as I got older, I had less and less interest in celebrating, that was until I had kids of my own. Ella is still too little to understand what it's all about, but Zoe loves it! So, in turn, that means I love it too. Isn't it funny how your kids' likes become your own?
So while just a few years ago I wouldn't have given the holiday much thought, this year I've been thinking of creative costume ideas and new traditions we can embrace, like hosting a Halloween party for little ones.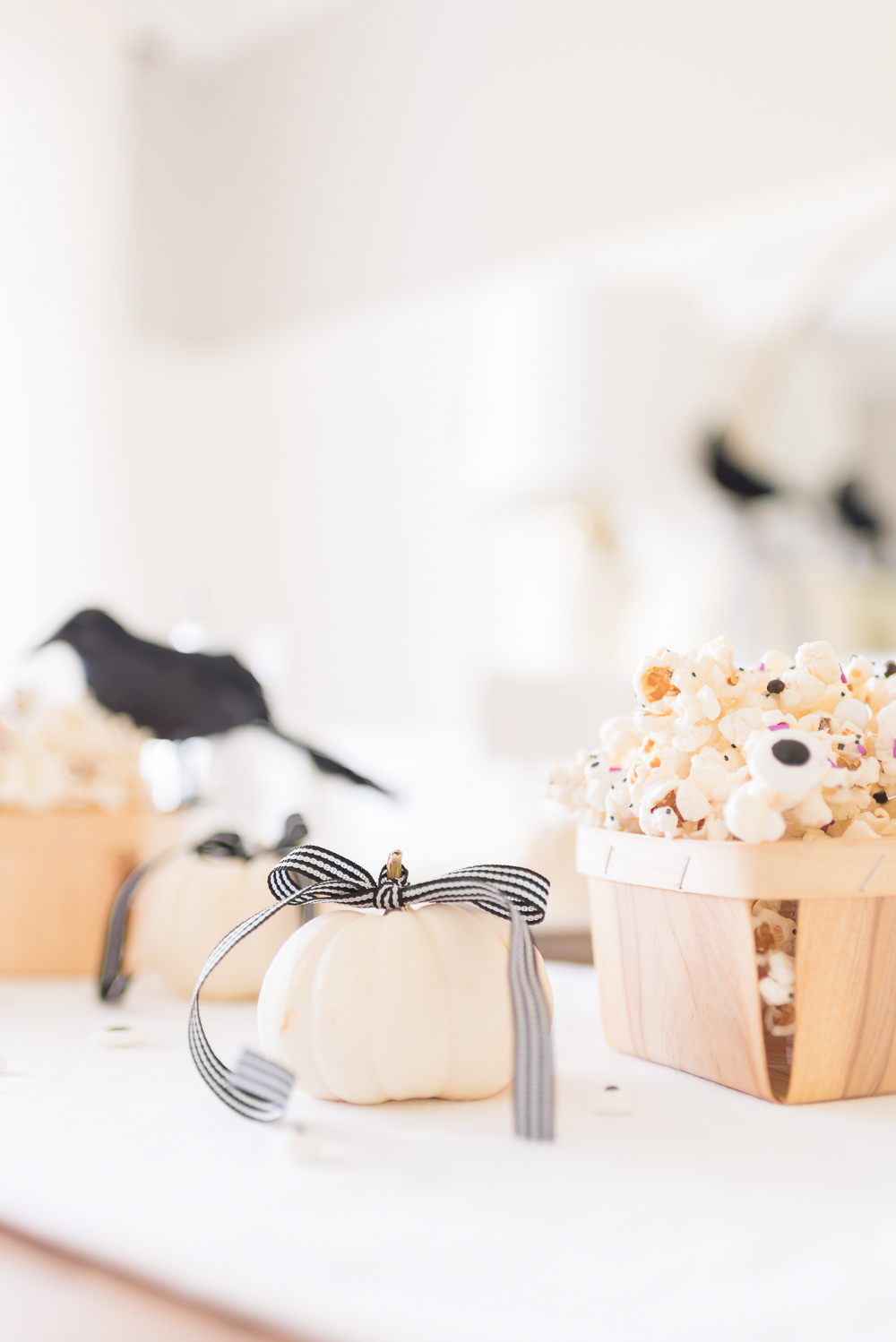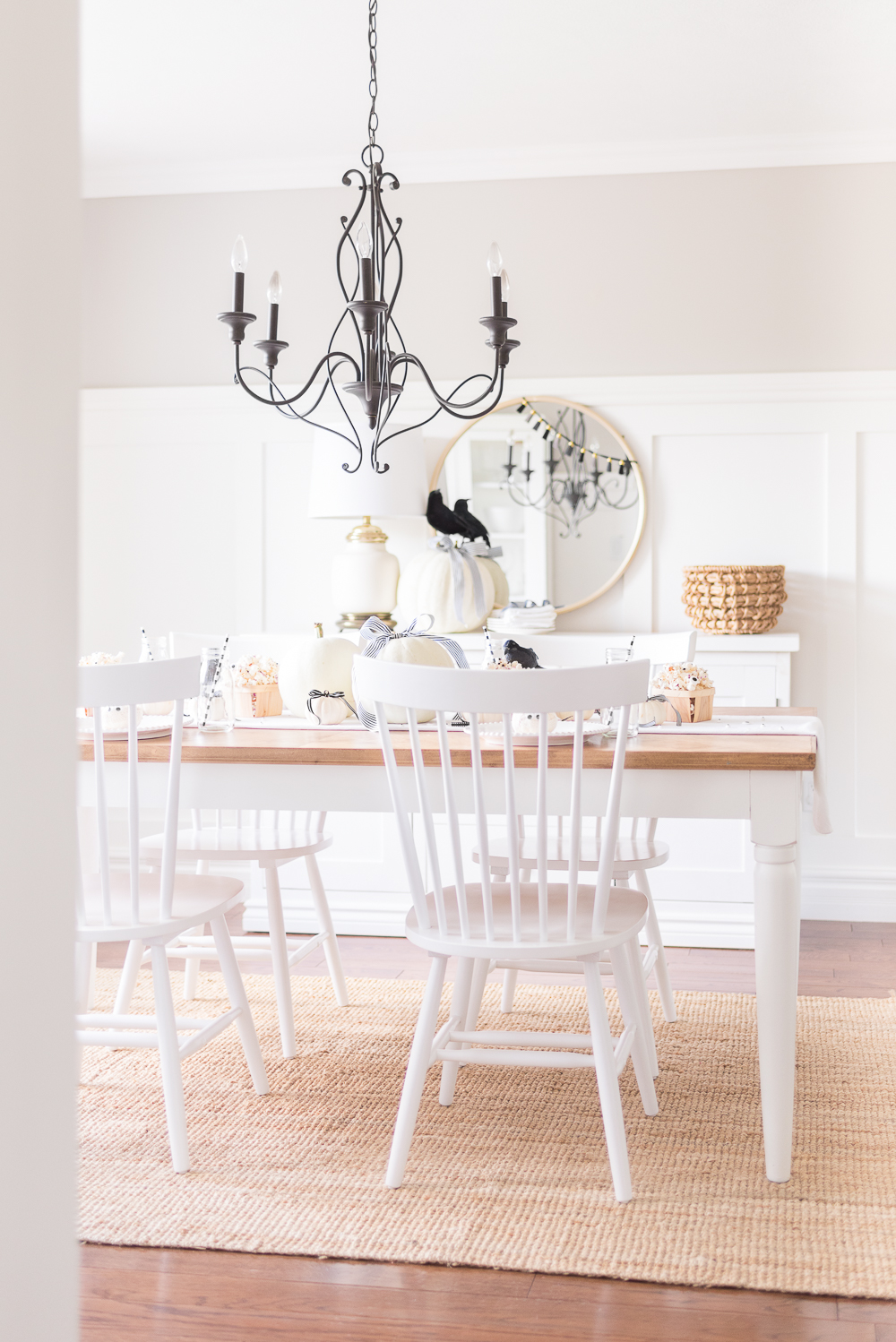 Just like any gathering or holiday, a Halloween party doesn't have to be an elaborate or costly event. A little bit of creativity and a house full of family and friends is all you need. And in case you're planning a spooky get together this year, I wanted to share some of the ideas I came up with. Now, keep in mind these ideas are geared towards little ones, so there's no gore or horror anywhere in sight. Instead, I kept the details sweet and simple for a light-hearted Halloween celebration.
---
get the look

---
I always love when Zoe's friends visit, and our home is filled with the sound of little feet running room to room and peels of laughter as they get into mischief. But I also know that mischief can quickly turn into trouble if you're not careful. So a well-planned party with yummy food and fun activities is always a must to keep the kiddos busy and entertained. Generally, anytime you host a party for little ones you can break it down into three easy categories: decor, food, and activities. So that's how I thought I would share today's post with you.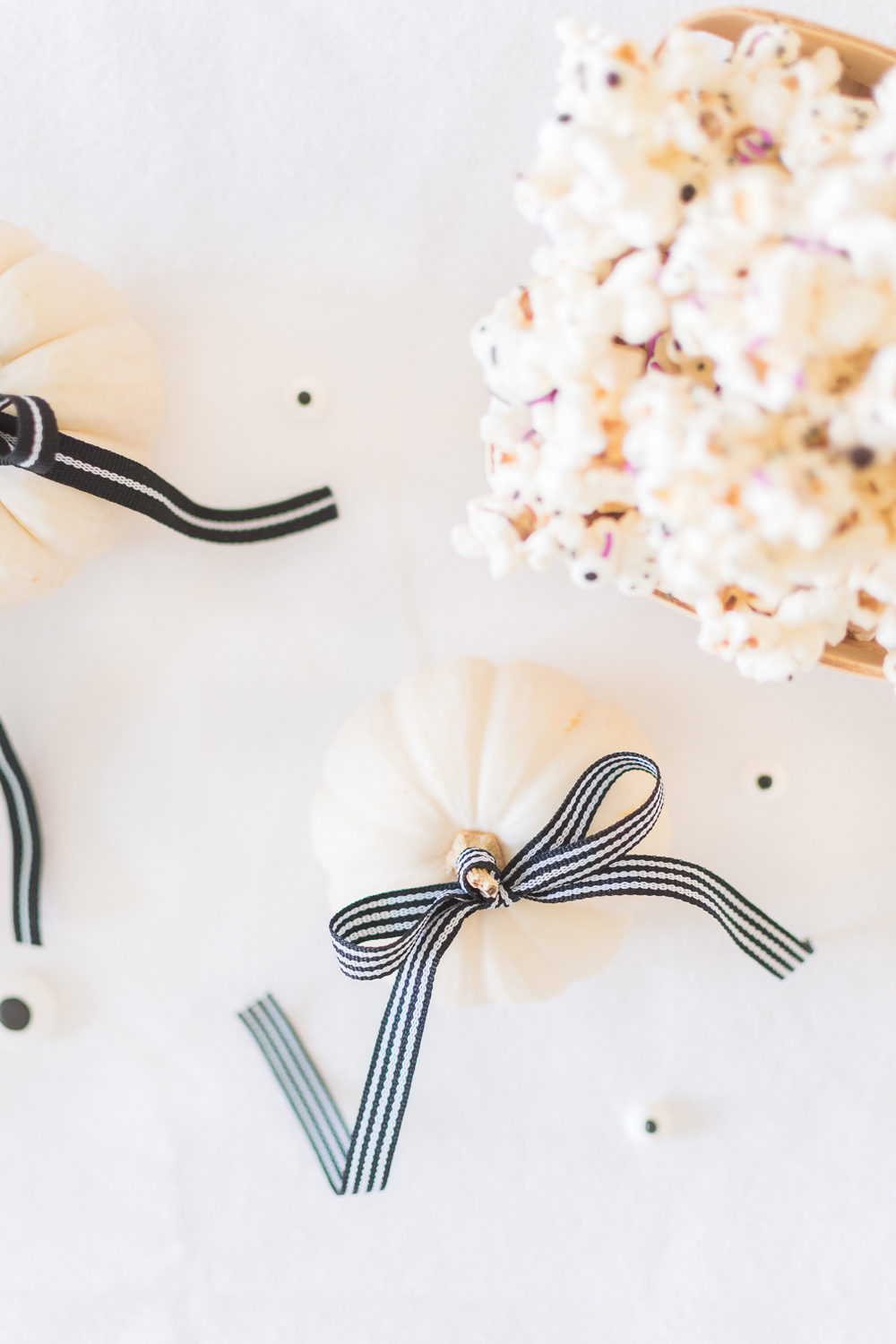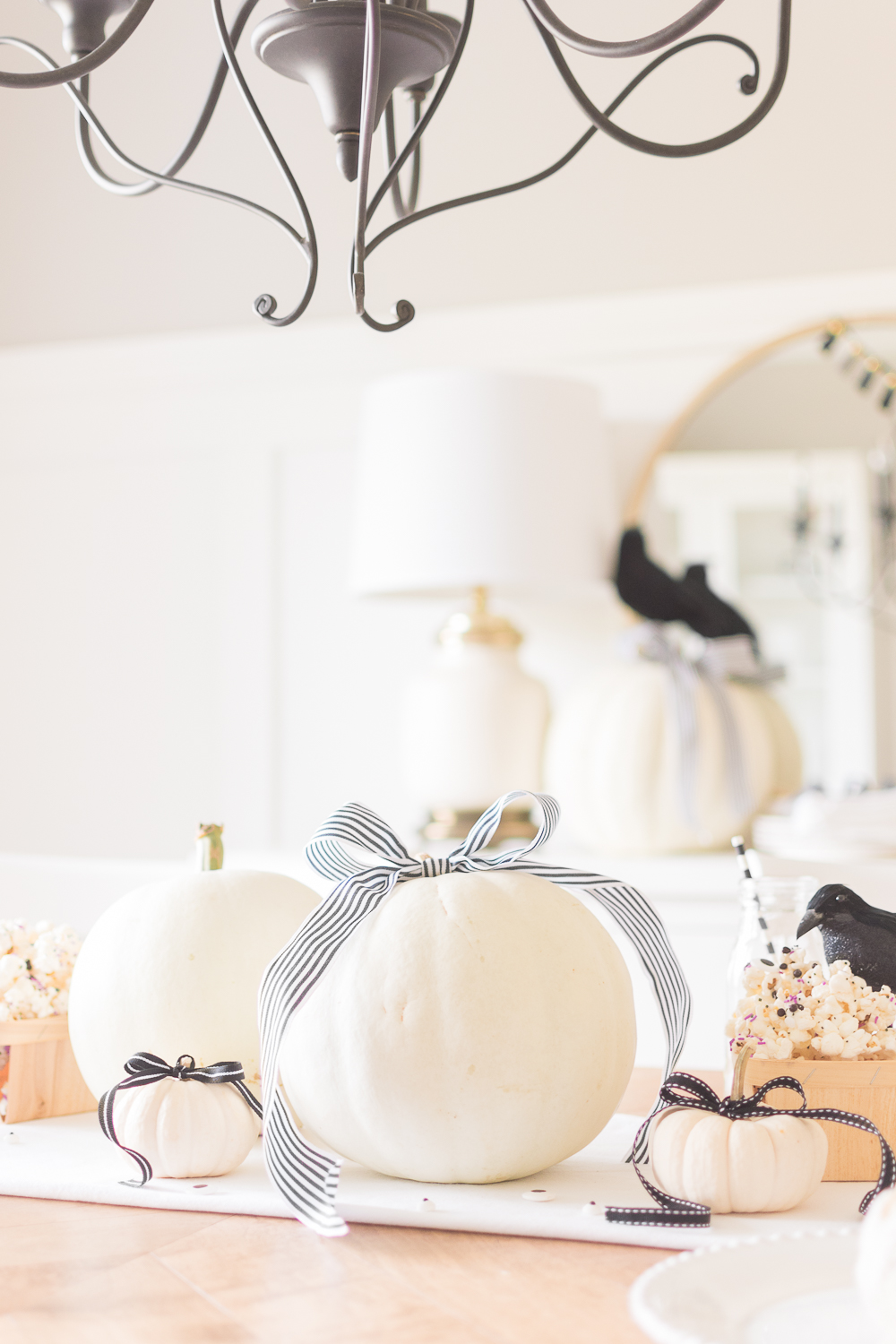 The Decorations
We use our dining room a lot, especially when it comes to hosting parties and in particular, parties with kids. I like that they can all sit around the table and easily chat with one another, snack on goodies and take part in any activities or crafts we have planned. A kitchen with a large island would also be great.
As usual, this party started with a colour palette, and that palette is white and black. I love the contrast and I think it's a sweet nod to Halloween. I set our table using a simple white runner and lined it with Baby Boo pumpkins. Two larger white pumpkins make an easy centerpiece in the middle of the table (you want to make sure their small enough the kids can see over them). Next, I used a mix of white and black ribbon to tie bows around each pumpkin stem. It's a little detail that makes the decor feel sweet instead of spooky.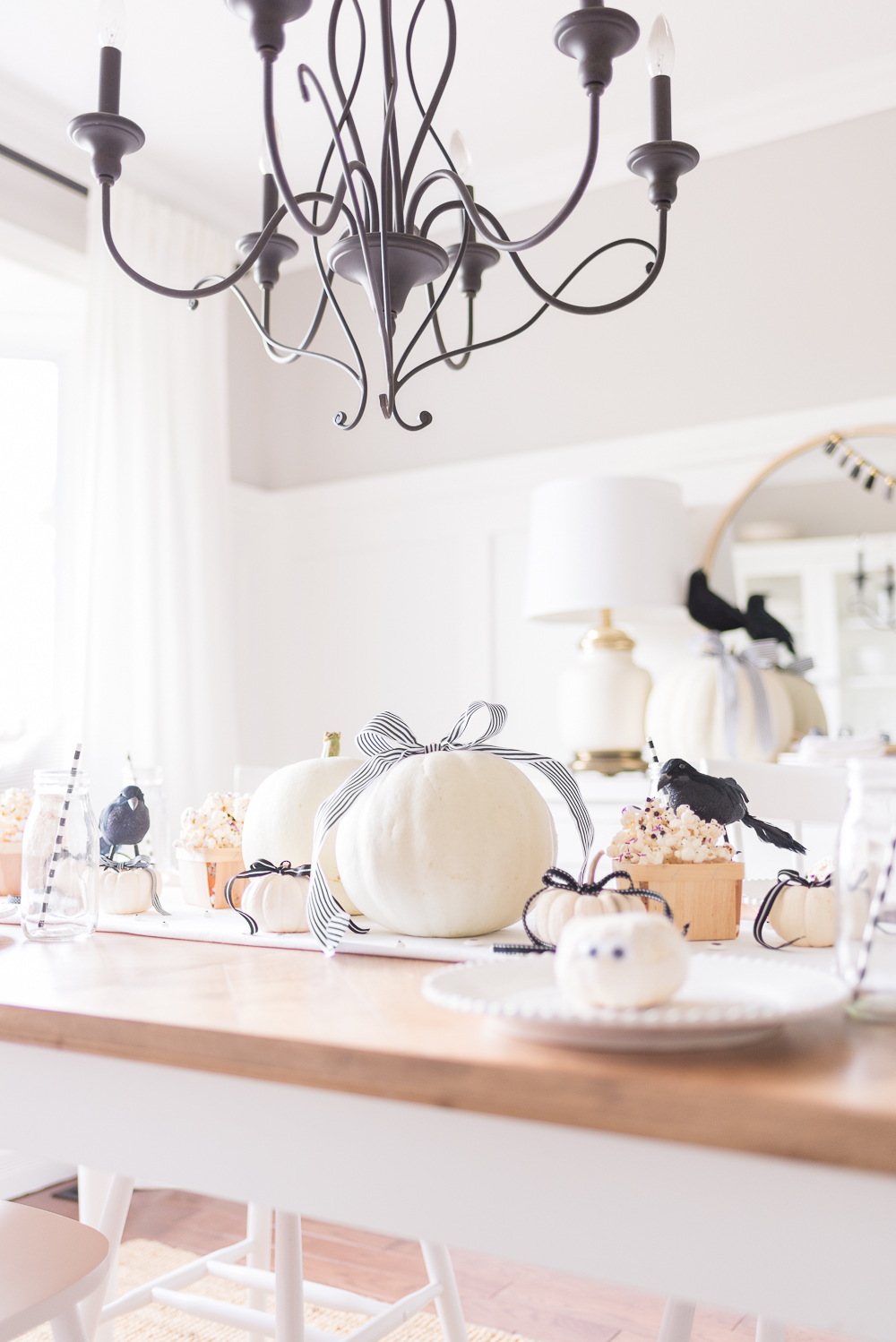 I filled small wood berry baskets with our homemade Halloween Monster popcorn. I love using food as part of our party decor, it helps fill in those empty spaces and makes snacking super easy for little hands. You could also add small white bowls of candy to decorate the table too.
A few cute crows make an appearance as well. There's nothing really scary about them, but they still bring in a touch of Halloween spirit. All of the birds have wire picks on their feet and I used those to secure them to the pumpkins and basket of popcorn.
I felt like it was still missing something, so I dotted the runner with leftover candy eyes. Cute, right?
Each seat is set with one plate, a milk bottle drinking glass and a black and white paper straw. I didn't need to set out silverware because only treats and candies were being served. And a stack of white napkins was readily available on the sideboard. I wanted to keep each place setting uncluttered and simple.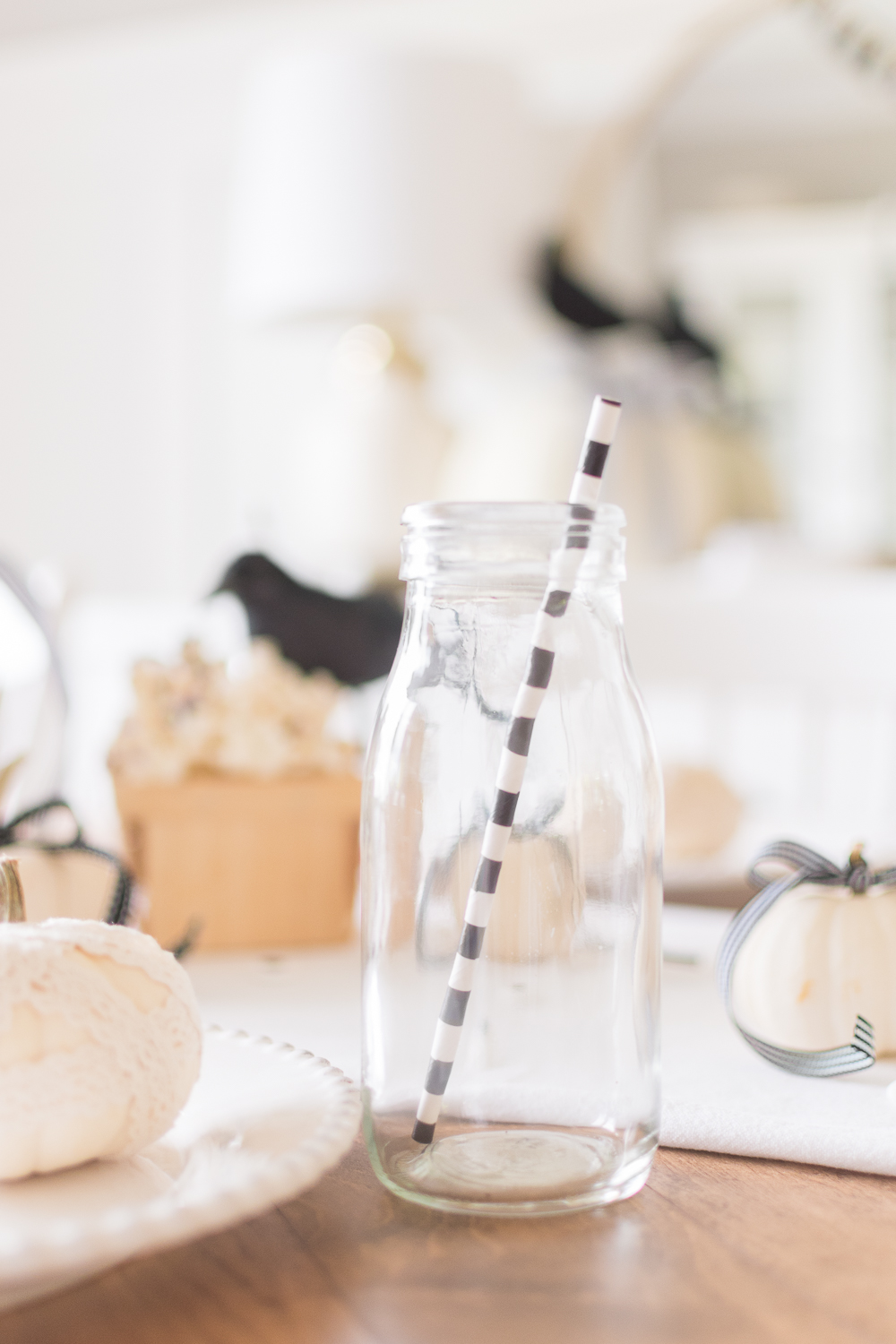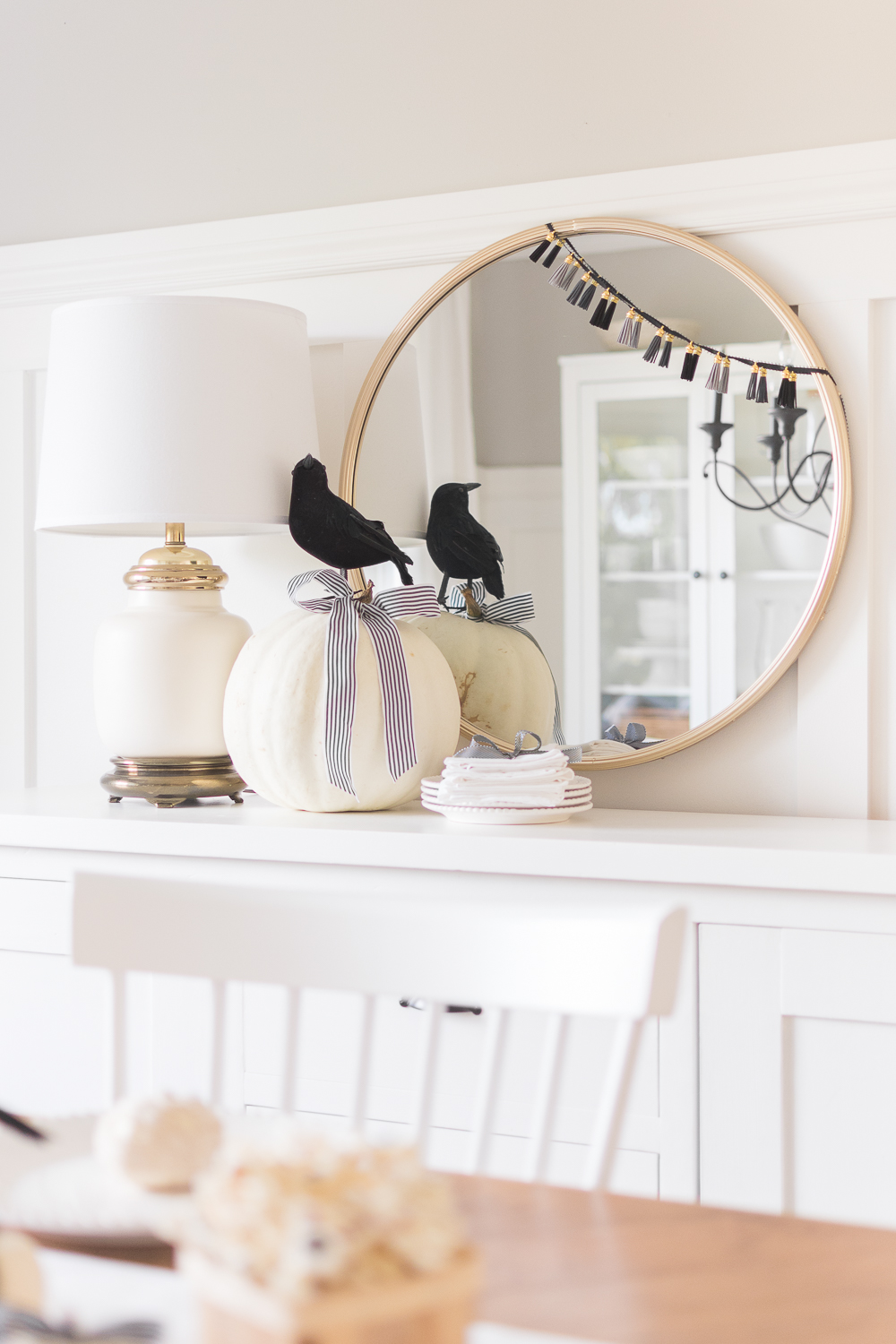 The rest of the decor is very simple. A big white pumpkin and crow sit on the sideboard to tie it all together. Along with a homemade tassel garland hung on the mirror.
The Food
I always like to have the food we serve at a party match the theme. In this case, it's pretty easy to dream up Halloween-related treats, like our Halloween Monster Popcorn. You can be a little more creative than you would normally (just search Pinterest for millions of ideas) and the kids will love it!
Keep the food simple and choose snacks and goodies that can be made ahead of time.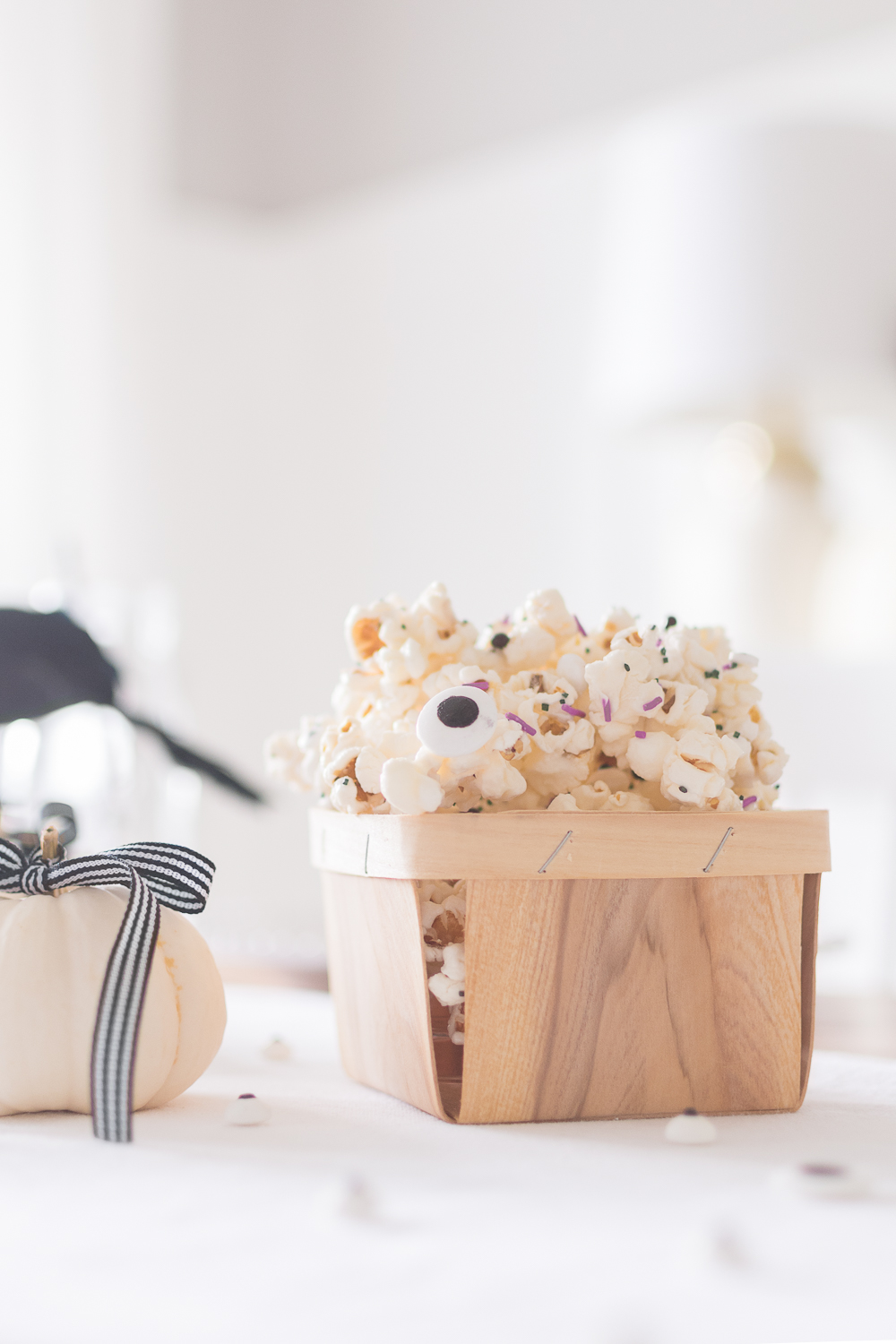 The Activities
As I said, it's best if the kiddos are busy so they stay out of trouble. When we host a party with little ones I always plan a few crafts, activities and games to play throughout their time at our house. As soon as they start to get a little antsy or I notice an argument brewing I bring everyone back around with a fun activity.
Again, the crafts and activities should coordinate with your theme or the holiday. Colouring pages are always a hit, and I always like to include one easy and inexpensive craft each child can make and take home, like these adorable Mummy Pumpkins.
Zoe and I had a lot of fun making these little guys, and we'll be sharing the tutorial next week if you're interested.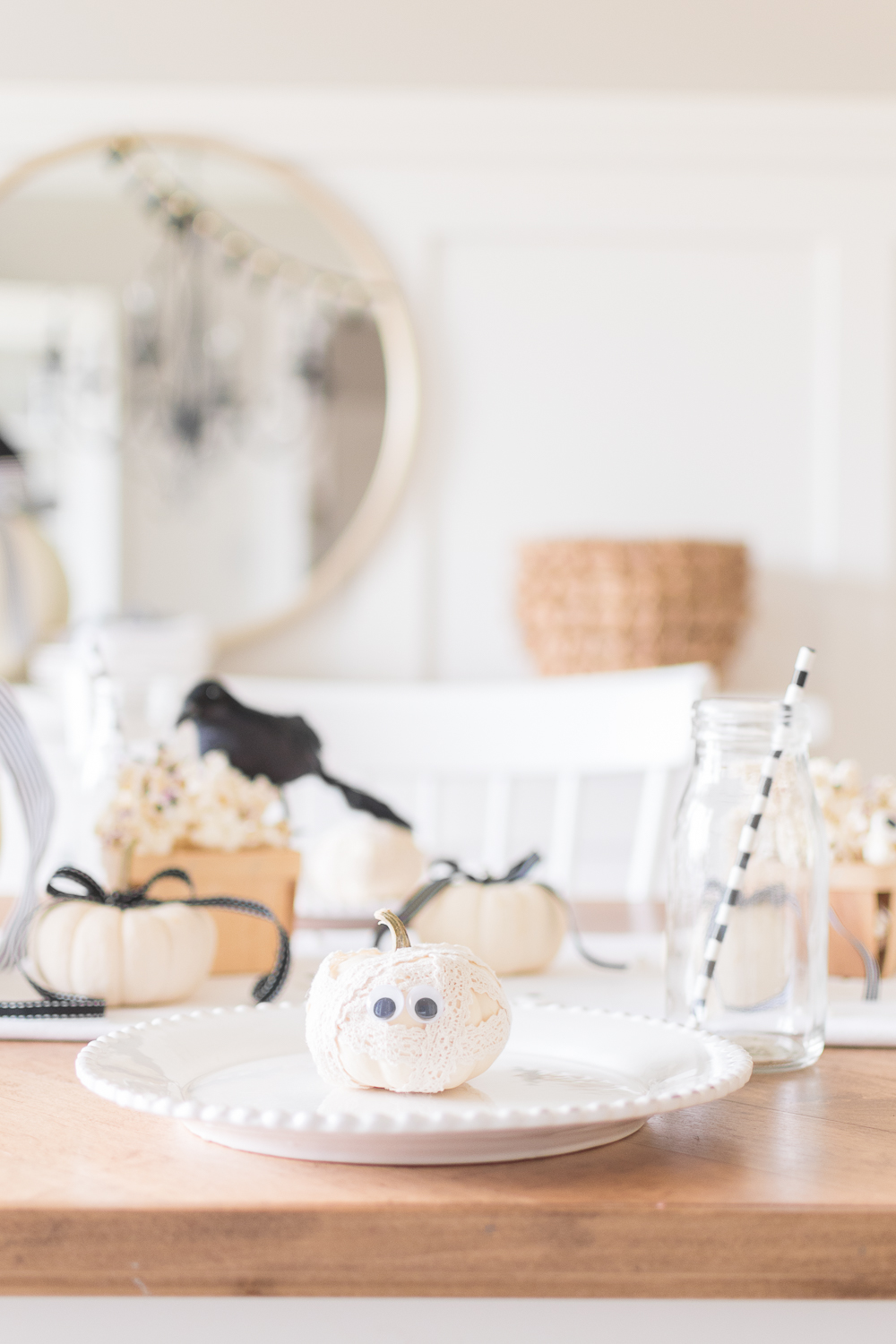 Well, I hope you enjoyed these sweet, not spooky, Halloween party ideas for kids. For the most part, I was able to use things we already owned, and I only had to purchase a few extra Baby Boo pumpkins and the paper straws which I found at our dollar store. Remember to think outside of the box, shop your home and just have fun!
Do you celebrate Halloween? If you do, we'd love to hear your favourite Halloween traditions we're always looking for new ideas to share with our girls!
Even More Halloween Decor Ideas
Ella Claire & Co. | So Much Better With Age | Taryn Whiteaker | Live Laugh Rowe | Kindred Vintage
Nest of Posies | Twelve On Main | Nick + Alicia | Paint Me Pink | Town and Country Living
Zevy Joy | My Sweet Savannah | Kelly Elko | The Wicker House | Sagehill Cottage