Follow these 5 easy steps to set the perfect holiday table this Christmas.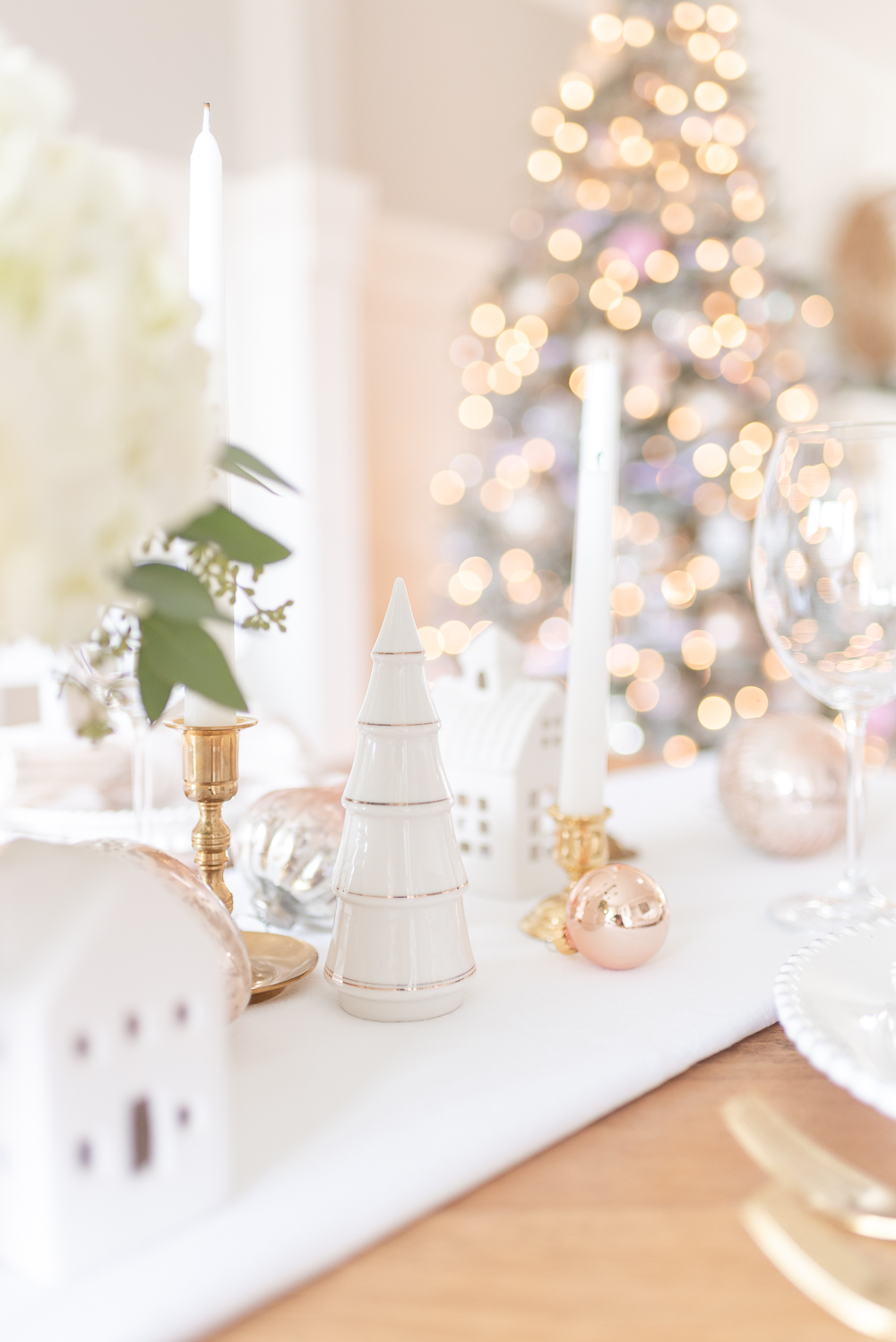 One of the things I love most about Christmas is gathering together with friends and family to celebrate the season. Whether it's a few friends popping in for an unexpected visit or hosting a big family dinner, a house full of people and laughter is something I love the most.
And while this is a season of celebrating, I think it's important to remember you don't need a big, beautiful house or know how to cook an extravagant meal to welcome family and friends into your home. It can be so easy to get caught up with feelings of inferiority, it happens to all of us. It takes just a minute of scrolling Instagram or Pinterest to feel like what we have isn't good enough. There will always be those thoughts that our homes aren't big enough or renovated the way we would like and then it's easy to make excuses to put off hosting parties or gatherings. But I think it's so important to push those thoughts aside and just do it. After all, it's about being together with those you love rather than what your home may or may not look like.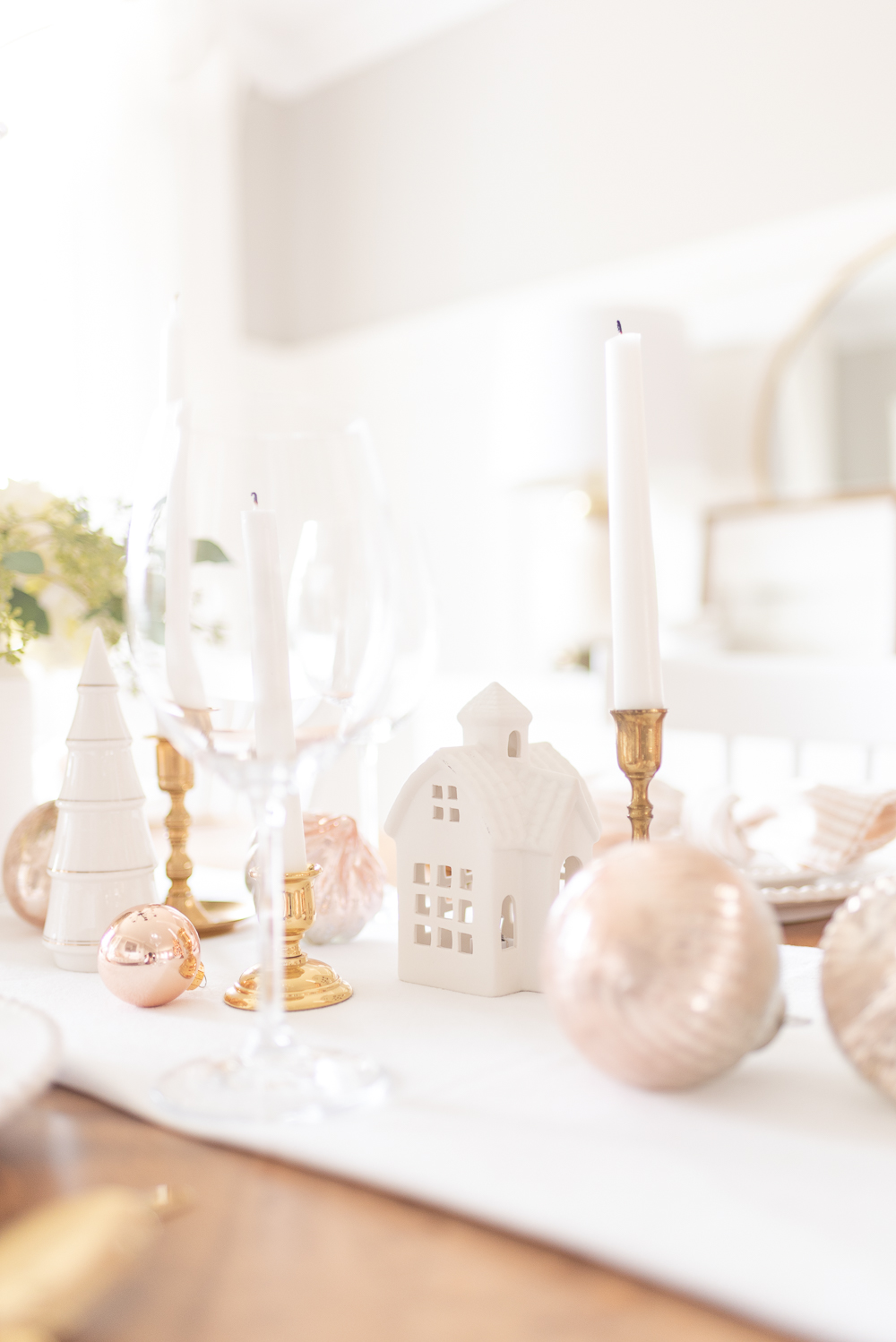 ---
get the look

---
When we're hosting my favourite way to create a festive mood is to set a beautiful table. To keep it easy and budget-friendly, I always follow 5 easy steps and in the end, I always have a pretty place to welcome our guests to dinner.
5 Easy Steps to Set the Perfect Holiday Table
1. Choose a theme or colour palette
Before you get to work setting your table you'll want to start by narrowing down a theme or a colour palette. To make it easy take into consideration the style of your home and your existing holiday decor so that it feels cohesive. Our home is very bright with a lot of white and natural elements so I kept this in mind while setting our holiday table. This Christmas I took a completely new direction with our colour palette. Instead of decorating our Christmas tree (you can shop our tree here) in neutrals I added pops of pastels, like lavender, pink and blue, so I wanted to make sure I carried a few of these soft colours to our table as well.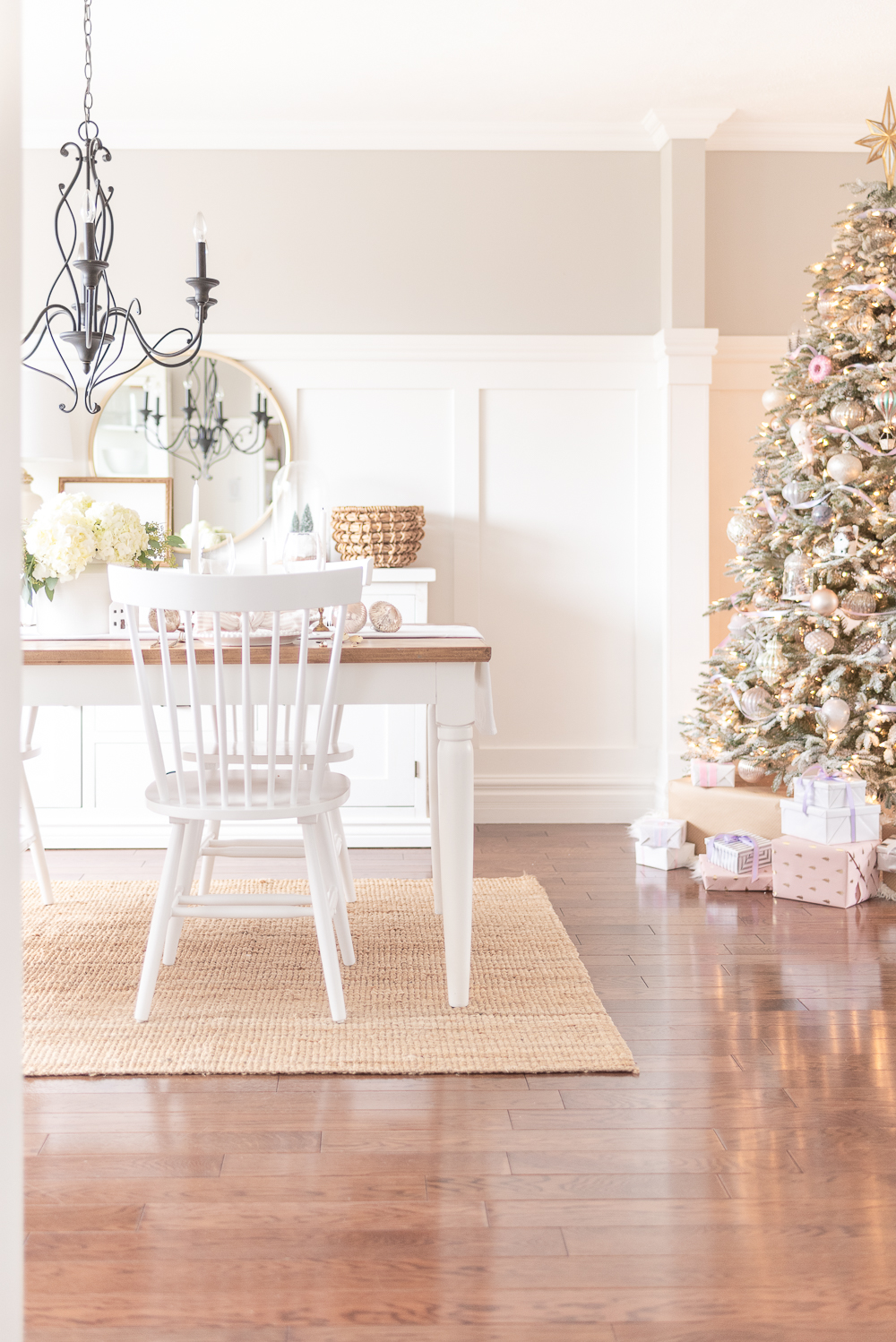 I ended up only incorporating a few blush coloured pieces, as I didn't want the table to feel too childish or young.
2. Set Each Place Setting
Now that you have decided on your theme or colour plalette you can set your table. You'll need to choose dishes, glassware, cutlery, and linens for each place setting.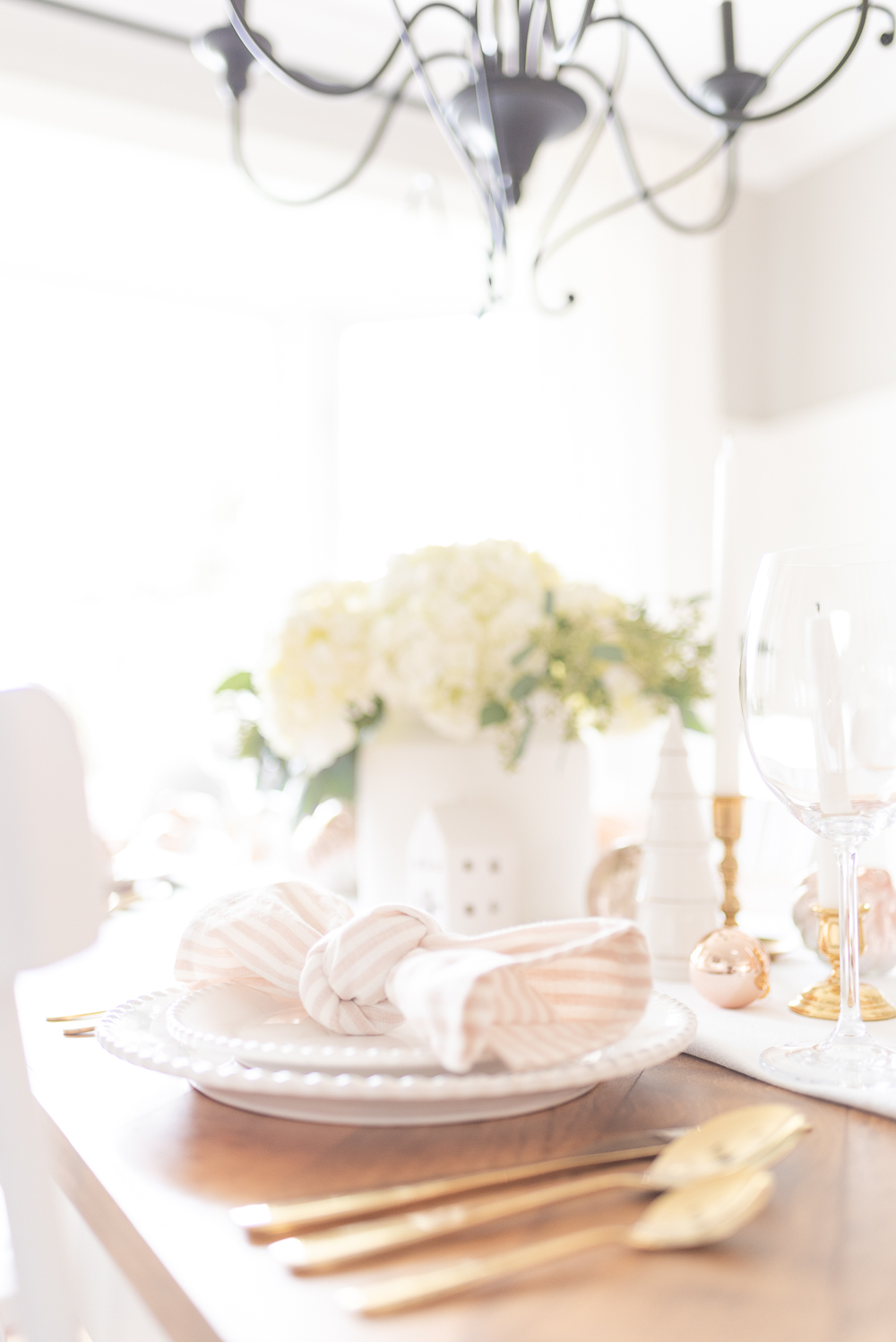 We have a set of everyday dishes that I always use for company as well. They are a set of earthenware dishes in white with a delicate beaded detail, I love that we can use them daily but they are pretty enough for holidays and special occasions too. We don't have a lot of extra cupboard space so purchasing pieces that can do double duty is always important to us.
We also have a set of simple wine glasses we always use for parties or special dinners.
Cutlery in brass adds a little bit of sparkle to the table and plays off of the other brass pieces in our dining room. I love the warmth that it instantly adds to any space.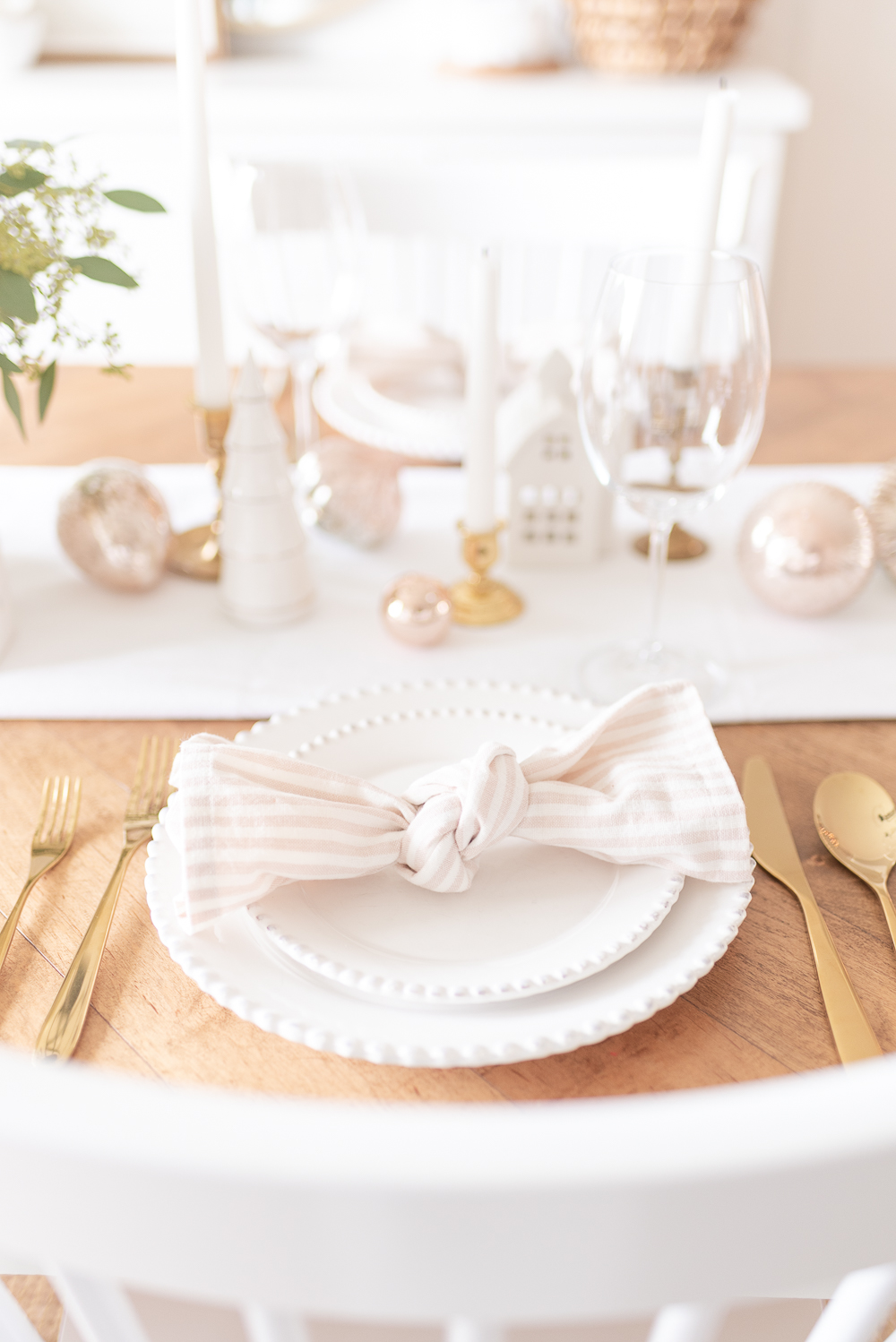 Finally, linens. Linens are something I tend to buy more often, depending on the season or holiday. They are usually inexpensive and are much easier to store than a full set of dishes, and are a great way to mix up your table each season. Whenever I buy something new for a holiday or gathering, I always think about how we can reuse or repurpose them later, that way I'm not sending money on something we'll use only once a year. I bought these white and blush striped napkins last year for Easter (here), but we've used them throughout the summer (here) and now Christmas too.
To make these adorable bows, simply fold the napkins length-wise and tie them in a knot in the center. I think it adds a playful touch to our holiday table and flows with the rest of our Christmas decor.
3. Arrange a Floral Centerpiece
What's a table without a few flowers, right? This is when your colour palette will come in handy again. Head to your favourite florist or grocery store and pick up a few flowers that coordinate with your holiday colours.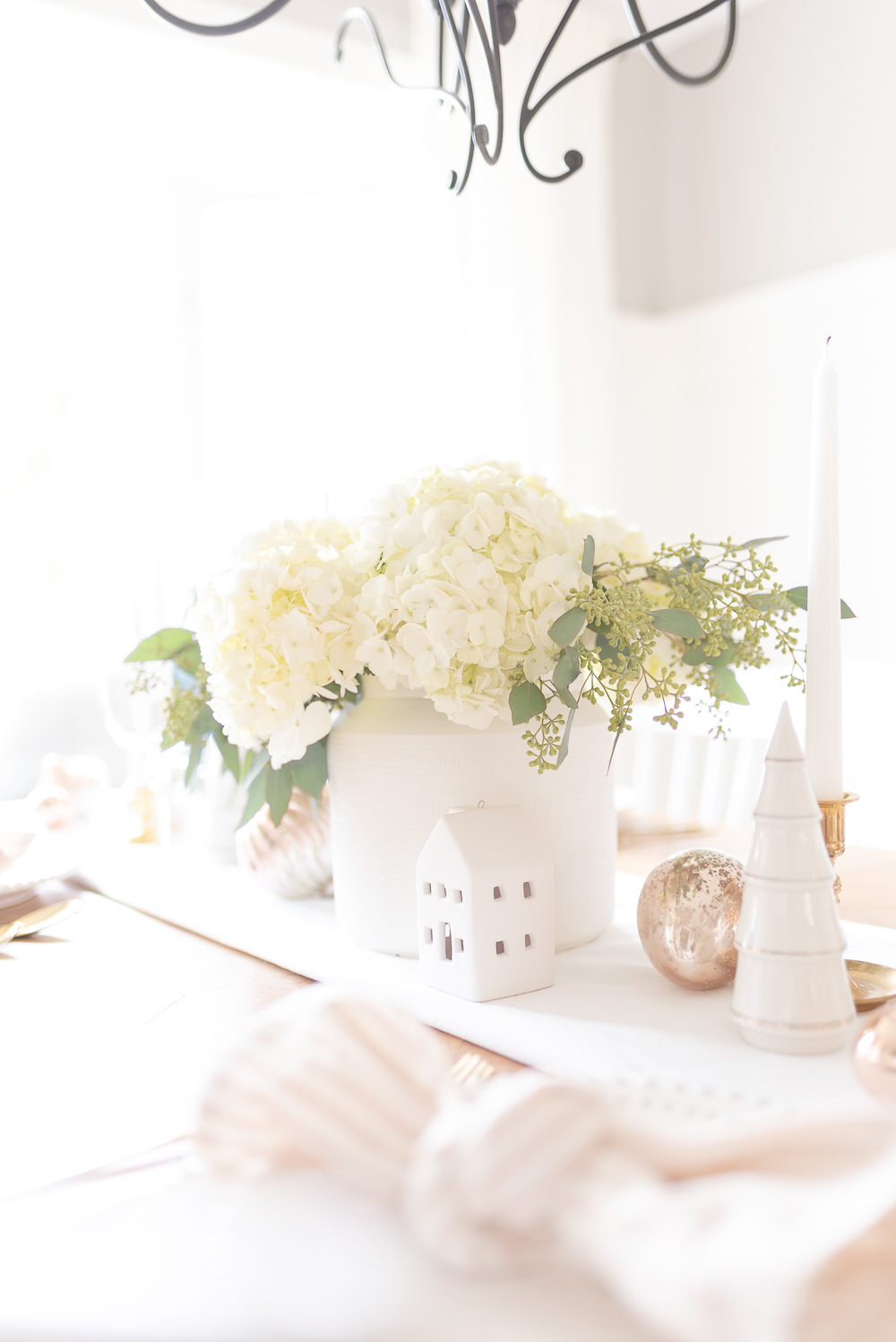 I kept our centerpiece simple this year, with a few white hydrangeas and seeded eucalyptus in a textured white vase. Originally I planned to add smaller bud vases with soft pink and lavender roses to the table as well, but I thought it looked too busy so I didn't use them in the end. You can see some of the other floral centerpieces I've made here.
4. Add Ambiance with Candle Light
Candles are such an easy and inexpensive way to add a little bit of ambiance to any tablescape. I found these brass candlesticks at a secondhand store a few years ago, (they always have a fun selection) and I use them so often. I chose brass again as I like the way it coordinates with the other elements in our dining room and they add so much warmth to the table.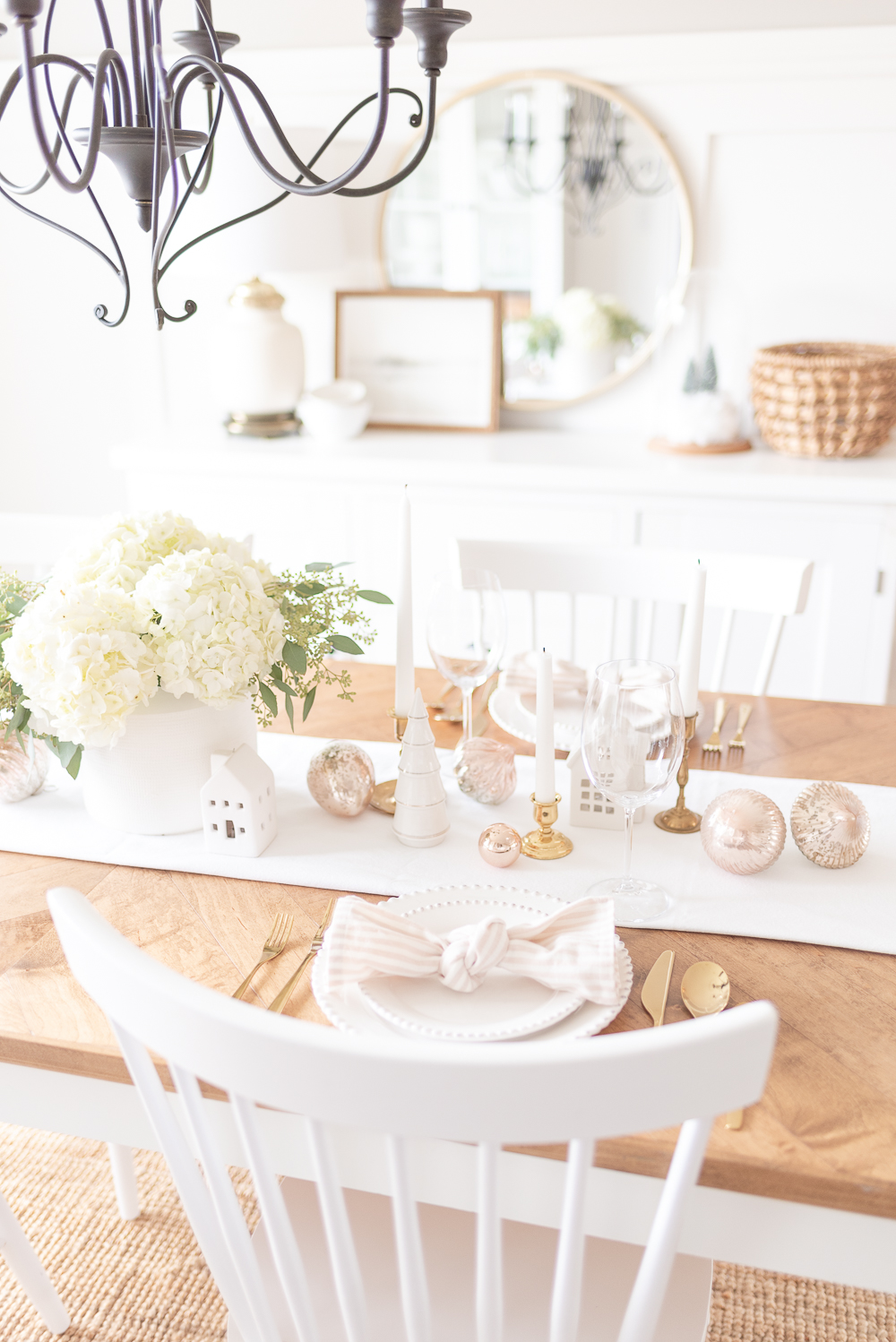 I simply layered the candles along the center of the table to add a bit of height and dimension. You could also add in a few votive candles too.
5. Add Decorations for a Whimsical Touch
Finally, I added a few holiday decorations to add interest and a festive feel. Again, these decorations flow with the rest of our holiday decor so that everything feels cohesive and put together.
Small white ceramic houses and trees set a playful scene, while blush mercury Christmas ornaments (shop our ornaments here) add a little touch of colour.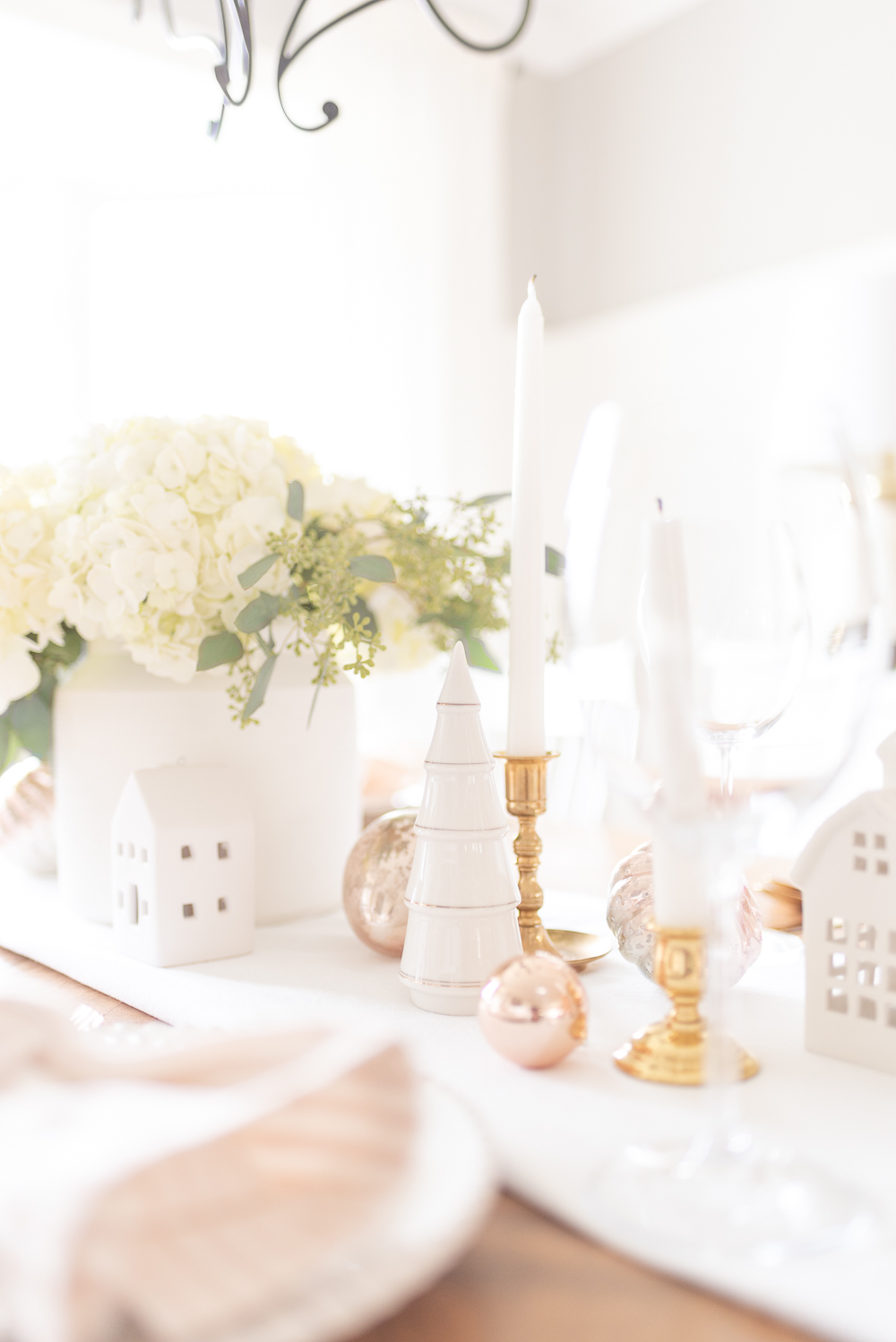 Now that I've shared my 5 easy steps to set the perfect holiday table, I hope you'll take a few minutes to visit my friends below.
18 Beautiful Christmas Tablescapes to Inspire Your Holiday Entertaining

Rooms FOR Rent | Modern Glam | Home Made Lovely | My Sweet Savannah

Maison De Cinq | Almafied | Pine & Prospect Home | Craftberry Bush

Making Home Base | Paint Me Pink | Sincerely, Marie Designs | The Happy Housie

Zevy Joy | Amber Tysl | Nick + Alicia