Puff pastry filled with brie and roasted pear creates a delicious tartlet and the perfect holiday appetizer.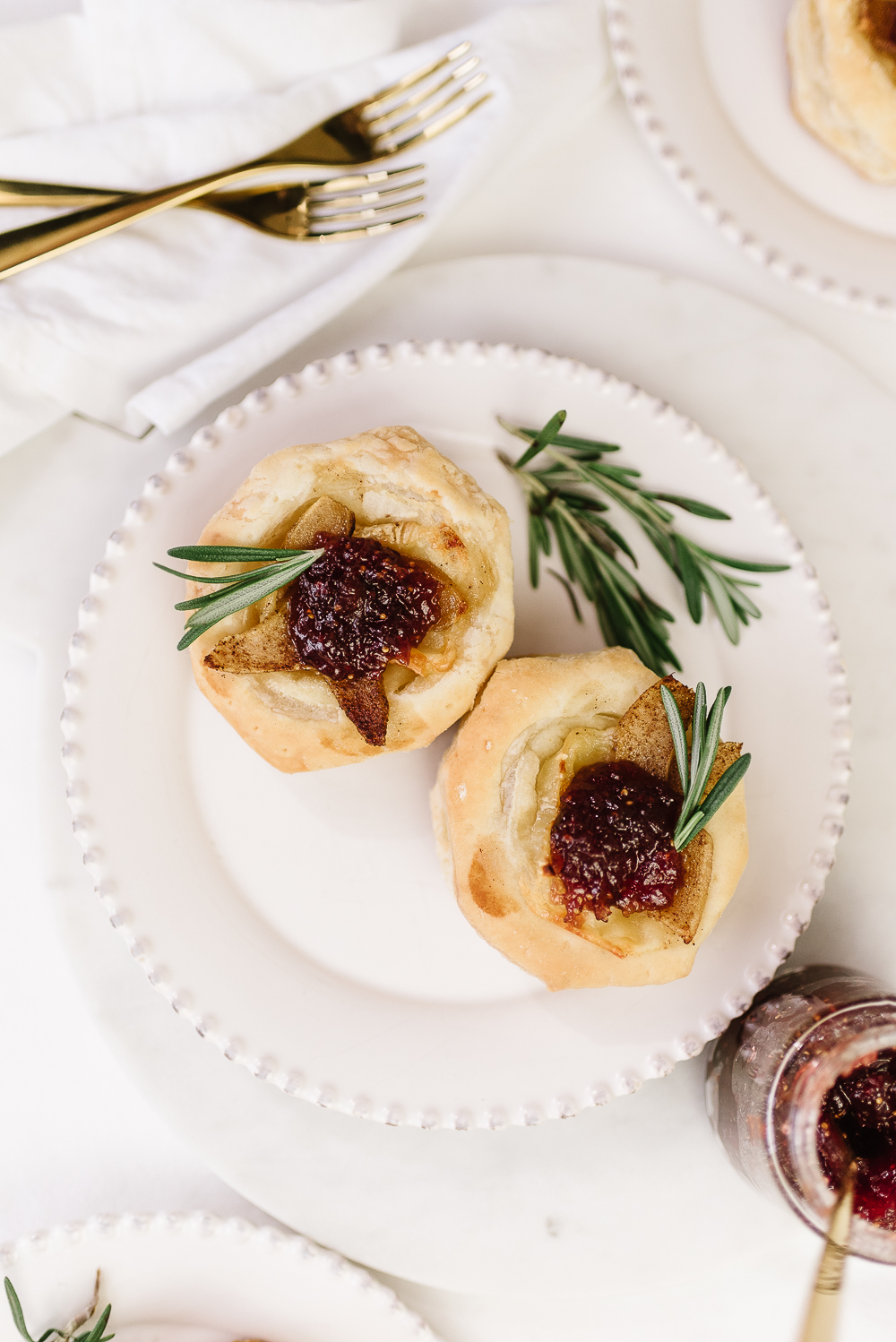 The season of entertaining is upon us again and that has us thinking about new appetizers to serve up to our friends and family when we are hosting over the holidays. These brie and roasted pear tartlet appetizers are just one of a few that we've come up with to tantalize their taste buds.
Add it to a charcuterie board, or pair it with several other appetizers, like our tomato and bruschetta flatbread (which is always a hit!).
I've been on a pear kick this past fall. For a while there I was eating at least two or three a day. Unlike apples, I find pears need to reach the exact perfect ripeness. I spend a lot of time in the fruit aisles at the grocery store testing to see which pears, mangos, kiwi, and peaches are at their peak. I'm sure that I get a lot of looks from fellow shoppers because I do spend a little too much time squeezing various fruit. But who wants to buy unripe fruit?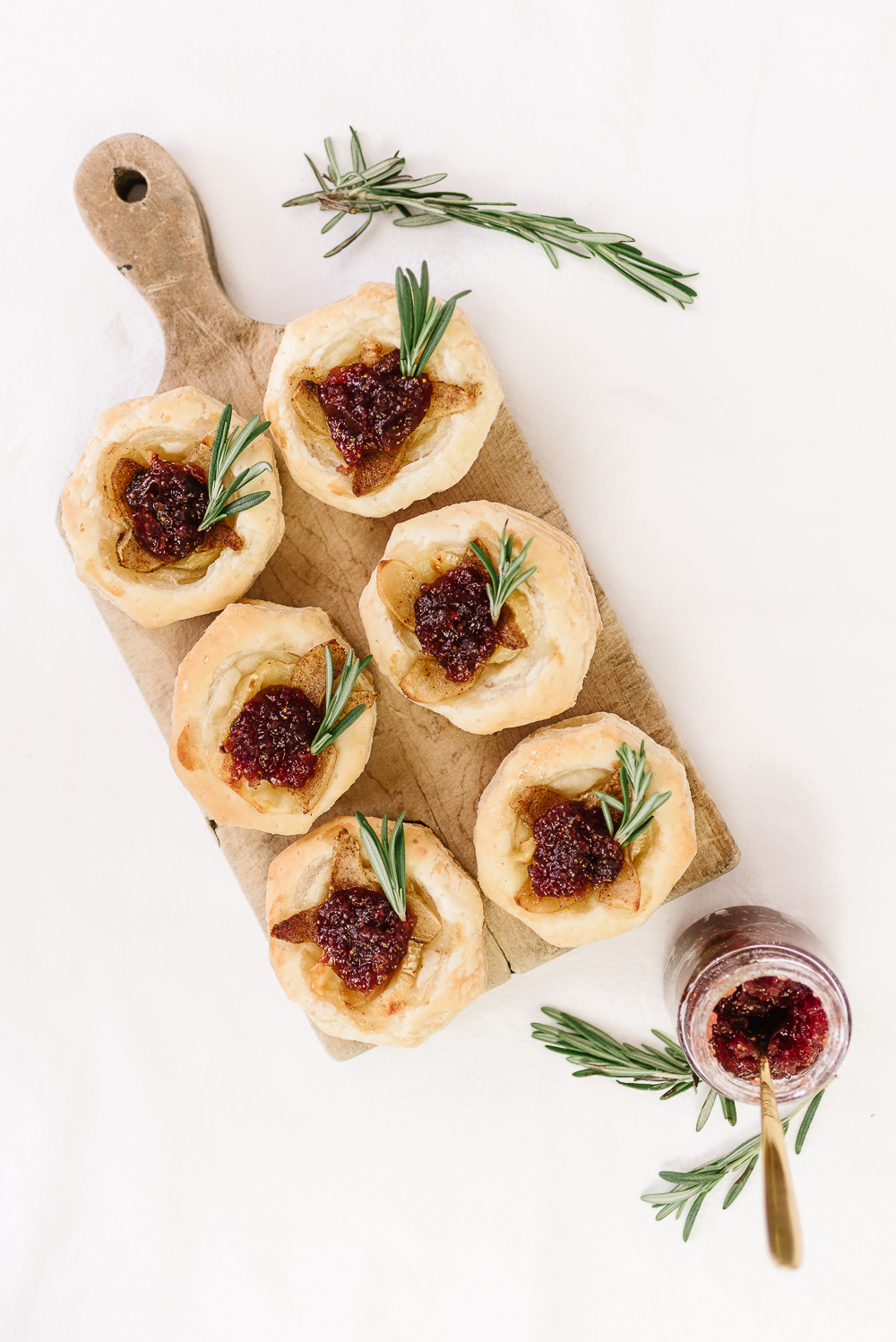 Now if you're feeling adventurous you can always try making your puff pastry, but I find that the frozen stuff from the grocery store works just as well, with a lot less work! It's not that it's that hard to make (it only has three ingredients), it's just that it is very time-consuming and labour intensive.
Briefly roasting the sliced pear brings out the sweetness, while relaxing them just enough to stack onto the cooked puff pastry and brie bases.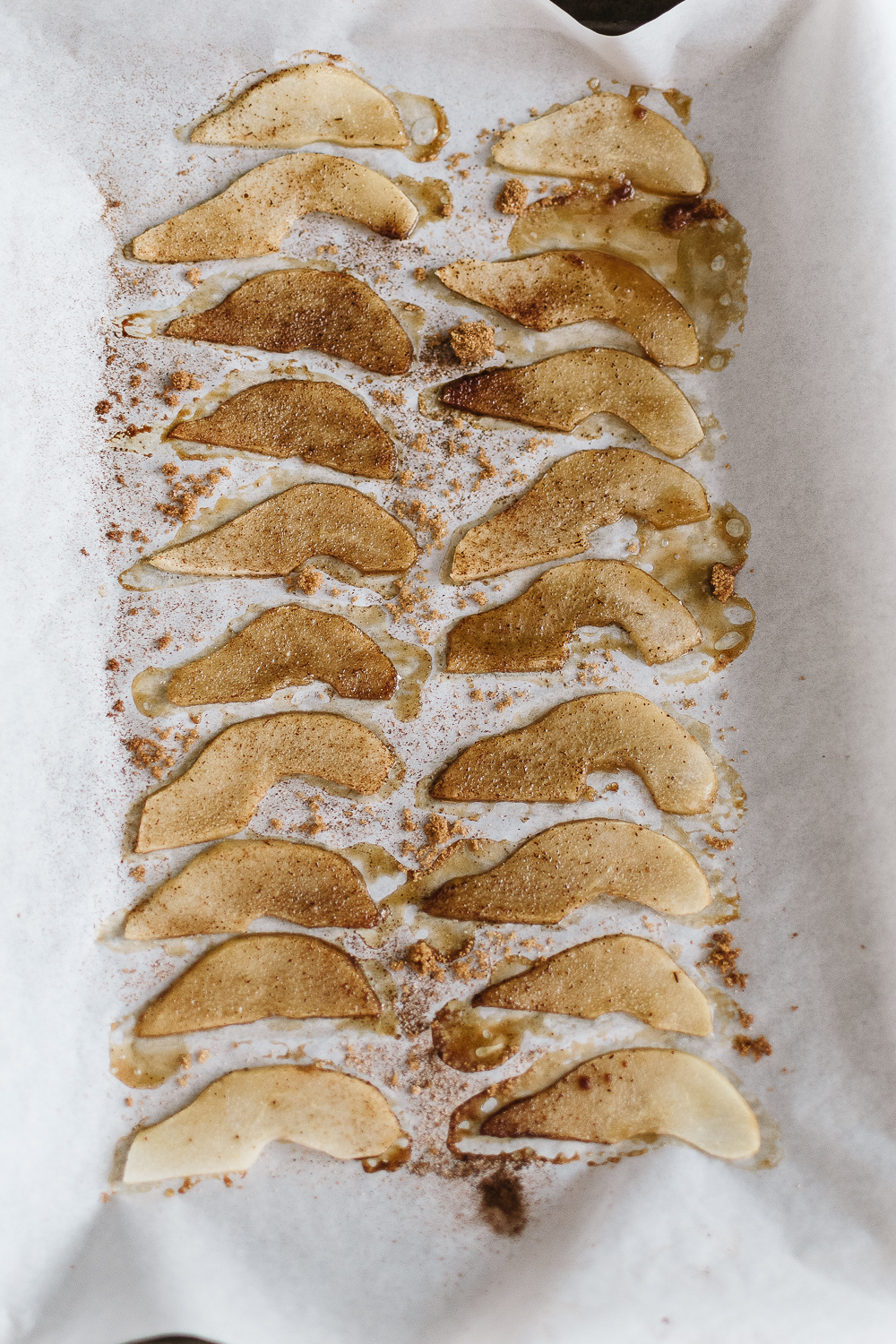 I could have stopped right here and topped vanilla ice cream with these roasted pears (feel free to do so if that sounds good to you!). The aroma that filled our kitchen when I took them out of the oven was incredible.
So how did they taste?
When layered together, the buttery taste and light and airy texture of the puff pastry, coupled with the mild and creamy taste of the brie, topped with the sweet and spiciness of the pears, and slight zest of the fig cabernet jelly becomes a perfect combination.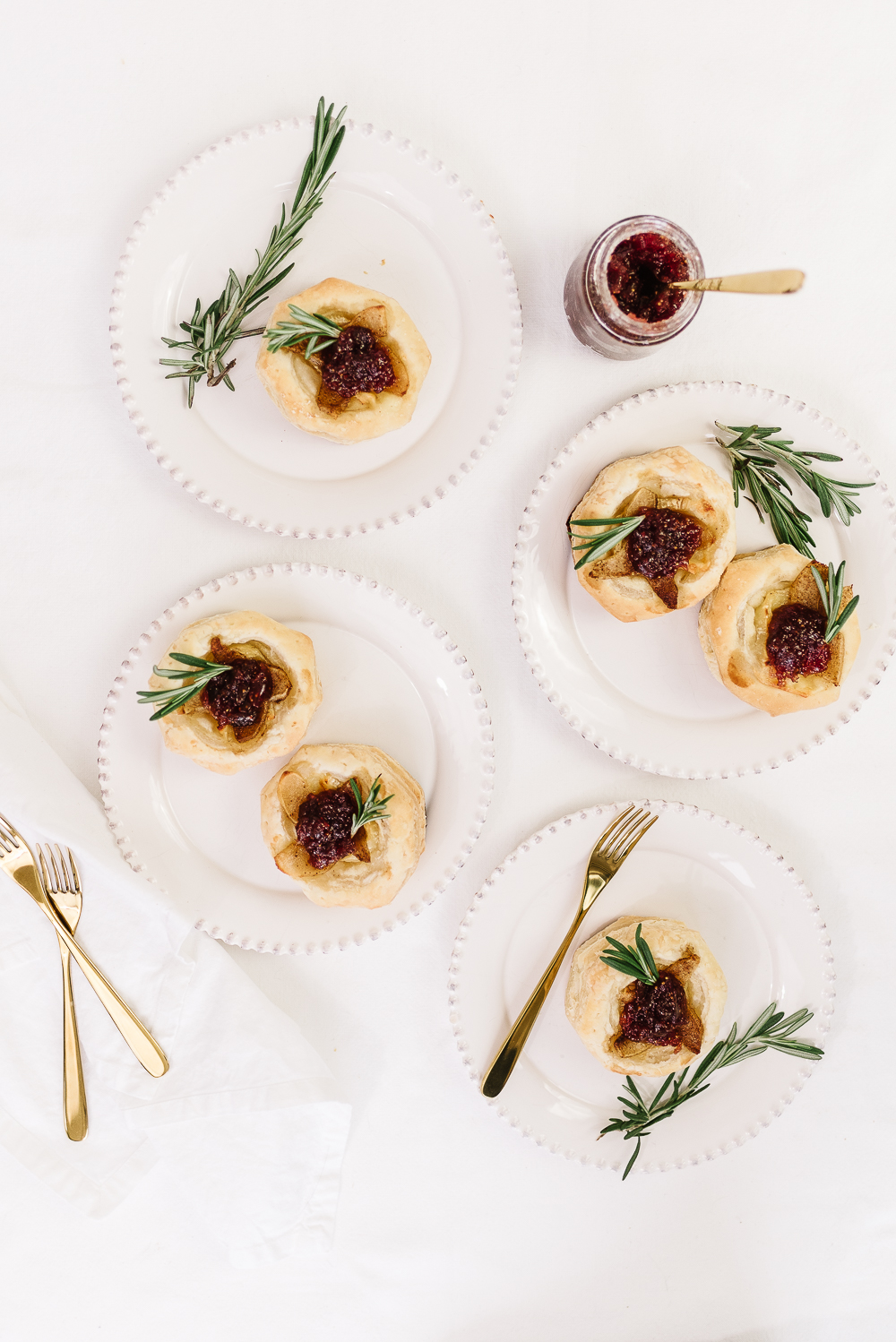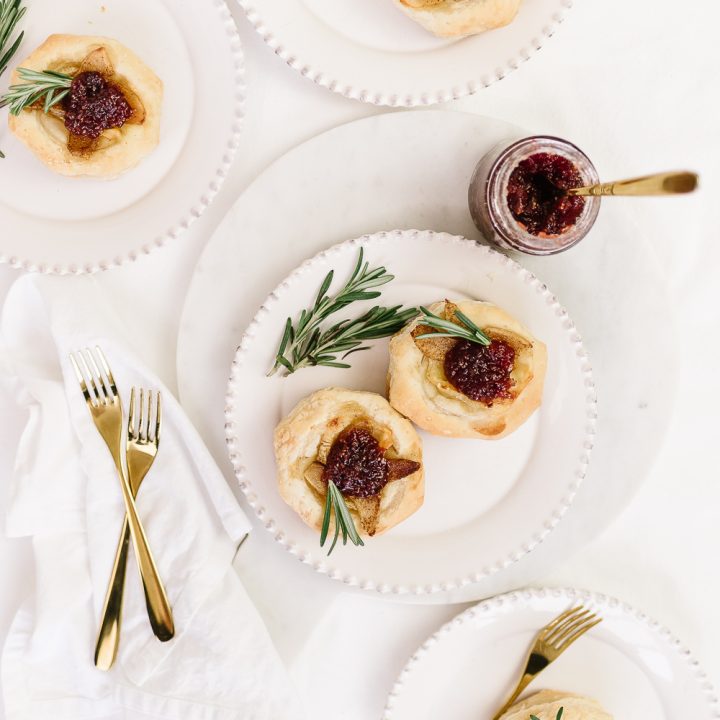 Brie and Roasted Pear Tartlet Appetizer
Ingredients
6 frozen tart shells/cups, thawed
Brie cheese (at least 200g/7oz), cut into 1/2" slices.
2 bartlett pears, peeled, seeded and cut into 1/4" slices
2 tbsp salted butter, melted
2 tbsp brown sugar
1 tsp cinnamon
1/4 tsp nutmeg
Fig Cabernet Wine jelly (or any fig jelly, like this one)
Fresh rosemary for garnish (optional)
Instructions
Preheat the oven according to the package directions of the puff pastry shells/cups.
Arrange shells/cups on a parchment-lined baking sheet.
Place a few strips of brie into the centre area of the shells/cups.
Bake according to package directions (probably around 13-15 minutes)
While they are baking, peel and slice pears and lay on a parchment-lined baking sheet. Drizzle with melted butter and sprinkle brown sugar, cinnamon and nutmeg over the pears.
As soon as the cups are ready, put the pears in the oven (at the same temperature) and roast for 8-10 minutes, checking frequently to make sure they don't burn.
When the pears are ready, lay two slices criss-cross over the brie and top with the fig jelly.
Serve immediately, or keep warm until ready to serve.
Nutrition Information:
Yield:

6
Serving Size:

1
Amount Per Serving:
Calories:

567
Total Fat:

22g
Saturated Fat:

14g
Trans Fat:

1g
Unsaturated Fat:

7g
Cholesterol:

58mg
Sodium:

187mg
Carbohydrates:

85g
Fiber:

5g
Sugar:

50g
Protein:

5g
Please keep in mind that nutritional information is an estimate and can vary greatly based on products used.