Count down the arrival of Christmas with this easy to make Christmas advent calendar. Fill each bag with a special treat, gift or note for your little one to open each day leading up to Christmas and you're sure to create an unforgettable family tradition.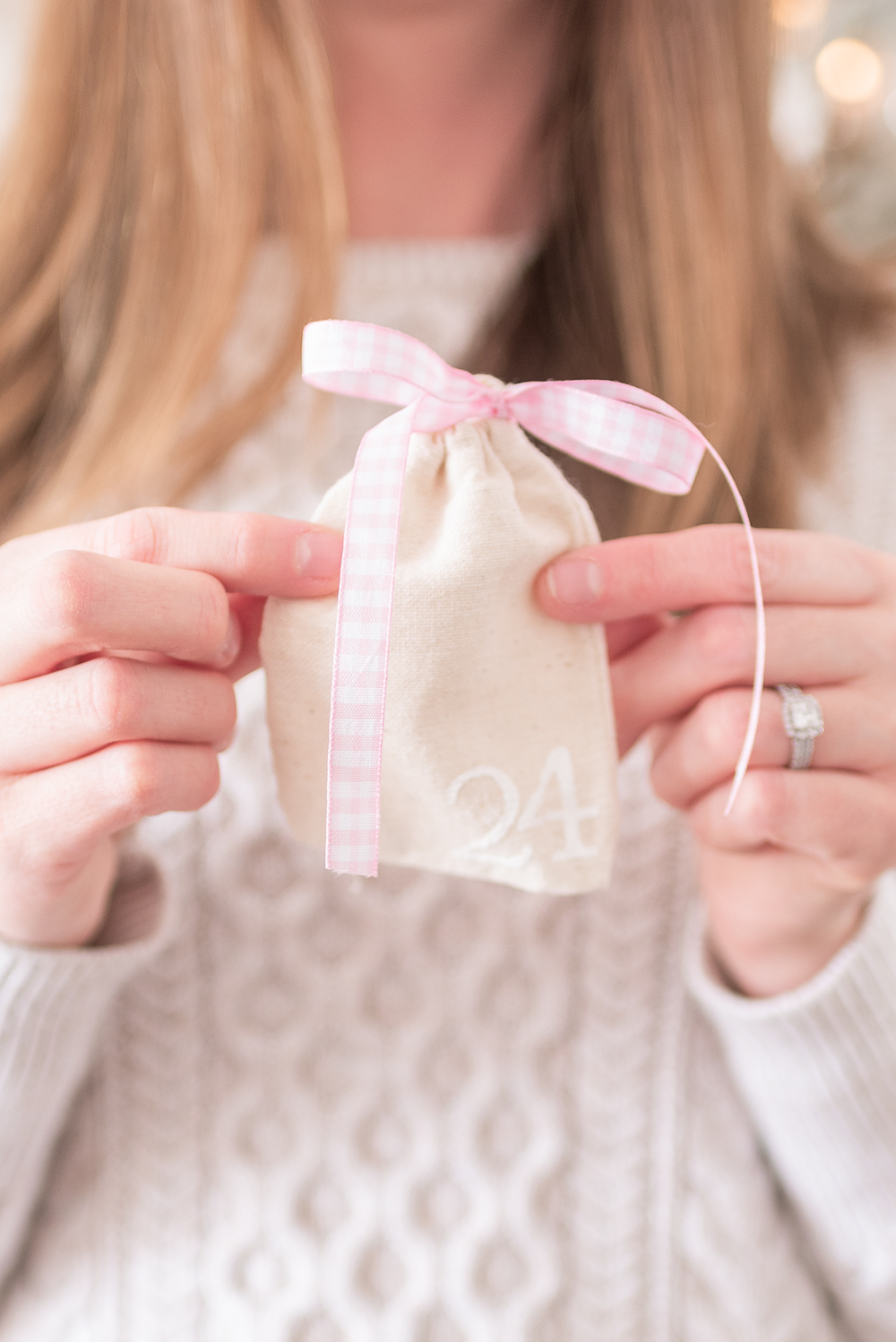 Advent calendars are one of my very favourite Christmas traditions. As a child, I can remember the excitement I felt every morning during the month of December as I raced into the kitchen to open that little square and devour the chocolate hidden inside. It was always so fun to count down the days until Christmas and feel the anticipation build as Christmas Eve crept closer and closer. Even now that I am grown, I still love a great advent calendar. In fact, I have a really sweet story to share.
Let's go back all the way back to December 2013. I had been joking with Nick about buying a chocolate advent calendar and he kept teasing me that I was too old for one. Well, a few days into December, on the 6th to be exact, Nick surprised me with one. I think he actually said he bought it because they were all on sale since we were about a week into December already. I was totally ok with that, it meant I got my advent calendar and we got to eat six chocolates in a row. We took turns opening each little door to find the chocolate inside until it was my turn to open the last one. I found the number 6 and peeled back the cardboard flap but instead of chocolate, I found the most beautiful diamond ring. I looked up and Nick was on one knee asking me to marry him, and well the rest is history.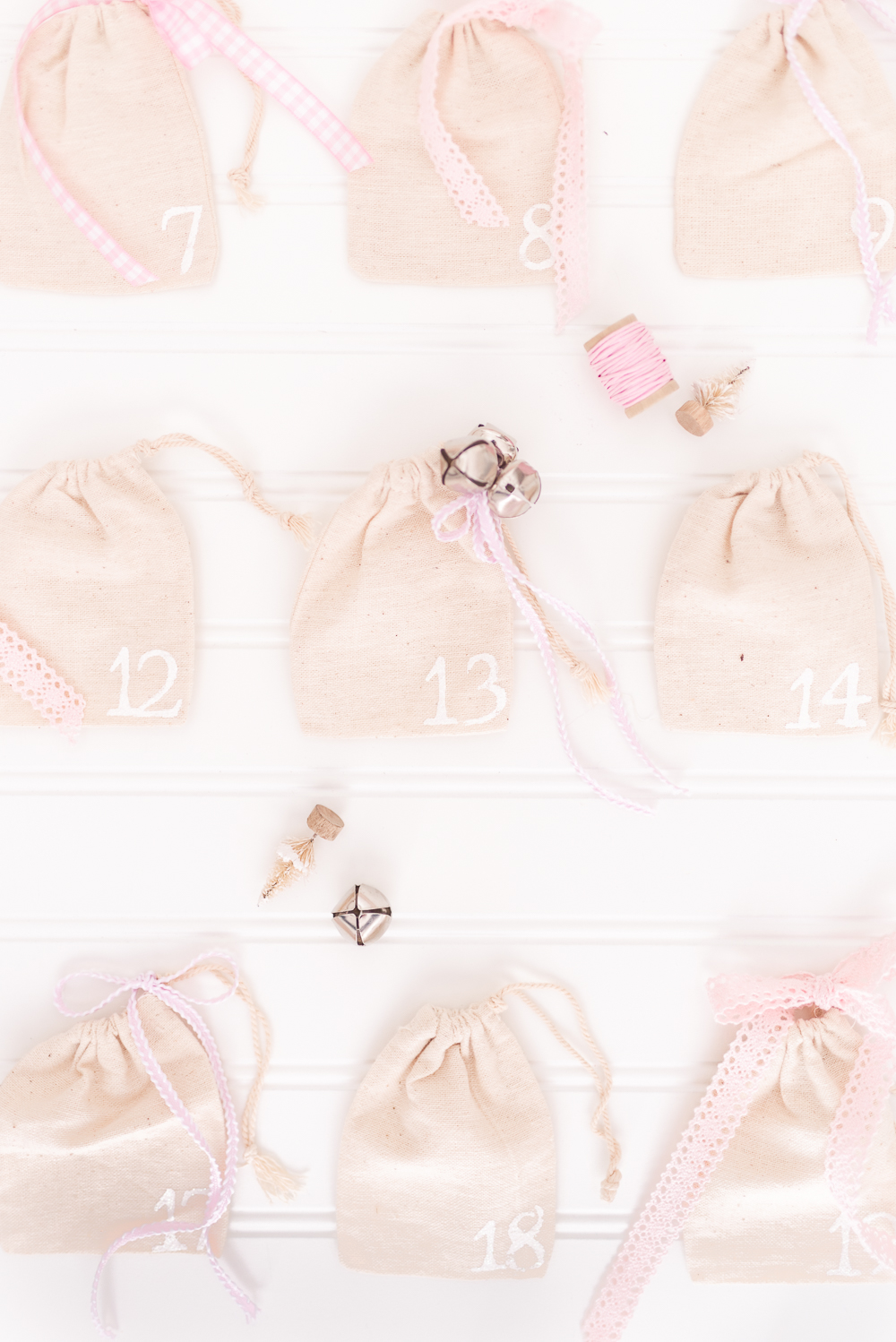 He did quite a bit of finagling to make it happen while keeping me in the dark, but he did and it was one of the best surprises ever!
So, of course, I've continued to make advent calendars one of our family's Christmas traditions. We usually still buy Zoe a chocolate calendar but I also like to make our own as well. A few years ago, I shared this really easy Christmas advent calendar made from small canvas bags. I bought the bags from a craft store and stenciled the number on each one with paint and a little bit of glitter. Super easy! I ended up hanging them on the garland along our stair banister as a way to display them. I loved that not only was it a fun Christmas tradition but it also doubled as holiday decor.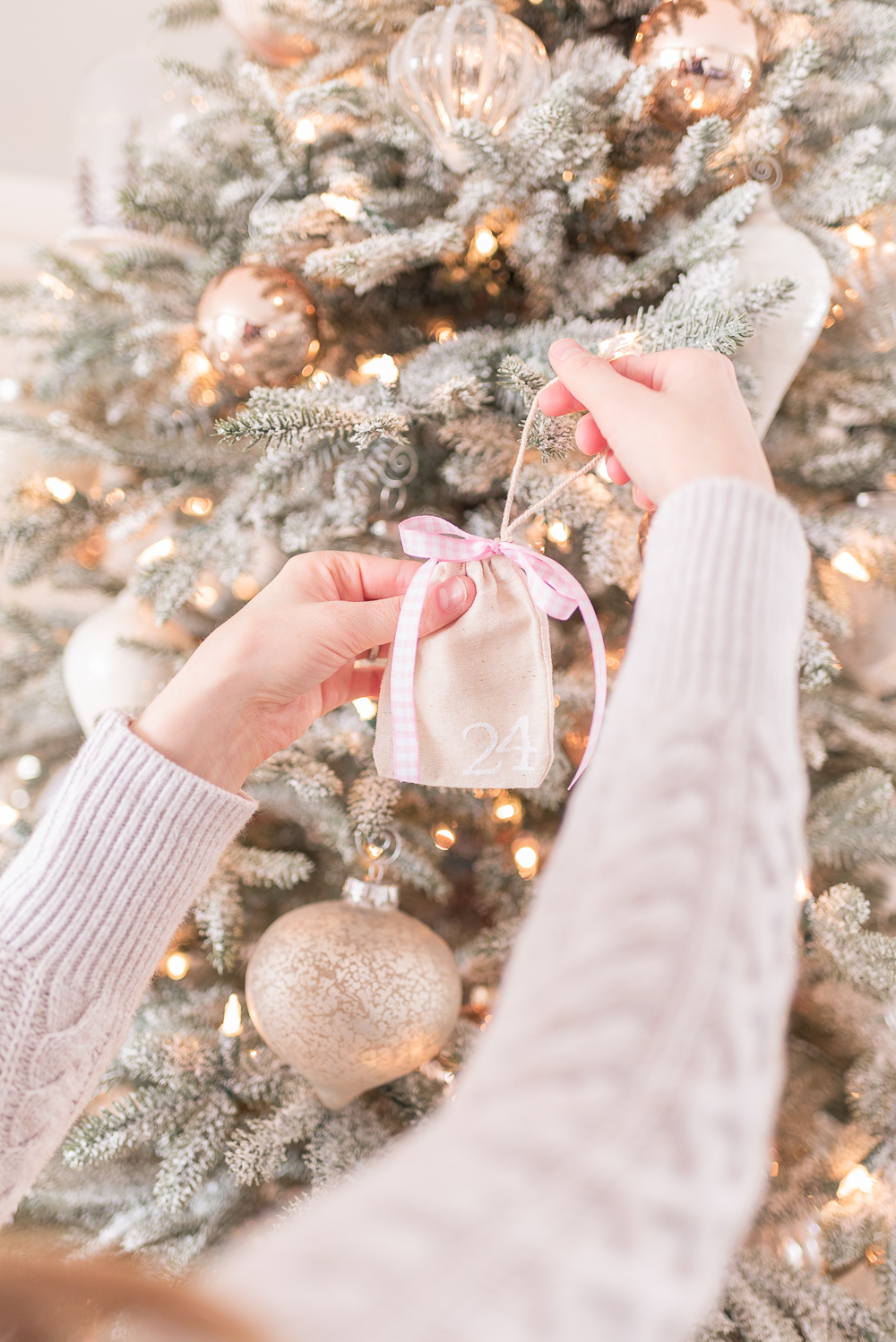 I think the best part of making our own advent calendar is being able to fill it with sweet little treats picked out especially for our girls. You can choose small gifts or your little one's favourite treats or candies. Or add notes with special scriptures, inspiring quotes or holiday activities (I made these printable notecards a few years ago that you can print and add to the bags if you'd like). I usually like to do a mix of all of these things. When you tailor each one to your family and your kids it is even more meaningful.
This year I felt it was time to give our advent calendar a fresh look and so I tied each bag with a pretty pink ribbon and added a few embellishments.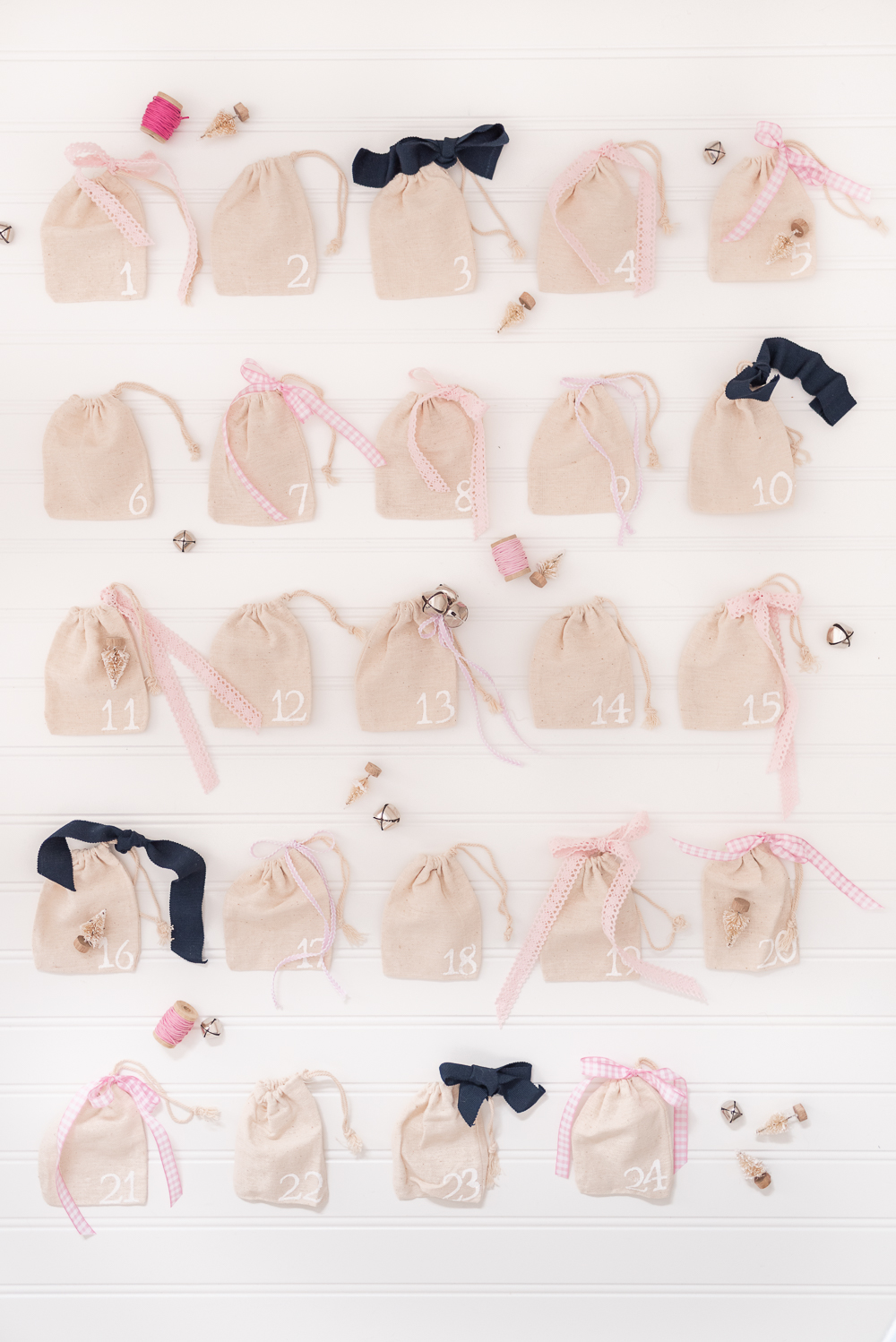 ---
get the look

---
There are so many different ways you can enjoy your Christmas advent calendar…
Gather all of the bags in a small basket or box and let your kiddos search for the right bag to open each day
Incorporate them into a garland along the stairs or fireplace mantel (like we did here)
Use them to decorate your Christmas tree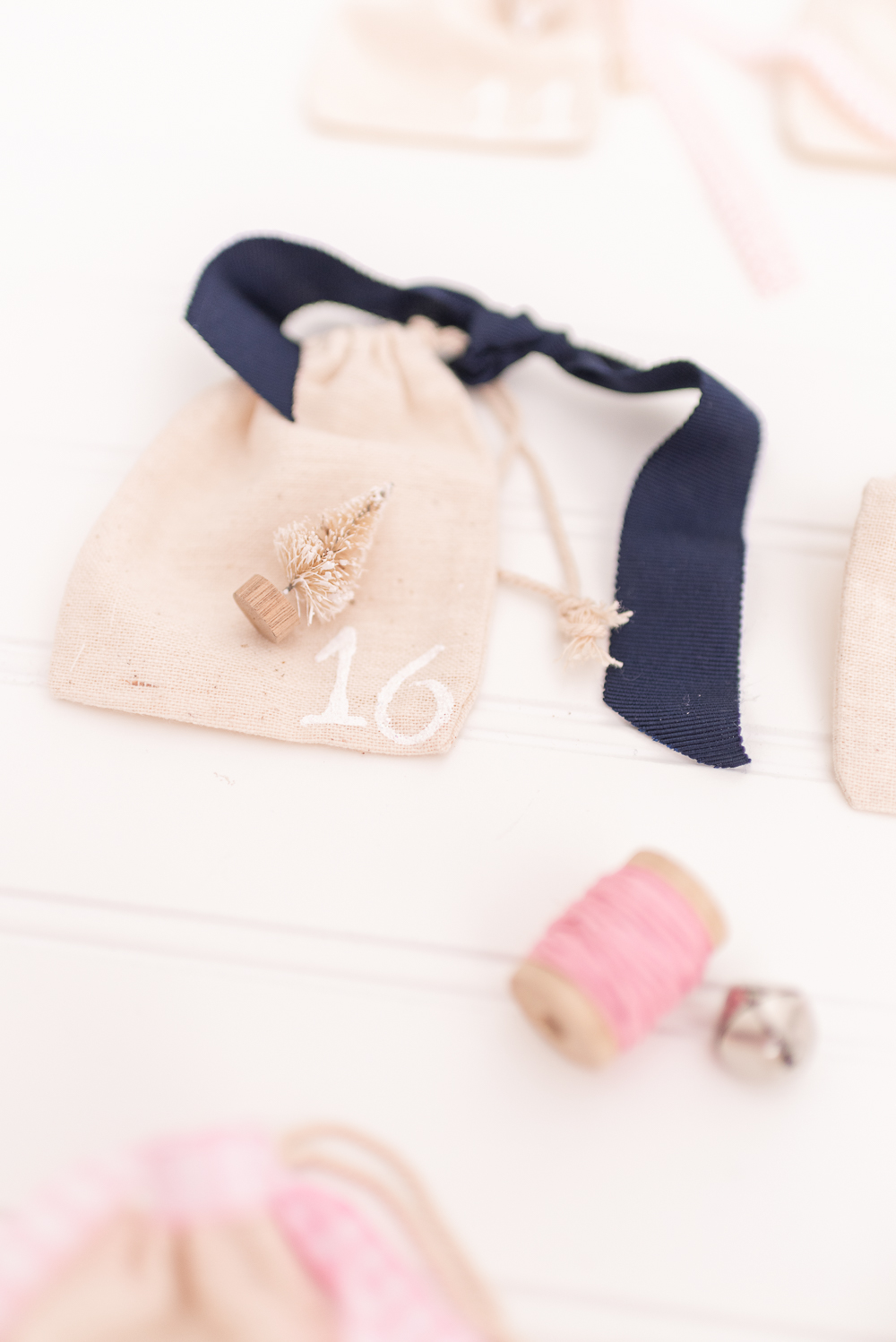 Making your own Christmas advent calendar is an easy tradition to start with your family, but it's one that will stay with them forever. Do you make your own advent calendar or have a special way you count down the days until Christmas? If so tell us all about it in the comments below, we'd love to hear about it!