We're sharing a look back at 2019 and the plans we have for the year ahead.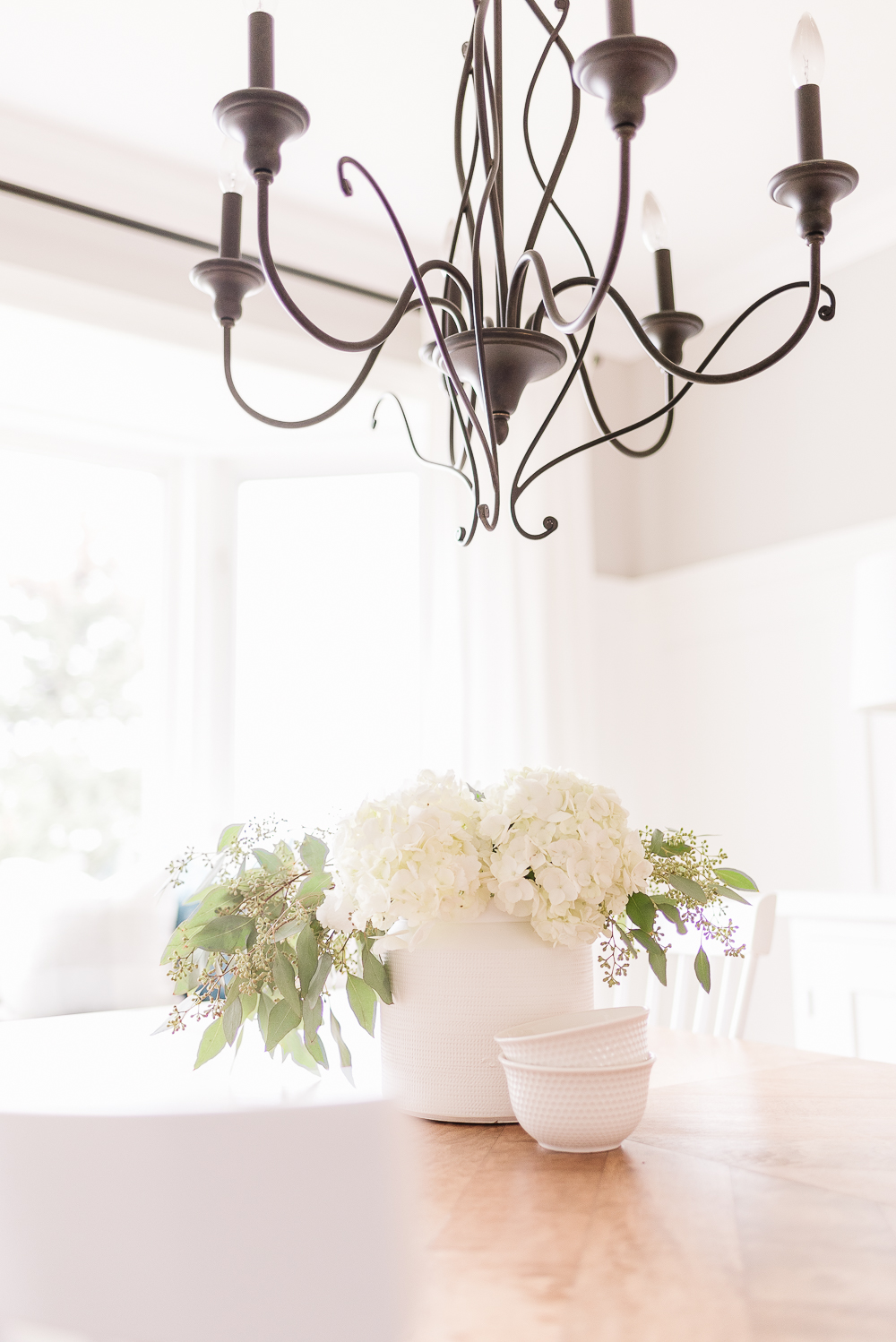 It's that time of the year again when Christmas has come and gone and we're nearing the end of another year. As much as I love the holidays and really try to be conscious about living in the moment, I always look forward to this period of transition. As cliche as it sounds, the start of a new year brings with it the feeling of a fresh start and a new beginning. It's time to set goals, make plans and clear the clutter, both literally and figuratively.
After a busy and full holiday season, I love taking the time to slow down and bring a bit of routine and order back to our home (you can read about the 5 habits I follow for an organized and productive home here). And speaking of our home, today we're joining our friend, Lory from Designthusiasm to share the changes we've made to our home in 2019 and what we have planned for the year ahead.
This year was a pretty good one. Personally, we made a lot of great memories as a family. We really tried to slow down and just enjoy the little things, which we learned is easier said than done. But it's a mindset we're carrying with us into the new year and we can't wait to see what adventures 2020 brings to our family.
Professionally, we made some big changes to our business. We finally took the leap and rebranded our blog from A Burst of Beautiful to Nick + Alicia. It was a little scary to make the change, but we feel it's been so worth it, and we hope you do too. You can read more about the changes we made here if you're interested. And because we decided to invest our time differently these past 12 months, making our family priority number one (as it should be!), and dedicating so much of our time to rebranding we didn't take on too many projects around our home, except for these three…
An Inviting and Safe Outdoor Space
The biggest project we tackled was our backyard. We felt it was finally time to extend our living space and create a backyard that is fun, inviting and safe for our family. We fenced in the space so we don't have to worry about runaway toddlers, and we brought down the size of our deck, making it feel a lot cozier. But the biggest and best part of our backyard makeover is definitely the girls' playhouse and swing set. While we haven't shared a dedicated post on it yet, you probably have seen it on Instagram. This project took us a long time to complete because Nick had to work at it during his off time, on evenings, weekends and in between family time. And we still have a few projects left on the to-do list once the snow melts this spring, like painting and furnishing the deck, building an outdoor firepit and completing the inside of the playhouse, but it's nearly there. And once it's finished we will be sharing all of the details on the blog.
And even though it's not complete we've already noticed what a big difference it's made to our home and how we use it. It's the perfect place for summer BBQs and playdates, and Nick's already talking about making an ice rink for the girls and their friends next winter. We can't wait to share the rest of the progress with you once the snow melts.
A Bright and Happy Nursery
Our sweet little girl, Ella, turned one this year (you can see her birthday party here) and she is an absolute delight. From day one she has been the happiest baby, although lately, we've been seeing a bit more of her fiery side!
Even before we had kids, we decided we didn't want to know the gender of our baby(s) until they arrived, so both of our girls had gender-neutral nurseries. And while Zoe's nursery stayed the same until she moved into her big girl bedroom (you can see her room here), I designed Ella's nursery to easily accommodate a new colour palette. We wanted a cozy space to bring our little one home to, but we also wanted the option to add a bit of personality and colour later.
So seven months after Ella arrived we revealed her updated nursery. We added a big dose of colour, hello purple, and some new patterns and textures to create a room that was just for her. We all love how bright and happy her nursery is, and Zoe has been asking me ever since when we can paint her room purple too.
Craftsman Style Fireplace with Hidden TV
This is one of my favourite projects Nick has built for our home because it has solved our function vs aesthetic problem in our living room.
Our living room is visible as soon as you come through our front door, it's where we entertain guests and where we photograph a lot of our posts, but it's also where we spend a lot of time during the day as a family. And while a TV was practical for this space, I didn't want to see it all of the time. Our family room is where we watch TV most often, catching up on our favourite series or cozying up for movie night. But we do still rely on our TV in our living room when we need to keep the kids entertained from time to time so we couldn't just get rid of it.
Nick came up with the idea to conceal the TV and designed this beautiful fireplace to do just that. Genius, right? It's so nice to be able to close these doors and put the TV out of sight and out of mind. We shared the plans with you (here), so you can build one for your own home too.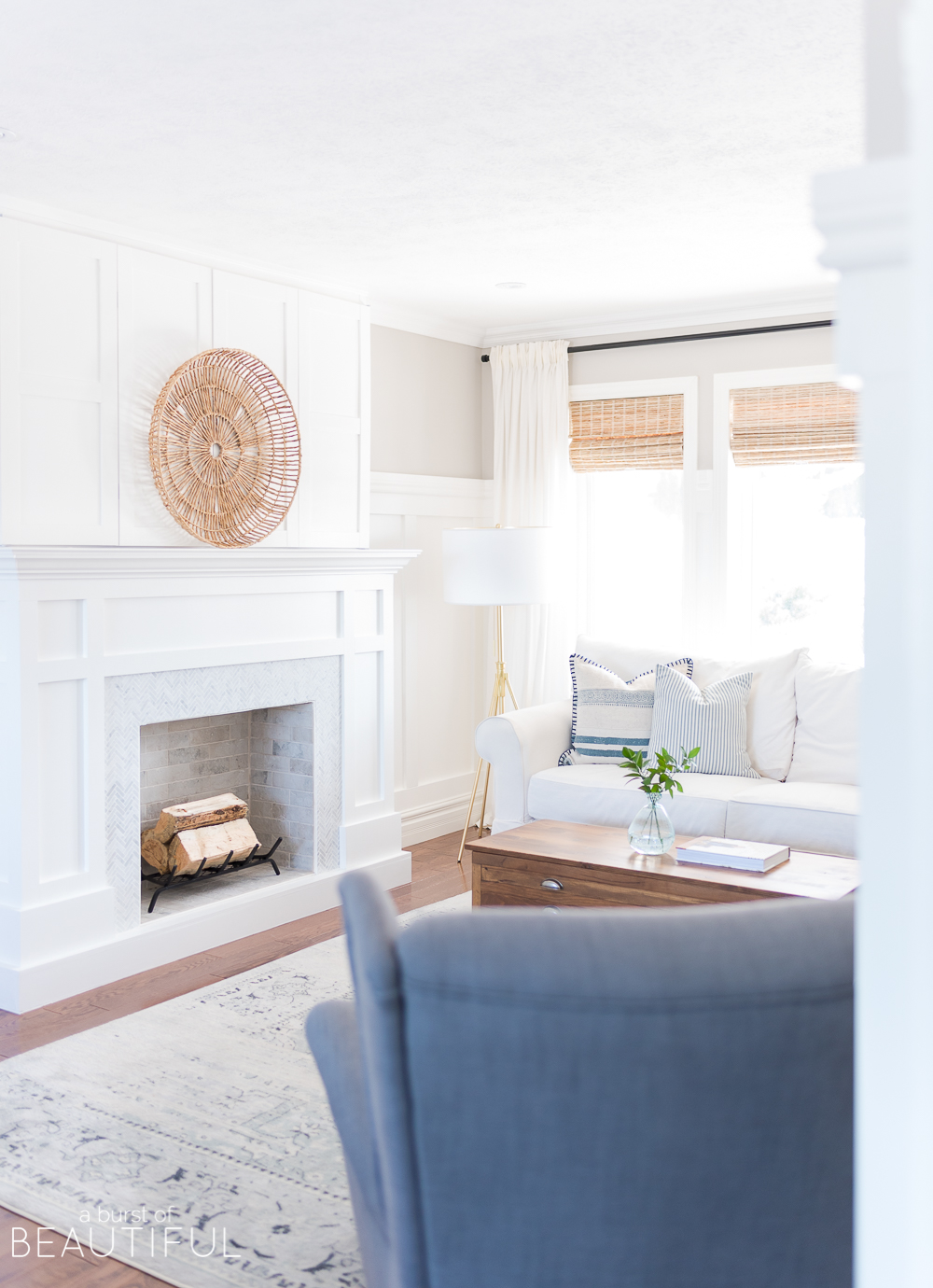 Now, let's chat about 2020 and the projects we're hoping to take on around our home…
Complete the Playhouse and Backyard
As I mentioned above, this is first on our list as soon as the snow melts. We will paint the deck white and build or buy new outdoor furniture. Gardens will be planted along the border of the fence to add a beautiful backdrop to the yard. And of course, we will be completing the inside of the playhouse. Zoe and I can't wait to start decorating it once Nick has completed all of the finishing details.
A Pretty Laundry Room with Extra Storage
While our laundry room is functional it could really use a little bit of love. To start, the washer and dryer need to be replaced which will make a huge difference in the efficiency of our laundry room. And while we're replacing the washer and dryer, we figured we might as well make it look pretty too. Our plan is to give it a complete overhaul including new cabinets, countertop, sink, and faucet. Nick will also build an entire wall of cabinets to give us a little more storage space. It will be just one more room in our home that we can make function better for our family.
Kitchen Updates
We love our kitchen, it's big, bright and functional, but it is starting to show a little bit of wear and tear. I really have no idea where this project will fall on our timeline, or if we will even get to it this year, but it's one we'd like to try to tackle. We wouldn't be taking on a complete kitchen renovation, it would be just little changes that would make a big difference in the aesthetic of our kitchen.
The countertops would be the first to go, replaced with beautiful and light-coloured quartz. And while we were at it the backsplash would also be replaced. We've also been talking for years about building a new kitchen island. Something bigger that can seat all four of us, as well as a piece with cupboards and drawers to give us added storage. Keep your fingers crossed this will be the year!
Of course, there will be other projects we take on throughout the year as they come up. And we'll be sharing lots of recipes and entertaining ideas as always. We hope to continue sharing posts and ideas that are helpful and inspiring for you!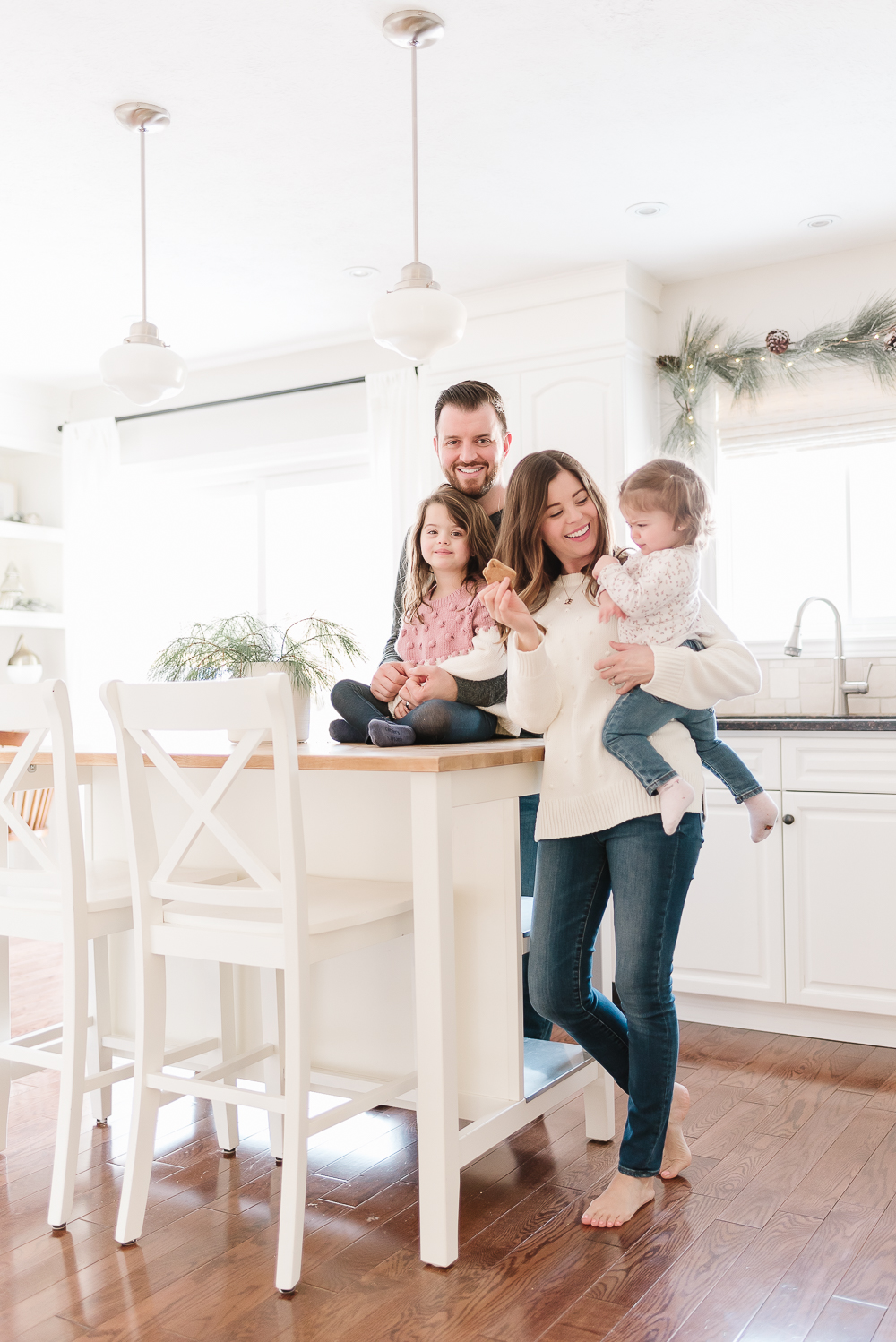 Finally, we want to wish you a happy new year and thank you for joining us here, we appreciate you more than you'll ever know! And please don't forget to take a few minutes to visit our friends below to see what they will be up to in the new year.
Designthusiasm | StoneGable | Shabbyfufu
The Happy Housie | Southern Hospitality | Sanctuary Home Decor
Zevy Joy | Nick + Alicia | So Much Better With Age