These ultimate loaded nachos served straight from the oven are the perfect snack or appetizer for the big game or your next party.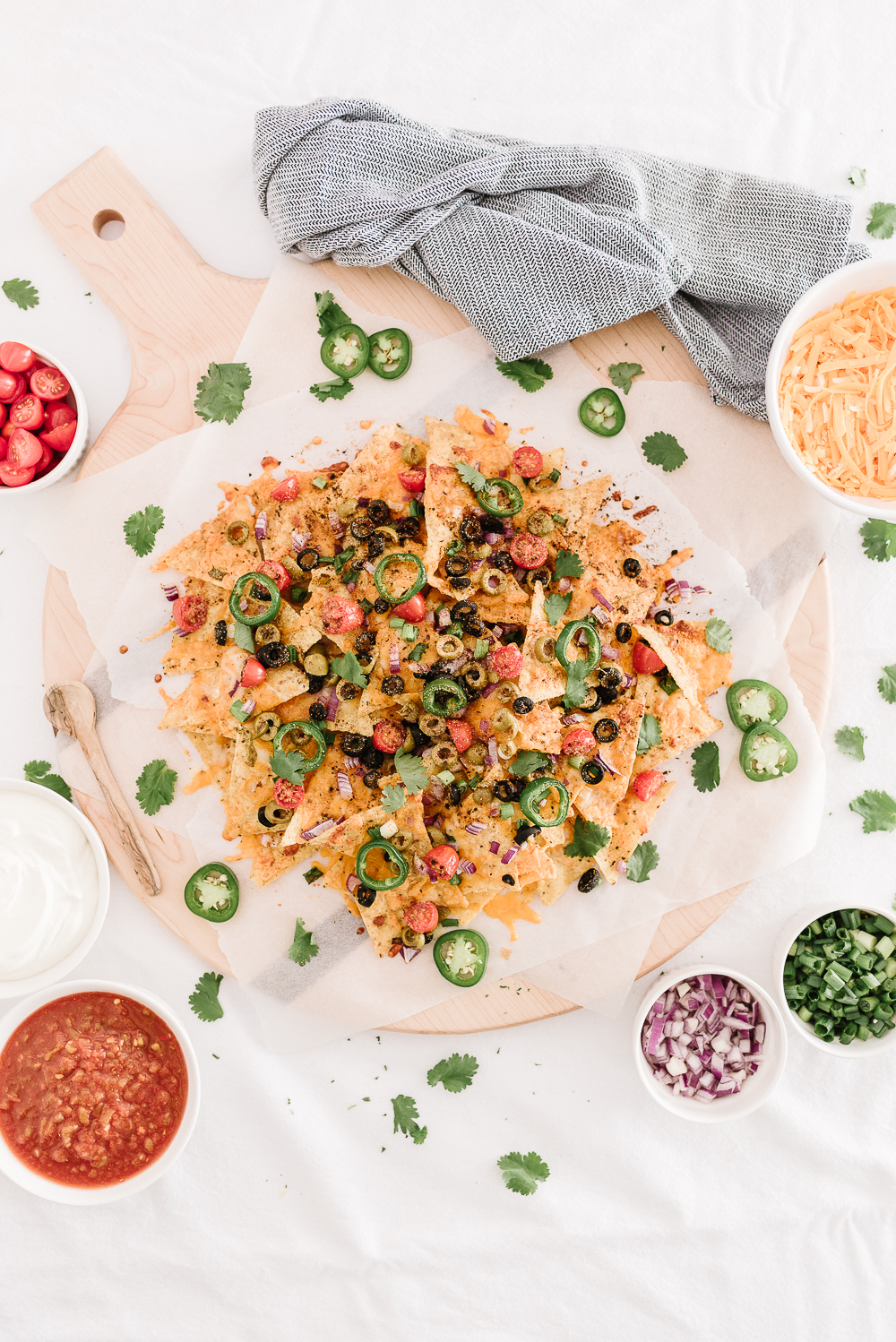 Let's talk seriously for a second.
The subject? Nachos. Yes, nachos are a serious subject for us.
Why do you ask? Well, nachos are our comfort food. Every Friday night Alicia and I make time to spend a few hours together for date night. We make "his and her" nachos to eat while we relax together and catch up on our favourite shows. We have been doing this for years and we still look forward to it every week.
It's sacred and trumps invites from friends, parents, anyone. Literally anyone. The Queen could summon us to Buckingham Palace on a Friday night and we would probably say "Nah, sorry, we cant. It's nacho night".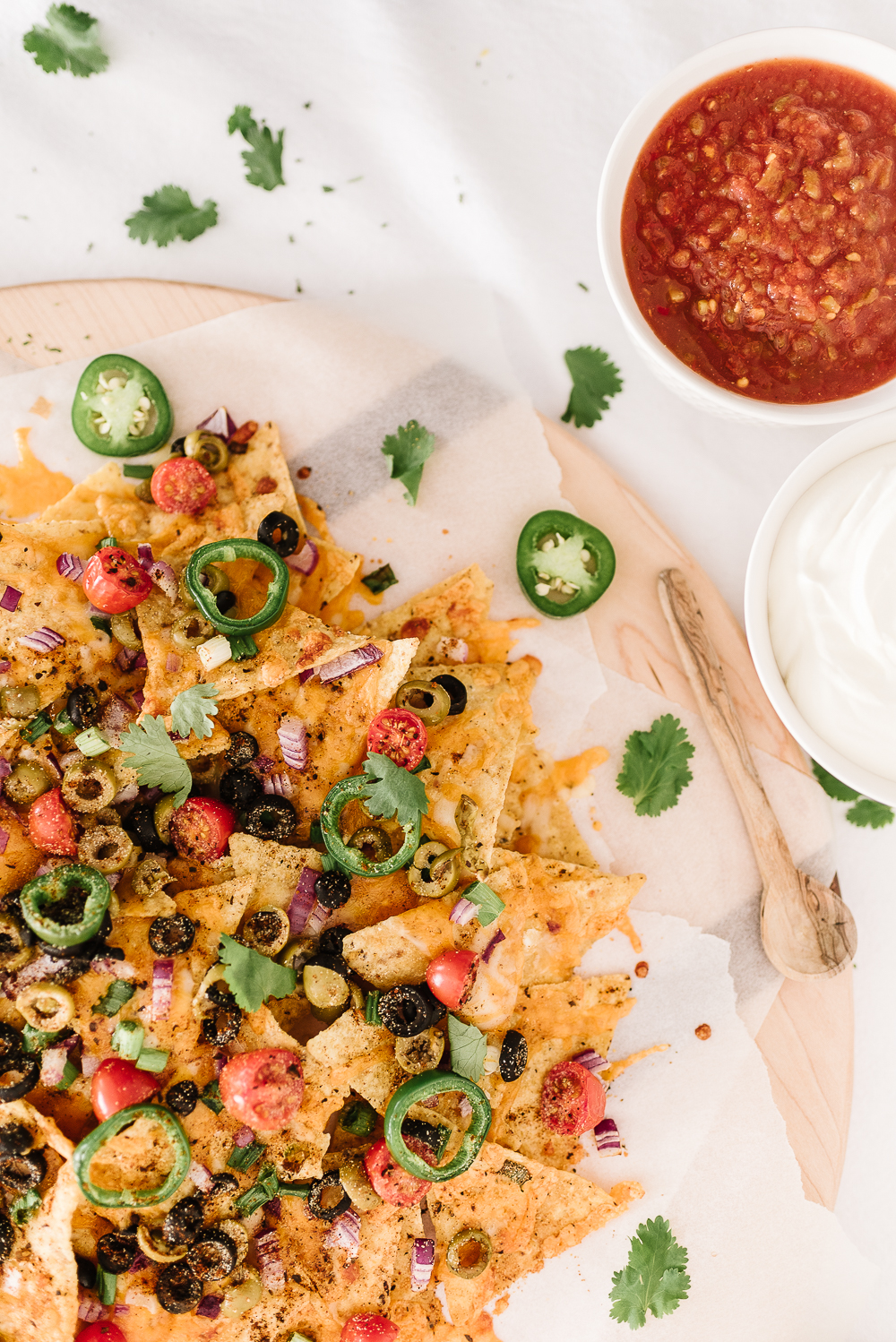 Funny story, I actually had t-shirts made for us that say "Nacho's and Chill with my wife" for me, and "with my husband" for Alicia. I gave these to Alicia while she was in labour with Ella. Thinking back, it was probably the most "dad" gift I could have given her and she probably thought I lost my marbles. And in all fairness, she would have been right.
We did take a hiatus from nacho night in the early stages of Alicia's second pregnancy. Guess what dish she developed an aversion to? You guessed it! Nachos! I was heartbroken, but thankfully it didn't last long and we eased back into nacho night in the second trimester.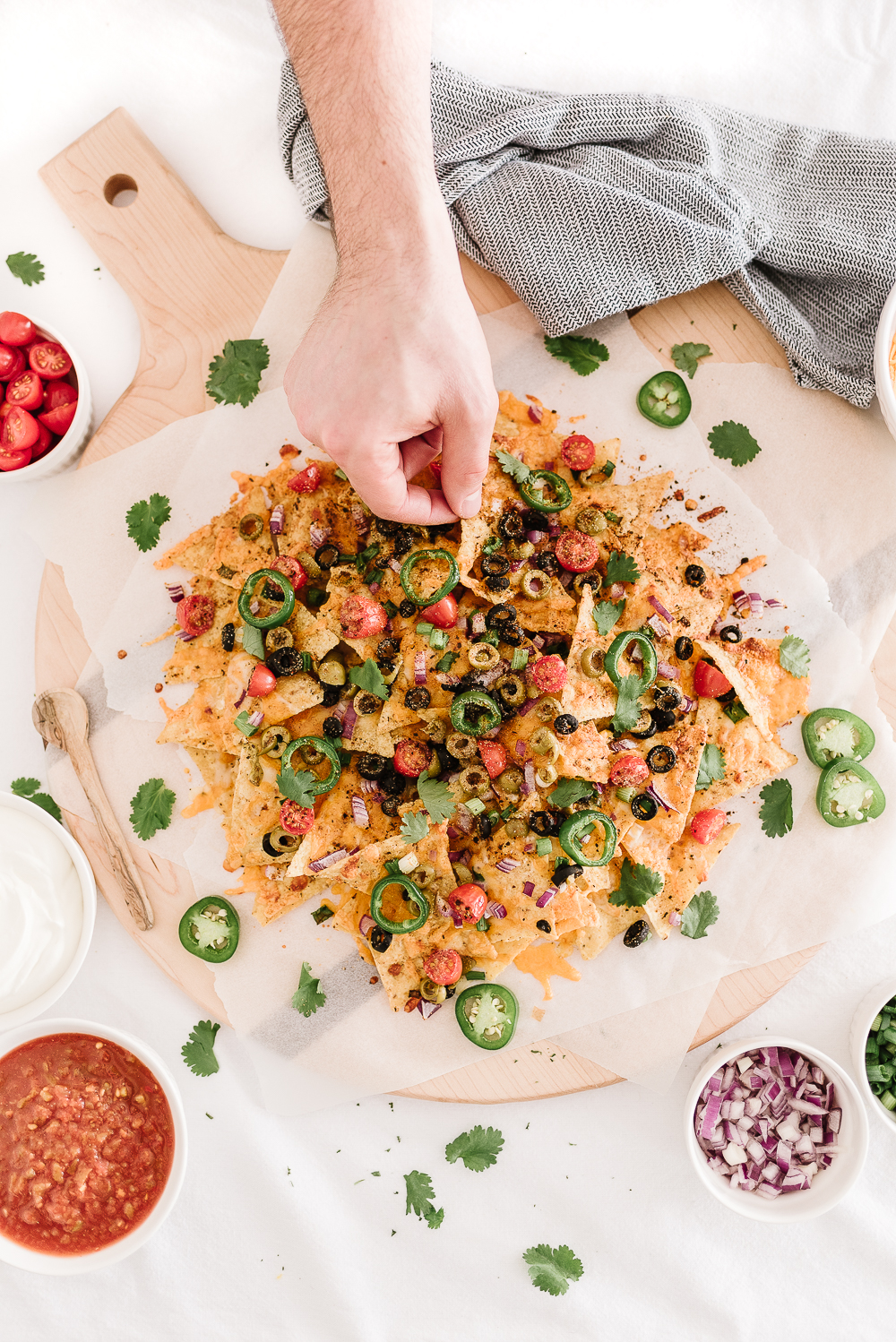 ---
get the look

---
Building nachos is an art, and I've had a lot of practice over the years. It's all about the right ratio's of chips, to cheese, to toppings. We always add cheddar and Monterey Jack cheese, cherry tomatoes, red and green onion, green and black olives and jalapenos or pickled hot peppers. Every once and awhile we'll shake things up and add shredded chicken breast or ground beef (for me). I shred cooked chicken breast and sautee it with three tablespoons of taco seasoning and 1/3 cup of water until it has been absorbed by the chicken. If I opt for ground beef, I will do the same thing after I have initially browned it.
The key for us has been finding the perfect ingredients. We've tried many brands of chips over the years, but these Que Pasa Salted Tortilla Chips are mandatory. They are definitely the best for making homemade nachos.
By the way, does anyone else sort their tortilla chips? I do. First, I pour the entire bag on one tray and sort out the large and full-size chips from the small broken pieces. I keep the broken pieces to snack on later or toss on salads. Our nachos deserve the best.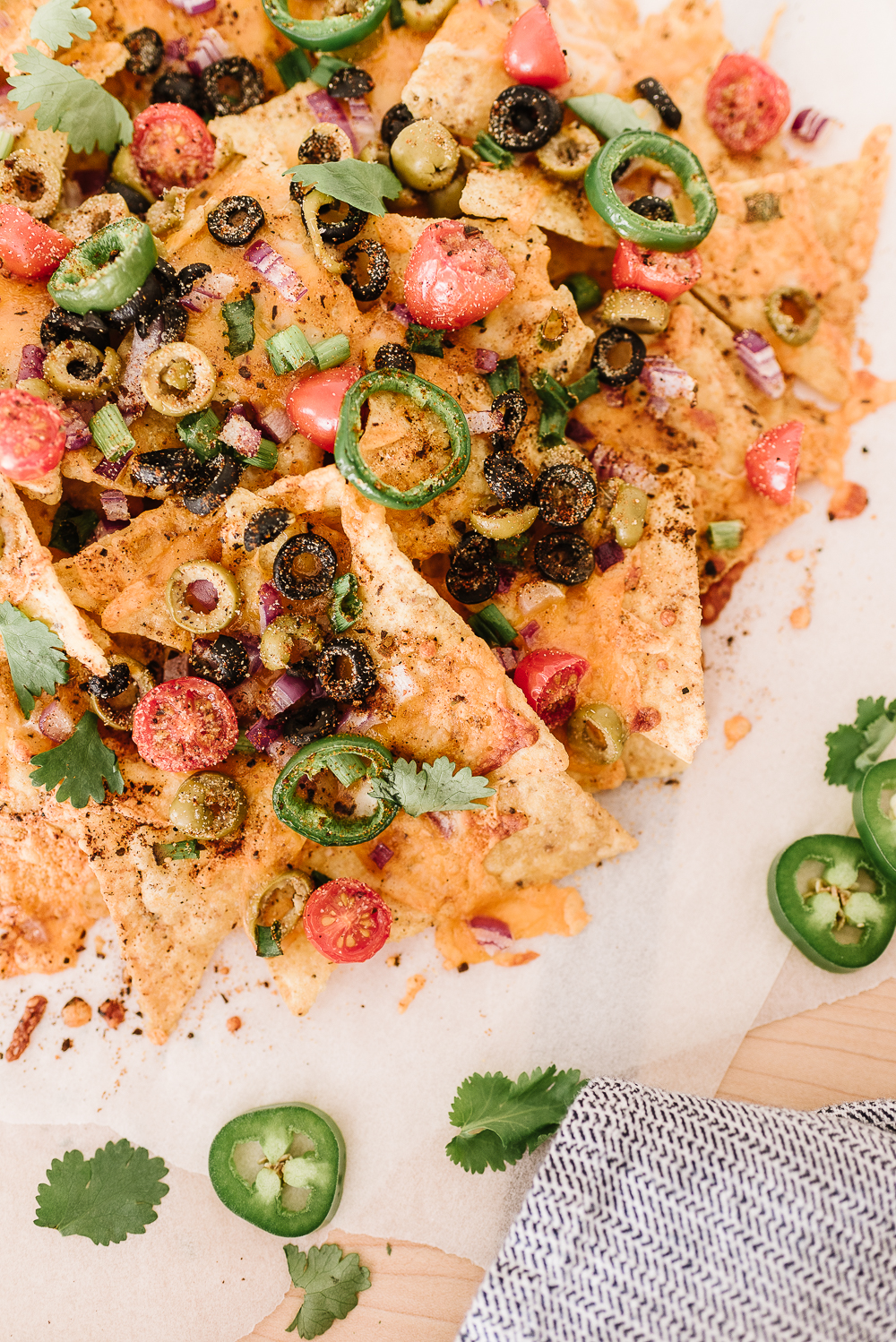 Before we get to the recipe, here are a couple of tips.
The sliced olives usually come in some kind of liquid or brine. Make sure you drain them well first, or they will make the chips soggy. If you have a convection oven, make sure to use this setting to bake the nachos. It circulates the hot air around the nachos and melts your cheese evenly and dries out the chips just a little more to make them nice and crunchy.
Do not use pre-shredded cheese. It has preservatives that keep them from melting together when cooking. I find using old (sharp) cheddar adds more flavour along with Monterey Jack.
We sprinkle a generous amount of ground garlic, salt, and pepper over the entire tray. If you don't have fresh cilantro on hand to add after the nachos are cooked, we will sprinkle some dried cilantro instead.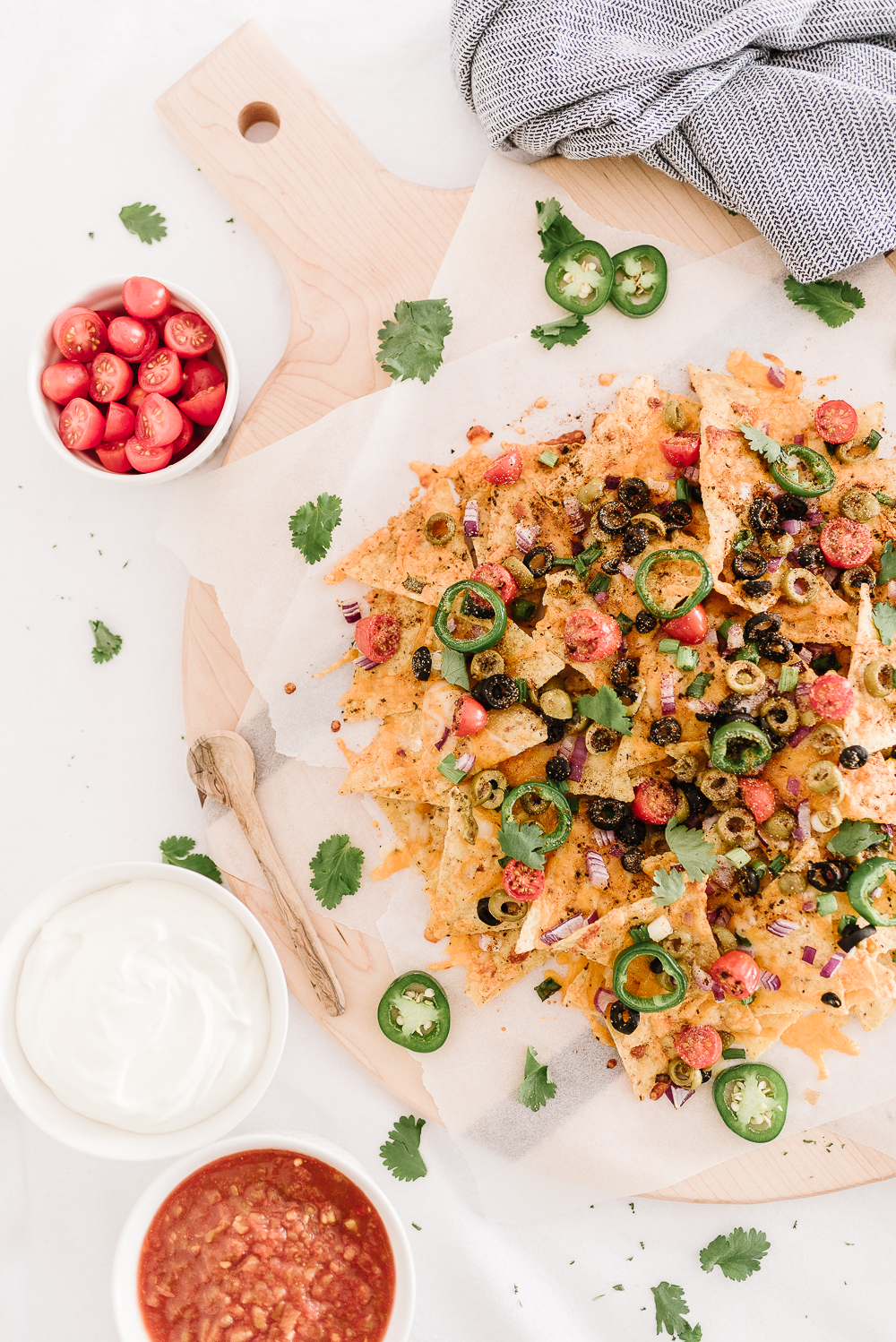 And what's the one thing I MUST have on my nachos? Taco seasoning! Alicia doesn't enjoy it as much so it's a personal preference, but I like to put a ton of it on my nachos, hence why we have "his and her" nachos.
So make yourself a date this Friday night and give our ultimate loaded nachos a try! You might find yourself starting your own weekly tradition. #nachonight
Or make our ultimate loaded nachos for the big game or your next party, along with our Crispy Oven-Baked Chicken Wings, Tomato & Feta Bruschetta Flatbread, Slowcooker Stuffed Meatballs.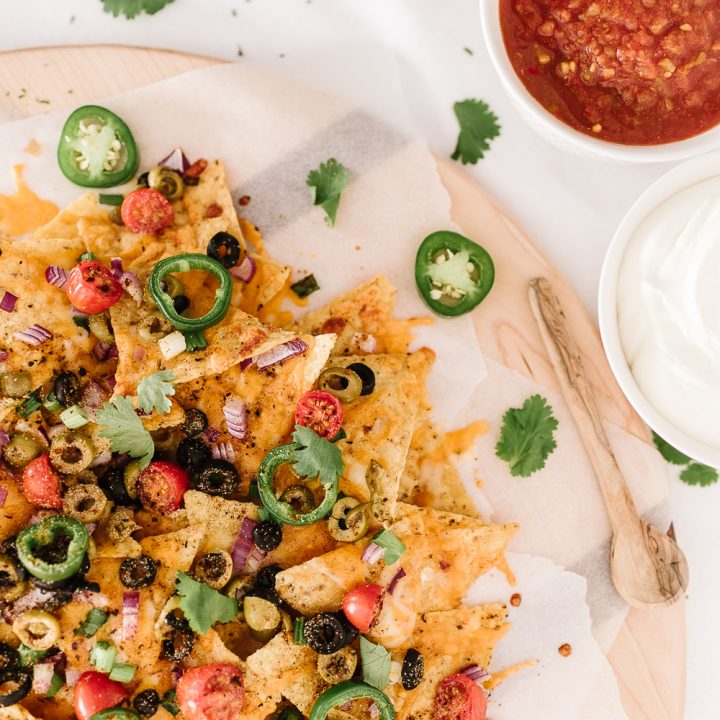 Ultimate Loaded Nachos
Ingredients
1 bag of nacho chips, salted (at least 350g bag)
1 medium red onion, chopped
1 bunch green onions, chopped
1 jalapeno pepper, seeded and sliced
1/2 pint grape tomatoes, halved
1/4 cup canned sliced black olives, drained well
1/4 cup canned sliced green olives, drained well
1 cup old (sharp) cheddar cheese, shredded
1 cup Monterey jack cheese, shredded
1 bunch fresh cilantro (dried will work too if fresh is not available)
Ground Garlic
Taco Seasoning
Salt & Pepper
Sour Cream
Salsa
Optional
Shredding Rotisserie Chicken Breast, sauteed in 3 tbsp taco seasoning and 1/3 cup water
Ground Beef, browned and then sauteed in 3 tbsp taco seasoning and 1/3 cup water
Instructions
Preheat oven to 400°F (convection setting if available)
Line a baking sheet or pizza stone with parchment paper or foil.
Sort chips so that there are only large and full-size chips on the tray, no crumbs (optional)
Sprinkle both cheeses over the top, then green and red onion, olives, grape tomatoes, and jalapeno slices (and chicken or beef if you choose to add one).
Sprinkle generously with ground garlic, and salt and pepper to taste. Taco seasoning can also be sprinkled according to your preference (I prefer more).
Place in the oven until the cheese is melted and has begun to bubble and brown around the edges.
Remove from oven and sprinkle with fresh or dried cilantro.
Serve with salsa and sour cream for dipping. We actually save a step and mix our sour cream and salsa in one bowl for dipping! Much more efficient and you get equal amounts of both!
Nutrition Information:
Yield:

4
Serving Size:

1
Amount Per Serving:
Calories:

793
Total Fat:

44g
Saturated Fat:

16g
Trans Fat:

1g
Unsaturated Fat:

23g
Cholesterol:

152mg
Sodium:

2270mg
Carbohydrates:

52g
Fiber:

7g
Sugar:

5g
Protein:

47g
Please keep in mind that nutritional information is an estimate and can vary greatly based on products used.