Celebrate your little one with a magical circus birthday party, featuring a carnival booth, colourful balloon garlands, and whimsical circus animals.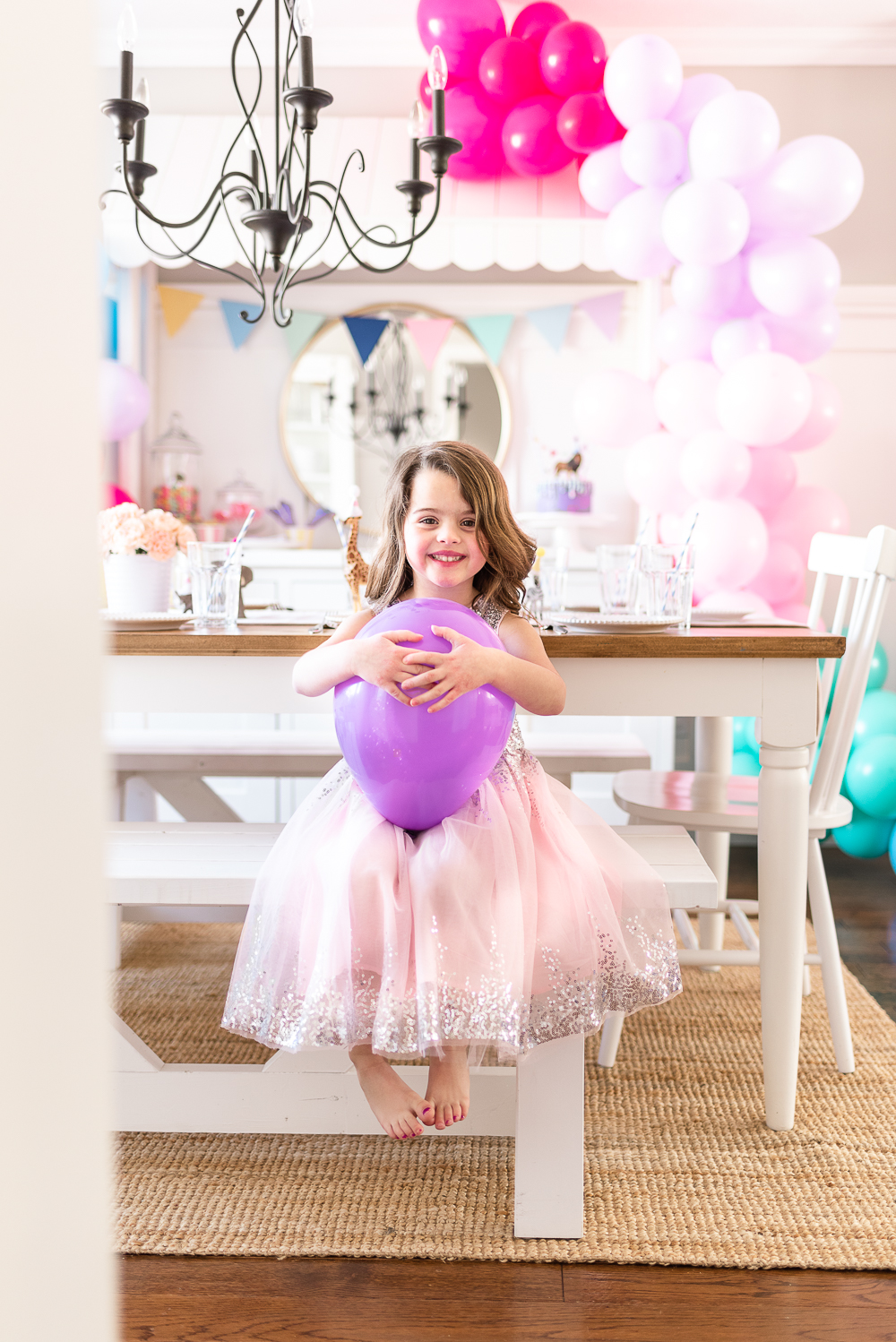 Our sweet little Zoe turned five this year, and we're still in disbelief that we have a five-year-old. I'm not sure where the time has gone and how the itty bitty baby we brought home from the hospital five years ago has grown into the amazing little girl we see today. Most days she's a force to be reckoned with, she has a fiery personality and an energy that never stops (something we hope she carries with her forever). She also insists she's going to join the circus when she grows up.
And so we celebrated her big day with a magical circus birthday party.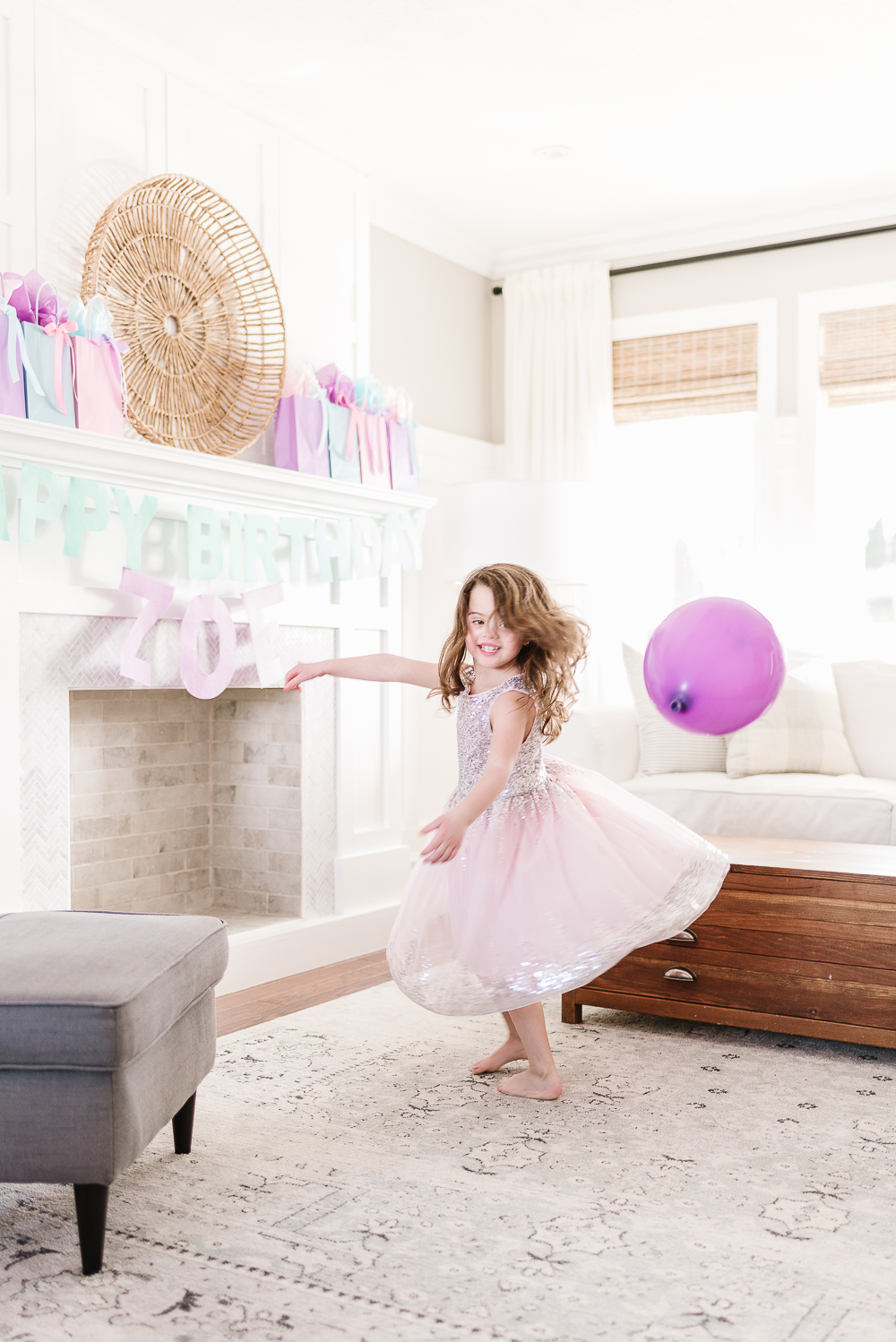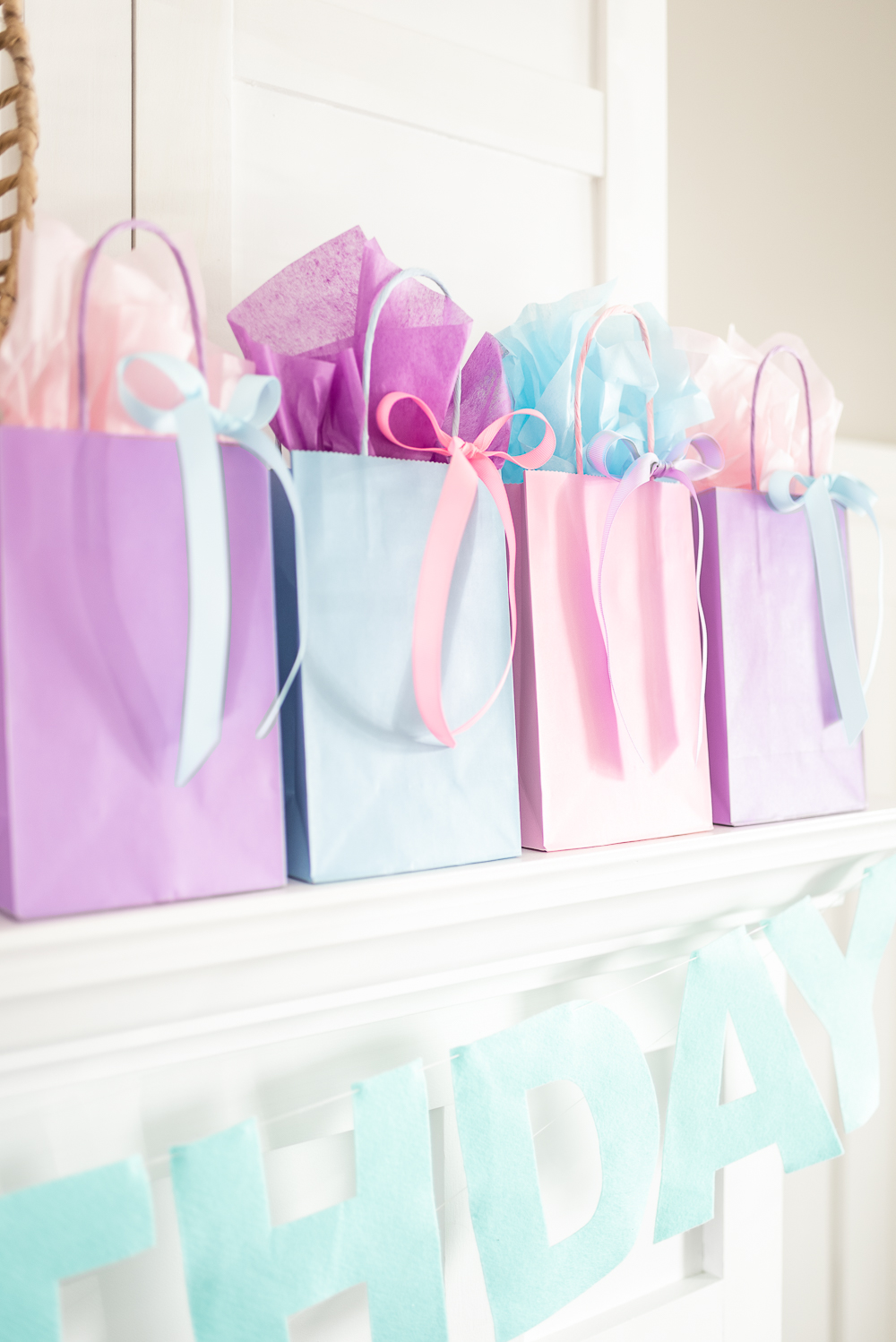 I've always loved hosting gatherings and throwing parties, but I was surprised by how much I love planning our girls' birthday parties. It brings me so much happiness to plan a special day just for them. I'm sure I spend way too much time fretting over all of the little details, but it's those little details that make it so special. I think, anyways. And the moment it all comes together and I see their eyes light up as they take in their special day, it makes all of the planning worth it.
Zoe originally asked for a Frozen birthday party this year, which wasn't too surprising. But then we watched The Greatest Showman, and her love for the circus grew and grew until a week before her party she asked if we could have a circus birthday party instead. After a quick run-through of the Frozen party inventory I purchased, I figured most of it could be returned, and so the planning process began again. And if I'm being honest, I was way more excited about the idea of a magical circus birthday party. I loved both Frozen movies, but when it came to a Frozen party, there just wasn't a lot of creativity around the theme.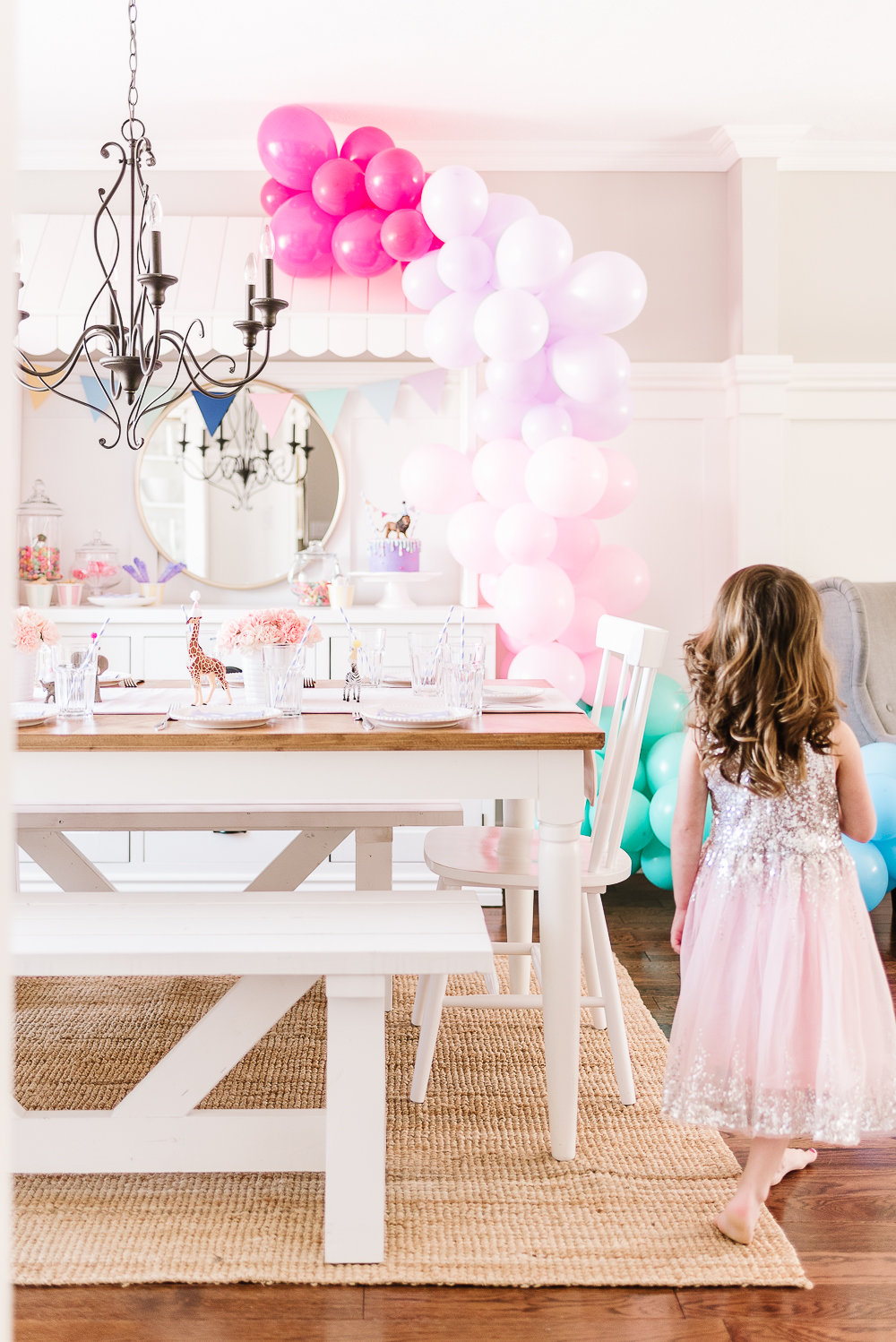 But the circus, that is another story!
Now, I know red and white are traditionally associated with the circus, but I just wasn't feeling it. So instead, I went with a rainbow of colours in muted shades, like blush, mint, blue, lavender and yellow, with a pop of fuschia. It was such a fun mix of colours and gave me a lot of flexibility when it came to choosing party decor.
Speaking of party decor, let me break down the main elements of this magical circus birthday party…
Carnival Booth
Once Zoe decided she wanted a circus party, one idea kept popping into my mind so I floated it past Nick hoping he could make it happen. And of course, he did.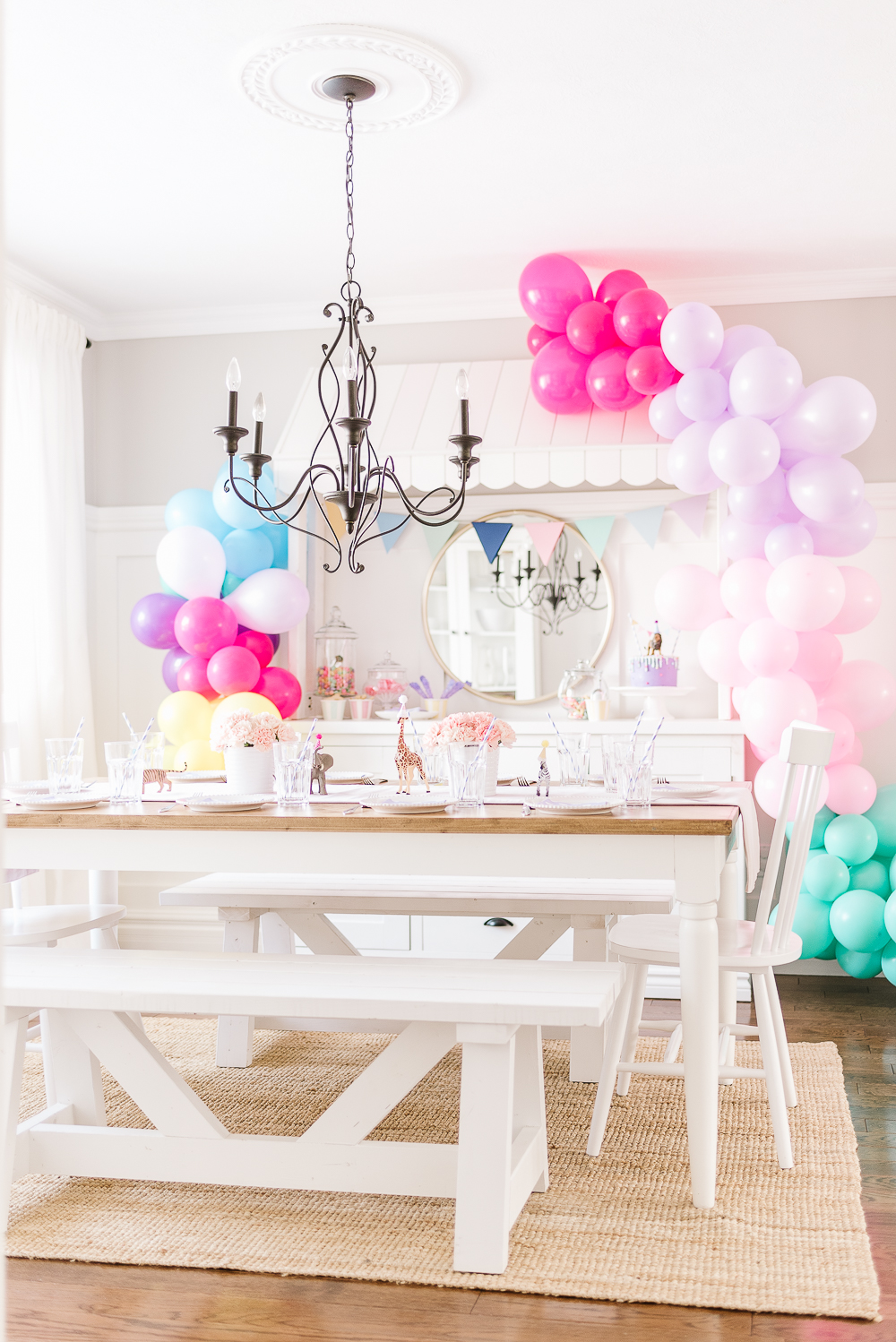 ---
get the look

---
We turned the sideboard in our dining room into an adorable carnival booth with a scalloped pink and white striped canopy. I mean, how cute is it! He used leftover shiplap we had from our family room and playroom and whipped this up one night in his shop. I was so excited when he showed me, it was even sweeter than I imagined. We simply mounted it to the wall above the sideboard for instant circus ambiance.
It was the perfect place to display Zoe's cake. I also added glass canisters and colorful dishes full of sweet candy.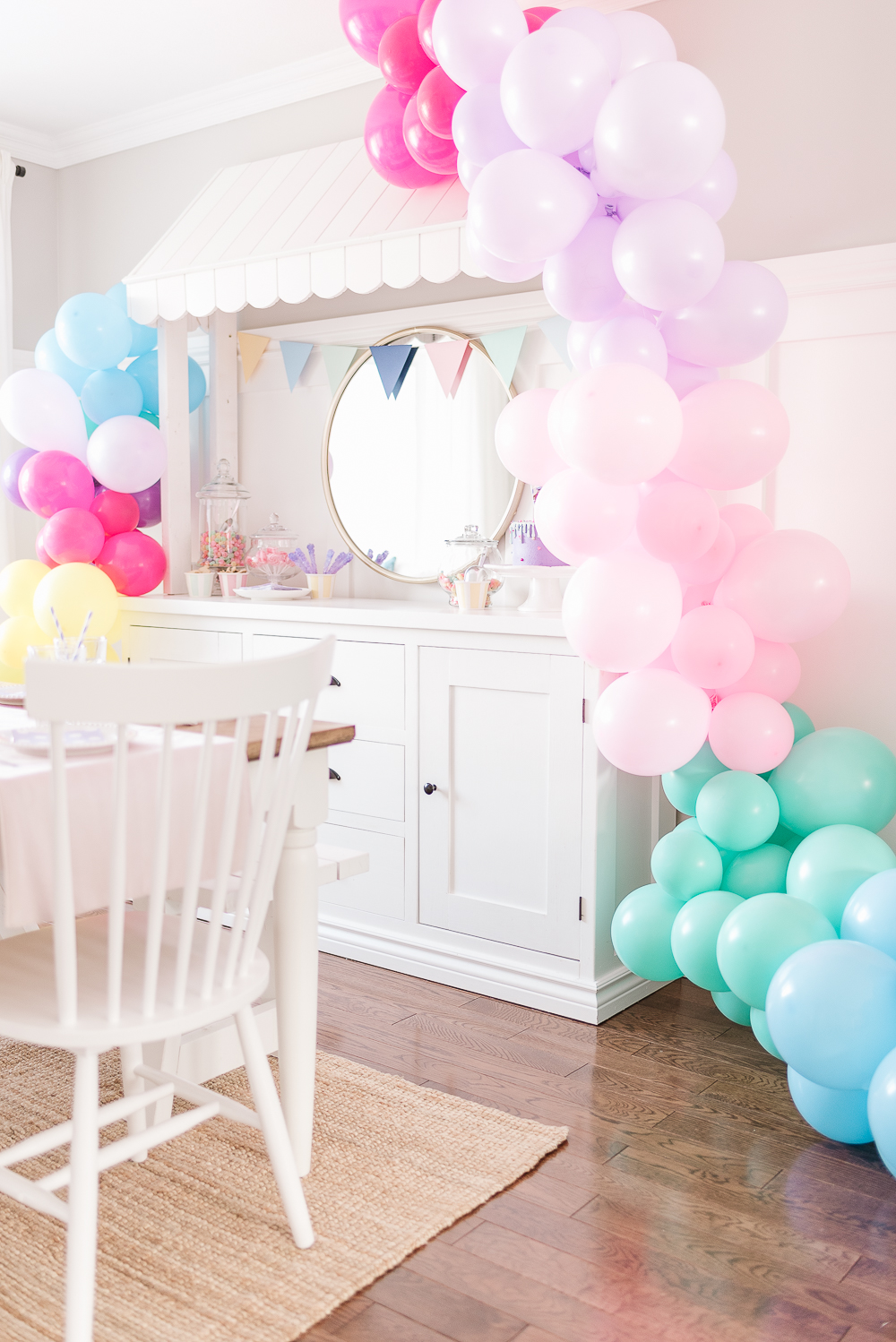 The Cake
The cake is always the best part of a party, right? And this cake didn't disappoint. We had our favourite local girl, Incr-EDIBLE Cakes, make Zoe's birthday cake. We have used her for the girls' birthdays for the past four years and just love her. Her cakes are truly a work of art, not to mention they taste amazing. She created this magical cake in Zoe's favourite colour, purple, and of course, lots of fun sprinkles. I topped it with a miniature paper bunting I made and a lion figurine wearing a party hat. It's simple but so fun!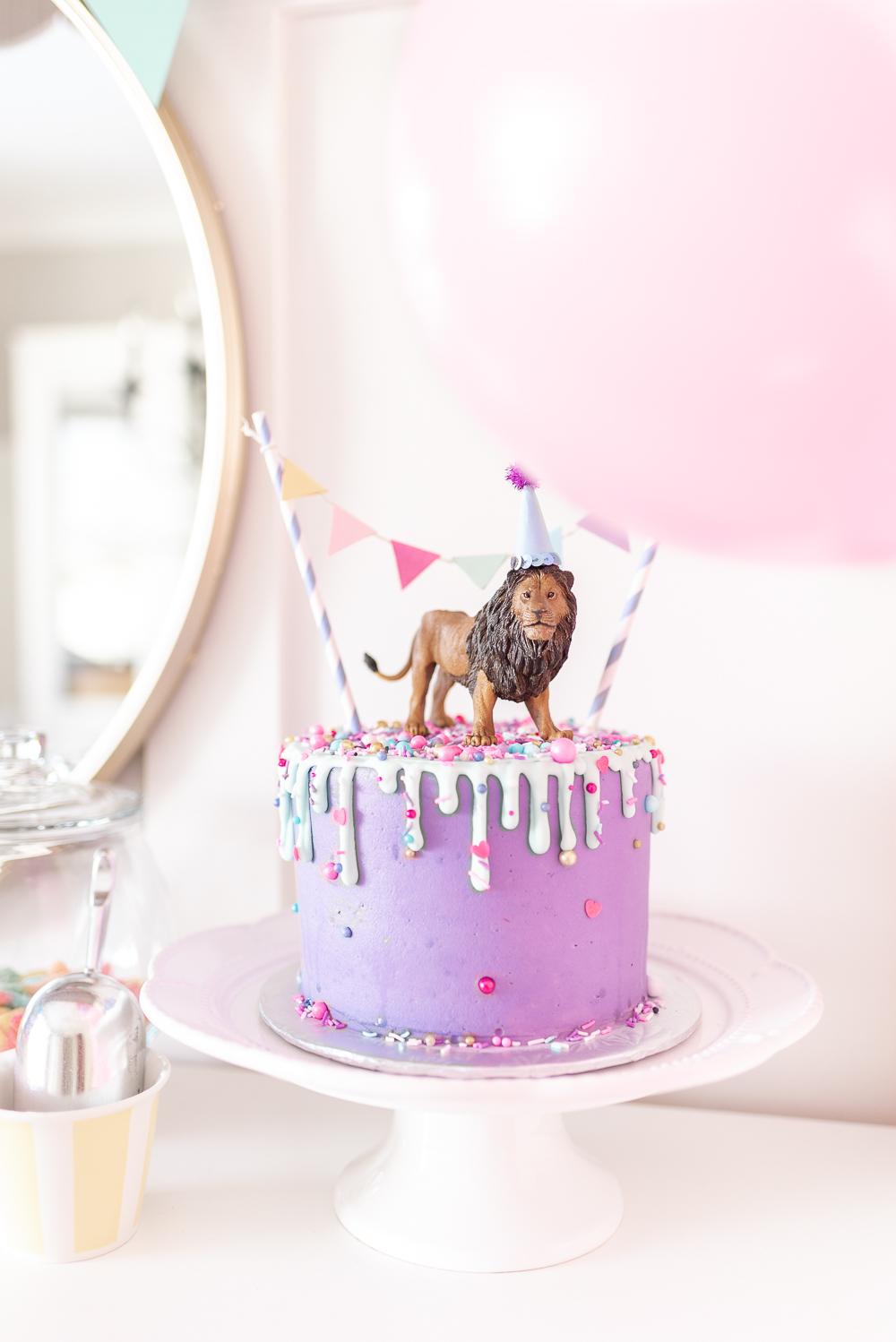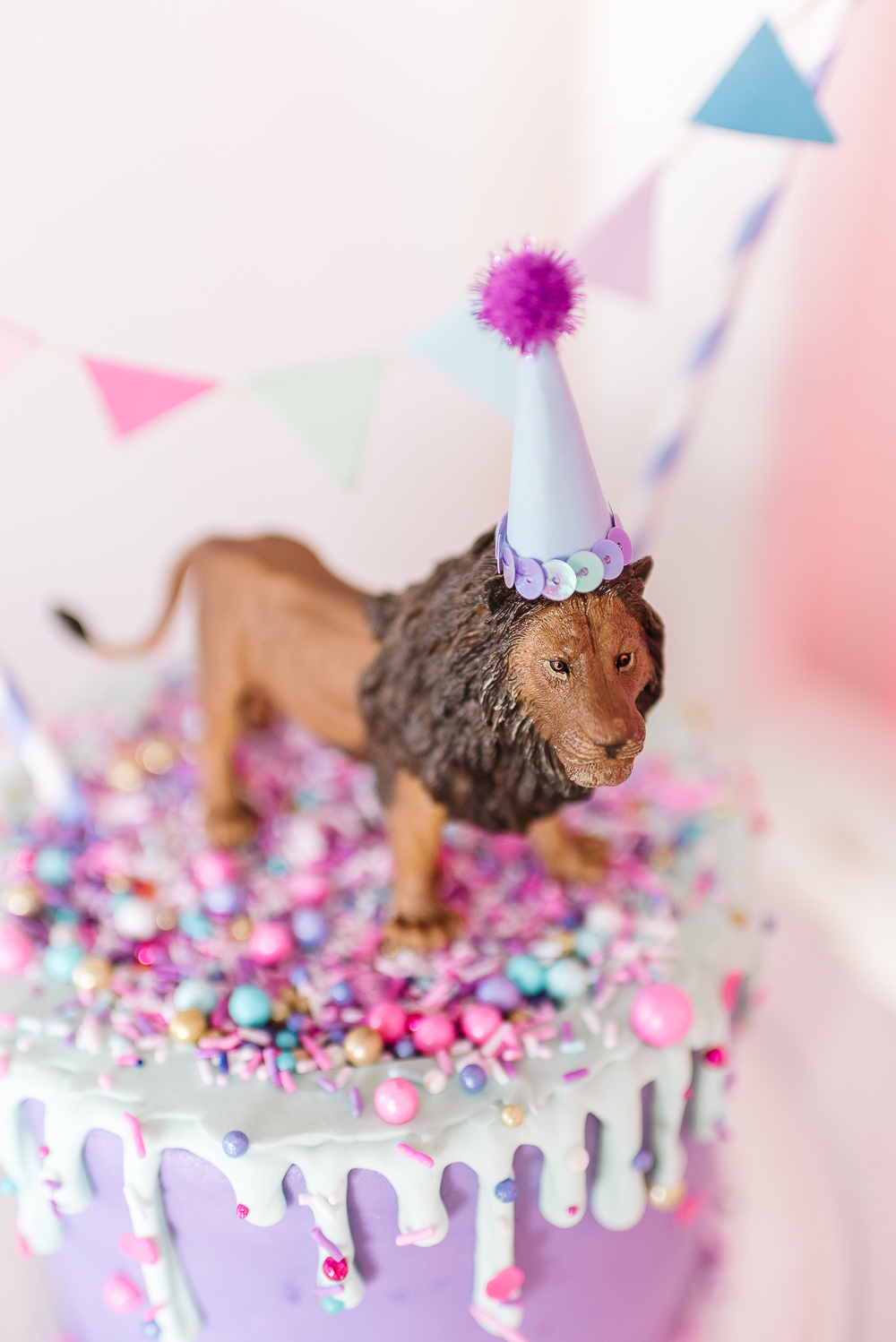 ---
get the look

---
Party Animals
Our circus needed a few wild animals to join the party!
I bought a couple of different animal figurines (elephants, giraffe, lion, zebra, and tiger) from the toy store to add to our party decor. And to make them extra festive I made these adorable miniature party hats for them to wear. I found this template online and used scrapbook paper to make the hats and hot glue to attach colourful pompoms to each one. I thought they added such a fun and whimsical touch, and the kids thought they were hilarious. If you don't feel like crafting your own, I also found these adorable animals online, fully dressed in circus garb. So cute!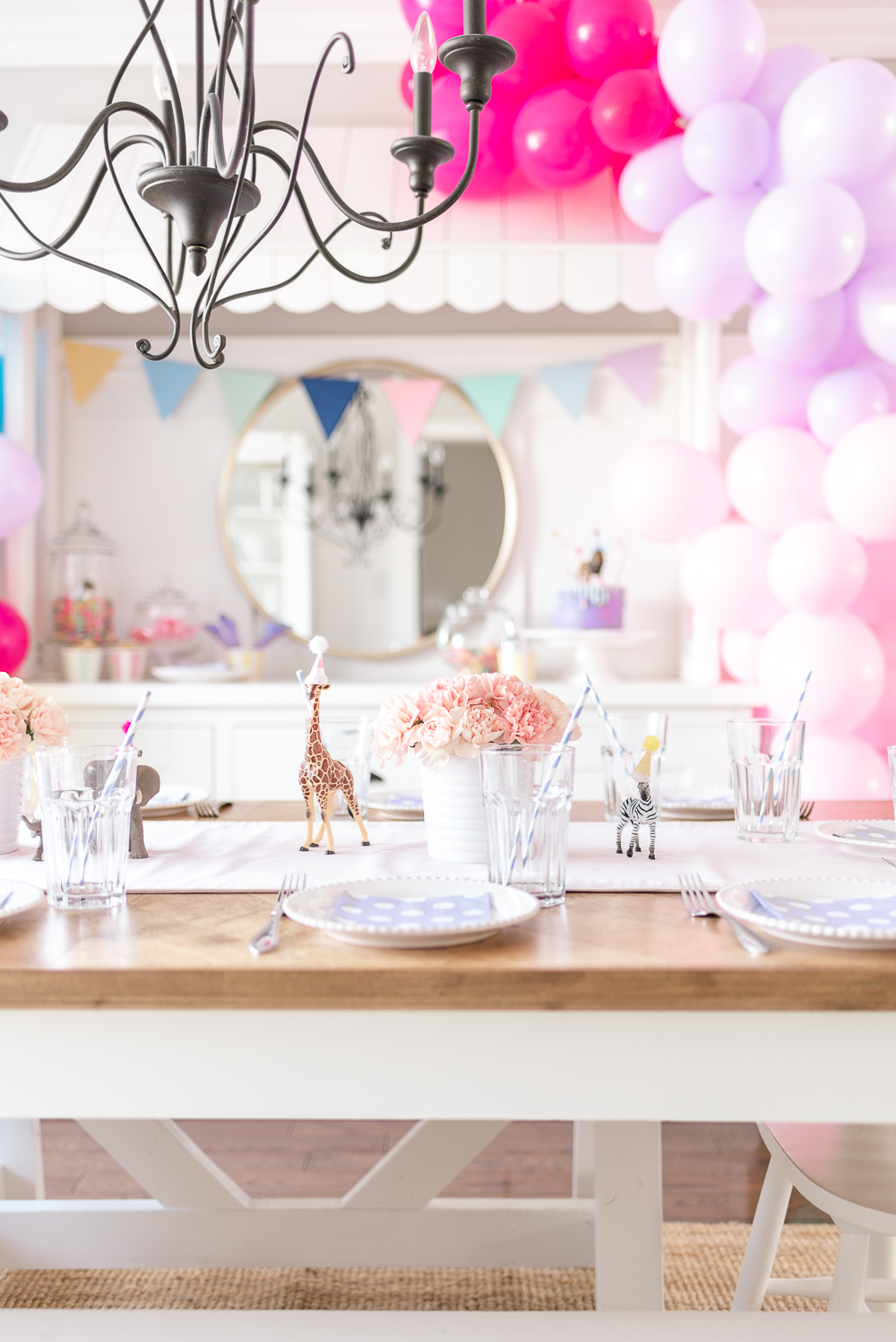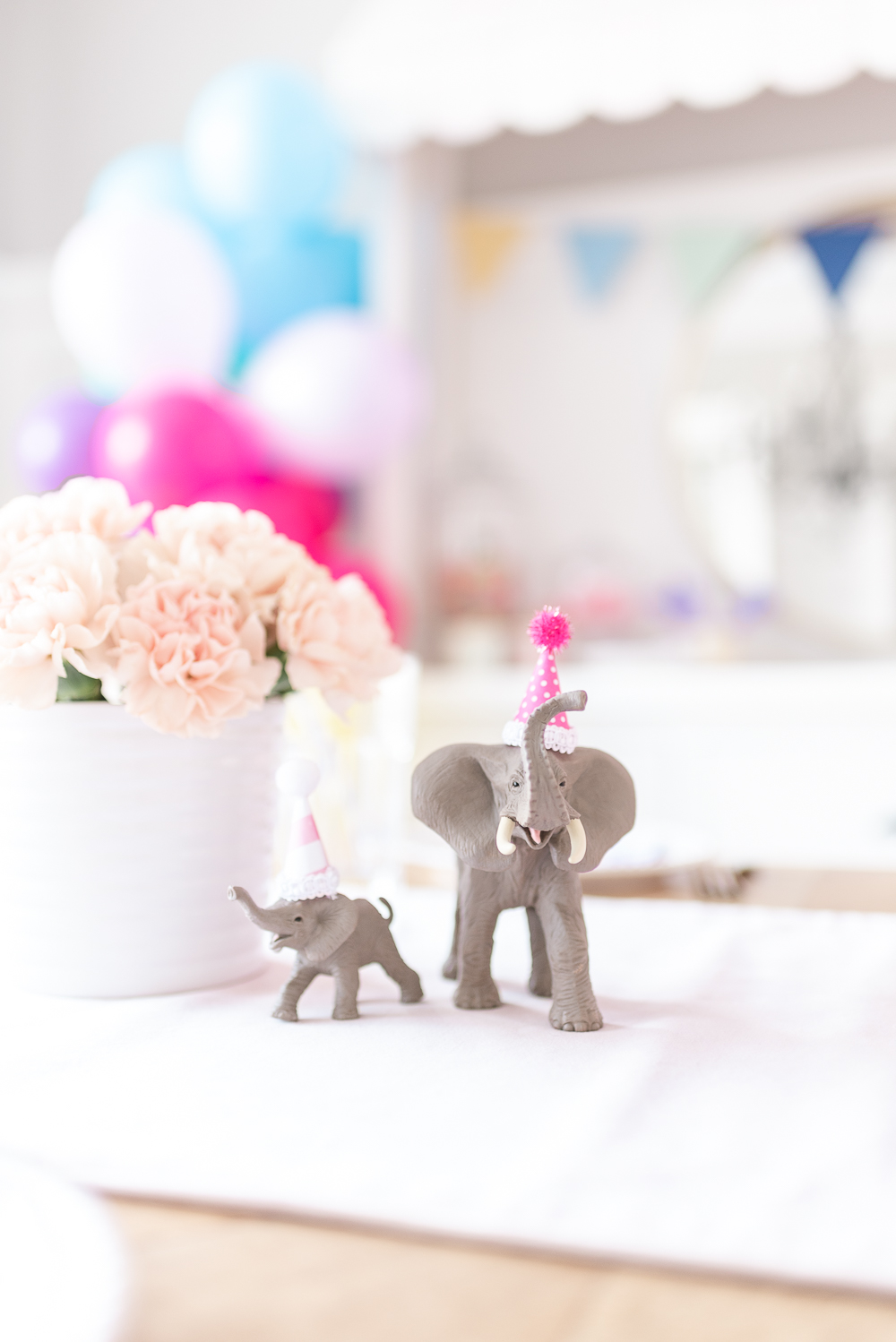 ---
get the look

---
Balloon Garland + Paper Bunting
We made a balloon garland for Ella's 1st birthday, and we loved it so much we decided to make another for Zoe's party. Balloon garlands are great because they are an inexpensive way to make a big impact. And of course, kids love balloons!
I'll admit, they look a little bit overwhelming and they do take some time to put together, but once you get into the swing of it, it goes pretty quickly. There are so many different balloon garland tutorials online, but I'll share how we made ours if you're interested.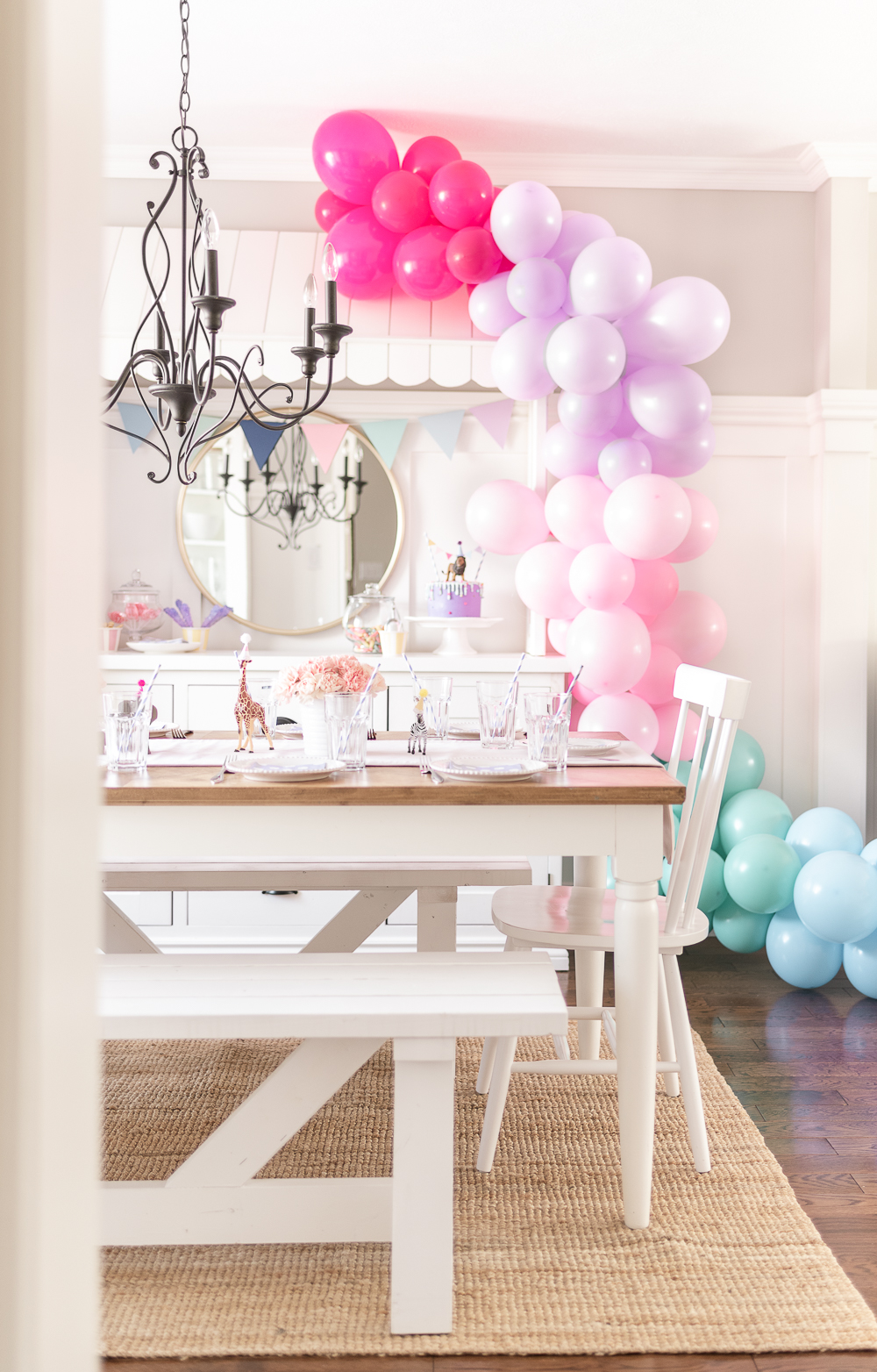 Supplies:
Air pump
Clear fishing line (8lb)
Balloons in an assortment of colours
Instructions:
Cut your desired length of fishing line and set aside.
Using the air pump, inflate one balloon and tie as normal. Inflate a second balloon of the same size and tie it to the first balloon so that the balloons are attached together.
Tie the first set of balloons to the fishing line, ensuring you leave enough line to attach the garland to the wall once finished.
Continue with Step 2 until you have your desired number of balloons. I used about 6 – 8 sets of balloons (12 – 16 balloons total) in a variety of different sizes.
Loop the fishing line around each set of balloons and slide the set to the end to create your first colour group.
Continue with each colour until your garland is complete.
It's really quite simple, it just takes a bit of time. And be prepared, your fingers will be sore from all of the balloon tying. We created two garlands for the carnival booth, one large garland as the main focus and a smaller garland to balance the opposite side.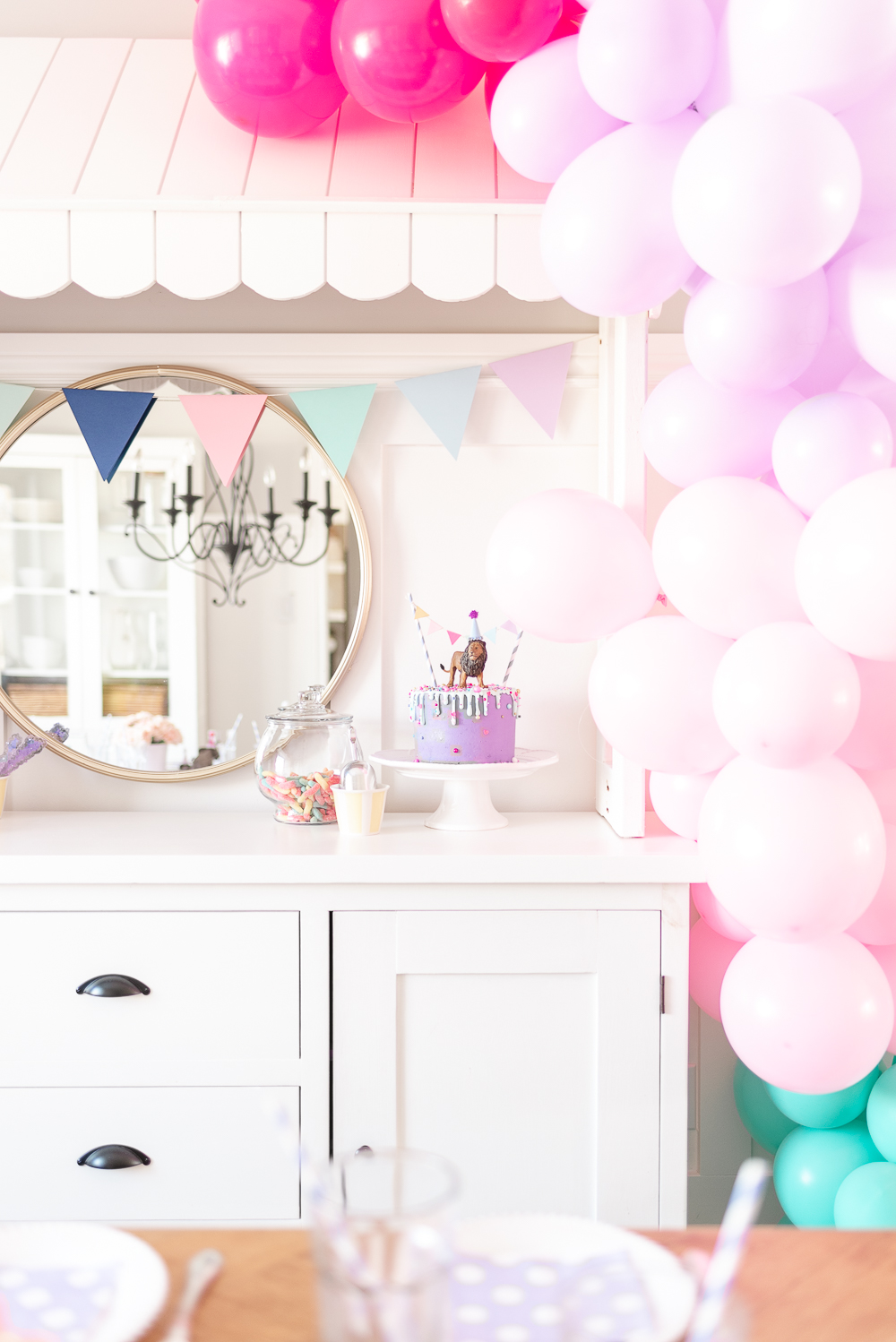 ---
get the look

---
I also made a couple of paper buntings for the party as well and I strung one along the back wall of the carnival booth. Again, this is a simple and inexpensive DIY but it adds such a sweet touch.
The Table
Because this was a kid's party, I kept the table pretty simple. I bought a couple of bouquets of inexpensive peach carnations to create two small centerpieces. Some parties call for elaborate floral arrangments and some call for a few sweet flowers, but no matter what I always like to have fresh flowers in our home when we are hosting.
I used a pink velvet runner to anchor the table and lined it with the two small vases of carnations and our wild party animals. I debated buying paper plates and cups for the party but ended up using our everyday dishes, silverware, and glasses. I added a striped purple and white paper straw to each glass as a fun extra detail.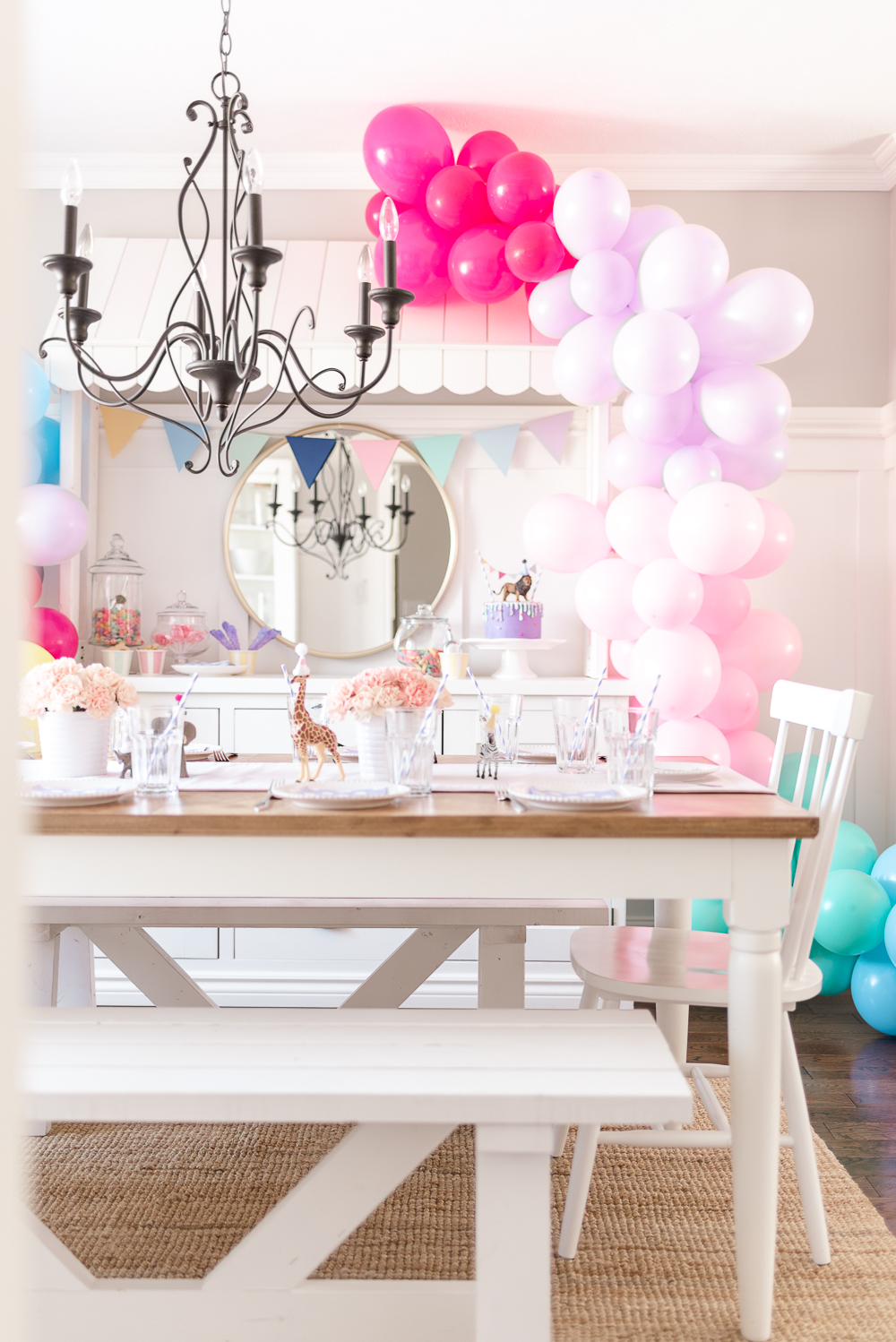 ---
get the look

---
Here's one of my favourite hosting tips…always make sure your dishwasher is emptied before a party or gathering so that at the end of the day you can simply put all of the dirty dishes into the dishwasher and run it before bed. It makes clean up a breeze, because waking up to a sink full of dishes is never fun, especially after a party.
You might have noticed we also added two benches to our table in place of the four chairs that are normally there. These benches are from our outdoor dining table and I knew they would be perfect for the party. Benches are a great way to add extra seating and we were able to fit all 12 girls around our table for crafts and cake.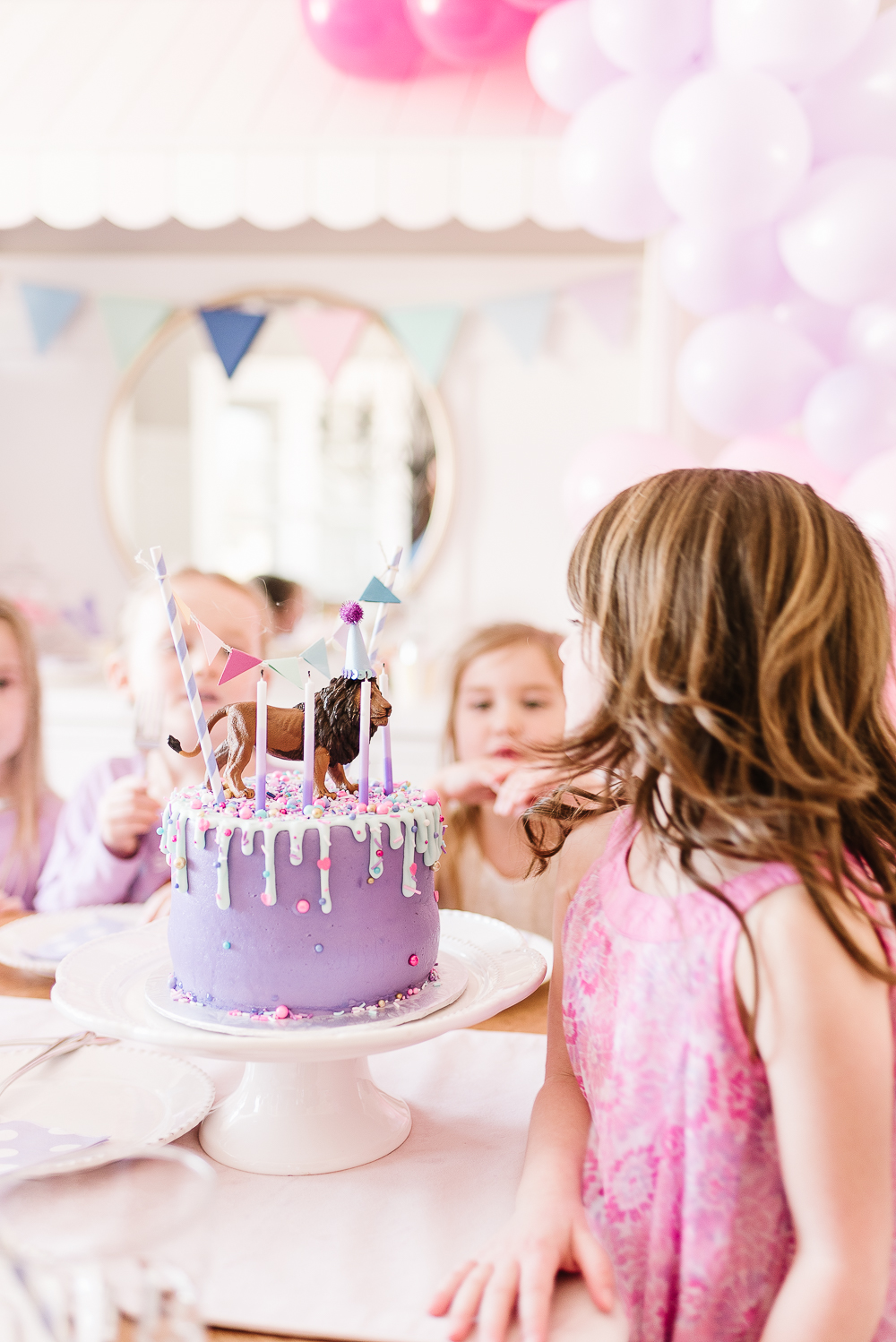 I was sad to see this magical circus birthday party come to an end, it was such a fun and special day celebrating with our girl and all of her friends. Zoe told us this was her favourite party yet, and I hope it's one she remembers for a long time. Do you have a favourite birthday party memory? We'd love to hear it, leave us a comment below.