These kids closet organization ideas are designed to keep little one's clothes, accessories and toys in their place while growing with them, and we're giving you free plans to build this to fit almost any closet using a Kreg Jig Pocket Hole System.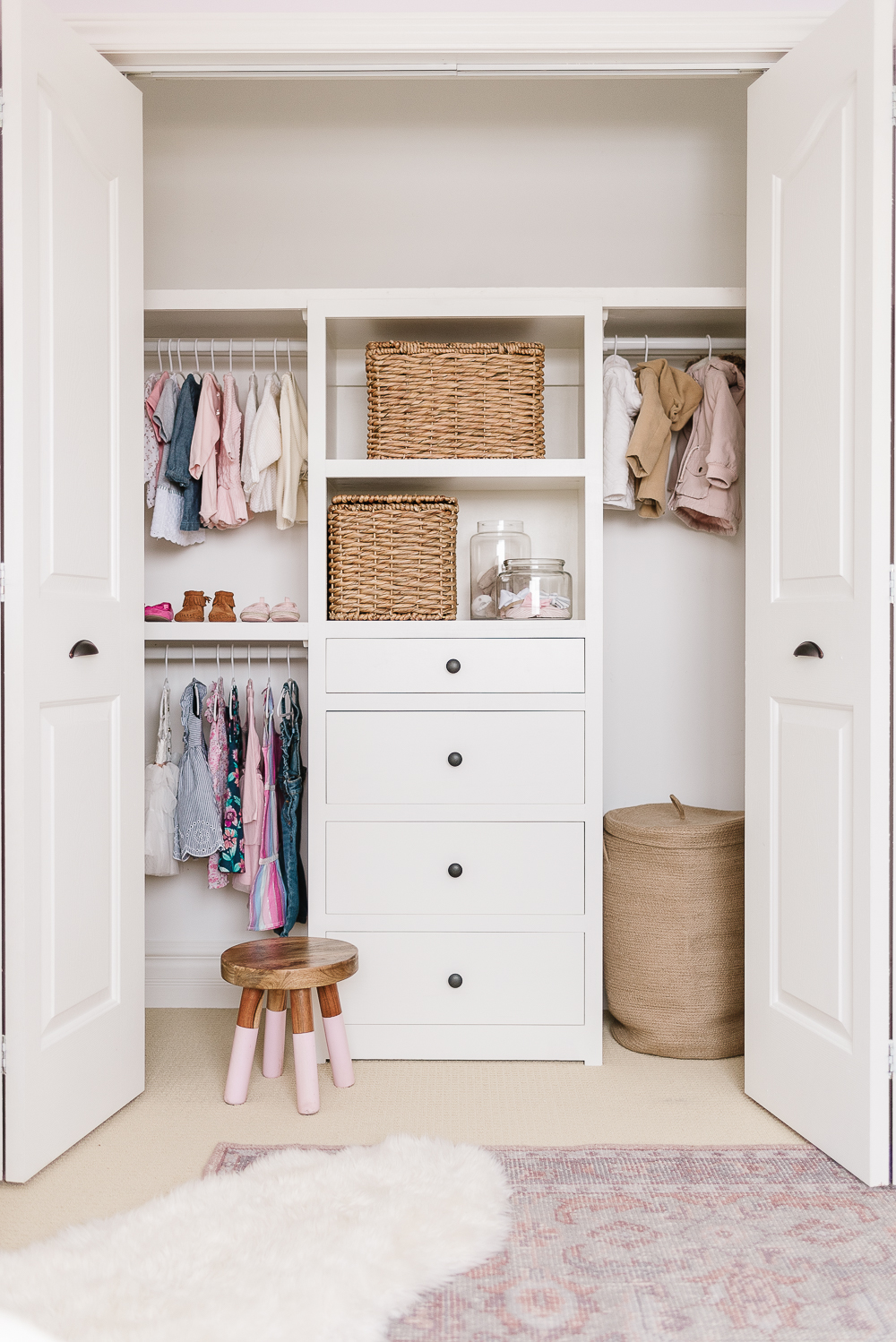 I've wanted to update the closets in our home for quite a while now. A few years ago we tackled our mudroom closet and turned it into an open, doorless space and we have loved the way it functions and forces us to control our stuff. From our master closet to the girls' bedroom closets to our linen closet, they all need a bit of work. So, we decided we'd work on the closets in the girls' bedrooms next.
We rely on their closets for a lot of storage space, from their clothes and off-season outerwear to toys and books too. I'm sure most parents can relate, kids have a lot of stuff. And even though we do our best to keep their things organized and pared-down, it's nice to have a space that can easily store and organize it all. Obviously we couldn't take the doors off of their closets as we did to our mudroom. But we still wanted it them to look pretty when the doors were opened.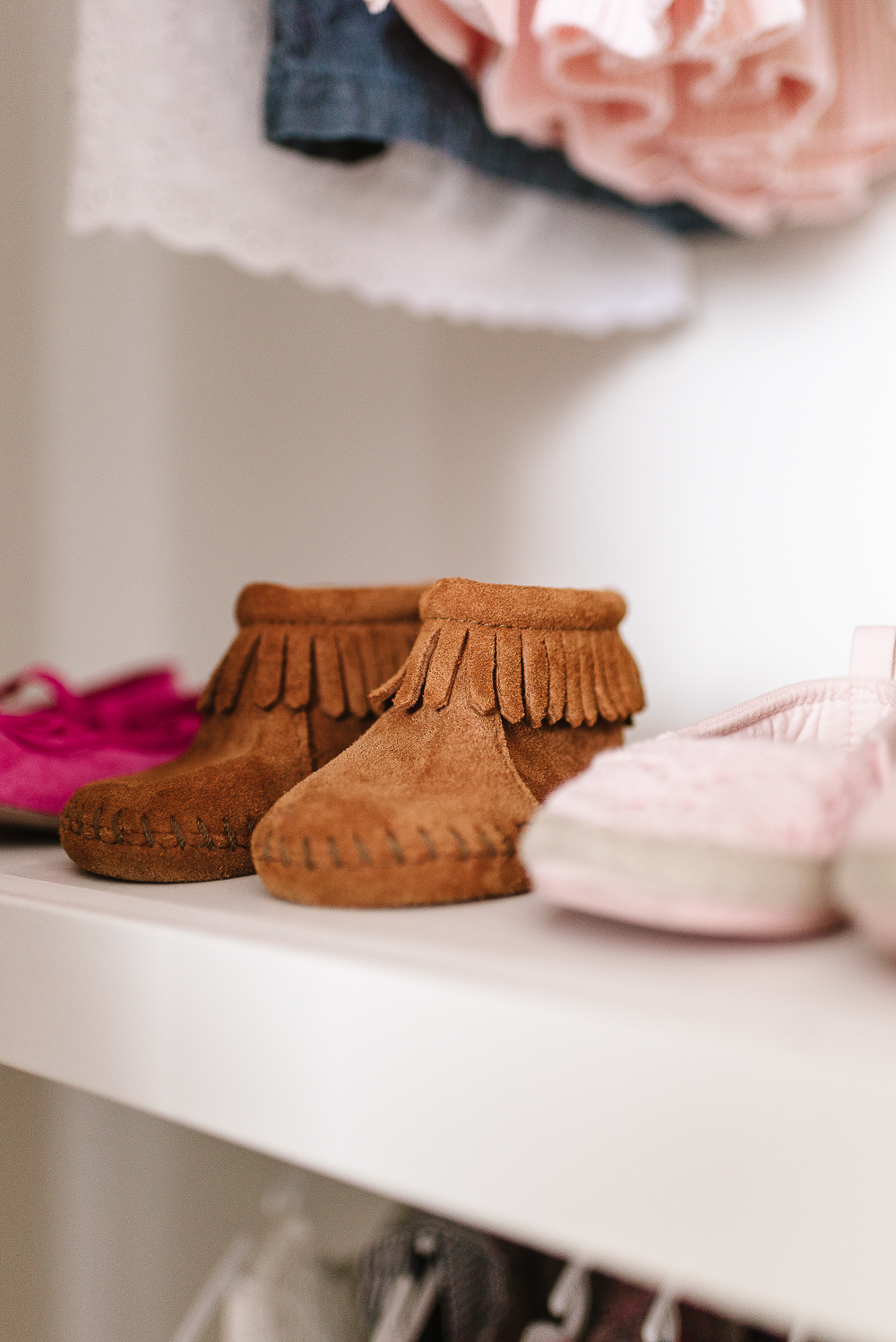 I came up with a few tweaks we could make to the girls' closets and Nick planned a design that paired function and all of the pretty little details I was after.
Of course, the most important thing to consider when organizing a closet is how to make the most of the space you have available. The closets in our girls' bedrooms are big for standard closets but they didn't make very good use of the space. There was a bank of open shelves in the center of the closet, along with two clothing rods on either side and one long shelf along the top. There was a lot of wasted space.
Because we had so much empty space we often used large totes to store things like extra toys and clothes, stacking them on top of one another. But it wasn't ideal. It required a lot of moving totes in and out of the closet just to get the thing that was needed, and it always seemed to be in the bottom tote at the very back of the closet. It easily became disorganized and messy. Not to mention, it didn't look very pretty either.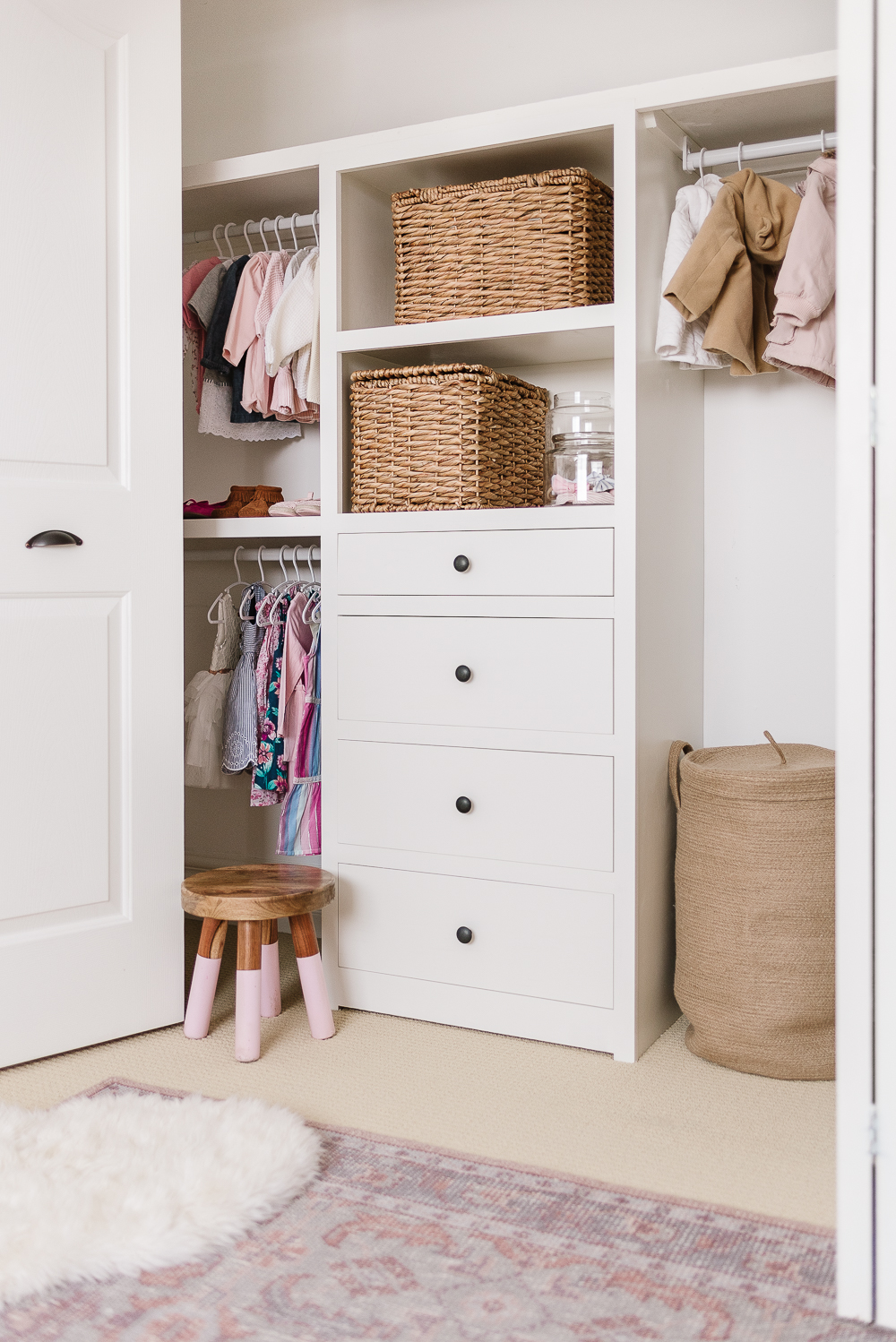 ---
get the look

---
I wanted Nick to design a closet that was easy to keep organized and that made finding (and putting away) clothes and toys easy for the girls. In the end, we were able to take their standard closets and make a space that not only looks a whole lot prettier, but that also helps keep us more organized. I'm not sure about you, but when our home is organized I feel like our life runs much more smoothly. Anyone else?
Before Nick designed the plans for the closets I knew there were a few elements that we needed to include to make sure we were creating spaces that would meet all of our needs.
First and foremost, I wanted the closets to feel like an extension of their bedroom. I know this has no relation to how well organized and functional the closets would be, but it was still important to me. This meant that their closets needed to feel youthful, feminine and airy. Just like the rest of our home.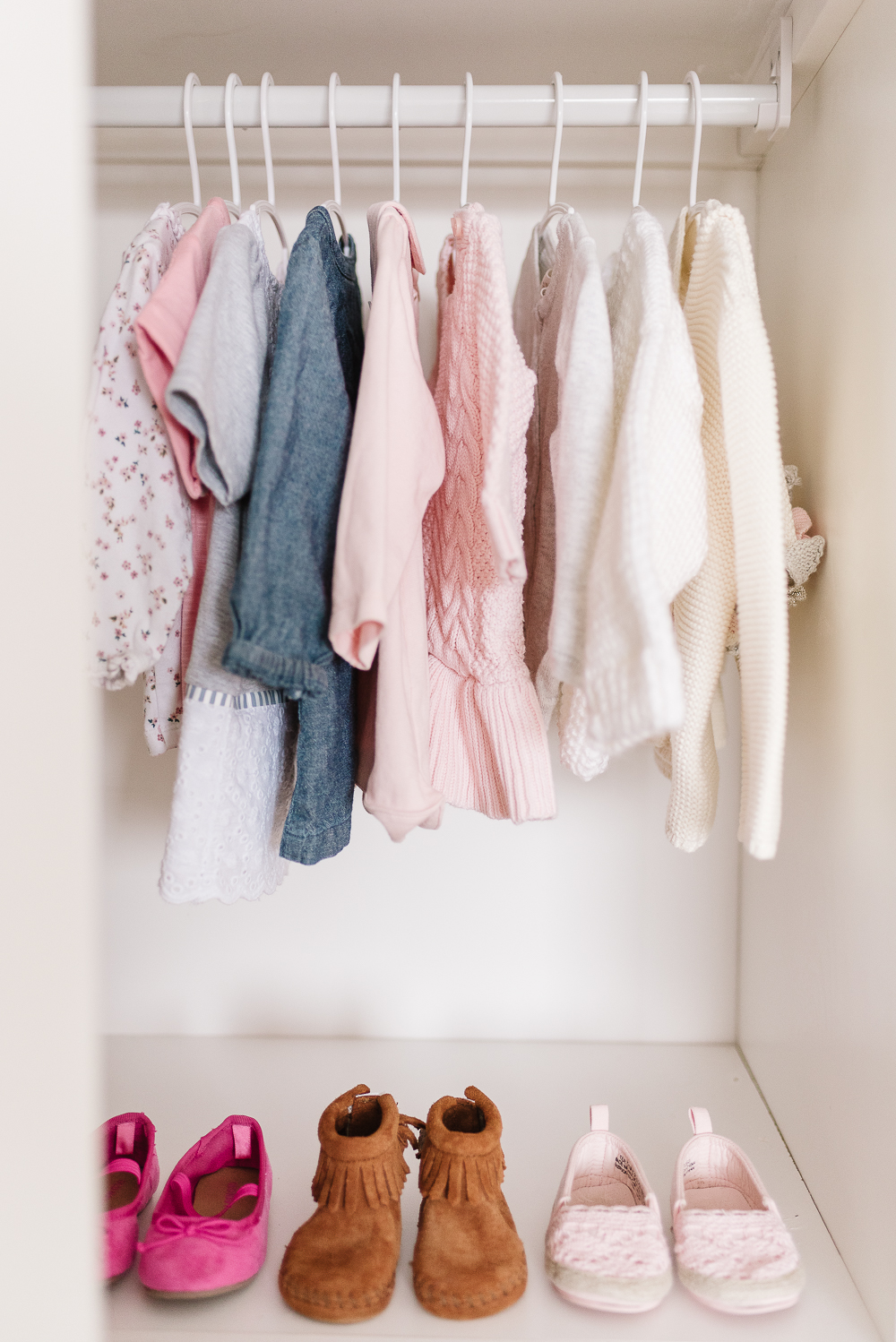 I think Nick did a great job making that happen.
Next came function. There were a few ideas we had to make the girls' closets work a lot harder for our family.
Built-In Drawers
From the very beginning, I asked Nick if he could create a section that had built-in drawers, almost like a dresser. Originally the girls' closets had open shelving, but the addition of drawers makes storage so much easier. I always love having a concealed space to store things, like extra diapers, blankets or toys. Plus, the built-in drawers give the space a nice clean look.
Nick designed this with three large drawers at the bottom, and the top drawer is a little more narrow. The thought behind this was to have this little drawer be able to fit smaller adaptable organizers, or a jewellery tray when the girls get older to hold all of their accessories.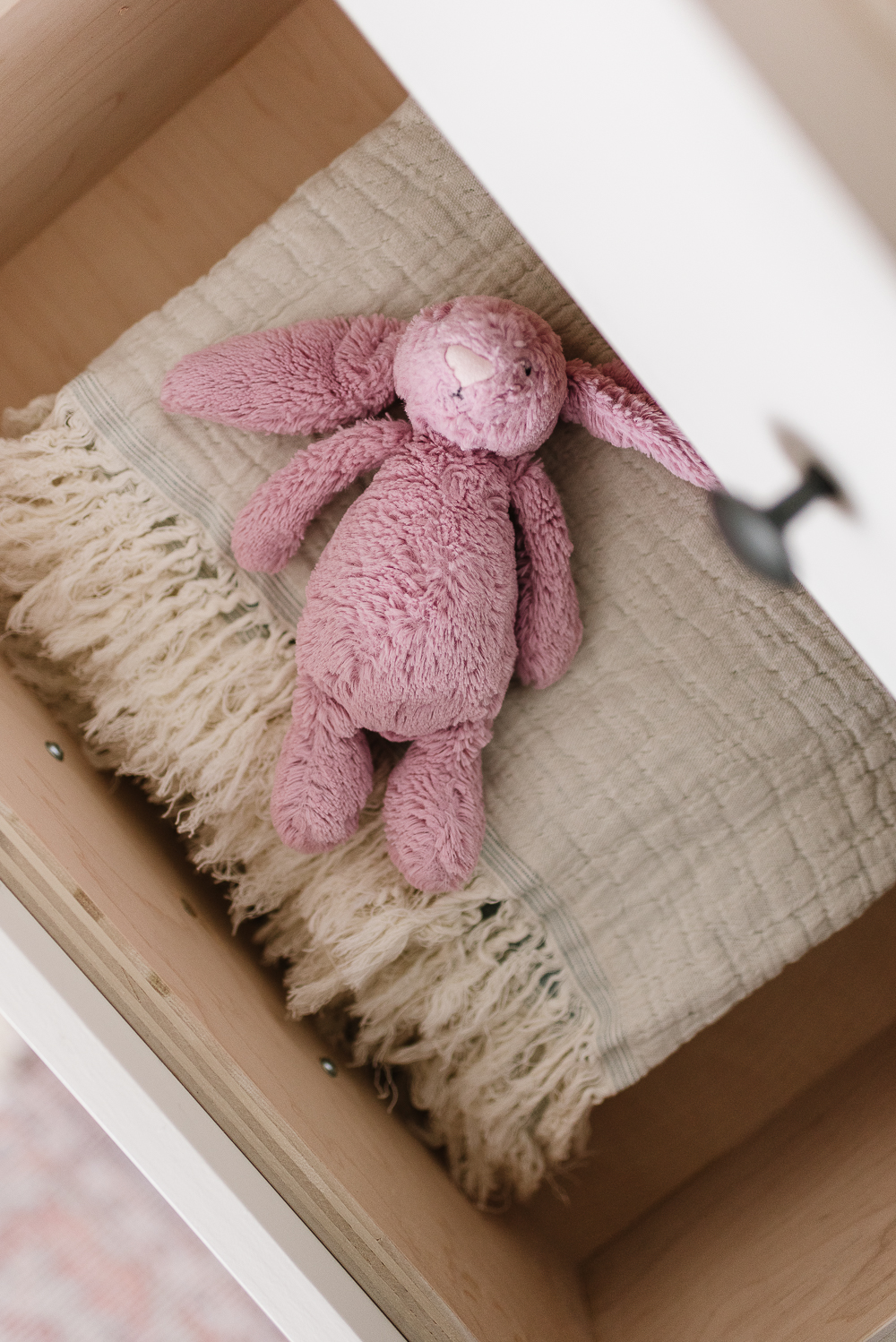 Baskets
We did decide to leave two of these shelves open, for a couple of reasons. First, if Nick added drawers right to the top, they would be too high to reach into. And second, I loved the idea of adding two big woven baskets to the closets. Just like any space, incorporating baskets is a great way to add texture and warmth.
Plus they are the perfect place to corral toys and books when they're not in use. We used to use clear totes in the girls' closets to store their extra toys, which made it easy to see inside but it also made the closet look busy and unorganized.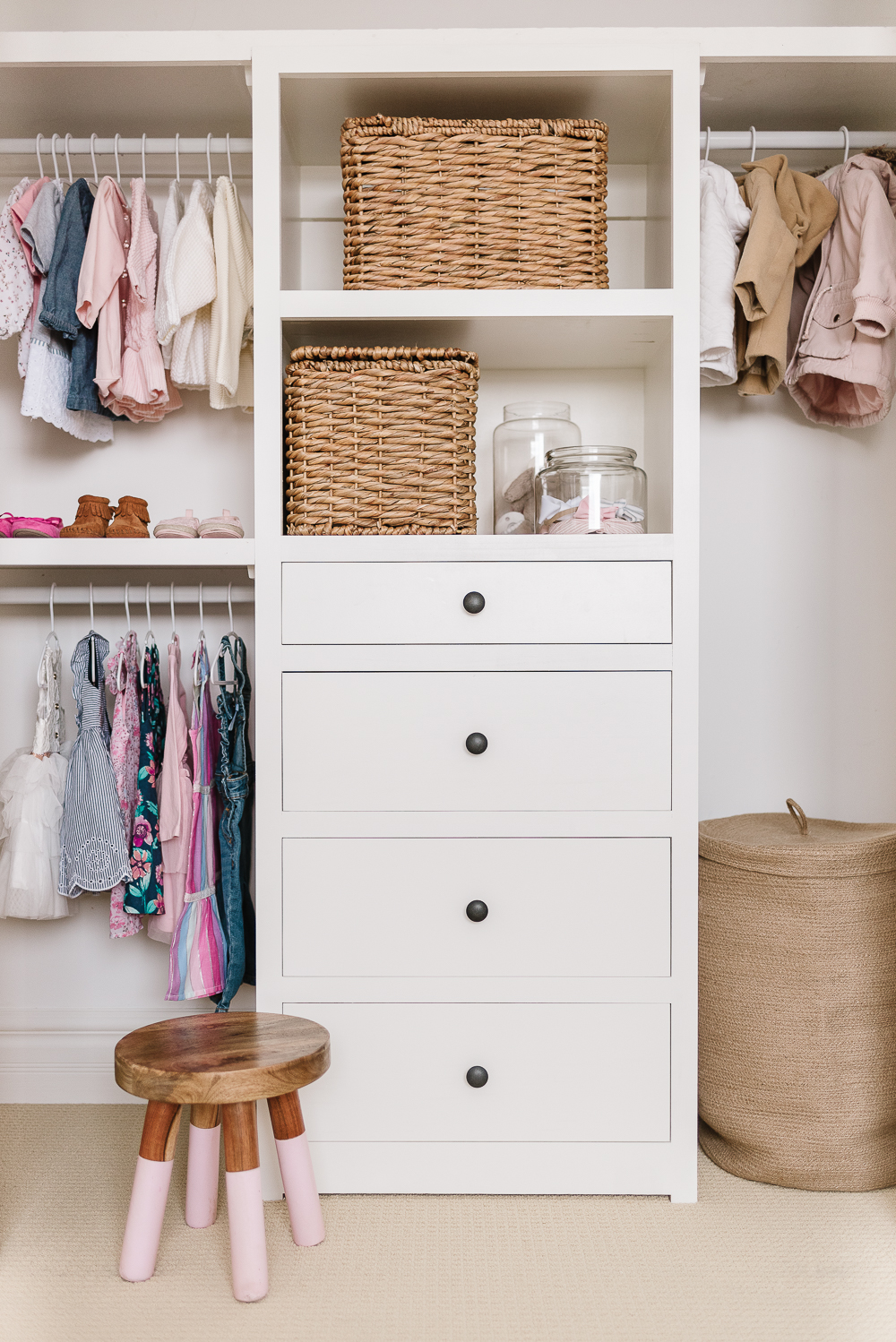 Ample Storage For Clothes
We also added three clothing rods for lots of extra clothes storage. Right now, the girls don't have enough clothes to fill the entire closet, but as they grow I know we will have more than enough space for their growing wardrobes.
Nick's design allowed for up to three rods, two on one side for clothes like sweaters and shirts. And one on the other side that will allow for dresses and longer pieces of clothing as the girls grow.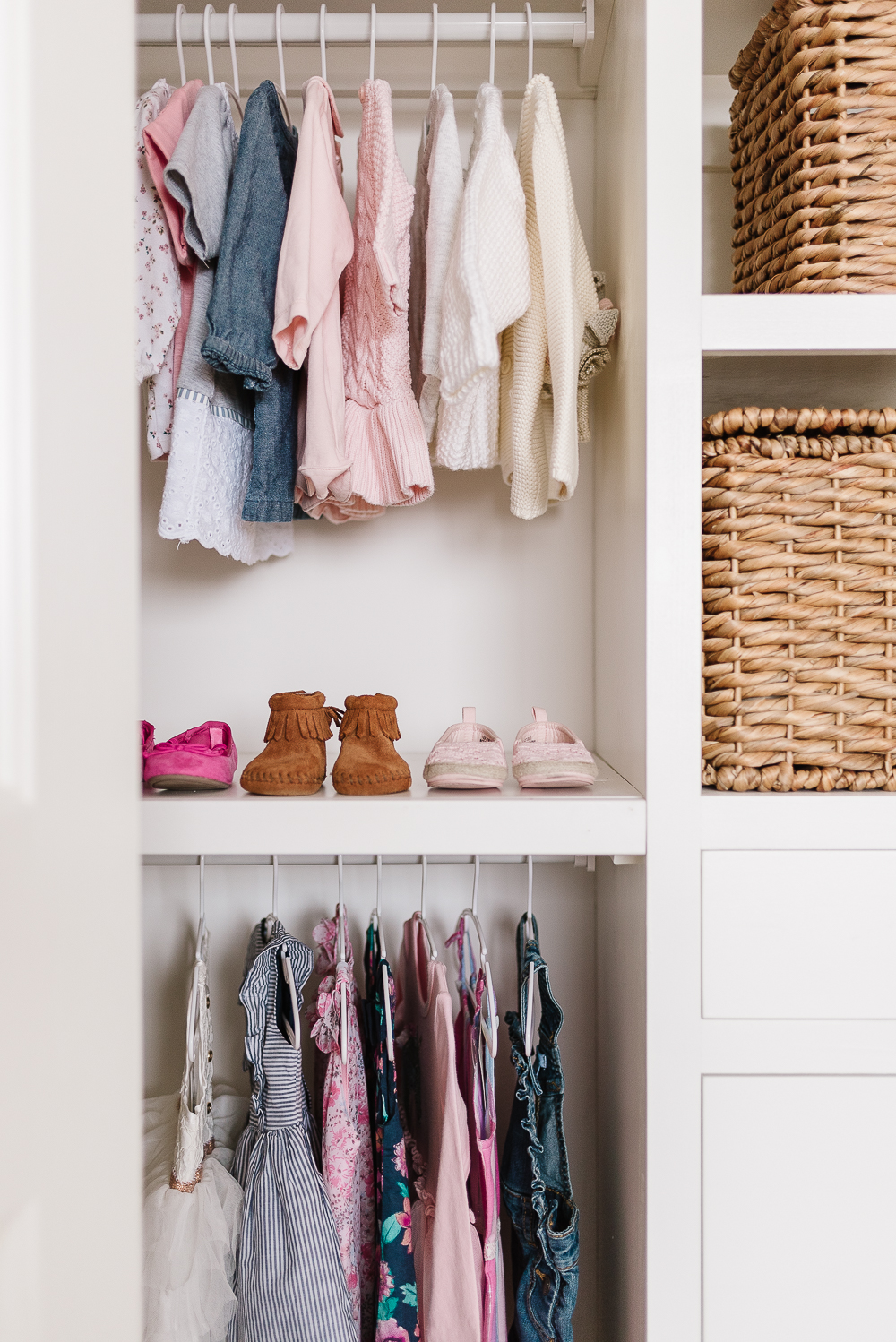 I also added a couple of glass jars to store things like teethers, rattles, bows, and headbands. I love using glass jars to store anything you want to keep in sight and easy to grab. Of course, you will want to make sure little hands can't reach them to avoid any accidents.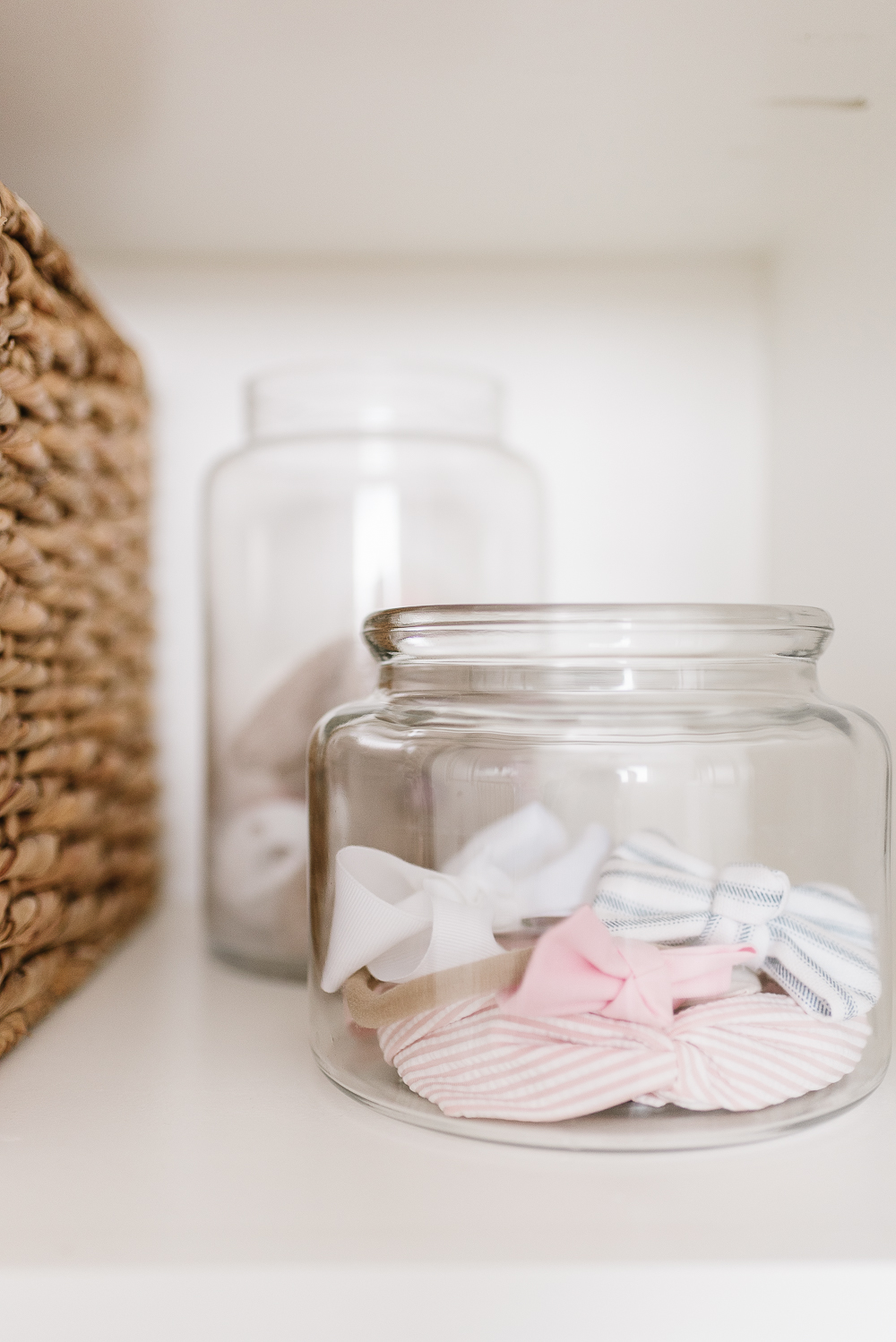 I still want to find some big baskets for the top shelf, and I'd love to wallpaper the back wall and inside of the drawers, but I think it's a good start to keeping their rooms tidy and organized.
Looking for the plans?
When Nick designed this closet, he made sure that it was something that others could adapt. No two closets are the same so it was something he had to design so that it would work for closets of most widths and depths.
If you want to build one of these closet organization systems for yourself, please carefully review the plans and finished size to ensure it will work for your closet space. The centre unit of this closet insert measures 25 1/2″ wide x 66 1/2″ tall x 16 3/4″ deep.
Click on the link below to get full access to the plans for this closet organizer! And while you're on Kreg's DIY plan site, I'm sure you'll find lots of other projects to build with your Kreg Jig.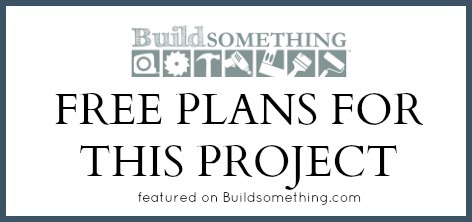 DISCLOSURE:
This post is sponsored by Kreg Tool Company.
We have received compensation and/or product for this post.
However, as with all of our partnerships, all opinions and ideas are our own.