Spread a little Easter love with these thoughtful and fun Easter gift ideas for babies and kids.
I wrote this post prior to the challenges our world is currently facing. I debated not sharing it as we are all dealing with so much uncertainty and worry, and posting an Easter gift guide feels a little trivial. I know Easter is going to look very different for a lot of people this year. Unless there is a big change in the coming weeks, social distancing means families will not be able to celebrate together, and financial challenges may mean Easter dinner and gifts aren't quite as indulgent. So while Easter this year may not be the celebration we were all planning and looking forward to, it doesn't mean it can't be special.
Our holidays have always been spent together with our extended family and a big meal and I am slowing coming to terms with the idea that it probably will not happen this year. But just like all of the other changes and challenges we are currently facing, I am doing my best to make the most of it. We still want to give our girls' an Easter to remember, which means there will be a lot of family time. Easter morning will start with our annual Easter egg hunt, followed by a long afternoon walk in the fresh air and Nick and I will cook a small Easter dinner just for the four of us to enjoy. We will also make a few Easter treats, like our White Chocolate Easter Popcorn or our Banana Lavender Cupcakes. It will be different, and a whole lot quieter, but it will still be special.
I'm also still planning to put together Easter baskets for the girls, and Easter has always been one of my favourite holidays for gift giving. I love spending time collecting sweet gifts chosen especially for each of our girls, and wrapping them all up in an adorable wicker basket for them to discover Easter morning. I have so much fun filling their baskets with a few new carefully chosen toys, outfits and books that I know will delight them and make them feel special.
Just like any holiday, I like to choose gifts for our girls from three general categories. This helps to keep me focused and not go overboard, which, if you ask Nick, I have a tendency to do. Especially during Easter, because everything is just so darn cute, am I right? Everywhere I look, I see pastels, bunnies and florals, it's hard not to want to buy everything in sight.
Easter Gift Ideas for Babies and Kids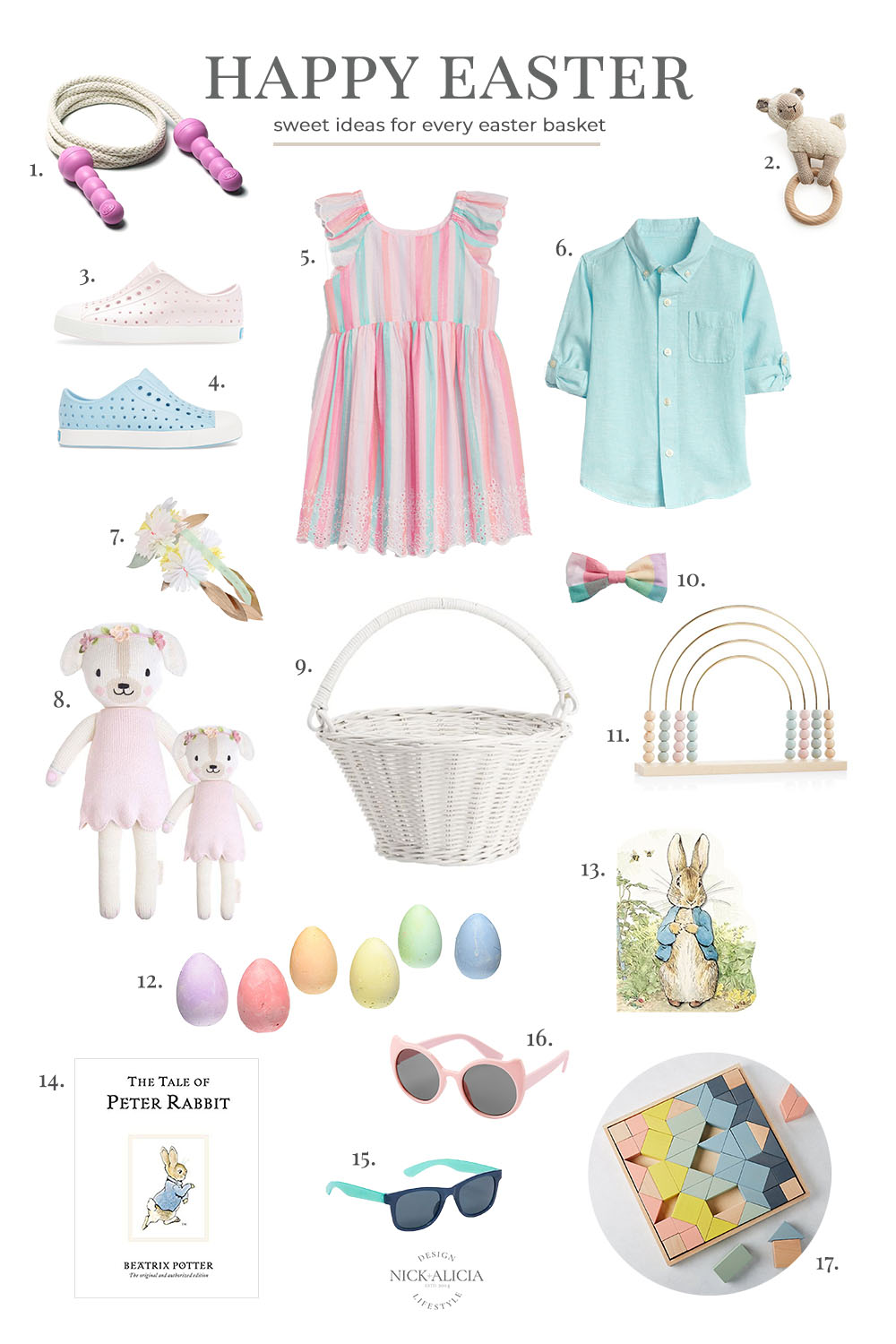 one | two | three | four | five | six | seven | eight | nine | ten | eleven | twelve | thirteen |fourteen | fifteen | sixteen | seventeen
This is how I create thoughtful and sweet Easter baskets for our girls…
Baskets
Of course, the perfect Easter basket needs to start with a basket. Last year I bought the girls' beautiful wicker baskets in white, which we will use for many Easters to come. But if you don't have the space to store bulky baskets for the rest of the year, I love the idea of collecting their gifts in a beautiful basket that can be reused after the holiday. So think outside of the box, you don't need to use a traditional Easter basket, instead search for a pretty and practical basket. Because really, you can never have too many baskets, they are great for corralling craft supplies, small toys, books, you name it!
Toys
Kids love toys, there's no denying that. So of course, the girls' Easter baskets will be filled with two or three small toys for them to play with Easter morning. And because Easter means our warm weather is just around the corner, I always like to include a few outdoor toys or activities they can look forward to playing with once the snow melts and the warm weather arrives. Skipping ropes, hula hoops, sidewalk chalk, and bubbles are always fun to include. And if you're really looking to spoil your little one, a new bike is always a hit too.
Clothes
Kids are never quite as excited about unwrapping a new outfit, but I still always include a few new pieces in the girls' Easter baskets. It's a great way to grow your little one's spring wardrobe, and it's the perfect opportunity to give them a sweet outfit to wear Easter day. I love to include a pretty new dress, a pair of shoes and an accessory or two.
Books
I think it's so important to foster a love of reading in our little ones and what better way to encourage this than with a new book.
I love choosing a new book or two to give our girls' every holiday, as a way to grow their holiday book collections. We started this great tradition last Christmas, but it would be fun to apply to any holiday. Personally, I love giving old classics, like Peter Rabbit or The Velveteen Rabbit, but of course, it's always fun finding new favourites too.
Again, we want to remind you, if this year's challenges prevent you from filling your little ones' Easter baskets with chocolate, toys, and goodies, it's ok. Celebrate the day as a family, spend time together and make memories, this is what your kids will hold on to and remember for years to come. Focus on the positive and remember that we are all in this together.