Follow these easy ideas and learn how to love your home even if it isn't your dream house.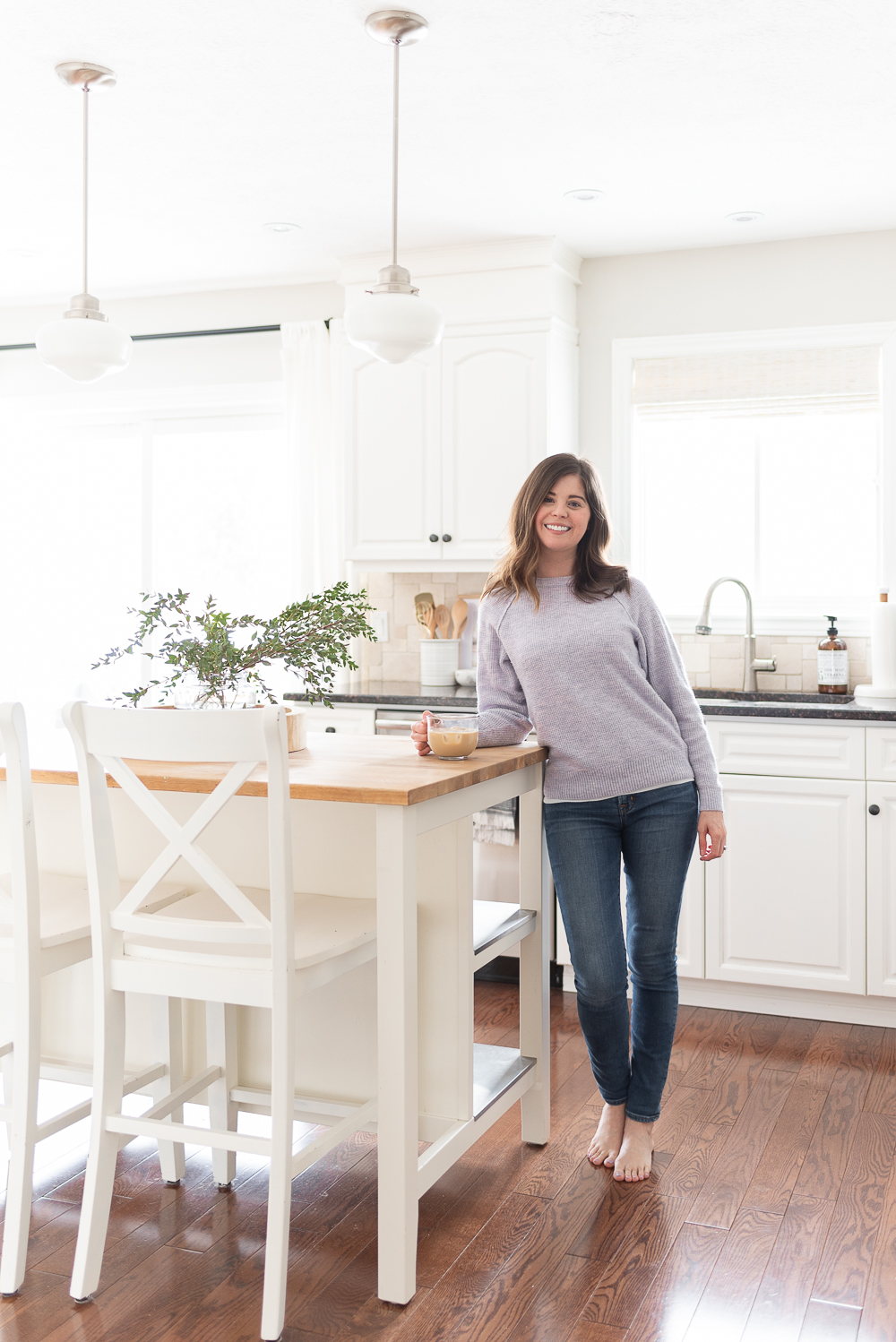 I think from time to time we've all struggled with loving our home. In a world where Pinterest and Instagram dominate so much of our time, it's easy to feel like your own life just doesn't add up. It's something I struggle with on a daily basis. I get lost scrolling Instagram looking at these newly built or renovated homes and I hate to say it, but I feel envious. Negative thoughts creep into my head about our home and I start to think if only I had a brand new kitchen… or if only we were building our dream home…
Our home was built in the '80s, and while the previous owner did a lot of renovations and updates, there are elements and aspects that don't fit with our style and that we'd like to change. But like many, we can't afford to completely gut our kitchen or renovate our bathroom (two spaces I'd love to tackle). So while these thoughts do creep in, it usually only takes a few minutes for me to stifle them. I put my phone away and I look around our house and see all that it is and how much I really do love it.
But that love didn't happen overnight. It's taken a lot of years of updates and (minimal) renovations on a budget, not to mention a completely different way of thinking to really embrace our home. I've discovered that while I may be unhappy with certain areas of our house, I love the space we've created for our family and the feeling it evokes. The saying really is true, home is where I'm with you. It was as I was laying in bed one night with Zoe while she drifted off to sleep that I started thinking about what makes our house feel like a home and why, while it's not our dream home, I still love it. To be honest, I'm not even sure I can accurately put it into words, but I'll try.
I thought about our girls and this space we've created for them. I thought of them snuggled in their warm beds driting off to sleep feeling safe and loved. I thought about them bellied up to the table on Saturday mornings delighted with homemade pancakes and maple syrup for breakfast. I thought of them laughing and screaming while running wild through our backyard. It made me realize a home you truly love is born not only out of aesthetics but also from the feelings it evokes.
How to love your home, even if it isn't your dream house
1. Make Memories
I think Chris Loves Julie said it best, don't wait. I can remember reading one of their posts shortly after they lost their cabin to fire and Julia talked about how glad she was they didn't wait until their renovation was complete and everything was in place to host family and friends. I think that message is so important!
Don't wait to make memories in your home until you've finally finished that renovation, bought that new sofa or styled your kitchen just right, invite your family and friends over, host a neighbourhood gathering or offer to hold the next family holiday. You won't regret it. When your house is filled with laughter, joy and good company that's when it really starts to feel like a home, a home you love.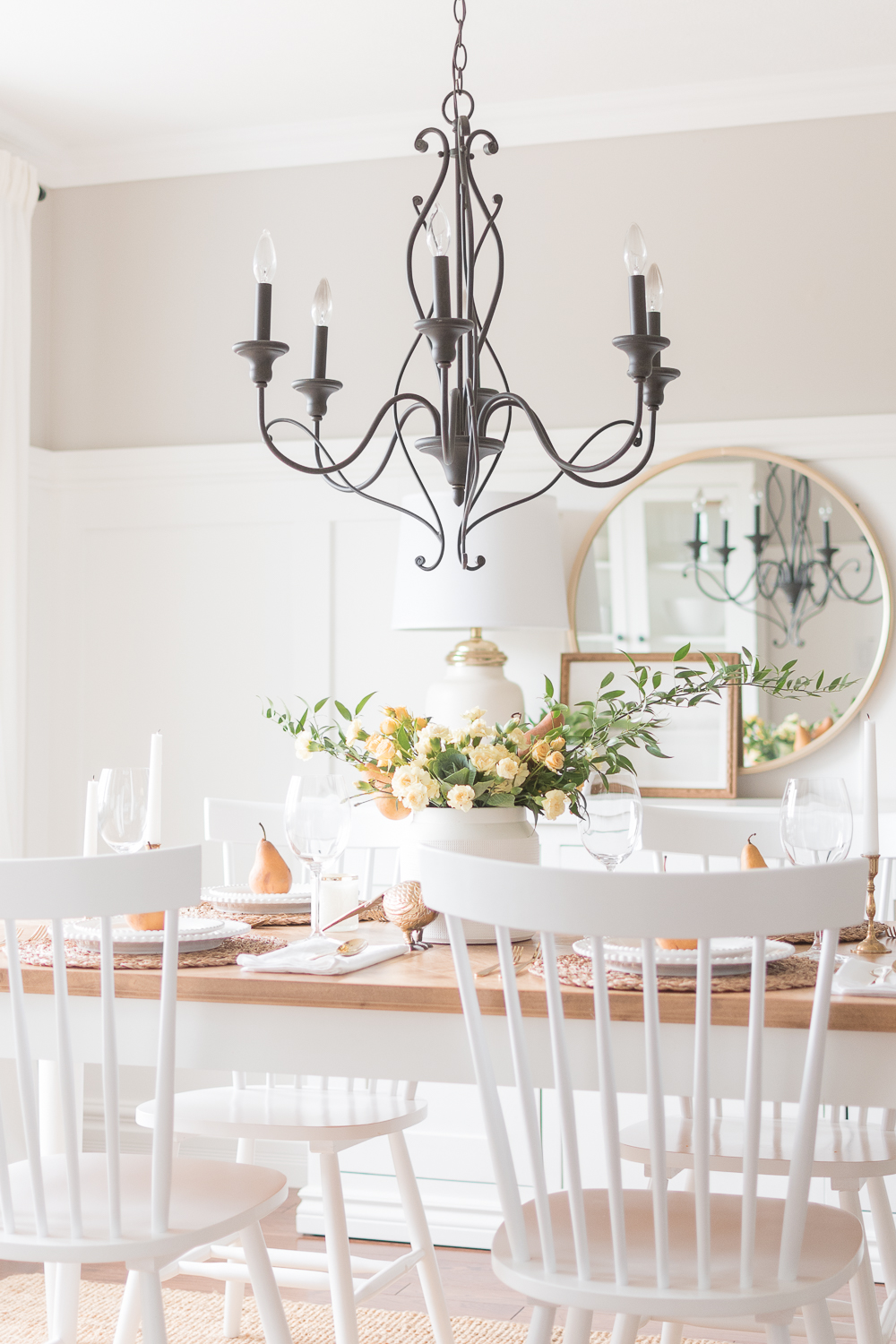 ---
get the look

---
2. Reflect Your Personality
In order to really love your home, it needs to reflect your personality and that of your family. Don't let anyone else tell you how your home should look or feel, it's about what makes you happy.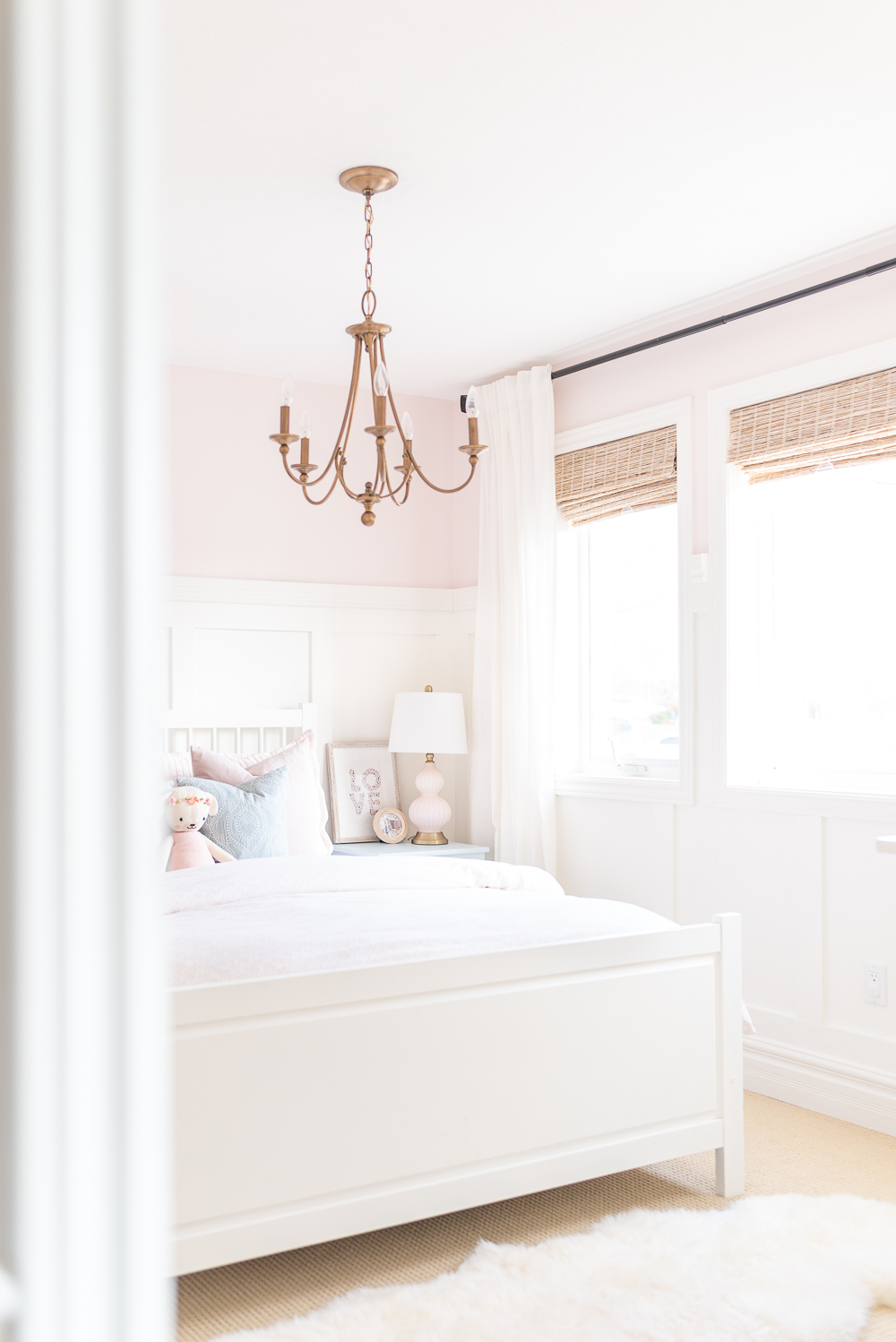 ---
get the look

---
3. Plan For Updates and Renovations
Not everyone can afford to complete an entire home renovation, especially all at once. So an important part of learning to love your home is to be patient and focus on what you can change to love it even more.
If you're anything like me, I'm sure you have a running list of things you'd love to change in your home, whether big or small. But we all know updates and renovations take thoughtful planning, time and money. It doesn't just happen overnight, although, wouldn't that be nice?
Usually, these changes can be sorted into two categories, short-term and long-term. Short term projects are often more affordable and require less planning, but can have just as much impact on how you feel about your home. Maybe you want to update your window treatments, replace an area rug or simply add a few new plants to your kitchen, all of these changes are relatively simple and cost-effective but will leave your home feeling fresh and new.
Long-term projects typically take more investment, but will likely result in the biggest improvement. If you're planning an addition or renovation, take your time to ensure you get it right. I think it's important to invest in the changes you can make to your home that will give you the biggest return when it is time to move on, for example, kitchen and bathroom renovations. Making these investments will ultimately help you to love your home for the time being, but will also help you reap the benefits when you sell.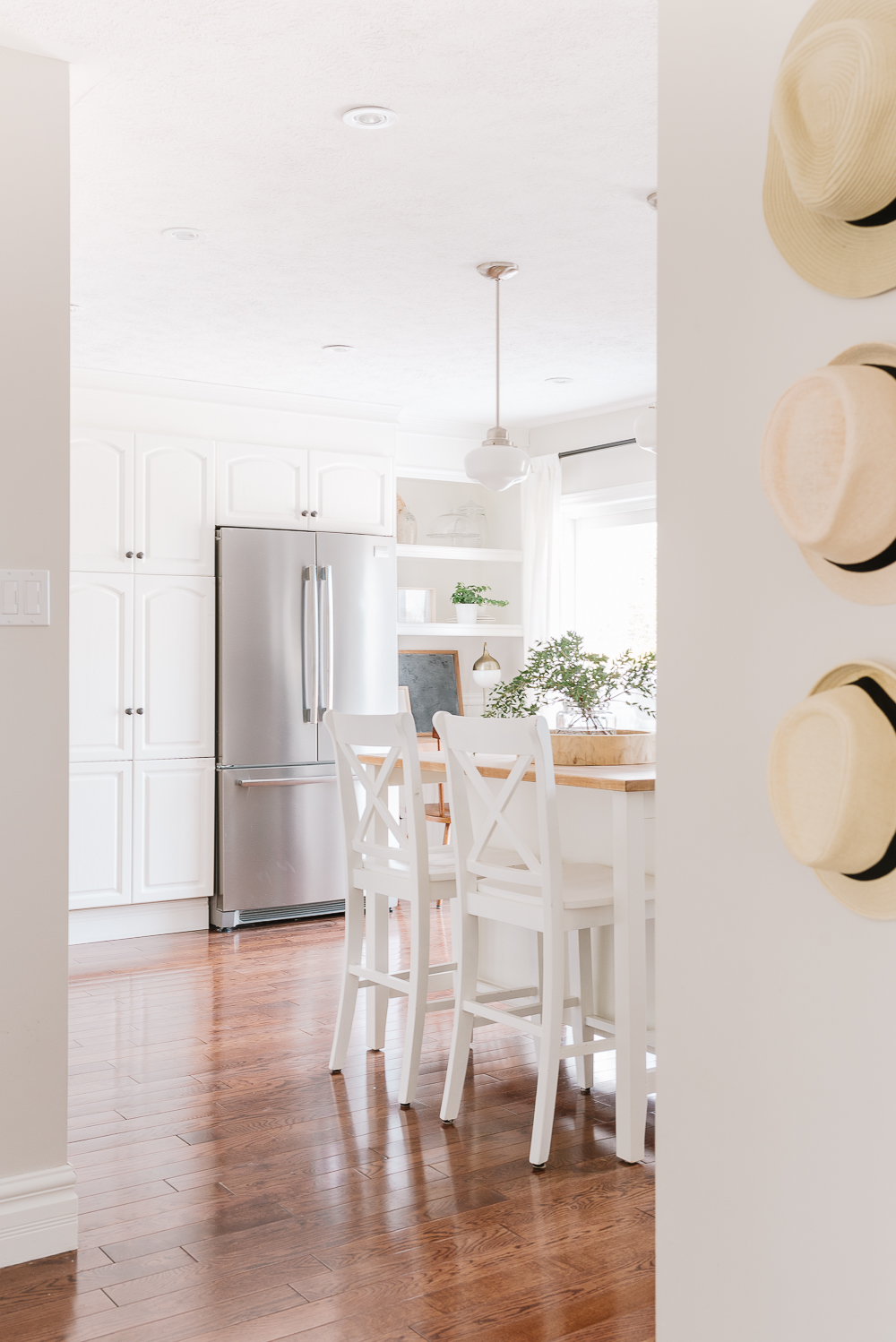 ---
get the look

---
4. Spend a Few Hours Deep Cleaning
This one's pretty straight forward…nothing makes me love our home more than when it's tidy, organized and clean.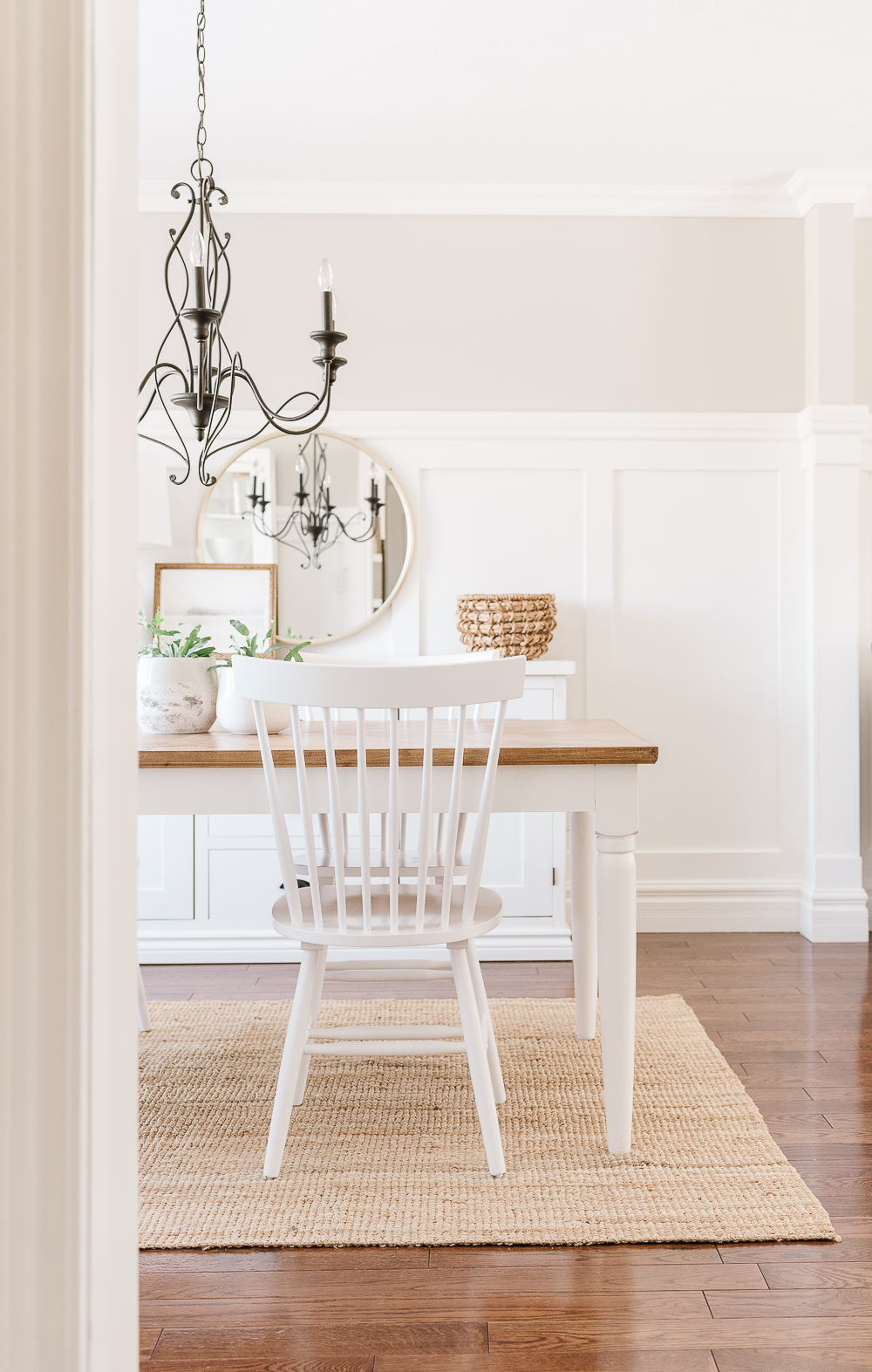 ---
get the look

---
5. Show Gratitude For The Home You Have
I'm the first to admit how easy it is to get sucked into wanting more or better, but when those thoughts start to creep in I remind myself to be grateful for everything we do have. So while I dislike our kitchen countertops, I'm thankful we have a kitchen to cook meals in, and while we have only one bathroom on our upper level I'm grateful for our busy and crowded mornings getting ready together. I know there are so many people in this world that are going through troubling times or dealing with devasting circumstances that countertops and bathrooms seem trivial in comparison.
So, if you find those thoughts taking hold, I encourage you to take a minute to be thankful that you have a roof over your head and it will put all of those feelings of dislike and wanting more (or different) into perspective.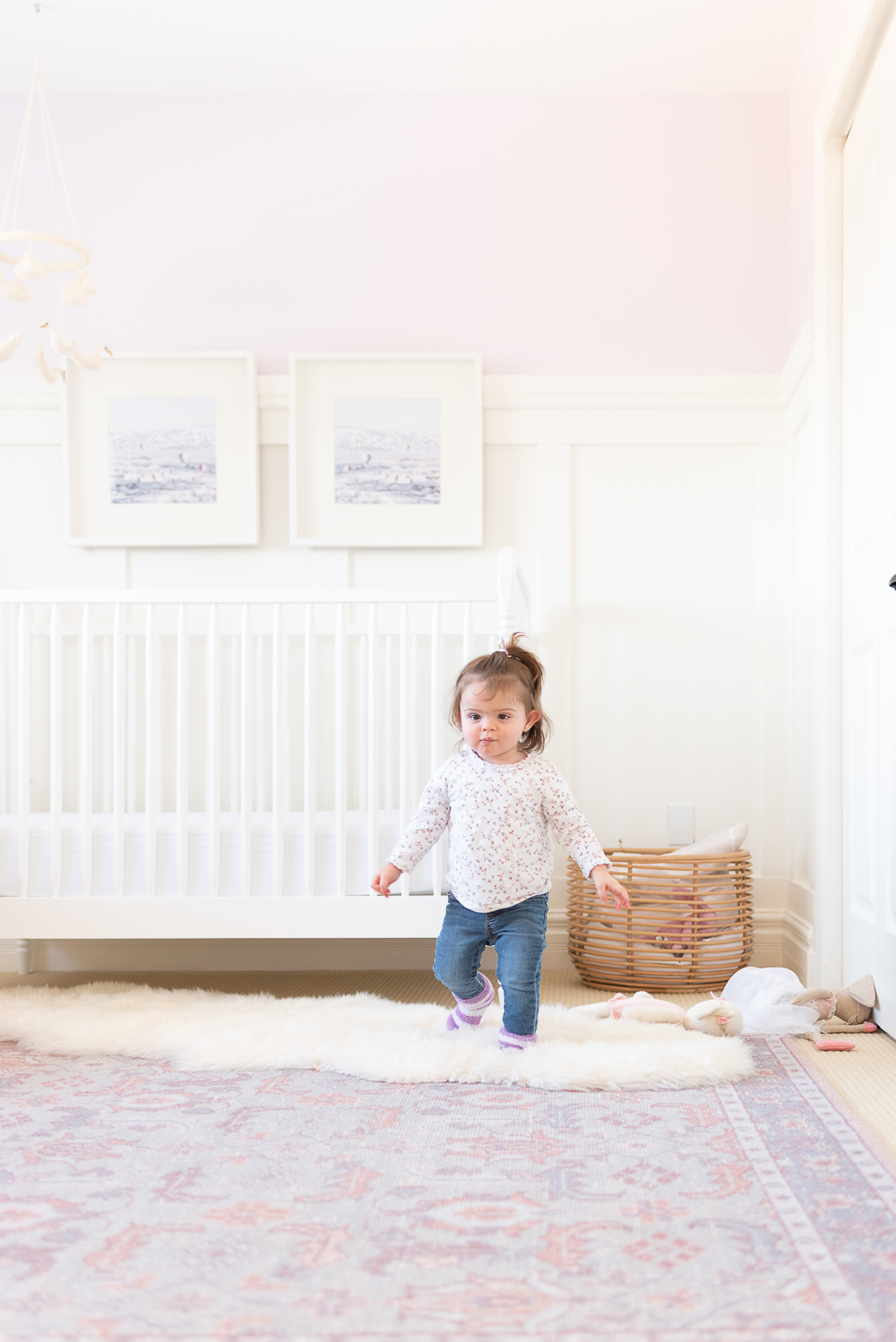 ---
get the look

---
There are so many ways you can go about changing the way you feel about your home, these are just five of the ideas we embrace. If you have others we'd love to hear them, leave us a comment below!