This traditional and feminine bathroom design mixes soft colours, warm brass tones and classic elements for a space that feels fresh and youthful.
Do you ever get that uncontrollable need for change? It usually hits us in January, once the holiday decor has come down and the new year is laying ahead of us, full of possibilities. We start talking about our plans, dreaming of the future and inevitably end up with another project on the go. It happened last year when we decided to rearrange our living room and it resulted in Nick building our beautiful fireplace (with hidden TV!). And this year was no different.
It was about the second week of January when we decided to update our main floor powder room. We briefly talked about it and then Nick immediately set to work. He tore off the old wainscotting and wallpaper, which ended up taking a lot longer than we had anticipated. Our frame of mind was to just start. We figured we'd have the updates finished within a week or two. It is such a tiny space, how could it take us much longer?
Boy, were we wrong! We ran into a few issues that ultimately lead us to delay any progress we thought we would make right away. First was the removal of the old wallpaper. It put up a good fight, but after many hours Nick finally got it off the walls. We ended up using this product, which made all the difference. So once the walls were repaired and cleaned, we thought we would keep moving forward, but then the stomach flu spread through our house, hitting us one by one. We were out for a week and by the time we were all feeling better, we had to switch our focus to Zoe's birthday. We planned a really fun party for her, which ended up taking a lot of our time and energy, so again the powder room had to wait.
We finally have a few weekends ahead of us with not much on our schedule so we're ready to keep marching forward! We're planning a few simple changes to give the space a fresh new look.
You can see our completed powder room makeover here.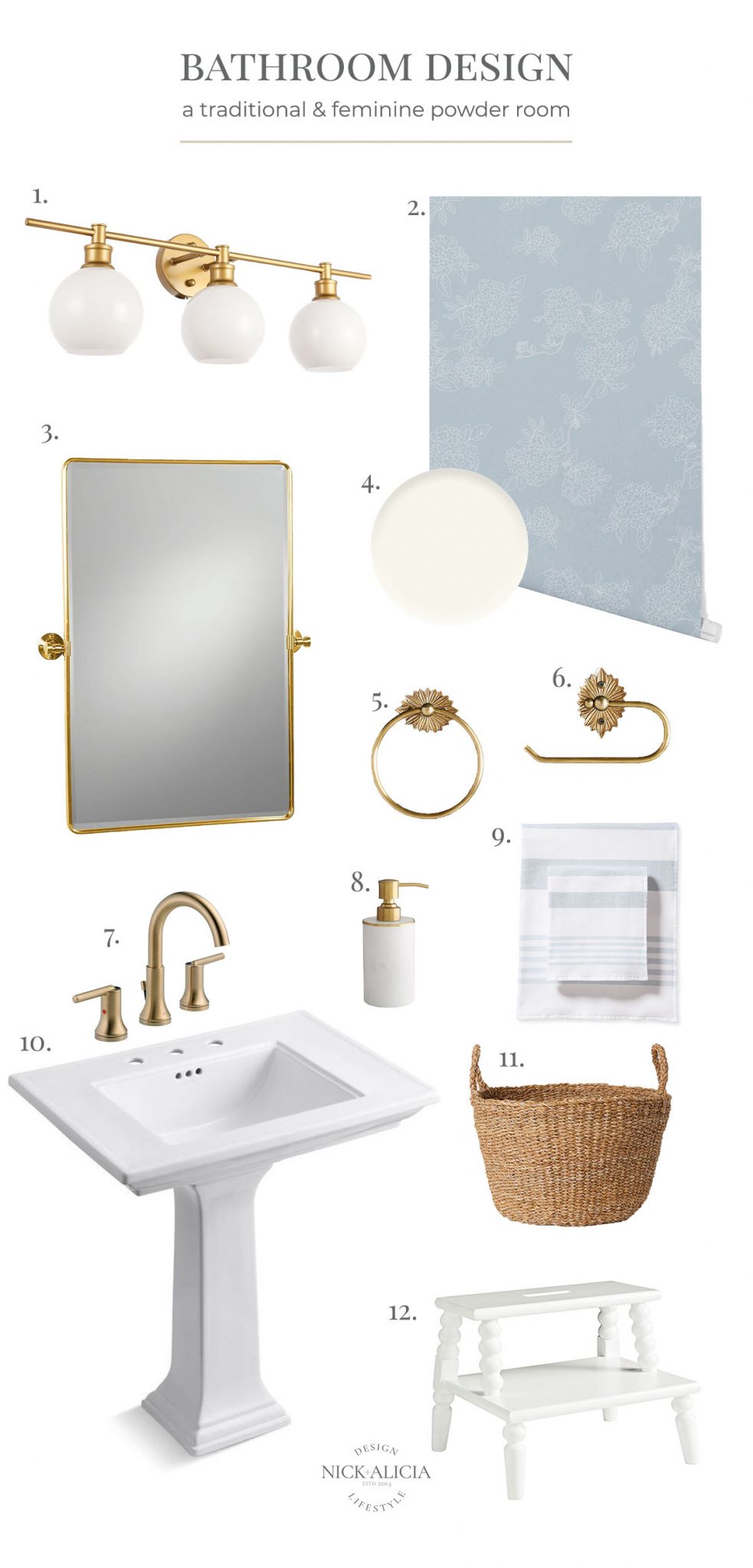 Wallpaper
First, I've got to tell you about this gorgeous wallpaper. It's part of Monika Hibb's Countryside Collection with Urbanwalls, and the minute I saw it, I was obsessed. With dainty pencil-sketched hydrangeas and in the prettiest shade of blue, I knew it would be the element our tiny powder room needed for a big dose of personality. We'll also add board and batten (see our tutorial here) to the walls, painted Simply White by Benjamin Moore. It's one of our favourite white paint colours and we use it often, but you can see all of our favourites here.
Fixtures and Hardware
We will be keeping our existing toilet and pedestal sink, which are both fairly new. But we will be updating all of the fixtures and hardware, like our vanity light, faucet (see our favourite brass bathroom faucets here) and towel ring. I'm bringing in pieces with warm gold finishes to give the space a little more colour and interest.
I'm also mixing styles to keep the bathroom feeling youthful and fun. The vanity lighting and faucet we chose have a modern and industrial feel to it, while the towel ring is feminine and traditional. I think all of the pieces work really well together.
Accessories
New accessories, like a gold mirror, towels, and woven basket are a fun way to add a little bit of personality to the space.
We're really looking forward to completing this project, and I can't wait to see it all come together. Make sure you're following us on Instagram as we will be sharing our progress along the way.