Follow these 4 ideas for making the most of a small powder room to create a space that is both beautiful and functional.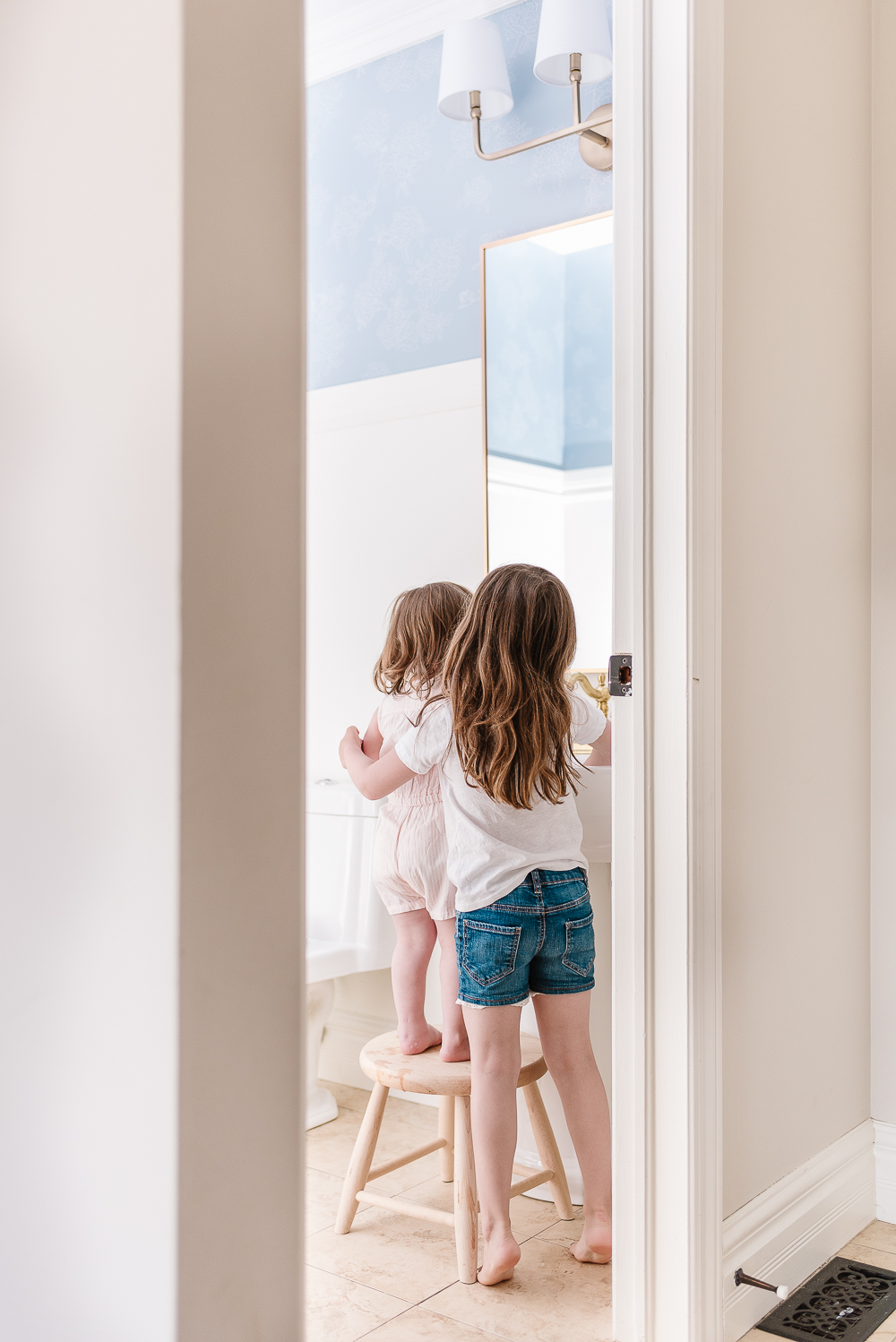 Powder rooms are often small spaces but that doesn't mean they can't be big on function and personality. These are two important elements of design to focus on to ensure you're creating a space that functions for both your family and guests, as well as reflects your design aesthetic and personality.
But these tiny spaces may require a little extra thought when it comes to creating a space that is purposeful and functional. Originally, powder rooms are used primarily by guests, but in our home, it's a space that's used by our family all of the time. From quick bathroom trips for potty-training toddlers to the constant handwashing of sticky little fingers, we rely heavily on this tiny room (and I'm sure we're not alone).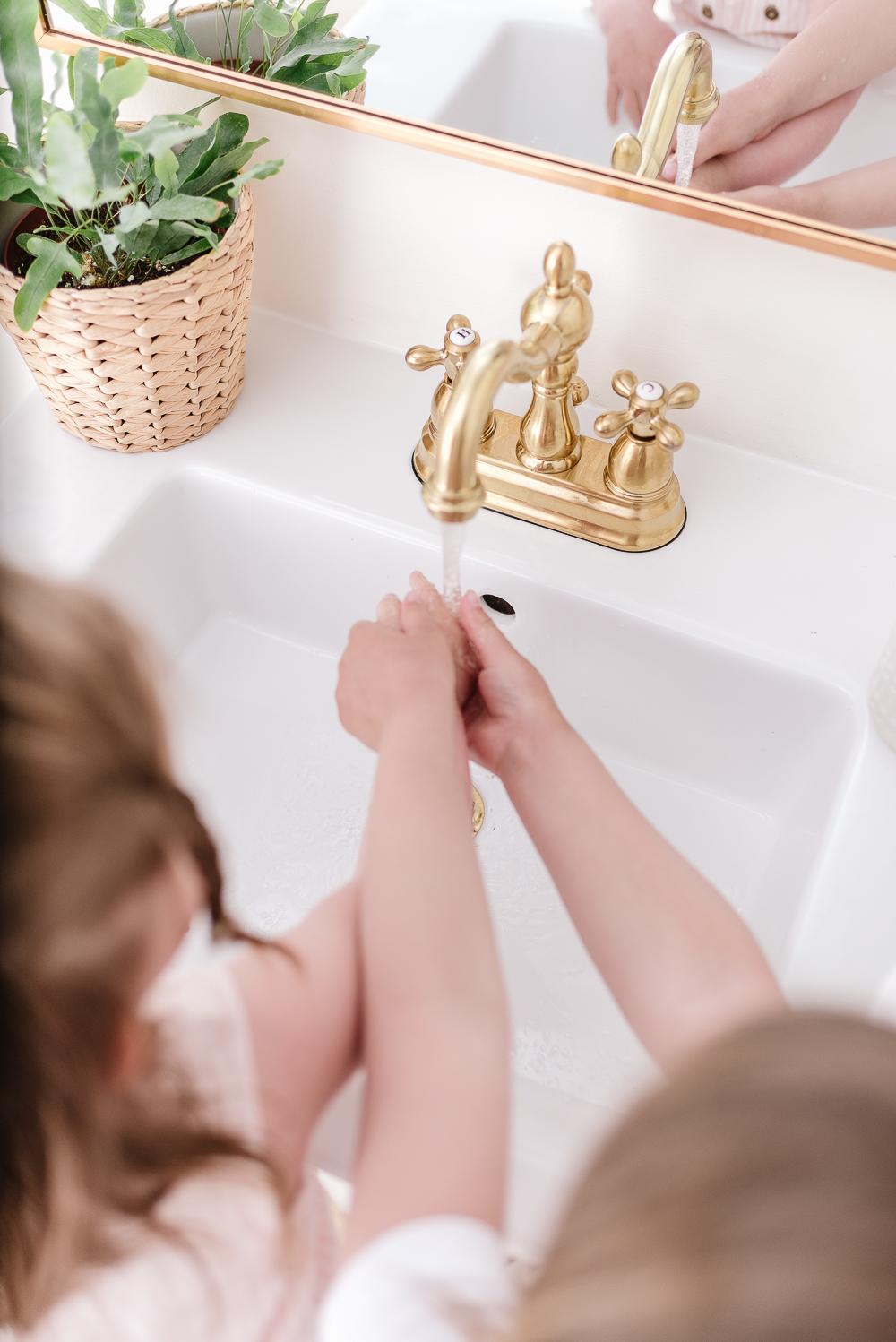 And don't think of their small size as unfavourable. It's their small size that creates a great opportunity to have fun with design and play with details you may otherwise not have the chance to do in larger rooms. You can opt for more expensive materials and finishes that would be too costly to install in larger rooms and play with colours and patterns that may be overwhelming in bigger spaces.
We recently decided to update our powder room, you can see the original design plan here, and we relied on four simple ideas to make the most of our small powder room.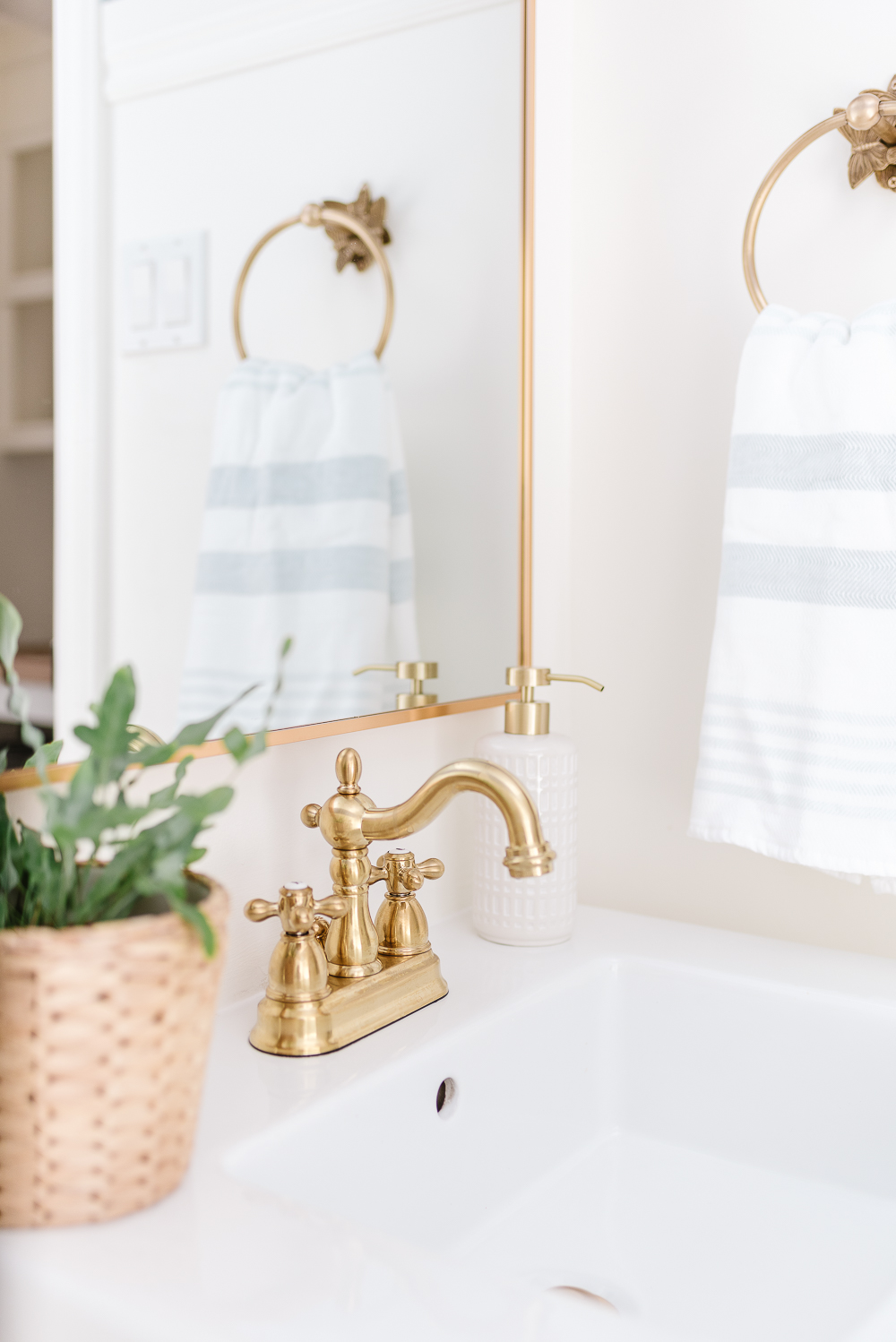 4 Ideas for Making the Most of a Small Powder Room
Add personality with wallpaper
Giving our powder room a fresh new look all started with this beautiful removable wallpaper. It's classic, but still adds a bold dose of colour and personality, which is something every powder room needs.
With creamy sketched hydrangeas on a soft blue background, I thought it was such a fresh and subtle print, and I couldn't wait to get it on the walls. Did I mention it's removable? So, if we decide to switch it up in the years to come, it will come off the walls easily, without damage. Something, I'm looking forward to considering the trouble we had taking down the existing wallpaper.
Wallpaper is such an easy and fun way to add interest to a space, especially powder rooms which usually lack any type of character or interesting design elements. So don't shy away from that wallpaper you've had your eye on, embrace it, and have fun!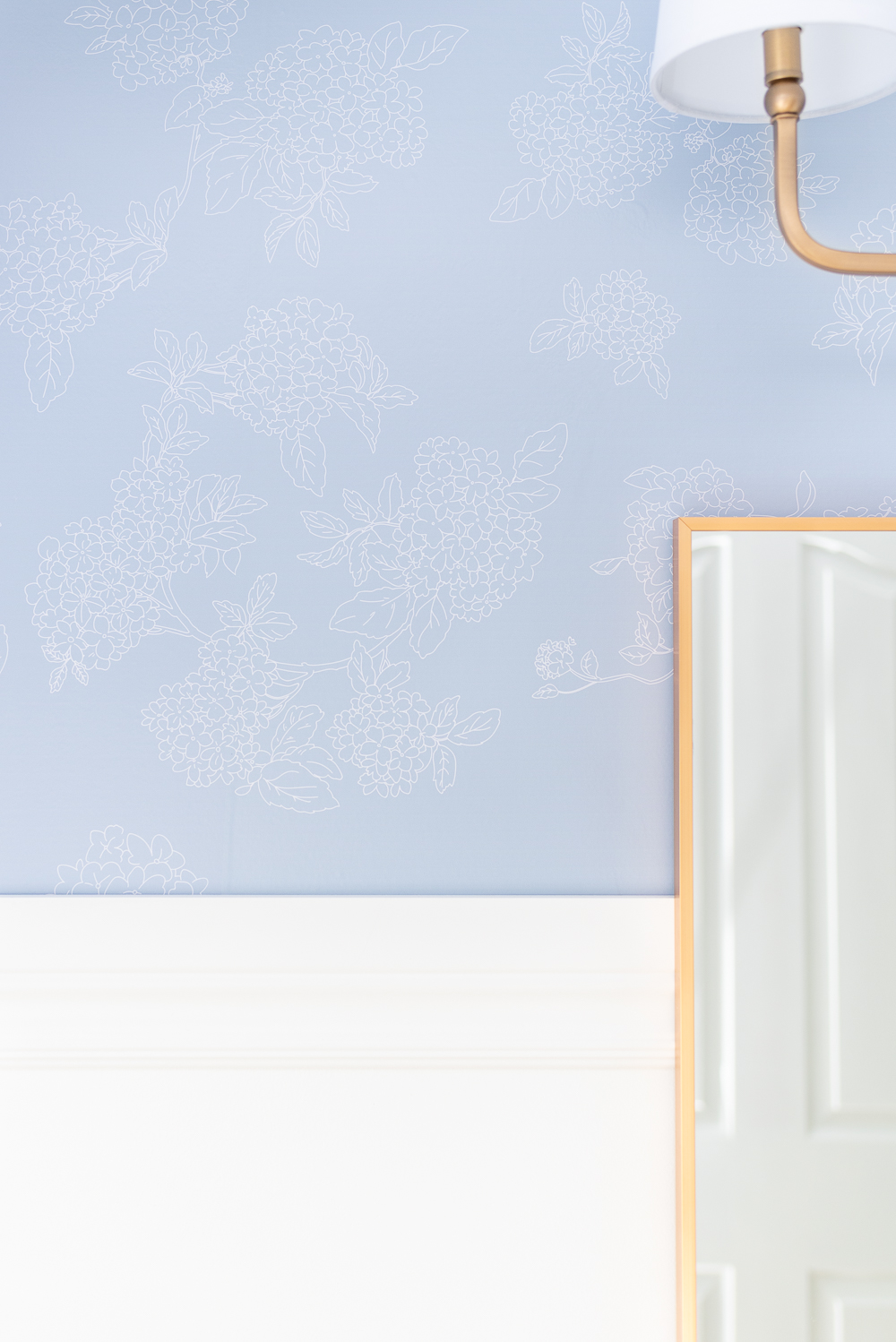 Don't forget the details
I had a lot of fun with the details in our powder room, playing off of our garden-inspired wallpaper. I found this towel ring and toilet paper holder at one of my favourite stores, and I knew they would be such a fun detail to incorporate. I love how the delicate tiny butterflies add so much personality to the space, and the girls love them too.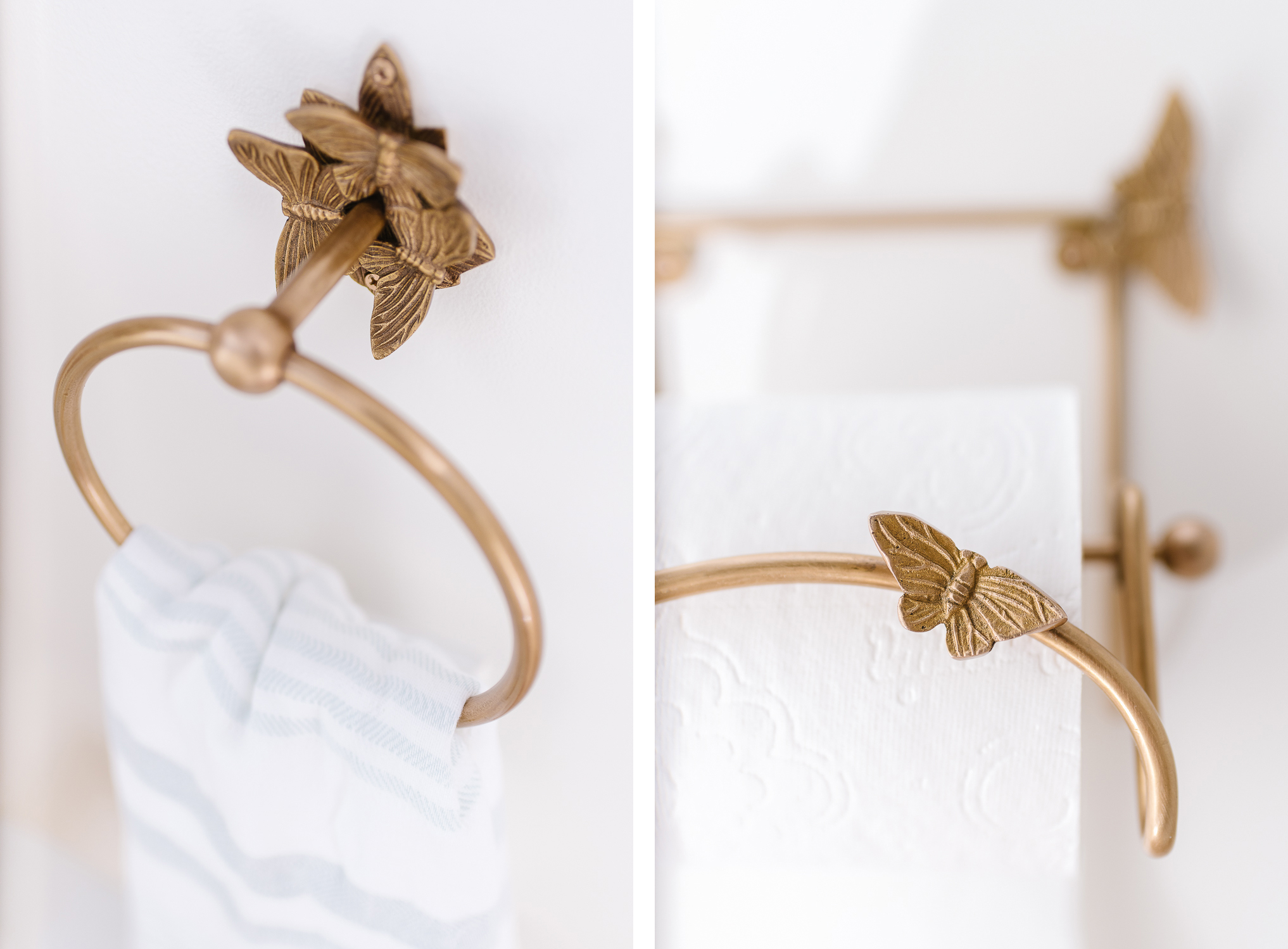 Ours are currently out of stock, but this towel ring and this toilet paper holder would be absolutely perfect too.
And don't forget about linens. I ordered these hand towels for our powder room and they are so soft and luxurious, they are perfect for everyday use or to freshen up the space when guests come to visit.
Finally, we decided on this vintage-inspired brass faucet, which adds so much charm. Faucets are another great way to incorporate personality and character into a bathroom, but it can be tricky to choose the right one. We shared our top 10+ brass sink faucets for bathrooms here.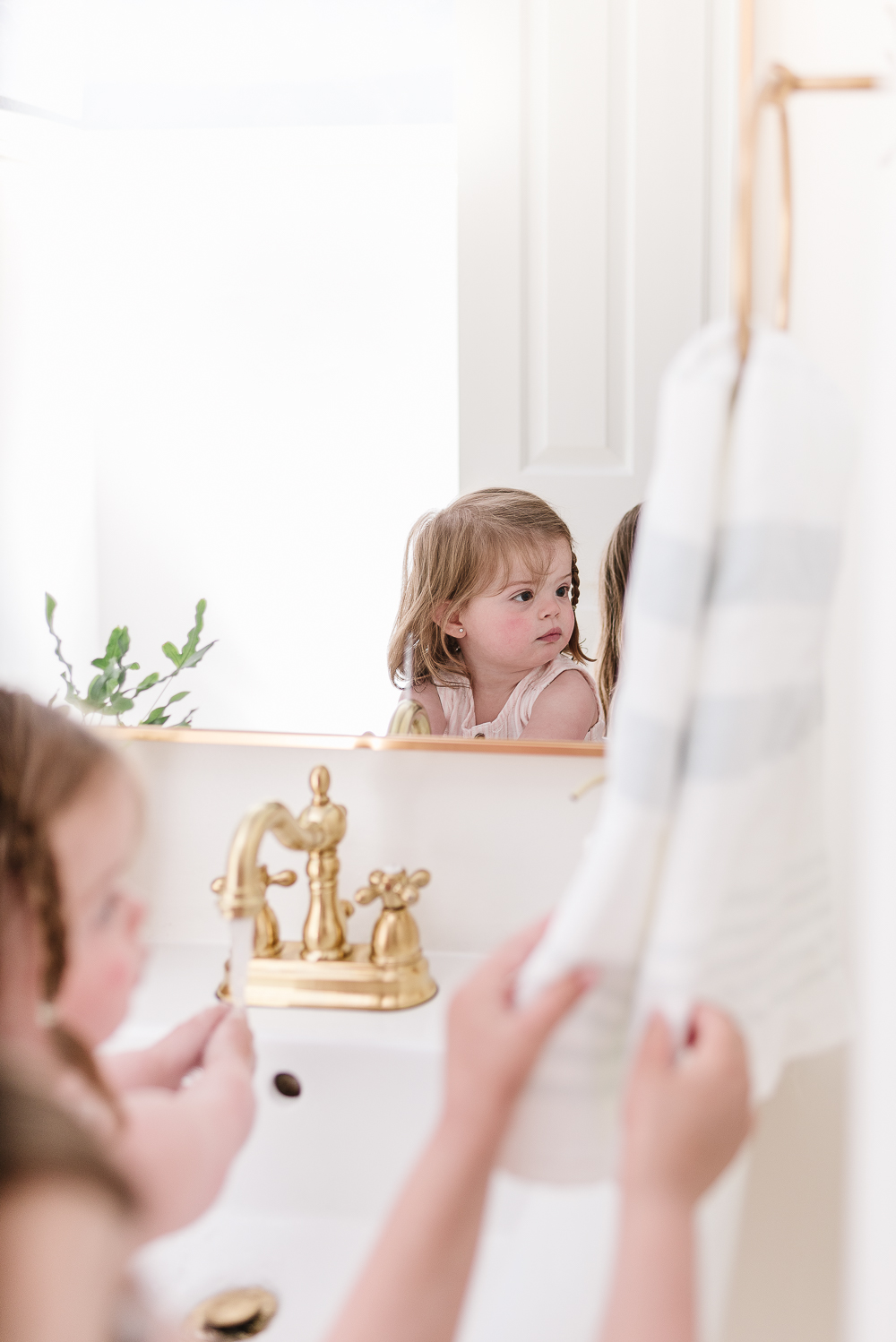 ---
get the look

---
Keep size and function in mind
Like I mentioned before, powder rooms are typically tiny spaces so you have to be very strategic when it comes to function. Consider the amount of space you have available and choose the pieces that fit it best. We opted to keep our pedestal sink because I felt if we added any type of vanity it would make the room feel even tighter than it already is, and at 5′ x 5′ it's pretty tight. I also love the traditional look of a pedestal sink.
We keep spare towels in our upstairs linen closet, and extra toilet paper stored in a basket in our kitchen island. But if you need a space to store things like linens toilet paper and extra soap and toiletries, you may need to consider a vanity with storage.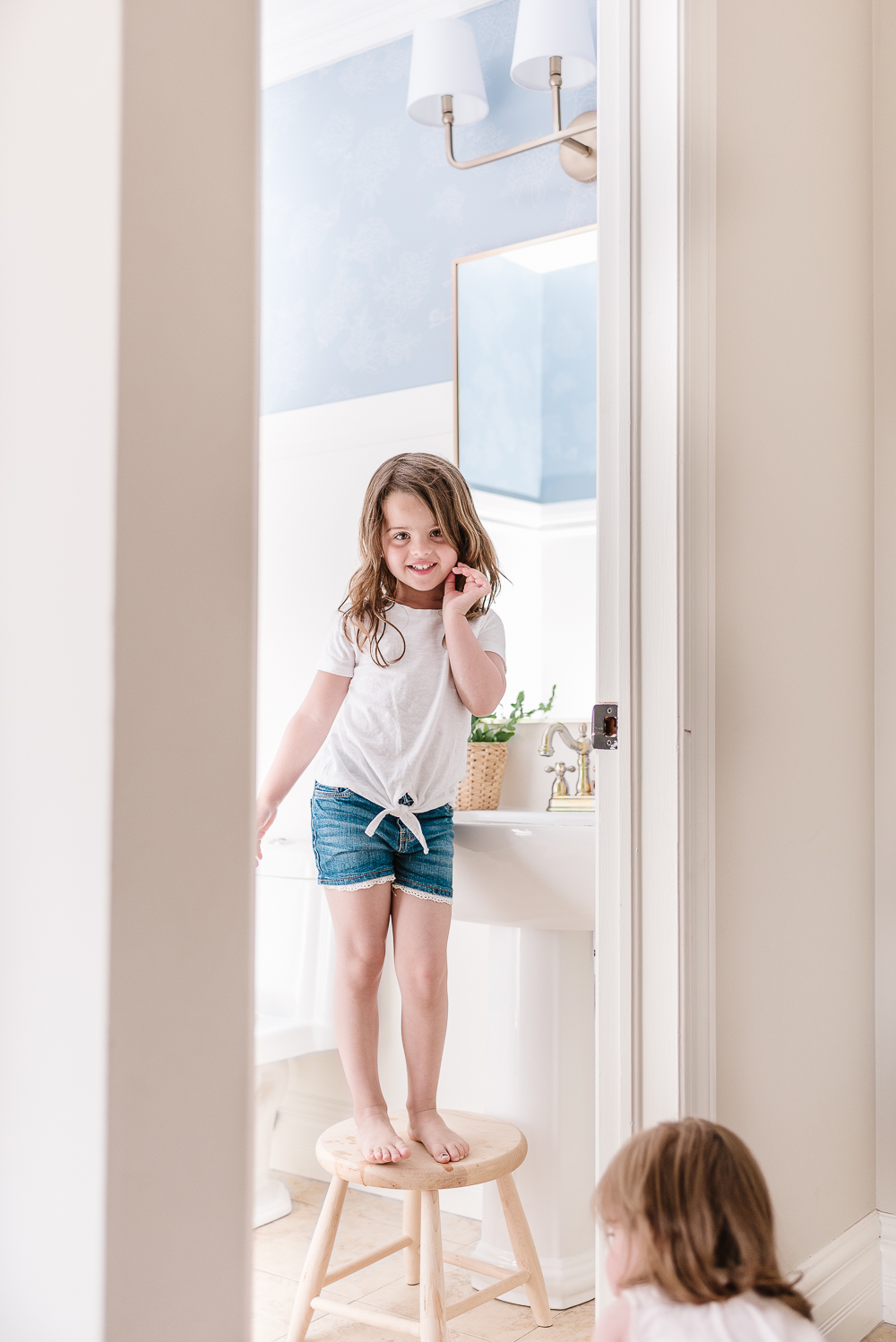 Create the illusion of space
Just like with any small space, creating the illusion of space is a good idea. We did this in our powder room in a few different ways. The first was by adding mouldings and wallpaper to draw your eye upwards which helps the room feel bigger than it actually is. An oversized mirror is another great way to make the space feel larger and more open by reflecting light, either natural or artificial.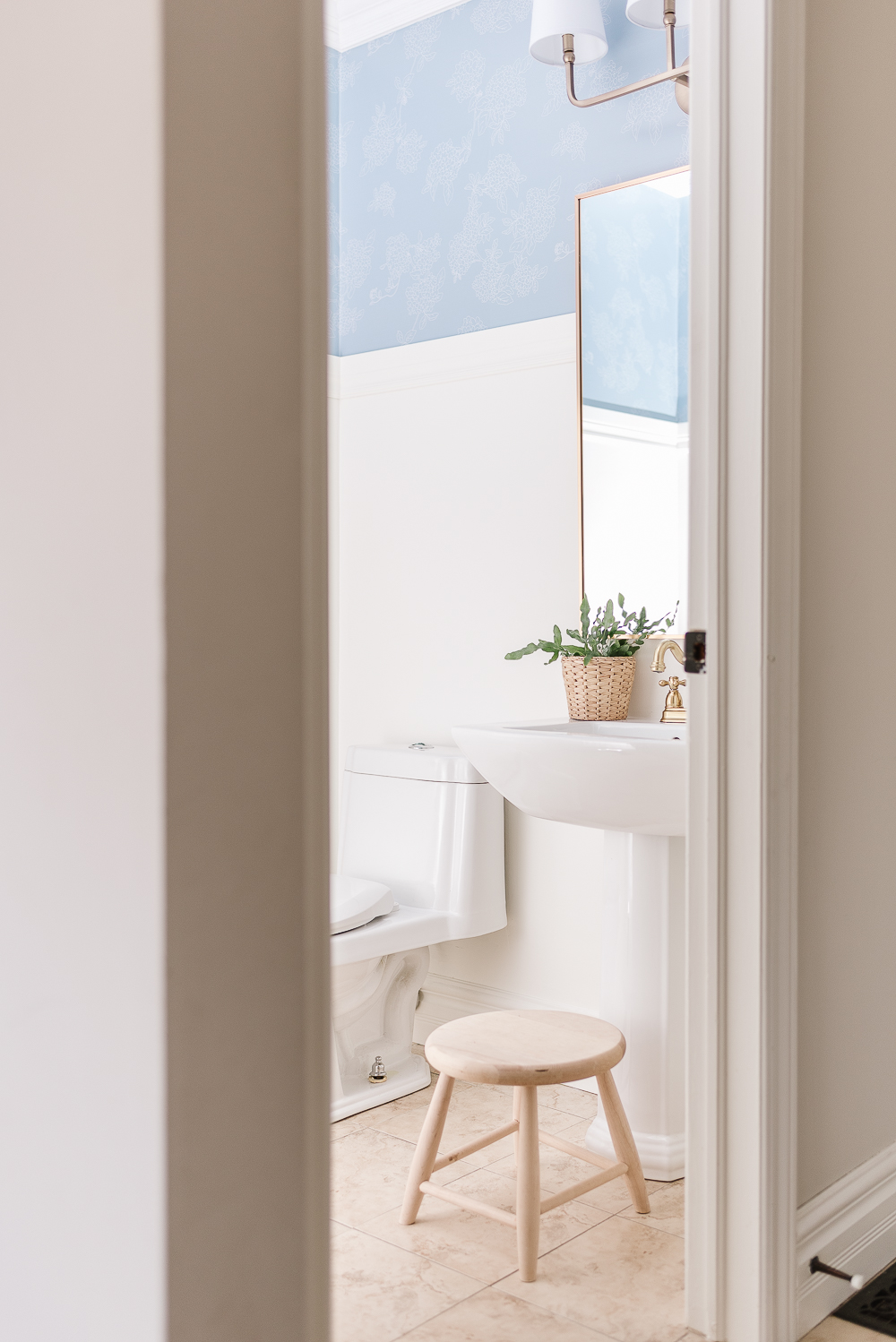 We're so happy with this update we made to the tiniest room in our home, it's added so much fun and personality to a space we use and appreciate so much.