A modern silhouette and clean lines make this outdoor sofa the perfect addition to any outdoor living space. Find free plans to build your own here.
Looking to build the set? We also have plans for the matching outdoor chair and coffee table!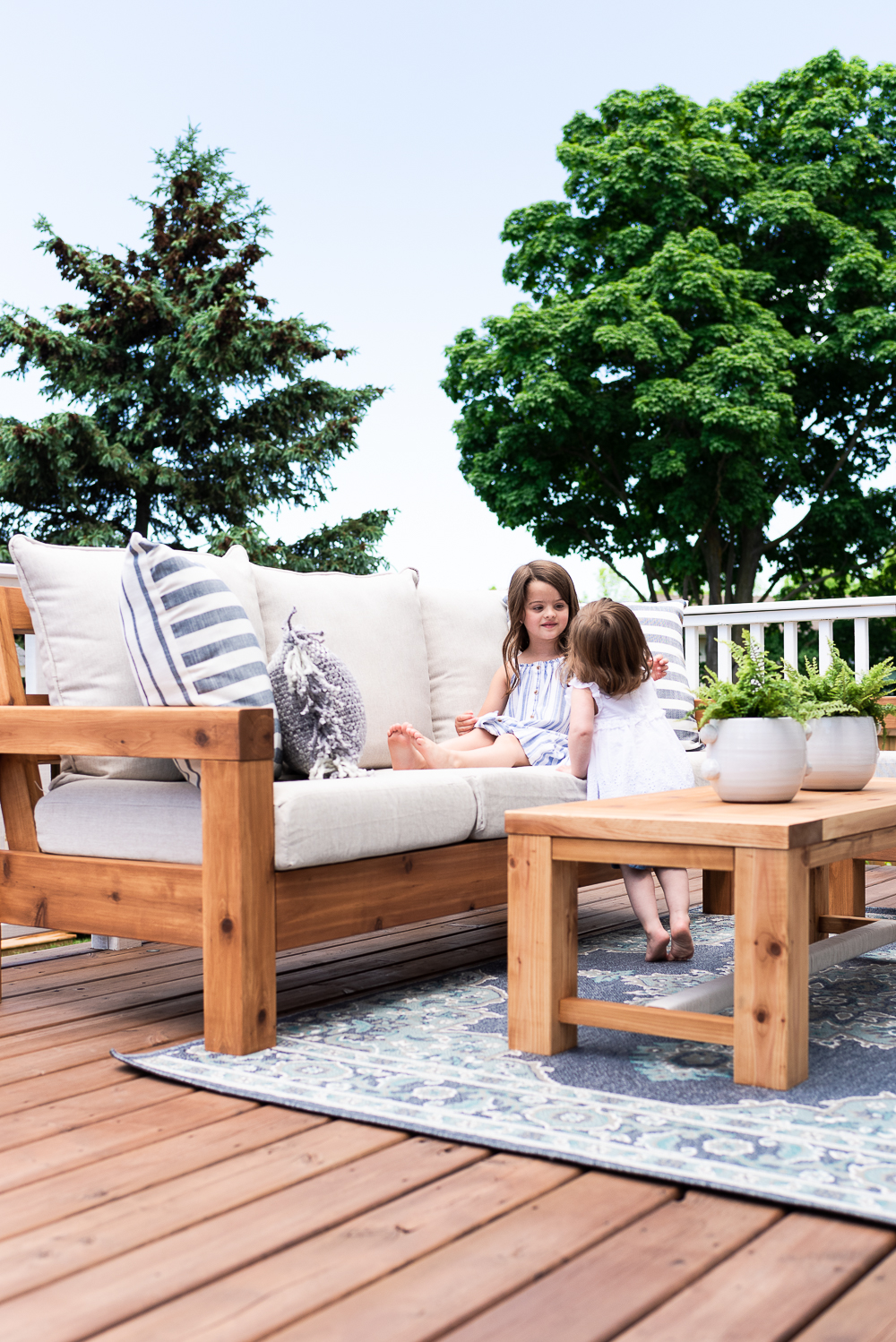 Creating an outdoor space that is beautiful, safe, and practical can make such a huge difference in how you use and enjoy your home. It's the best way to increase your living space, and really make the most of the summer weather. Last spring we began working on our backyard, and with the completion of this beautiful outdoor furniture, it's finally shaping up to be the space we imagined (take a peek at our outdoor design plan).
We dreamed of a backyard that reflected our style and flowed with the interior of our home, and with that in mind, we began looking for the perfect outdoor sofa. But we came up empty-handed. Most sets that we found were lacking in some way, whether it was the size, quality, or style. And the few sets that we did find and fell in love with were wildly out of our price range. So we decided to partner with our friends at Kreg and Buildsomething.com to build our own, and of course, share those plans with you.
We took a lot into consideration before Nick began building this project, from the material we chose to make sure we thought about even the tiniest details, we wanted this to be the perfect outdoor sofa. And I'm so glad we did because this is the perfect outdoor sofa.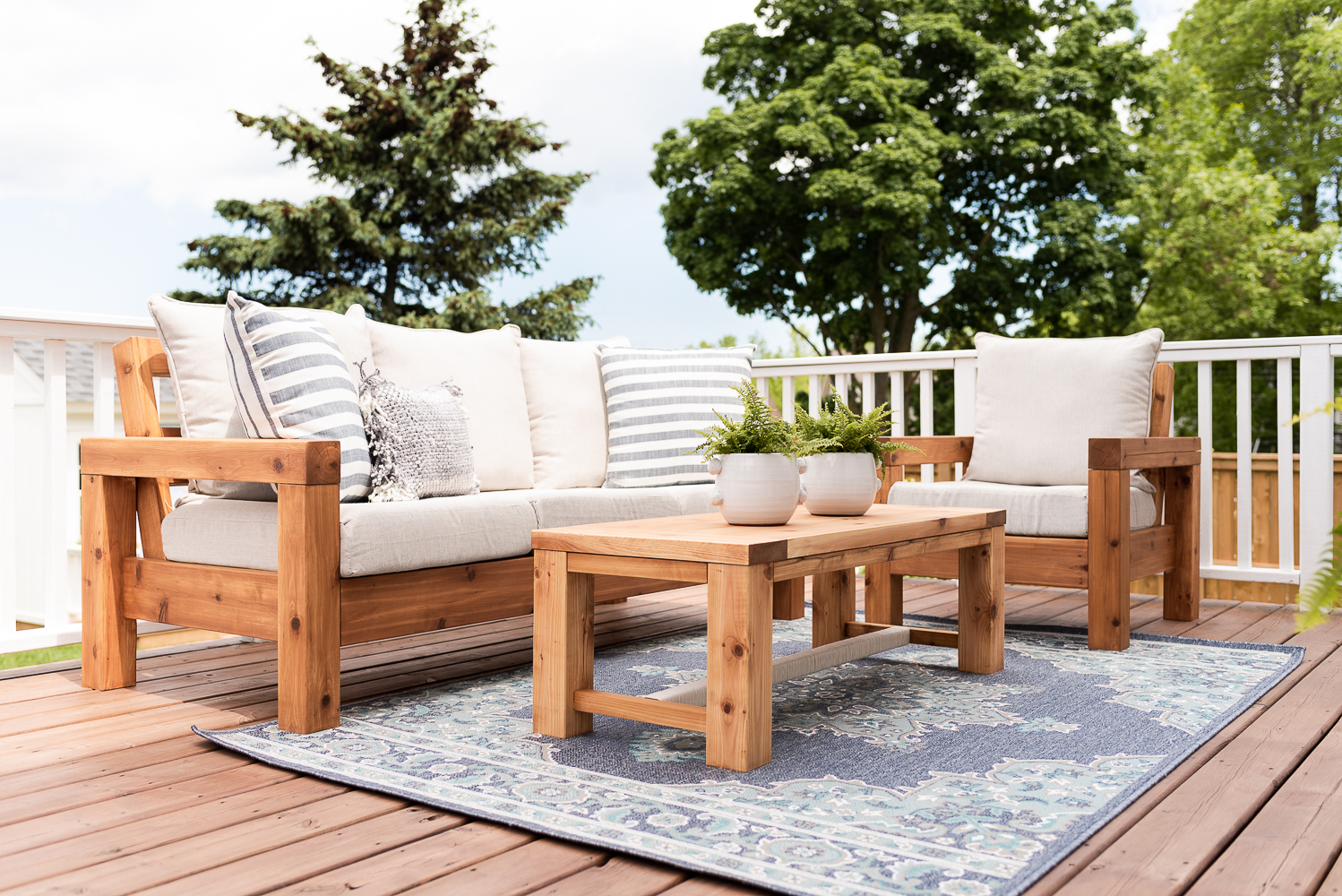 ---
get the look

---
The Perfect Outdoor Sofa
The Shape
I showed Nick a few of the outdoor sofas I loved and he mocked up a few options for me. Just like any space in your home, your outdoor living space should reflect your style and flow with the other rooms in your house. This meant we wanted an outdoor sofa that was traditional but still felt modern and fun.
We settled on this classic design that features a modern silhouette and sharp clean angles that are simple and streamlined.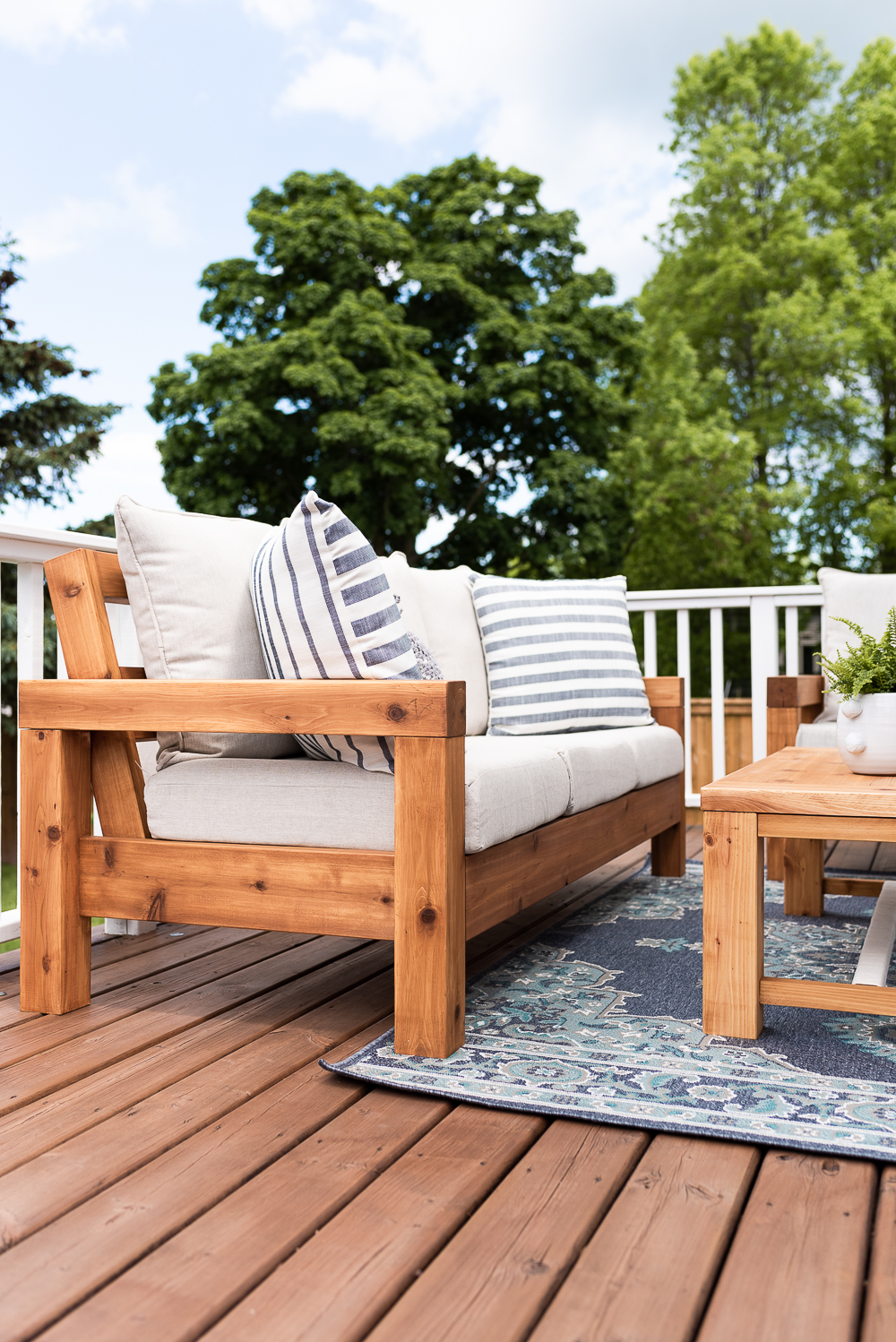 The Material
This was another big decision for us. Like most households, our budget is always front and center, so we considered our options. We could use dimensional lumber or pressure-treated wood and while the cost was definitely in line with our budget we knew the quality and resilience just wouldn't be there.
Nick also looked into cedar as an option, which would provide much more durability to the elements, as well as look beautiful for many years to come (with the right upkeep). But it was a big jump in price, it was more than double the cost of pressure-treated and five times the cost of dimensional lumber.
We ended up choosing cedar, even though it cost more, but we wanted to be confident these pieces would last. Cedar was definitely the right choice, it's beautiful, and sturdy and we know we won't be replacing this outdoor sofa anytime soon.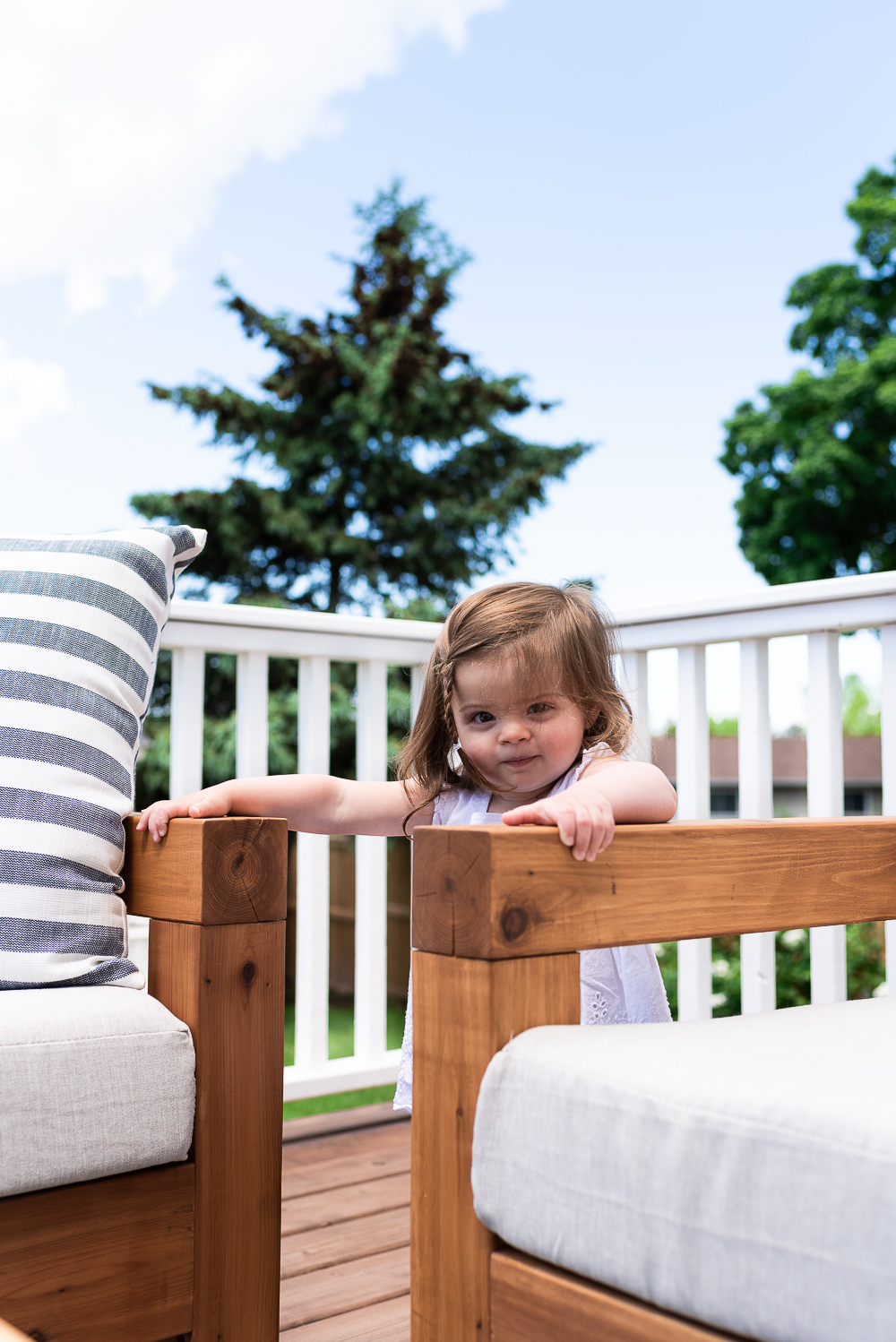 The Details
Nick really paid attention to the details while designing this piece.
The addition of the dowel inlays on the arms gives a handcrafted feel to the sofa.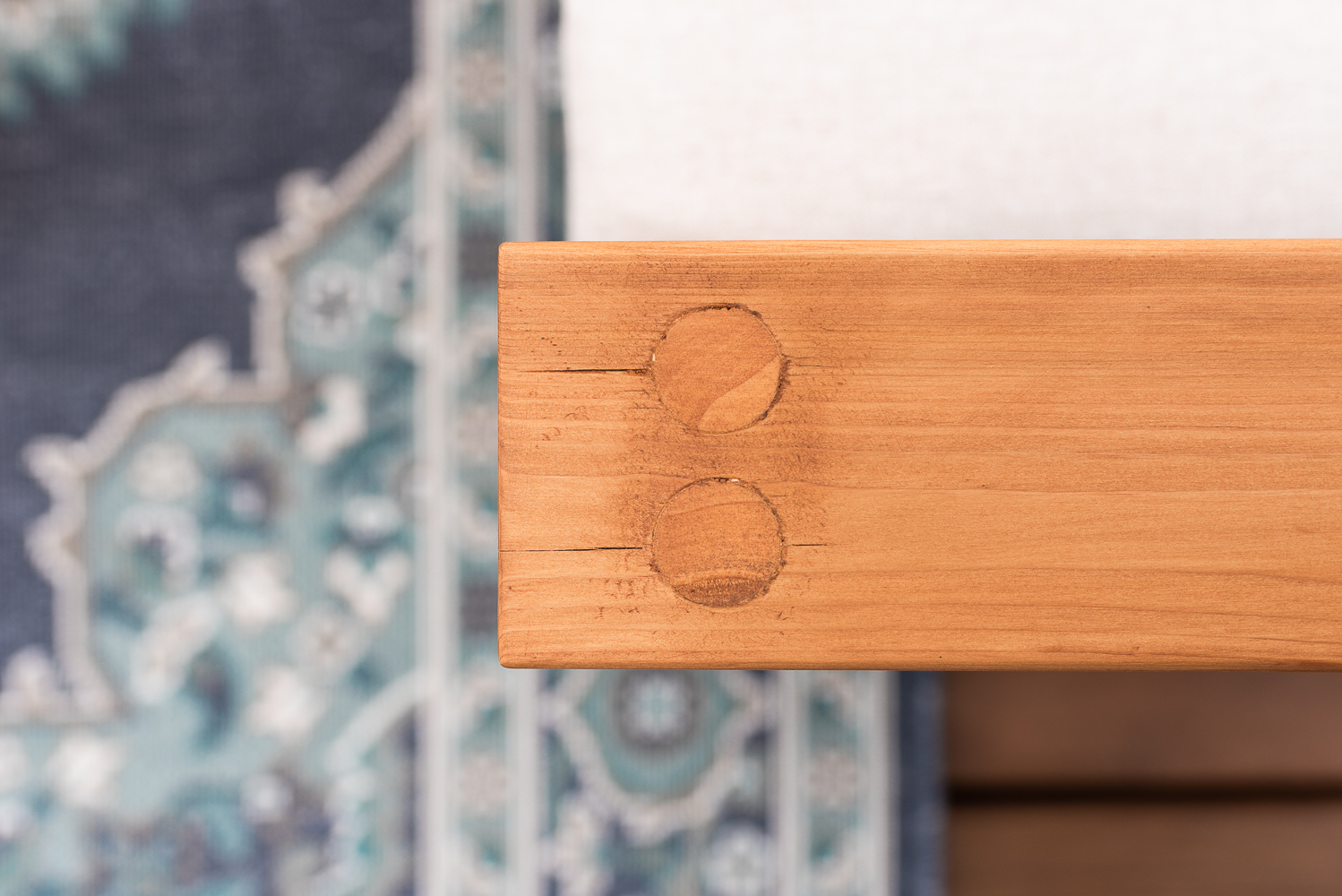 And he found the perfect recline for the sofa from both a comfort and design perspective. He didn't want it to be apparent that the sofa seat and back are actually reclined when you first look at it. This was a deliberate attempt to help keep the modern silhouette that we were looking for.
We also thought long and hard about the finish we would use. Nick considered using deck and furniture stains, but we didn't like the idea of it peeling and something about it felt inauthentic to the look we were striving for. He did a bit of research and decided to use a penetrating wood oil with a stain mixed in. This will help prevent the cedar from turning grey as it offered some UV protection, help repel water, and would not peel when exposed to the elements. It's also a one-coat process and won't require too much effort if the furniture requires another application next year.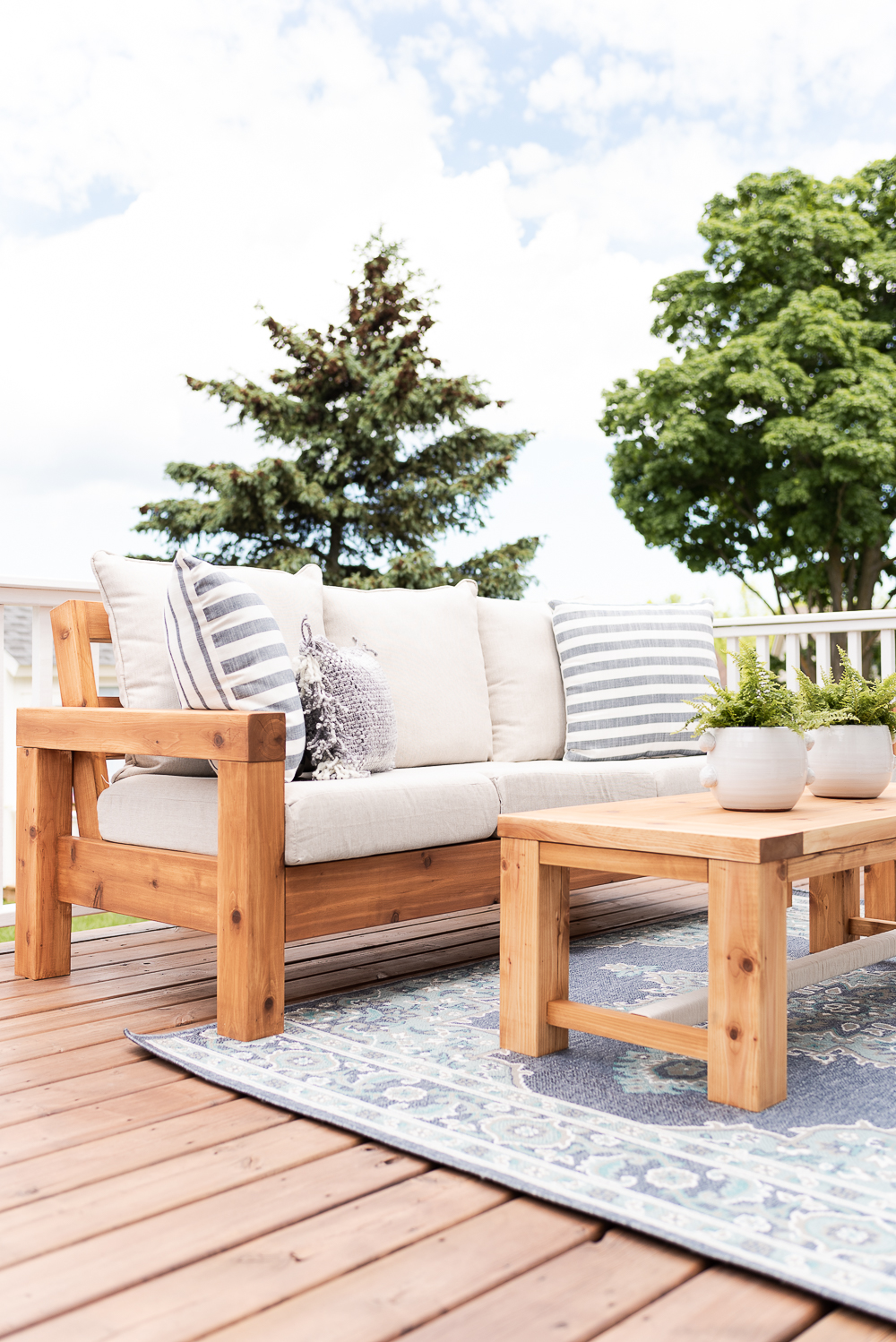 The Textiles
Once Nick finished building the sofa I couldn't wait to set it up with the cushions and pillows we had purchased to see the final look and test out just how comfy it is. As we all know, furniture can look beautiful, but it needs to be comfortable too.
These outdoor cushions we bought for the sofa and the chair are absolutely perfect. They are a beautiful colour, and hold their shape really well (these are two very similar options here and here). I also added these striped pillows and a textured lumbar pillow to complete the look.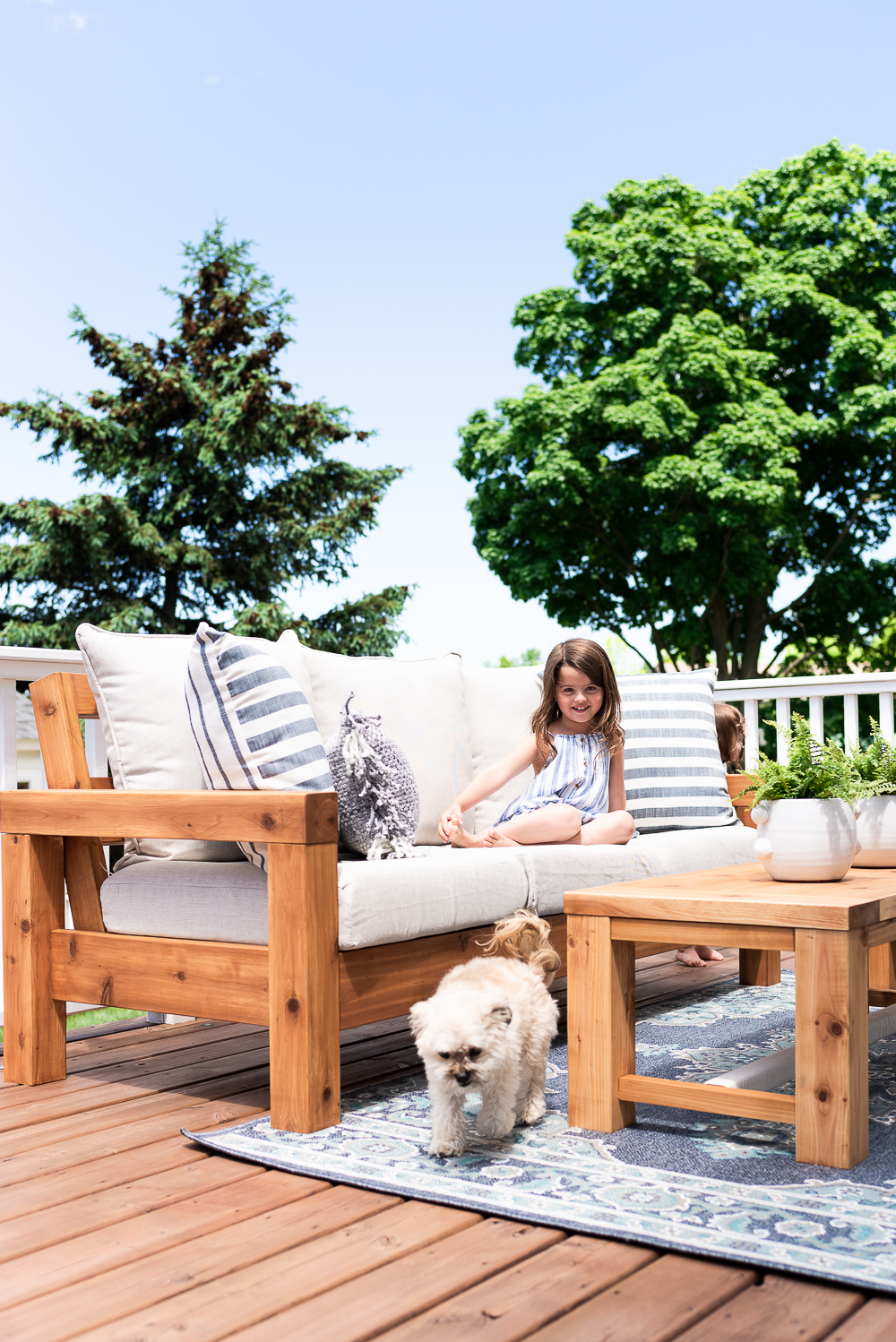 It's been put to the test already, and it's definitely the perfect place for a little nap under the sun.
CLICK HERE
for the free plans for the sofa!
We also offer the plans for the matching outdoor chair and coffee table to complete your patio.
And while you're at it, why not build a patio bar, it's perfect for hosting outdoor get-togethers or as a BBQ prep station.
Details at a Glance
Sofa
Chair (DIY)
Coffee table (DIY)