Follow our simple step-by-step plans to build the perfect wooden swing set for your backyard!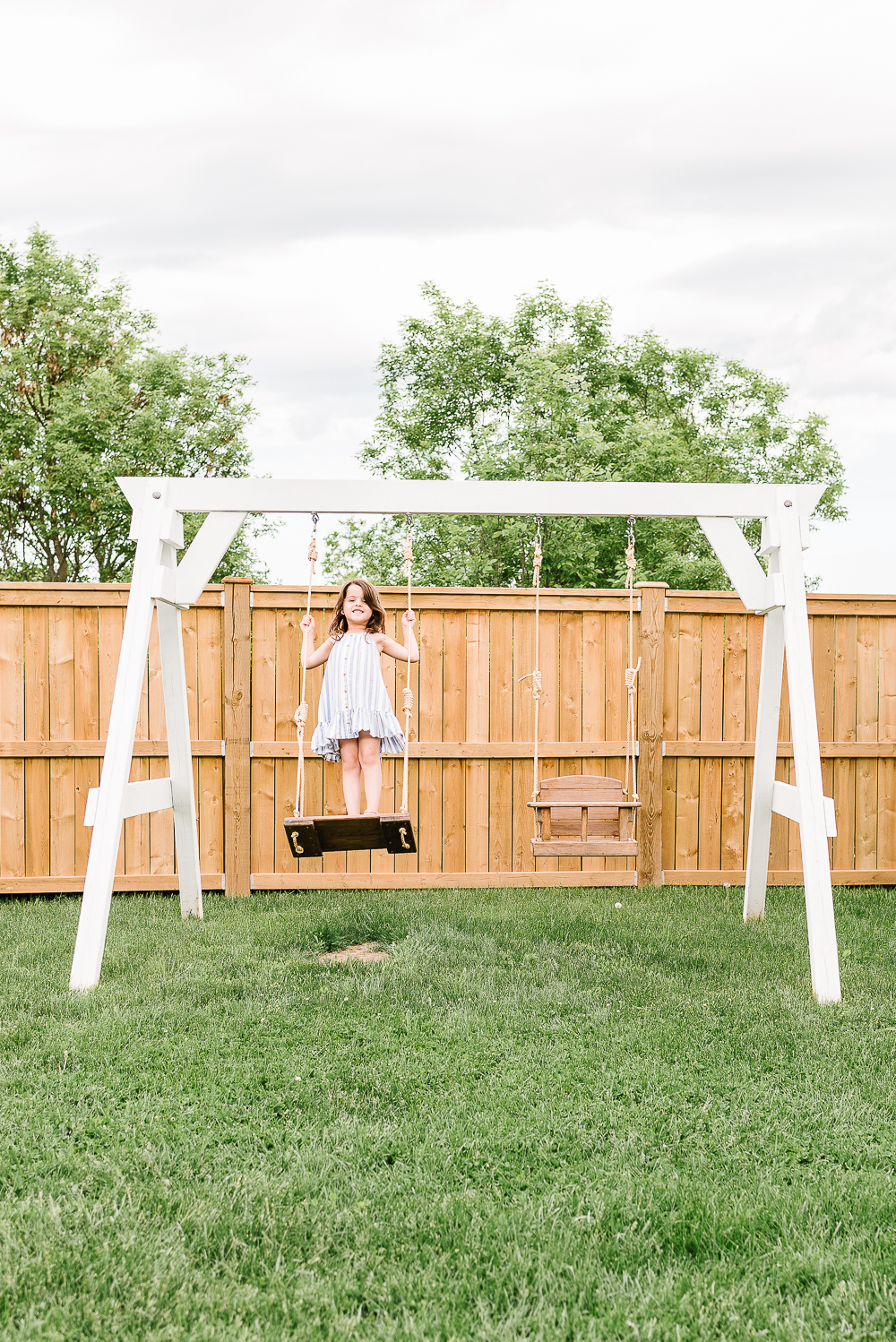 A swing set is such a great way to keep kids entertained and busy outside, and can be used from spring right through until fall. Not to mention, the swings are always a hit when we spend time at the park, so when I started drawing the plans for our backyard, I knew we had to incorporate a swing set for our girls.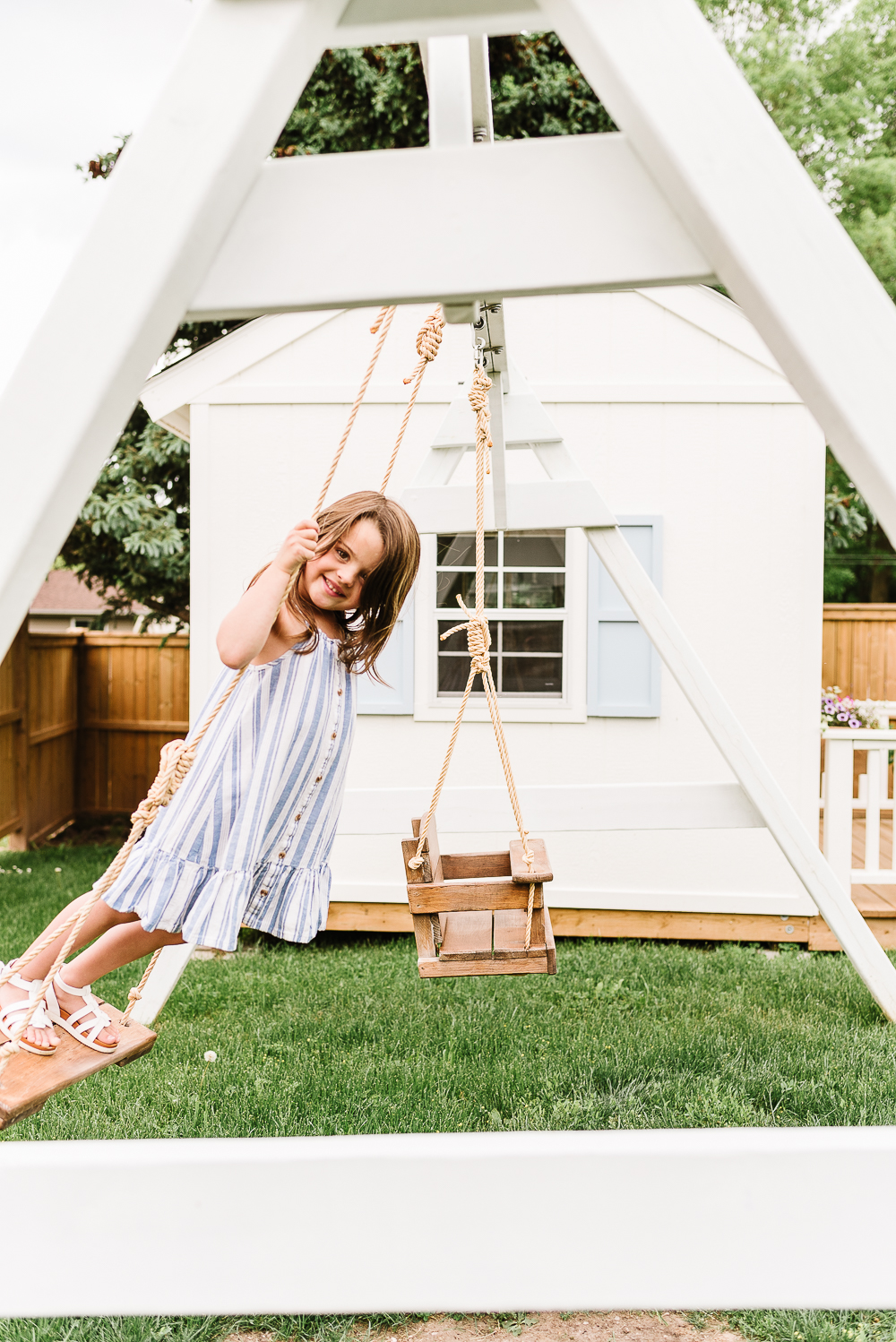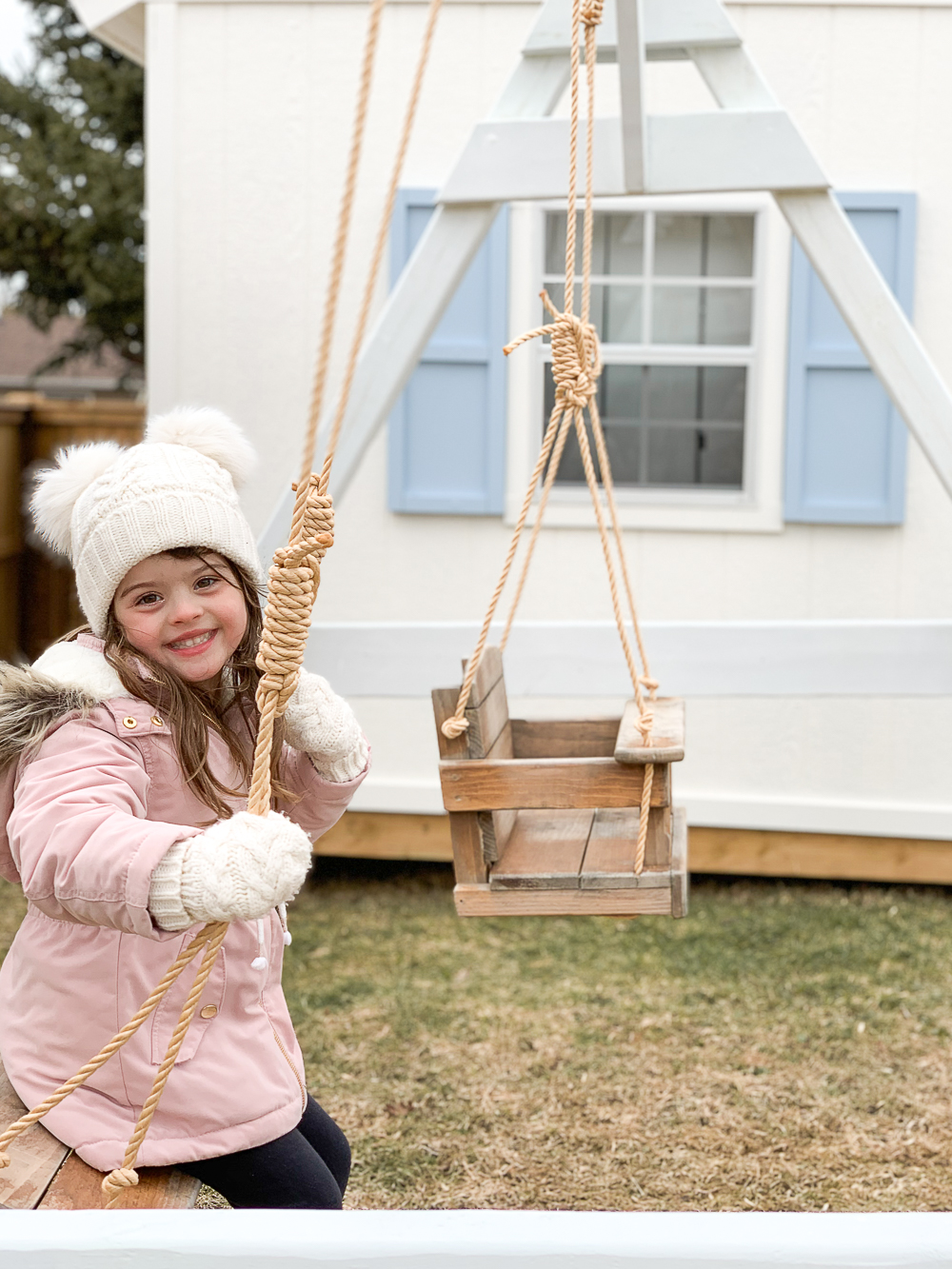 Before I started any of the projects in our backyard, I gave Zoe a run-down of all the things we were going to complete. I told her we were going to add a fence, fix the deck, build new patio furniture (check out our outdoor sofa, chair and coffee table) build a playhouse, and a swing set. She promptly replied, "You're going to build the swing set first, right?".
I can't say no to her, so the next day I started the swing set.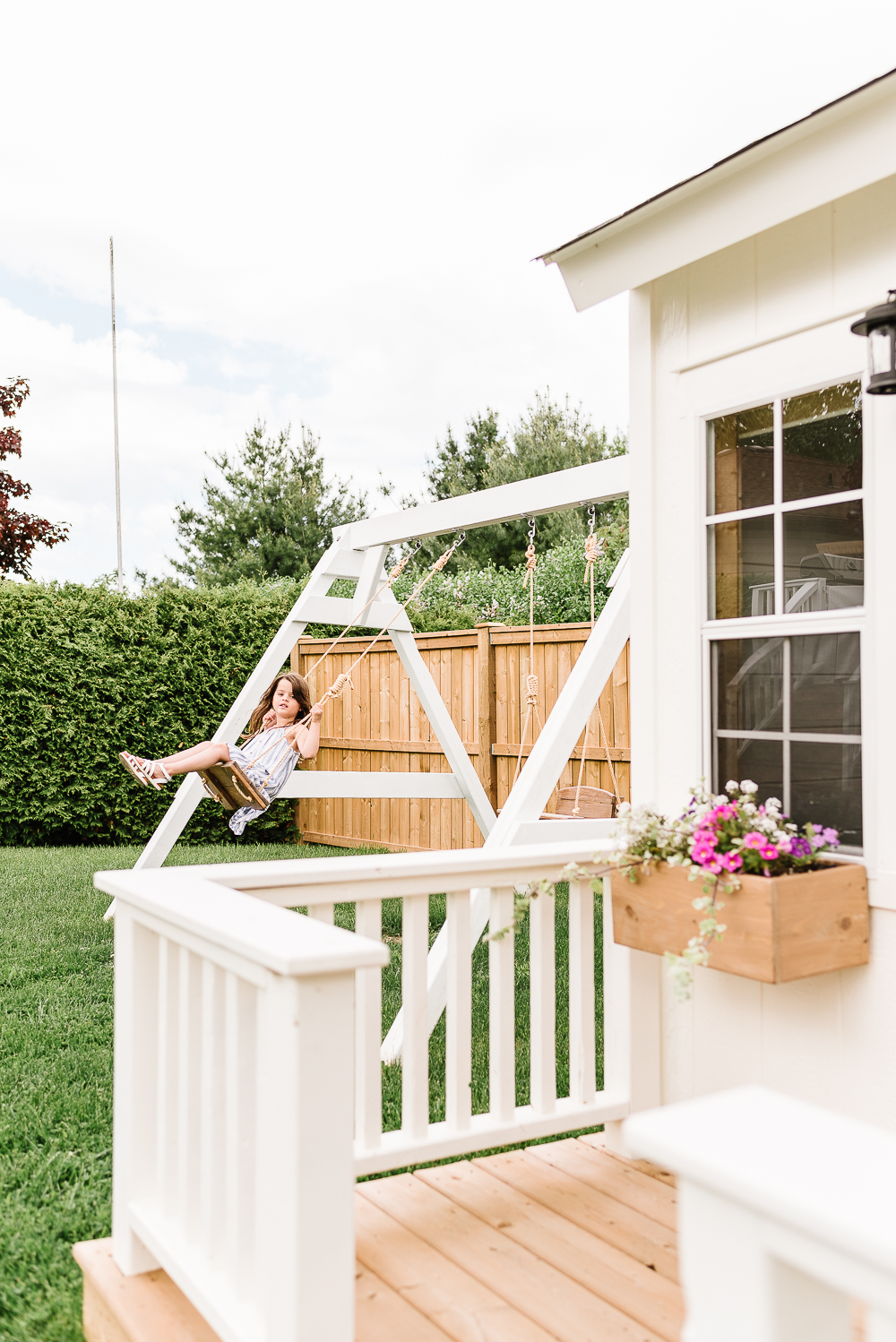 The swing set was designed to use all wood elements and also reduce it's footprint as much as possible. Initially, I considered placing the sides at a slight angle, but that created a trip hazard, was not as visually appealing, and still didn't make it as solid as I wanted it to be. I could have bought a metal A-Frame Swing Swing Set Bracket and painted them, but we wanted a certain look, so all wood was the way to go.
We knew from the beginning that we wanted a swing set that had a classic and timeless feel to it, you know, the old-fashioned wood and rope swings? That was the look we were going for. It helps to keep our backyard feeling cohesive and we knew it would look great next to the playhouse I planned to build.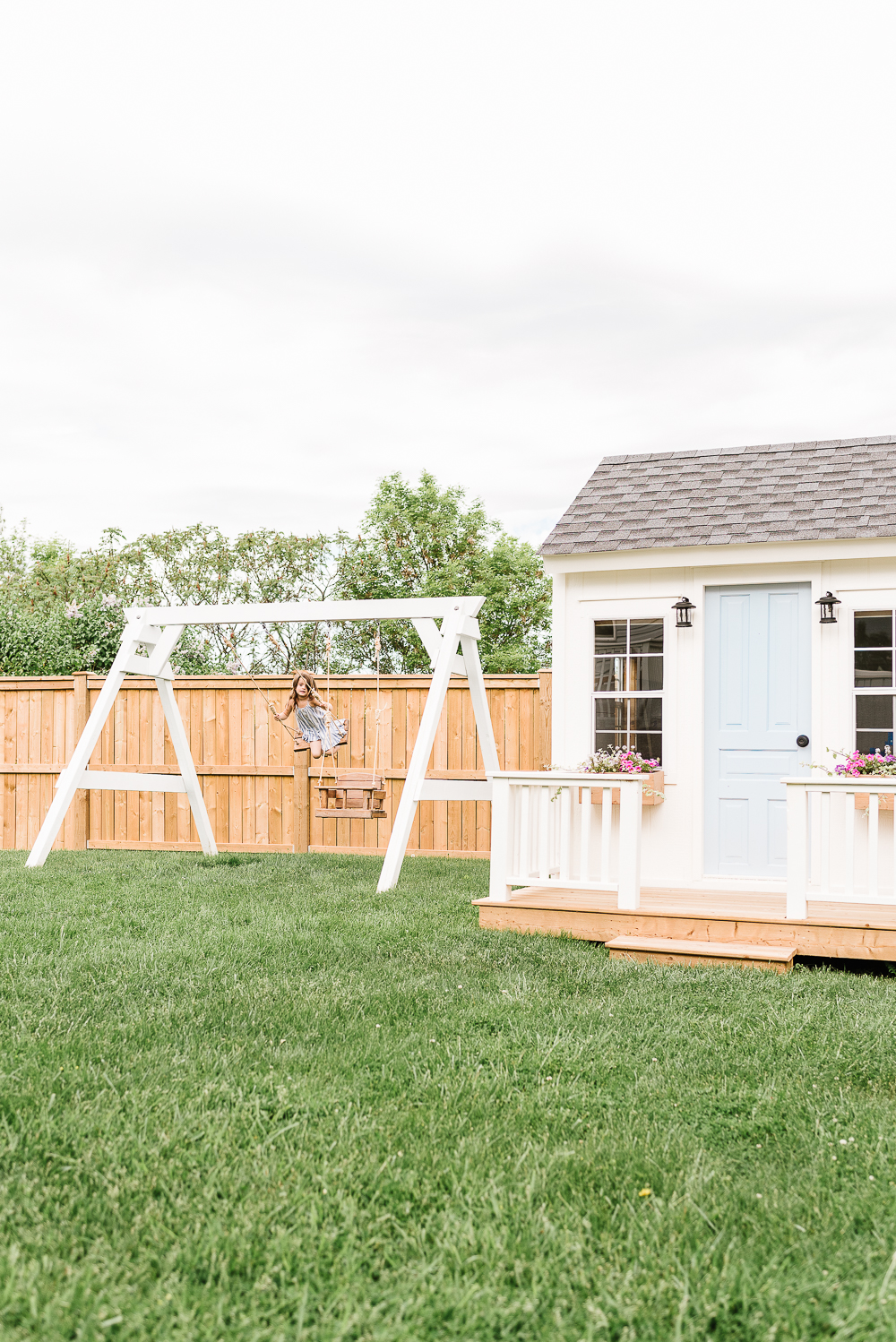 The swing set was surprisingly inexpensive to build. It only cost about $200 total (not including the rope and seats) and I don't think you could buy one that is this sturdy and pretty for that kind of investment.
Now, I built both the classic swing seat and the baby swing seat for our swing set, but there are also great options available to purchase, like these inexpensive wooden swings!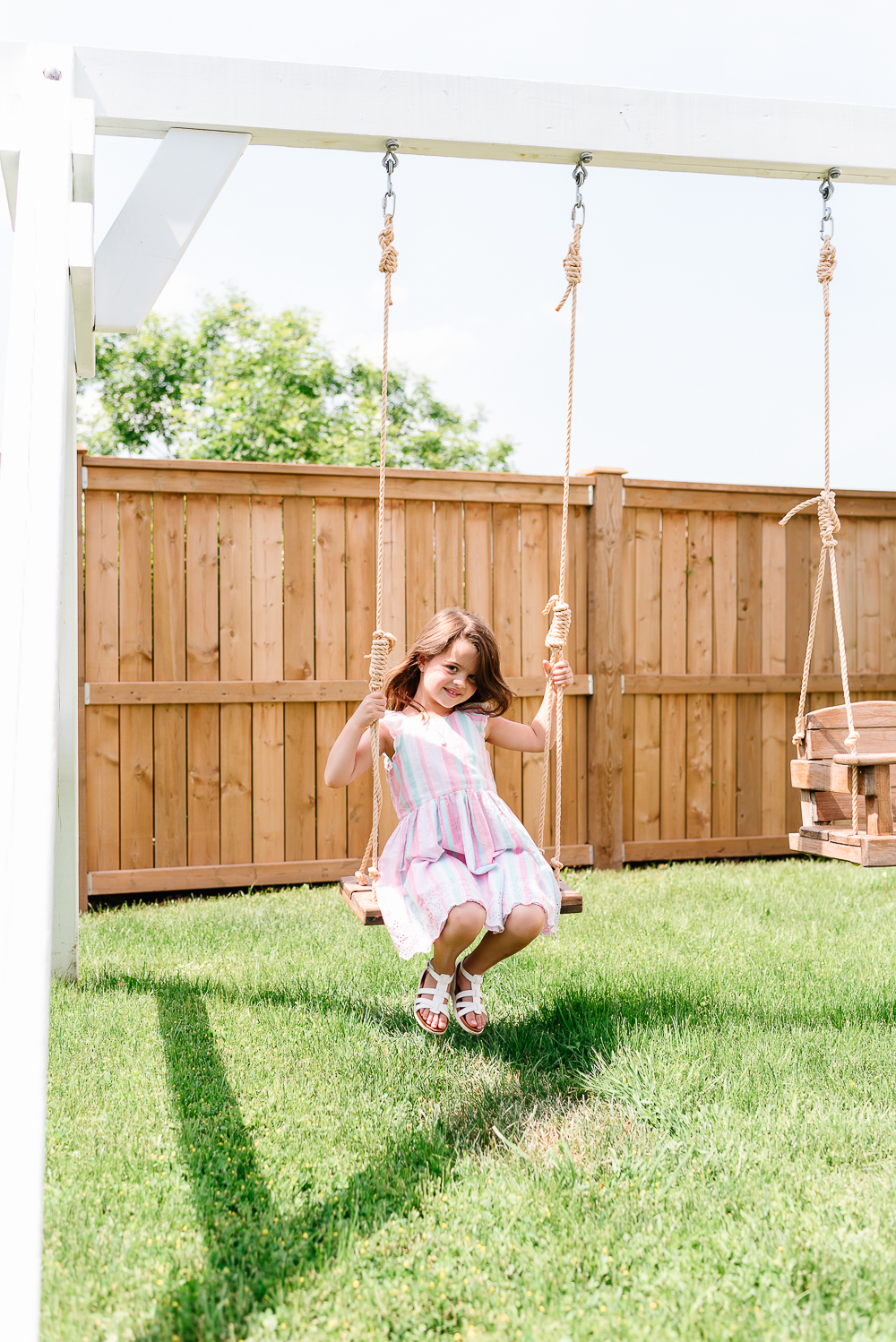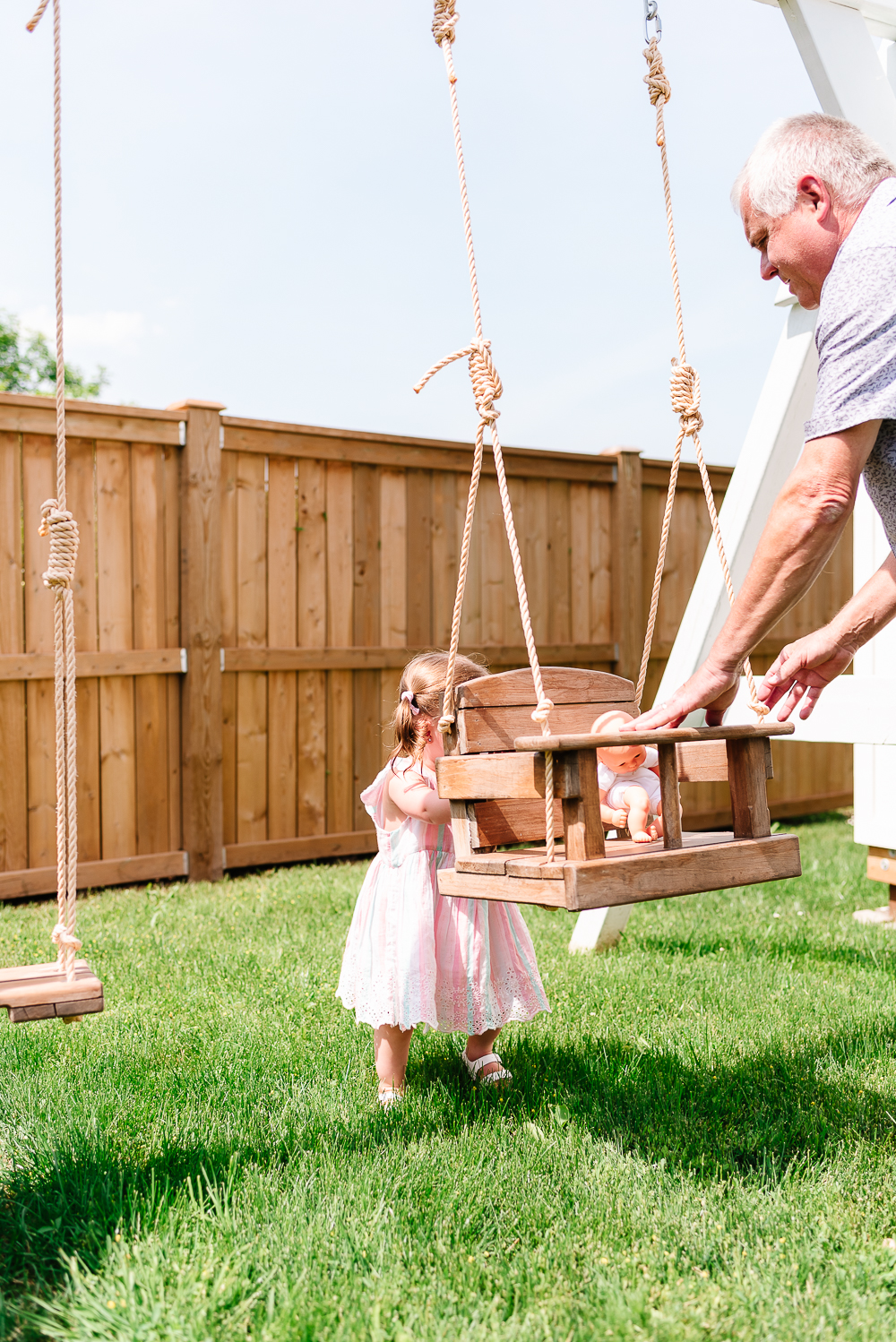 ---
get the look

---
But if you're planning on building your own swings I have a few tips to give.
I used a rope with a classic Manila look, but with the durability of polypropylene. It is 3/8 " thick but is available in a variety of thicknesses. It gives an authentic look and maintains its strength. This is our second summer with the swing set and I have noticed it has begun to break down slightly, but it is easy to replace.
What kind of knot did I use? It's a version of a scaffold knot (you can find tutorials online), I simply added a few more loops to it to give it the look we were going for. This would also work with chain rope.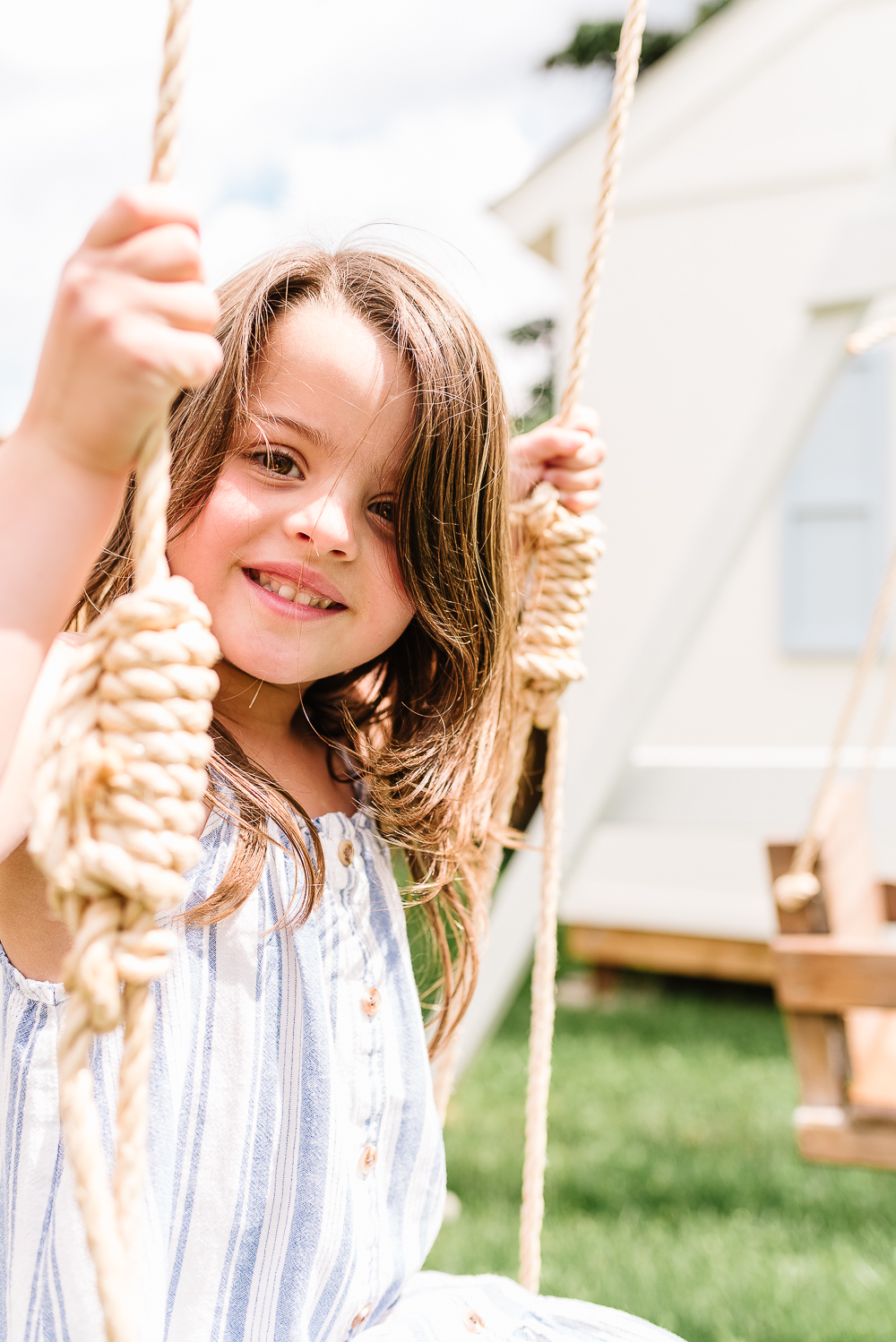 Finally, to attach the swings, I found these inexpensive swing hangers. Each hanger is attached to the beam twice for extra security and to help keep the swing from twisting while in use. I highly recommend them.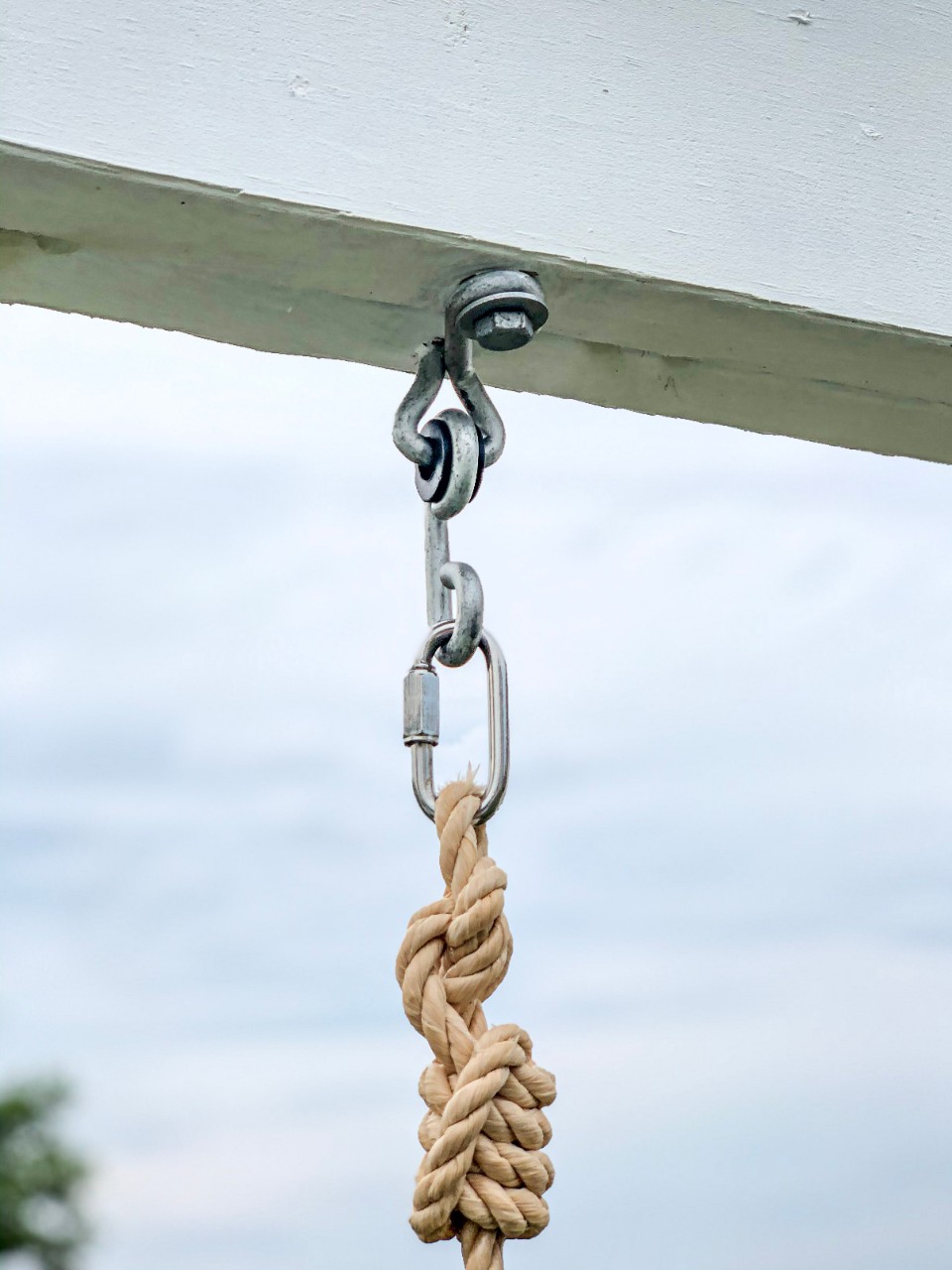 Needless to say, the kids love the swing set and have been getting so much use out of it. It's a project you can tackle in one weekend and your kids will be swinging in no time!
UPDATE: When the rope and seats that I built got worn out (and outgrown) after a few years, I replaced them with these inexpensive wooden swings, and they are fantastic!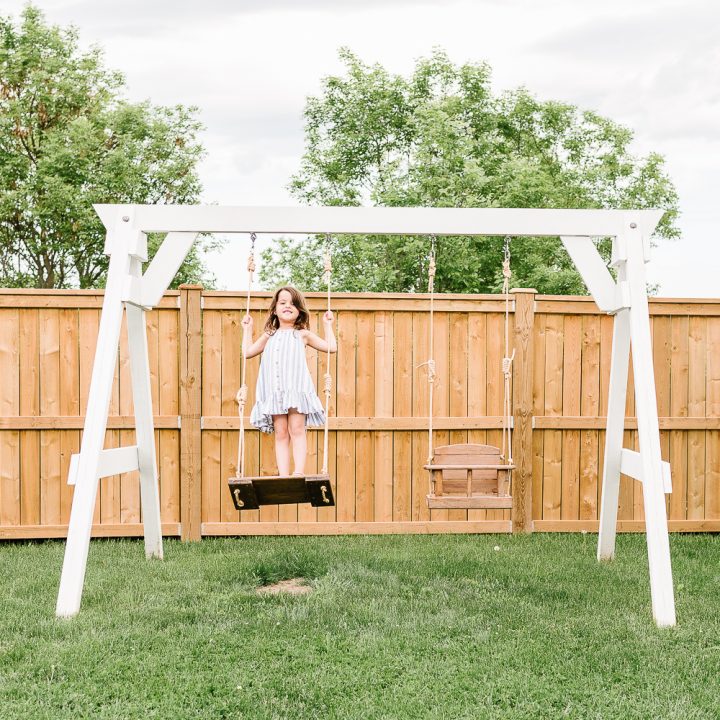 Simple Wooden Swing Set Plans
Follow our simple step-by-step plans to build the perfect wooden swing set for your backyard!
Materials
(4) 4x4x8' Pressure Treated Posts
(6) 2x6x10 Pressure Treated Boards
(2 Sets) Playstar Swing Hangers
(2) 1/2" Bolts
(2) 1/2" Washers
(2) 1/2" Nuts
(150) 2 1/2" Deck/Wood/Construction Screws
Swing Seats
Waterproof Wood Glueor Outdoor Construction Adhesive
Cut List:
(2) 2x6x120" Beam
(4) 4x4x95" Legs
(4) 2x6x17-3/16" Top Outer & Inner Spans
(2) 2x6x70-1/2" Bottom Outer Spans
(2) 2x6x10" Diagonal Supports
Instructions
CHOOSE LOCATION

Choose a level location in your yard where you have a MINIMUM 10' wide x 16' deep of free, unobstructed space and center the set in this area. However, the length of your swing rope may also impact this, but ours seem to be fine with these clearances. Please use your own judgement once the swing set is built and move it if necessary.

CUT 4x4's



First Cut: Set your mitre saw to a 30° angle. On one edge, mark 95" from the bottom of the post. Put that side of the post against the fence on your mitre saw. Line up your blade with the mark you made and cut through at the 30° angle as shown.

Measure 7/8" across the angle and mark that location.

Second Cut: This is a tricky cut since you cannot simply set your miter saw to 60°. You will need a helper to hold the posts while you cut.

Draw a 90° line from the 7/8" location you marked at the top. The line should measure 5 1/2" (or very close to it, as shown).

Carefully align this line up with the blade on your miter saw (set the blade to the max angle that it will go when doing this) while someone helps you hold the post in position while you make the cut.

Complete this on ONE end of each of the 4x4 boards.
ASSEMBLE SIDES



You will make two of these ends. Cut (2) 2x6's to 17 3/16" on the long side, with mitred 30° cuts on each end. Cut (2) 2x6's to 70-1/2" on the long side, with mitred 30° cuts on each end.

Use two scrap pieces of 2x6 screwed together as a temporary spacer at the top while you attach the boards on the sides. Make sure that the spacer is tight in the space. Use wood glue and 2-1/2" deck or wood screws to secure (optional: use carriage bolts, nuts and washers instead - not included in the supply list in these instructions).
ATTACH INSIDE TOP SPAN TO SIDES



These boards are identical to the top boards in the last step but will be secured to the inside of the structure.
INSTALL MAIN BEAM



Using construction adhesive, laminate the two 2x6x10 boards together. Use 2-1/2" wood/construction screws across each side of the beam approximately every six inches on the beam. Cut each end to a 30° angle as shown (or you can use your jigsaw to do a more ornate design!).

You'll need a friend to help you with the next part.

Place one end of the beam into the top of one side. Secure temporarily at various contact points with 2-1/2" or 3" wood/construction screws. Then insert the other end into the top of the other side and secure temporarily as well

Select a location where your carriage bolt will go through the post on each side and through the main beam. Don't choose a location too close to the top of the post to reduce the possibility of splitting.

Use a 1" spade bit on the side that you will consider the front to drill a 1/2" deep hole to recess the bolt. When drilling this hole make sure you drill as if it is parallel to the ground. Use the 1" spade bit again where the drill bit came through the back to do a parallel 1/2" deep hole so that you'll be able to recess the washer and nut.

Then use a 1/2" long drill bit to drill a hole completely through all of the pieces (again, parallel to the ground). Insert the bolt, secure with a washer and nut at the back. Do not over-tighten.




INSTALL ADDITIONAL SUPPORTS



Cut (2) 2x6's to 30-3/8" on the long side, with mitred 30° cuts on each end. Attach with wood glue/construction adhesive and 2-1/2" wood/construction screws.
CUT AND INSTALL DIAGONAL SUPPORTS



Cut a piece that is 20" with 30° cuts on each end both going in the same direction. Then measure 3-3/16" from one edge and make a 90° cut as shown.

Secure by screwing from the outside of the lower side support and into the board. and centered in the bottom of the top beam with 3" wood/construction screws.
HANG SWINGS



We purchased these ="https://rstyle.me/+HWe9Y214hDqnUM7fY7RSSQ"> Playstar Swing HangersYou can make your own swing seats or purchase ones online (like these ones). Your spacing will depend on your seat sizes. I have indicated the size of our swings and how far we put them from the diagonal supports for reference. You can also use rope or chain of your choice.


Notes
PLEASE USE PROPER PERSONAL PROTECTIVE EQUIPMENT, such as safety glasses, dust mask, gloves, hearing protection. This Website and its owners are not liable in any way for injury or loss (whether physical, emotional, monetary or any other kind of loss) resulting from any inspiration, ideas, directions or information gained from this website. We advise you to always follow manufacturer instructions, take appropriate safety precautions and please hire a professional when in doubt. By using tutorials, plans and information from our site, you agree that you do so at your own risk.