Follow these 10+ holiday decor ideas to add a festive touch to your home this holiday season!
As the holiday season approaches, I'm becoming more and more excited to decorate our home for Christmas. Like many, I love the way our home feels when it's dressed in twinkle lights, fresh garlands, and a glowing Christmas tree. And don't forget about all of the delicious holiday baking to come, there are so many things to look forward to in the coming months.
Visit our Holiday Shop for all of our favourites!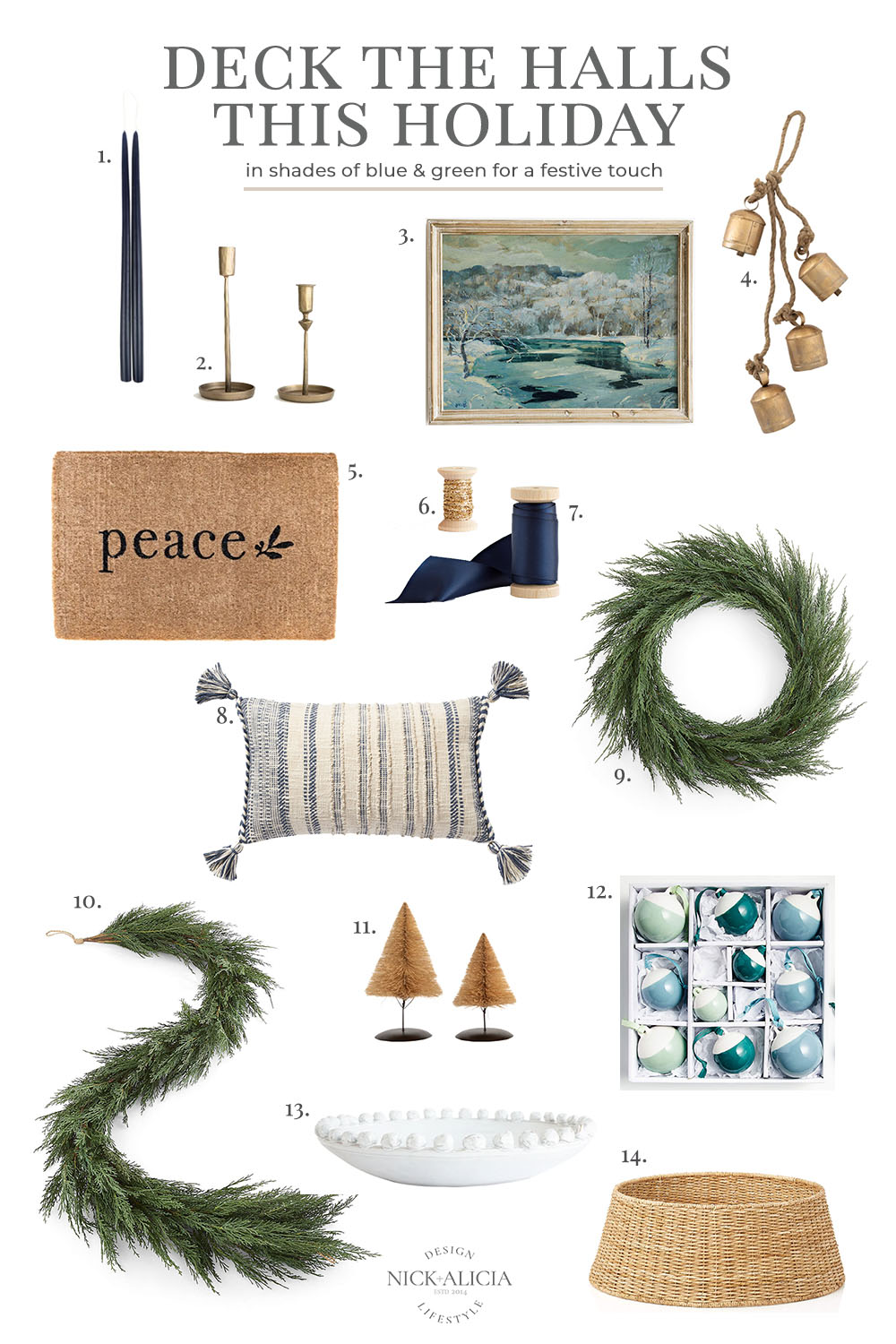 one | two | three | four | five | six | seven | eight | nine | ten | eleven | twelve | thirteen | fourteen
While I love decorating our home for the holidays, there are a few things I try to remember to keep myself from getting carried away and overspending, which is so easy to do. I like to use as much of our existing holiday decor each year as I can, which leads me to my first tip – choose a theme or colour palette for the holiday season and stick with it. Using a consistent theme or colours each year allows you to collect new pieces that will seamlessly fit with your existing holiday decor.
Generally, I decorate our home using neutrals, although last year was an exception. I wanted to try something new and fun for the girls so we decorated for the holidays using pastels and whimsical details (see it all here). I did this knowing we would still use these colourful pieces in the girls' bedrooms and playroom in the future.
Knowing that I typically decorate for the holiday season using neutrals, each year I like to add a few new pieces to our home to keep it feeling fresh. And while it's fun to purchase new holiday decor, updating your home for the holidays doesn't necessarily mean you need to buy Christmas-specific pieces. A new throw, pillow, or vase may be just what you need to create a cozy and inviting space.
And my last tip is to invest when possible. I like to invest in pieces that will last year after year or season after season. When I'm buying new holiday decor, I do my best to invest in pieces that are high quality and realistic, like our Christmas tree or beautiful ornaments that will hopefully one-day become heirlooms. I follow the same rule of thumb when purchasing pieces that aren't holiday-specific, like a new pillow or throw. I choose a few pieces that will last from fall, then Christmas, and through the winter season.
So, now that I've shared three of my go-to tips for decorating for the holidays, I thought I would share the pieces I will be using in our home this holiday season in case you're looking for a little holiday inspiration.
10+ Holiday Decor Ideas to Add A Festive Touch To Your Home
Candles
Candles are such an easy way to add a little bit of ambiance to your home during the holiday season, and I love to include them while setting our holiday table. I don't think you can go wrong with simple tapered candles paired with vintage brass holders. This year I am planning on adding a modern twist to our candles with these beautiful navy tapered candles.
They aren't holiday-specific, which means I can use these pieces season to season and from year to year.
---

---
Art
While the art throughout our home generally stays in place during the holiday season, I think it's fun to add one or two pieces that depict winter scenes. Whether you invest in an original vintage painting or choose a more budget-friendly printed option, it's a quick and easy update for the holidays. Again, it's not holiday-specific, so these pieces will last you from Christmas through the winter months.
---

---
Decor
With the exception of our Christmas tree, I like to keep our decor fairly simple by adding just a few holiday touches throughout our home. Vintage brass bells hung on a door handle, neutral bottle brush trees placed on a side table or a ceramic bowl filled with holiday ornaments are simple but festive additions.
---

---
Doormat
First impressions are everything, so I always make sure I spruce up our front porch with a new wreath, greenery, and doormat. I love a simple doormat with a holiday sentiment to welcome guests into our home.
---

---
Ribbon
From decking the tree, hanging a wreath, or wrapping gifts, a few spools of beautiful ribbon is a holiday must in our house.
---

---
Pillows
Adding a new pillow or two is another simple way to freshen up your home for the holidays and create a cozy and inviting layer.
---

---
Greenery
Whether you decide to use fresh or faux, a beautiful full wreath or realistic garland is always at the top of our holiday decor list. Greenery is the perfect way to add a festive touch and dress up any room for the holidays. And while we take our garland down after Christmas, a simple pine, cedar, or cypress wreath looks classic all winter long.
---

---
Ornaments
Of course, ornaments are a must for holiday decorating. While we love to decorate our tree with an assortment of holiday ornaments I also love filling a large decorative bowl with baubles for an instant festive touch.
---

---
Tree Collar
If you're looking for a streamlined look, a tree collar is a perfect alternative to a more traditional tree skirt.
---

---
I hope you found these tips helpful and inspiring. And while it's fun to decorate our home for the holidays, remember to enjoy the process and have fun. Because more important than a beautifully decorated house is spending time with the people we love and creating memories of the season to last year after year.