Bring the coffee shop home with the Breville Barista Express, and you'll enjoy a perfect cup of coffee from the comfort of your home every time.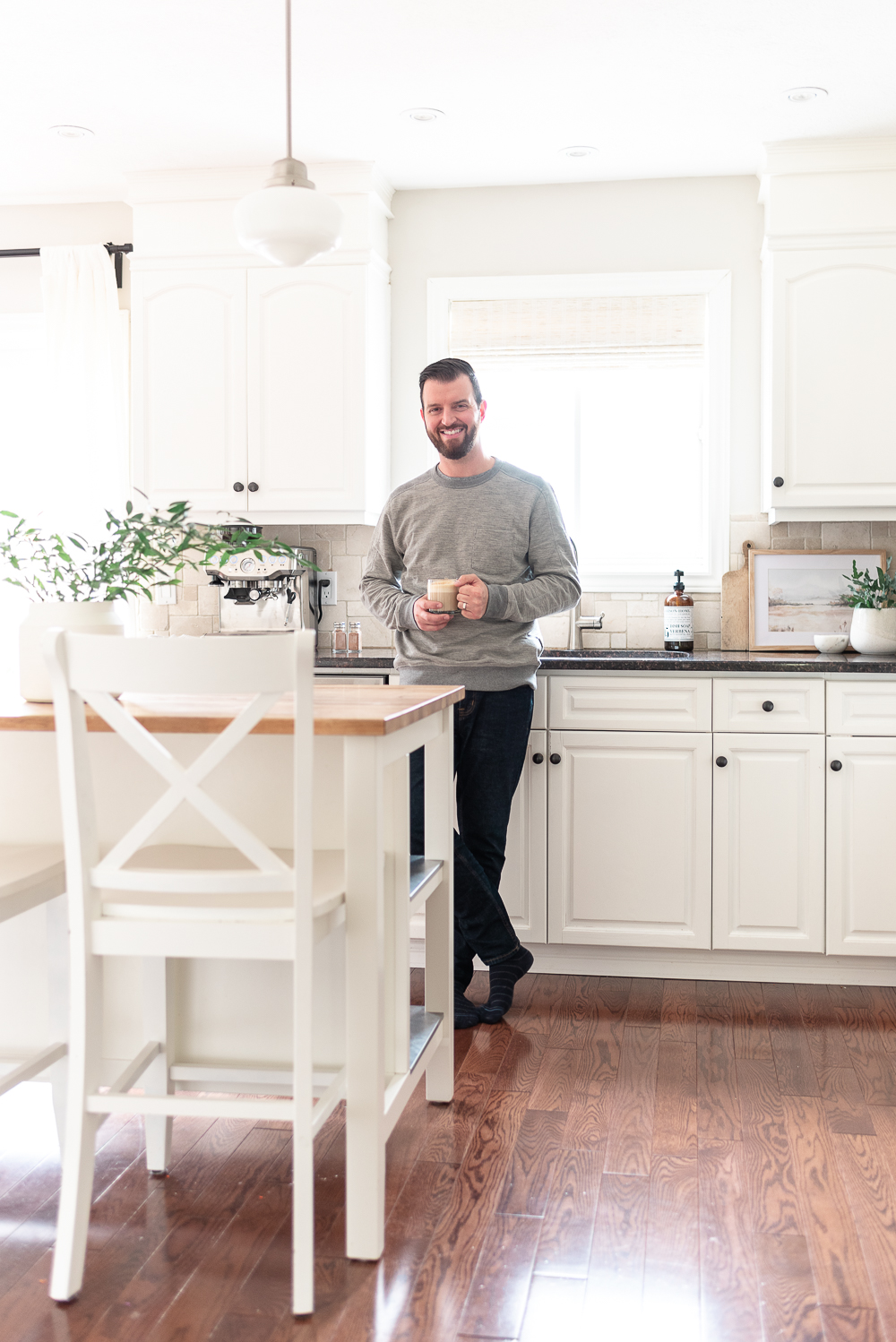 I'm not going to lie, I get a bit too excited about coffee. You know the saying "But first, coffee". That is 100% accurate in describing me each and every day.
What is it about coffee that makes us love it so much? Is it the flavour and aroma, or the caffeine perk you get when you need it the most? I've come to the conclusion that it is both.
But will any cup of coffee do? I've tried many cups of coffee at work conferences, hotels, and restaurants that were so terrible I wouldn't even drink them despite how much I may have needed it. There's probably nothing worse than looking forward to your morning coffee or afternoon pick-me-up and tasting a bitter, weak, and flavourless coffee. Ok, maybe I'm overreaching with the "nothing worse" part, but when it comes to coffee, there's nothing worse than bad coffee!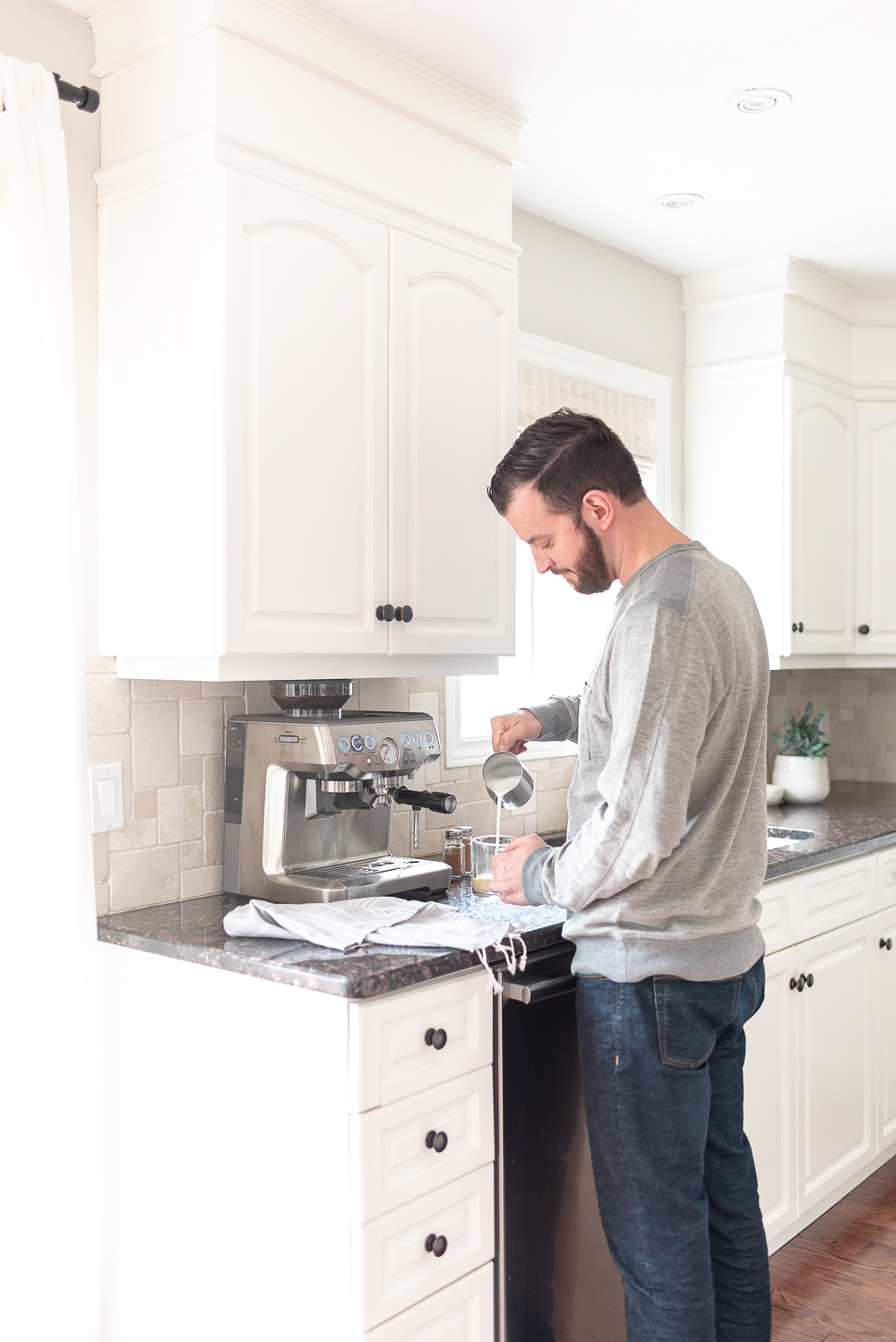 Our love for coffee grew exponentially after our firstborn, and even more after our second. With lack of sleep, the caffeine in coffee helped balance our energy during the day and became our morning and afternoon ritual. It's an integral (and necessary) part of our daily routine.
But picking up a coffee from our favourite coffee shop every morning is usually futile when you're trying to get the kids ready and out the door for school on time. I have never been able to make it happen! So how have we solved that problem?
Nowaday's, we wake up in our own coffee shop. That's right, we have a coffee shop in our home and we no longer have to settle for a "basic" coffee.
Our friends at Breville wanted us to give their Barista Express unit a try and after several months of perfecting my espresso craft (several times a day), I have to say this is my favourite appliance in the house (even if you include all of my power tools on that list, and that's saying a lot!). There's a little bit of a learning curve to making espresso's on an intermediate, semi-automatic machine like this. You'll have to familiarize yourself with terms like extraction, grinding, dosing, tamping, and frothing. But, if you love coffee, then you will love this process. It took me a few weeks to get the hang of it, but after that, it was smooth sailing to espresso town!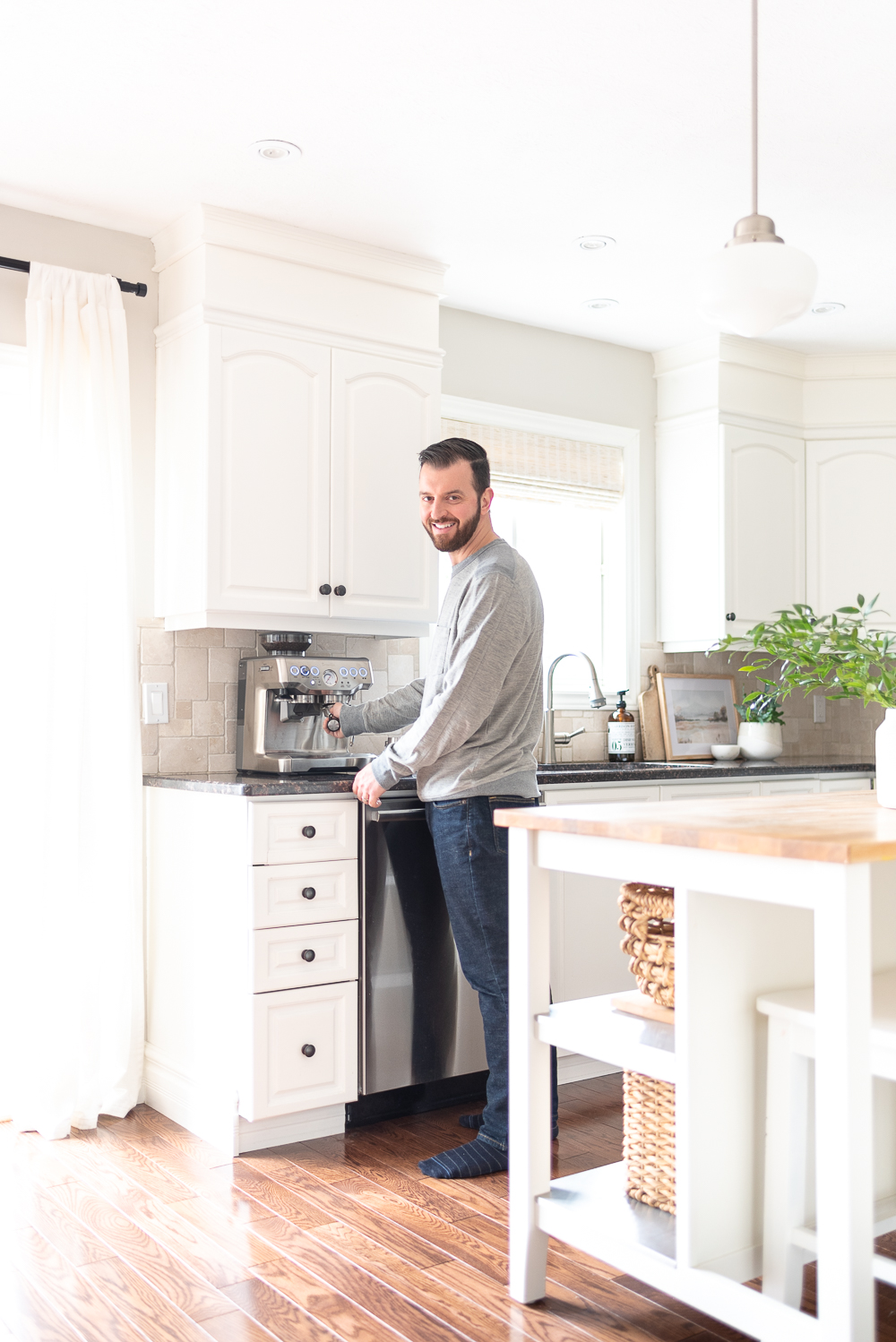 ---
get the look

---
This espresso machine is an amazing value. Alicia and I each drink about two latte's a day, on average. If you were to go to your local coffee shop every day, this machine would pay for itself in just over a month.
Alicia thinks I'm crazy because I like to make sure the espresso machine is in top working order and clean and ready to go at any time. It's easy to maintain with the tools provided, but I like to make sure it looks brand-spankin' new all the time!
So, what do I love about the Breville Barista Express after using it for the last six months?
It's Easy to Get Started
When you open the box, you'll find the unit itself, pressurized and non-pressurized single and double baskets (filters), a razor dose trimming tool (you won't need this as much once you get the hang of it), an integrated tamper, a stainless steel milk jug, and some cleaning tools. Everything you need to get started!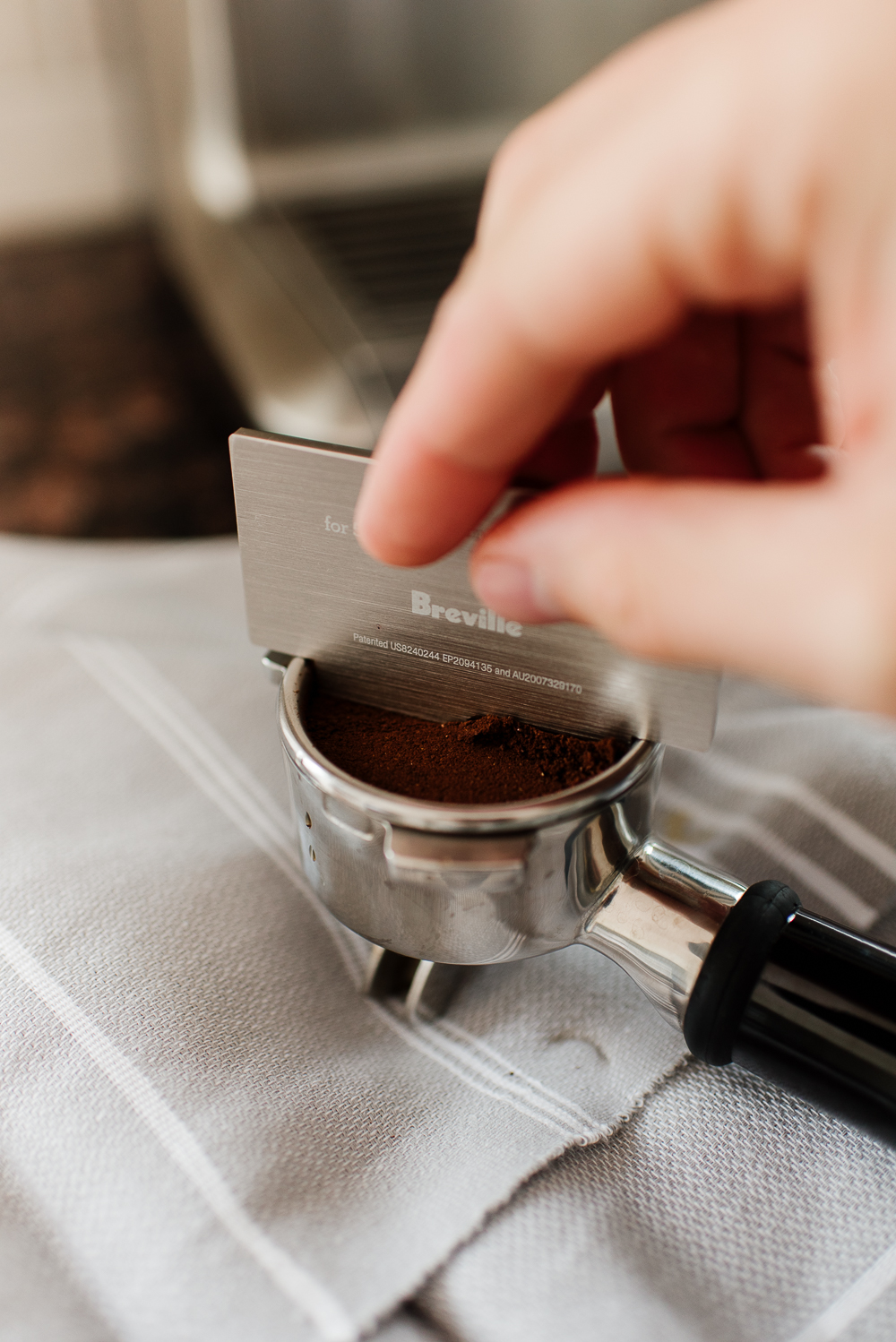 The Unit Itself
Let's start with the superficial side of things before we dive into the features. It looks great in your kitchen! It's stainless steel exterior seamlessly blends with the other appliances in our kitchen. The quality of the unit is apparent as soon as you pick up the box when it arrives on your doorstep. You can tell it's a well made, high-quality unit.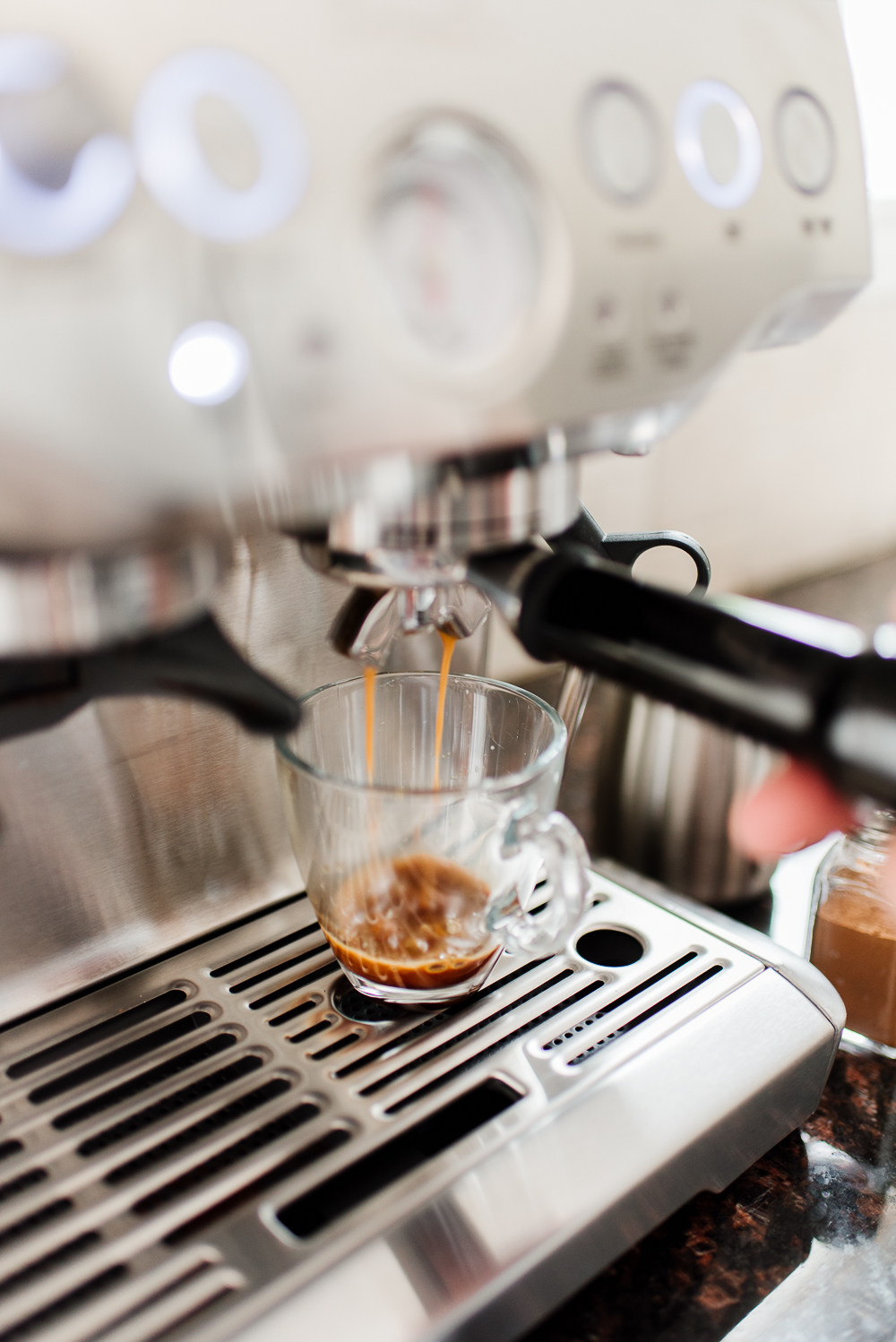 The Controls
The controls are very easy to use and allow you to dial in the perfect shot. You've got the ability to make single or double-shot espressos. One thing I've found while experimenting is that each variety and brand of bean usually requires minor adjustment of the grind fineness and amount. It usually takes a test shot or two to dial in the perfect shot.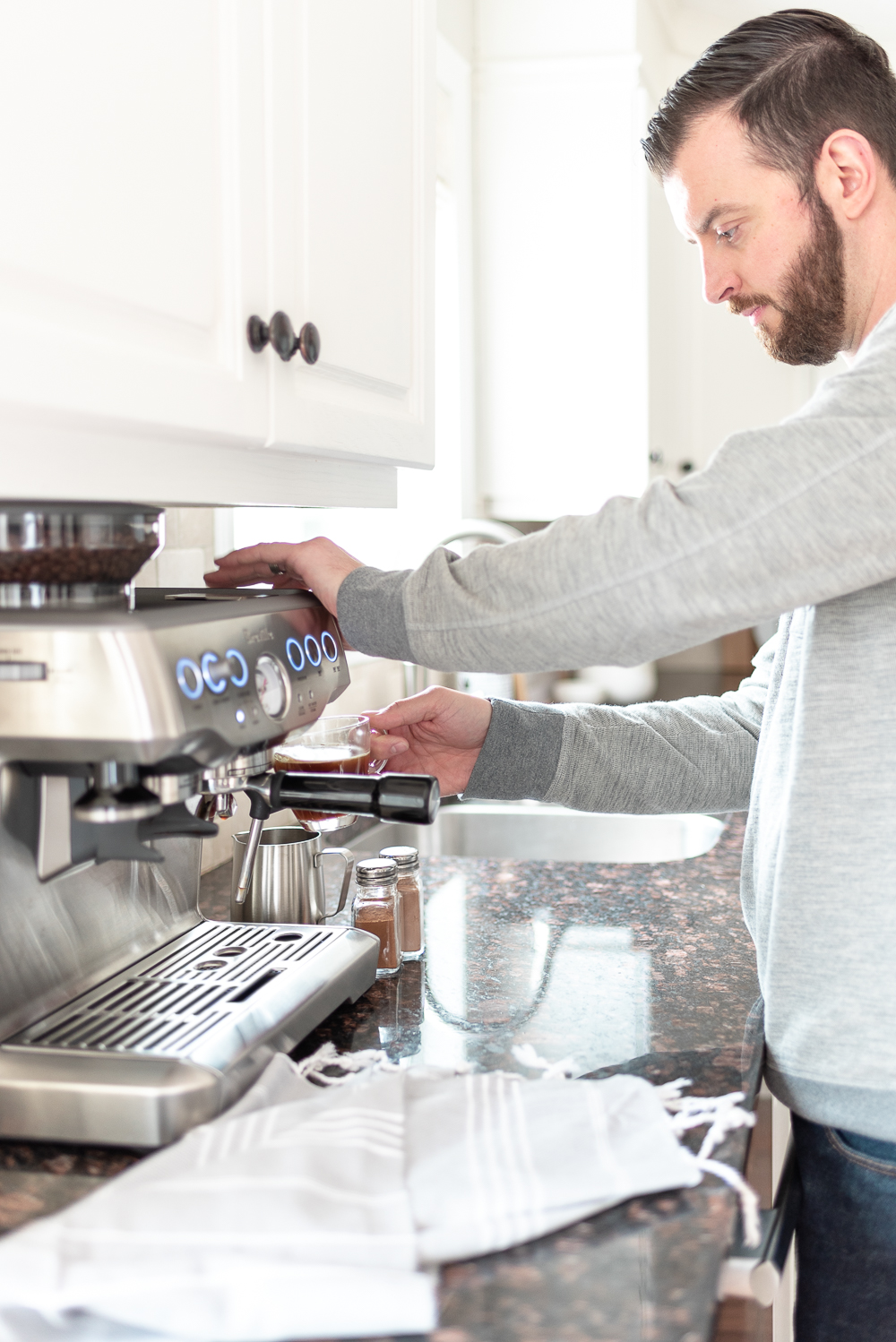 The Grinder
The integrated burr grinder is one of the best features. This conical burr grinder is so much more precise than a blade grinder. It slowly grinds the beans into even pieces, which is critical to making a good espresso. The grounds should be consistent in size and freshly ground for the best espresso. Plus, the aroma from freshly ground beans is heavenly. I actually look forward to this part of the process the most.
Having a grinder in this unit gives you the ability to try different whole beans from around the world. I find that pre-ground packages just don't have the same level of freshness as a bag of whole beans (although you can use pre-ground coffee with the included pressurized baskets). The second coffee grounds hit oxygen is when they start losing flavour. I like to think that receiving the beans in their whole state helps maintain the flavour a bit longer. Every time I open a new bag of beans and smell the delicious aroma, I can't help but let out a ridiculous "mmmmmm" in the kitchen…and Alicia rolls her eyes at me! Sorry, I can't help it!
Another great thing about this machine is that it has an integrated magnetic holder for the tamper. There's also a tray that pulls out to hide the baskets you're not using.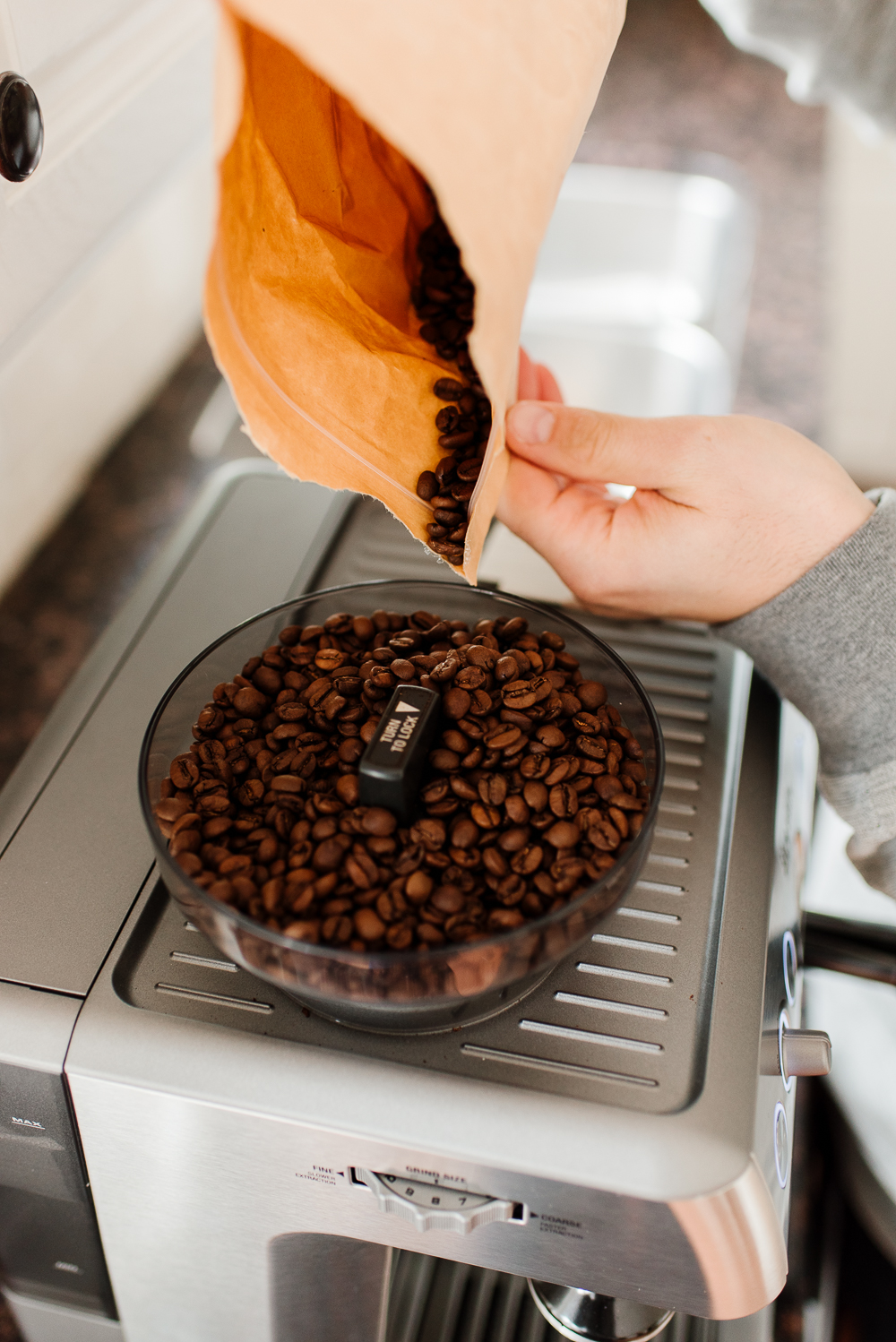 The Steam Wand
The steam want maybe isn't as powerful as the one on a commercial machine in a coffee shop, so it takes a bit more time to get your milk heated up to the appropriate temperature. But for home use a couple of times a day it's perfect. It does a great job of producing a smooth microfoam.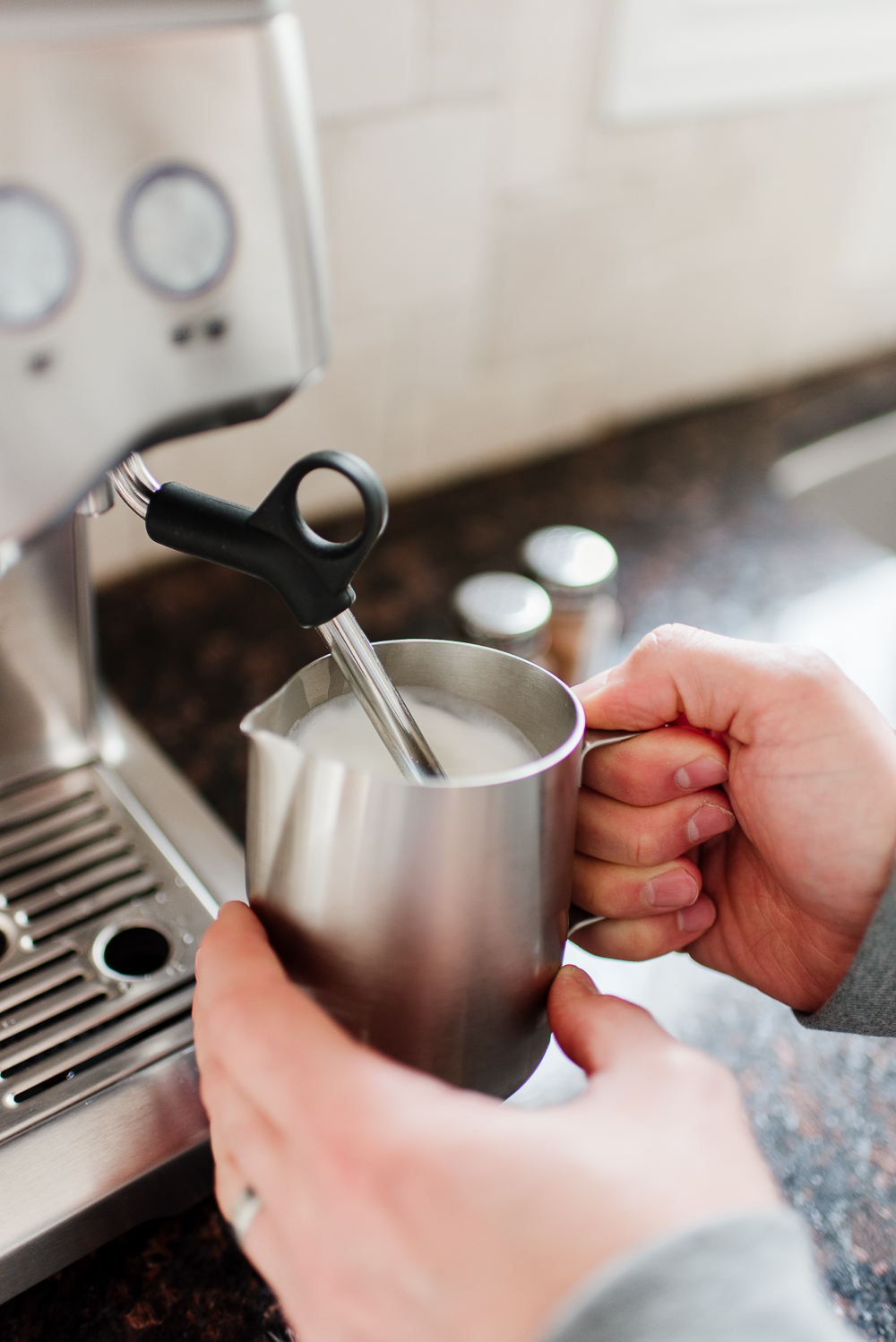 I really like that I can make a variety of different coffee drinks. This summer, we've made a lot of cold coffee drinks by pulling a shot, pouring it over ice, adding our own home-made syrup, and finishing it with milk or almond milk. On the cooler days, I've made cappuccinos, latte's, americano's, latte macchiatos, and just straight-up espresso shots.
Now we can craft our own delicious specialty coffees at home when we have friends or family over for an afternoon coffee or dinner party. And we always like to make sure we have a selection of syrups on hand to offer as a sweetener!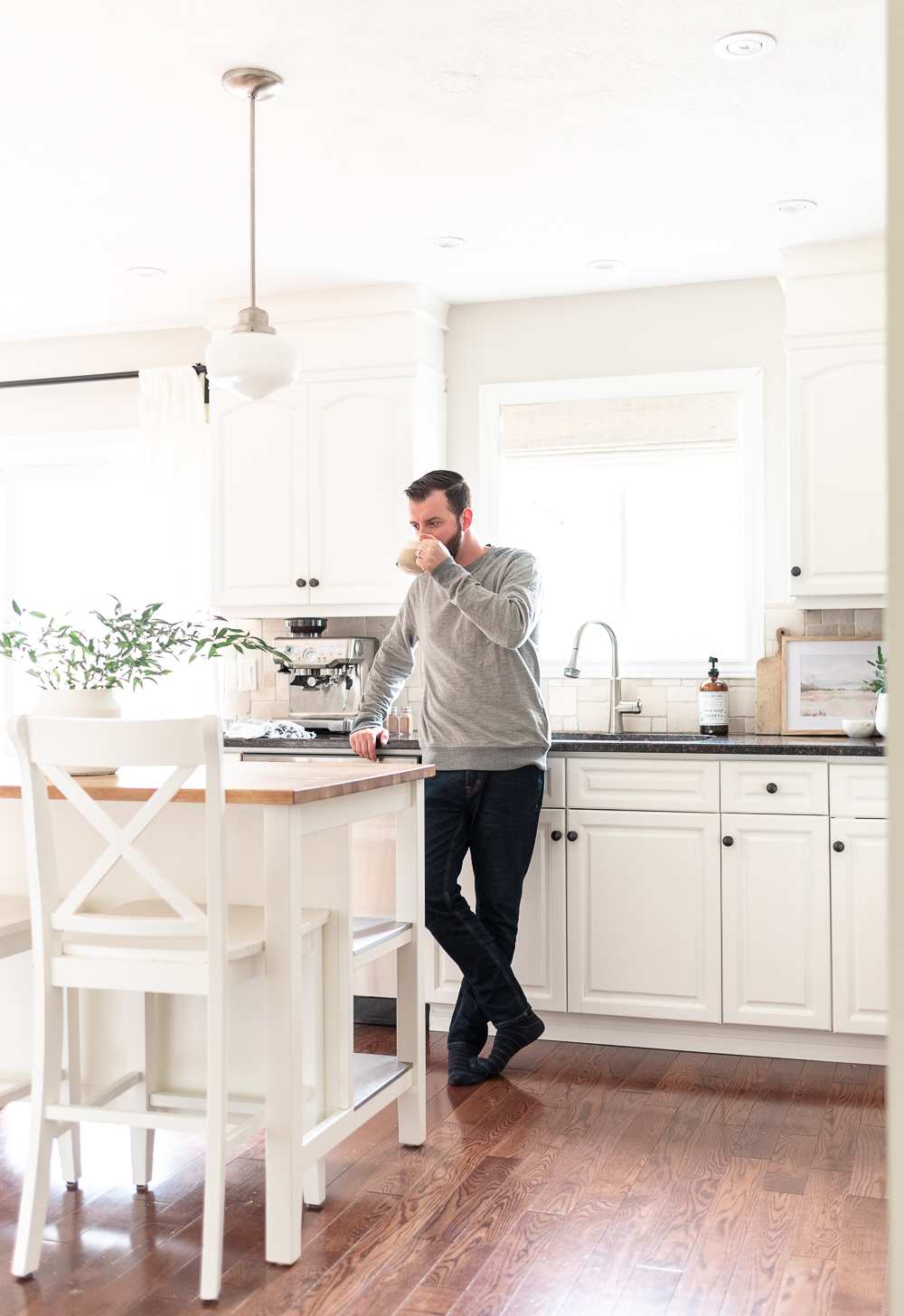 The bottom line is that if you are a coffee lover then the Breville Barista Express won't disappoint. It looks great in your kitchen and will pay for itself in no time!
Check out this machine and others in their lineup!

DISCLOSURE:
This post is sponsored by Breville.
We have received compensation and/or product for this post.
However, as with all of our partnerships, all opinions and ideas are our own.