Beautiful blooms and a rainbow of butterflies set the scene for this magical butterfly birthday party.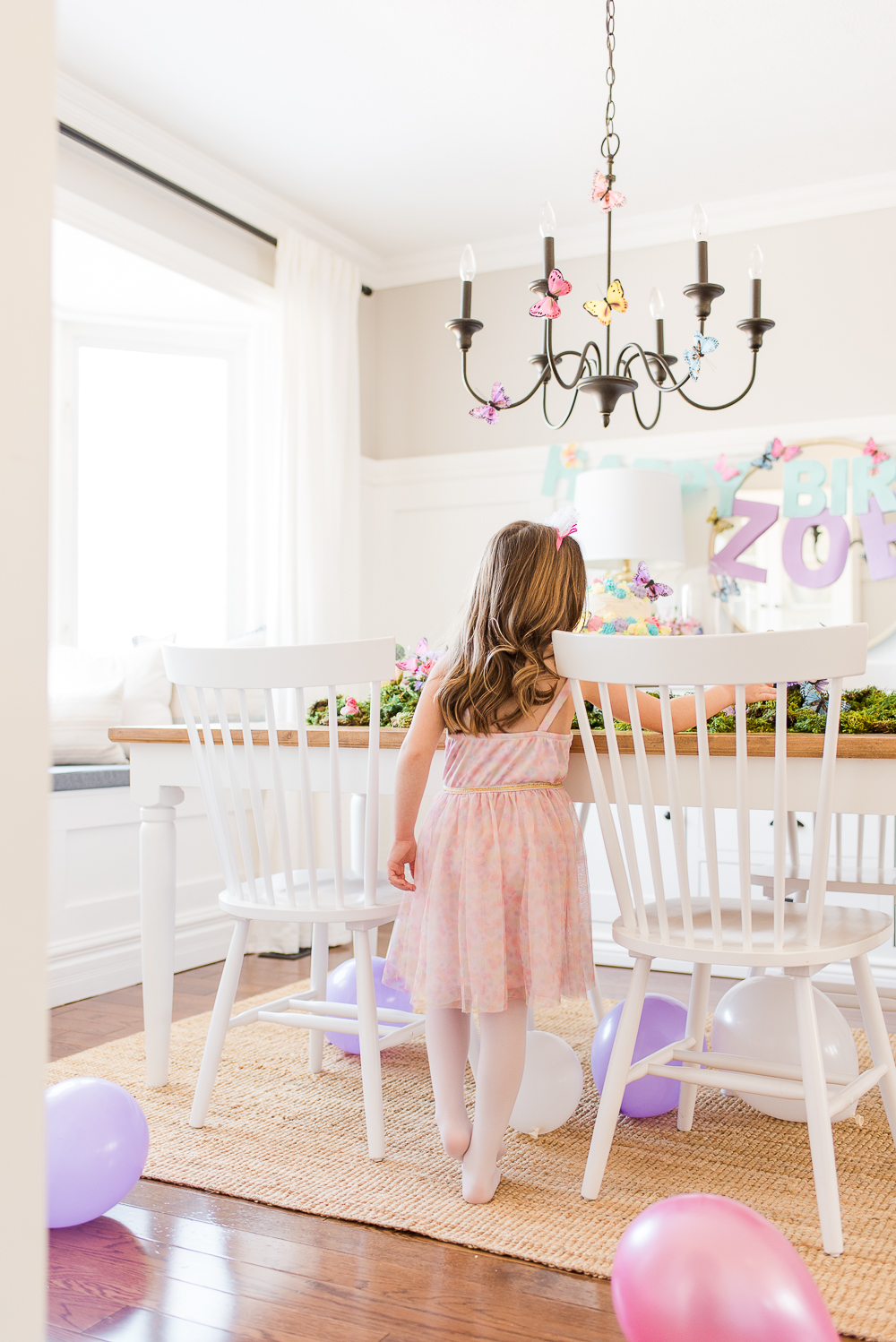 Each year I look forward to celebrating our girls' birthdays by planning parties that match their personalities and help them feel extra special. It's one of my favourite ways to be creative and I love pouring my heart into all of the little details.
While the girls were little I used to take the lead and plan their parties around their likes and interests. But each year as they get older they are able to give more input and share their ideas with me. Hearing their own ideas and wishes for their birthday parties is so sweet, and including them in the process helps their day feel even more special.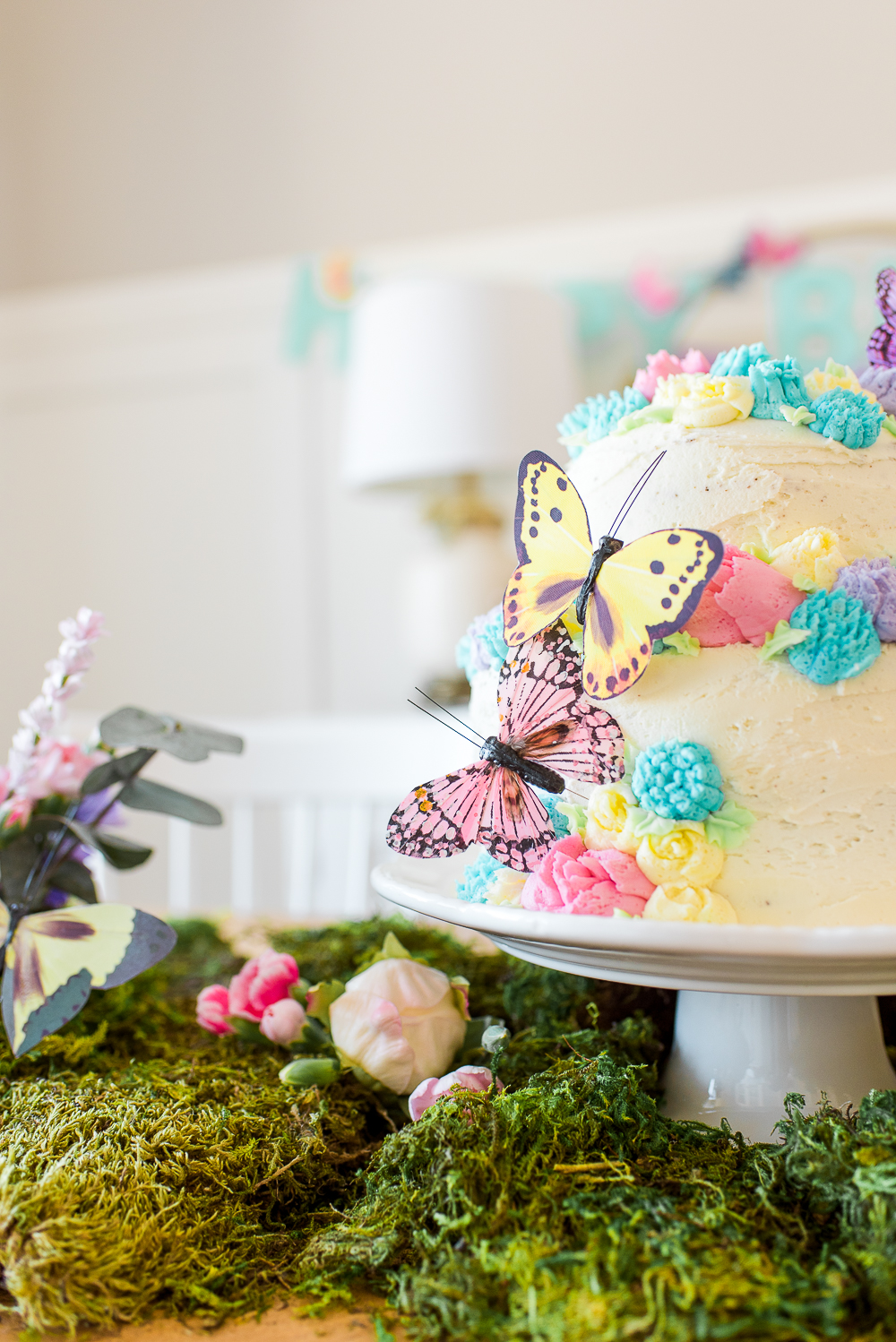 This year Zoe requested a butterfly birthday party and I could tell she had put a lot of thought into the party she hoped to have. And while we knew this year's party was going to be different, we wanted to be sure it still felt magical and special, even without a house full of friends and family.
To be honest, at first, I thought we would just get a cake and maybe a couple of balloons for her birthday. We have promised her a real party this summer with her friends, given the restrictions in our area have been lifted by that time, so I thought I would save any elaborate party plans for her real party.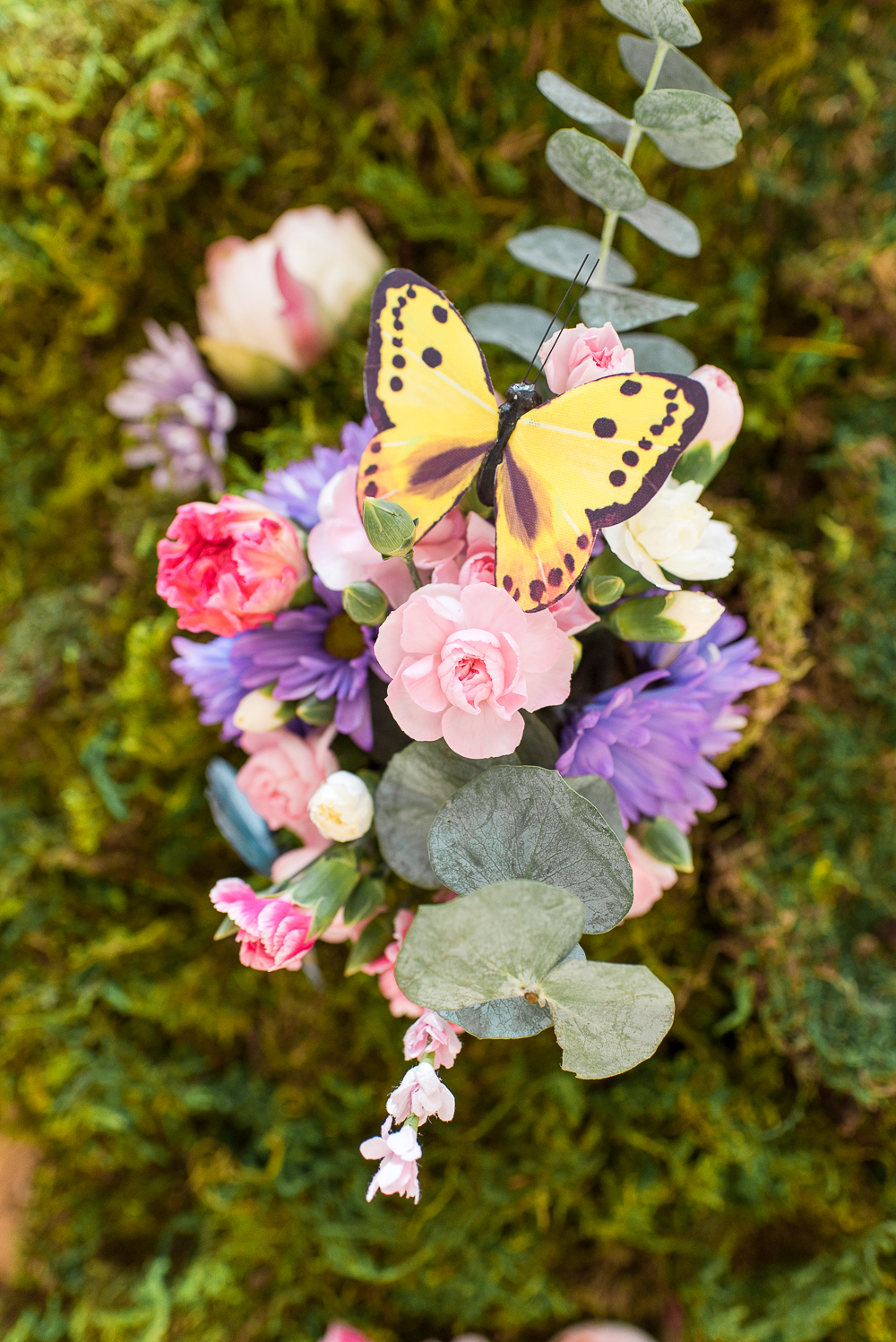 But after thinking about it for a few days we decided to put a little more effort into her birthday. With all of the challenges and changes of this past year, we wanted to make sure Zoe still felt celebrated and special on her birthday. So I started the process of planning a butterfly birthday party, even if it was just for the four of us to enjoy.
Theme
The best parties always center around a theme, like last year's magical circus birthday party. Deciding on a theme not only simplifies all of the other party decisions, like decorations, cake and food, activities, and goodie bags, but it helps to create a feeling of cohesion.
To bring Zoe's butterfly birthday party to life, I started dreaming up all of the ways we could take that theme and turn it into a magical day.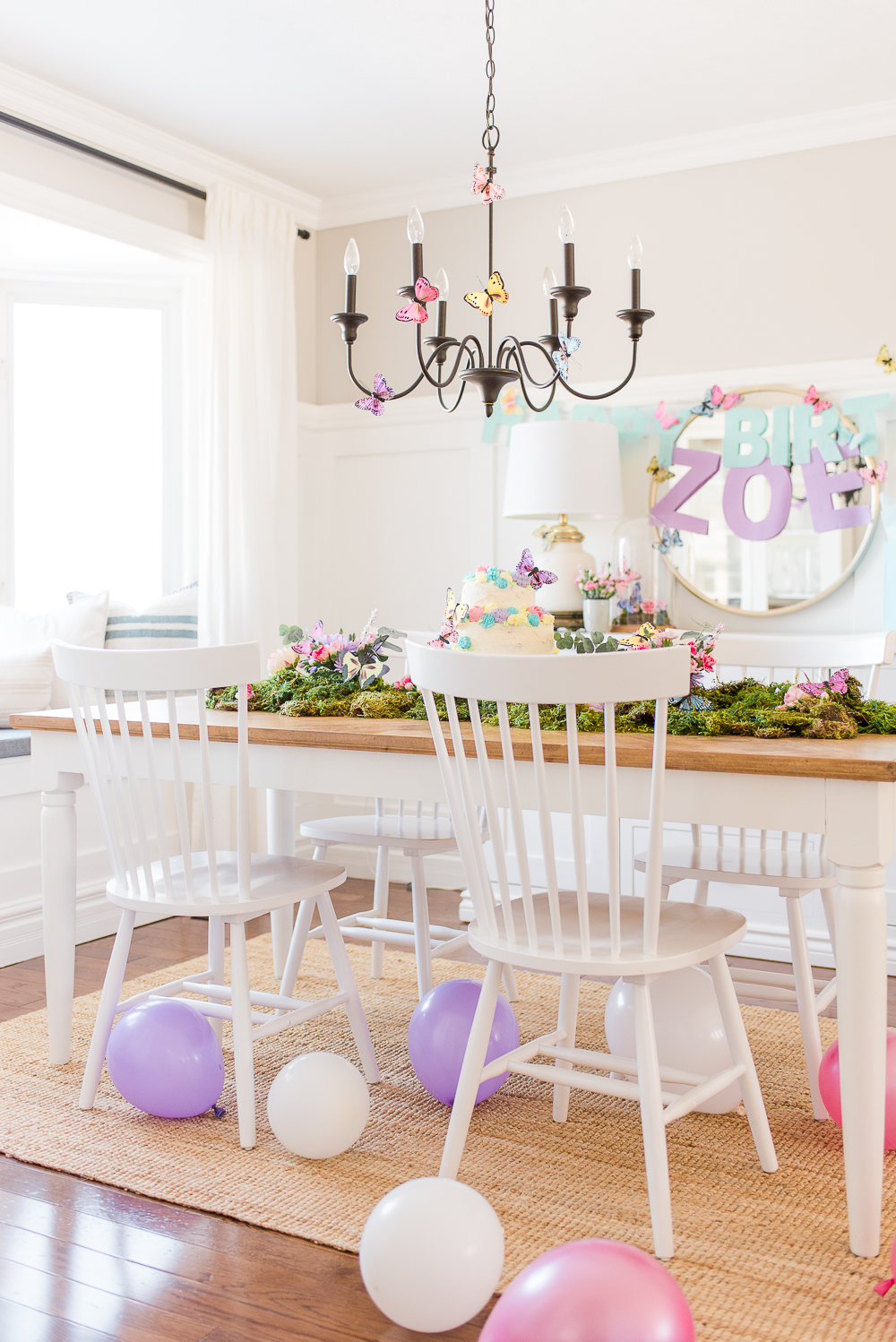 Decor
Once you've settled on a theme, start brainstorming ideas to bring that theme to life. If you don't have any immediate ideas jump on Pinterest and take a look. I guarantee you'll be full of inspiration after a quick search.
Before decorating for the girls' parties, I always start by decluttering. I take away any decor from the space that doesn't fit with the theme or that will be in the way. Once I have a clean slate I start decorating.
I wanted Zoe's party to feel enchanted as if she had stepped into a magical land with blooming flowers and butterflies flitting every which way. So I layered moss along the center of the table to create the look of a mossy forest floor. I used about seven bags of moss, purchased from our local dollar store to create the look. It's messy but inexpensive and I love the effect.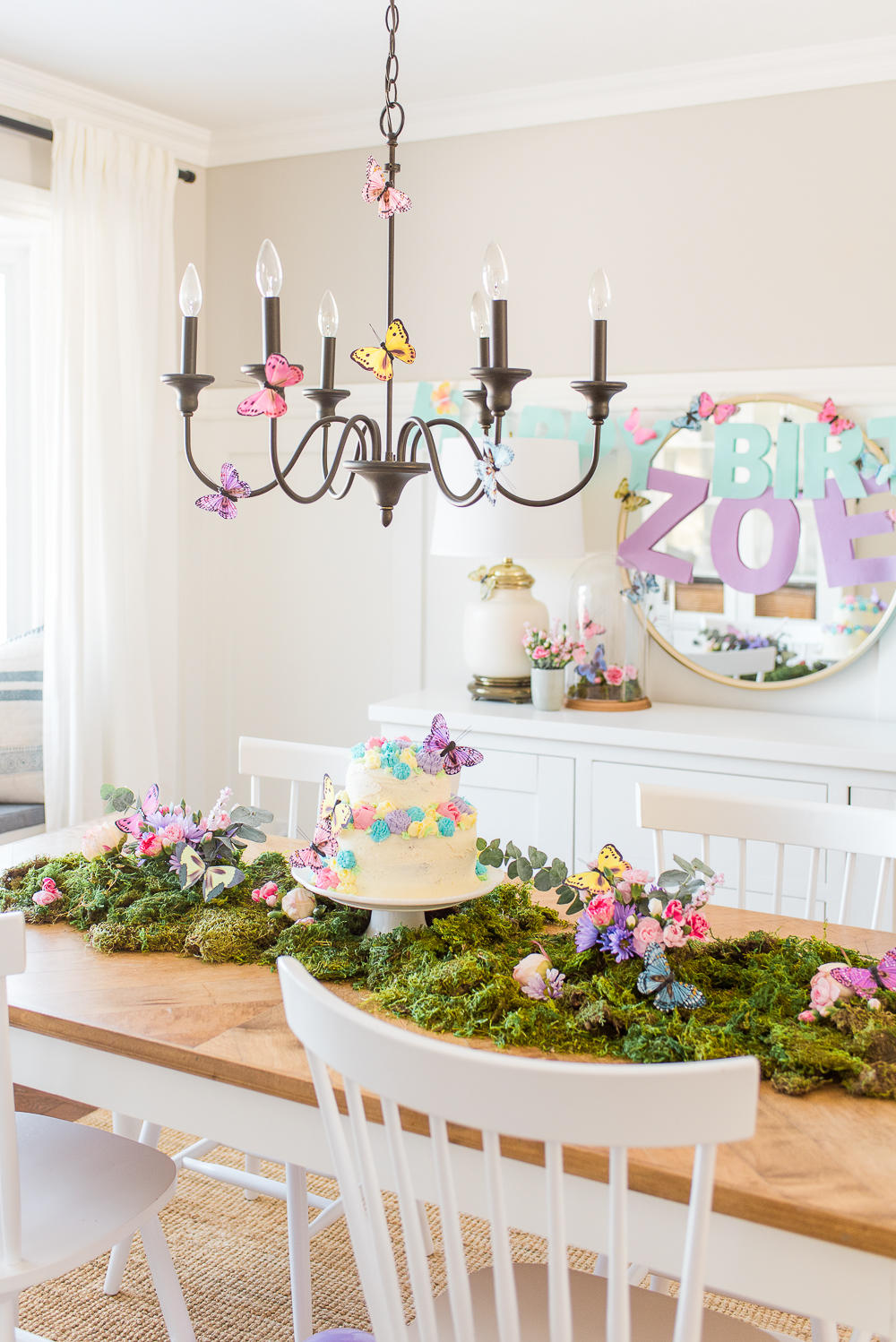 Next, I created two small floral arrangements from grocery store flowers to add a bit of colour and whimsy to the forest floor. I arranged each bouquet in a small drinking glass, as I needed a vase that was small enough to nestle beneath the moss.
I saved a few flowers from each bouquet to tuck into the moss individually. I used flower picks filled with water for each of these individual flowers to keep them from wilting.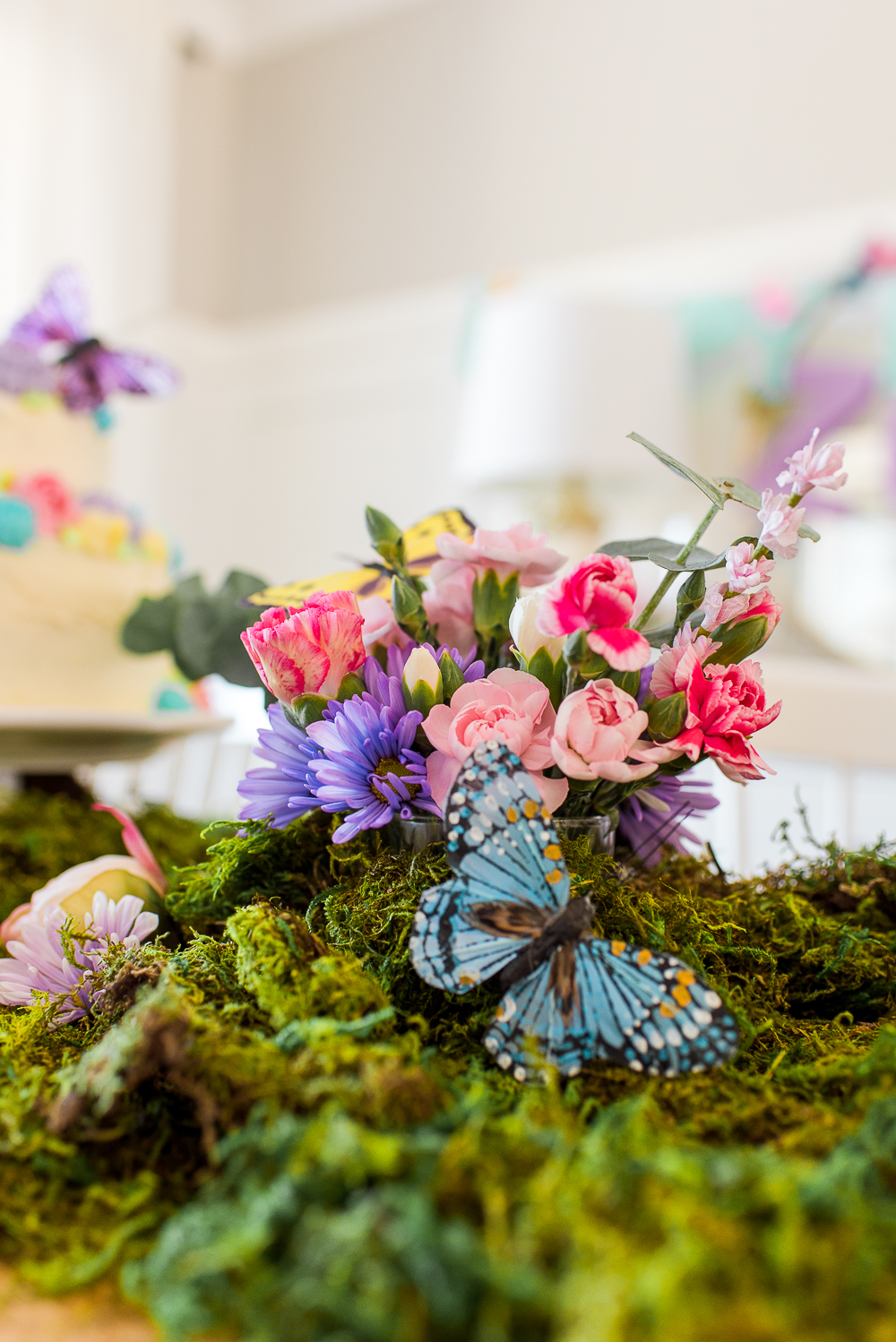 Usually, the sideboard in our dining room is used as a dessert table during our parties, but as we didn't have guests to eat all of those goodies, I kept it fairly simple. I hung our felt Happy Birthday banner, along with an additional bouquet of flowers and a butterfly terrarium under a glass cloche.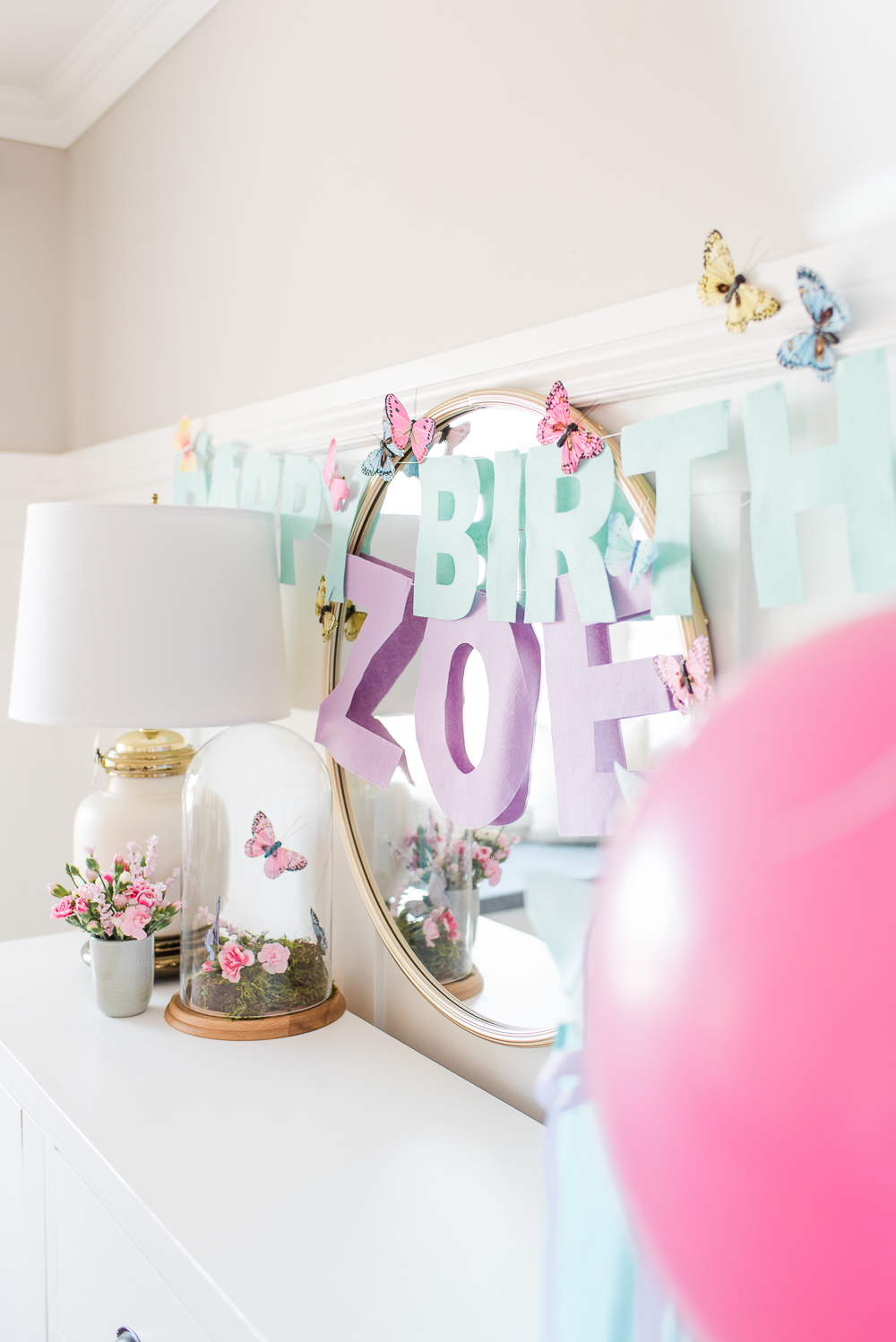 And last but not least I added the butterflies. This part was so fun and really brought the whole look together.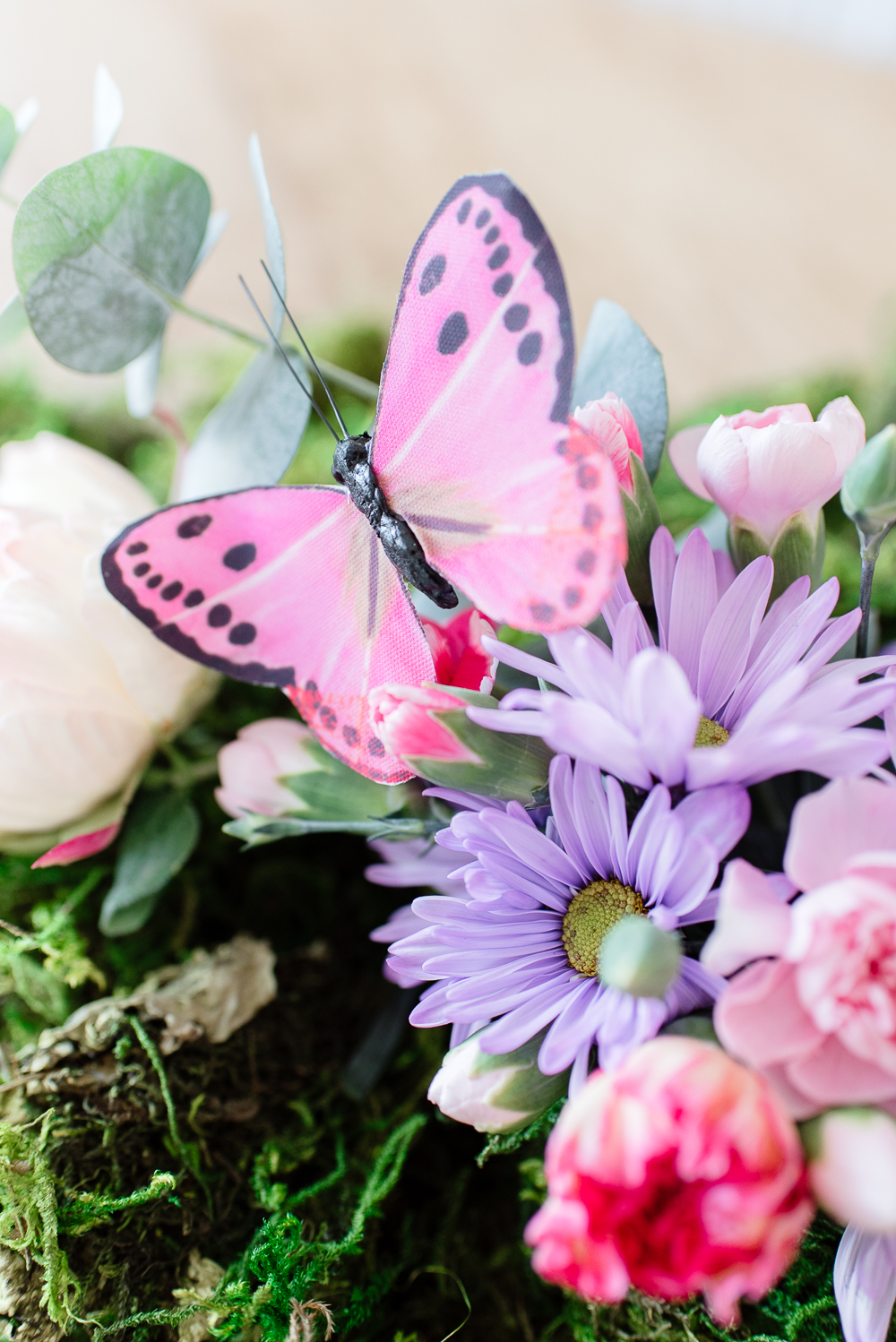 I bought a bunch of these butterfly embellishments in a variety of colours, they are inexpensive and so pretty. Overall, I used about 30 butterflies. Some of the butterflies came with picks, which I used to stick into the moss and floral arrangements. Some of them came with clips, which I used to attach to the Happy Birthday banner. I also used glue dots to attach the butterflies to the wall and inside the cloche, and small magnets to attach them to the chandelier and mirror.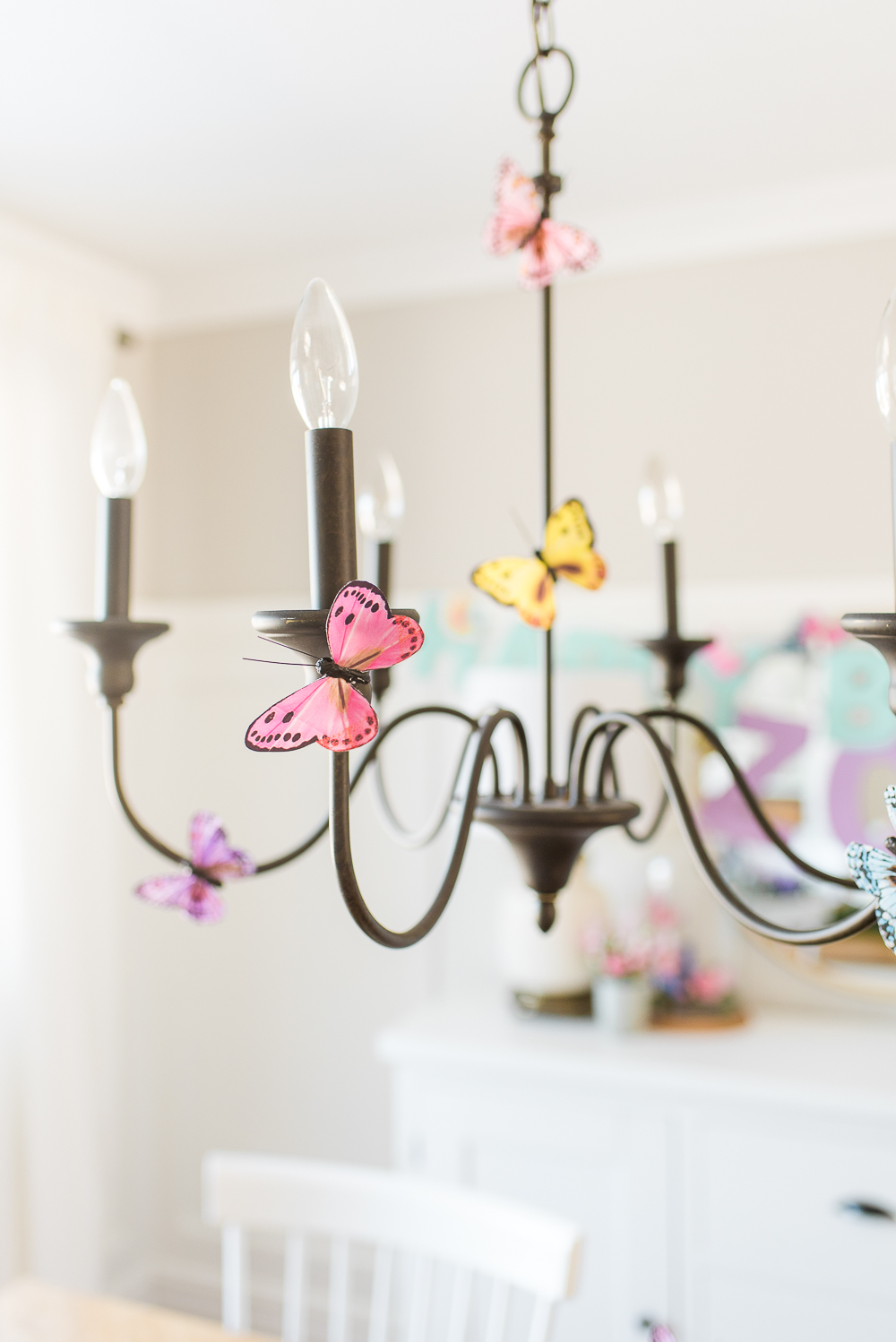 Cake + Food
We usually have a local gal make our birthday cakes, she is amazing and we love her attention to detail. But we were a little late this year and she was booked by the time we made our decision, so Nick whipped up this cake for Zoe's party.
Zoe requested a chocolate cake with raspberry filling, and of course, covered in flowers and butterflies. Nick didn't disappoint, this cake was delicious!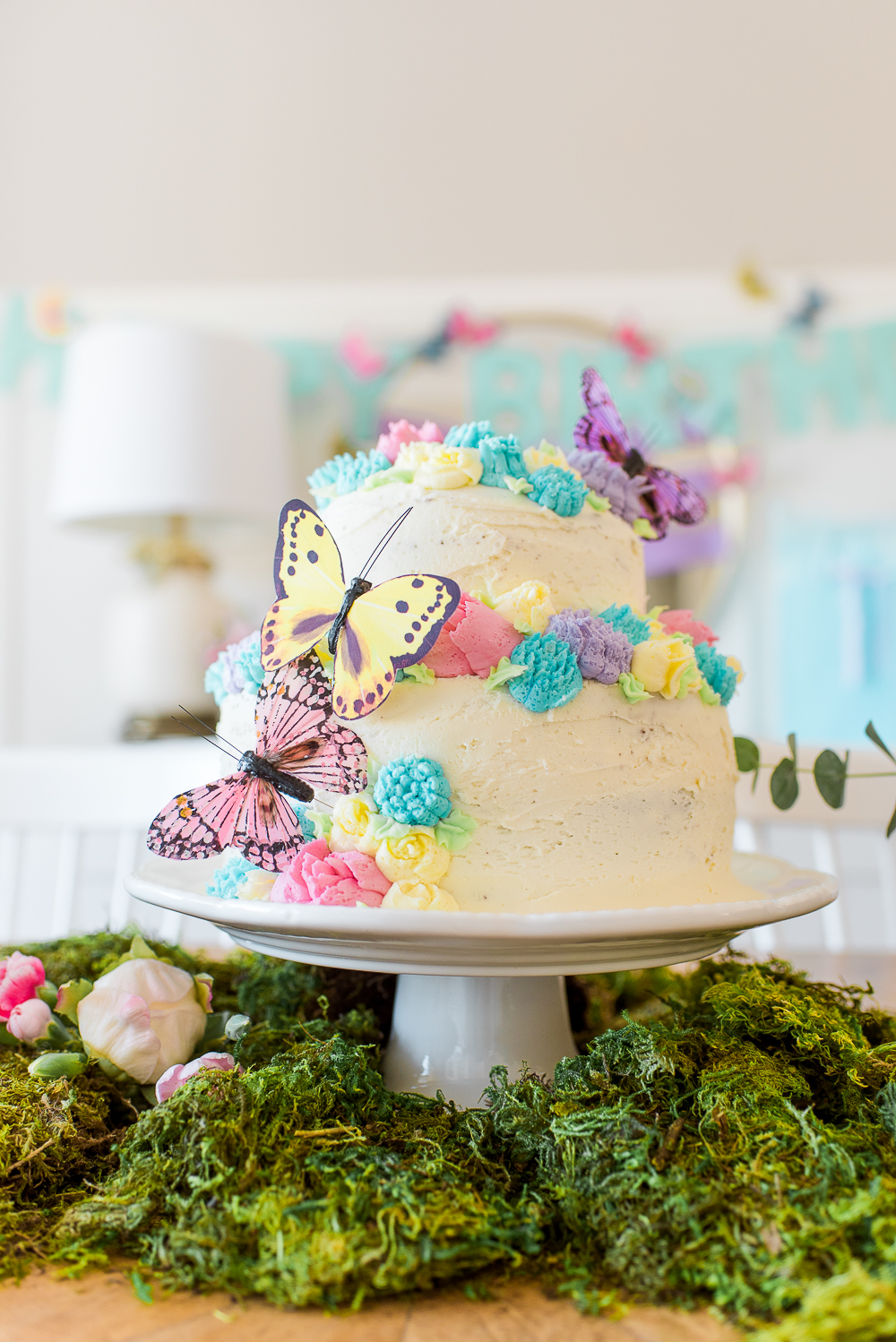 If we were having a party with friends and family, we would plan additional goodies that fit with our theme, like beautifully decorated butterfly sugar cookies and canisters filled with colourful candy.
But the cake was enough sweets for our family. And Zoe also requested this and this for dinner, two of her favourite treats.
Activities + Games
When you're hosting a little one's birthday party, be sure you have a few fun activities or games up your sleeve to keep the littlest guests busy and entertained.
I always have at least one simple and relatively mess-free craft planned. Pre-cut paper butterflies that can be decorated with crayons and stick-on jewels or stained glass butterflies crafted from wax paper and tissue paper are easy and fun for kiddos. Again, turn to Pinterest if you're short on ideas.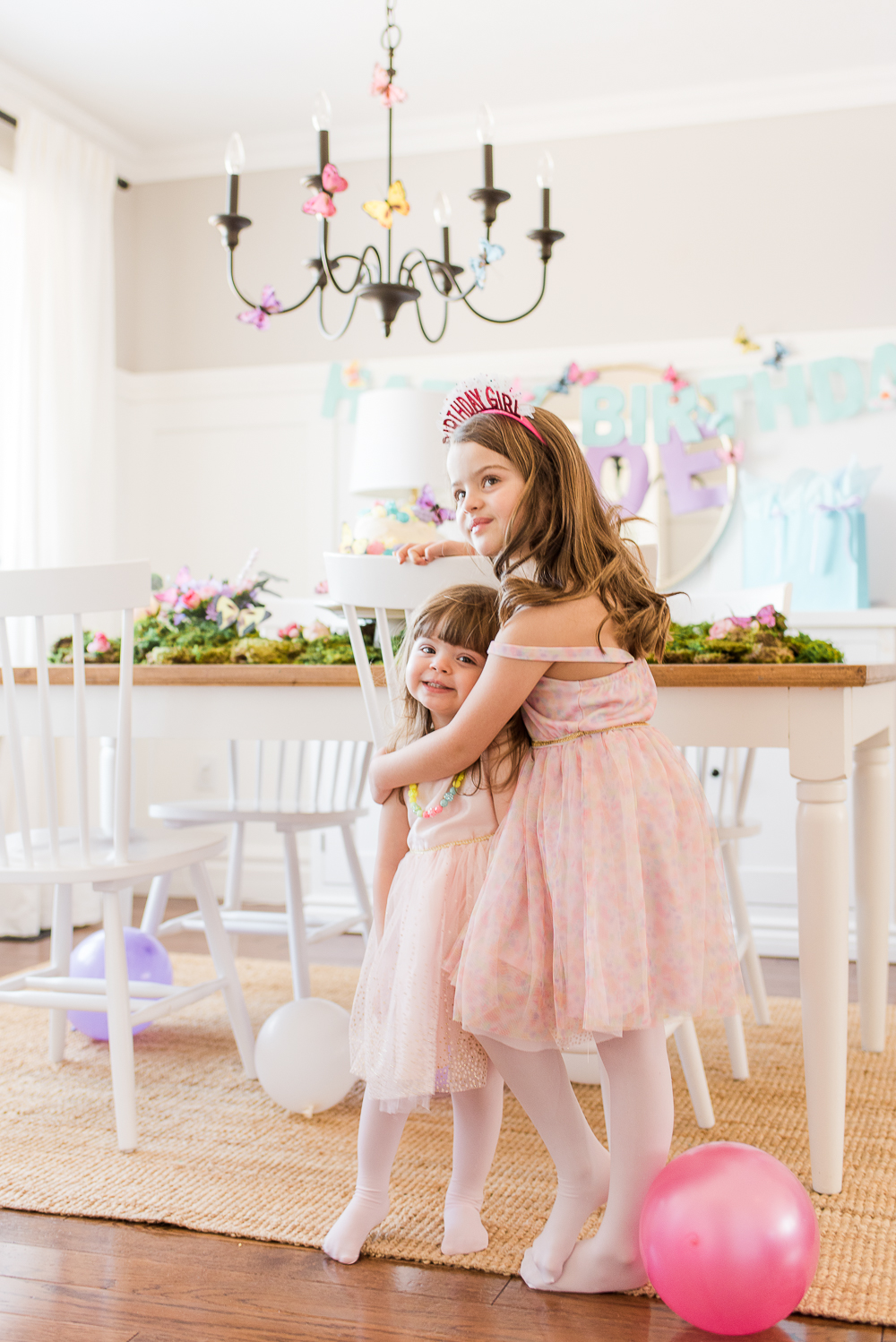 And don't forget the tunes. We keep a kid-friendly playlist on repeat for a little extra ambiance and to keep kiddos dancing and twirling.
Goodie Bags
Goodie bags are such a fun treat to thank little guests for attending a party. So even though we didn't have any friends attending Zoe's birthday, I still put together simple goodie bags for Zoe and Ella to enjoy.
I filled the girls' goodie bags with a few simple and inexpensive treats, including butterfly bracelets, butterfly stickers, candies, and their very own pair of butterfly wings.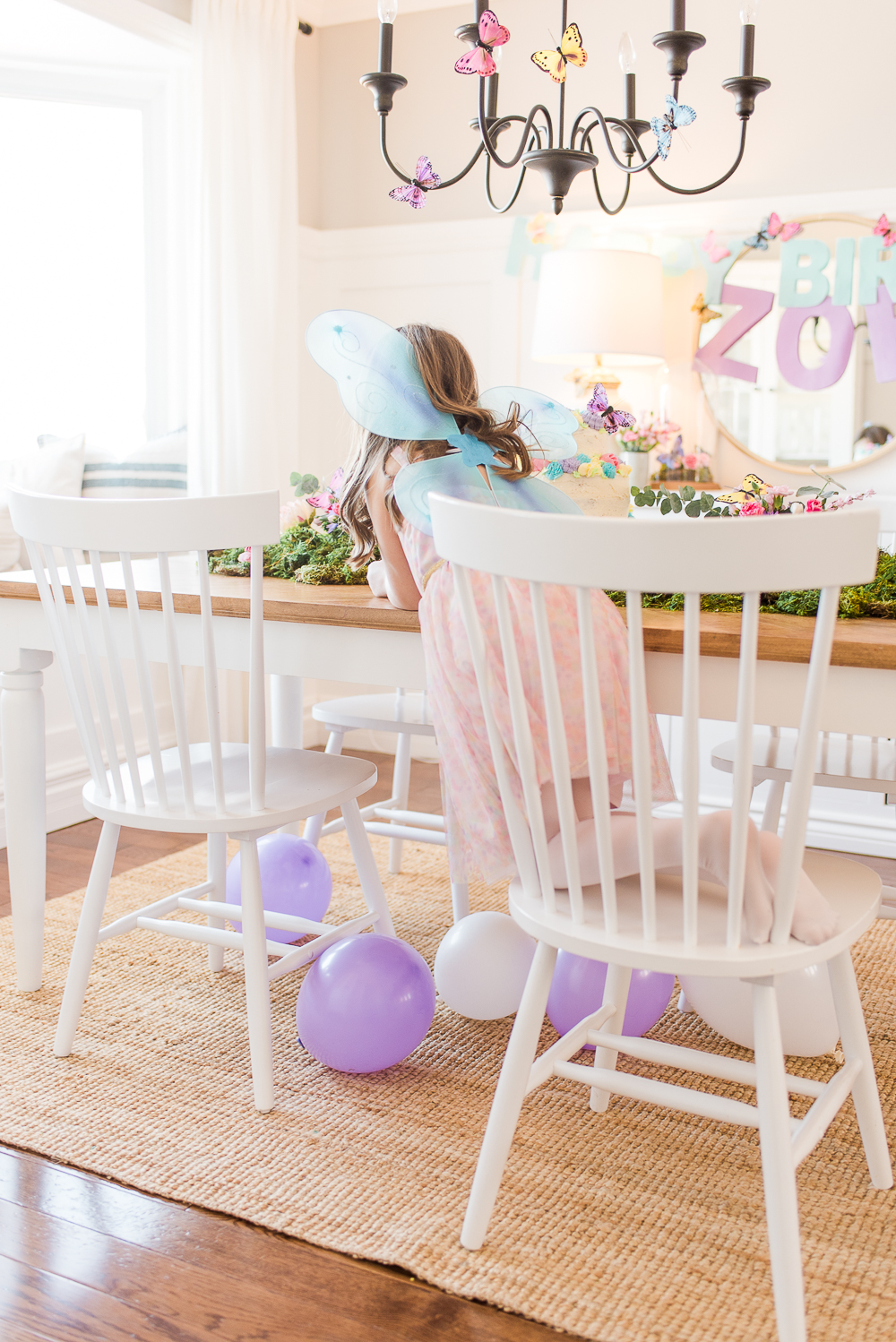 Despite the circumstances, Zoe had a wonderful birthday party and the girls had so much fun celebrating together.
In all honestly, sometimes during all of the planning and preparation that goes into these parties, Nick and I always question our sanity. At times it can feel like a lot for a child's birthday party, but once we see our girls' eyes light up with the excitement and love they feel during these celebrations it always reminds us why we put so much time and effort into planning these special birthday parties for them.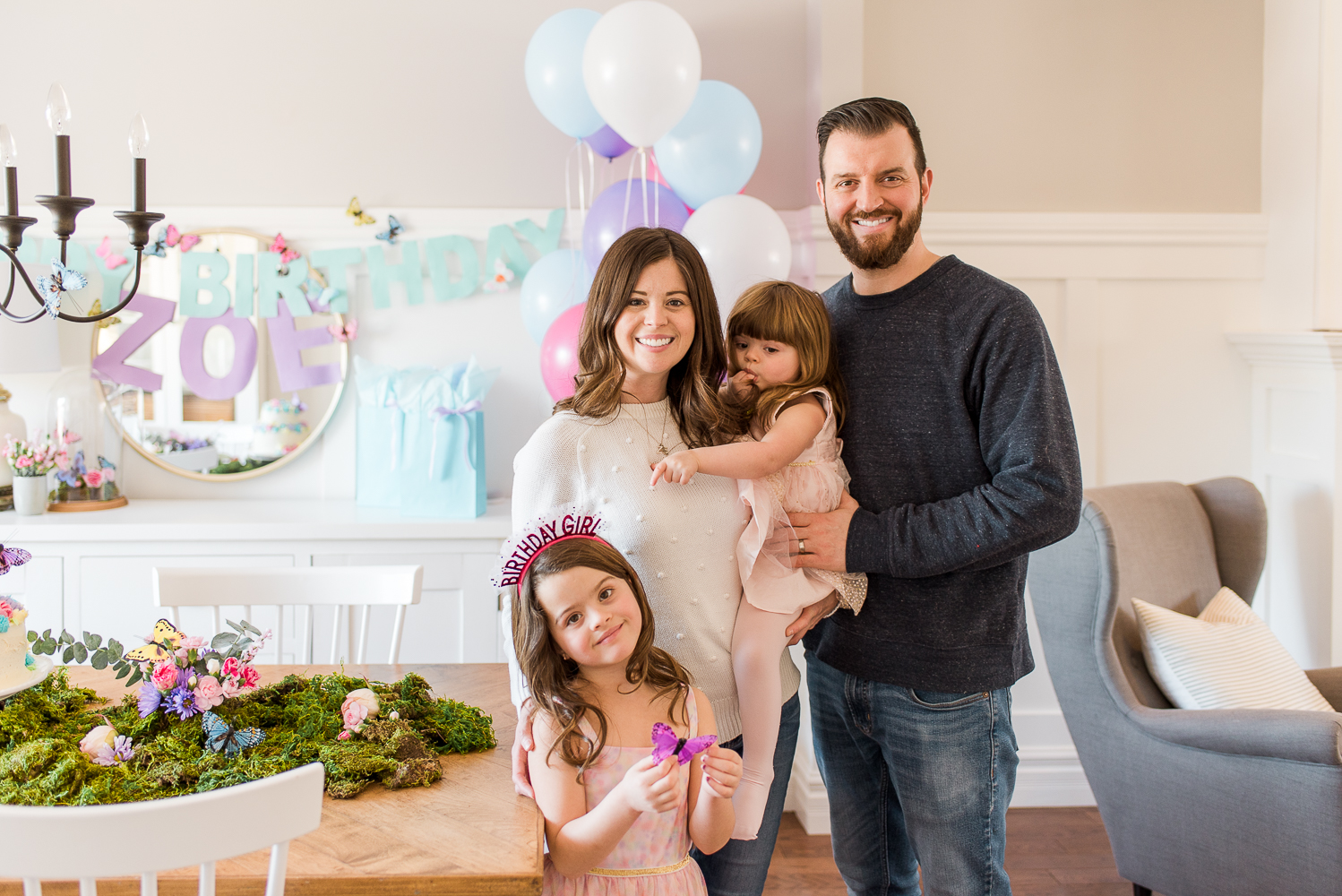 And it's our hope that by sharing their parties we may help inspire ideas and themes for special parties for your own little ones.