Refresh your home for spring with these simple and inexpensive ideas that will leave your home feeling fresh and inviting throughout the spring and summer months.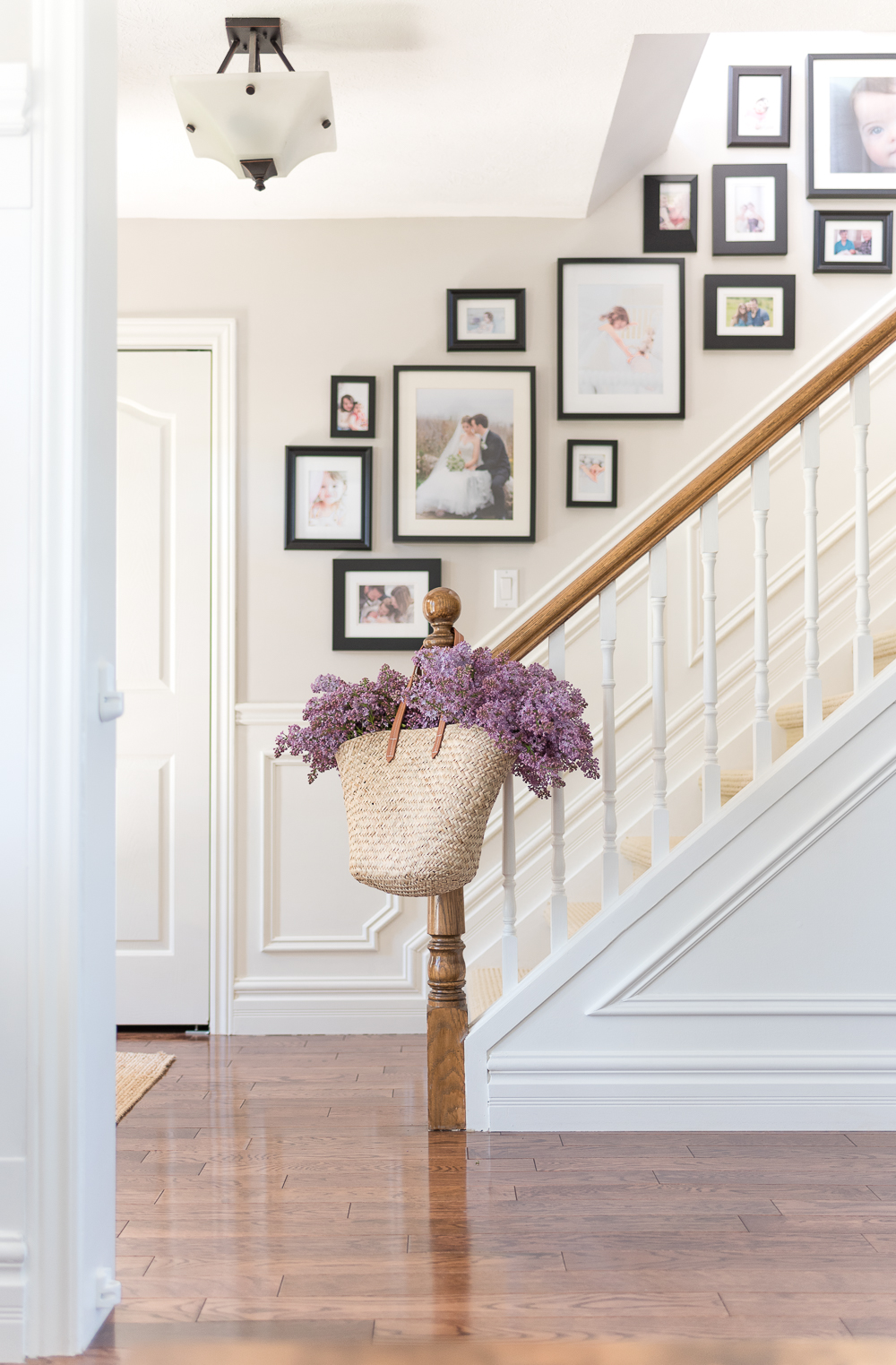 Refreshing your home for spring is as easy as swapping out a few pieces that better reflect the spring season. Simply adding a new pillow with a bold print, incorporating lighter-weight textiles, or finding a fresh piece of art is all it takes to elevate your home for the warmer months. It doesn't take a lot of planning or a big budget, which is refreshing in itself. It's something I do every spring in our own home, and it helps to keep our house feeling fresh and inviting throughout the months ahead.
6 Ideas to Refresh Your Home for Spring
Textiles
Adding a new pillow, throw or rug in a lightweight material and fun print is an easy and inexpensive way to bring your home into the new season. I tuck away pillows and throws made of knits and heavy materials to make room for a few new pieces throughout our house.
Stripes or floral prints are always a springtime favourite and I also like to think about colours, and try to incorporate textiles in softer tones to help our home feel airy and bright.
Later this week we will be sharing how to mix and match pillows for an effortless look and I'm going to let you in on my favourite new pillow collection (it's perfect for spring!).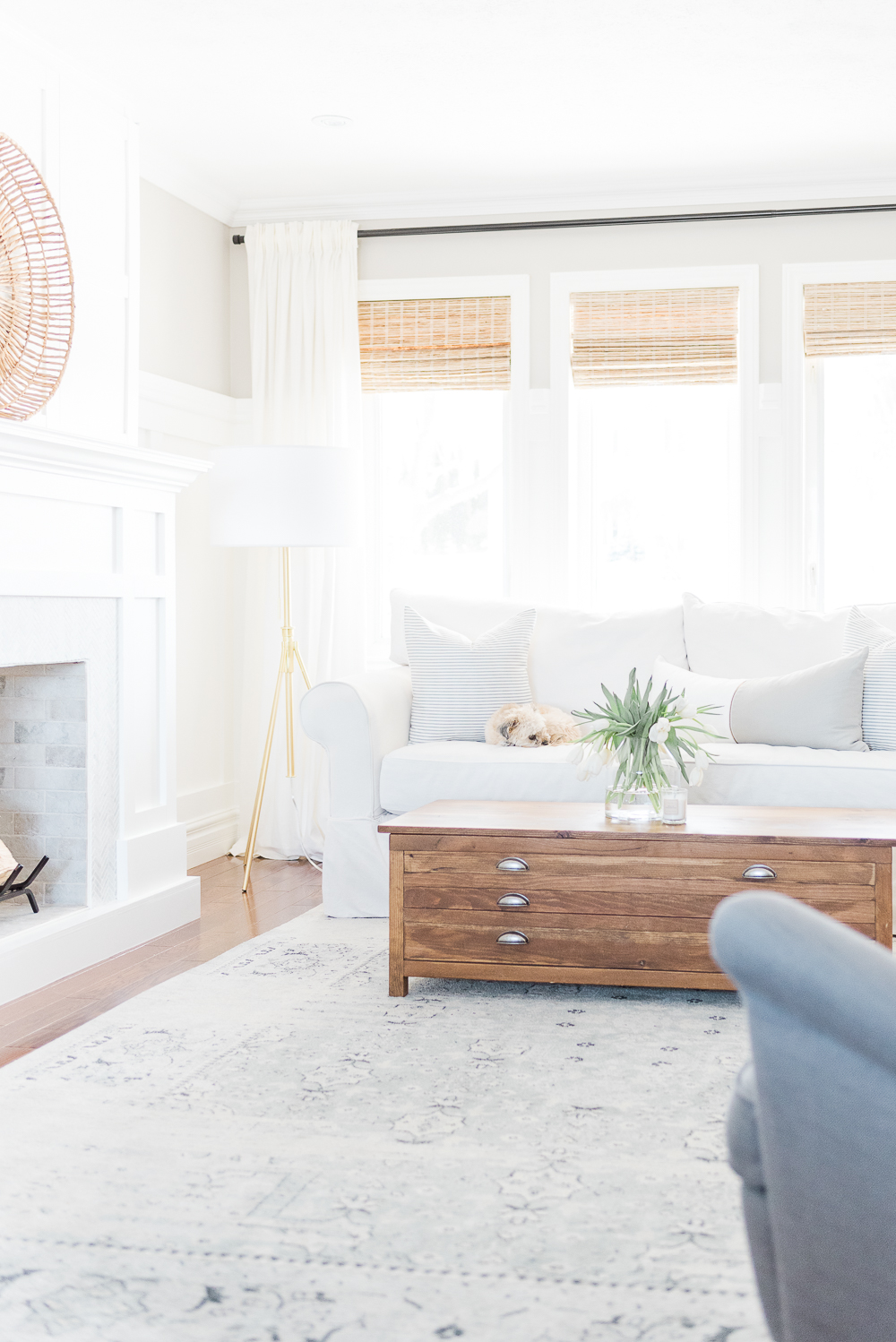 ---
get the look

---
Art
Art is an easy way to add interest and life to the walls of your home. And with so many options available good art is so obtainable. Whether you scout out an original painting at your local thrift store or you download and print a piece you found online, choose pieces that speak to you and bring you joy.
I prefer to incorporate vintage art in our home for an instant dose of character. Landscapes, coastal scenes, and botanicals are always my favourite pieces.
Next week we will be sharing a round-up of our favourite affordable vintage art.
---
get the look

---
Flowers & Greenery
Nothing says spring like a vase full of fresh-cut flowers or blossoming branches. Again, it's an easy and inexpensive way to bring a little bit of the spring season indoors.
I like to have a bit of greenery in every room of our home, generally in the form of a plant, but come spring and summer I also like to keep fresh cut flowers in the kitchen for a happy little pick-me-up. And until our gardens start to bloom, I make a habit of picking up a bouquet of flowers during our weekly grocery run.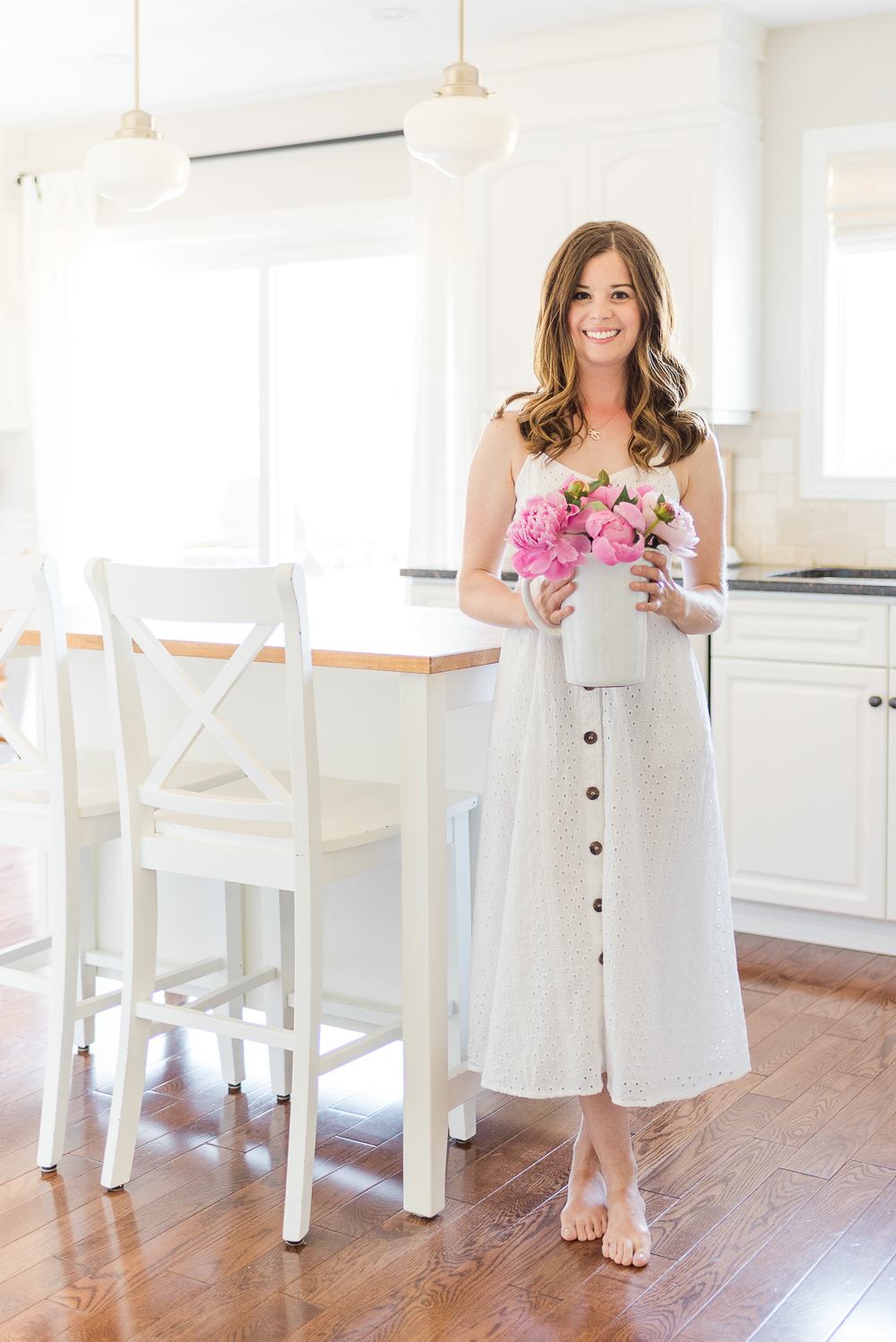 ---
get the look

---
Texture
Incorporating texture into your home should be done year-round, not just in the spring. But the arrival of the warmer weather is a great reminder to make sure there are a few natural elements throughout your home.
Rattan, wicker, cane, ceramics, wood, and stoneware are a few of the textures I like to incorporate into our home. These pieces are a great way to introduce colour, pattern, and interest to any space, and help the rooms of your home feel inviting.
So whether done on a large or small scale, organic textures are a must!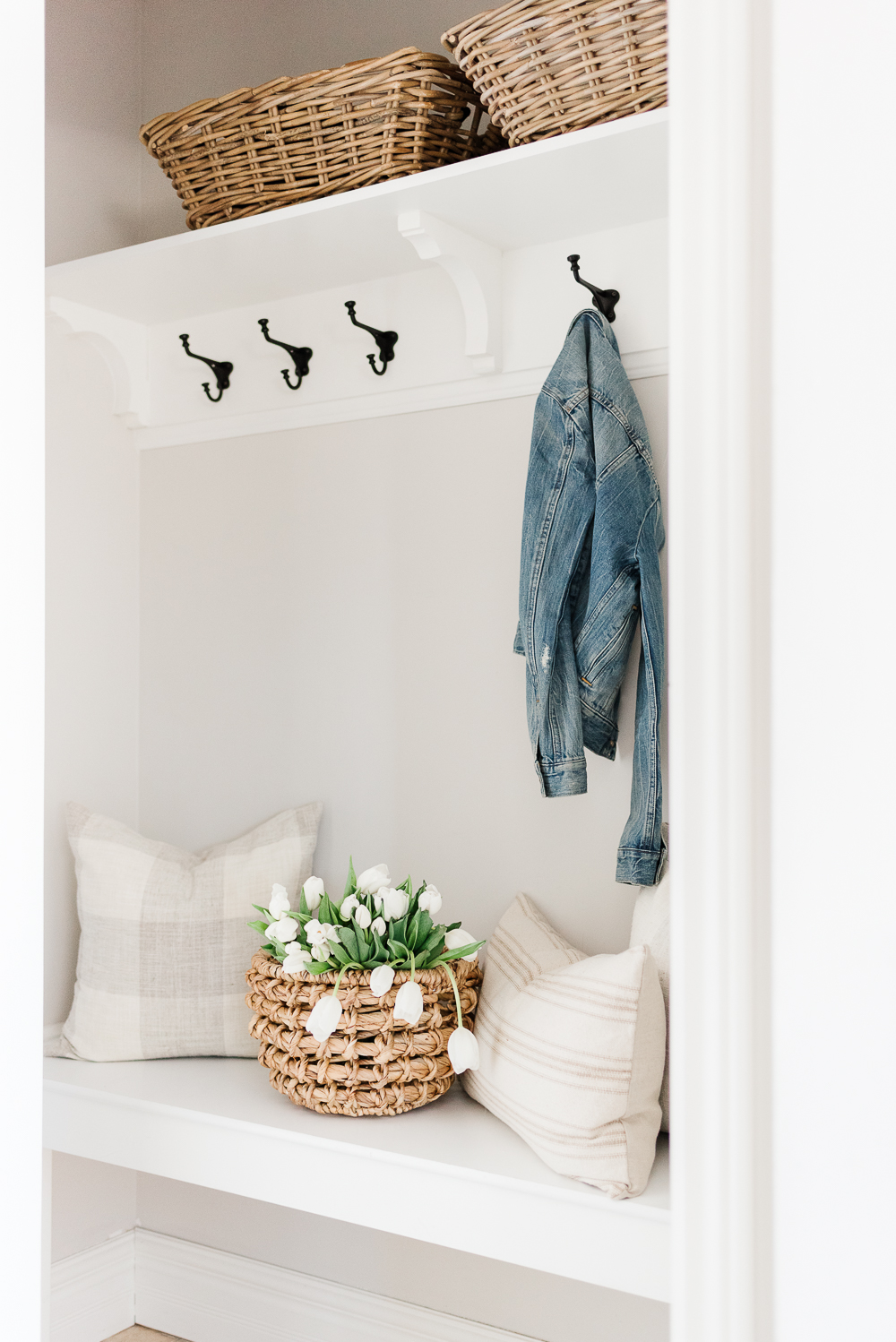 ---
get the look

---
Linens
With spring cleaning in full swing, it's the perfect opportunity to freshen up the linens in your home. Splurging on a new set of sheets or simply updating the hand towels in your kitchen and bathroom are a great way to refresh your home for the spring season.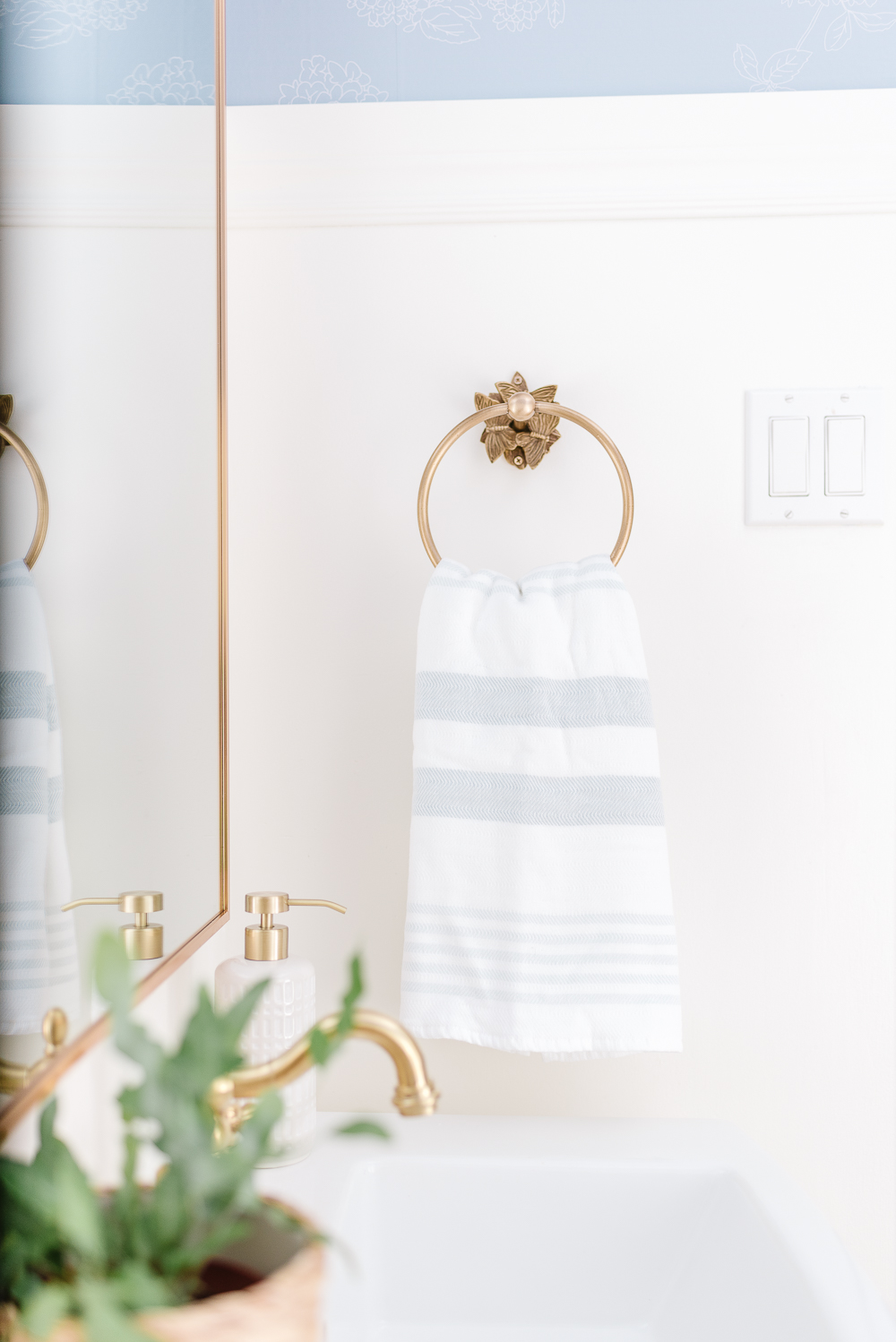 ---
get the look

---
Outdoor Living
Now, probably our favourite aspect of spring is the opportunity to make the most of our outdoor living space.
Once the snow melts and we're confident it won't return, we uncover our outdoor furniture and freshen up our front porch with a new rug and pretty wreath. We can't wait to spend as much time as possible enjoying the warm spring weather outside.
If you're looking to refresh your own patio this spring, check out how we got the look for less by building our own designer-inspired outdoor sofa, chair, and coffee table.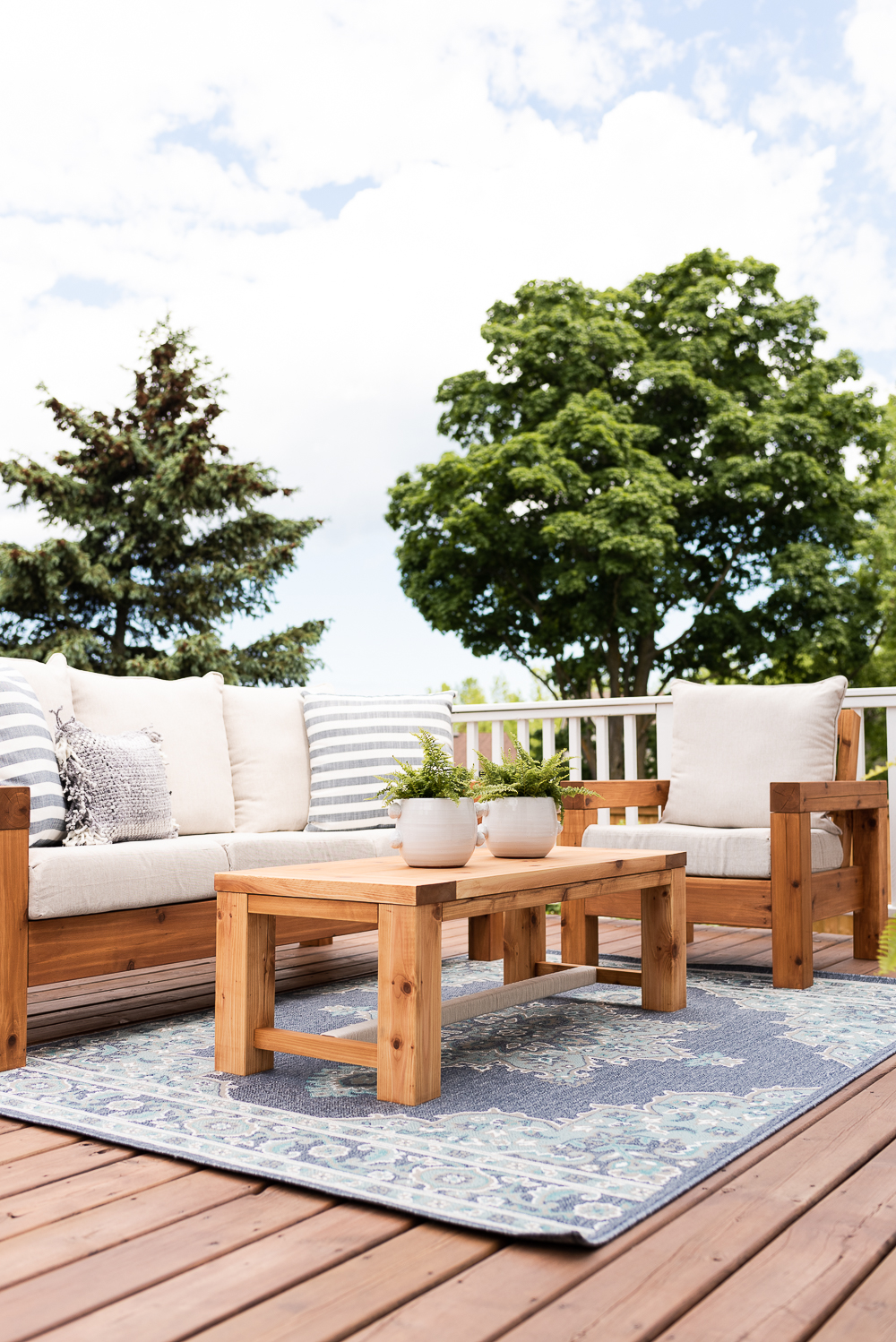 ---
get the look

---
We hope you find these tips helpful for refreshing your own home for spring. And remember don't feel as if you need to overhaul your entire home, it's about making a few simple changes to keep your home feeling fun and fresh. It's amazing how different your home can feel by simply incorporating a few new pieces or swapping items from room to room.